Filled with ground beef and vegetables, savory Hamburger Soup is the best meal for cold winter days! It's hearty and delicious, makes 4 servings, and is ready in just 35 minutes.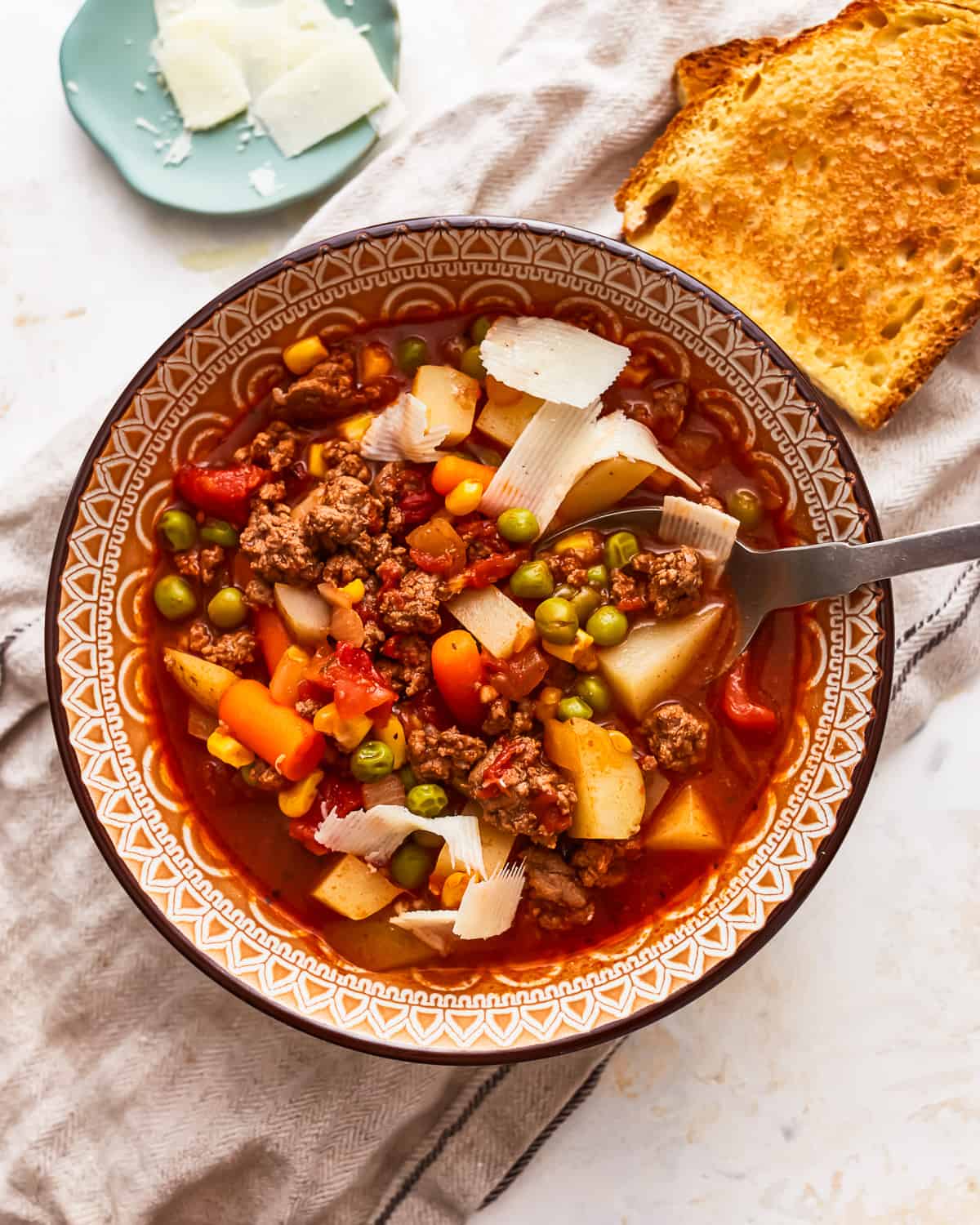 Why We Love This Vegetable Beef Soup Recipe
This savory dish contains large chunks of hamburger meat and vegetables, making it the perfect hearty soup recipe.
Hearty. Ground beef and loads of veggies make this soup so filling.
Flavorful. Italian seasoning and diced tomatoes add so much depth to the soup.
Comforting. This dish tastes like home, and it's perfect for the winter months.
How to Thicken Beef Vegetable Soup
To thicken the soup, you can add another tablespoon of tomato paste or a slurry made from 3 tablespoons of water and 1 tablespoon of cornstarch. Return the pot to a boil and let thicken for 1-2 minutes.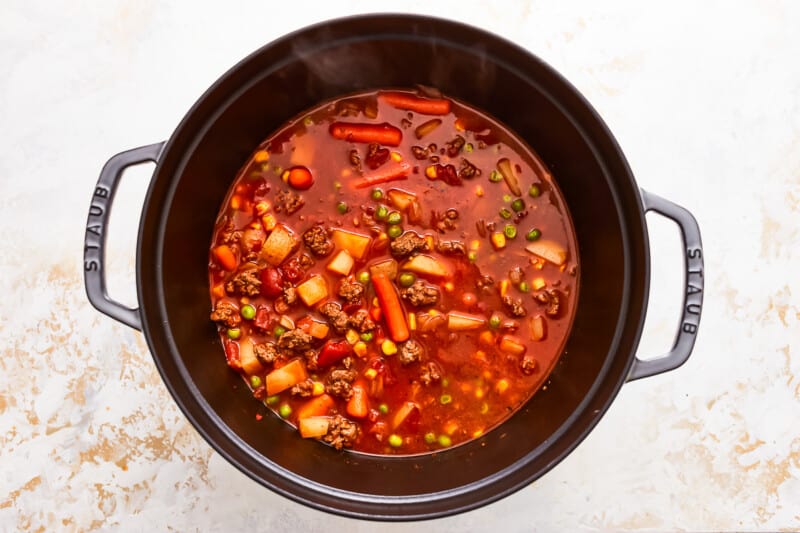 How to Store and Reheat
Hamburger soup is a great make-ahead recipe, as the flavor continues to develop as it sits. Store the soup in an airtight container in the refrigerator for up to 4 days. Reheat gently on the stovetop over medium-low heat or in the microwave.
How to Freeze
Freeze hamburger soup whole or in individual portions in airtight containers or Ziplock bags for up to 3 months. Let thaw overnight in the refrigerator before reheating.
Serving Suggestions
Vegetable Beef Soup is a great recipe for weeknight dinners because it's easy to make and sure to become a quick family favorite! This comforting soup recipe uses fresh ingredients to create a meal that even a picky eater would enjoy. Top with croutons or crackers or serve alongside crusty bread, dinner rolls, or cornbread muffins!
Can I use turkey instead of beef in hamburger soup?
Absolutely! You can swap the ground beef for an equal amount of ground turkey or chicken! Or, try ground pork or Italian sausage!
Can I make hamburger soup in a crockpot?
You sure can! Simply brown the ground beef, sauté the vegetables, and throw all of the ingredients in your crockpot for 2-4 hours on high or 4-6 hours on low, until the potatoes are tender.
How do you thicken hamburger soup?
The tomato paste should help to thicken up the soup. To thicken it further, you can add another tablespoon of tomato paste or a slurry made from 3 tablespoons water and 1 tablespoon cornstarch. Return the pot to a boil and let thicken for 1-2 minutes.
Can I add macaroni to hamburger soup?
Yes! Add the pasta in during the last 10-15 minutes of cooking time (according to the package) or boil it in a separate pot according to the package and then add it in after the soup has finished cooking.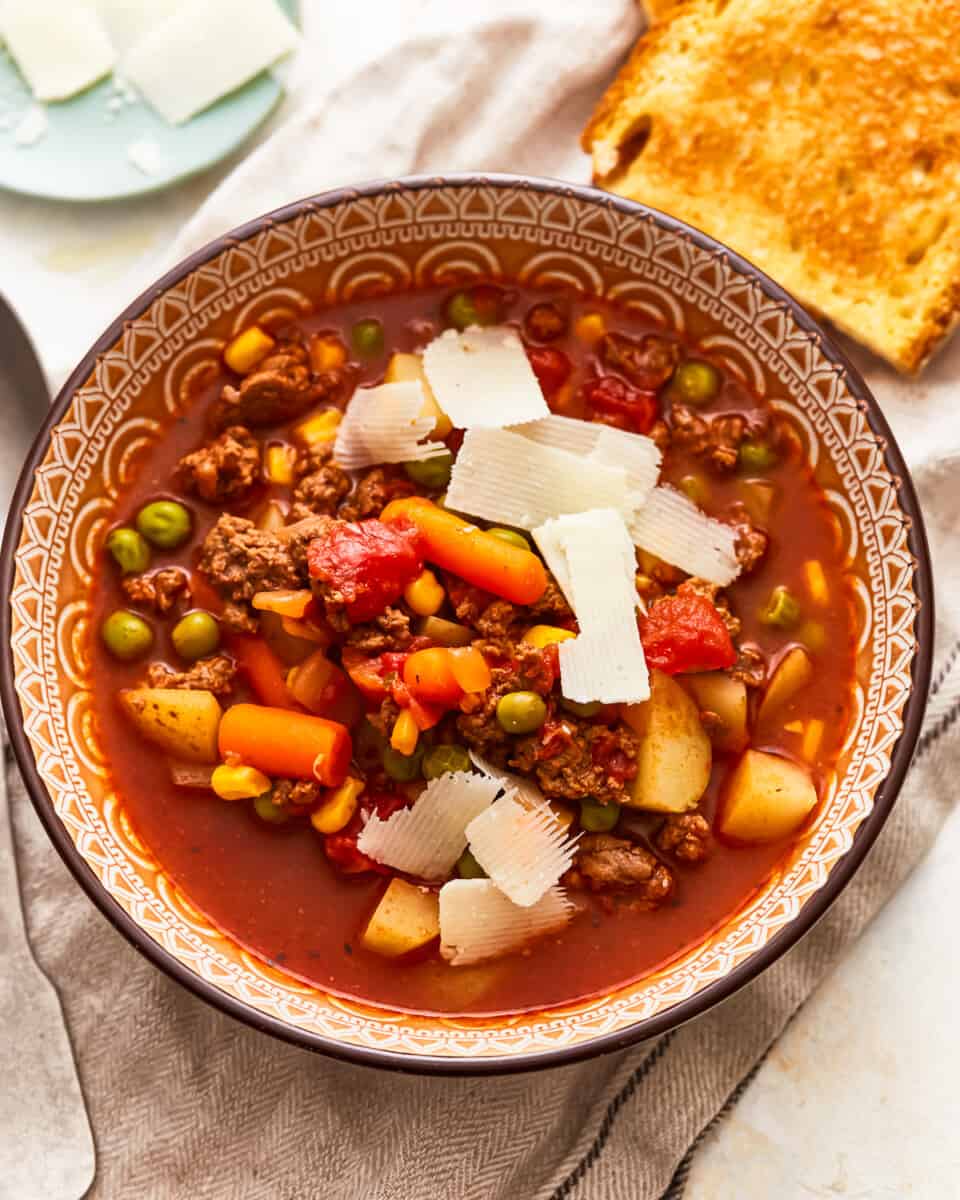 More Ground Beef Soup Recipes To Try
How to Make Hamburger Soup Step by Step
Cook the Beef: Heat a large Dutch oven over medium-high heat. Add 1 pound of lean ground beef and cook for 5 minutes, or until only a small amount of pink remains.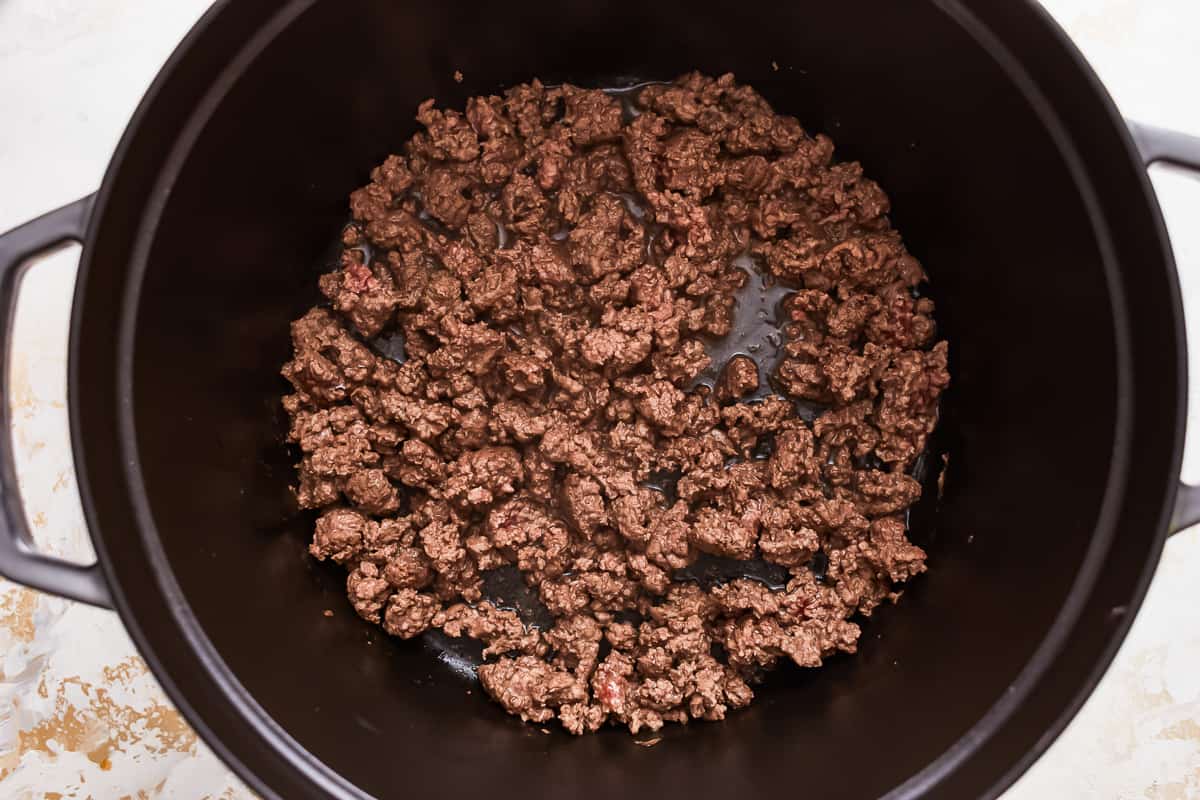 Add the Onion: Add 1 diced yellow onion and cook for an additional 5 minutes, or until the beef is browned and the onion is soft. Season with a pinch of salt and pepper.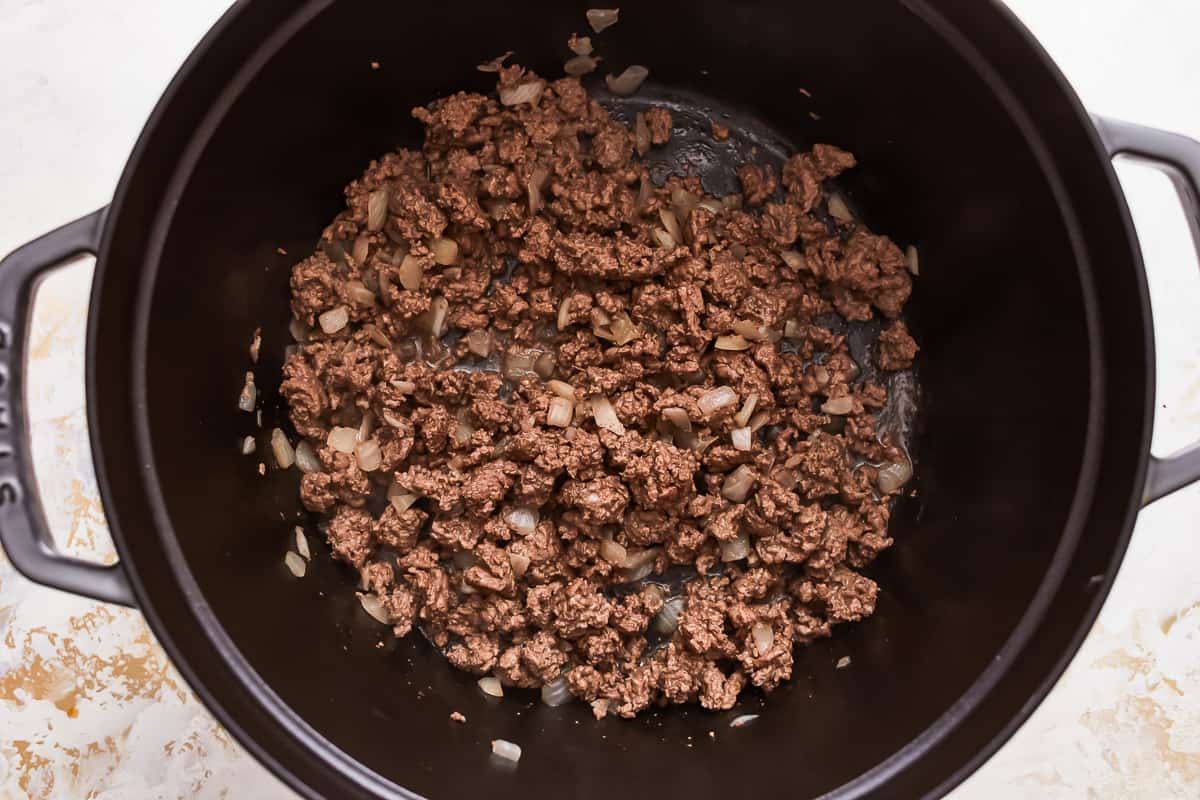 Add the Seasonings: Add 3 cloves of minced garlic, 2 tablespoons of tomato paste, and 1 teaspoon of Italian seasoning. Stir and cook for an additional minute.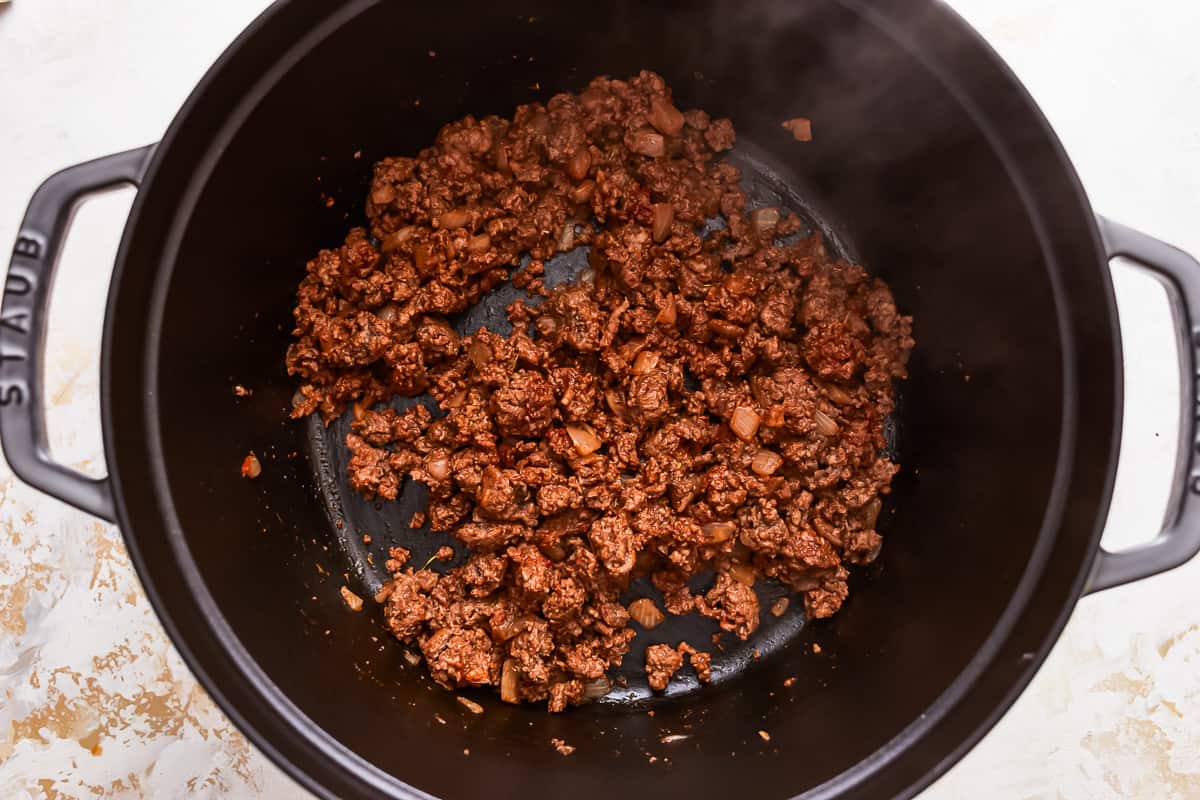 Stir int he Broth: Add 4 cups of low-sodium beef broth and scrape any browned bits off the bottom of the pan. Add 14 ounces (1 can) of diced tomatoes and 1 diced Russet potato. Stir to combine.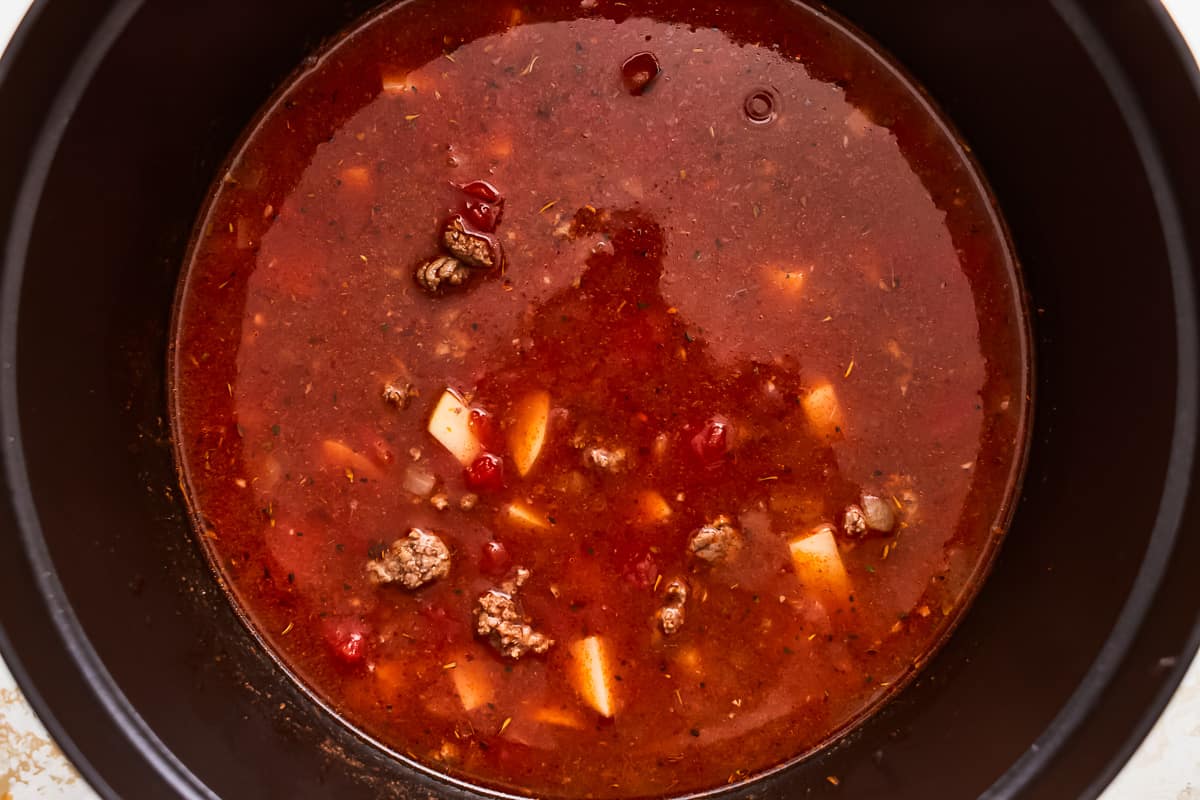 Cook the Soup: Bring the soup to a boil and cook for 5-7 minutes, or until the potatoes are almost fork-tender.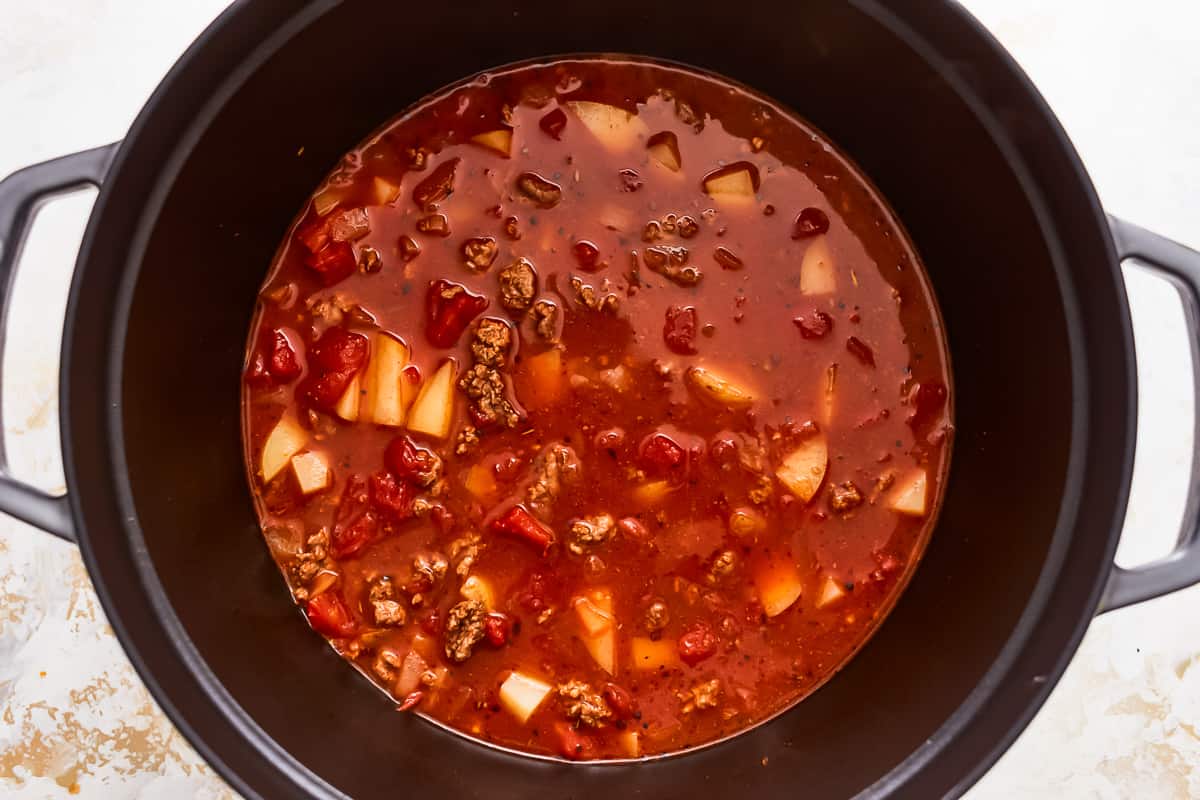 Add the Veggies: Add 12 ounces (1 bag) of frozen mixed vegetables and cook for another 5 minutes. Taste and season with additional salt and pepper if needed. Serve the soup with crusty bread and shaved Parmesan on top, if desired.