Easy Pesto Shrimp Two Ways! Cilantro Lime Pesto and Basil Lime Pesto with plump grilled shrimp is the PERFECT healthy lunch, snack or appetizer.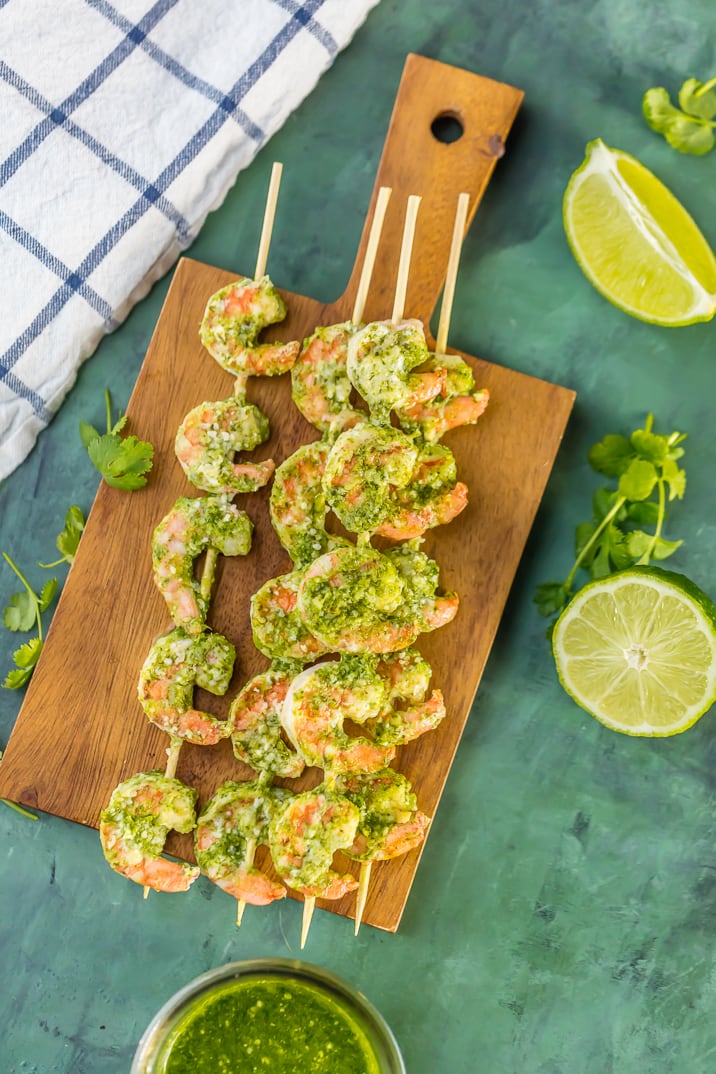 Pesto Shrimp Two Ways (Basil Lime and Cilantro Lime)
Pesto Shrimp is one of those appetizers that looks super fancy, yet takes almost no time at all to prepare. I love to make these shrimp around the holidays for Christmas buffets, but they can just as easily take center stage on a football Sunday. And as you know, I LIVE for great appetizers. This shrimp with pesto sauce is easily made with either Basil or Cilantro, and comes together in minutes!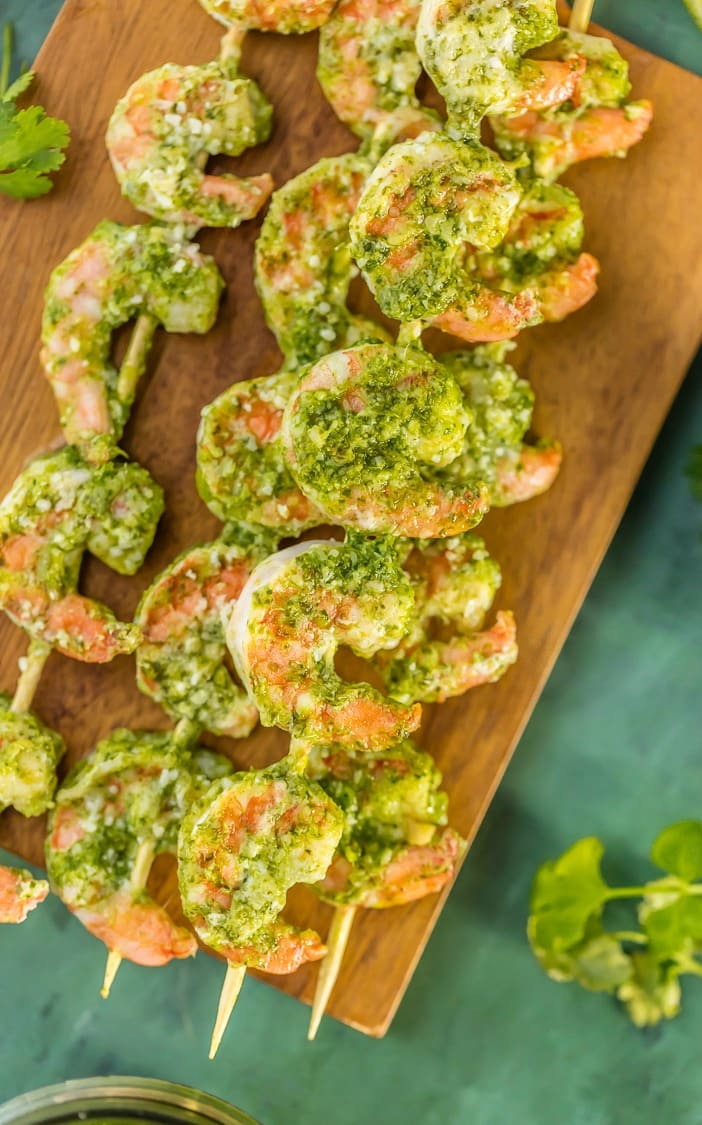 Does Shrimp Go With Pesto?
If you've never tried the shrimp and pesto combo, I beg you to rectify that immediately! Shrimp has a mild flavor and goes so well with dozens of delicious spices. But shrimp with pesto just really knocks it out of the park. This pesto sauce made from olive oil, garlic, lime juice and Parmesan cheese is perfect with either cilantro or basil. Try them both, and see which is your favorite!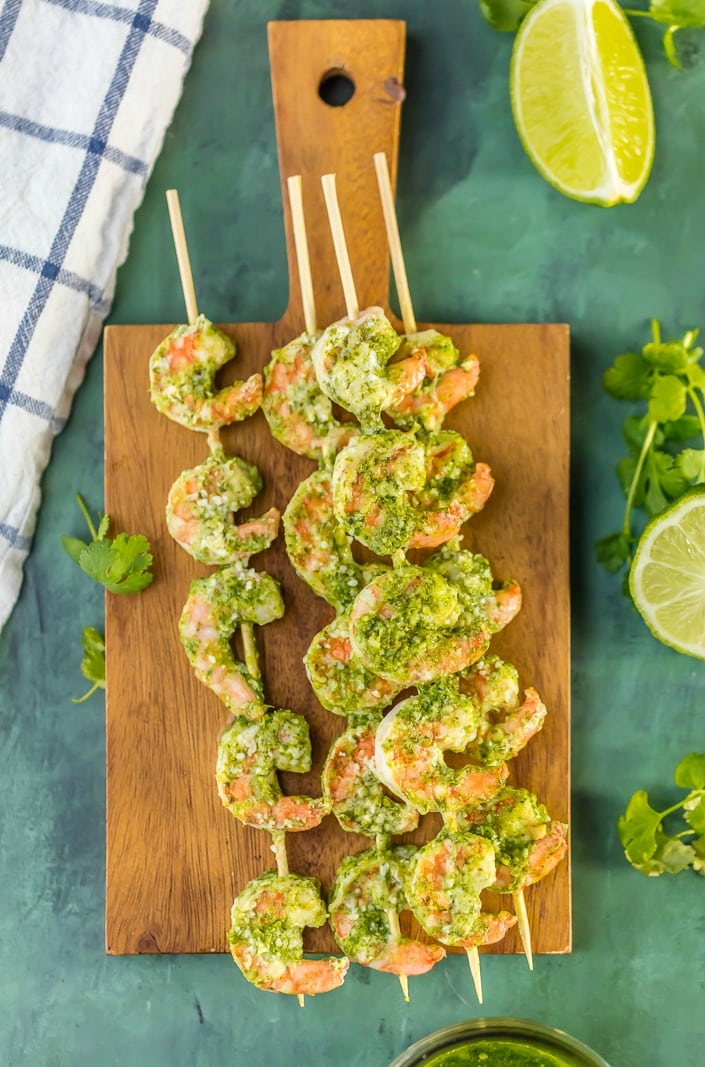 Is Pesto Shrimp Healthy?
If you're craving lighter meals after the heaviness of the holidays, this is the perfect recipe for you! Shrimp is naturally low in fat and high in protein and vitamins, and the pesto sauce is made from wholesome, natural ingredients. This shrimp pesto recipe serves up big booming flavors while keeping the calorie count low.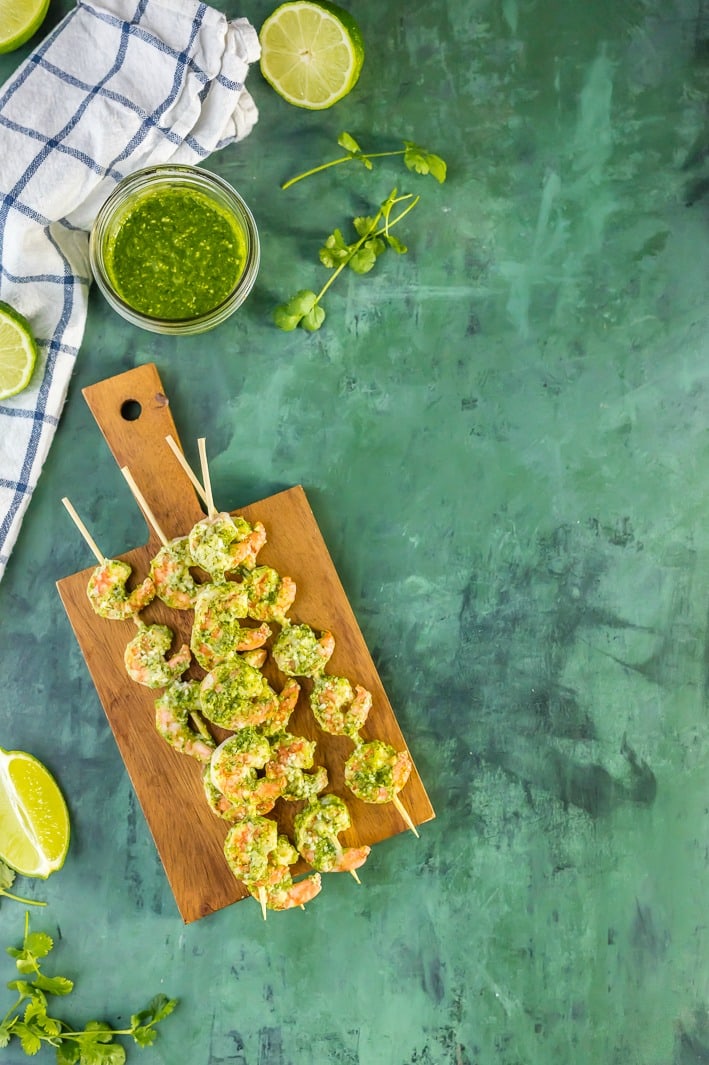 How to Serve Pesto Shrimp
I love to make a huge batch of these shrimp and serve them on skewers at game day buffets. They can really stand on their own. But you can easily serve them alongside rice, or veggies or even a salad for lunch or dinner. They're so versatile, there's really no wrong way to eat them.
Even my picky-eater husband loved these shrimp! Try both flavors and see which you like best!
More Delicious Appetizers
From shrimp to chicken to cheesy delights, appetizers are my absolute fave! Try a few of these mouth watering recipes:
Chicken Parmesan Sub Skewers
Shrimp and Goat Cheese Tarts
Grilled Chicken Fajita Kebobs with Cilantro Pesto
See the recipe card below for details on how to make Pesto Shrimp Two Ways. Enjoy!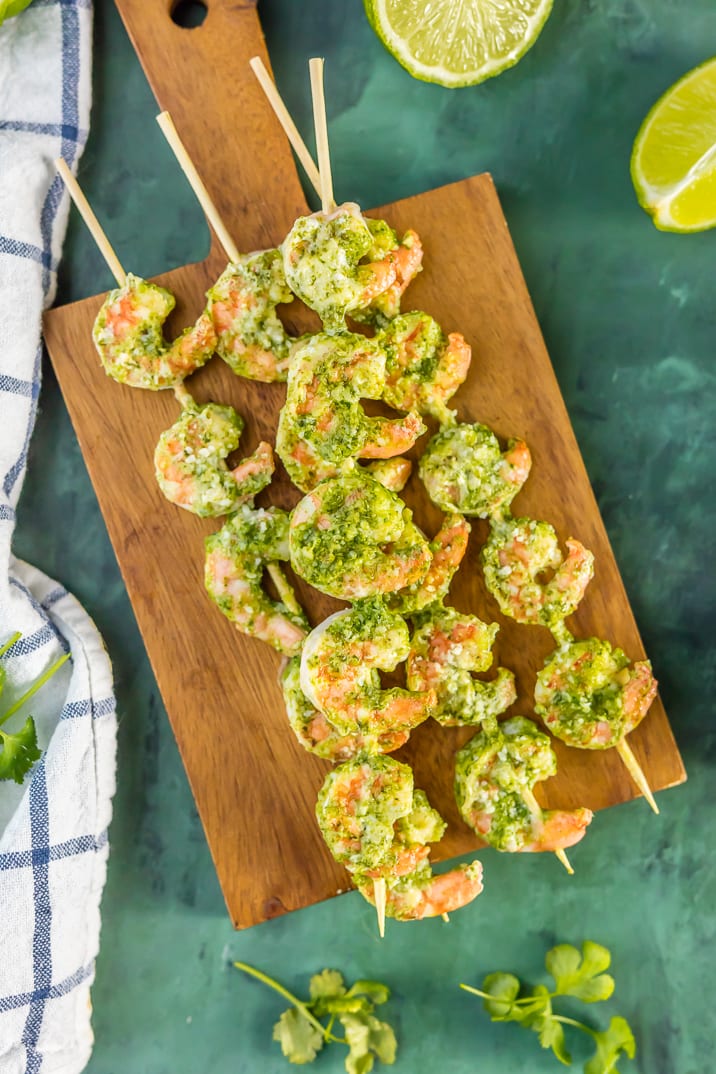 Enjoy the vibrant, fresh flavors of these delectable little shrimp. Hope you love them as much as we do!