Make this easy Pesto Shrimp two ways! Plump grilled shrimp are coated in pesto for a flavorful bite. They are the perfect healthy lunch, snack, or appetizer.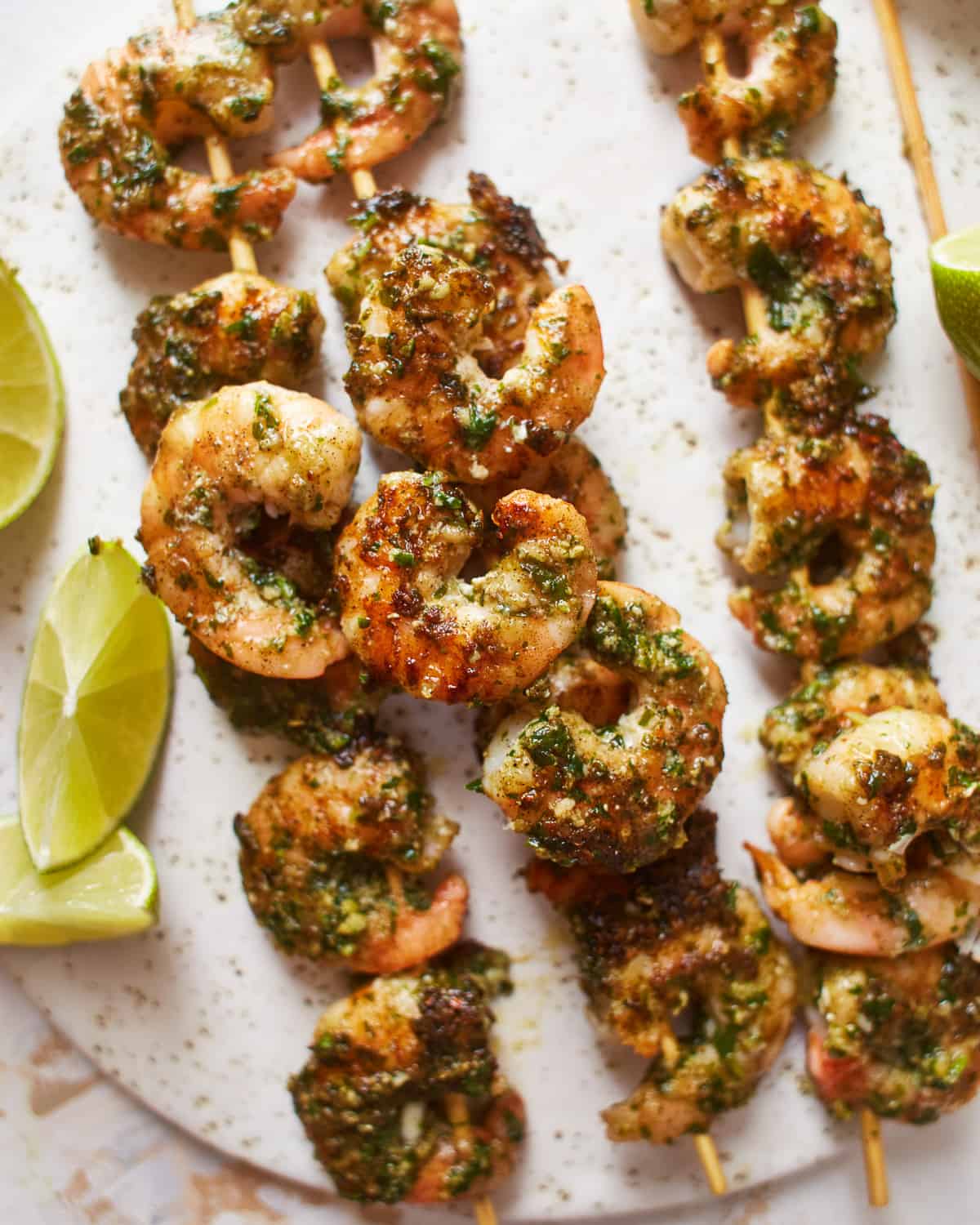 What's in this Pesto Shrimp Recipe?
This shrimp with pesto sauce is easily made with Basil and lime juice, and comes together in minutes!
Fresh Basil: The primary flavor in this pesto; light and herbal!
Lime Juice: Adds a touch of acidity to balance the flavor of the pesto.
Olive Oil: Helps emulsify the pesto and prevents the shrimp from burning on the grill.
Parmesan Cheese: Adds a salty, umami element to the pesto.
Garlic: Adds an earthy flavor and a pungent aroma to the pesto.
Salt + Pepper: Enhances the natural flavors of both the shrimp and the pesto.
Shrimp: Any size of shrimp will work. Your cooking time will vary depending on how large your shrimp are, so keep a close eye on them.
Pro Tip: If using frozen shrimp, thaw them fully and pat them dry before coating with the pesto.
Variations on Shrimp Pesto
You can change up the flavor of the pesto by incorporating sun-dried tomatoes, crushed red pepper flakes, cayenne pepper, roasted red peppers, or even Greek yogurt. Try swapping half of the basil for cilantro to create a cilantro-lime variation, or add some chopped kalamata olives for a Mediterranean twist!
Does shrimp go with pesto?
If you've never tried the shrimp and pesto combo, I beg you to rectify that immediately! Shrimp has a mild flavor and goes so well with dozens of delicious spices. But shrimp with pesto just really knocks it out of the park.
Is pesto shrimp healthy?
If you're craving lighter meals after the heaviness of the holidays, this is the perfect recipe for you! Shrimp is naturally low in fat and high in protein and vitamins, and the pesto sauce is made from wholesome, natural ingredients. This shrimp pesto recipe serves up big booming flavors while keeping the calorie count low.
Can you make this recipe ahead of time?
You can make the pesto up to a week ahead of time and keep it covered in the fridge. It is also freezer friendly. You can prep the shrimp a few hours ahead of time and keep them covered in the fridge til ready to grill. For best results, serve after cooking.
How long does it take to grill shrimp?
It takes just about 2-3 minutes per side to grill shrimp, so 4-6 minutes total. Properly cooked shrimp are an opaque white color with some pink and bright red accents and 120°F internally.
Do you grill shrimp with the lid open or closed?
Preheat the grill with the lid closed, then open the grill to cook the shrimp. They cook so fast that there's no need to close the grill. Plus, you'll want to monitor them as they cook to ensure they aren't overcooked.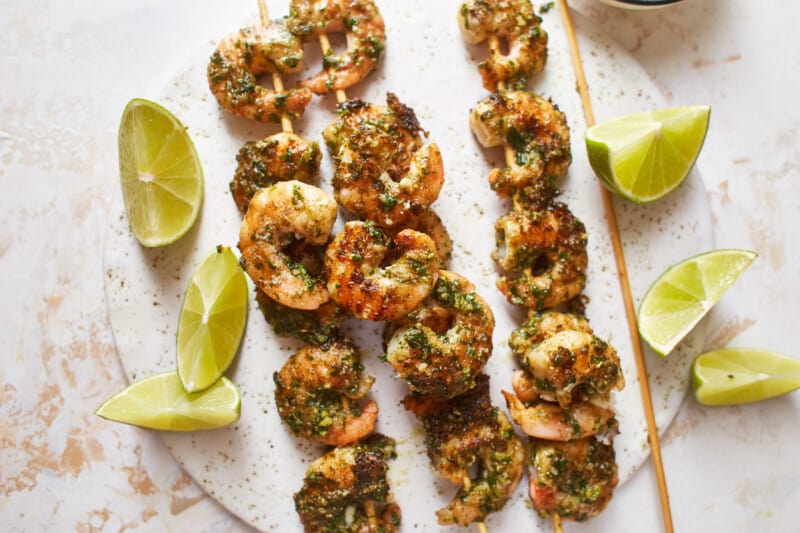 How to Store and Reheat
Store leftover pesto shrimp in an airtight container in the refrigerator for up to 3 days. Reheat in a pan with a little bit of olive oil set over medium-low heat until warmed through.
How to Freeze
Freeze shrimp in an airtight container for up to 3 months. Let thaw overnight in the refrigerator before reheating.
Serving Suggestions
I love to make a huge batch of these shrimp and serve them on skewers at game day buffets. They can really stand on their own. But you can easily serve them alongside cilantro lime rice, grilled veggies, pesto pasta salad, or even a salad for lunch. They're so versatile, there's really no wrong way to eat them.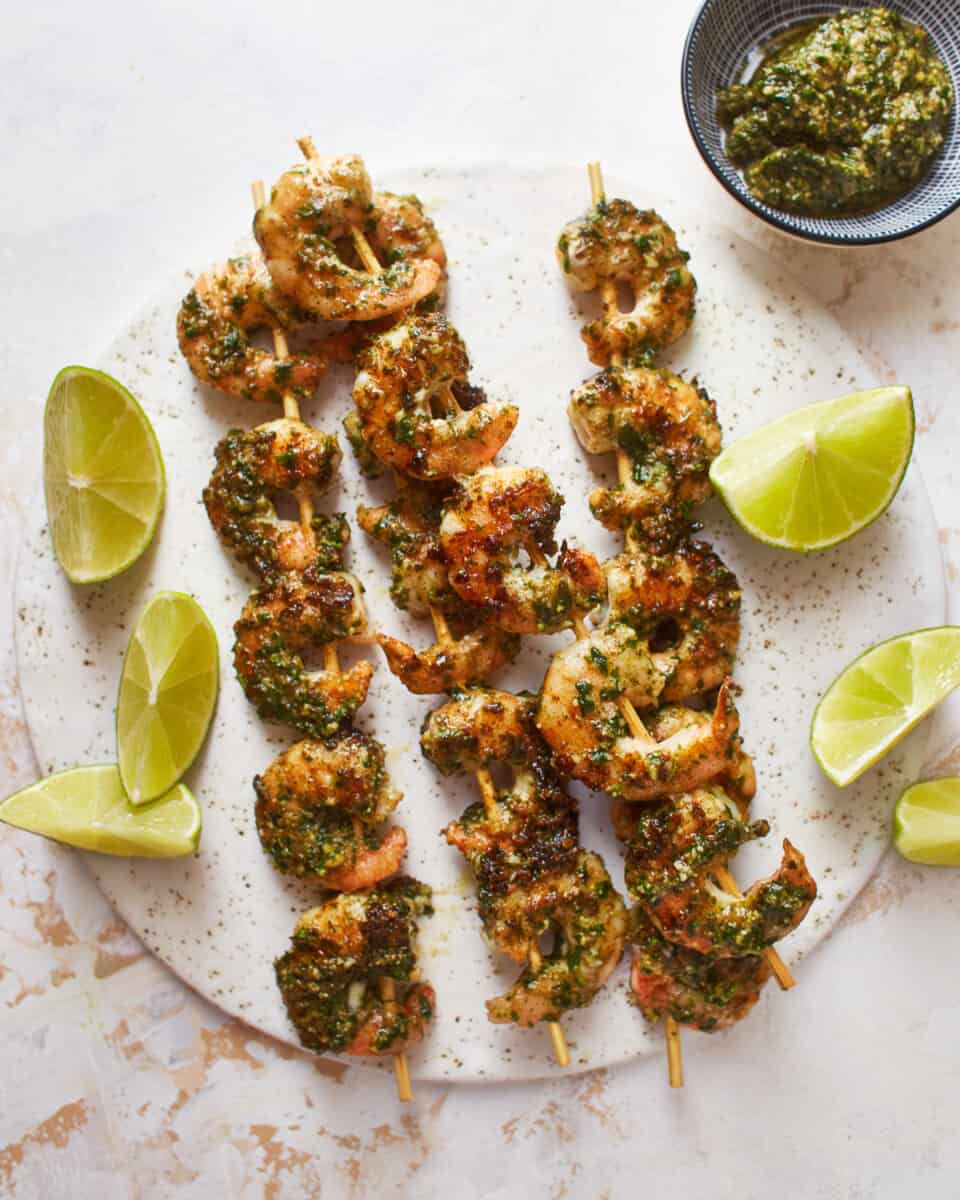 More Shrimp Recipes We Love