HOT ONION DIP has been a family favorite for years. I just love the sweet, cheesy onion flavor. You really can't do better than a classic hot onion dip recipe for the holidays or game day. It's perfect for dipping and oh so yummy. This is the BEST hot onion souffle dip recipe around!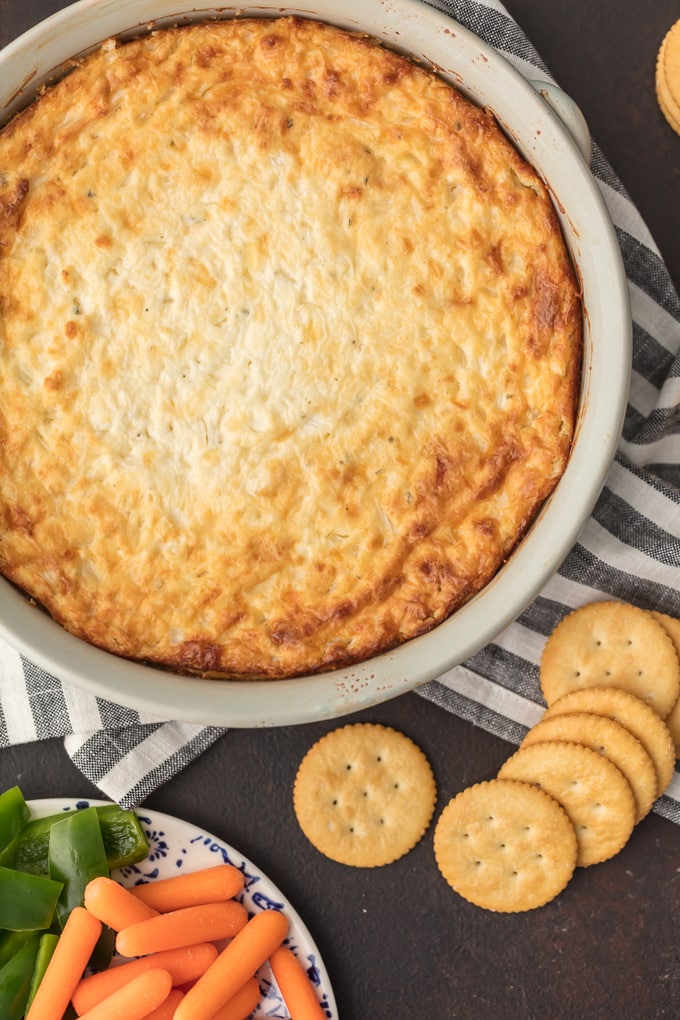 Hot Onion Souffle Dip
This hot onion dip recipe with cream cheese, Boursin, Parmesan, and Gruyere is so cheesy and just the right amount of sweet!
Newsflash: I love dips (there are 68 dips on The Cookie Rookie so far!). But of all the dips I've made, this classic HOT ONION DIP RECIPE might be one of the BEST.
There's nothing better than a great appetizer dip and this Hot Onion Souffle Dip is perfect. I could eat it for each and every meal and never get tired of it. With football season coming to an end (hello SUPER BOWL), and New Years Eve upon us…good dips are a great thing to try. This best ever Hot Onion Dip recipe is a must!
Learn how to make Hot Onion Souffle Dip with this simple Hot Onion Dip Recipe!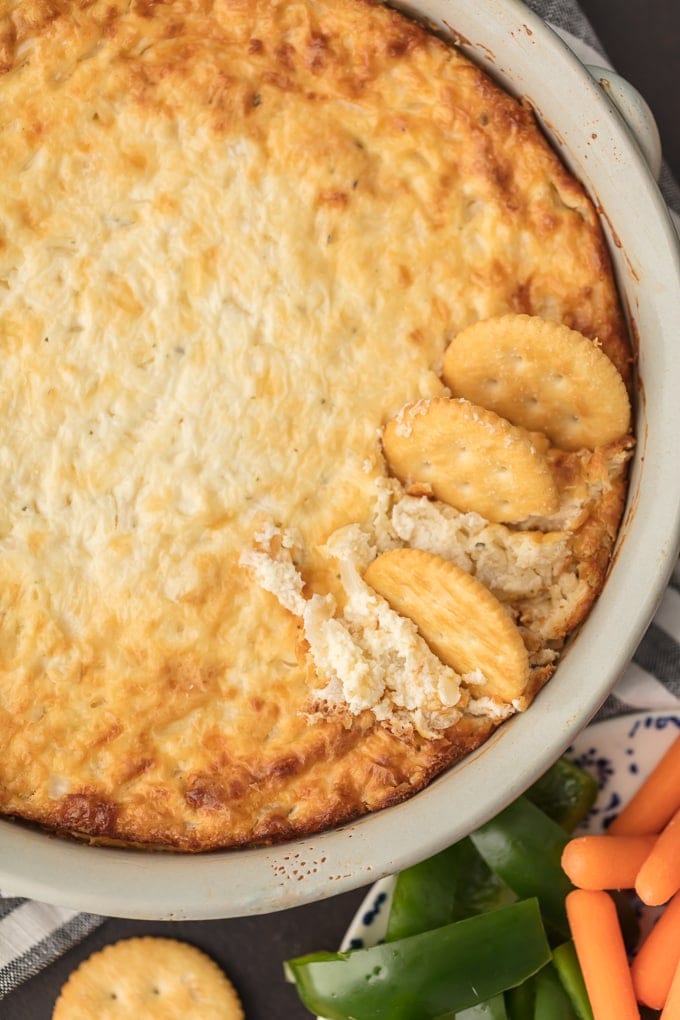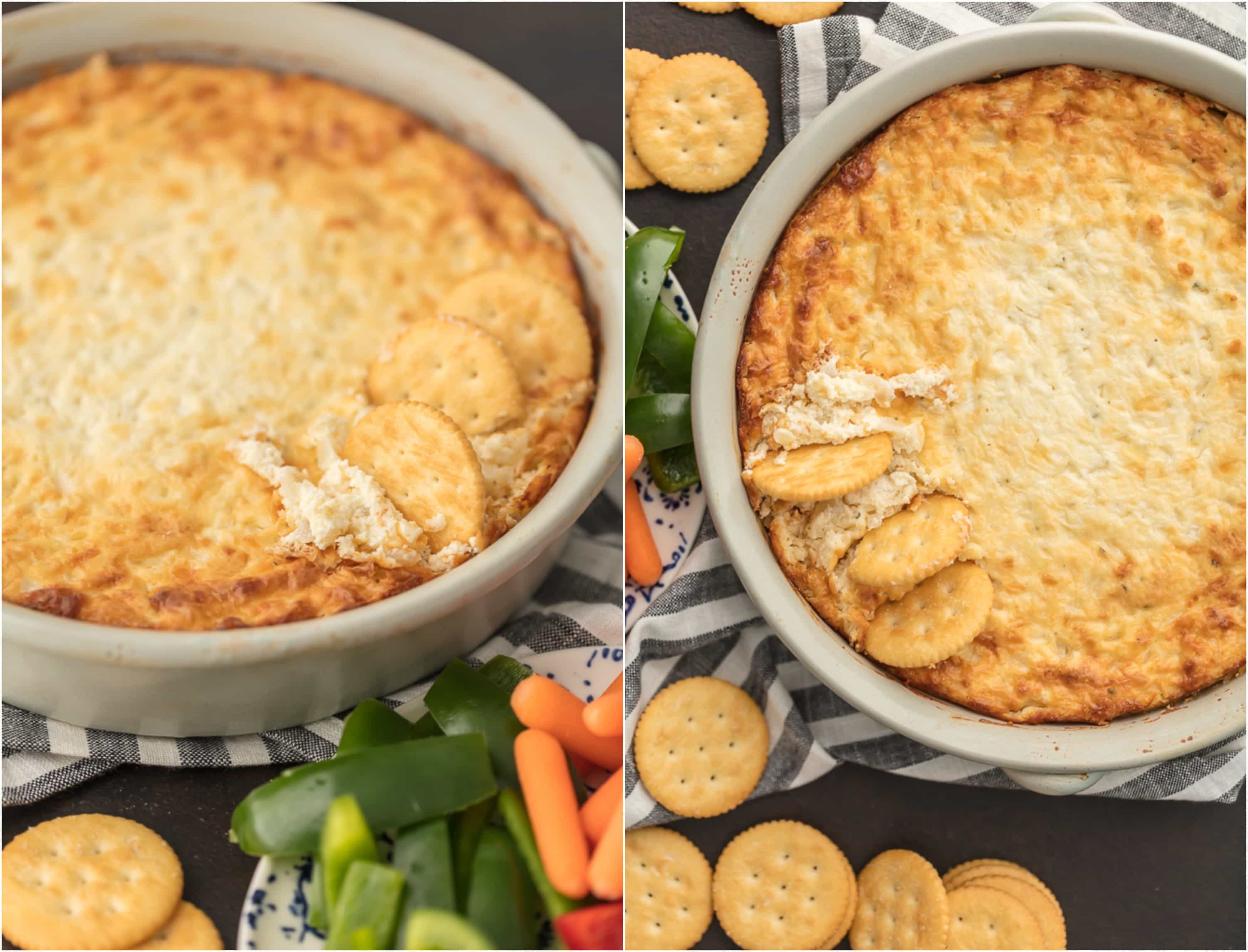 Cheesy Hot Onion Dip
When we were at my parents for Christmas, we made this delicious hot onion dip recipe. My mom originally got this recipe from my Dad's cousin by marriage, Paula Wallace (one of the very best cooks ever). Of course, Mom put her own spin on it…because it's Mom, (have you checked out her site yet? Simply Sated is the bomb) and it is SO good.
We didn't tell Pat what was in it, because I knew he doesn't 'like' anything containing onions. But he LOVED this hot onion souffle dip. That's because hot onion dip doesn't really taste like onions, even though the name suggests otherwise. I mean there's SO much cheese in it, the onion flavor barely exists. Even after I told him that the dip contains onions, he continued to eat it! If you knew him, you would know how shocking that really is. And THAT is how you know it's good.
This cheesy hot onion dip recipe is a winner 100%.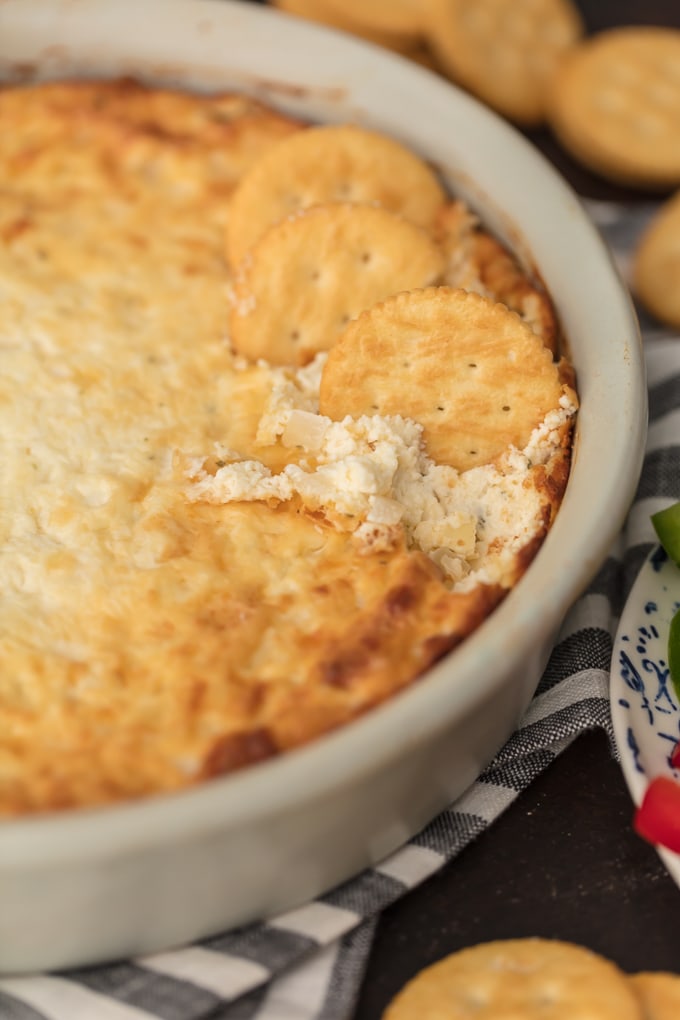 How do you make Hot Onion Dip?
This classic Hot Onion Dip Recipe is so easy to make. Just a few simple ingredients and a whole lot of flavor. What kind of cheese is in this onion dip recipe?
Let me tell you, there is SO much cheese in this hot onion souffle:
Cream Cheese
Boursin Cheese
Parmesan Cheese
Gruyere Cheese
and just a little bit of sweet onion
I love dips like this that are so easy to make. Just mix the ingredients together, bake, and serve. No wonder this was one of the first recipes I ever made in life! Yum!
What to serve with Hot Onion Dip
We served this cheeeeesy hot onion dip with crackers and sliced veggies. Just keep it simple! But it would also be great with pita chips or little pieces of toasted bread. Mom also recently made it as a topper for baked potatoes. How genius? That idea definitely has me intrigued…doesn't that sound so tasty?! My friend Heidi adds chorizo to her onion dip recipe. Another great idea!
Find more of our favorite Hot Dip Recipes right here!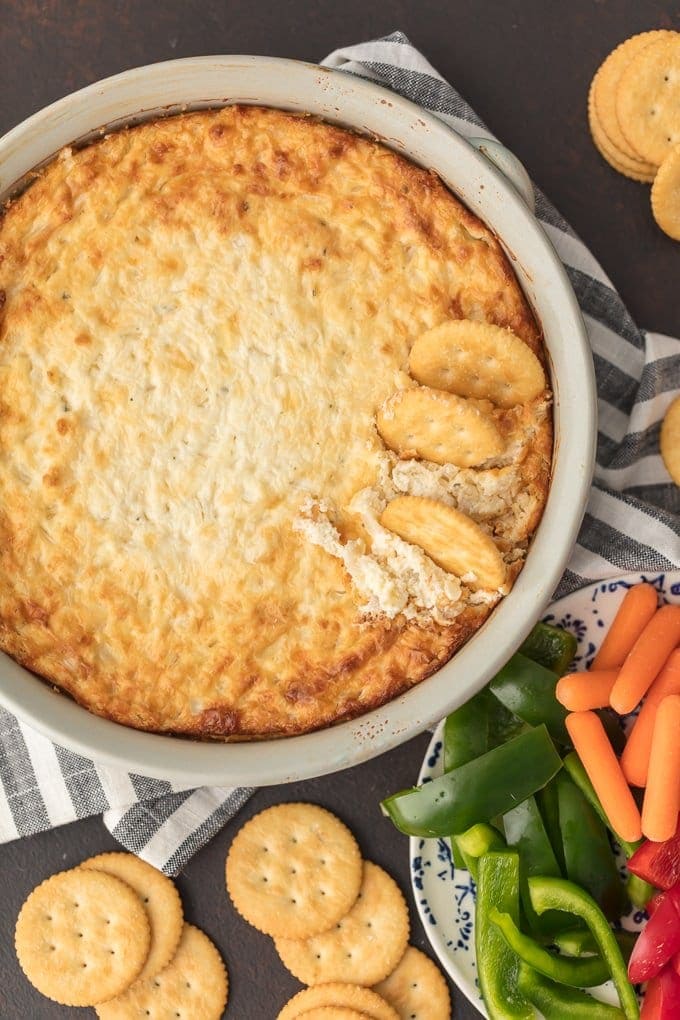 Now go ahead and make this easy Hot Onion Dip Recipe! You'll want to dip everything in it, and guests will devour it at a party.
See the recipe card below for full details on How to Make Hot Onion Dip! Enjoy.
Be sure to check out all of our other favorite dips, dressings, and sauces: