This smoked pulled pork is a tender, delicious recipe. Use it to make pulled pork sandwiches or any number of dishes. Here's how to make pulled pork in a smoker, plus lots of tips and recipe ideas.
Smoked Pulled Pork Sandwiches Recipe
This smoked pulled pork recipe is more than worth the time it takes to make. You'll end up with tender, delicious pork that is irresistably delicious!
Use the shredded pork to make a classic pulled pork sandwich, serve it BBQ style with sides, or use it as a nice addition to other dishes.
This is a great recipe to make for big events (BBQs, game day, Super Bowl party, etc.). But you can also save leftover pulled pork to use later.
Why you'll love this Smoked Pulled Pork recipe:
TENDER: Smoking pork shoulder leads to the most tender, moist pulled pork!
SERVE A CROWD: It's easy to make A LOT of pork at once, so you end up with plenty of meat to serve a crowd of people.
BBQ READY: This is the perfect summer BBQ recipe. Make an event out of the cooking process and serve this at a big BBQ or party.
If you're looking for a slow cooker recipe, try this Crockpot BBQ Pork Sandwich.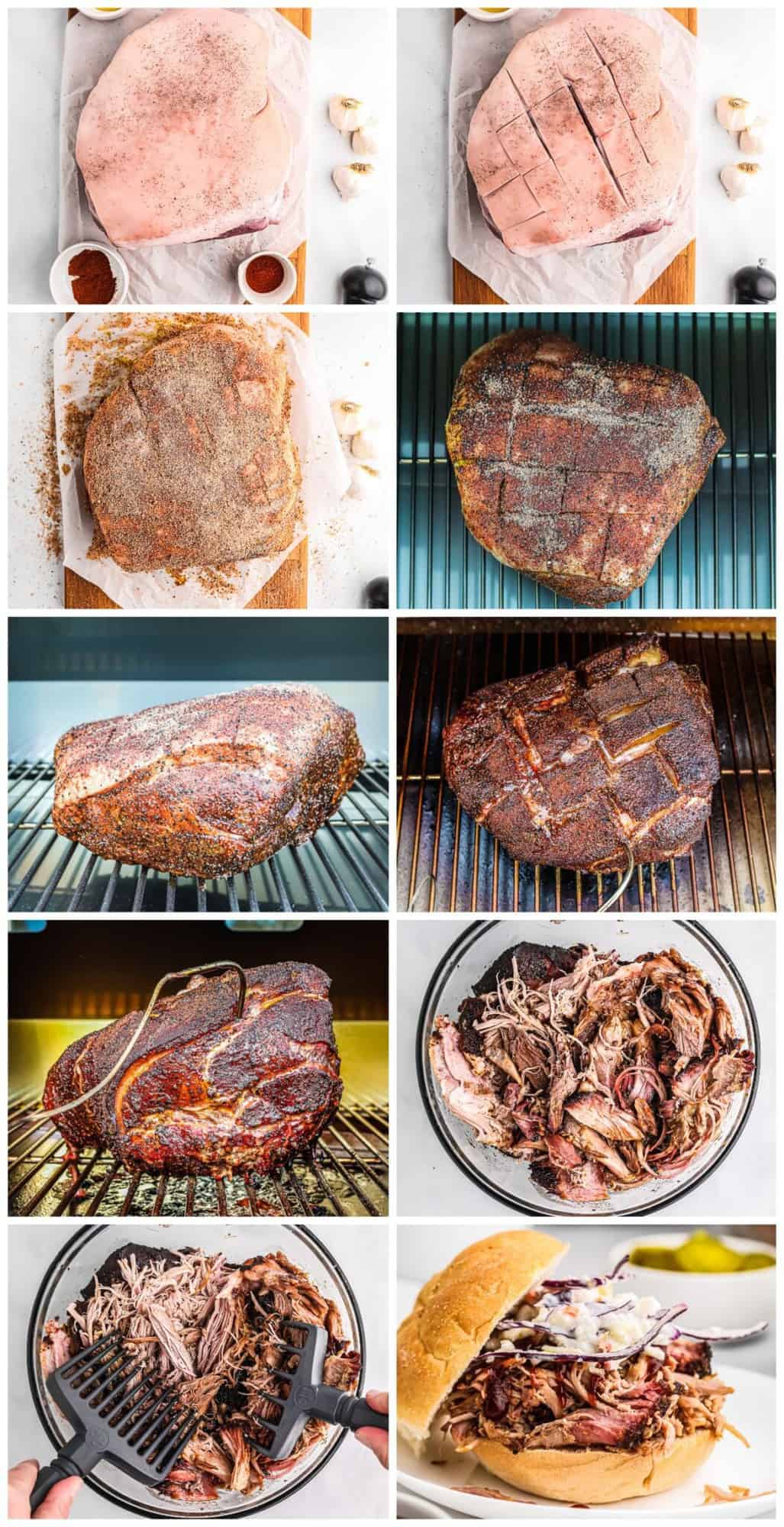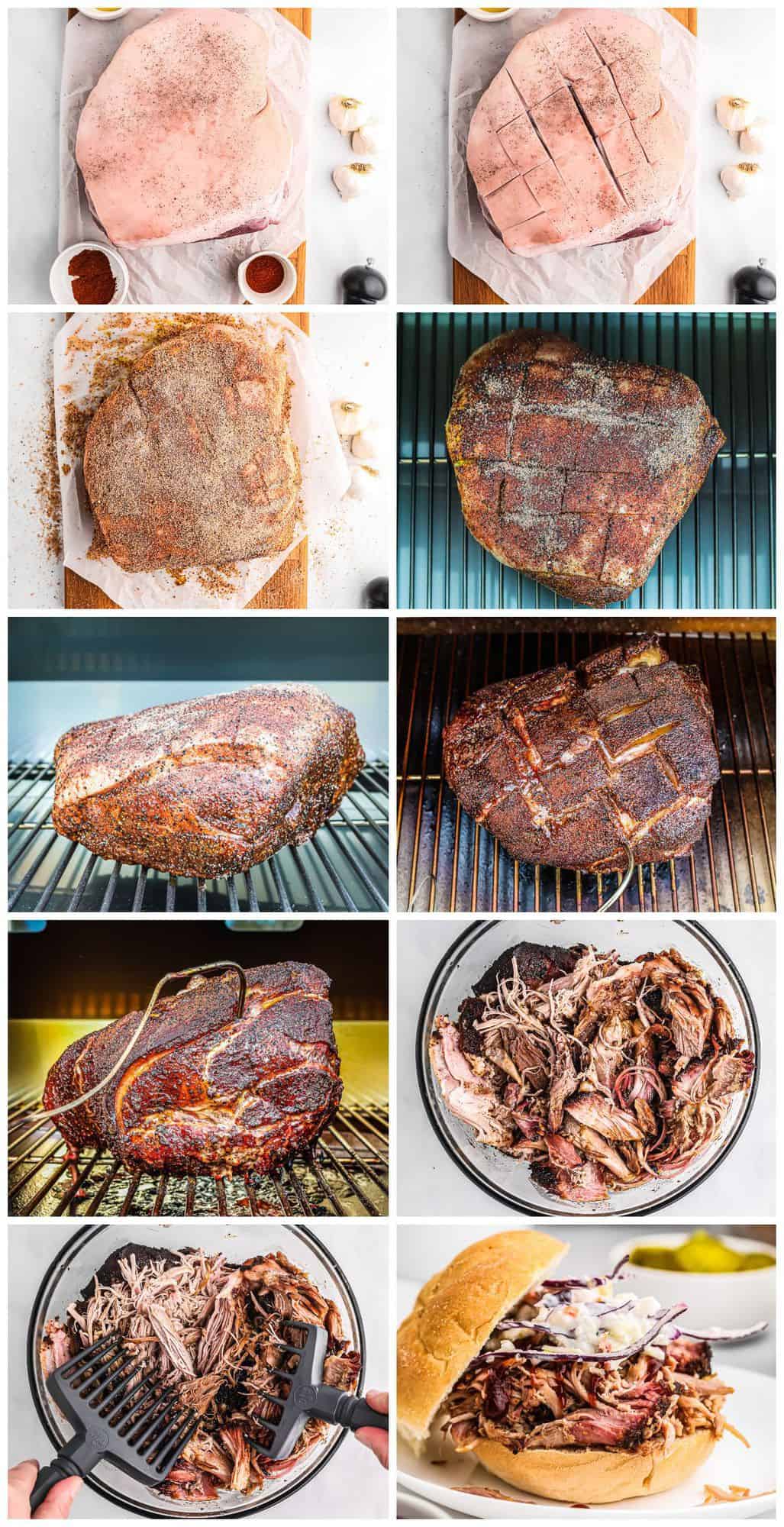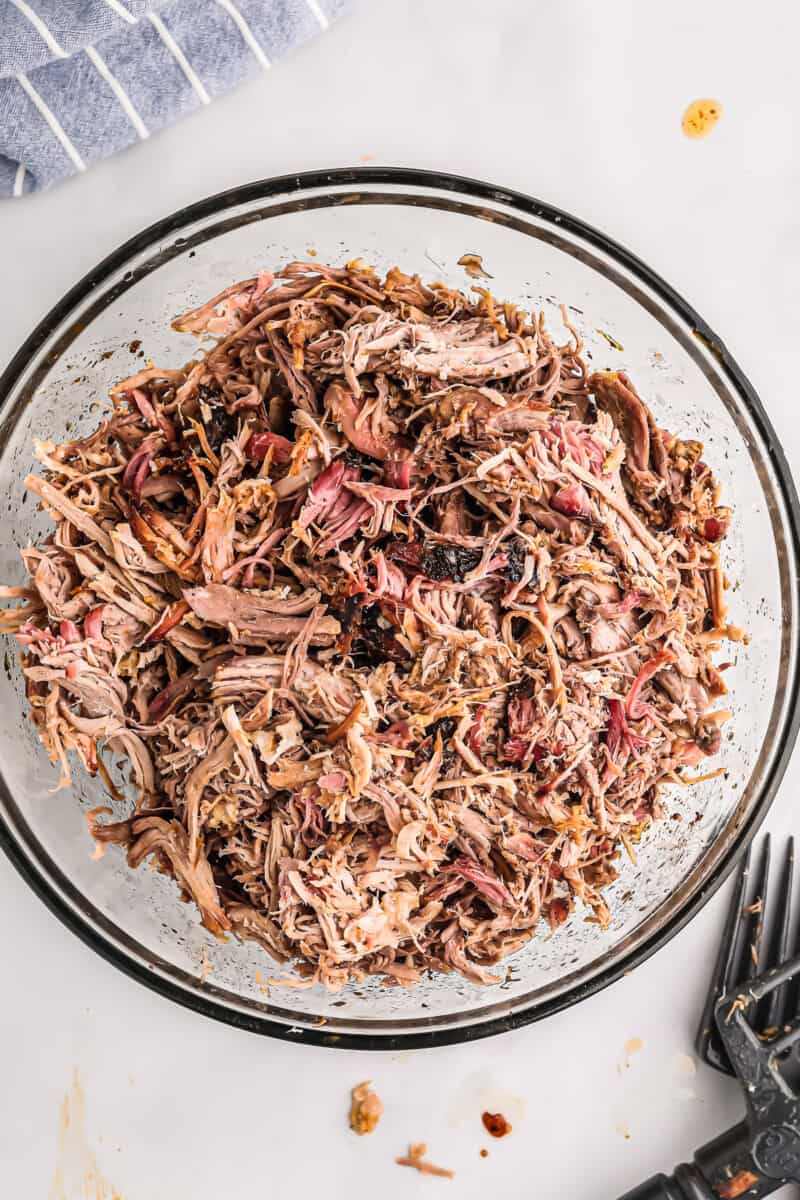 Best Cut for Pulled Pork
While you can use any fatty cut of pork, I recommend using pork shoulder (also called pork butt). This cut is extra fatty, which means it's extra tender when slow cooking.
That makes it ideal for pulled pork, because the meat is moist, juicy, and pulls apart easily.
How to make Pulled Pork in a Smoker
You can jump to the recipe card for full ingredients & instructions!
Pork Rub – combine spices and seasonings to make the rub. Cover the pork with mustard and season.
Marinate – place the pork shoulder in the fridge to marinate overnight.
Prepare smoker – fill it with water and wood to prepare for smoking.
Smoke at 250F – cook the pork at 250F for the first 4-6 hours, or until the internal temperature reaches 160F. Spritz it every hour with the bourbon and apple juice mixture to keep it moist.
Smoke at 225F – give the pork another spritze and wrap it. Then place it back in the smoker to cook another 4-6 hours, or until the internal temperature reaches 195F.
Rest – let it rest for an hour before shredding.
Shred – Pull the smoked pork apart into shreds.
Eat – Make pulled pork sandwiches, or serve as you please (I'm sharing lots of recipe ideas below). Enjoy!
How to Shred Pulled Pork
Whether you're making pulled pork sandwiches or using the meat for another dish, the shredding is obviously an important part of the recipe.
Note: It's best to shred pork while it's still warm from cooking. Once it's cold, the meat just doesn't pull apart as well.
You can use two forks to pull pork, or a meat shredder tool (also called bear claws or meat claws). The claws are larger than regular forks, so they will speed up the process. But whichever tool you use, the technique is the same.
Here's how to pull pork:
Give the smoked pork shoulder some time to rest so that it's not unbearably hot.
Place the meat in a large bowl or roasting pan. You could also just do this on a cutting board or clean surface, but I find doing it in a bowl to be helpful.
Take two forks (or meat shredders), place them in the meat facing away from each other, and pull forks apart in opposite directions. The meat will start to fall apart into shreds or chunks.
You may want to trim out any large pieces of fat you come across before shredding.
Be sure to remove and discard the bone.
If you've ever made shredded chicken, it's the same technique.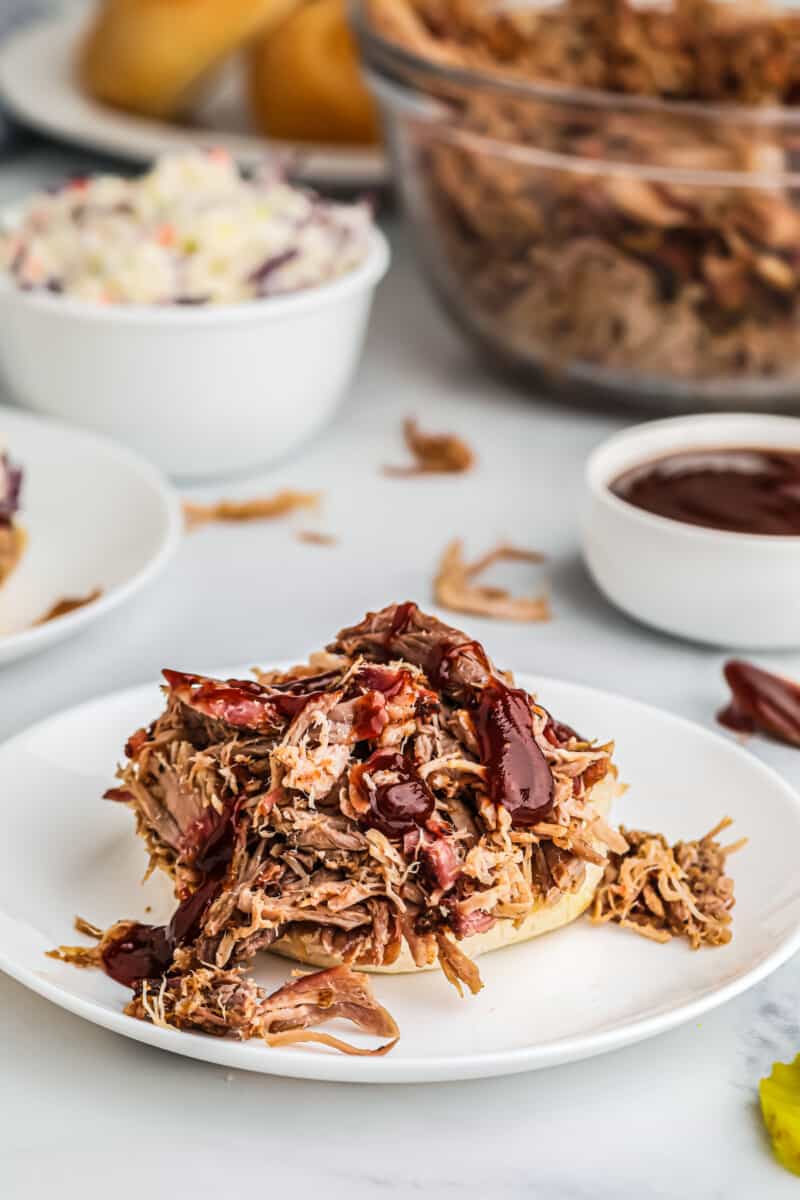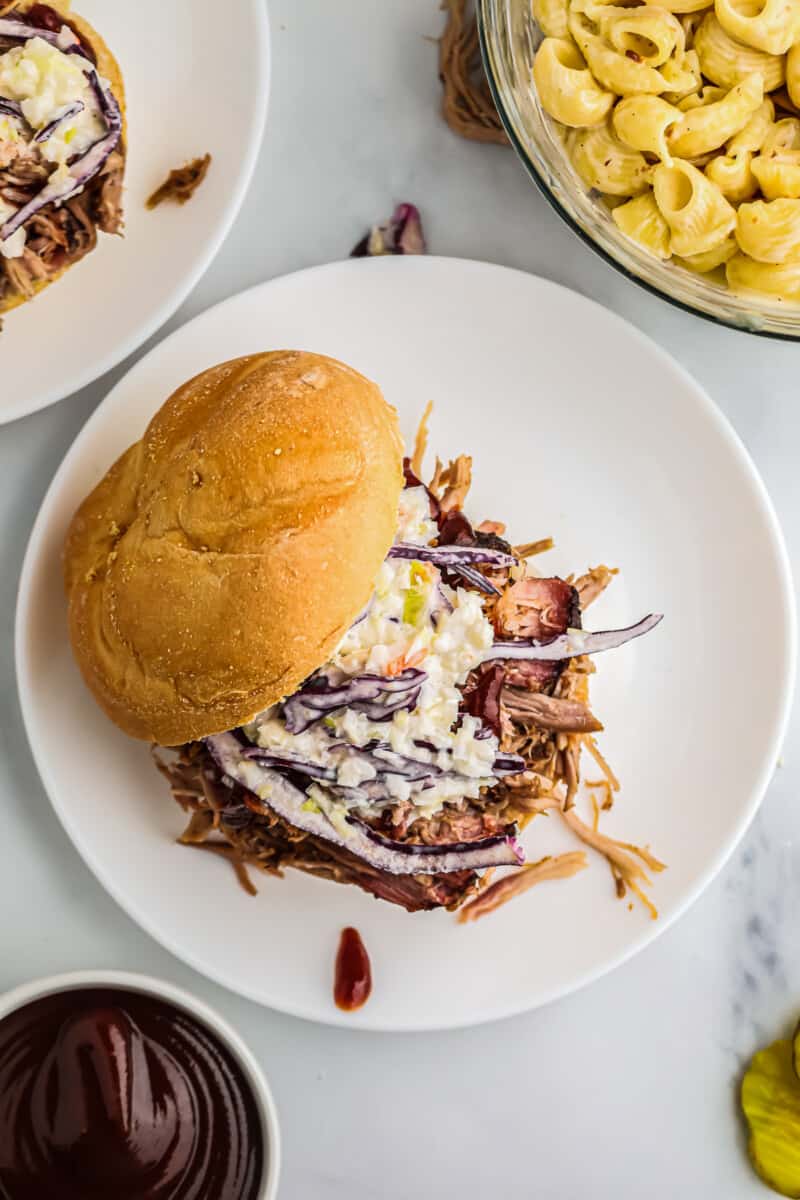 What temperature should I cook smoked pulled pork?
The ideal internal temperature for making pulled pork is 195-205F.
Even though pork only needs to be cooked to an internal temperature of 145F to be considered safe for consumption, we want to cook beyond that.
The higher temperature breaks down the collagen, making for a much more tender meat, ideal for shredding.
How long does it take to smoke pulled pork?
This is definitely a long and slow cooking process, so plan ahead for this recipe.
Here's a breakdown of the recipe timeline:
That puts official "cooking" time at around 10-12 hours, but full recipe time (start to finish) at close to 20 hours.
That being said, you won't be actively cooking the entire time. As long as you're around to keep any eye on the smoker from time to time, you can generally set it and do other things.
How much pulled pork do you need per person?
I generally plan on having about a 1/3 to 1/2 pound of meat per person, just to be on the safe side. That's more than enough for a pulled pork sandwich, but also allows for leftovers or extra hungry eaters.
Keep in mind that a 9-pound, bone-in pork shoulder will not yield 9 pounds of meat. So plan accordingly.
How to Store Leftover Pulled Pork
With a 9 pound pork shoulder (and the amount of time it takes to smoke), you'll likely have leftovers you'll want to save. Whether you are preparing the meat ahead of time or just couldn't finish it all at once, here's how to store it.
In the Fridge: Store in resealable bags or airtight containers. Keep it in the refrigerator 3-4 days.
Can you freeze pulled pork?
Yes, you can freeze it! Wrap leftovers tightly in aluminum foil and place it in resealable bags with as much air removed as possible. It's important to keep it well-sealed without air, or else you'll end up with freezer burn and poor quality meat.
I recommend separating leftovers into smaller portions so you can easily grab the right amount to reheat, and leave the rest frozen. The pork should only be frozen/reheated once.
Freeze up to 6 months.
How to Reheat Pulled Pork
Whether frozen or refrigerated, you can reheat leftovers in a few different ways. You can also eat pulled pork cold (as long as it was fully cooked and stored properly). Or you can use leftovers to add to other recipes, and cook accordingly.
My recommend reheating method for smoked pulled pork is the oven.
Set oven to 225F and arrange pork in a roasting pan.
Add a small amount of liquid into the pan (and/or spritz the meat regularly while warming). You can use more of the apple/bourbon mixture, any reserved juices from the meat, or another liquid.
Let the pork heat in the oven until warmed through.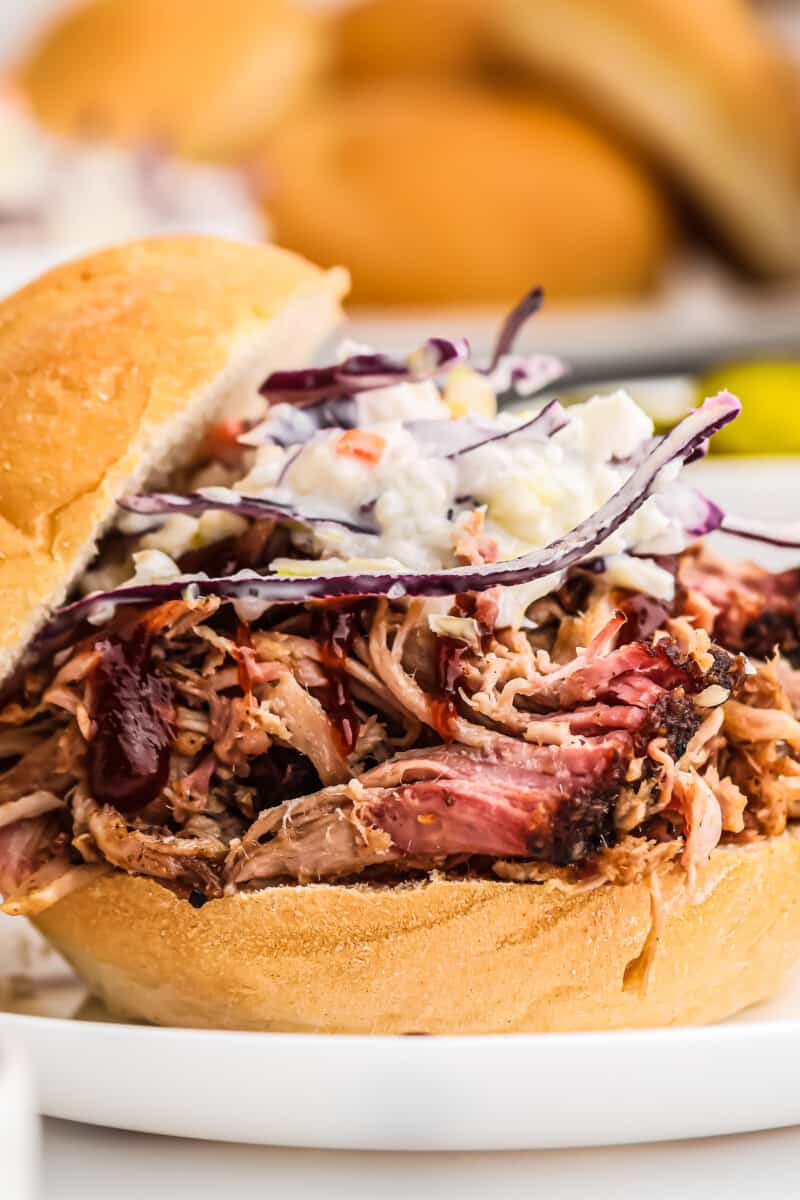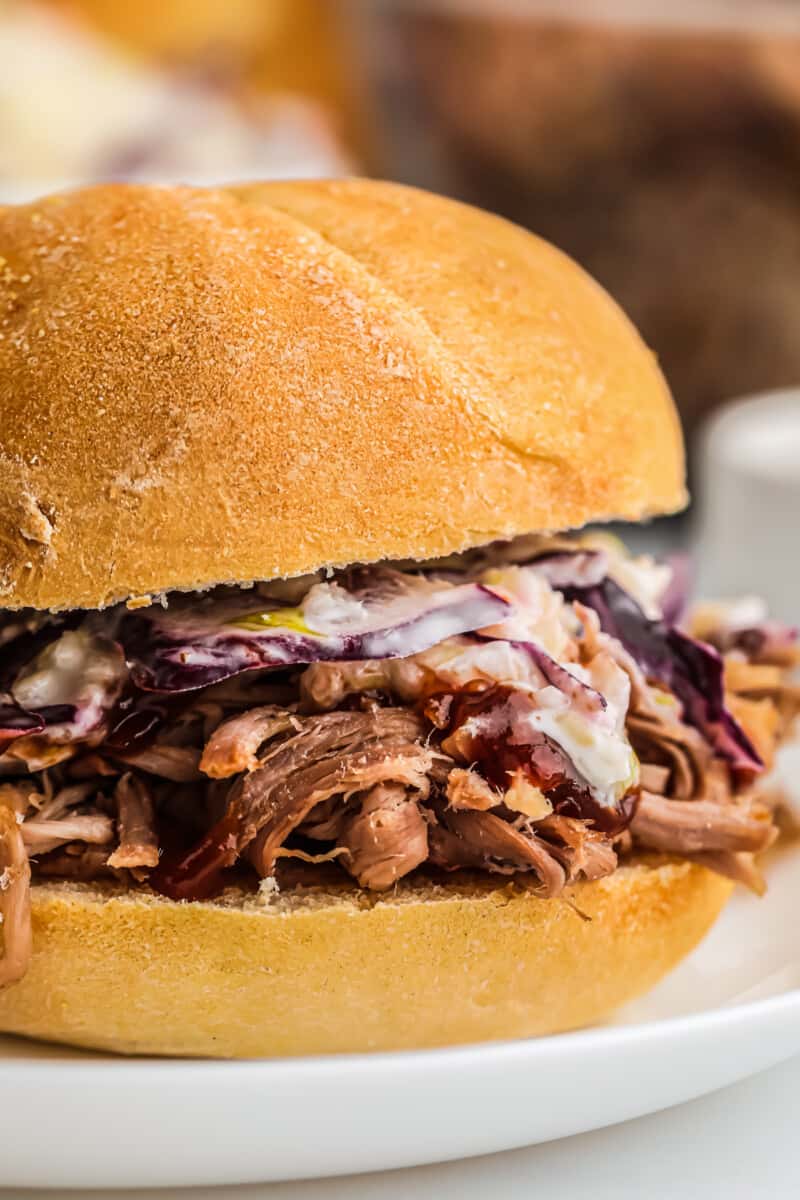 Pulled Pork Recipe Ideas
Now that you've got tons of smoked pulled pork to work with, you'll need some recipe ideas to use up any leftovers!
What to Serve with Smoked Pulled Pork
Above are lots of recipes ideas, but if you just want to serve it as a sandwich or on it's own BBQ style, here are some more ideas.
These are my favorite sides for pulled pork:
Tips!
This is a long, slow-cooking recipe. So read the full recipe instructions and plan ahead of time.
Rub and season the pork shoulder the night before smoking. Let it marinate overnight.
You can follow this same recipe for any size pork shoulder, just let the internal temperature be your guide for cooking times.
Wrap pork in aluminum foil or butcher's paper for the second half of the cooking time.
It is possible to overcook smoked pork, but since this is such a slow cooking process, a few minutes won't be the end of your pork. Just use a meat thermometer to check the internal temperature, and be ready to take it out around 195F.
Give the pork about an hour to rest (still wrapped) before shredding it.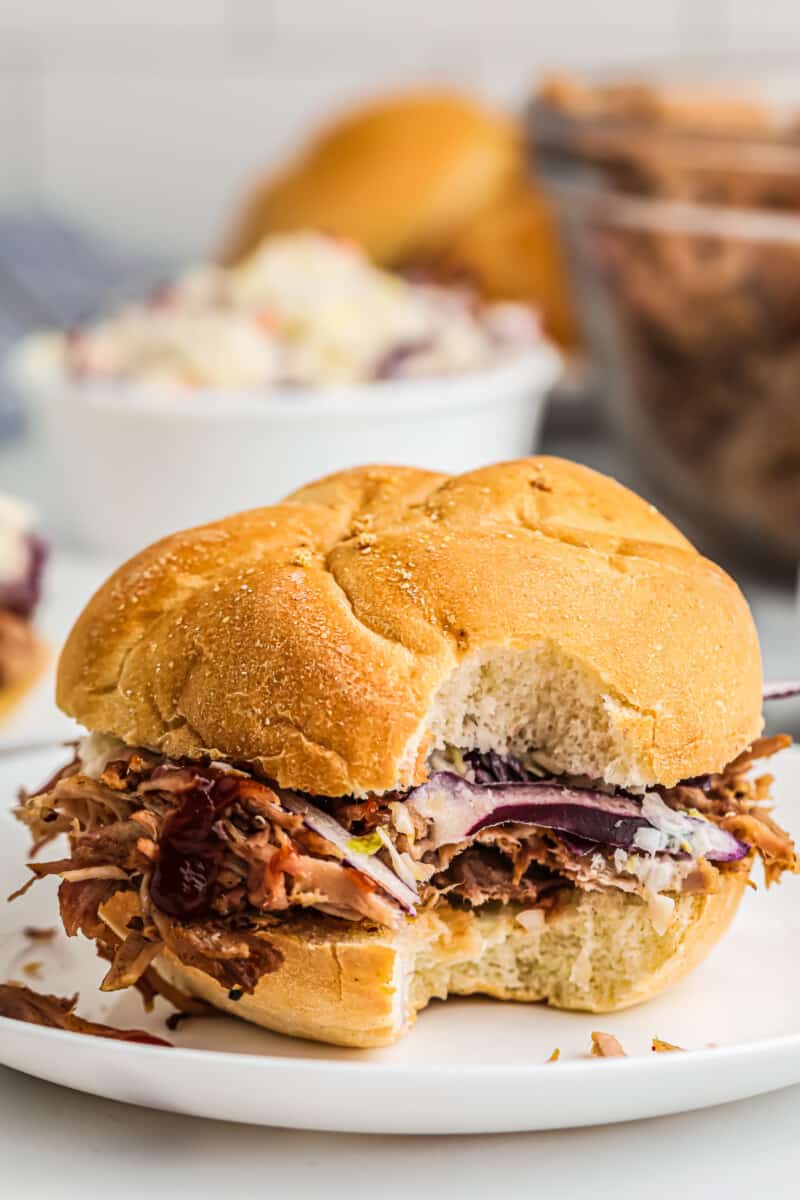 Whether you're planning a BBQ, looking to make pulled pork sandwiches, or want to use the meat for other dishes, you'll love this smoked pulled pork recipe!
If you make this recipe be sure to upload a photo in the comment section below or leave a rating. Enjoy! You can also jump to recipe.