Shrimp and Grits is the ultimate comfort meal! Buttery, cheesy grits are served with pan seared Cajun shrimp. This easy weeknight dinner takes just 30 minutes or less from start to finish and always yields filling, flavorful, and downright delicious results that you can really count on.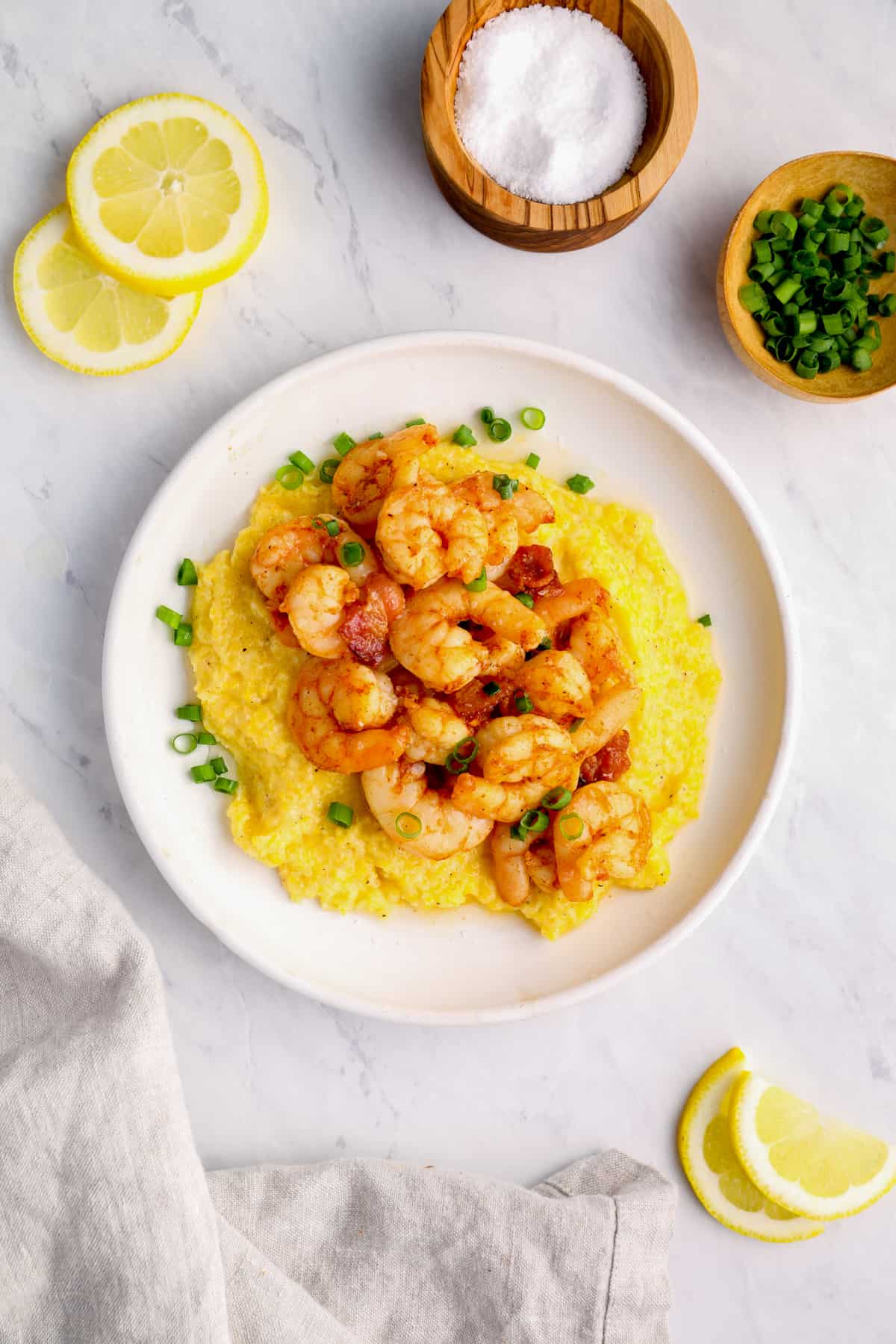 Cajun Shrimp and Grits
There's nothing quite like Shrimp and Grits. This classic southern staple has graced dinner tables for decades and isn't going out of style any time soon! While this seafood dish is great for summer, it can really be served any time of year since it's so warm and comforting.
Both elements of this dish are crave-worthy. The grits are buttery and made with cheddar cheese, so you know they hit the spot! Piled on top of those cheesy grits are the perfectly pan seared shrimp, made flavorful with bold Cajun seasoning. Squeeze a little lemon juice over the plate and stir in some bacon to really send this dish over the top!
Why You'll Love this Shrimp and Grits Recipe:
FILLING: Between the hearty grits and the protein from the shrimp, this is a dish that's sure to fill you up after just one serving.
FLAVOR PACKED: Cajun seasoning and shrimp are a perfect pairing! You'll love how flavorful the shrimp become when seasoned with that bold mix of spices. Oh, and have I mentioned there's bacon?!
QUICK AND EASY: The best weeknight dinners are the ones that are homemade, but not a hassle. Shrimp and Grits is a thirty minute meal with super easy to follow steps!
The grits come together pretty quickly and the shrimp takes just a minute or so to cook on the stove top. When you need a quick, comforting dinner, look no further than Shrimp and Grits!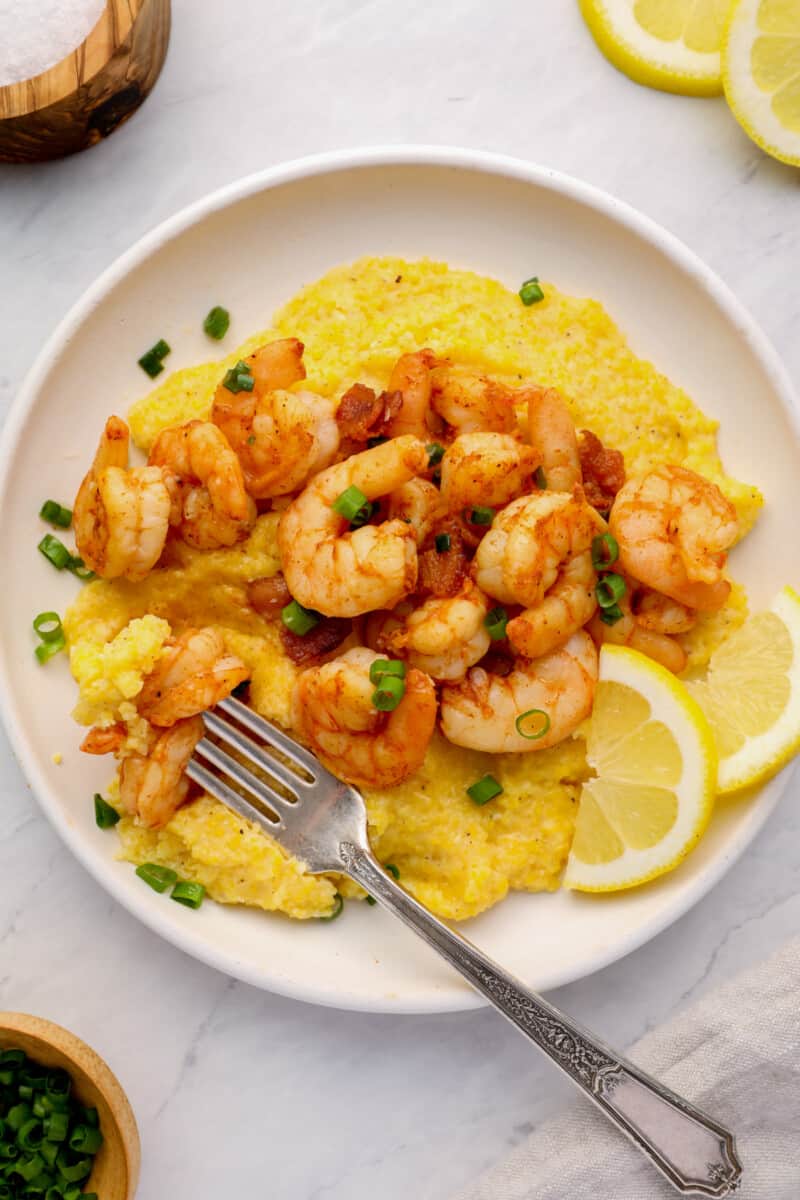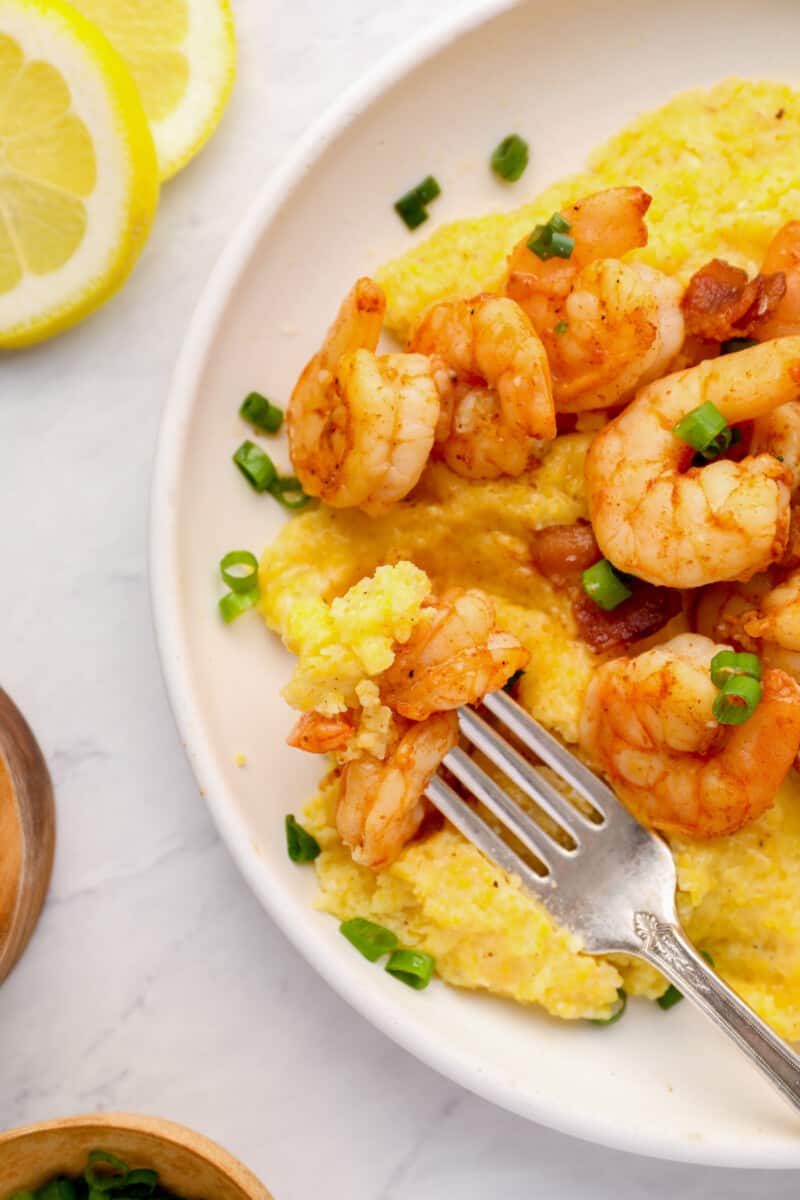 How to Make Shrimp and Grits
You can jump to the recipe card for full ingredients & instructions!
Cook the grits in chicken broth and water.
Stir in the butter, cheese, and pepper, then, set aside.
Cook the bacon, then set the bacon aside and reserve the grease.
Toss the shrimp with Cajun seasoning.
Cook the garlic and shrimp together.
Stir the bacon, scallions, and lemon juice together with the shrimp. Serve over grits, and enjoy!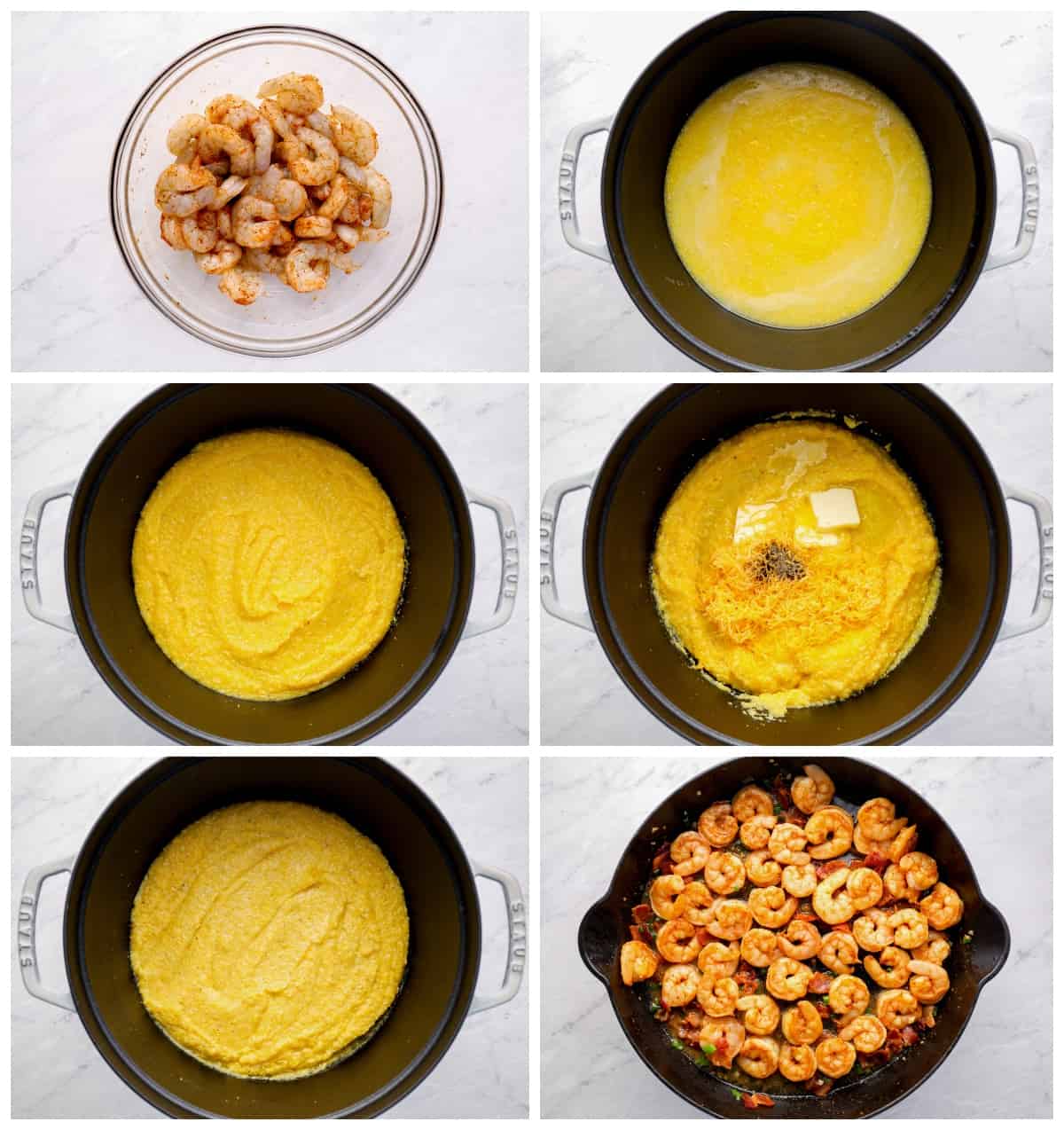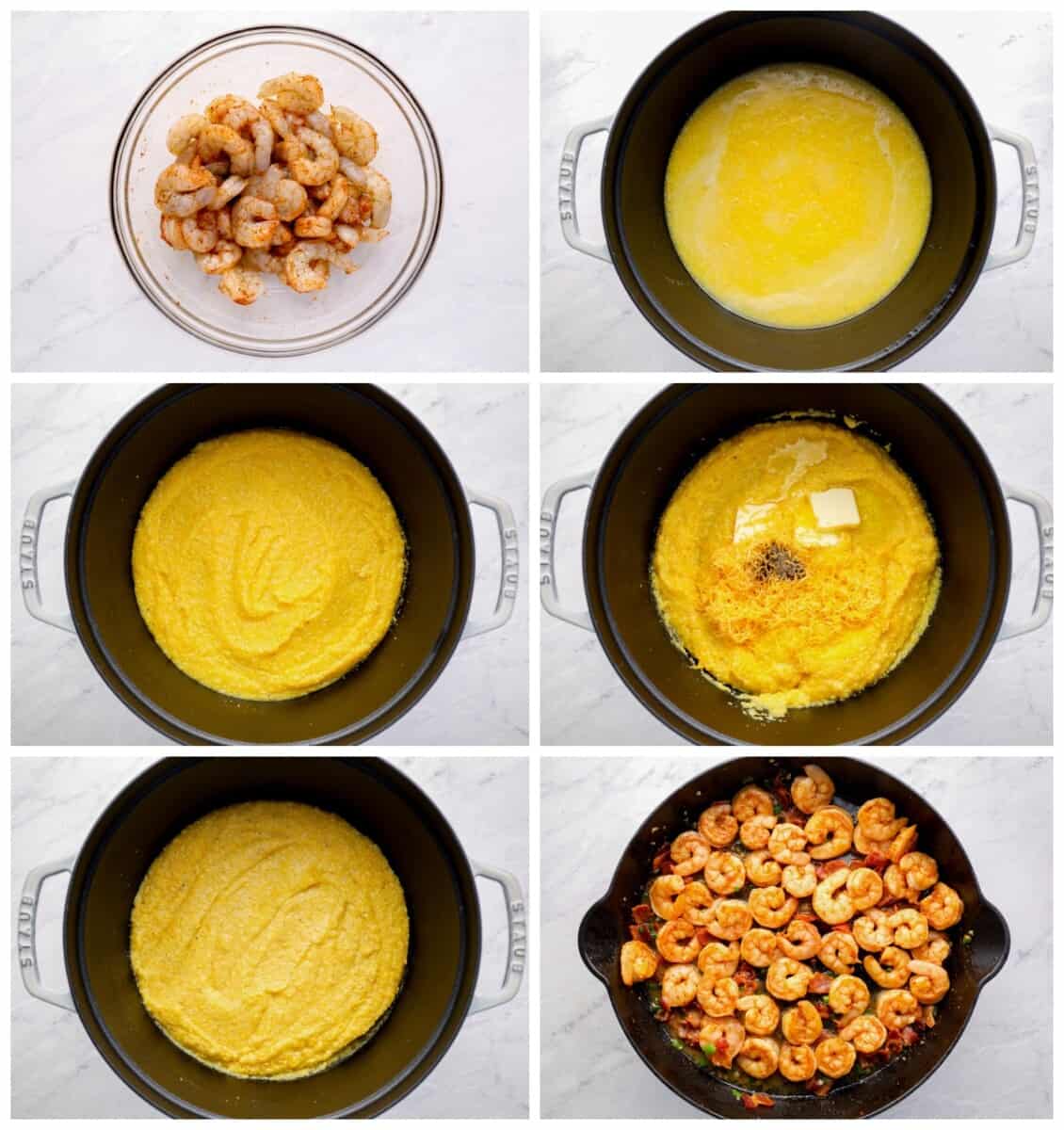 What are grits?
Grits are a type of porridge made from boiled ground corn.
What's the difference between grits and polenta?
Grits and polenta are both made from ground corn, but polenta is made from yellow corn only and has a coarser texture. Grits can be made from white or yellow corn, and they have a much finer texture.
What kind of shrimp should I use for shrimp and grits?
I recommend using large peeled and deveined shrimp for the best results. You can use fresh or frozen shrimp, but be sure to thaw the shrimp overnight in the refrigerator if they are frozen.
Can I make shrimp and grits without cheese?
Absolutely! If you're not a fan of cheddar cheese, you can leave it out or replace it with cream cheese or Parmesan.
Why did my shrimp and grits clump?
If you do not stir the grits as you add them to the boiling water, they can clump up. I recommend continuing to stir your grits occasionally until they are fully cooked to prevent them from clumping up during cooking.
How can I tell when shrimp are cooked?
Raw shrimp are translucent gray in color. Cooked shrimp are an opaque white color with some pink and bright red accents and 120°F internally.
When it comes to southern comfort food, not many dishes can beat Shrimp and Grits. It's a classic, tried and true meal that warms the body and soul!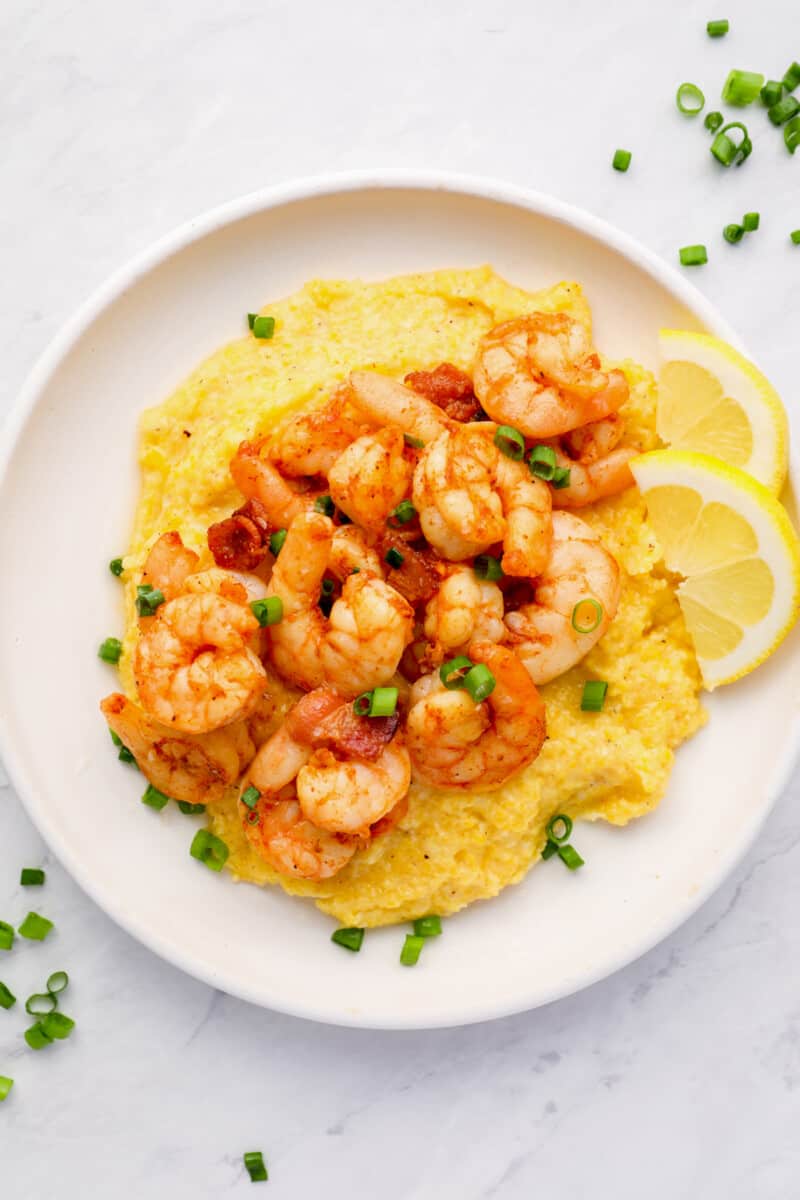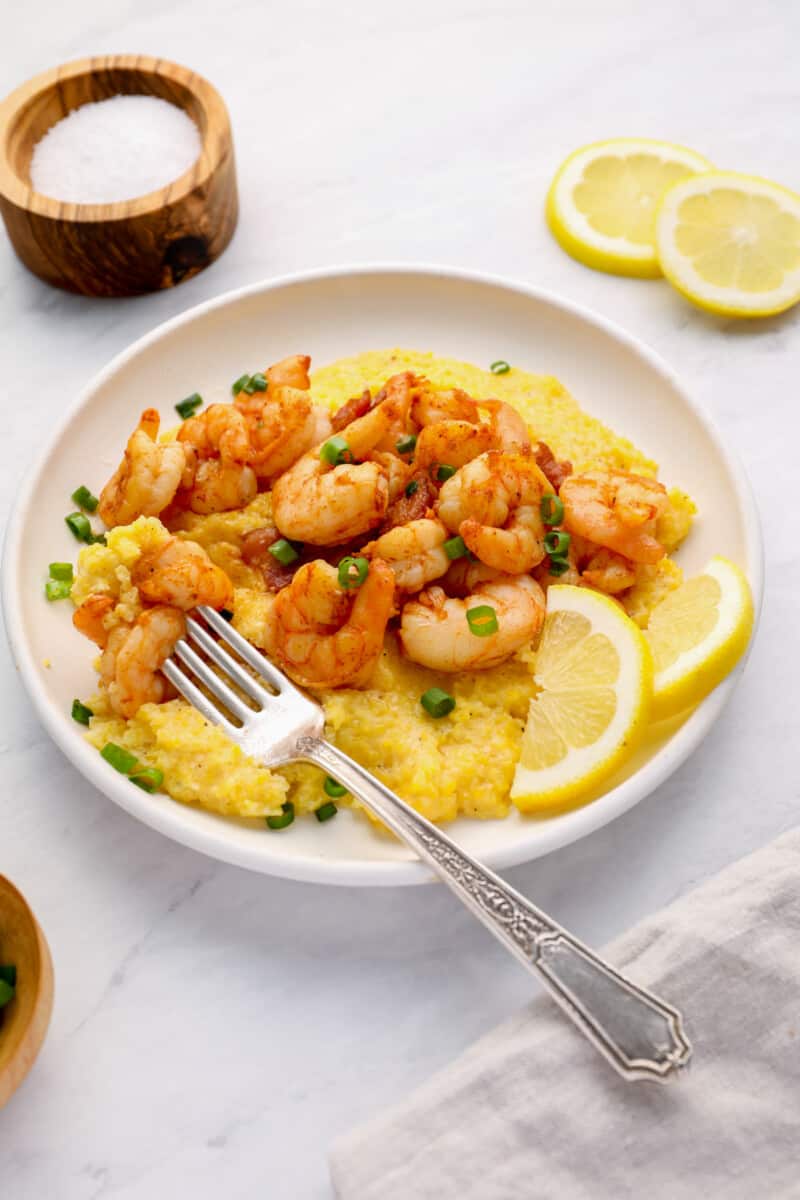 Make Ahead Instructions
Shrimp and grits is best served on the day it is made. You can prep the bacon and shrimp earlier in the day if desired by cutting the bacon into lardons and peeling and deveining the shrimp if needed.
Storage Instructions
Store leftover shrimp and grits in an airtight container in the refrigerator for up to 3 days. Reheat in the microwave in 30-second increments until warmed through.
Freezing Instructions
Freeze shrimp and grits for up to 3 months. I recommend freezing the shrimp and grits in separate airtight containers for the best results. Let thaw overnight in the refrigerator before reheating.
Substitutions
For creamier grits, replace 1 cup of the water with 1 cup of heavy cream.
You can use cream cheese or Parmesan in place of the cheddar cheese.
While I recommend using large peeled and deveined shrimp, you can really use any shrimp you like in this recipe! Whether or not you remove the tails is up to you.
Instead of Cajun seasoning, try the same amount of blackened seasoning or Old Bay.
For spicier shrimp and grits, add ⅛-¼ teaspoon of cayenne pepper.
Tips for the Best Shrimp and Grits
Always start by making the grits first. You can easily keep the grits warm while you cook the shrimp.
Be sure to salt the cooking water for the grits. This imparts a lot of flavor.
Feel free to add more butter to the grits if you desire. The butterier, the better!
If using frozen shrimp, let them thaw overnight in the refrigerator before cooking.
Cooked shrimp should be 120°F internally.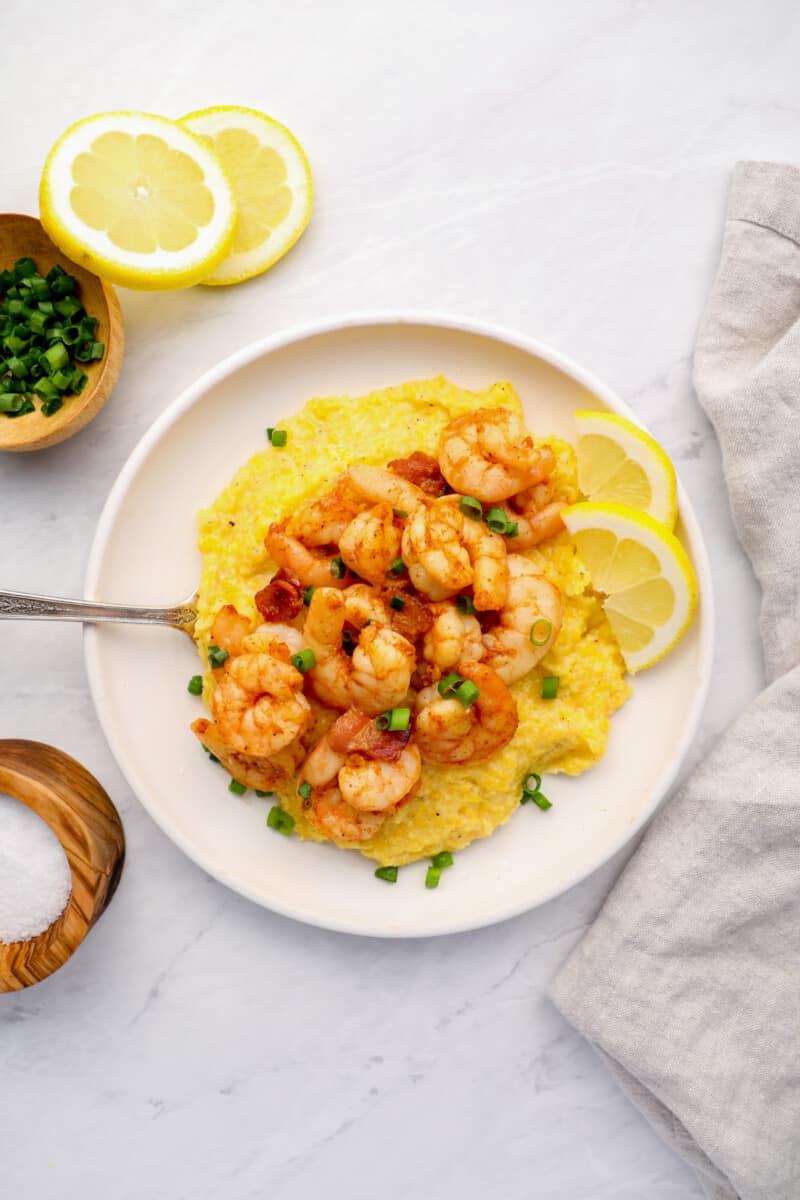 Quick, comforting, and so easy to make – this classic recipe for Shrimp and Grits has a lot to love about it! You can serve it up during the heat of summer or on the chilliest winter night and it'll always be sure to satisfy. After all, cheesy, buttery grits and flavor packed Cajun shrimp ALWAYS sounds like a good idea!
If you make this recipe be sure to upload a photo in the comment section below or leave a rating. Enjoy! You can also jump to recipe.