Lobster Mac and Cheese is the ultimate side dish for when you want to really impress! Tender, succulent bites of lobster are nestled into a casserole dish filled with decadent homemade mac and cheese. It's baked to perfection in just a few easy steps and always steals the show!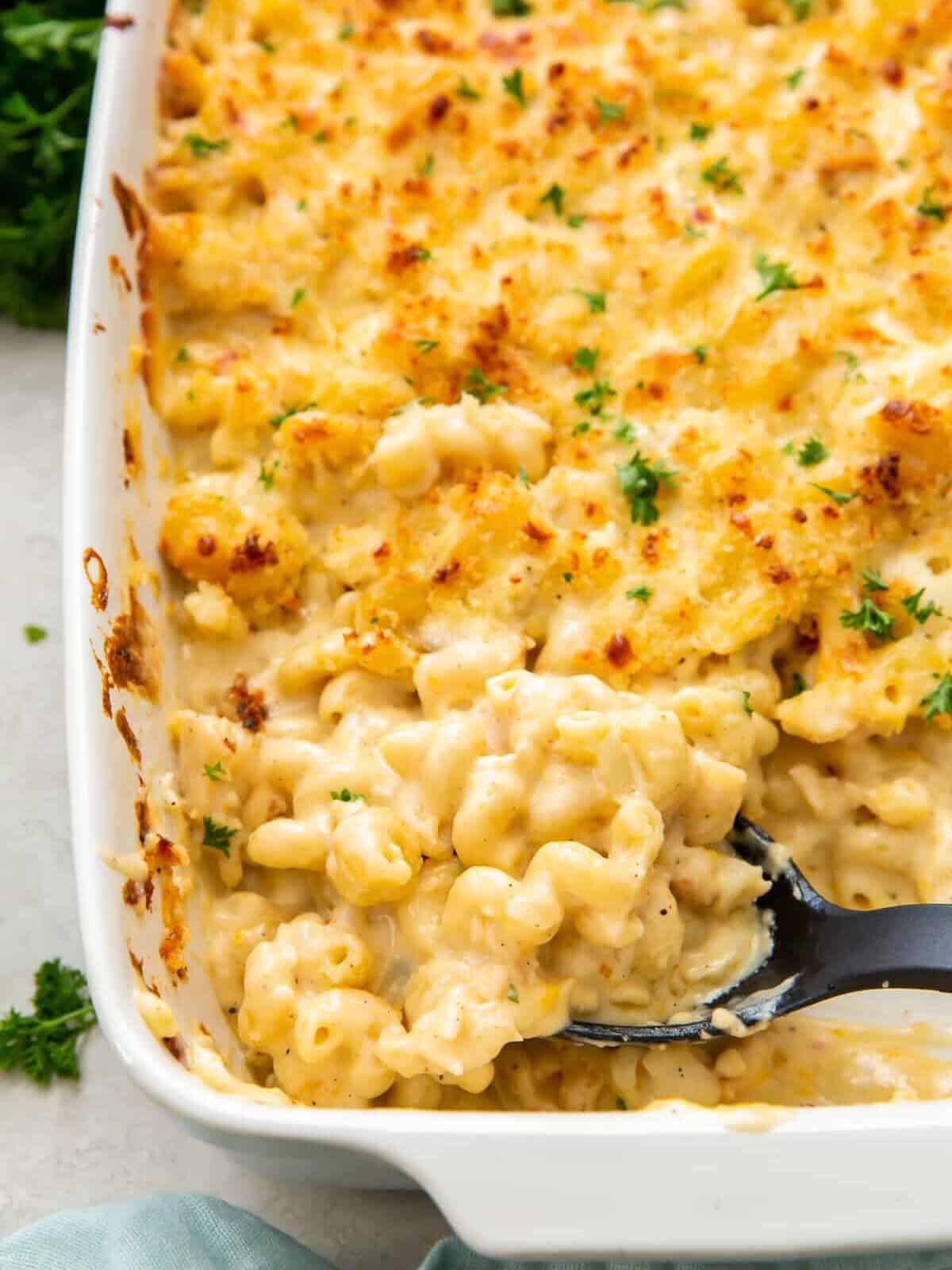 What's in Baked Lobster Mac and Cheese
This lobster mac and cheese recipe comes together in a simple, yet stunning medley of ingredients!
Pasta: I used cavatappi pasta, but any other small shaped pasta that's good at gripping cheese sauce (like macaroni or shell pasta) will work.
Onion: A yellow or white onion will both get the job done.
Garlic: For the best flavor, I recommend using fresh garlic instead of pre-minced.
All-Purpose Flour: This is used to thicken the base of sauce so it reaches that perfect creamy consistency.
Chicken Broth: You can use vegetable broth instead if preferred.
Milk: It'll need to be warmed to 115°F.
Cheeses: You'll need a medley of Gruyere, cheddar, and parmesan for this supremely cheesy mac and cheese recipe!
Salt and Pepper: Don't be too heavy handed with your salt. Also, freshly cracked black pepper will create the best flavor.
Nutmeg: Just a small pinch of this spice creates a level of warmth in the cheese sauce. Don't worry, you won't be able to detect it!
Cooked Lobster Meat: Check with your local seafood market to see if they sell already cooked lobster meat! If not, here are 3 ways to cook lobster tails that will give you perfect results.
Panko Breadcrumbs: This is sprinkled on top of the mac and cheese for the best added crunch!
Pro Tip: Don't overcook the pasta or the finished dish will be mushy. It should be cooked al dente as it will continue to cook in the oven.
How much lobster do I need for lobster mac and cheese?
This recipe calls for a pound and a half of cooked lobster meat. You can add more if you'd like it to be even more present in the dish!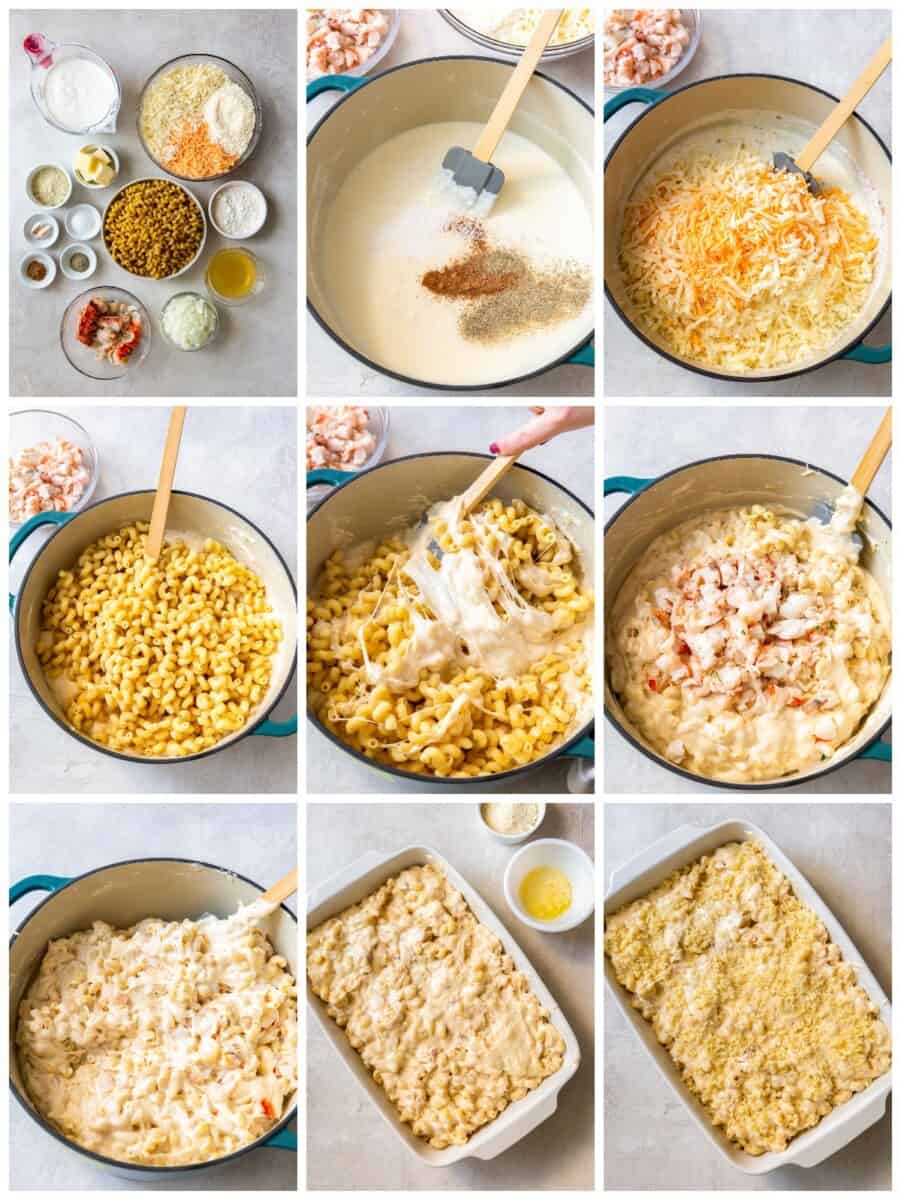 What kind of cheese do I need for lobster mac and cheese?
This recipe calls for Gruyere, cheddar, and parmesan. I recommend freshly shredding/grating your own cheeses for the very best consistency and flavor! Pre-shredded cheese is covered in an anti-caking powder that prevents it from clumping in the bag. It also prevents it from creating a smooth consistency when cooked in this recipe.
Do I have to use lobster?
While this recipe is titled lobster mac and cheese, you don't necessarily have to use lobster meat! Make this a seafood mac and cheese with cooked scallops or shrimp if you'd prefer.
Why isn't my sauce smooth?
When making the cheese sauce, KEEP WHISKING as you add in the ingredients! This will help to form a smooth and silky sauce.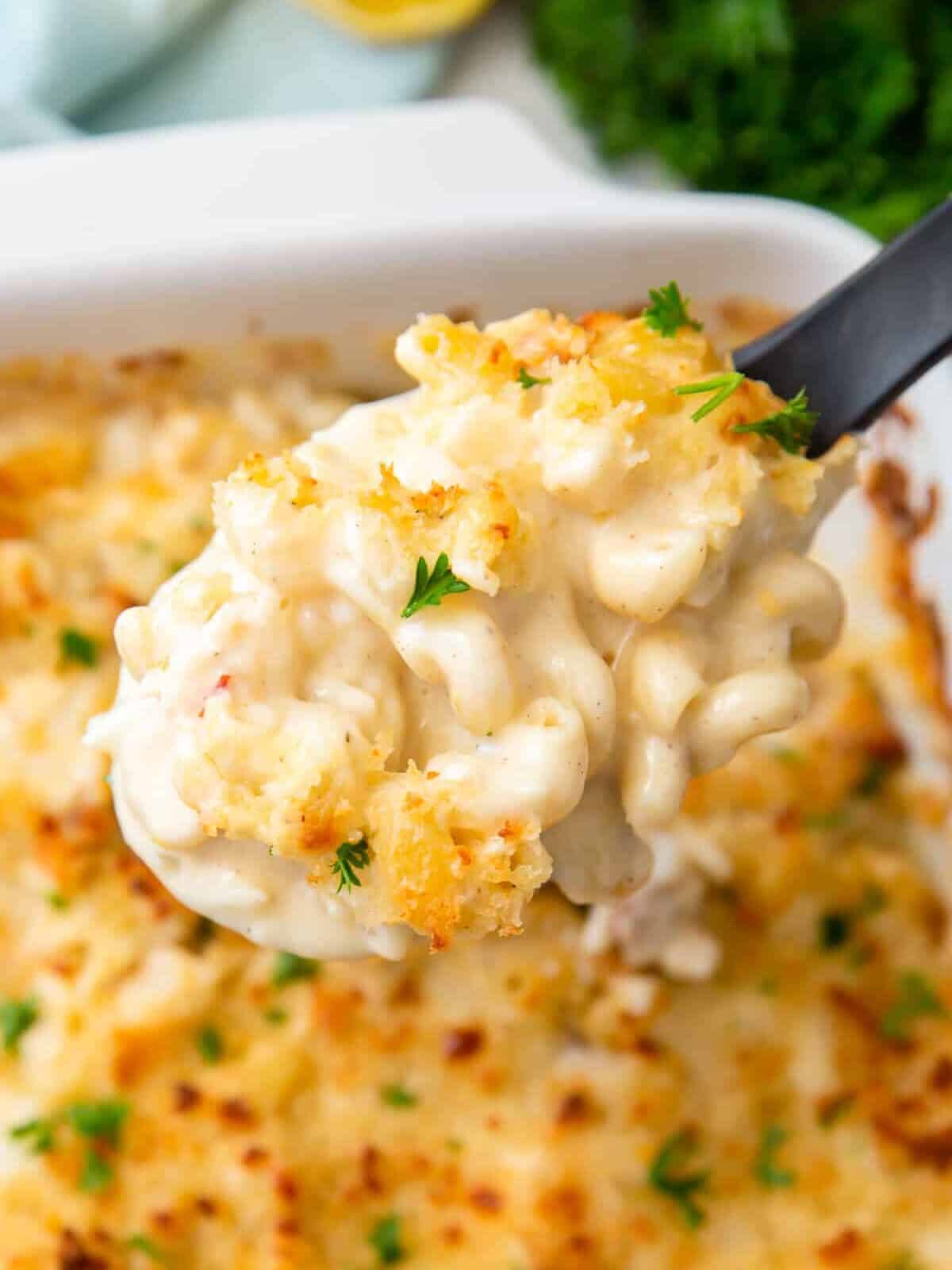 How to Store/Reheat
Let the lobster mac and cheese fully cool before storing in the fridge in an airtight container. It will keep well for up to 4 days. Reheat it in an oven at 350°F, with the top covered loosely with foil, for 10 to 15 minutes to warm up.
How to Freeze
Yes, you can freeze lobster mac and cheese! Allow it to fully cool to room temperature before either covering your baking dish with a lid or wrapping it tightly with both plastic wrap and foil. Properly stored in the freezer, it will stay fresh for up to 3 months.
Serving Suggestions
Lobster mac and cheese works well as a main course or as a side dish. If it's your entree, compliment it with sides like garlic bread or asparagus! As a side dish, it plates perfectly with restaurant style steak as a thoroughly impressive dinner.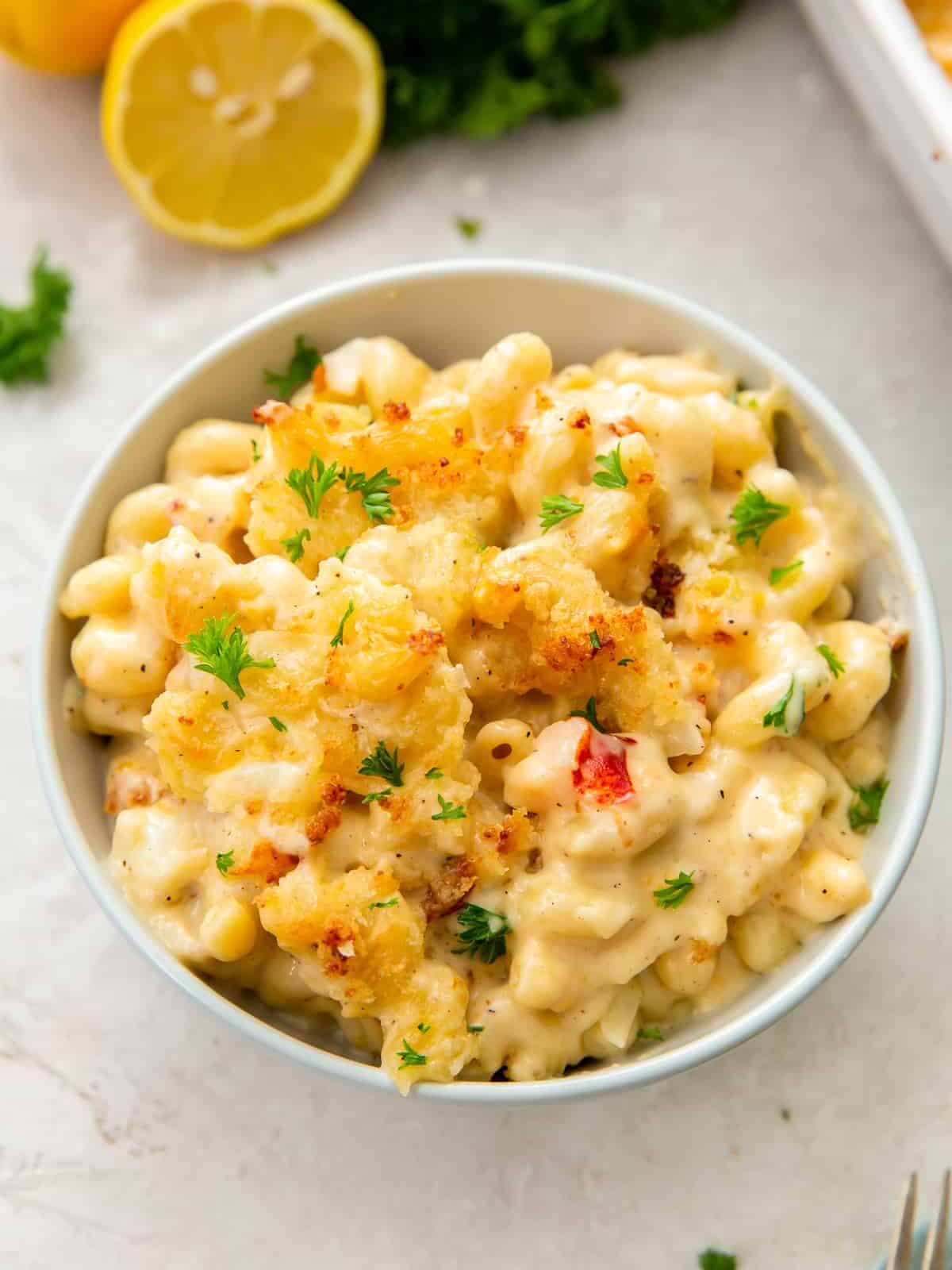 More Seafood Recipes We Love