Taco night meets comfort food with this cheesy, spicy Taco Mac and Cheese recipe! It's packed with all our childhood and Tex-Mex favorites, including macaroni noodles, ground beef, black beans, corn, taco seasoning, and of course lots of cheese. It's the best dinner for busy weeknights thanks to simple ingredients and just 5 minutes of prep time.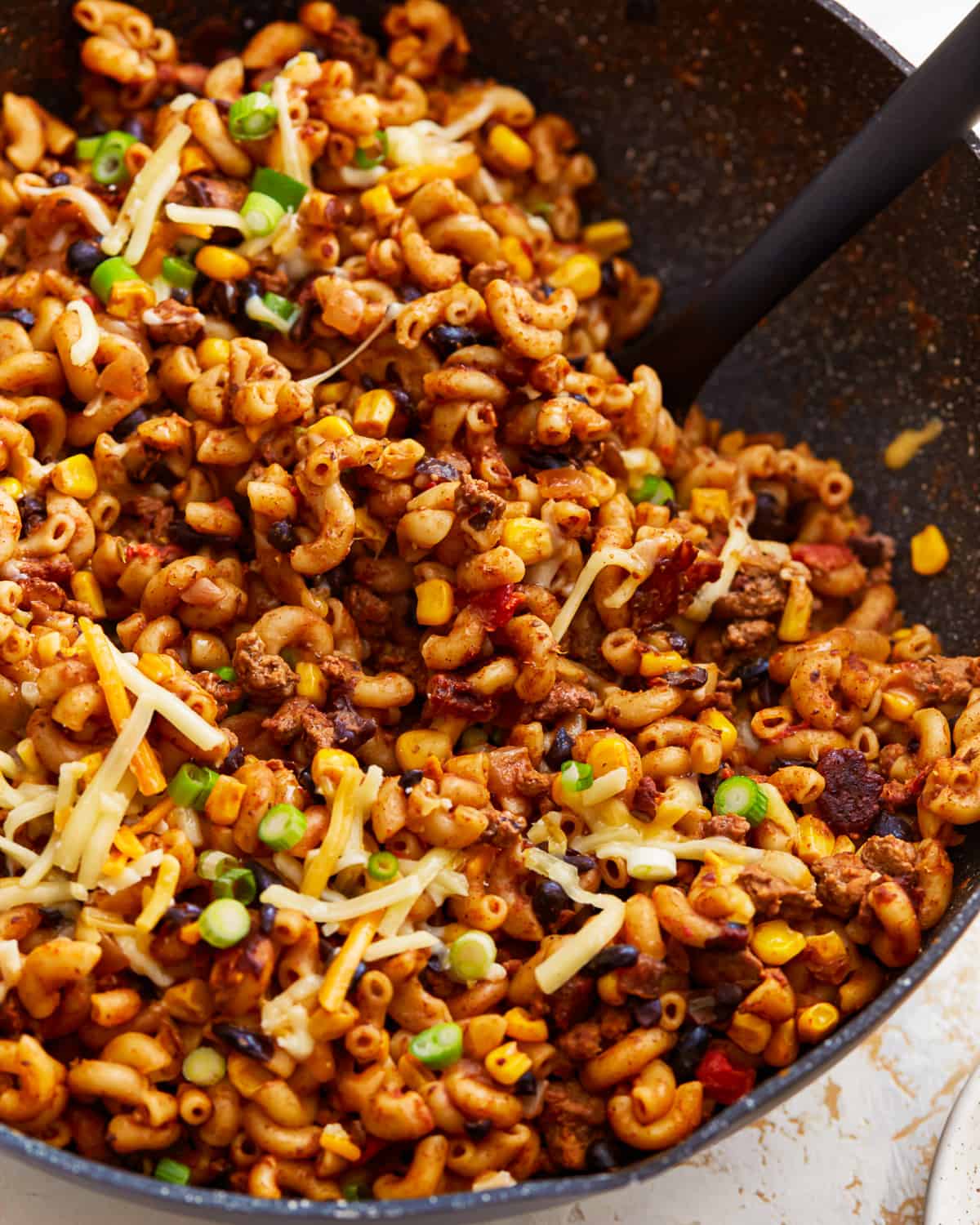 What's in this Taco Mac recipe?
Grab the dutch oven and your favorite taco toppings, this kid-friendly dinner idea is sure to become part of your regular rotation. All you need is to open a few cans, boil some water, and watch as the cheese combines with all those spices. Did I mention this is a one pot meal?
Ground Beef: I'm using 85% lean beef for the taco meat in this taco mac and cheese.
Macaroni: I'm using elbow macaroni noodles for that classic macaroni and cheese feel.
Onion: We're dicing an entire onion tonight.
Corn: Canned or frozen works.
Black Beans: Drained and rinsed.
Diced Tomatoes and Green Chiles: The acidic flavor and gentle spice adds nuance.
Taco Seasoning: I love using homemade taco seasoning, but store-bought works too.
Black Pepper: Just to taste.
Chili Powder: There's no Tex-Mex without it!
Water: Three cups.
Cream Cheese: This adds extra creaminess to this casserole.
Mexican Cheese Blend: This one needs no explanation. Save some cheese to sprinkle on top before serving!
Pro Tip: Add a splash of heavy cream along with the water for a luxuriously creamy sauce.
Variations on Mexican Mac and Cheese
There are so many ways to change up this taco mac recipe. That's what I love about cooking at home! You can change up a recipe to fit your needs.
Swap ground beef for ground chicken or ground turkey for a healthier option.
Switch up the cheese to something like pepper jack or cheddar cheese. You can even put together your own cheese blend with whatever cheese you have on hand.
To make it spicier, add a can of diced jalapeños or a few pinches of cayenne pepper.
Top this mac and cheese with typical taco toppings, like salsa, crushed tortilla chips, shredded lettuce, diced tomatoes, chopped green onions and bell pepper, taco sauce, or sour cream.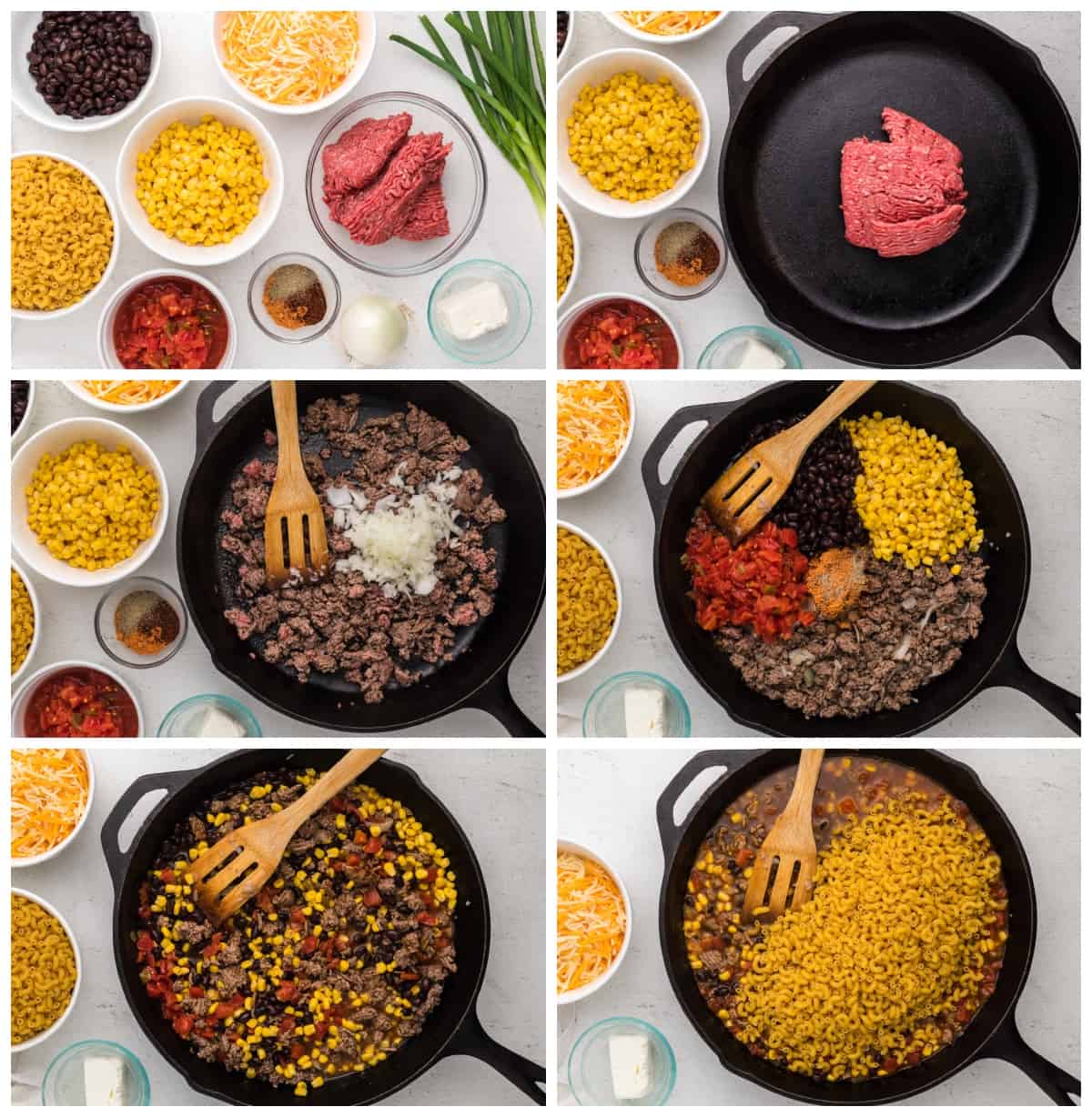 What is the best cheese for taco mac?
The classic cheese choice is a Mexican blend. However, you can also use sharp cheddar, Colby, Monterey jack, gouda, pepper jack, gruyere, or Swiss cheese. Feel free to switch it up and come up with your own custom cheese blend!
Can I make taco mac and cheese with a different kind of pasta?
Absolutely! You can use any short-shaped pasta type, like penne, ziti, shells, rotini, or cavatappi pasta! Just pay attention to the cooking time and adjust accordingly.
How can I make taco mac spicier?
If you want a spicier version of this dish, you can add cayenne pepper, crushed red pepper flakes, or Buffalo sauce. You could also add some diced jalapeños directly to the mac and cheese or as a topping.
Can I use fresh or frozen corn instead of canned?
Absolutely! There's no need to defrost the frozen corn– just add it and mix. The residual heat should defrost the corn.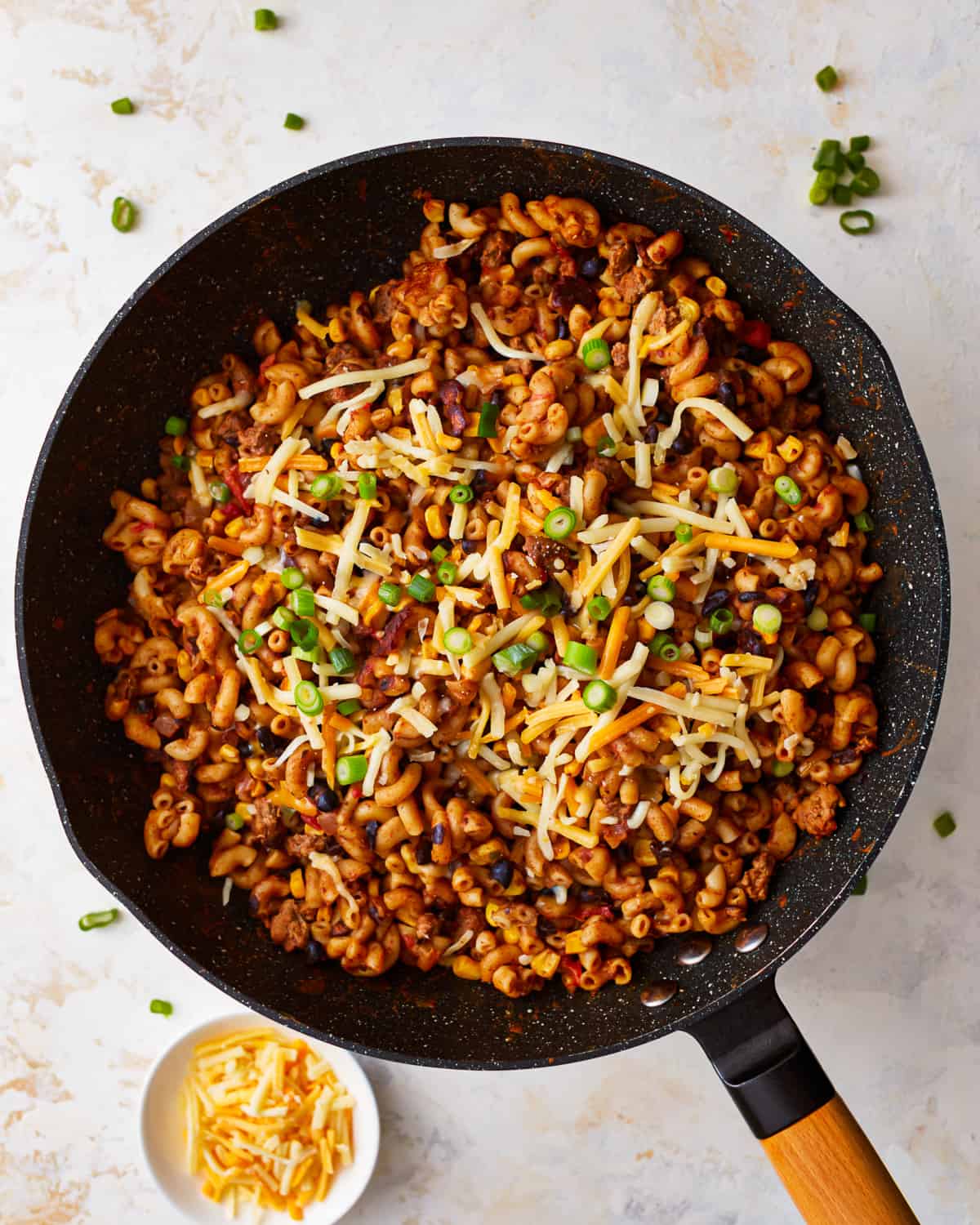 How to Store and Reheat Taco Macaroni and Cheese
Store leftover taco mac and cheese in an airtight container in the refrigerator for up to 4 days. Reheat covered with aluminum foil in a 350°F oven for 20 minutes, then remove the foil and bake for another 10 minutes, until hot and bubbly.
How to Freeze Tex Mex Mac and Cheese
Freeze ground beef taco Mac whole, or in individual portions, in freezer-safe containers for up to 3 months. Let thaw overnight in the refrigerator before reheating.
What to Serve with Easy Taco Mac and Cheese
The entire family will fall in love with every bite of this cozy Taco Mac and Cheese, but a great meal doesn't have to end there. I love having this Grilled Street Corn on the side or these mouthwatering Mexican Potato Skins. I also think these Mexican Spice Crackers would add a pop of flavor and crunch, and the little ones will love them.
This is my favorite comfort food meal for Taco night, Cinco de Mayo, and every night in between!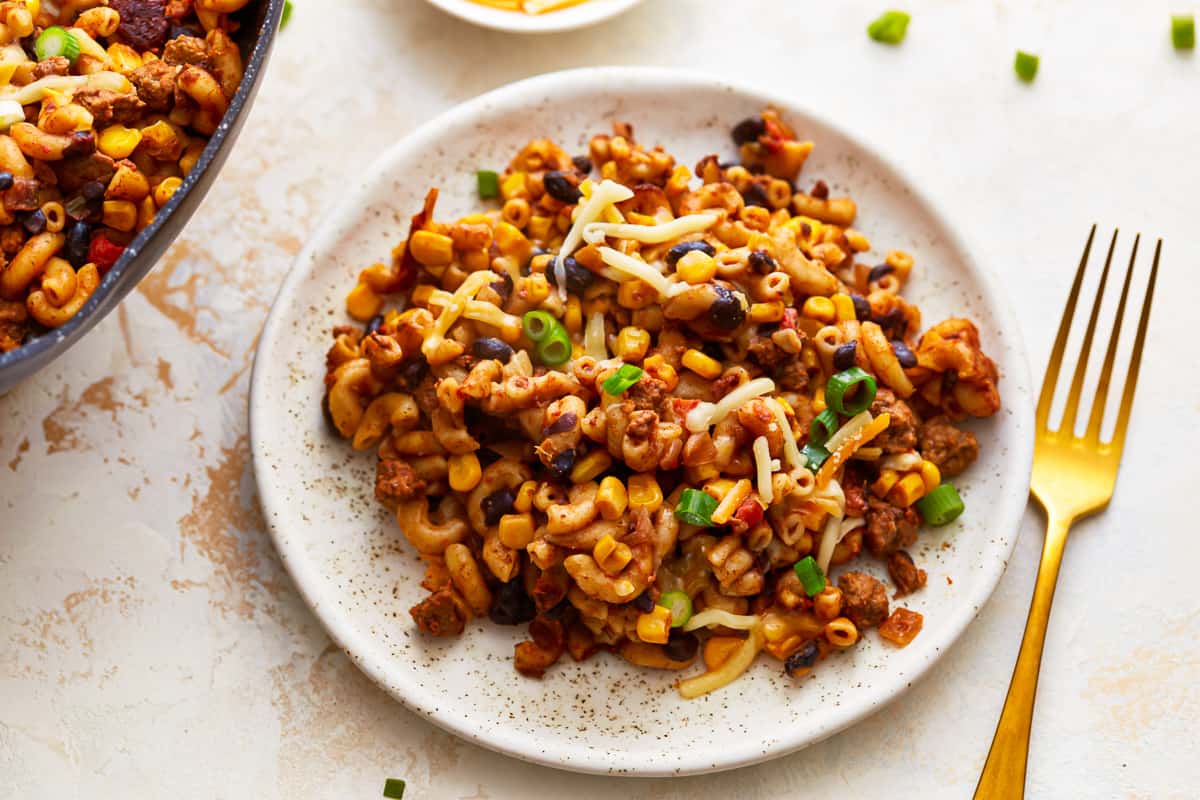 More Mac and Cheese Recipes We Love