This Pesto Mac and Cheese is creamy, savory, easy to make, and so delicious! Basil pesto mixed in with cheesy pasta makes a dream of a weeknight meal!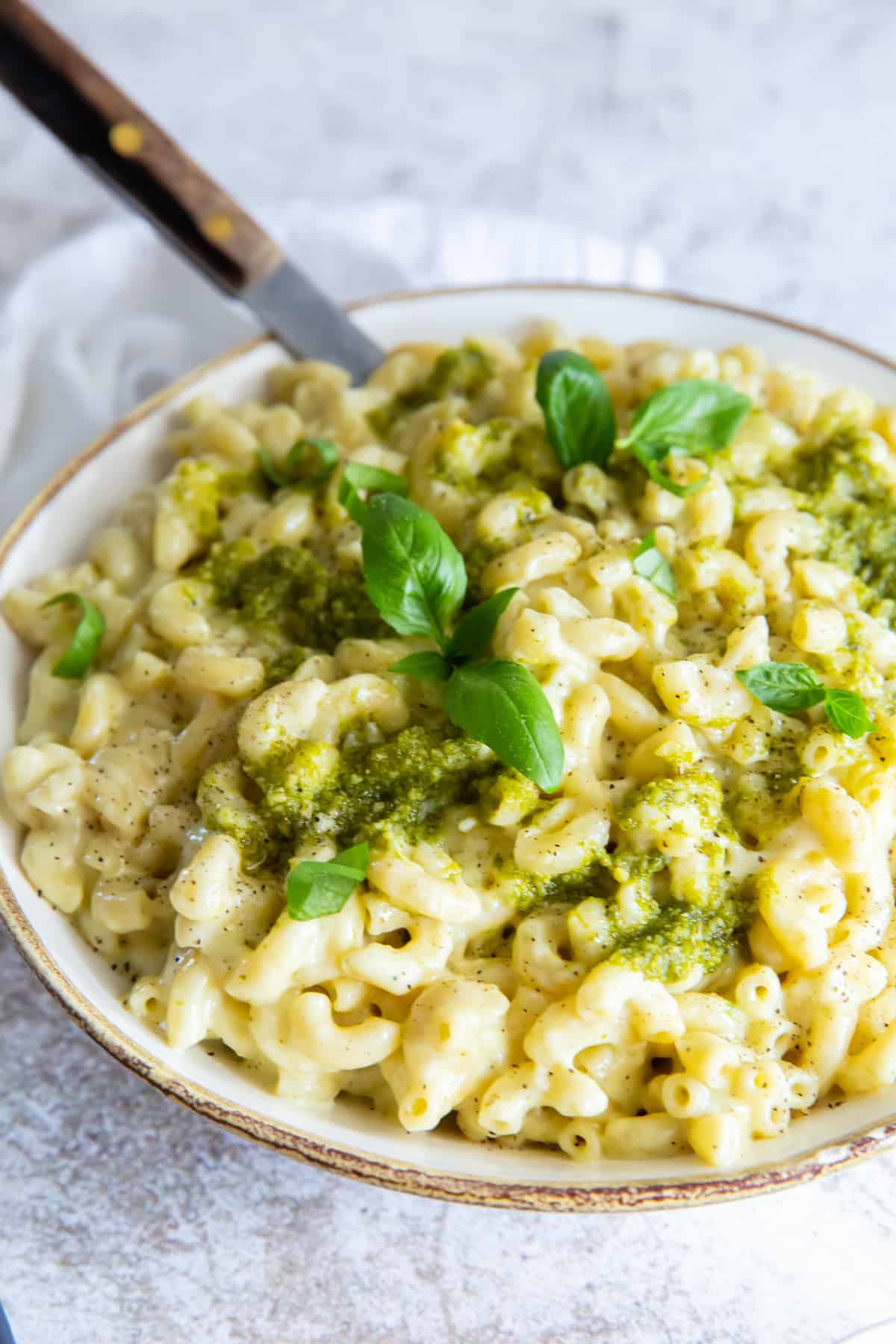 What's in Pesto Mac and Cheese?
This easy recipe features ingredients like heavy cream, milk, pesto, Parmesan and cheddar to create the creamiest, cheesiest consistency and flavor!
Dry Elbow Macaroni: Use elbow macaroni, shells, farfalle (bowties), cavatappi, penne, fusilli, or other short shaped pastas.
Unsalted Butter: Use unsalted butter.
All-Purpose Flour: Flour helps create a thicker cheese sauce.
Heavy Cream: This makes the sauce extra creamy and silky.
Milk: I recommend using whole milk for the richest flavor.
Shredded Cheese: Use a mix of white cheddar and Parmesan. Freshly-shredded cheese will melt best.
Kosher Salt: If you use salted butter instead of unsalted, you may want to omit this additional sprinkle.
Freshly Ground Black Pepper: Use to taste.
Ground Nutmeg: Nutmeg adds a subtle, earthy nuttiness to the overall flavor, without standing out too much.
Pesto: Pesto adds incredible flavor to this Mac and cheese to make it feel gourmet! I use my homemade basil pesto, but you can use any variety you like.
Fresh Basil: Garnish with this fresh herb to complement the pesto.
Variations to Try
This pesto mac and cheese is great on its own, but you can bulk it up by mixing in some other ingredients.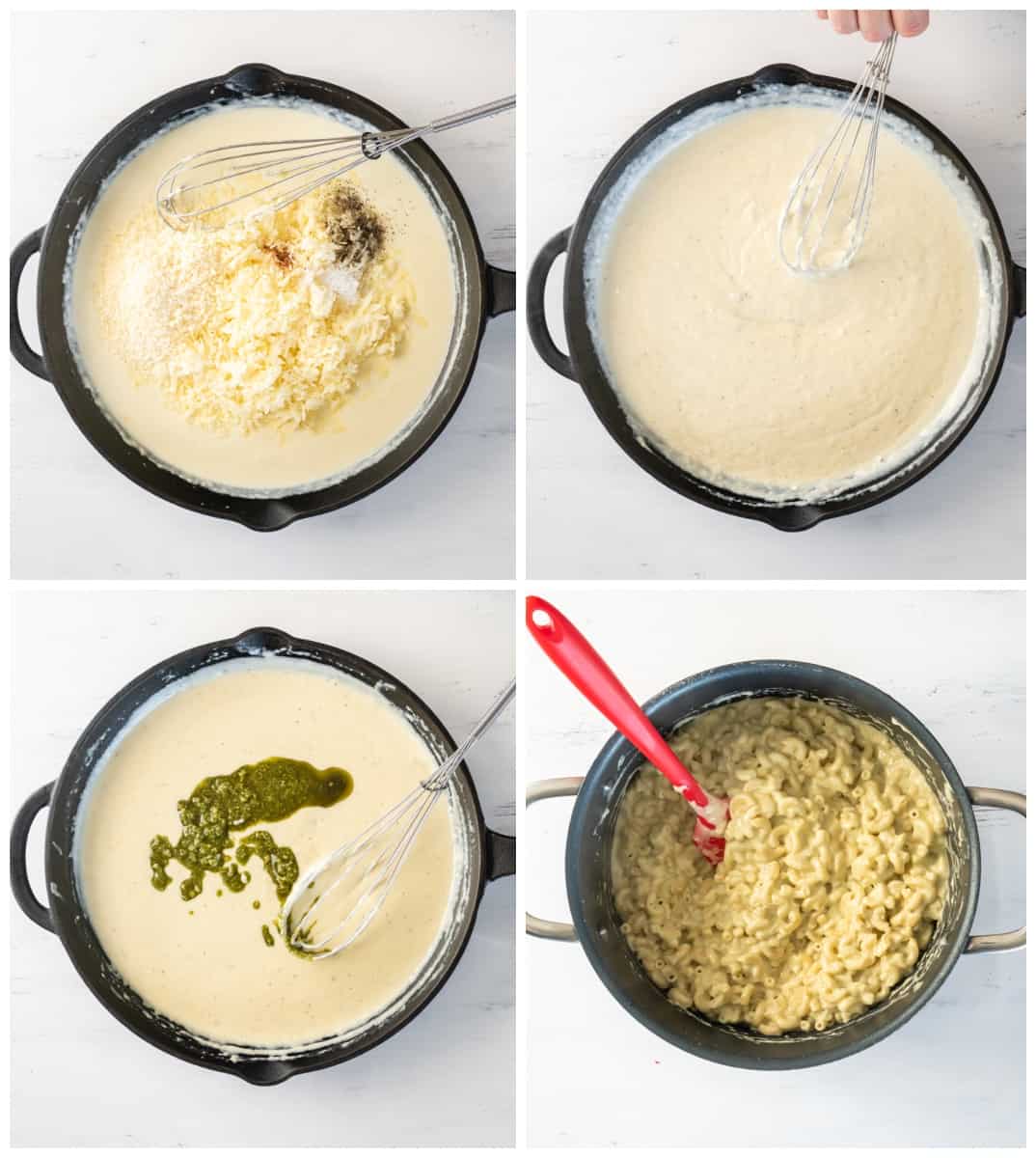 Can I make this into baked mac and cheese?
To turn this into a baked mac and cheese casserole, pour the cooked macaroni into a 9×13-inch baking pan, sprinkle with breadcrumbs and parmesan cheese, and broil for 3-4 minutes, until the topping is golden brown.
Should I heat pesto before adding it to mac and cheese?
Nope! There's no need to heat the pesto before adding it. We will add the pesto off the heat, and the residual heat from the pasta and cheese sauce will heat and loosen the pesto, allowing it to be stirred in seamlessly.
How do I make pesto mac and cheese ahead of time?
Pesto macaroni and cheese can be made up to 2 days in advance of when you plan to serve it. Store it in an airtight container in the refrigerator until ready to serve. Reheat gently over the stovetop, adding more heavy cream or milk to loosen the sauce as needed.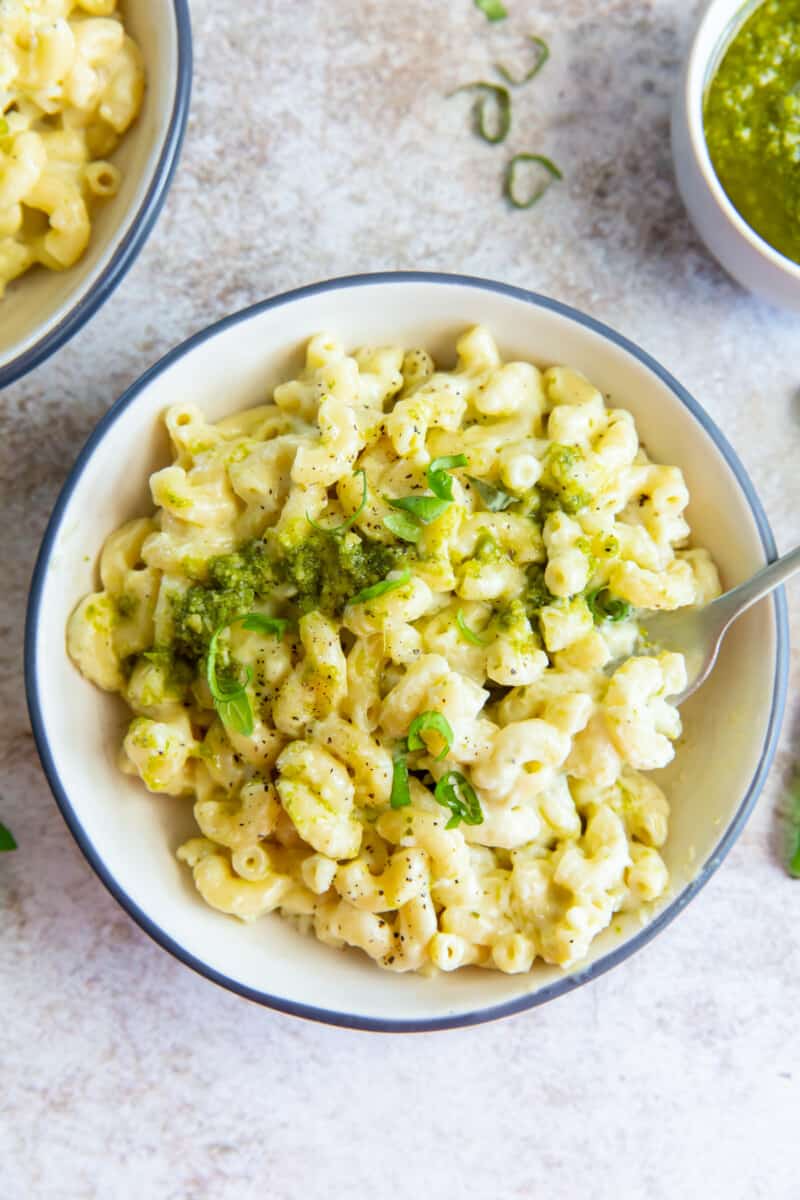 How to Store and Reheat
Store leftover pesto mac and cheese in an airtight container in the refrigerator for up to 3 days. Reheat gently on the stovetop or in the microwave, stirring in more cream or milk as needed to loosen and rehydrate the sauce.
How to Freeze
Freeze pesto mac and cheese in individual portions in Ziplock bags for up to 3 months. Let thaw in the refrigerator overnight before reheating.
What to Serve with Pesto Mac and Cheese
This creamy, cheesy, basil pesto macaroni pairs well with bread and veggies. Serve it with cheesy pull apart bread, cheesy focaccia, or Parmesan crusted Hawaiian rolls. Add roasted Brussels sprouts, roasted potatoes, or spicy firecracker broccoli.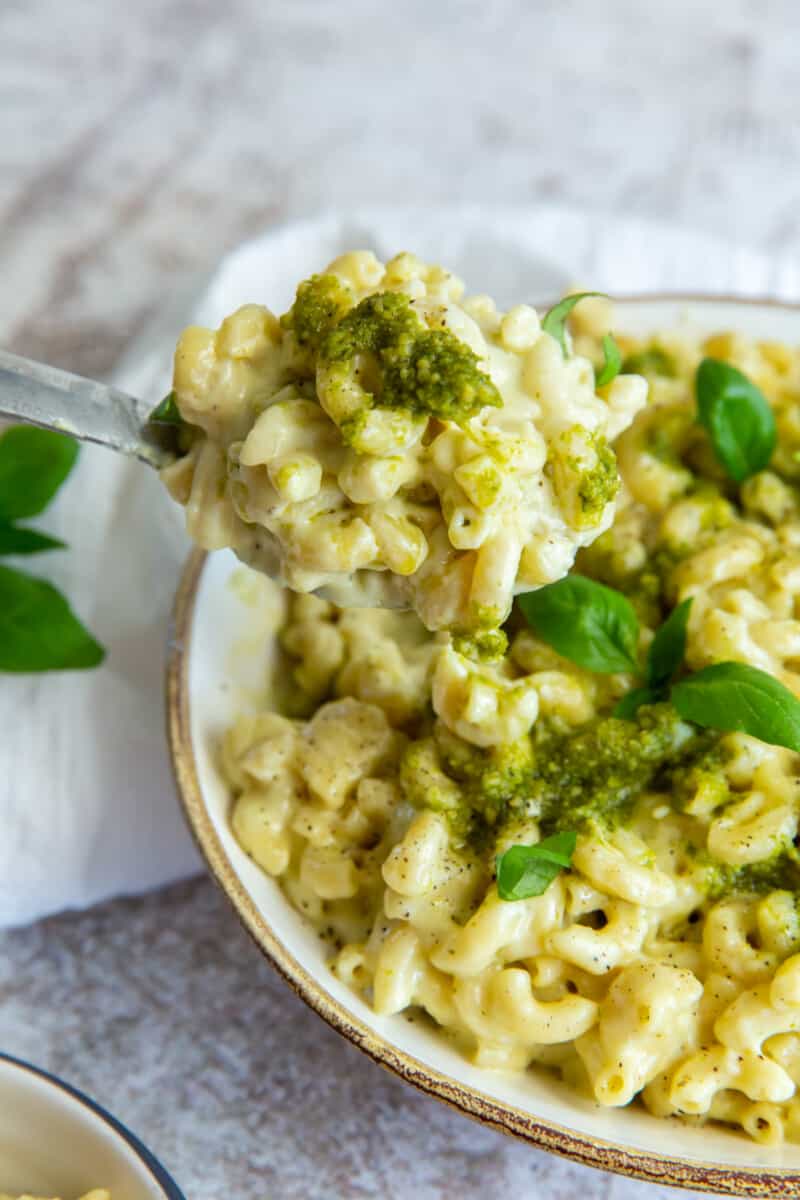 More Mac and Cheese Recipes We Love