Cauliflower Gratin is an easy side dish you're sure to love! This Cheesy Broccoli Cauliflower Recipe is absolutely delicious. Be sure to add Cauliflower Broccoli au Gratin to your holiday table!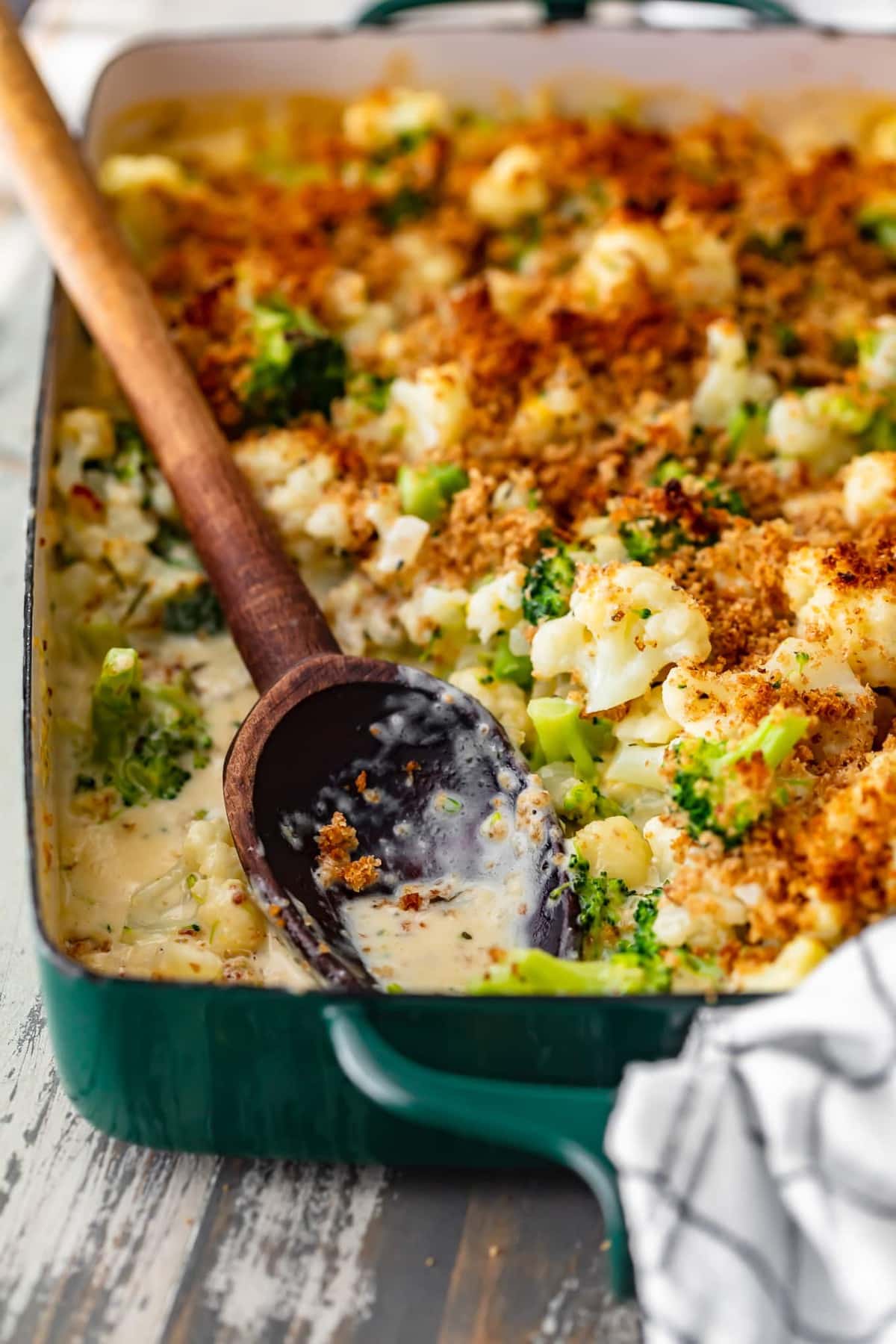 Broccoli and Cauliflower Gratin
Cauliflower Gratin is cheesy, creamy, and easy to make. You're going to love this cauliflower broccoli au gratin recipe for Thanksgiving, Christmas, Easter, and more!
Everyone loves Potatoes Au Gratin, but you can use this same technique on all kinds of dishes. I've shared Brussels Sprouts Gratin in the past (such a tasty dish), as well as Three Cheese Asparagus Gratin and even Creamy Spinach Gratin. Now I'm sharing my Cheesy Broccoli and Cauliflower Gratin!
Cauliflower is the go-to vegetable when you need something to replace starchy potatoes. Luckily, you can replace a lot of potato dishes with this super veggie (like mashed cauliflower) when you want to cut down on carbs and create a healthier version of your favorite recipes. Throw in some broccoli and you've got a cheesy and delicious side dish for any occasion.
I love this broccoli cauliflower recipe because it's so simple yet so full of flavor. The cheese sauce is the real star of the show! Add it to your holiday (Thanksgiving, Christmas, or Easter) table or make it alongside your favorite chicken recipes. Either way, it tastes amazing!
This CHEESY Broccoli Cauliflower Gratin recipe is the perfect side dish for holidays and weeknight dinner!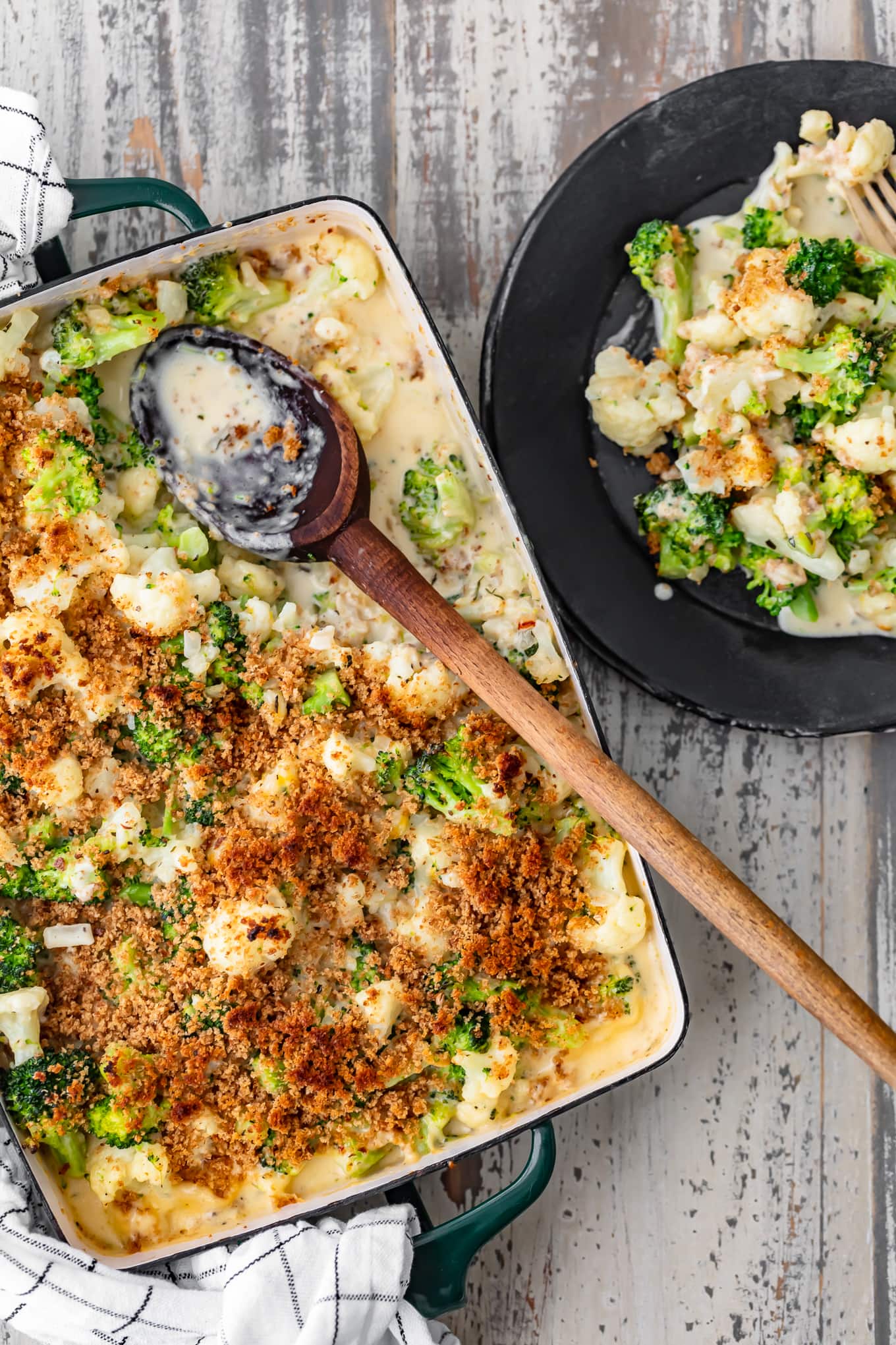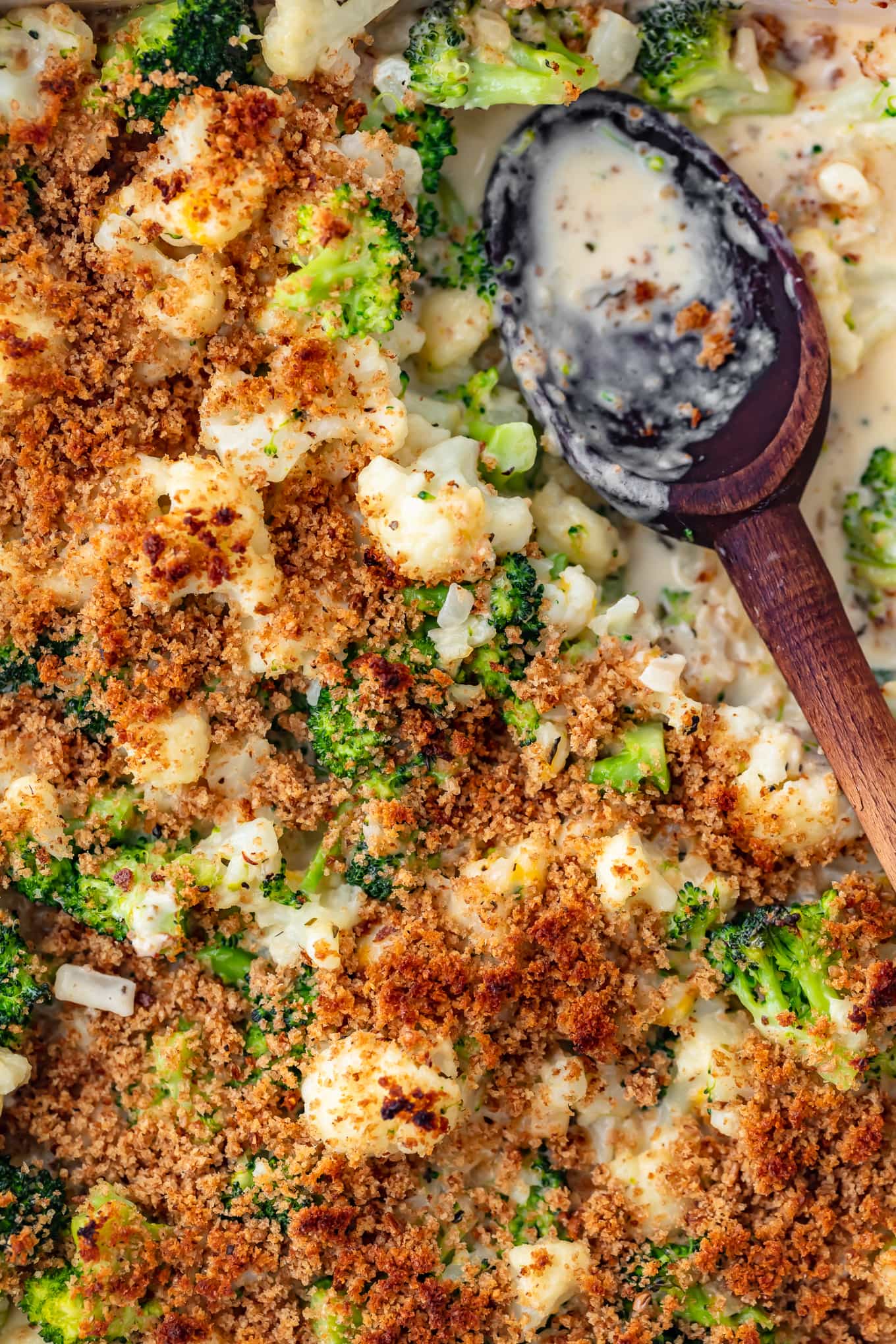 How to Make Broccoli and Cauliflower Gratin
This recipe only takes about 30 minutes from start to finish! That's the kind of recipe I like. And yes it's covered in cheese, but it's filled with broccoli and cauliflower, so I'm going to call it healthy (ish) and feel really good about eating it!
Here's the basic process:
Make the breadcrumb topping by chopping up the bread in a food processor.
Cut cauliflower and broccoli into small florets, and boil them for about 3-4 minutes to soften them up slightly.
Make the cream sauce by combining and cooking all sauce ingredients in a skillet.
Stir the cauliflower, broccoli, and cheese into the cream sauce.
Pour the broccoli/cauliflower/sauce mixture into the baking dish and sprinkle the bread crumbs on top.
Bake for 15-20 minutes at 425°F.
It will come out hot, creamy, cheesy, bubbly, and a little bit crispy thanks to the breadcrumb topping. Yum! Check the recipe card at the bottom of this post for more detailed instructions.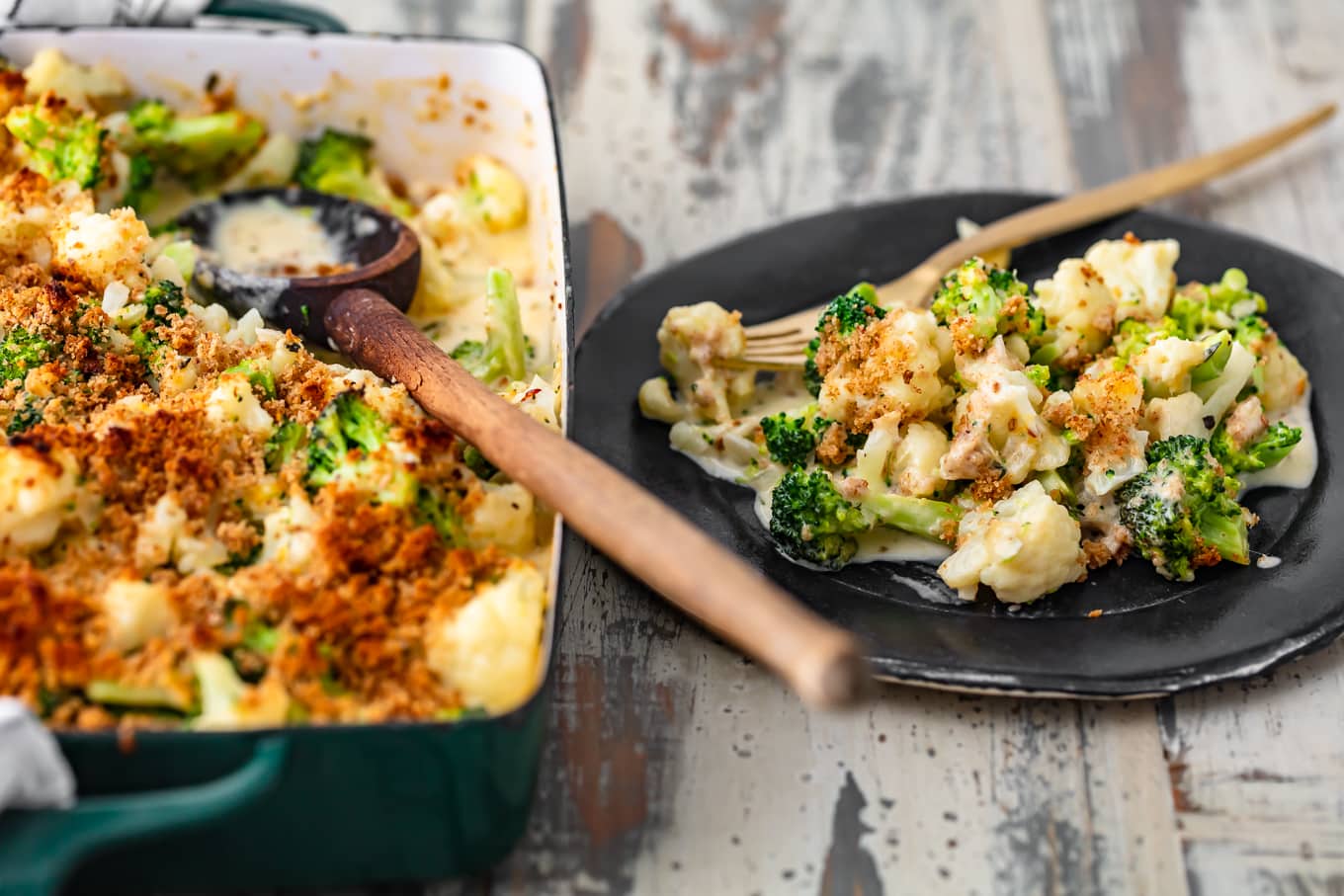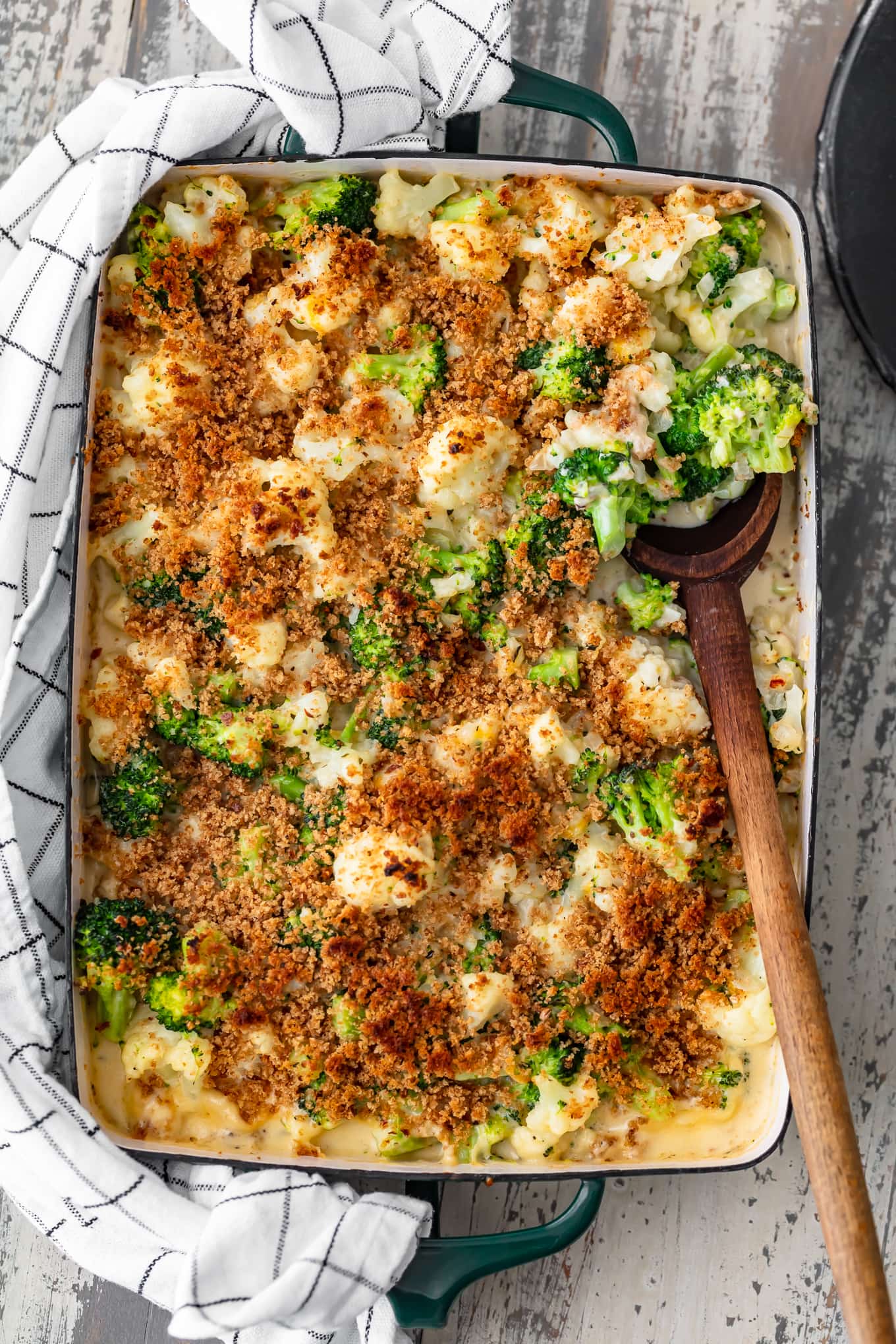 Can you freeze cauliflower gratin?
You can freeze this broccoli and cauliflower gratin if you want to prepare it ahead of time or just save leftovers. I wouldn't recommend this as something to freeze since it will change the texture of the broccoli and cauliflower, but it is definitely doable. Just cover the dish and freeze as you would a casserole. Then let it thaw in the refrigerator and bake when you're ready to eat.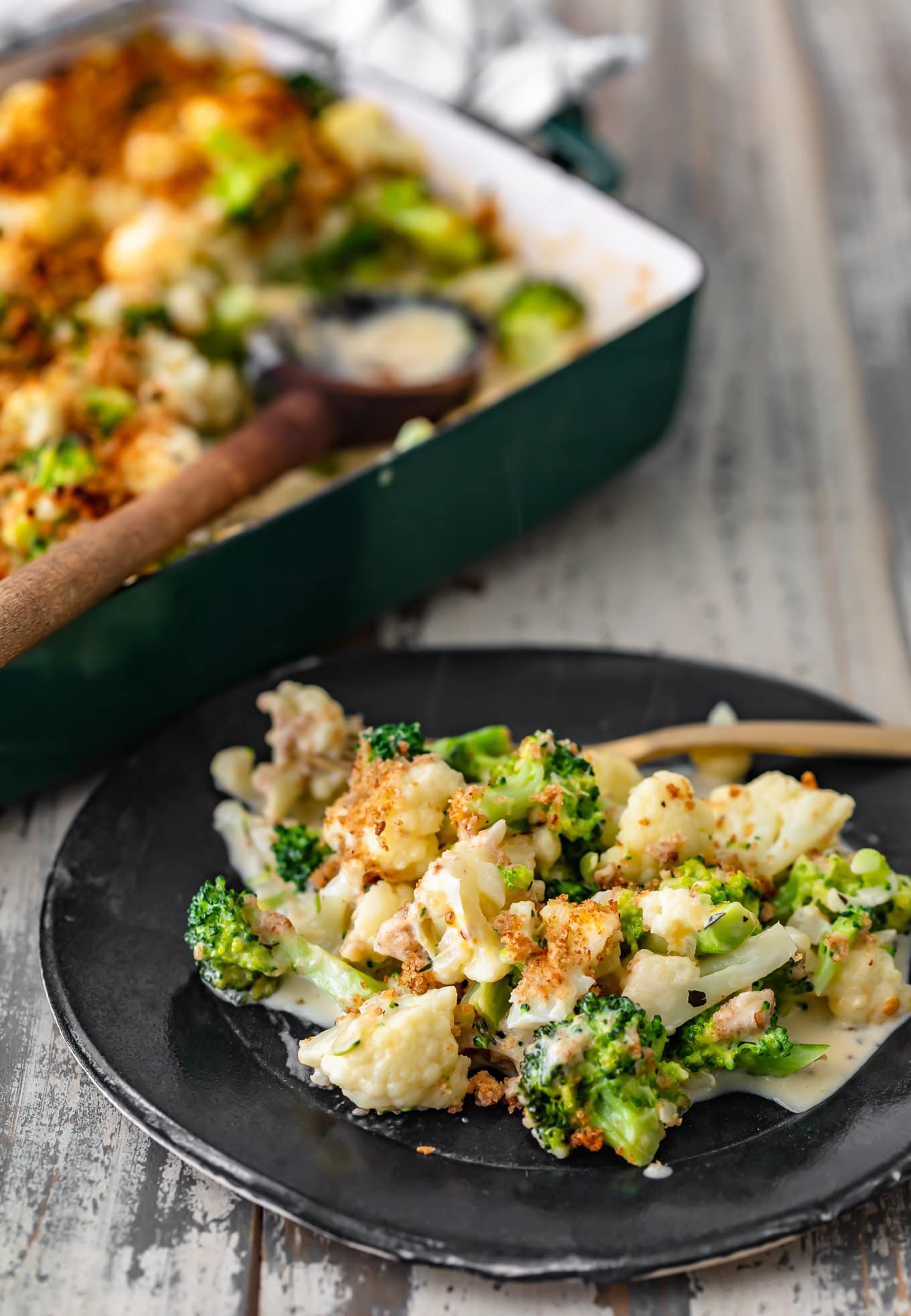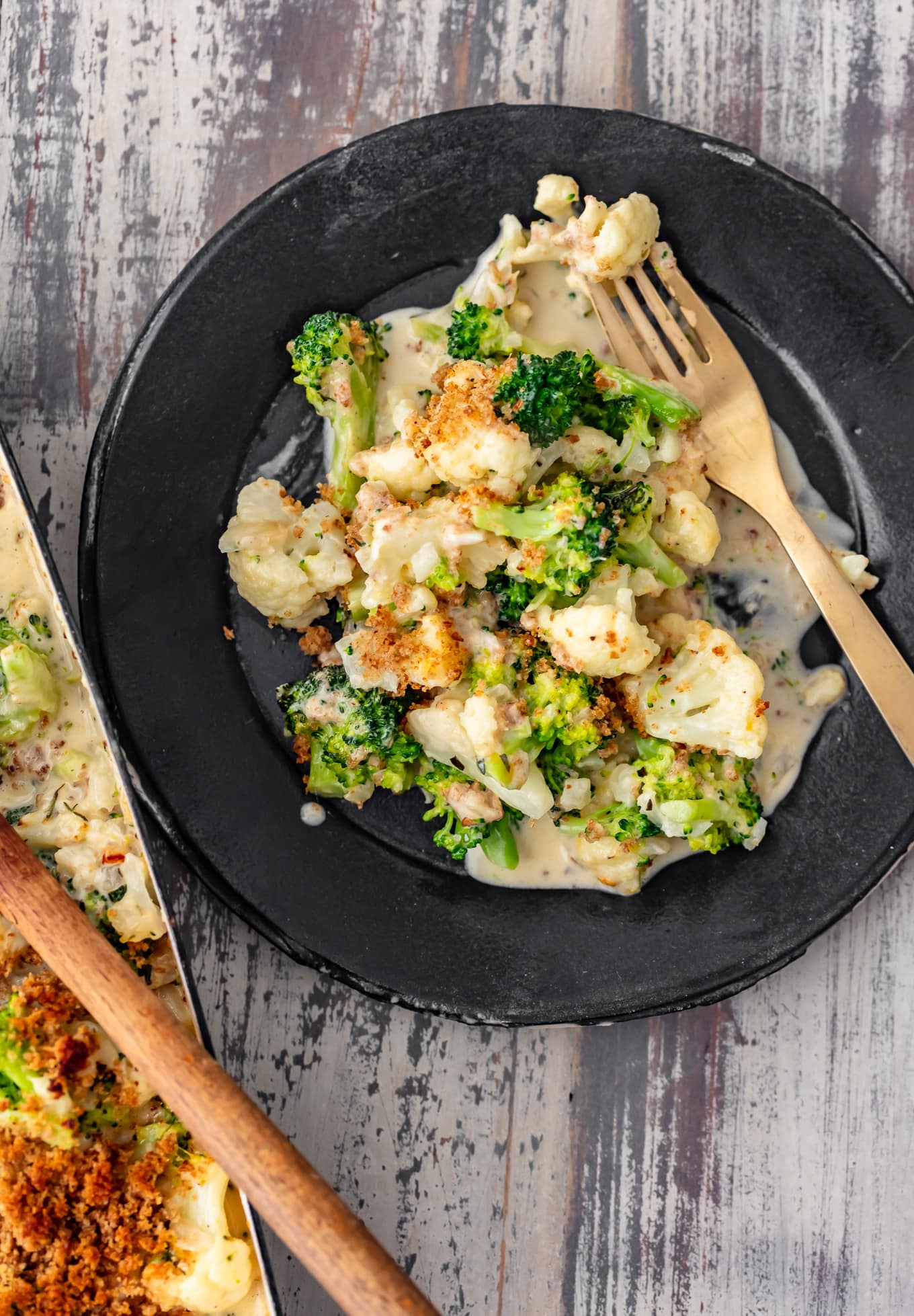 Easy Broccoli and Cauliflower Recipes
Cauliflower and broccoli are two of the best vegetables when it comes to variety. You can boil them, steam them, saute them, bake them, and you can combine them with just about any ingredient. There are so many delicious broccoli and cauliflower recipes out there, but here are a few favorites for you to try: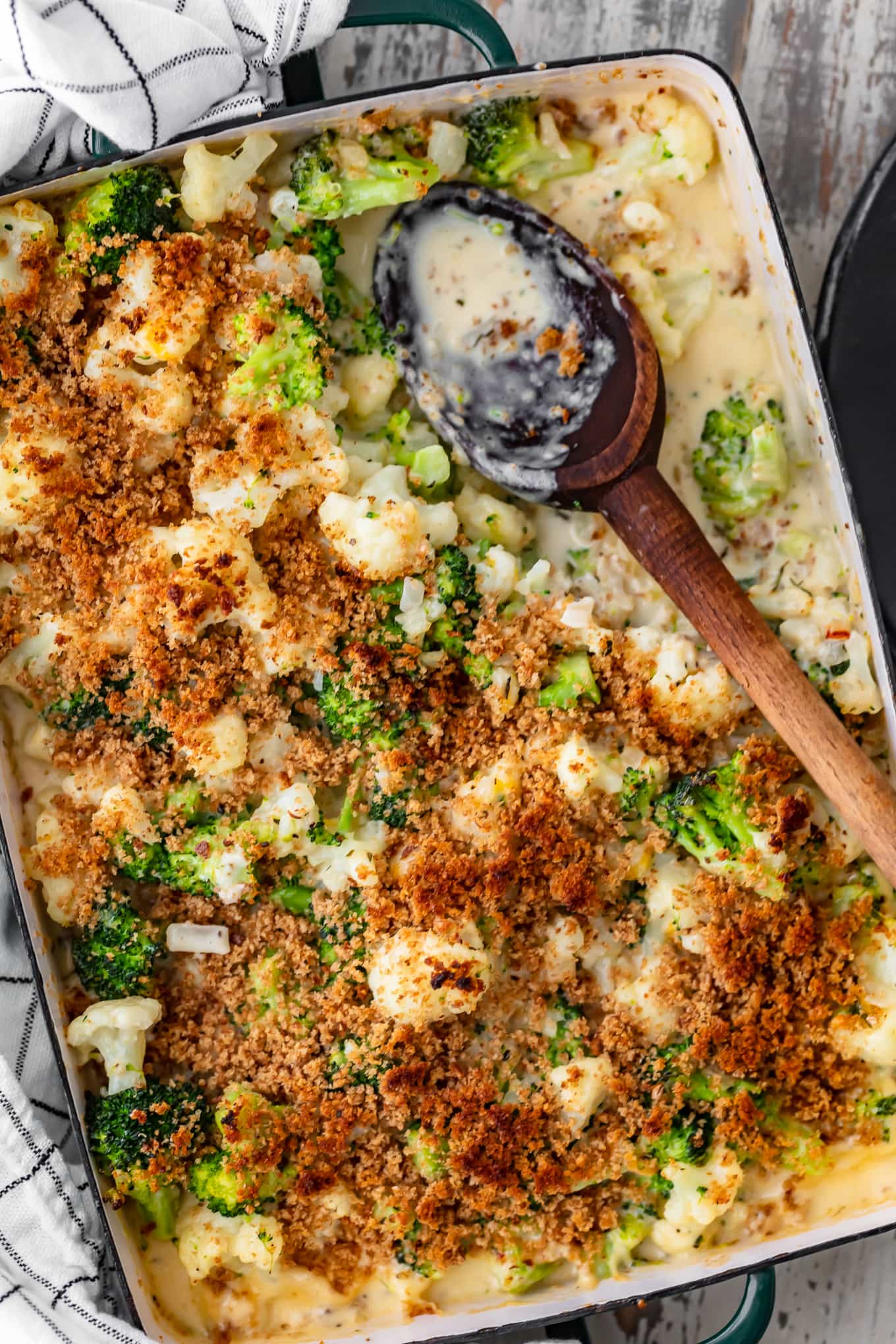 Cheesy Cauliflower Broccoli Au Gratin is such a great veggie side dish. What's not to love about vegetables covered in cheese?! Nothing. I can't wait for you guys to try this!
See the recipe card below for details on how to make Cheesy Broccoli Cauliflower Gratin. Enjoy!
If you like this cauliflower broccoli au gratin, try these other delicious side dishes: