Honey Baked Pork Tenderloin is a delicious option for any dinner or holiday feast. It's flavorful, tender, and easy to make. The honey glaze bakes right into the pork, and then we caramelize it at the end to create a nice crispy coating. This beautiful honey mustard pork recipe is sure to impress everyone who tries it!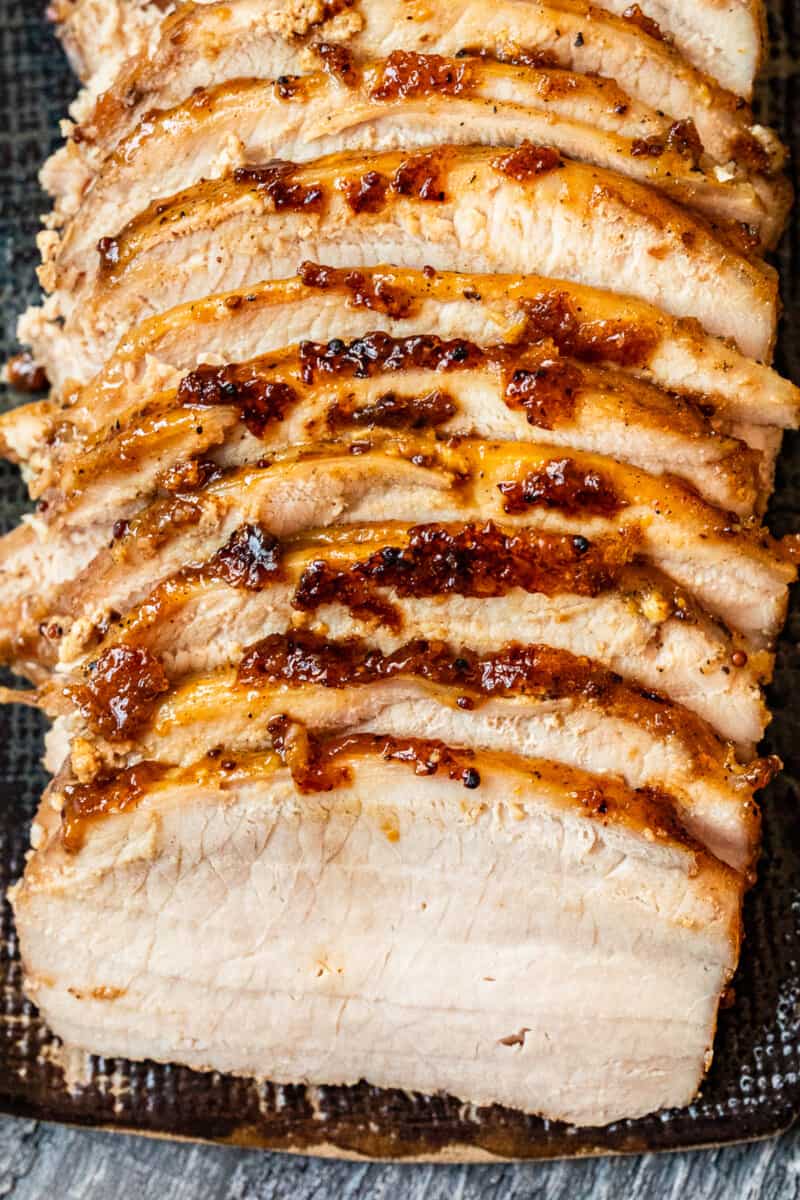 Honey Mustard Pork Tenderloin
This baked pork tenderloin recipe is inspired by the flavors of a classic honey baked ham! It's baked to perfection with a honey glaze, and finished off with a caramelized coating.
There is so much flavor in this honey baked pork tenderloin, starting with the honey mustard glaze marinade and ending with the spice-filled dry rub we use to coat the pork. And of course there's extra glaze to drizzle on top while serving.
You can serve this honey mustard pork for any holiday or special occasion, or just for an elevated weeknight dinner. Add your favorites sides, and dinner is ready!
Why You'll Love this Baked Pork Tenderloin Recipe:
FLAVORFUL: The honey mustard glaze is perfectly sweet and savory, and the dry rub adds the most amazing flavor to the coating of the pork. This is one flavor-packed dish!
EASY: Looking at this beautiful main dish, you'd think it's complicated. But it's actually a really easy and straightforward recipe. Prep the tenderloin, let it roast, and it's ready to serve!
HOLIDAY DISH: This pork tenderloin recipe can be served for any dinner, but it will fit well on the holiday table too! It's delicious and beautiful, and pairs well with all the best sides.
Serve this honey glazed pork tenderloin for Christmas or Easter dinner, or even on Thanksgiving if you want an alternative to turkey.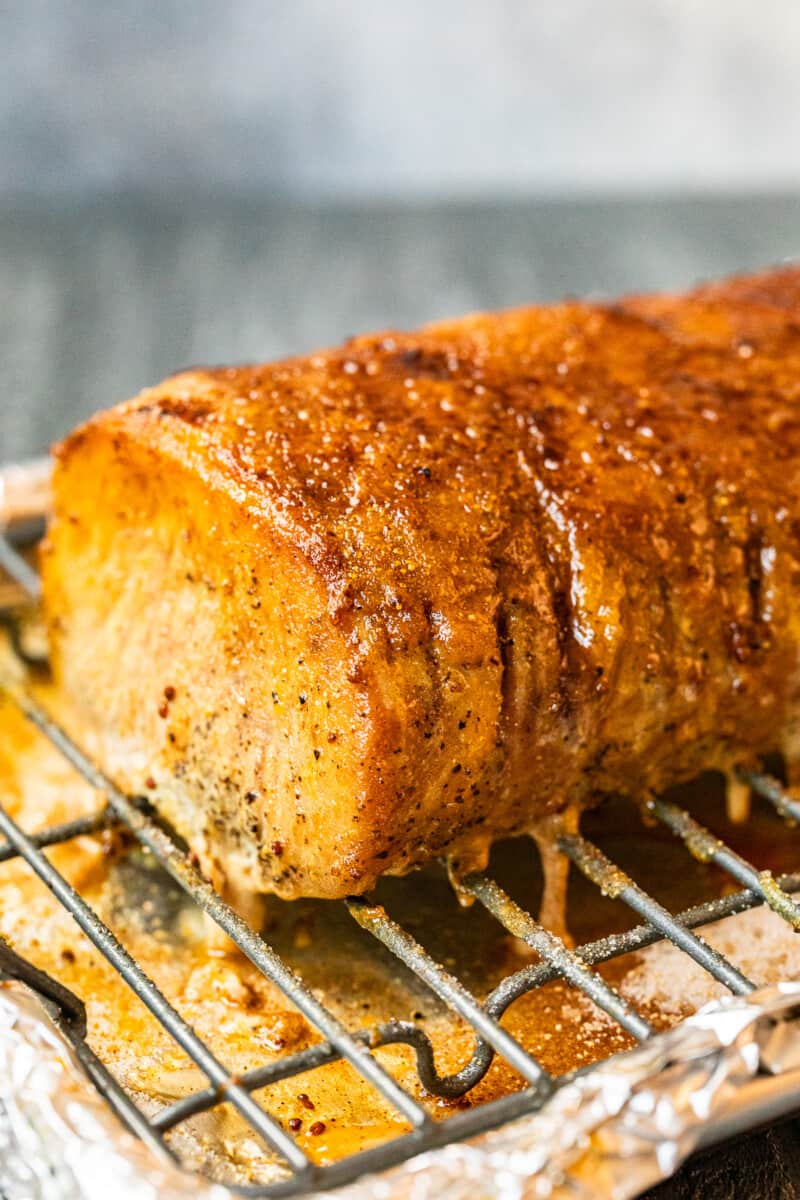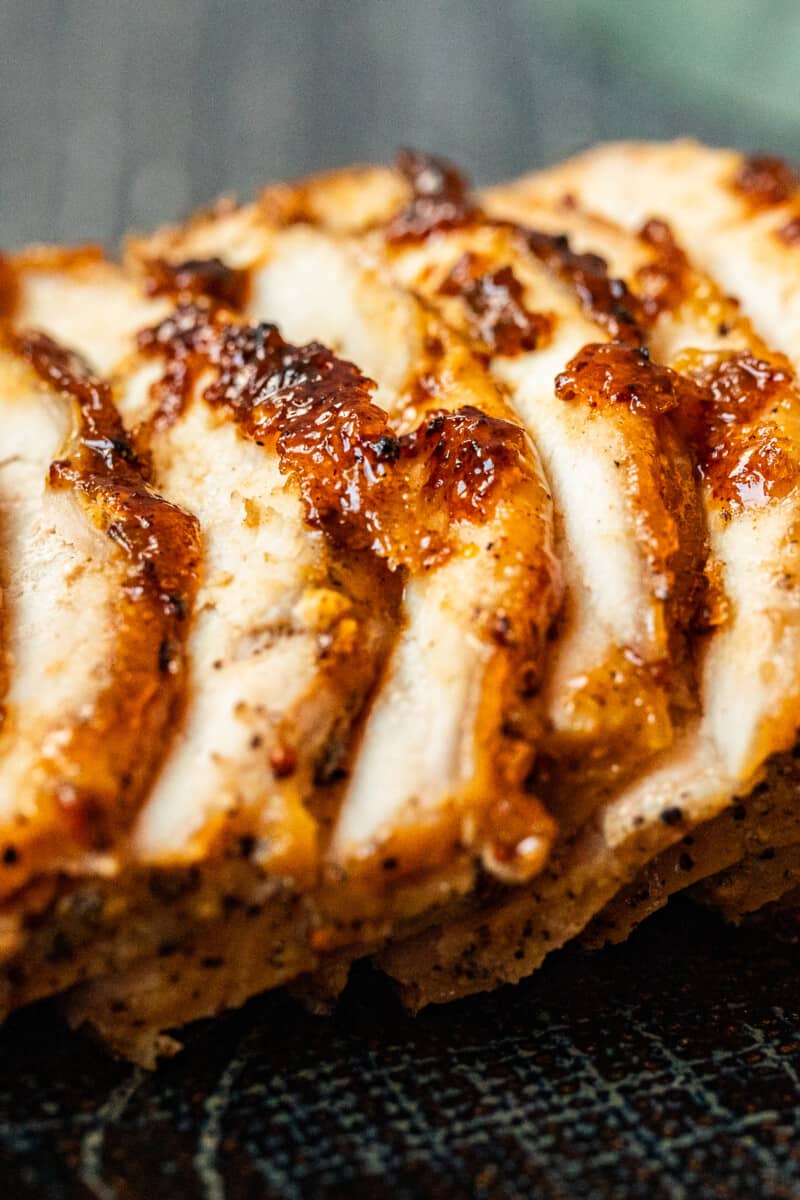 How to Make Honey Baked Pork Tenderloin
Be sure to see the recipe card below for full ingredients & instructions!
Prep: Prepare the pork up to a day in advance. Season and score it, rub in the honey glaze, and keep it refrigerated until ready to cook.
Roast: Preheat the oven. Add apple cider into the pan with the tenderloin, and cover it with foil. Then bake until it reaches 140F. Make the dry rub while the pork cooks.
Glaze: Use the dry rub and pan juices to make the glaze in a saucepan.
Brulee: Use a kitchen torch (or your oven broiler) to caramelize the dry rub coating onto the outside of the tenderloin.
Serve: Slice and serve with extra glaze, and enjoy!
Recipe Notes
Use hot honey in the glaze for a little extra heat!
Scoring helps to tenderize the pork, and helps it absorb more flavor through the entirety of the meat.
Let the pork tenderloin sit out while preheating the oven. You don't want it to be cold when it goes in the oven.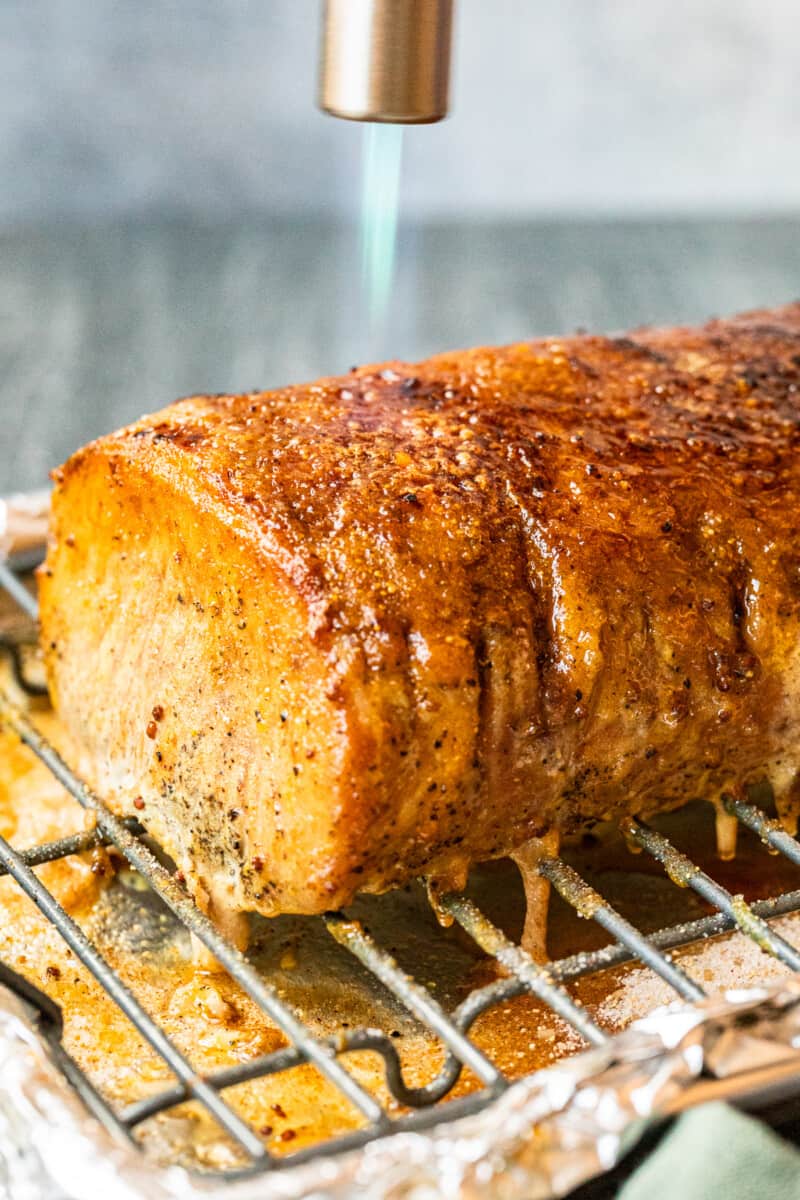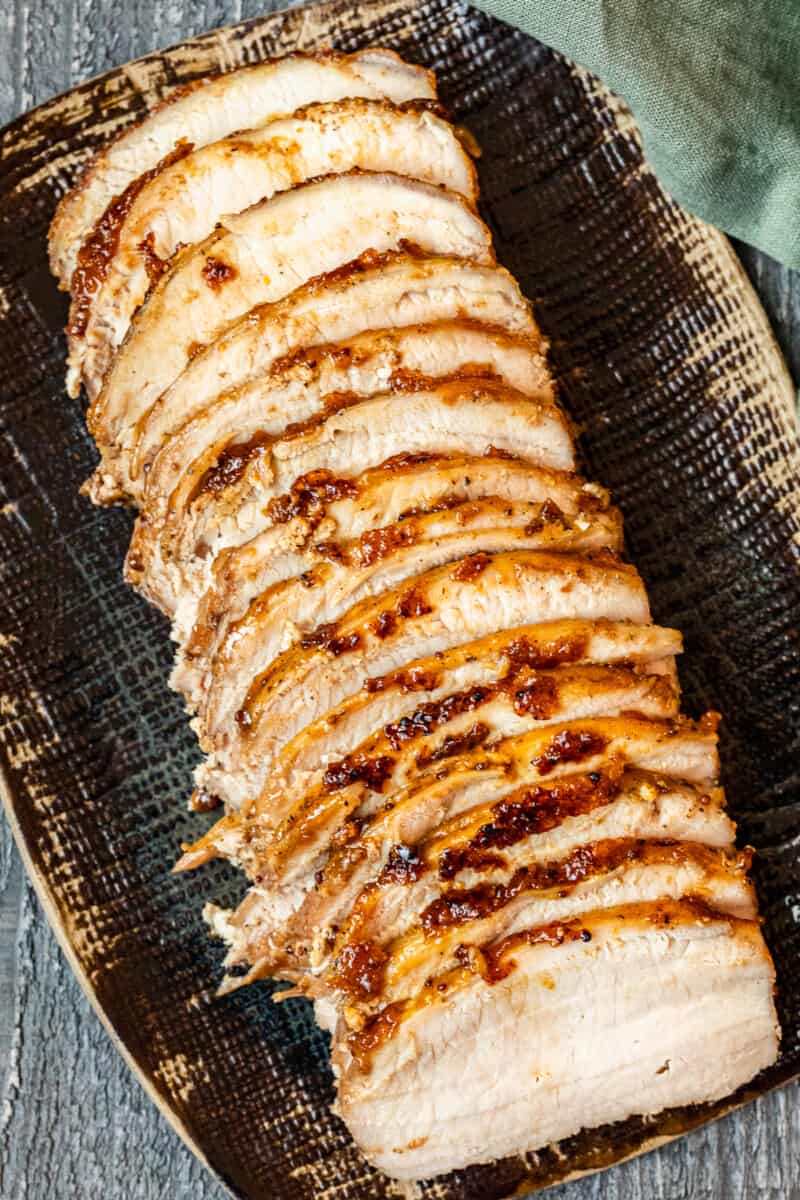 How much pork tenderloin should I plan on per person?
Estimate about 1/3 – ½ pound of pork per person. Some will eat more, some less. But a 3 pound tenderloin should serve about 6-8 people.
How long does pork tenderloin take to bake in the oven?
You'll want to use your thermometer as a final guide, but generally this tenderloin should take about 1 1/2 to 2 hours to roast at 300F.
At what temperature is pork tenderloin done cooking?
Pork should reach an internal temp of 145F before consuming. However, it will continue to cook a little after removing it from the oven, so you'll want to take it out around the 140F mark.
Can I make this recipe ahead of time?
The tenderloin benefits from marinating in the glaze (refrigerated) up to 24 hours. So you can prep the pork a day ahead of cooking, then pop it in the oven to bake.
Serving Suggestions
This honey baked pork tenderloin goes so well with all the classic side dishes. I love serving it along with creamy mashed potatoes, and a green veggie (like green beans or asparagus). But it also tastes amazing with stuffing, any vegetables, and potatoes of any style.
Or try any of these holiday side dishes if you're planning a feast!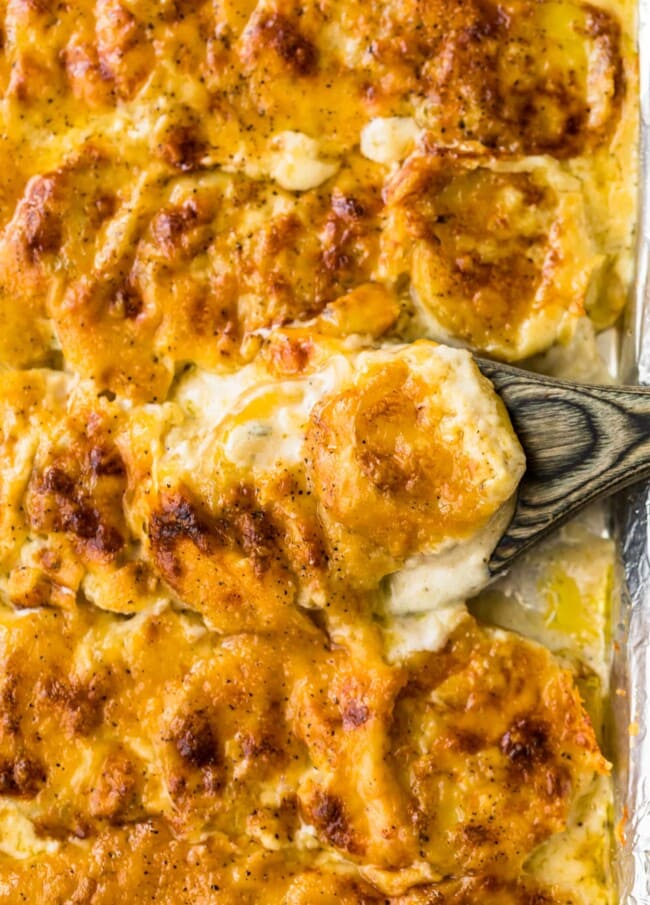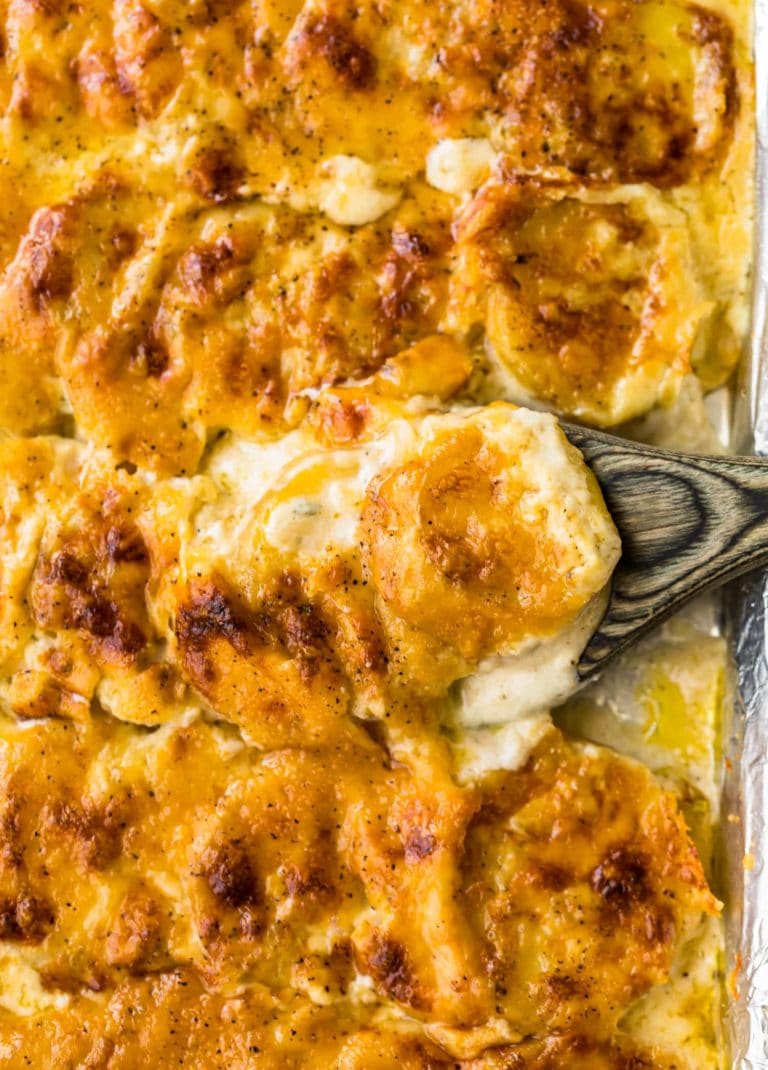 All the Holiday Sides
60+ Holiday Side Dish Recipes
This holiday season be sure to check out our sides guide for all the recipes PLUS tips and tricks for entertaining.
See Sides Guide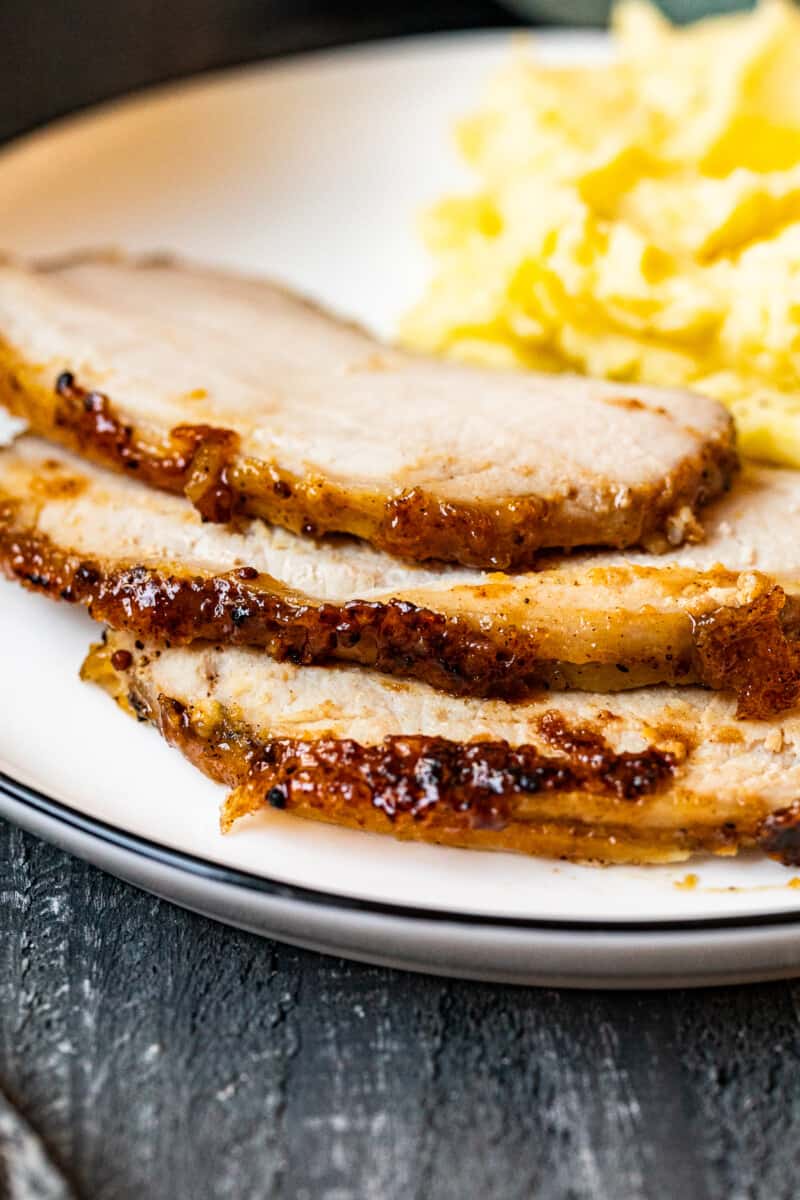 Tips!
If you're short on time, the pork can marinate for just a couple of hours in the fridge. But don't skip this step entirely.
Use an instant read thermometer to ensure the internal temp has reached at least 145F before consuming.
If you don't have a kitchen torch, place the pork under the broiler to get that crispy caramelized coating.
Leftovers can be stored in the refrigerator for up to 3 days, and reheated in the oven.
Juicy, sweet, and incredibly tender, everyone will LOVE this honey glazed pork tenderloin recipe!
What kitchen torch do you recommend?
We love this Kitchen Torch from Amazon (affiliate link). It's well priced, easy to use, and pretty heavy duty. It does a great job!
What is the best way to reheat pork tenderloin?
The best way to reheat it is the same way you originally cooked it. Set the oven to 300F, place slices (or remaining tenderloin) in a baking pan, and cover with foil. Bake until it reaches 140F. You can add more apple cider/juice into the pan to help keep it moist.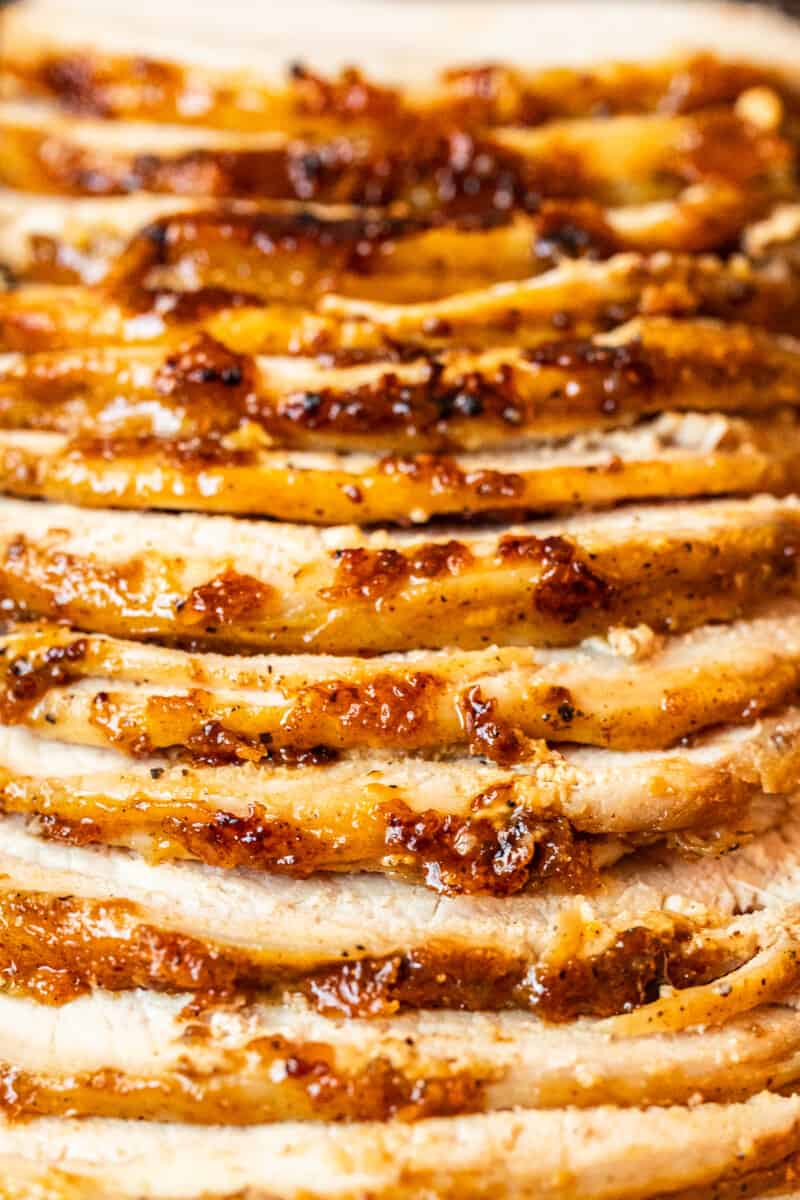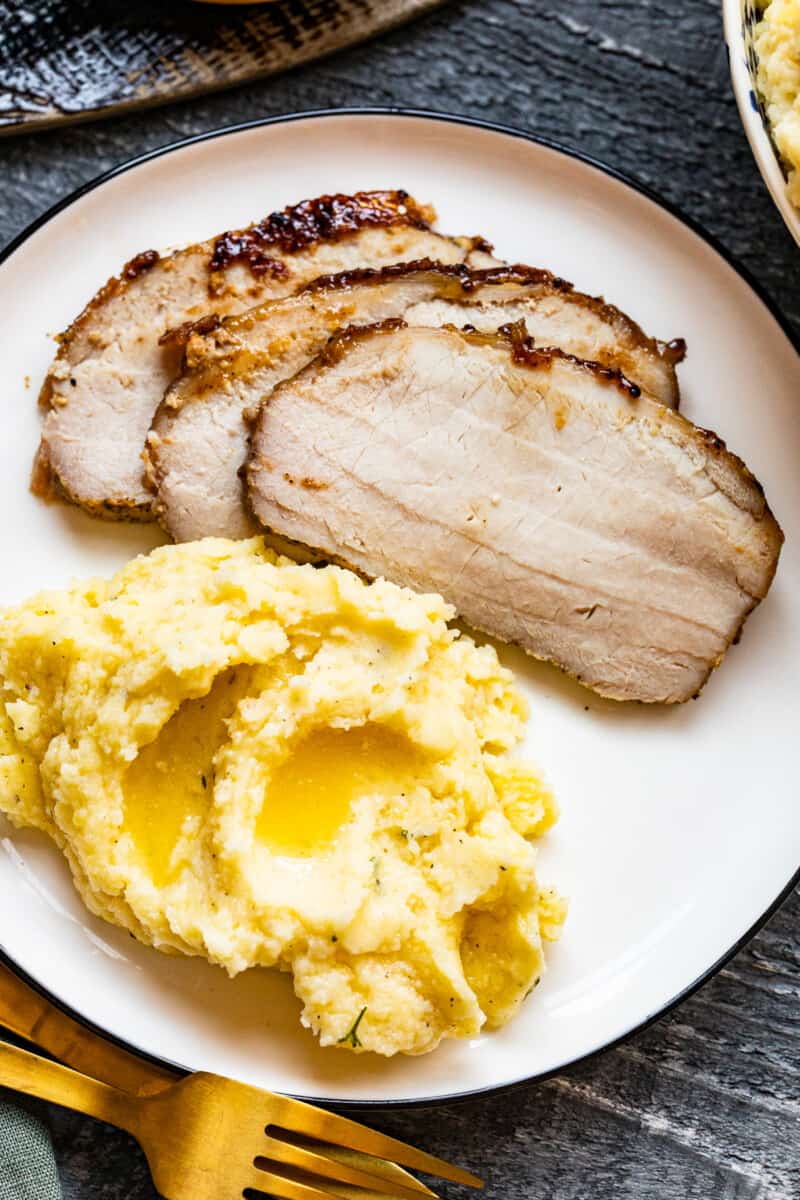 Be sure to make this honey baked pork tenderloin the next time you need a beautifully easy main dish. That honey mustard glaze just makes it so sweet and delicious!
If you make this recipe be sure to upload a photo in the comment section below or leave a rating. Enjoy!