There is so much flavor in this baked pork tenderloin, starting with the honey mustard glaze marinade and ending with the spice-filled dry rub we use to coat the pork. It's flavorful, tender, and easy to make. This beautiful honey mustard pork recipe is sure to impress everyone who tries it!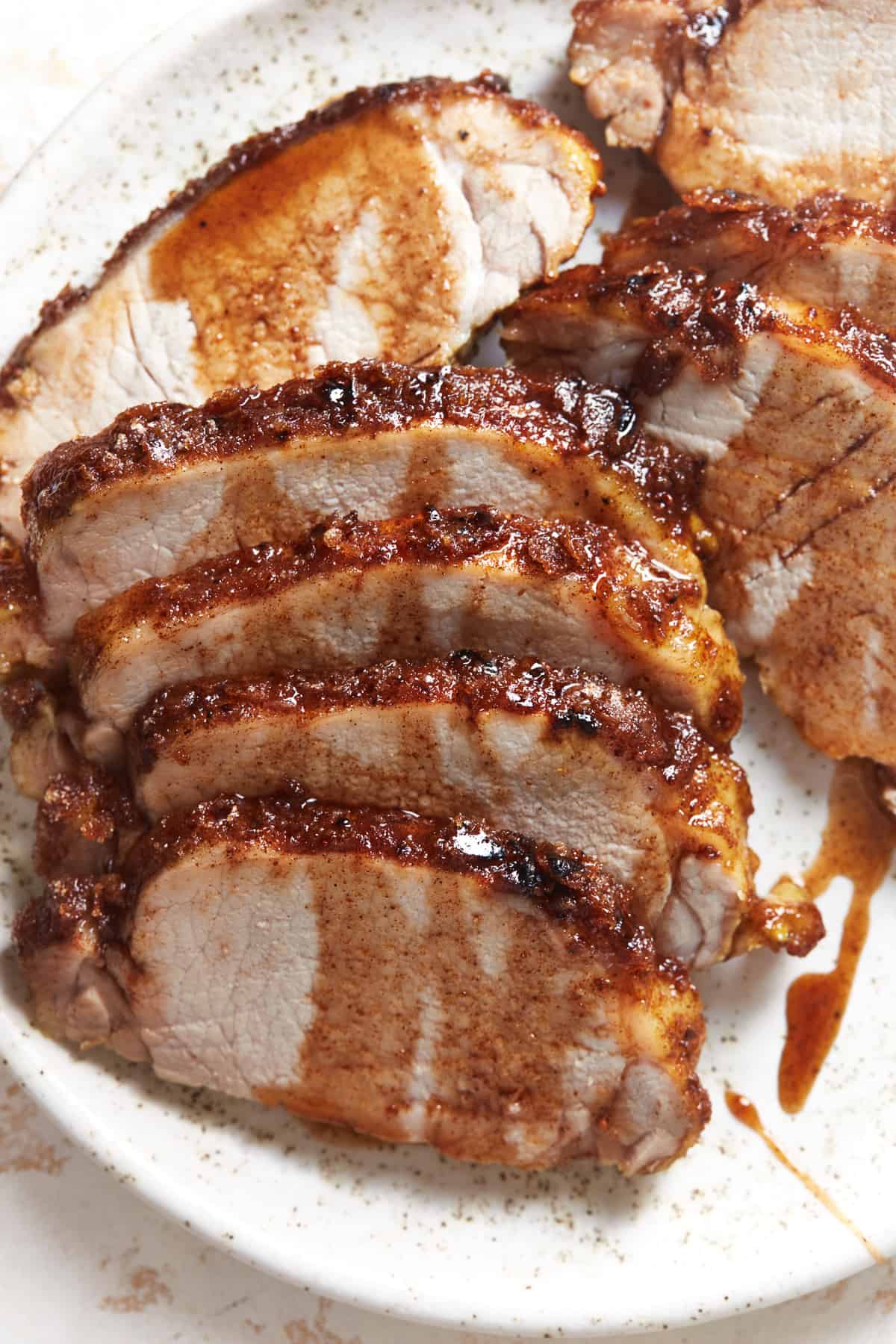 What's in Baked Pork Tenderloin?
This baked pork tenderloin recipe is inspired by the flavors of a classic honey baked ham! It's baked to perfection with a honey glaze, and finished off with a caramelized coating.
Pork: Pork tenderloin is a long, narrow, boneless cut of meat that comes from along the spine of the pig. A pork loin is wider, flatter, and can be bone-in or boneless. Either works well in this recipe.
Butter: Salted butter adds saltiness, fat, and flavor to the glaze.
Mustard: Honey mustard adds sweetness, while whole-grain mustard adds spice and texture to the glaze, rounding out the flavors.
Honey: Adds sweetness to the glaze and enhances the honey mustard flavor.
Apple Cider: Apple cider fills the pan to keep the pork moist as it cooks, while adding a subtly sweet apple flavor to the roast. Do not use apple cider vinegar!!
Sugar: Adds sweetness to the pork rub.
Salt: Enhances the flavors of the pork rub.
Spices: Cloves, cinnamon, nutmeg, ginger, paprika, and allspice add a warming, spicy flavor to the rub.
Pro Tip: If you don't have apple cider, apple juice works well!
Spicy Honey Pork Tenderloin
Use hot honey in the glaze for a little extra heat!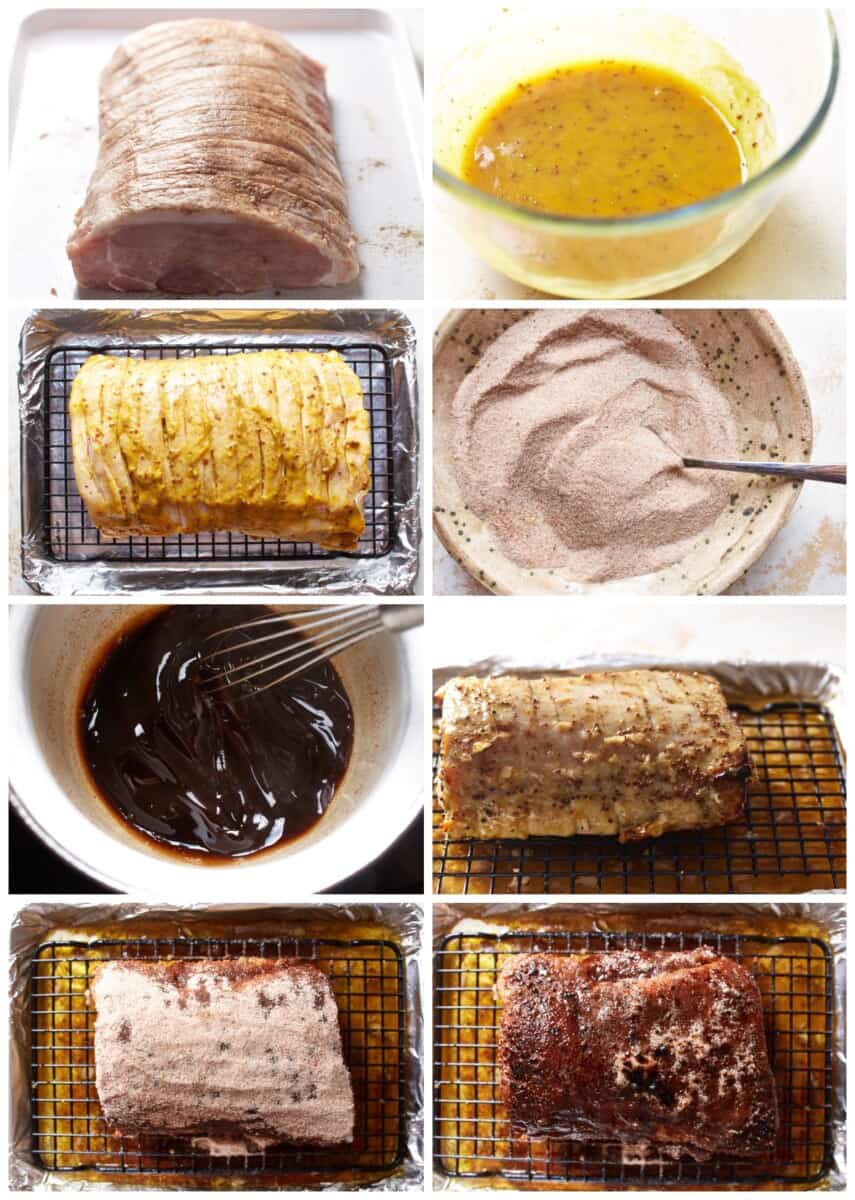 How much pork tenderloin should I plan on per person?
Estimate about ⅓-½-pound of pork per person. Some will eat more, some less. But a 3-pound tenderloin should serve about 6-8 people.
How long does pork tenderloin take to bake in the oven?
You'll want to use your thermometer as a final guide, but generally this tenderloin should take about 1½-2 hours to roast at 300°F.
At what temperature is pork tenderloin done cooking?
Pork should reach an internal temp of 145°F before consumption. However, it will continue to cook a little after removing it from the oven, so you'll want to take it out around the 140°F mark.
What kitchen torch do you recommend?
We love this Kitchen Torch from Amazon (affiliate link). It's well-priced, easy to use, and pretty heavy-duty. It does a great job!
Can I make this recipe ahead of time?
The tenderloin benefits from marinating in the glaze (refrigerated) up to 24 hours. So you can prep the pork a day ahead of cooking, then pop it in the oven to bake.
What is the best way to reheat pork tenderloin?
The best way to reheat it is the same way you originally cooked it. Set the oven to 300°F, place slices (or remaining tenderloin) in a baking pan, and cover with foil. Bake until it reaches 140°F. You can add more apple cider/juice into the pan to help keep it moist.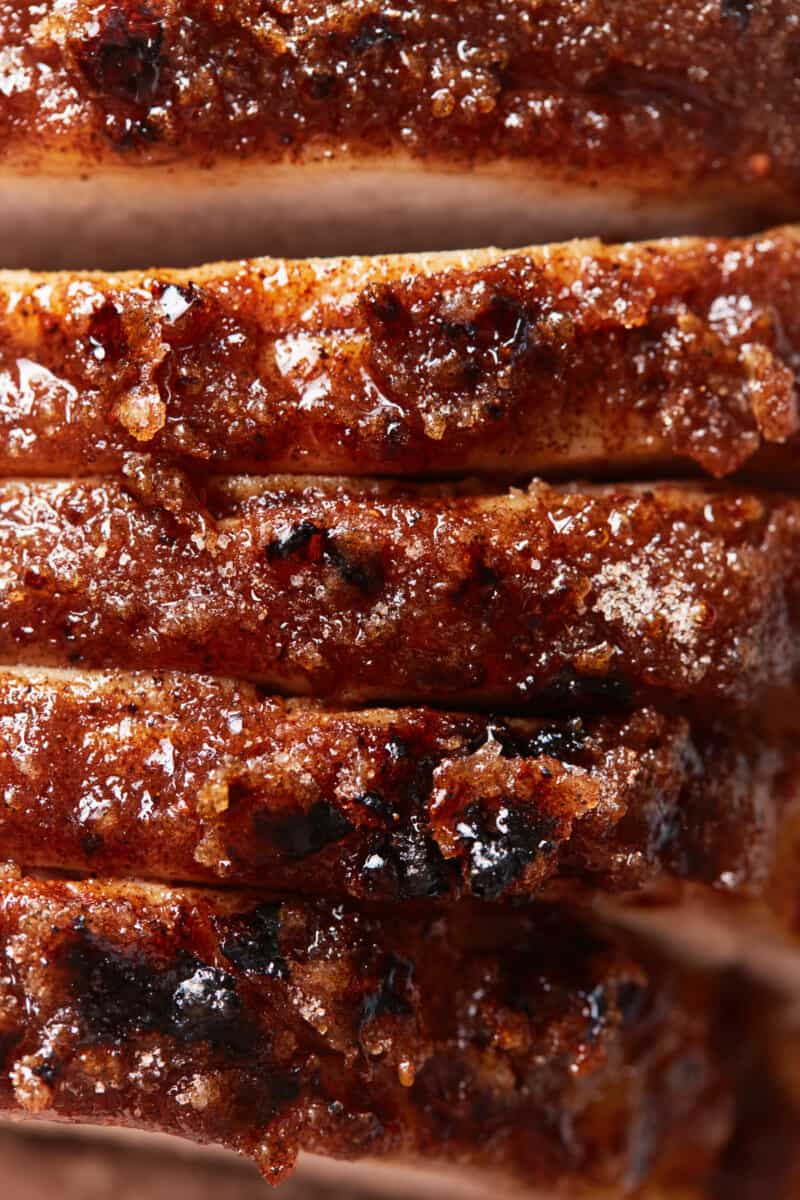 How to Store and Reheat Oven Baked Pork Tenderloin
Store leftover baked pork tenderloin in an airtight container in the refrigerator for up to 3 days. Reheat in a 300°F oven covered with foil until warmed though.
How to Freeze Honey Mustard Pork Tenderloin
Freeze baked pork tenderloin in an airtight container or Ziplock bag for up to 3 months. Let thaw overnight in the refrigerator before reheating.
What to Serve with Honey Glazed Pork Tenderloin
This baked pork tenderloin goes so well with all the classic side dishes. I love serving it along with creamy mashed potatoes, and a green veggie (like green beans or asparagus). But it also tastes amazing with stuffing, roasted vegetables, and potatoes of any style.
Serve this pork tenderloin as an alternative to turkey for Thanksgiving with classic sides, like loaded green bean casserole, instant pot mashed potatoes, creamed corn, or sweet potato rolls.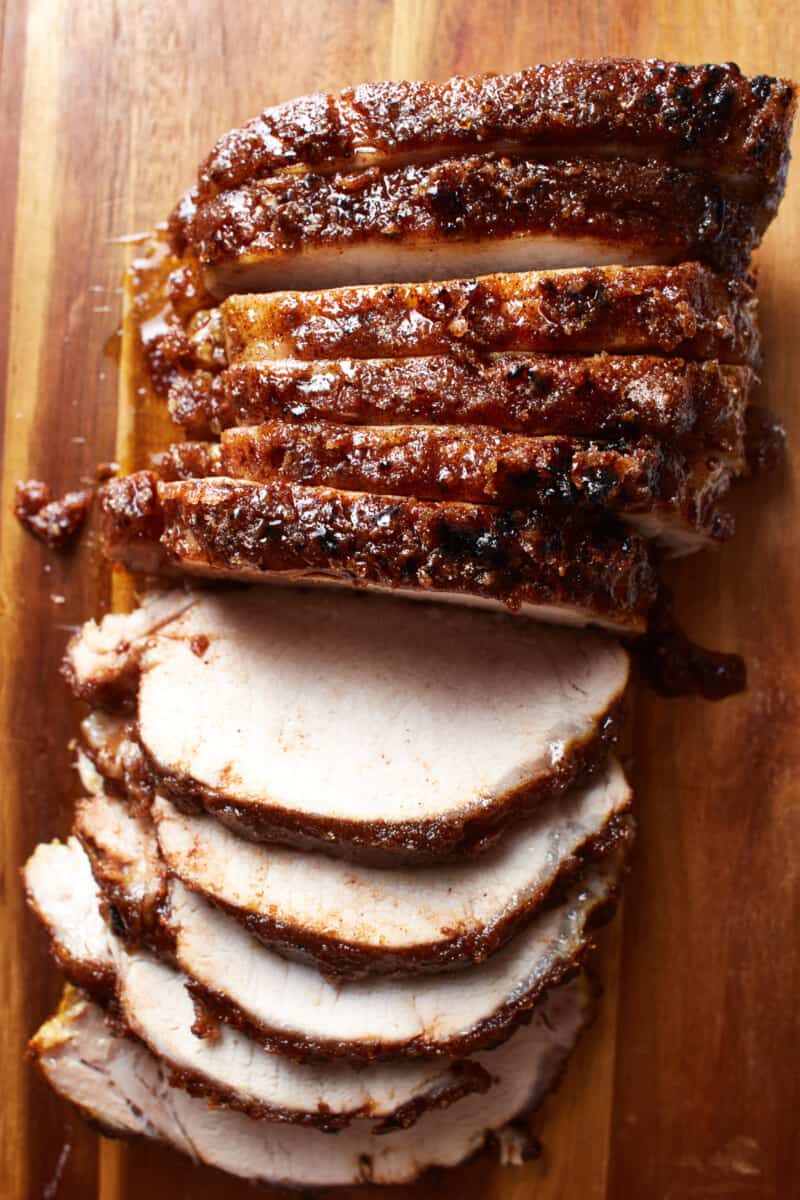 More Pork Tenderloin Recipes We Love