Hot Chocolate Bread Pudding is the perfect holiday recipe. It's like drinking a cup of hot chocolate, but better! An ooey, gooey, decadent chocolate dessert topped with toasted marshmallows. Yum! This dessert (or breakfast) is way too easy to be this delicious!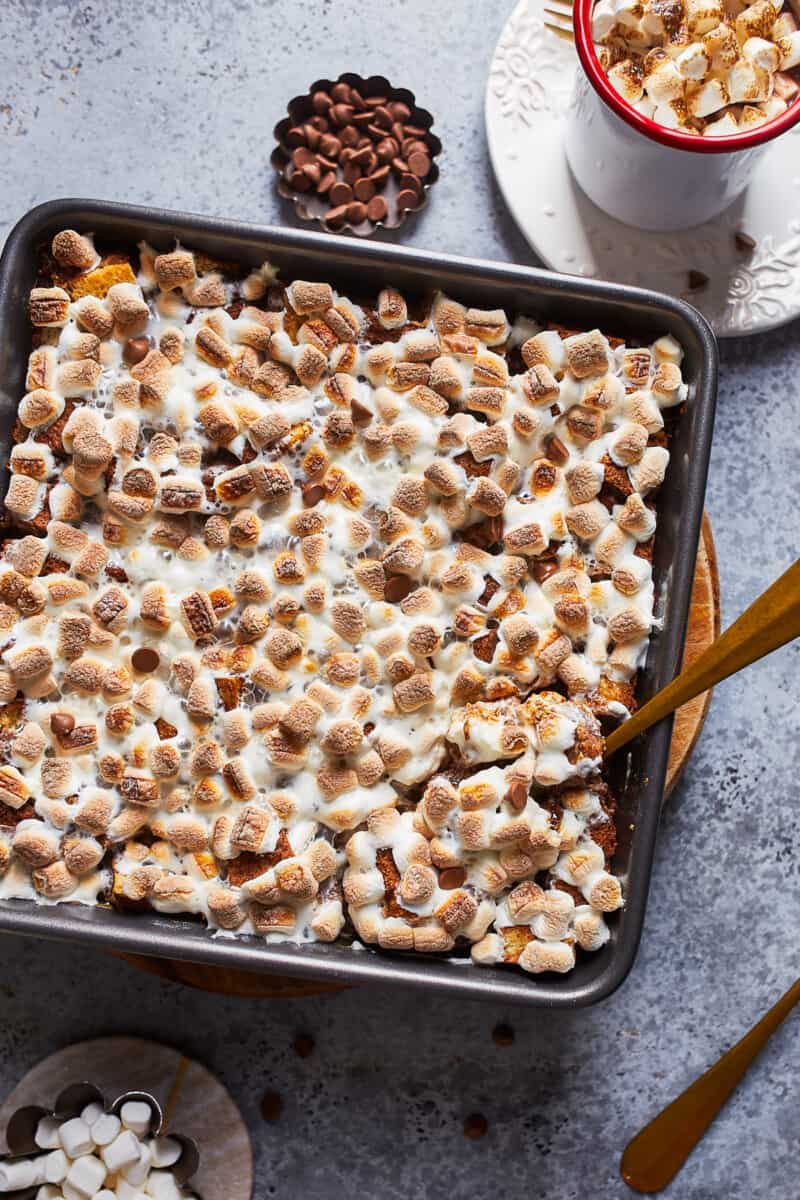 Chocolate Bread Pudding Recipe
Hot Chocolate Bread Pudding turns classic bread pudding into a festive winter treat. Get the rich flavor of hot chocolate in this decadent dessert, or indulgent breakfast!
HOT CHOCOLATE BREAD PUDDING. Have four more delicious words ever been strung together? I live in a house that LOVES bread pudding. I happen to think it is one of the most undervalued desserts, but I won't let it go unnoticed around here! I've got Caramel Apple Pie Bread Pudding, Irish Bread Pudding, Pineapple Bread Pudding, and now this incredible Hot Chocolate Bread Pudding is a welcome addition.
This hot chocolate dessert is comforting, homey, and also way easier than so many other options. The best of all of the worlds. This Hot Chocolate Bread Pudding can also double as a Hot Chocolate French Toast Bake, making mornings totally worth waking up for. I mean, every Christmas morning needs a special indulgent breakfast right?
Infused with hot chocolate and topped with marshmallows, this hot chocolate bread pudding is just to die for. SO yummy!
This Hot Chocolate Bread Pudding recipe will knock you off your feet. A rich chocolatey dessert, or an indulgent breakfast for Christmas morning!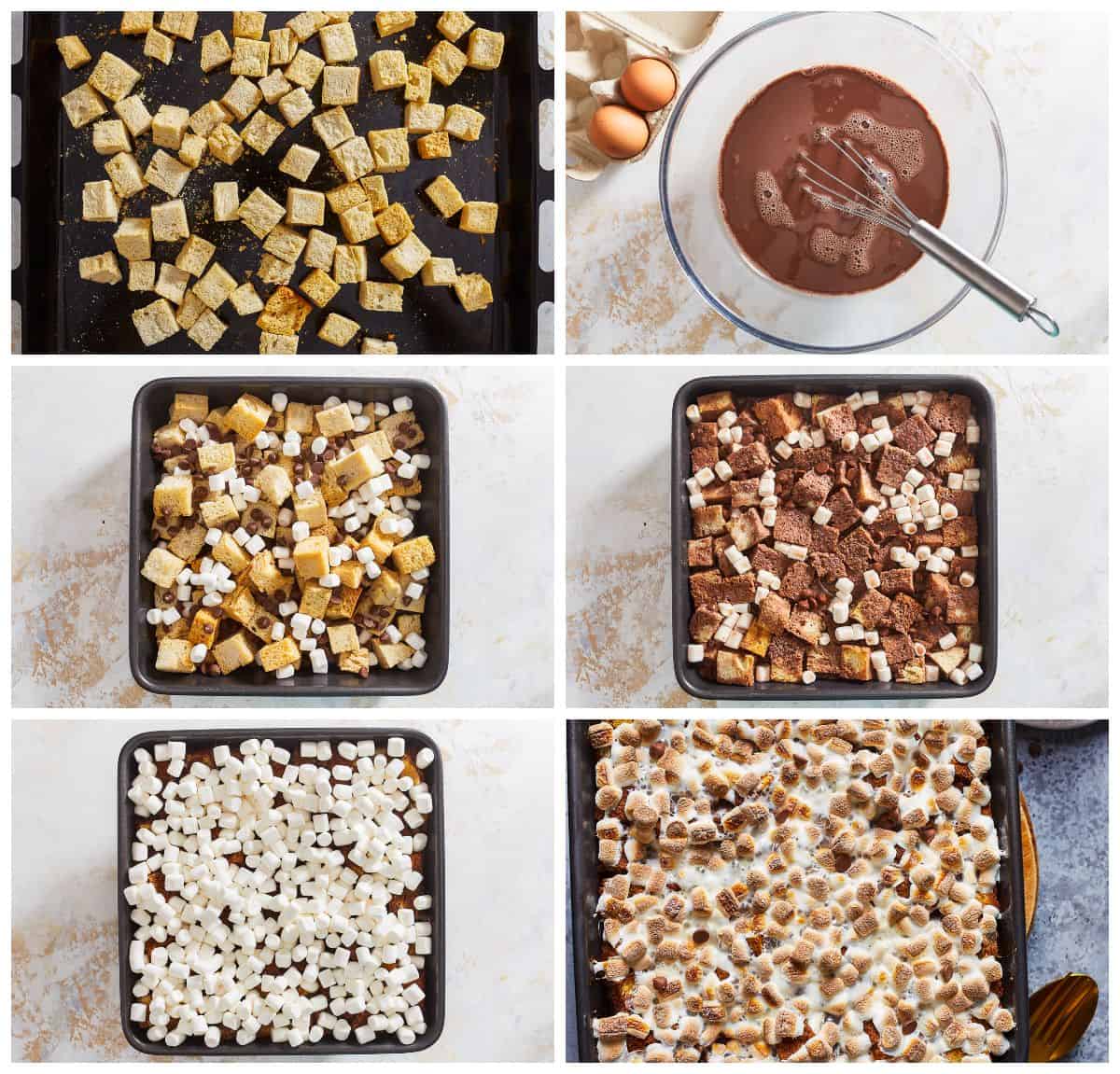 Holiday Breakfast or Dessert
With Christmas around the corner, of course all of my thoughts have been about food. What to take to holiday parties. What we will eat Christmas Eve with Pat's family.
What we will have the morning of our first Christmas not traveling in a while. That's an important one. CHRISTMAS MORNING. In order to make my husband SUPER happy I think I'll let him eat this Hot Chocolate Bread Pudding for breakfast AND dessert on Christmas.
I'm going to get tons of bread pudding points. (<– way better than brownie points in his opinion).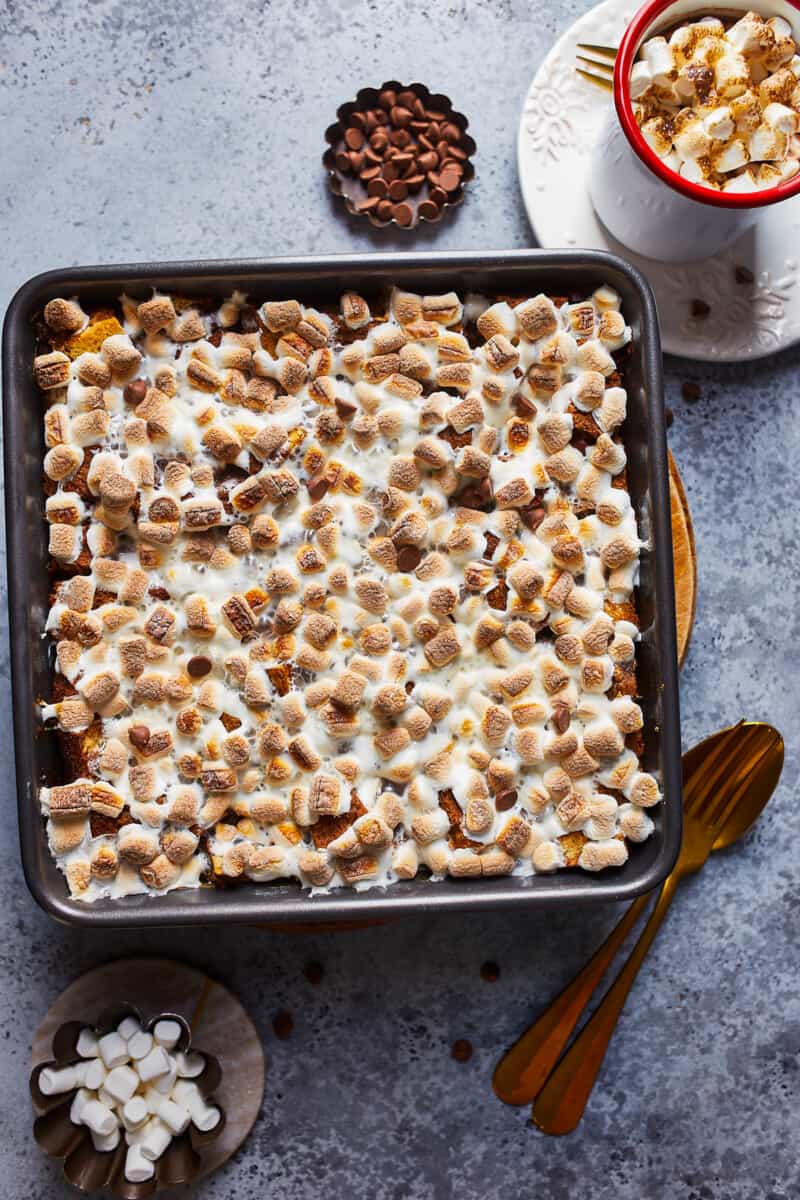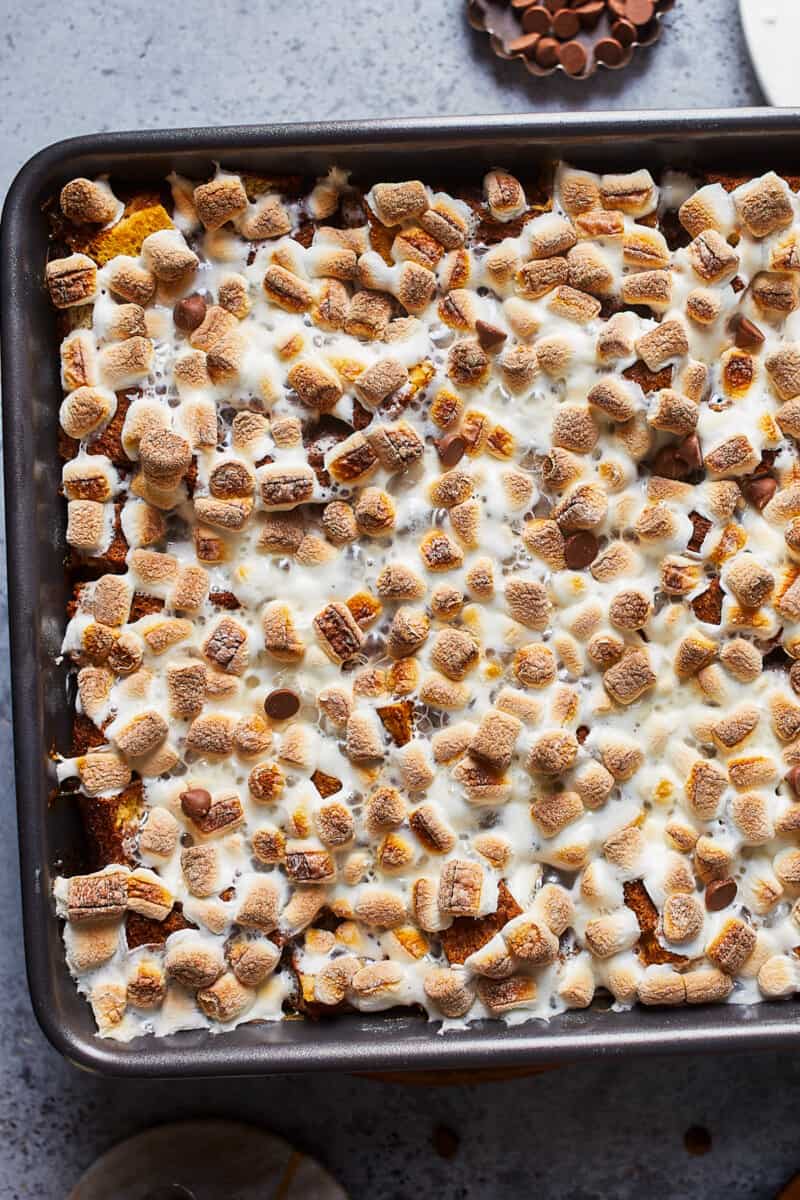 Hot Chocolate Dessert (Chocolate Bread Pudding)
To make this Hot Chocolate Bread Pudding super easy and quick during the holidays, I used store bought hot chocolate!
I used the Dark Chocolate, and it served as the perfect creamy base for this recipe. Made things quick and easy without sacrificing any flavor.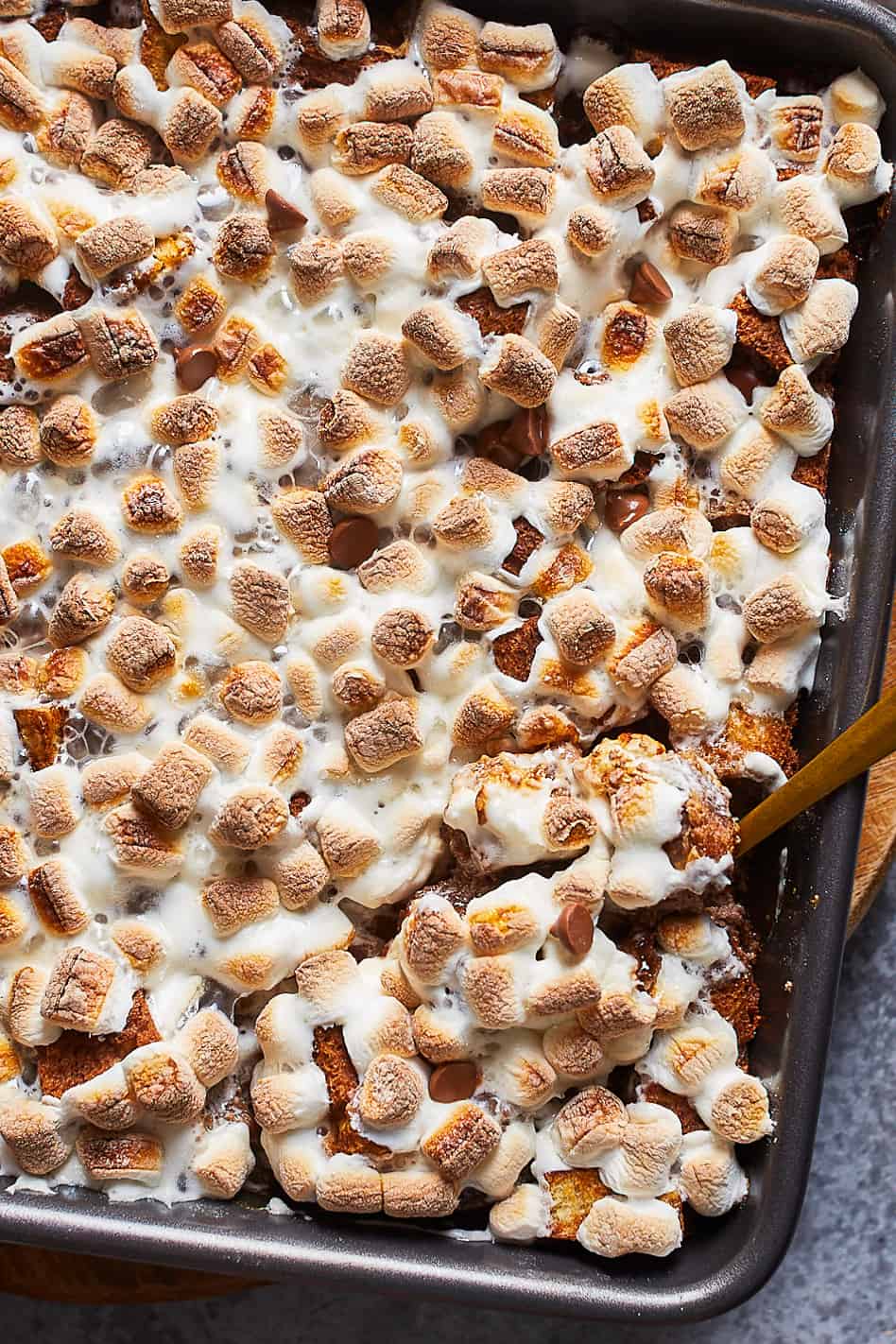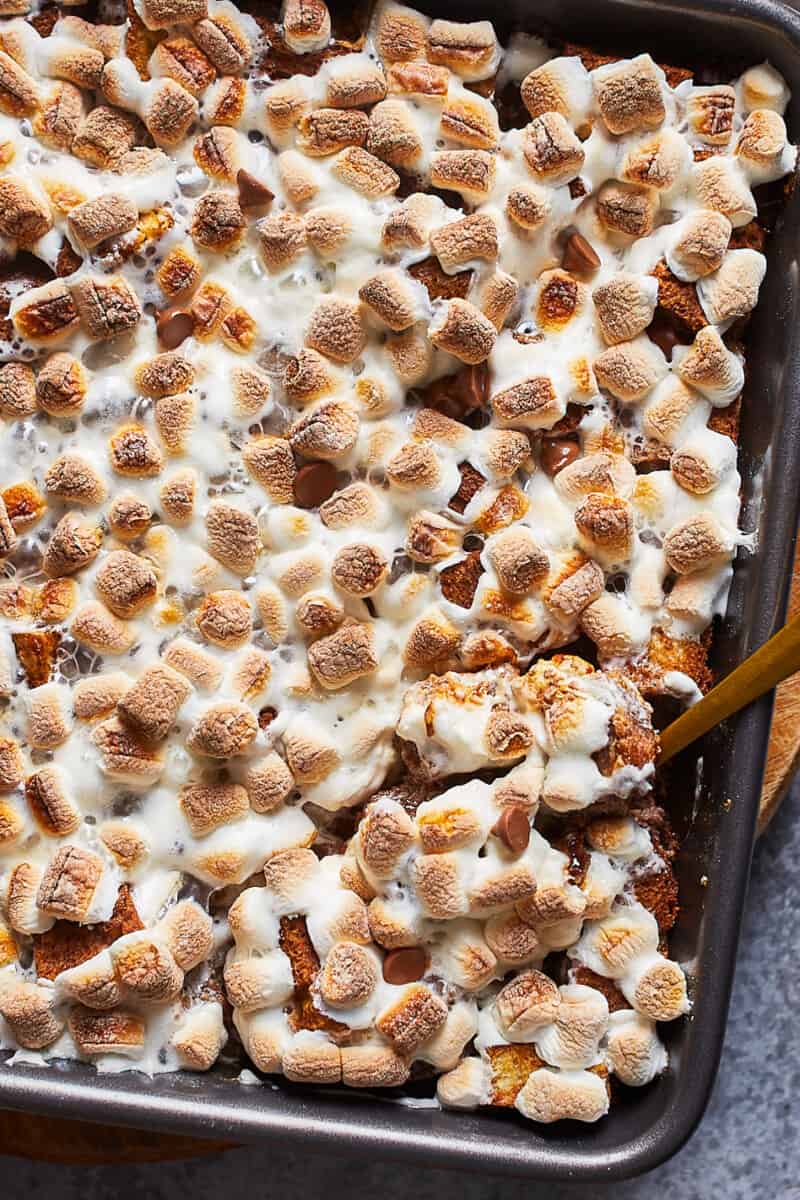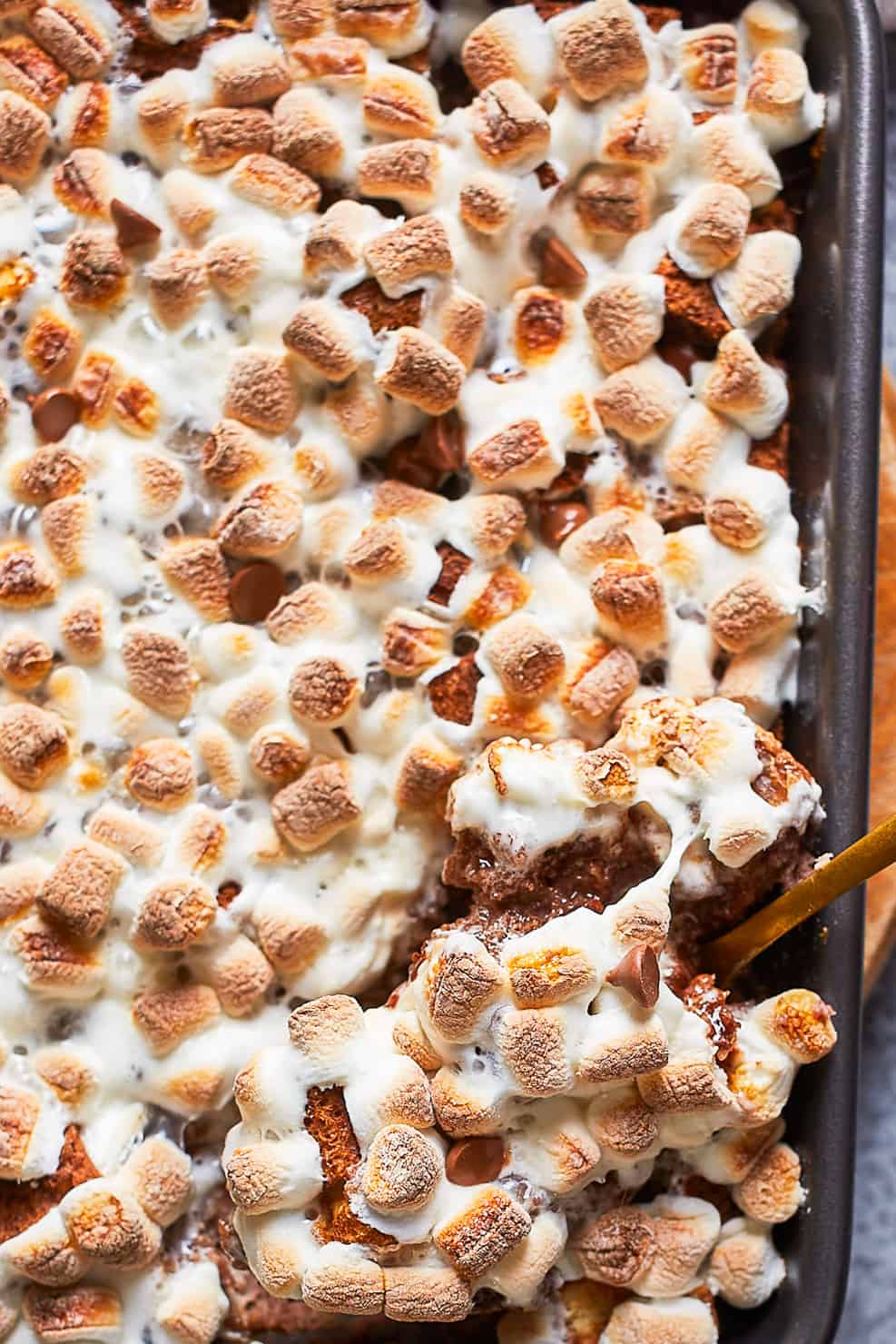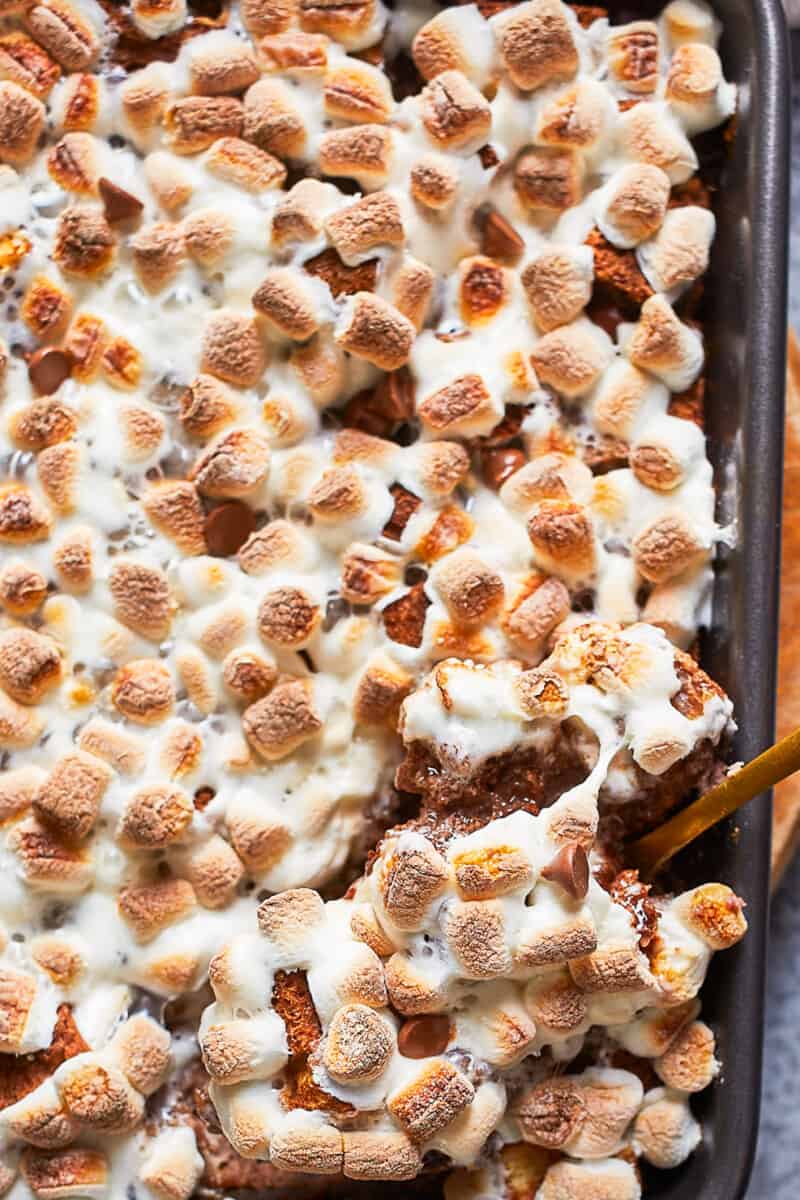 How to Make Hot Chocolate Bread Pudding
You can jump to the recipe card for full ingredients & instructions!
This recipe is super easy to make! Since the bread needs to soak in the hot chocolate mixture for a while anyways, this is something you can easily prep ahead of time, and then just bake it before serving.
Cut your bread into 1-inch cubes, then place them on a baking tray and bake for 30 minutes at 350°F to make them nice and toasty.
Whisk together hot chocolate, eggs, vanilla, and salt in a mixing bowl.
Place a layer of bread cubes in a 9×9 baking dish, then sprinkle on half of the chocolate chips & marshmallows (1/4 cup each). Then repeat with a second layer of the bread cubes, chocolate chips, and marshmallows.
Pour the hot chocolate mixture over everything, then cover the baking dish with foil.
Refrigerate overnight (or for at least 2 hours) to let everything soak.
When ready to cook, place the baking dish in the oven, uncovered, and bake at 325°F for 45-50 minutes.
After baking, top the hot chocolate bread pudding with a layer of marshmallows.
Return it to the oven and broil for 3-4 minutes. This will make the marshmallow topping melty and brown.
Let the bread pudding sit and cool for 20 minutes before serving. It comes out warm, chocolatey, and super delicious! Check the recipe card below for full recipe and more detailed instructions.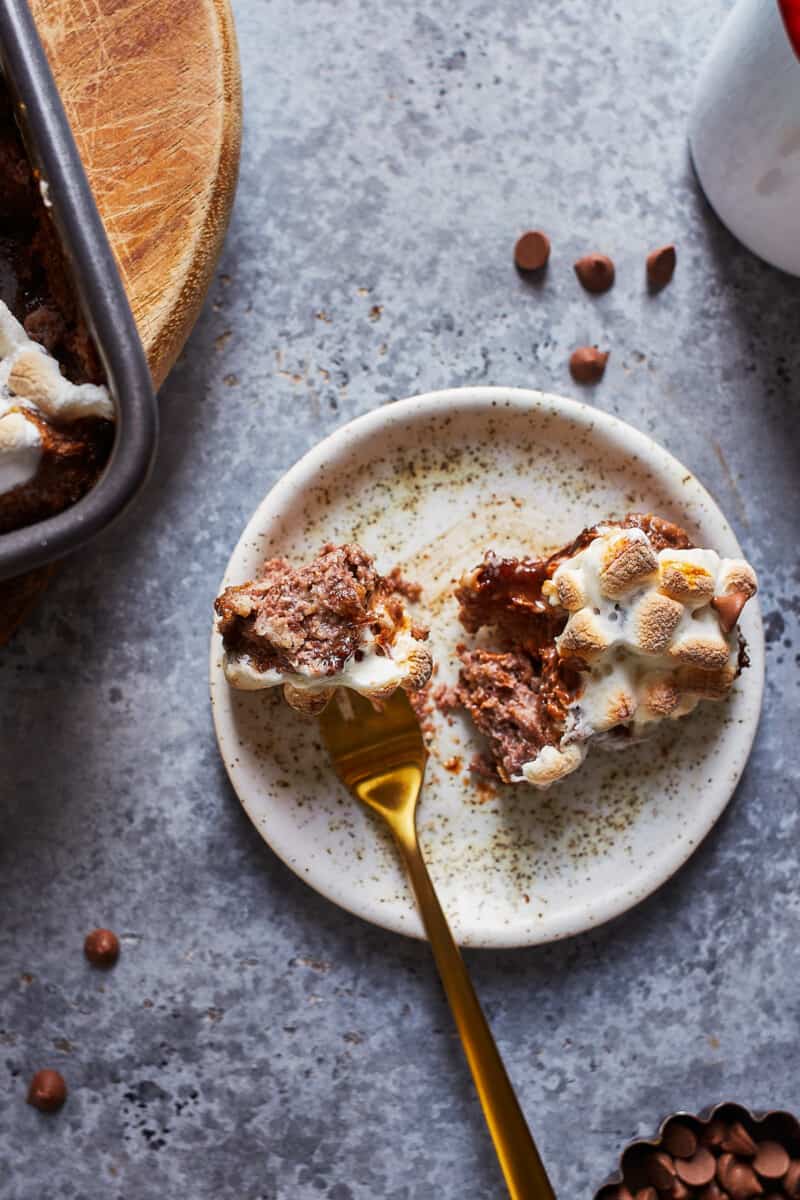 I mean, talk about ooey gooey. This Hot Chocolate Bread Pudding recipe will be all the rage this Christmas!
If you like this chocolate bread pudding recipe, you'll love these recipes too:
If you make this recipe be sure to upload a photo in the comment section below or leave a rating. Enjoy! You can also jump to recipe.