HOT CHOCOLATE BREAD PUDDING RECIPE! Ooey, gooey, decadent chocolate dessert topped with toasted marshmallows. This dessert (or breakfast) is way too easy to be this delicious!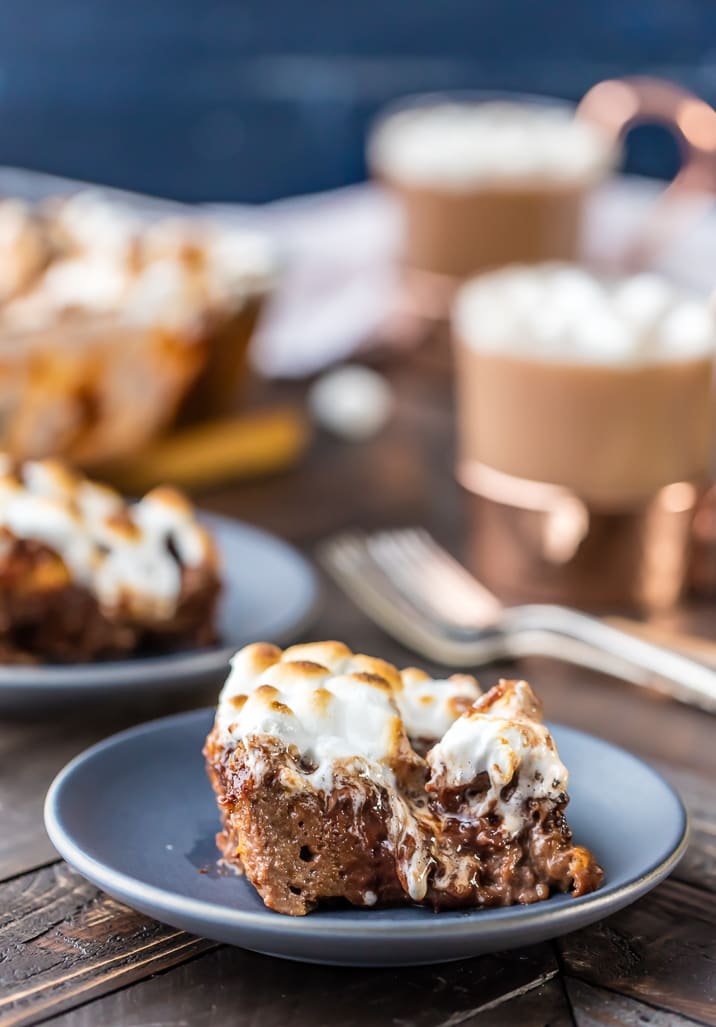 HOT CHOCOLATE BREAD PUDDING. Have four more delicious words ever been strung together? I live in a house that loves its bread pudding. I happen to think it's one of the most undervalued desserts. It's comforting, homey, and also way easier than so many other options. The best of all of the worlds. This Hot Chocolate Bread Pudding can also double as a Hot Chocolate French Toast Bake…making mornings totally worth waking up for.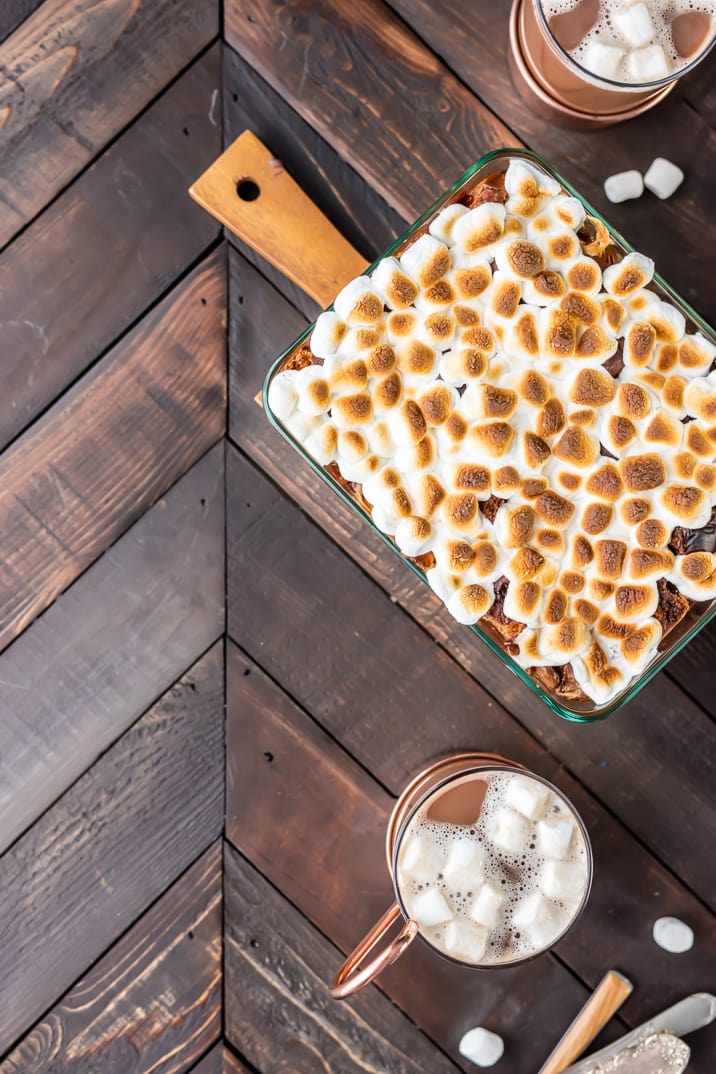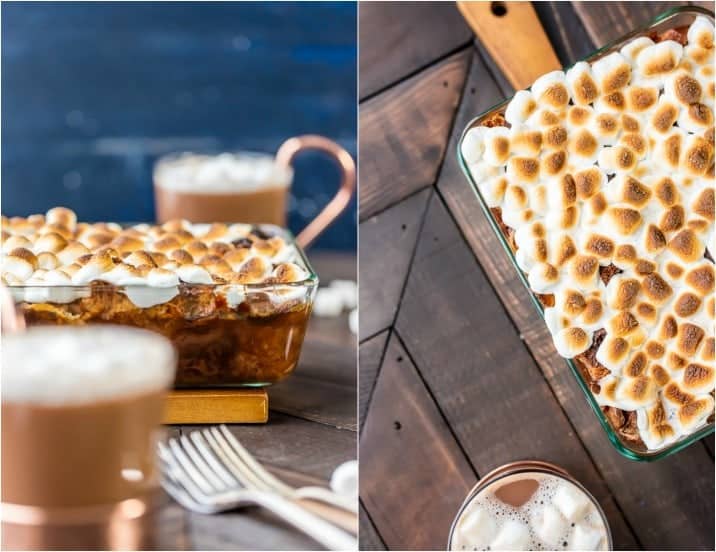 With Christmas around the corner, of course all of my thoughts have been about food. What to take to holiday parties. What we will eat Christmas Eve with Pat's family. What we will have the morning of our first Christmas not traveling in a while. That's an important one. CHRISTMAS MORNING. In order to make my husband SUPER happy I think I'll let him eat this Hot Chocolate Bread Pudding for breakfast AND dessert on Christmas. I'm going to get tons of bread pudding points. (<– way better than brownie points in his opinion).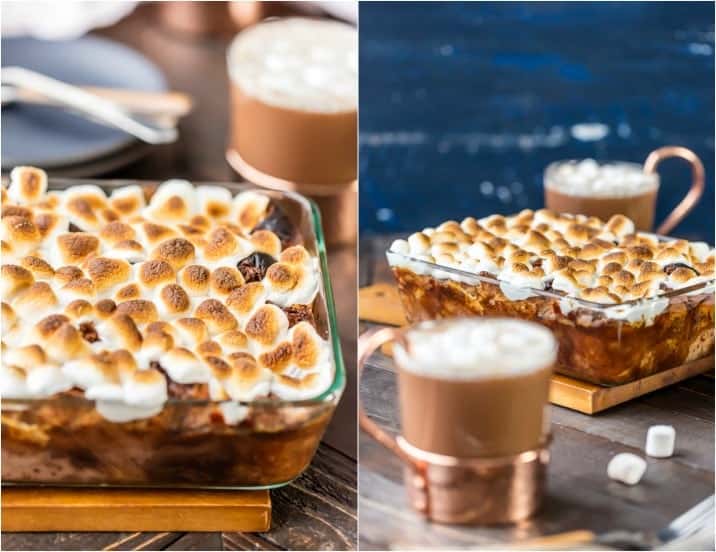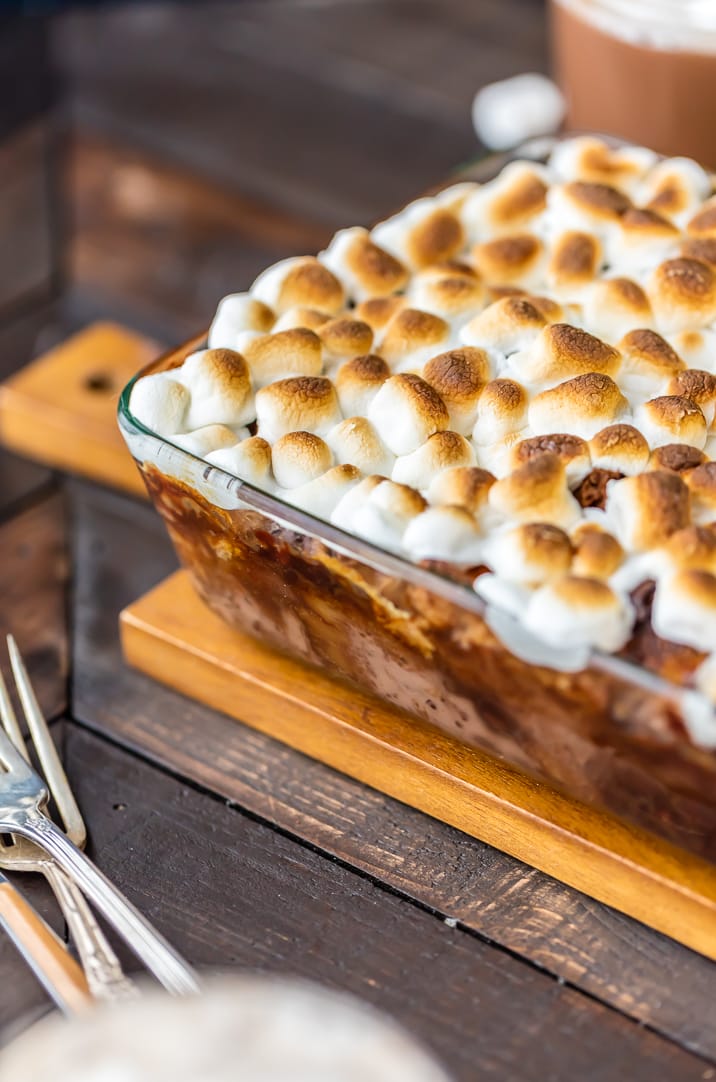 To make this Hot Chocolate Bread Pudding super easy and quick during the holidays, I used one of my new favorite products, International Delights Hot Chocolate! I used the Dark Chocolate, and it served as the perfect creamy base for this recipe. Made things quick and easy without sacrificing any flavor. International Delights in running a super fun campaign right now all about the holiday spirit and they'll be giving away a $5000 Holiday Brunch to a lucky winner! Click HERE to find out more and find out where you can purchase this amazing heat and serve International Delights Hot Chocolate!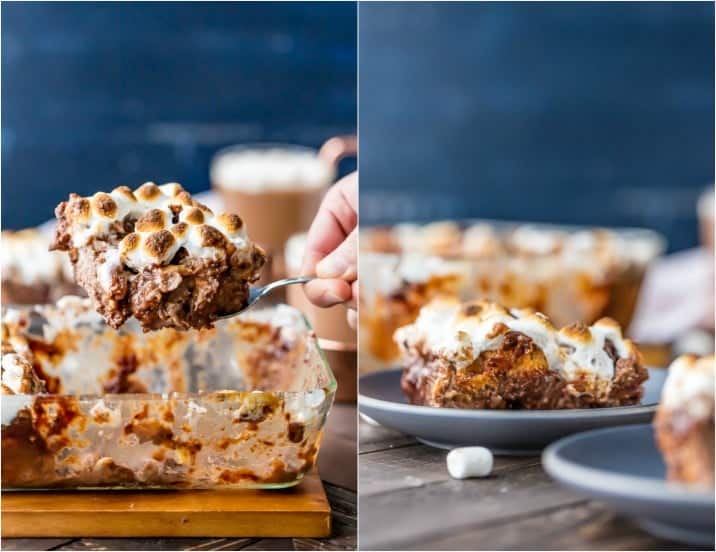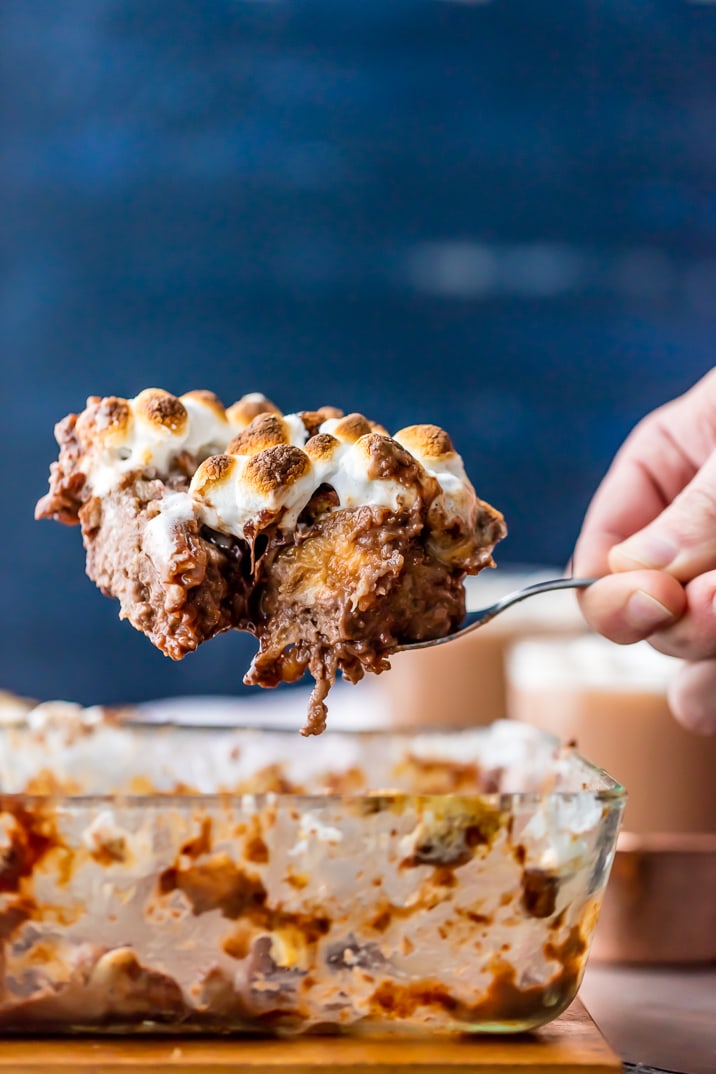 I mean, talk about ooey gooey.
Hot Chocolate Bread Pudding. It's all the rage this Christmas!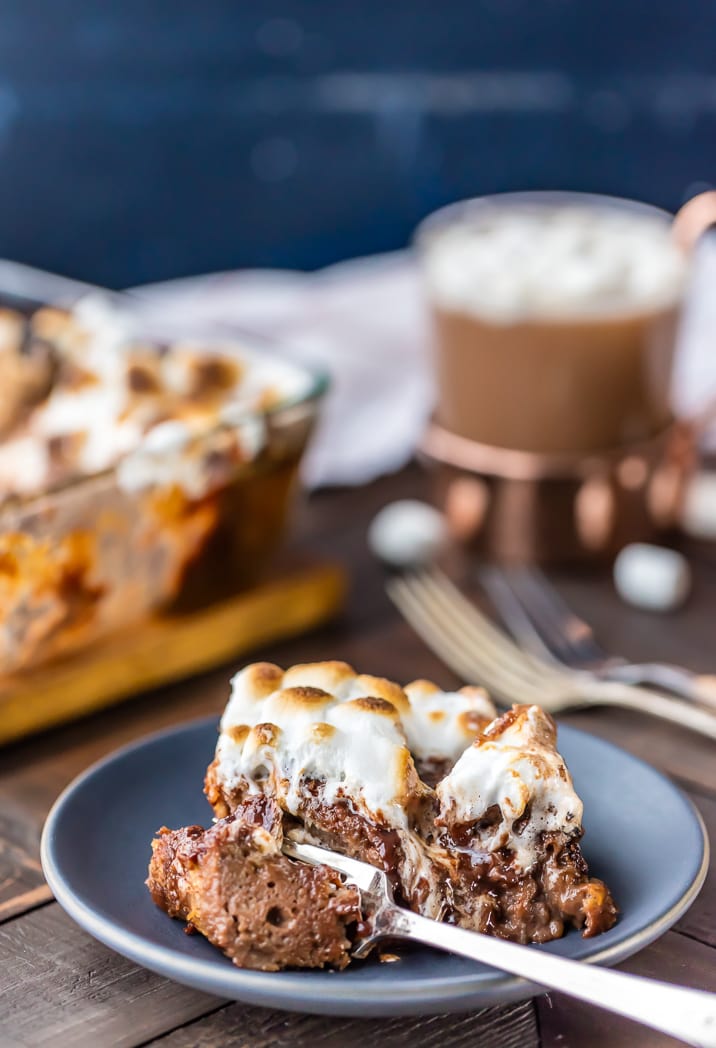 Enjoy!
Hot Chocolate Bread Pudding
30 minPrep Time
45 minCook Time
1 hr, 15 Total Time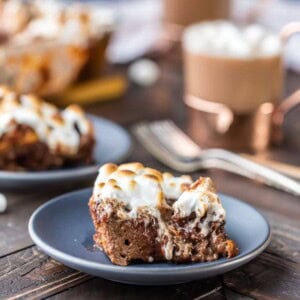 Ingredients
16-ounce loaf hawaiian sweet bread (or your favorite bread)
3 1/2 cups International Delights Hot Chocolate (or your favorite prepared hot chocolate, cooled)
1/2 cup good quality milk chocolate chips, divided
1 teaspoon vanilla
1/8 teaspoon salt
5 large eggs
1/2 cup mini marshmallows (for inside bread pudding), divided
1 1/2 cup mini marshmallows (for topping)
Instructions
Preheat oven to 350F.
Slice the loaf of bread into 1-inch cubes, cutting off the crust. It will make about 10-11 cups of bread.
Place the bread cubes on a baking tray and bake for about 30 minutes, turning twice. (you can skip this step if you're tight on time, but the toasted bread makes this extra tasty!)
In a large bowl, whisk together the hot chocolate, eggs, vanilla, and salt. Set aside.
Place one layer of bread cubes into a 9x9 baking dish. Scatter the 1/4 cup chocolate chips and 1/4 cup mini marshmallows over the bread.
Top with the rest of the bread and pack tightly. Sprinkle with the remaining 1/4 chocolate chips and 1/4 cup marshmallows.
Pour hot chocolate mixture into the baking dish. The liquid should come to almost to the top of the dish with a bit of the bread still exposed. Cover with foil.
Refrigerate overnight or for at least 2 hours.
When ready to prepare, preheat oven to 325F. Allow the bread pudding to rest on the counter while oven heats.
Bake, uncovered, for 45-50 minutes or until the bread cubes are crisp and browned and a toothpick inserted into the middle is firm.
Remove the dish from the oven and top with the remaining 1 1/2 cups mini marshmallows.
Switch your oven settings to broil and broil for approximately 3-4 minutes or until the marshmallows are toasted to your liking. Watch it closely, the broiler can burn the marshmallows easily.
Let sit for about 20 minutes before serving, it will be very hot. Slice and serve. Enjoy!
7.6.7
1928
https://www.thecookierookie.com/hot-chocolate-bread-pudding/
This is a sponsored conversation written by me on behalf of International Delight. The opinions and text are all mine.