These easy Steak Fajitas are tender and flavorful, perfect to serve up sizzling with fresh tortillas and tons of toppings. We use the best fajita marinade for the steak, bell peppers, and onions to infuse everything with ultimate flavor. The grilled strips of steak and veggies are easy to assemble for the tastiest fajita recipe ever!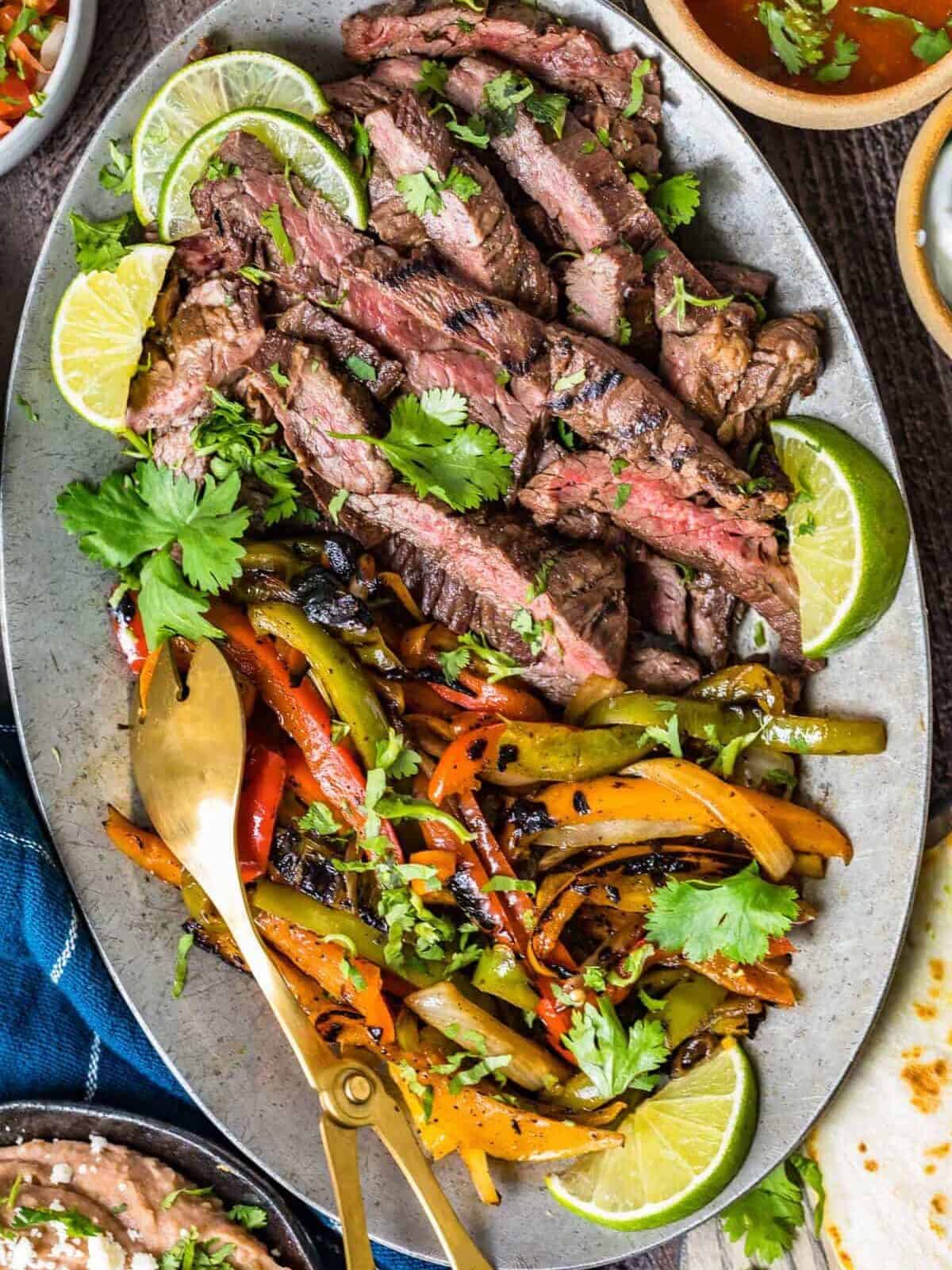 What's in Marinated Steak Fajitas
Grilled steak is a great base for the best fajitas–just add bell peppers, onions, and all your favorite toppings. It's an easy dinner for any night of the week!
Steak: Skirt steak is best for fajitas! Marinating it before grilling will make it super tender.
Fajita Seasoning: This blend combines brown sugar, paprika, red pepper flakes, garlic powder, thyme, and some other herbs and spices for the perfect flavor.
Soy Sauce: This is the base of our steak marinade. I like to use a low-sodium variety but that's up to you.
Lime Juice: Fresh lime juice adds acidity to the marinade, and a bright and zesty flavor.
Orange Juice: Fresh orange juice adds more acidity, which helps break down the tough fibers of the steak so that it becomes soft and tender. Feel free to swap it for pineapple juice.
Brown Sugar: Dark brown sugar adds a rich bit of sweetness to the fajita marinade.
Garlic: Minced garlic adds savoriness.
Jalapenos: Diced jalapenos add some heat to the marinade, but it won't lead to overly spicy meat and veggies. Be sure to remove the seeds, unless you want more spice.
Cumin: Ground cumin adds a little bit of earthiness that balances everything out.
Fajita Veggies: The best vegetables for steak fajitas are bell peppers and onions. You can use a mix of colors for your peppers. I recommend white or yellow onions. Cut everything into equally-sized strips.
Tortillas: Flour tortillas are best, but you can use corn and other types of tortillas as well.
Toppings: Add anything you love–guacamole, sour cream, queso, shredded cheese, pico de gallo, salsas, lime juice, etc.
Pro Tip: To warm tortillas, wrap small stacks in aluminum foil, and place in the oven for a few minutes. You can also warm them individually in a skillet on the stove top, but it's easier with the oven.
What can I add to this grilled fajitas recipe besides peppers?
Marinated grilled steak, bell peppers, and onions make up the bulk of these easy fajitas. But you can add other vegetables and fillings if you like. Add in some other types of peppers to add more heat, like jalapenos or poblanos (use sparingly).
Add zucchini and others summer squashes, carrots, or cabbage to fill things out. Portobello mushrooms cut into strips also work as a hearty (and healthy) fajita filling–these would be a good substitute for vegetarians.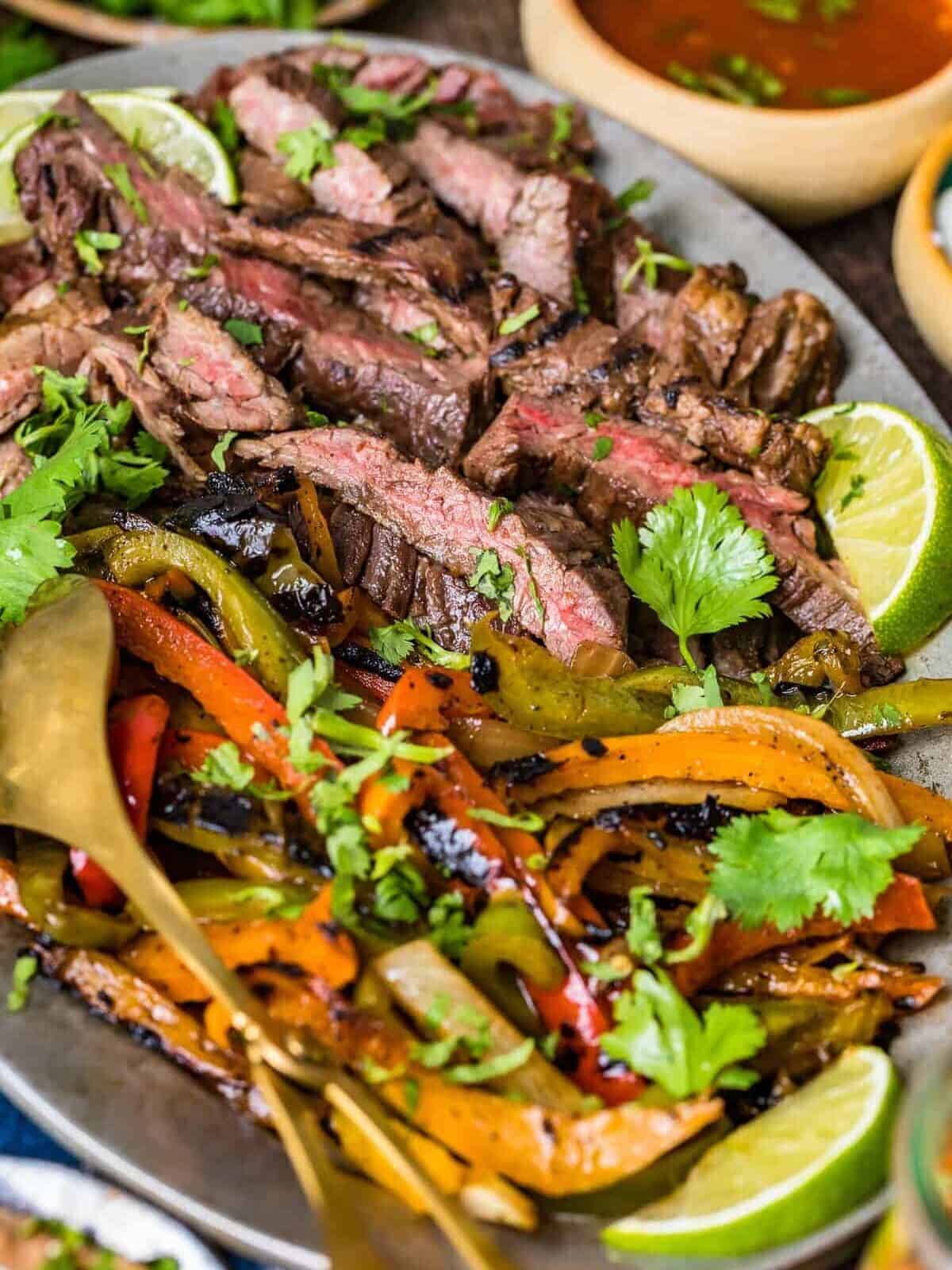 What cut of steak is best for fajitas?
Skirt steak is the best and most common cut to use for fajitas. You can also use flank steak or hangar steak.
How long do you marinate steak for fajitas?
I recommend marinating the steak for 2-10 hours before grilling. A long marinating time will make it extra tender and flavorful, but going past the 10 hour mark could lead to a mushy texture.
What temperature should I cook steak for fajitas?
Grill steak until it reaches an internal temperature of 125-130F (it will rise slightly as it rests). This will give you a rare to medium-rare steak, which will be extremely tender and flavorful.
Can I cook steak fajitas on the stovetop?
Yes! If you don't want to use a gas or charcoal grill, you can use a grill pan or cast iron skillet on the stovetop. Instructions are included in the recipe card below!
How do you cut steak and veggies for fajitas?
After the steak has had time to rest, cut it diagonally, against the grain (through the muscle fibers), into long strips. The bell peppers and onions should be cut into 1/2 inch strips.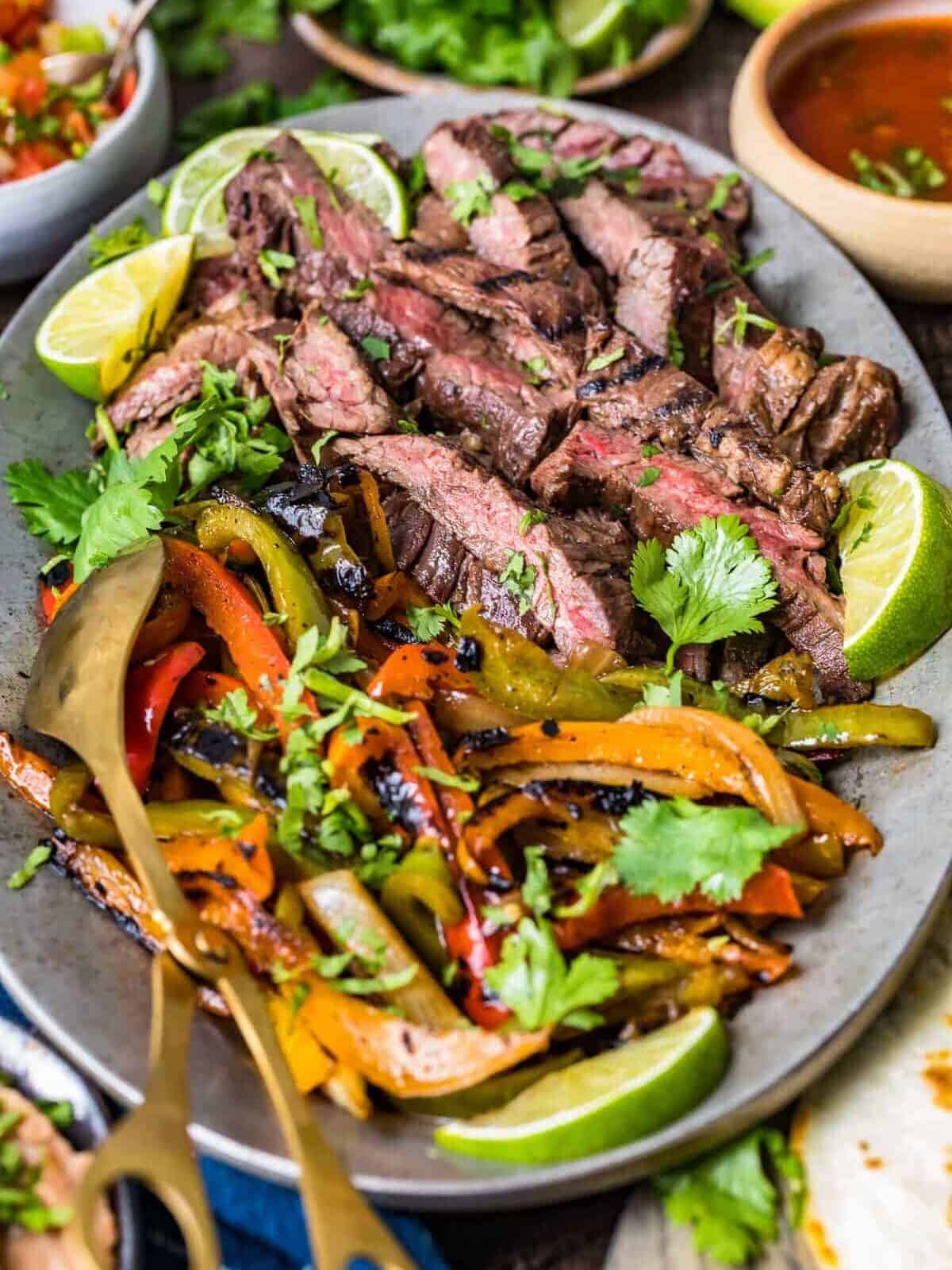 How to Store and Make Ahead
Store grilled fajita steak and veggies in an airtight container, and keep them in the refrigerator up to 4 days.
If you want to prep these ahead of time, here are a few things you can do:
Combine ingredients to make the fajita marinade, and store it in an airtight container up to 4 days.
Prep veggies (clean and cut into 1/2-inch strips), and store in the fridge up to 4 days.
Grill the steak, and store up to 3 days.
And since the steak can be marinated up to 10 hours, throw it in the fridge in the morning, and it'll be ready to grill when you get home from work!
How to Freeze and Reheat
Store steak fajitas filling in a freezer-safe container, and freeze for up to 3 months. Thaw in the fridge overnight before reheating.
To reheat. Warm the steak and veggies in the oven (350F, in a baking dish covered with foil), on the stovetop, or in the microwave for just 1-2 minutes.
What to Serve with Grilled Steak Fajitas
Serve sizzling steak fajitas on a platter, along with warm tortillas and toppings, so that everyone can assemble their own as they go–that's part of the fun! Some toppings to try: avocado corn salsa, street corn, salsa verde, taco sauce, chimichurri, creme fraiche, and shredded cheese.
They're also great served along with cilantro lime rice, Mexican rice, esquites, refried beans, Mexican grilled corn, tortillas chips and poblano queso. A Pineapple Agua Fresca or Orange Margarita would be a refreshing finish!
Or try using leftovers on fajita nachos, or make fajita bowls by combining everything (steak, veggies, toppings) with rice.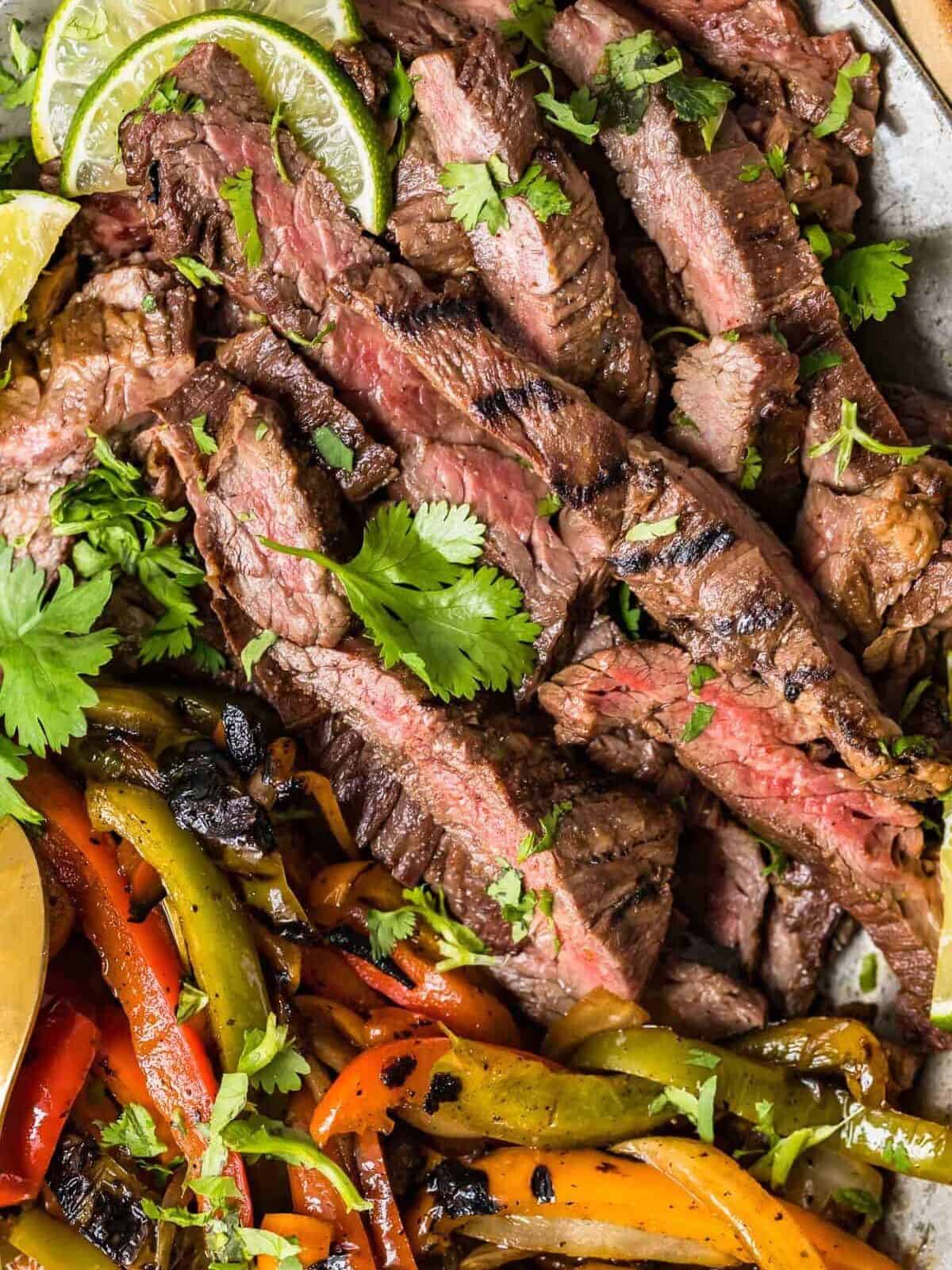 More Fajita Recipes We Love