These delicious Pumpkin Bars are simply to die for! Moist and perfectly-spiced pumpkin cake bars are topped with a cream cheese frosting for a decadent and tasty fall dessert that the whole family will love. They're easy and quick to make!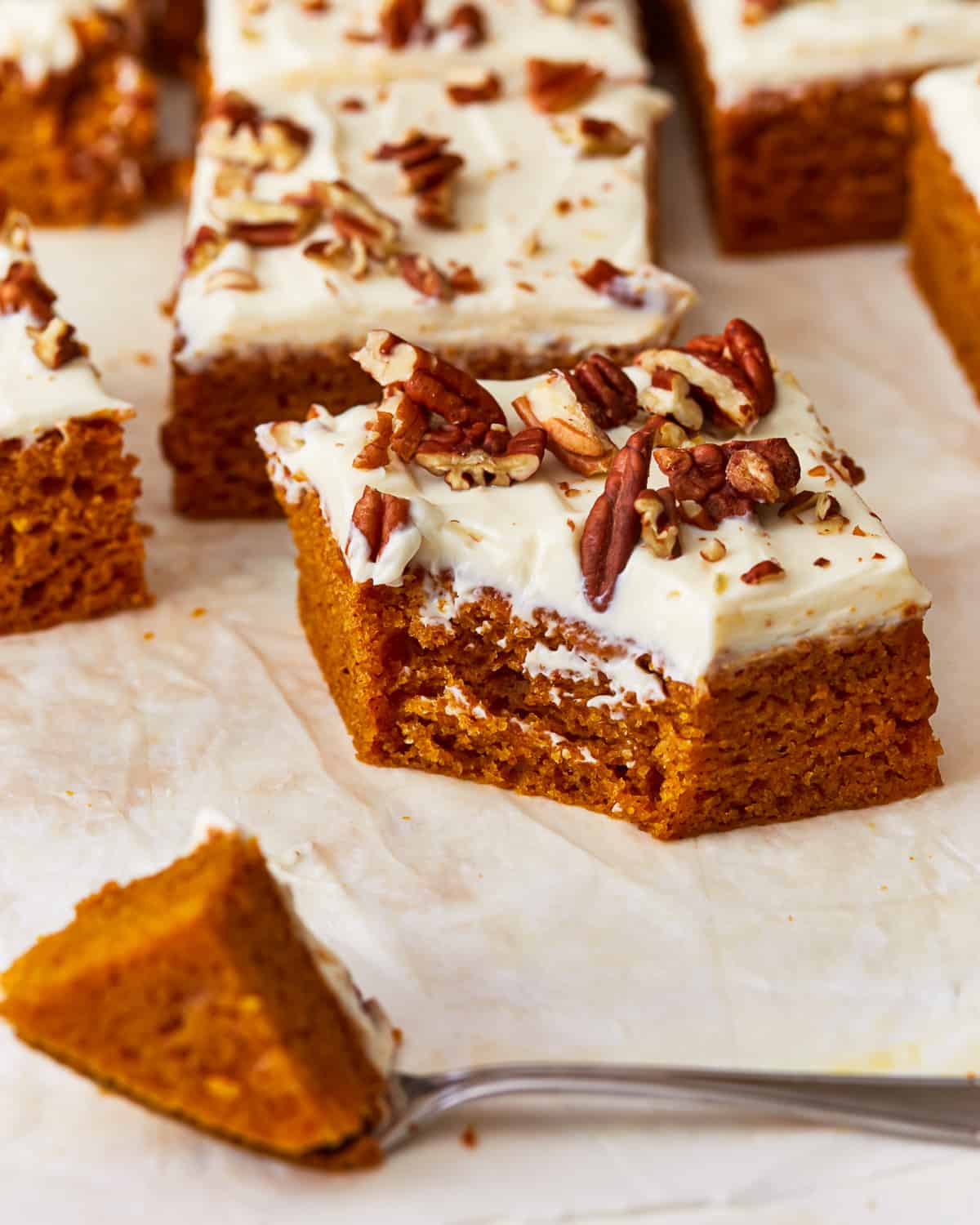 What's in this Pumpkin Bars recipe?
Pumpkin puree and pumpkin pie spice add the best pumpkin-flavor to these cake-y dessert bars, and the cream cheese frosting is so quick to whip up!
Flour: All-purpose flour adds structure to the cake bars.
Baking Powder & Soda: Use both for leavening.
Sugar: Granulated sugar adds the perfect sweetness.
Pumpkin Puree: Use plain pumpkin puree–do not use pumpkin pie filling (which already has sugar and spices in it).
Pumpkin Pie Spice: This festive mix of spices adds delicious flavor.
Cinnamon: A hint of cinnamon adds more warmth.
Eggs: Adds moisture to the pumpkin bars and helps bind ingredients together.
Canola Oil: Adds moisture to the cake batter.
Cream Cheese: The base of our cream cheese frosting.
Butter: Use unsalted butter to add more richness and moisture into the frosting.
Sour Cream: This is the perfect ingredient to add moisture.
Vanilla Extract: Adds a hint of vanilla flavor to the frosting.
Powdered Sugar: Creates a lighter and fluffier texture to the frosting.
Pro Tip: If you want a little crunch on top, sprinkle some roasted chopped pecans on top of the cream cheese frosting to finish!
What can I use on top of these pumpkin bars, besides cream cheese frosting?
The cream cheese frosting is the perfect complement for these pumpkin squares if you ask me, but you can change up the topping if you like. Use a brown sugar frosting, buttercream, or keep it simple with a dusting of powdered sugar.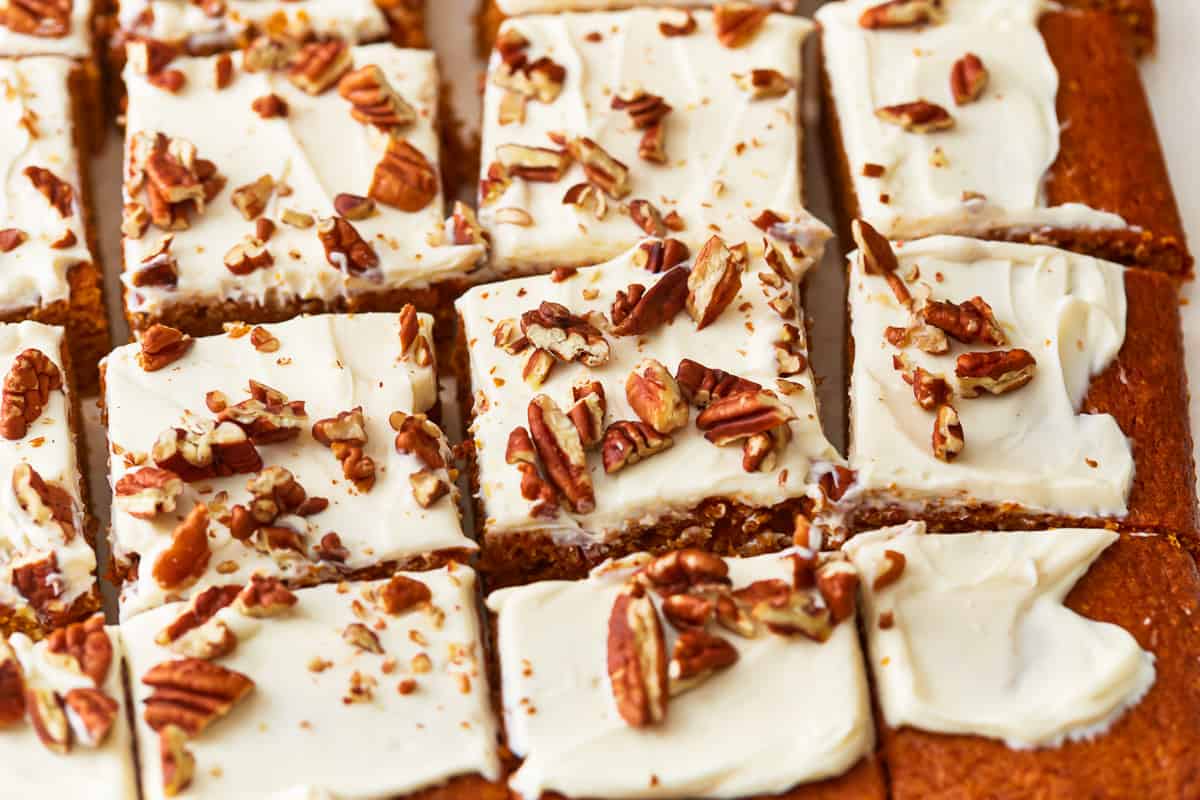 Can I use pumpkin pie filling instead?
No. Be sure to use a plain pumpkin puree for these bars. Pumpkin pie filling has sugar and spices mixed in already, so it will really change the flavor of your bars.
Can I make the cream cheese frosting ahead of time?
The frosting can be made up to 2 days ahead. Keep refrigerated and in an airtight container until ready to use. When ready to use, place the frosting in a mixing bowl and mix on medium speed about 1-2 minutes or until fluffy and refreshed.
How long do you bake pumpkin bars?
Pumpkin bars will take between 25-30 minutes to bake in the oven at 350°F. To check if they're done, insert a toothpick into the middle–when it comes out clean (no batter), they're ready.
What type of pan should I use to make pumpkin squares?
I used a rimmed sheet pan (11×15) to make these easy pumpkin bars. It creates the best thickness so that they bake into moist squares. If you want to use a different pan, it will affect the baking time, so keep an eye on them.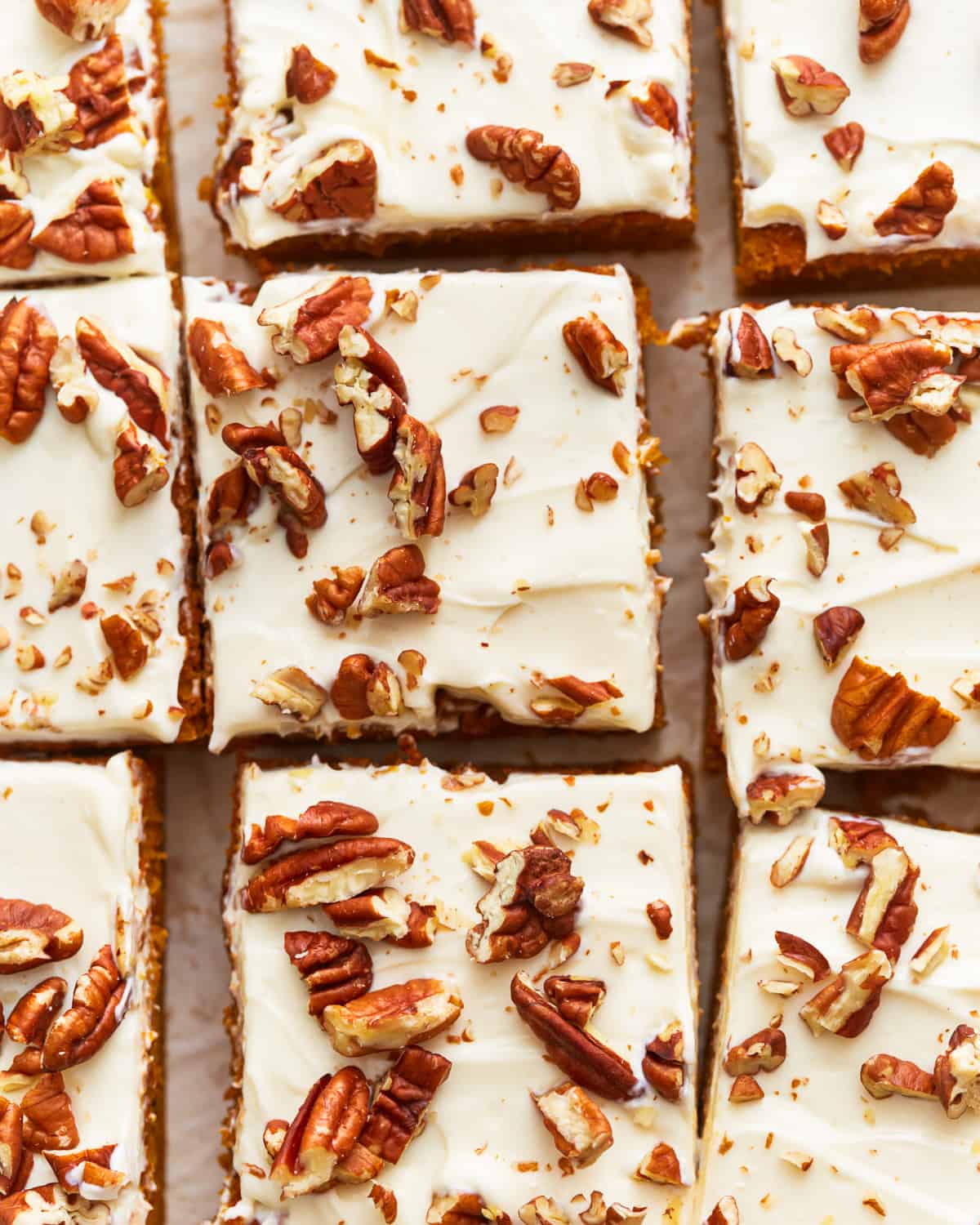 How to Store and Reheat
Store leftover pumpkin bars in an airtight container for up to 3 days. Because of the cream cheese frosting, they do need to be refrigerated. These frosted bars are best served at room temperature.
How to Freeze
Freeze pumpkin squares in a freezer-safe container or resealable bag for up to 3 months. Thaw in the fridge before reheating or serving. I recommend freezing them without the frosting for best results, but you can freeze them with the frosting if you prefer.
Serving Suggestions
If you want to add an extra dazzle, drizzle these easy pumpkin bars with caramel sauce and top with roasted nuts to serve. They pair delightfully with your favorite fall coffee drink, like a pumpkin spice latte or honey almond milk flat white.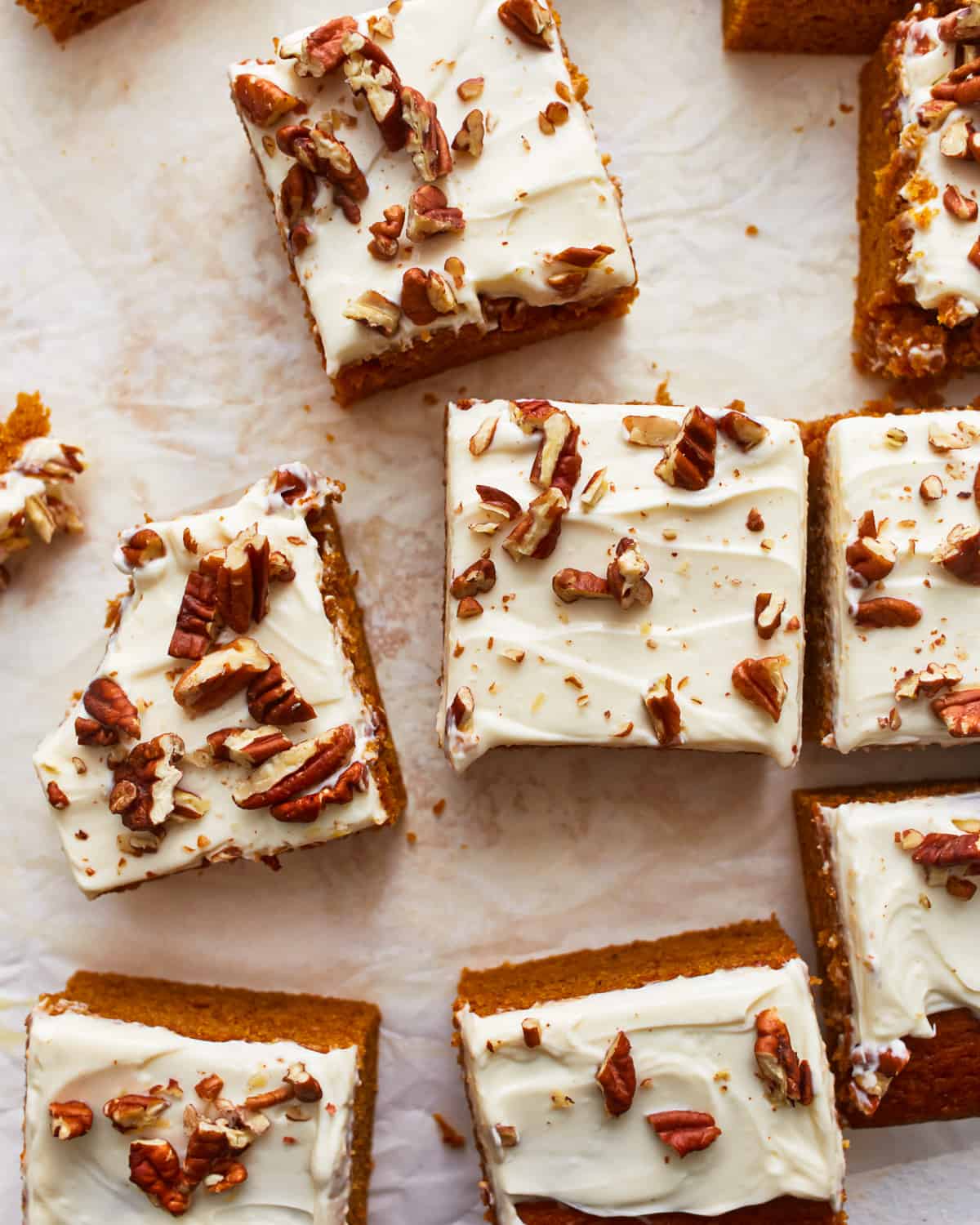 5-Star Review
"These pumpkin bars are so delicious! They are soft & moist & the cream cheese frosting is so creamy & perfect on top!" – Natalie
More Baked Pumpkin Treats We Love