These pumpkin bars are the perfect fall treat! Pumpkin cake is topped with a cream cheese icing for a decadent and tasty dessert that the whole family will love. Easy and quick to make.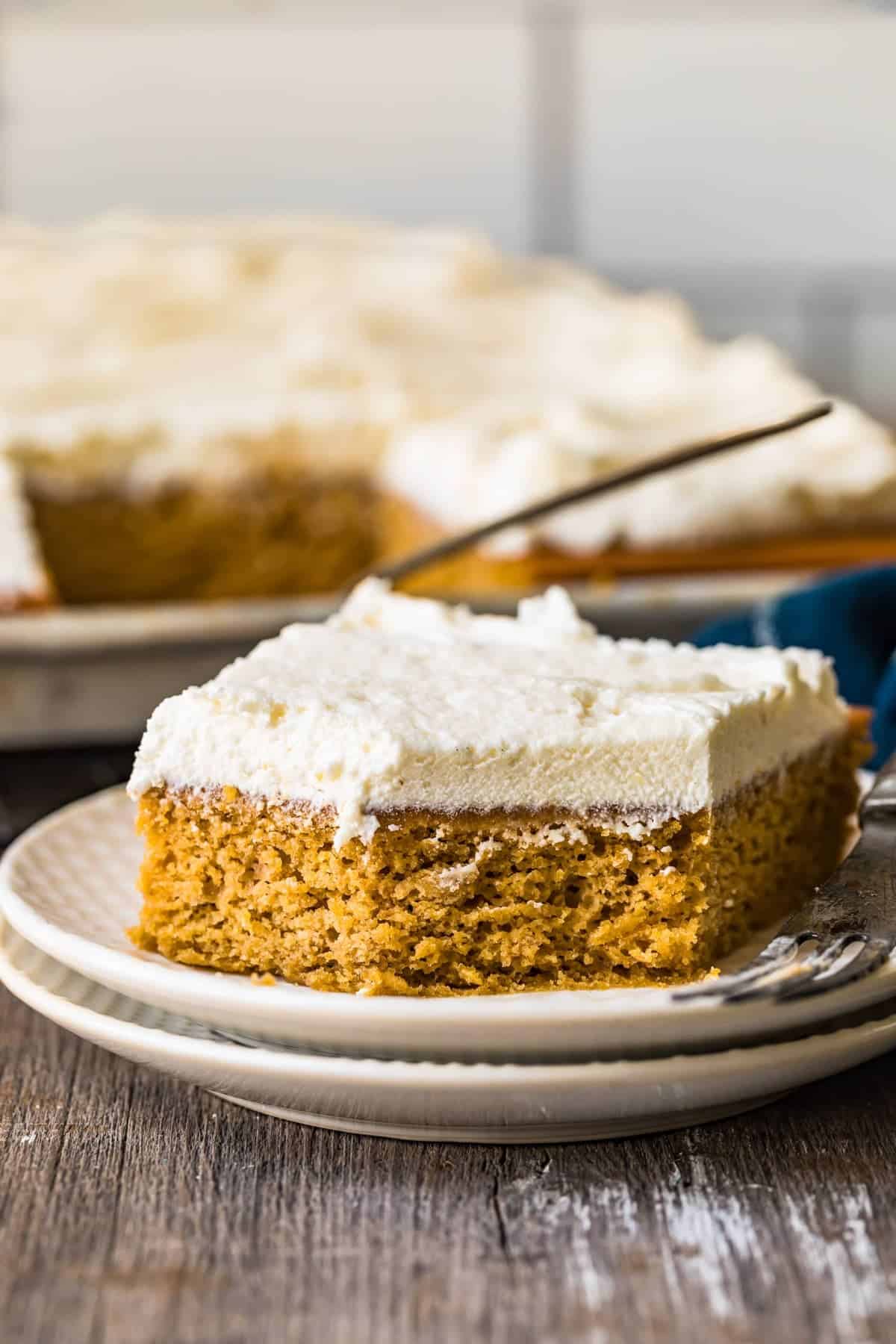 Fall means pumpkin, and I have got such a yummy treat for you! This pumpkin cake recipe is full of the flavors of fall and is perfect as a dessert for the whole family or as a mid afternoon snack with a cup of coffee!
How to Make Pumpkin Bars with Cream Cheese Icing
FOR THE CAKE:
Heat oven to 350°F, position the oven rack to the middle position, and spray a rimmed sheet pan (11×15) with nonstick baking spray.

In a large mixing bowl, whisk together flour, baking powder, baking soda, salt, cinnamon and pie spice. Set aside.

In the bowl of a stand mixer, combine sugar and oil. Mix on medium speed until well incorporated, about 1 minute.

Add eggs one-at-a-time (mixing well after each addition).

Add pumpkin and mix 1 minute.

Set the mixer to the lowest speed and add the flour (1 cup at-a-time) until no flour is visible. Turn mixer to medium speed and beat 1-2 minutes or until smooth and flour is completely incorporated.

Pour the pumpkin batter into the prepared pan and rap the pan on the counter to release any batter bubbles.

Bake 25-33 minutes or until a toothpick inserted in the middle comes out clean.

Transfer the cake to a wire cooling rack to cool completely.

When the cake has cooled, frost with Best-Ever Cream Cheese Frosting.

Cut the cake into bars.
FOR THE FROSTING:
Place cream cheese in the bowl of a stand mixer and mix on medium-high speed for 1 minute.

Add butter and mix another 1 minute or until incorporated.

Add sour cream, vanilla extract and salt; reduce speed to medium and beat an additional 1minute.

Add the confectioner's sugar and beat 2-3 minutes or until the frosting is fluffy, smooth and the powdered sugar is dissolved.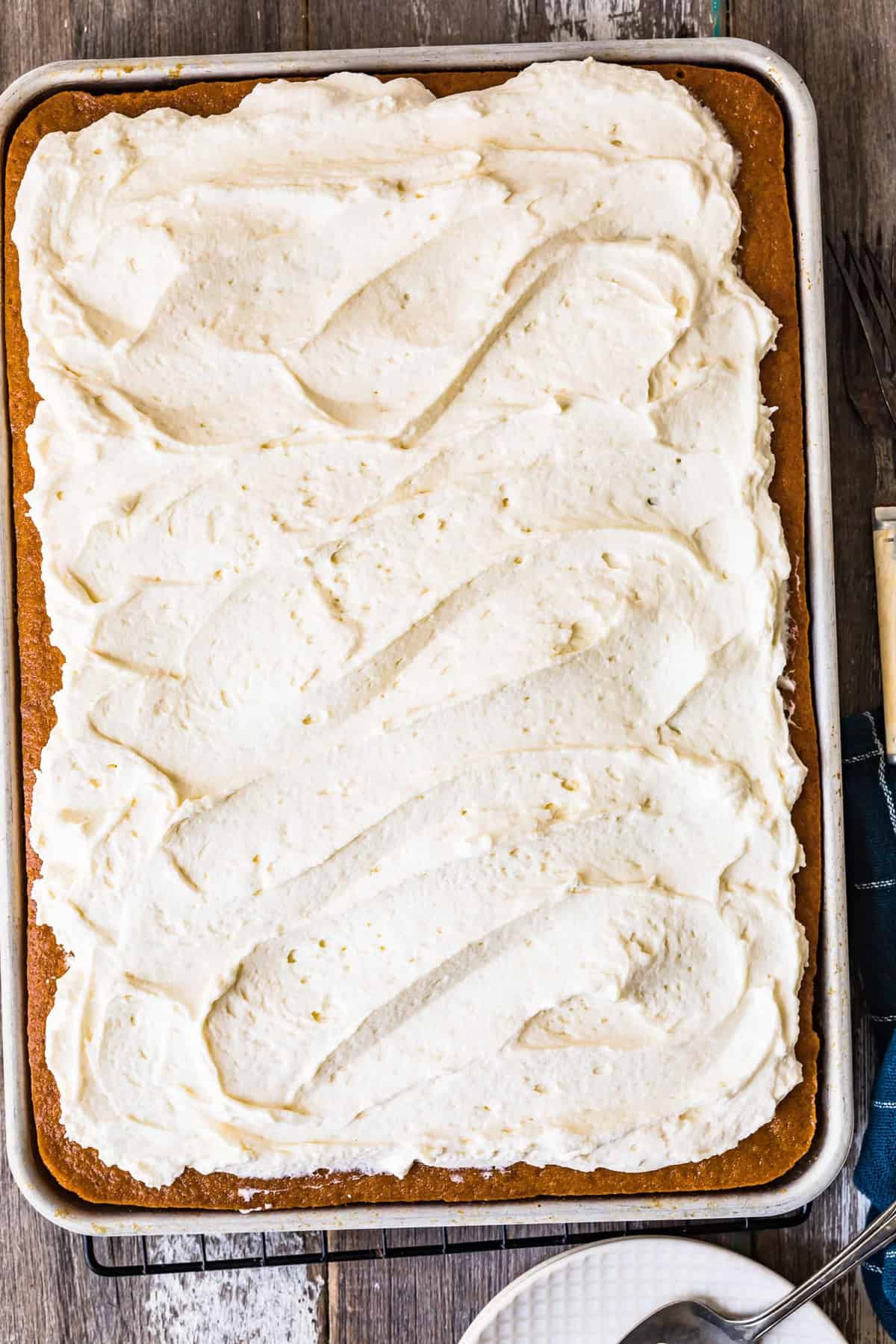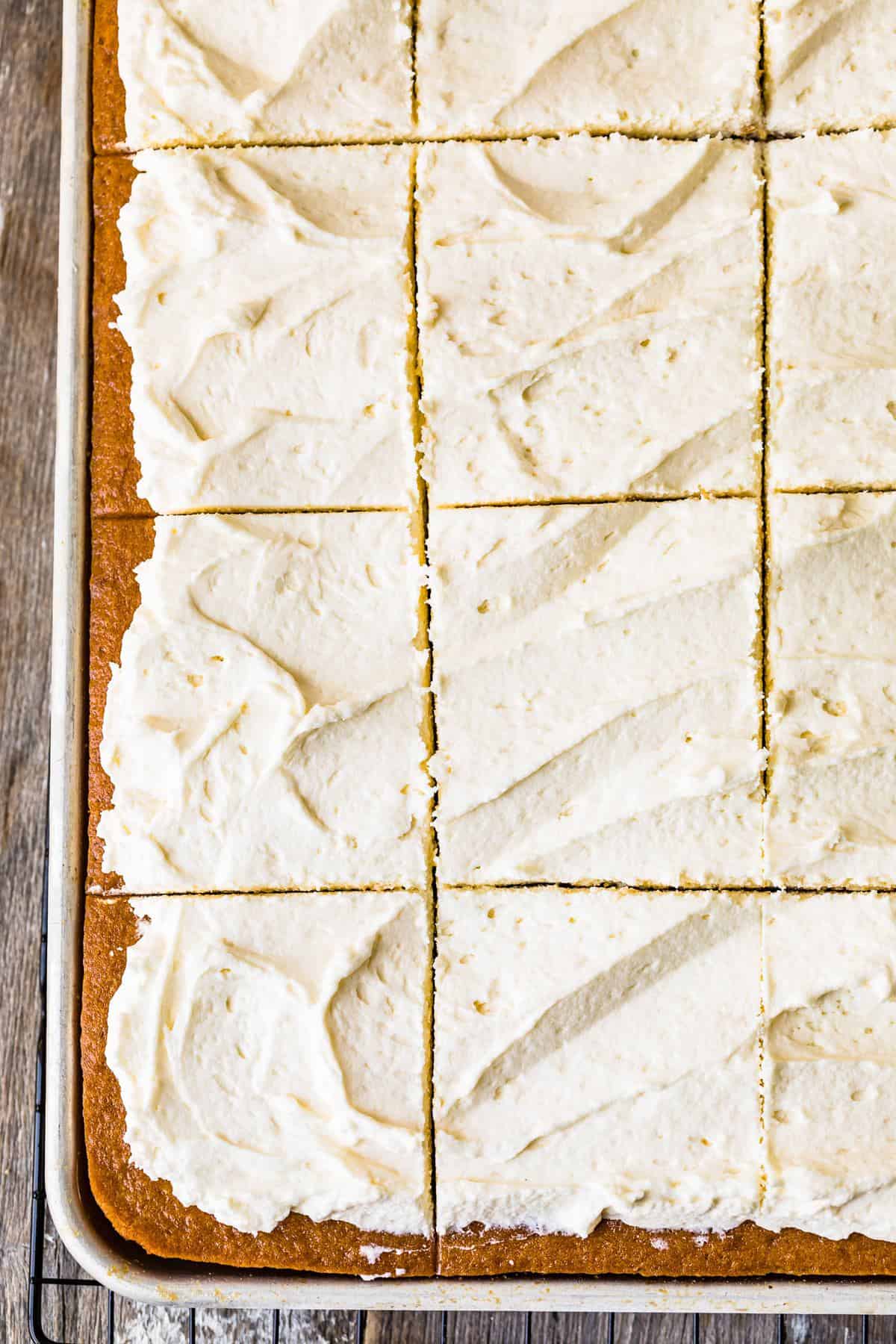 Pumpkin Bars from Scratch
Time to ditch the boxed cake mix! This pumpkin cake only takes 15 minutes to prep and tastes way better than anything store bought! It has the perfect blend of spices and is perfectly soft and fluffy. I promise it takes no longer to make it from scratch than if you buy a mix – be sure to let me know if you try this!
The Best Cream Cheese Frosting!
The cream cheese frosting on these pumpkin bars is so light and airy, I reckon you'll be using it on many baked goods in the future! It's perfectly sweet, without being sickly, and works so well with the spice in this cake. It's so easy to whip up a batch!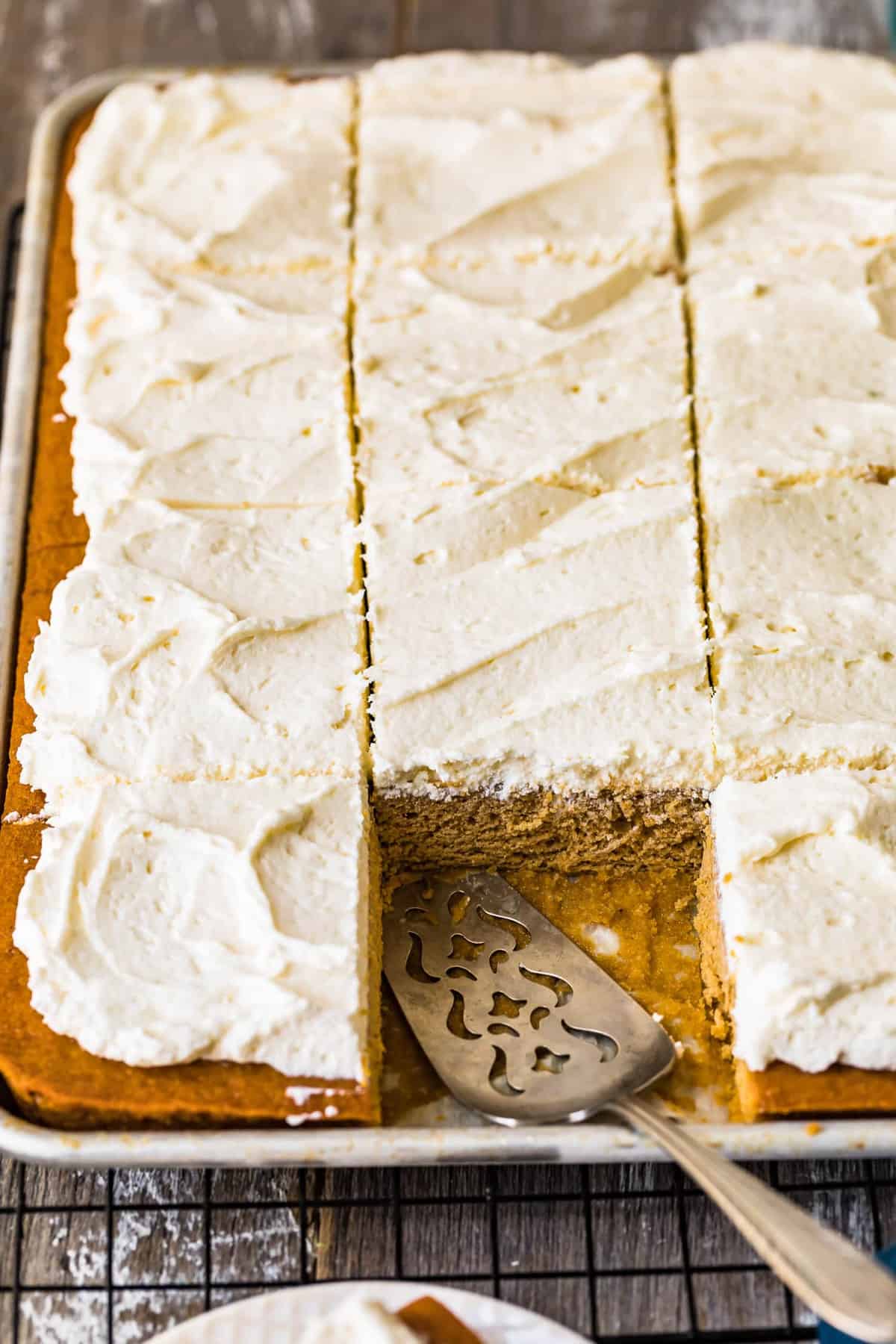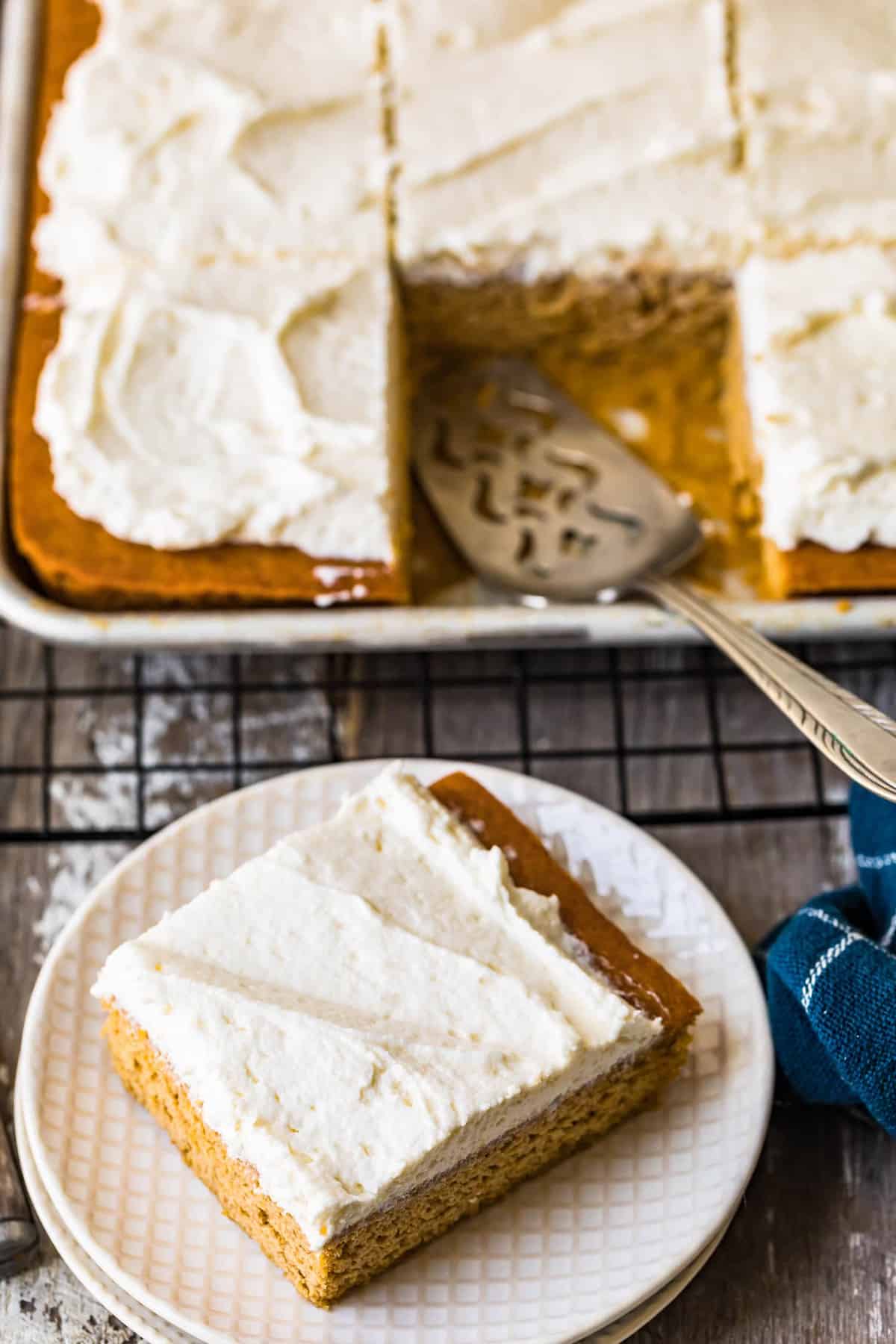 Can these pumpkin bars be made ahead of time?
Yes! These bars can be made several days ahead of time! The cake will keep for three days covered and stored in the refrigerator.
The frosting can be made up to 2 days ahead. Keep refrigerated and in an airtight container until ready to use. When ready to use, place the frosting in a mixing bowl and mix on medium speed about 1-2 minutes or until fluffy and refreshed.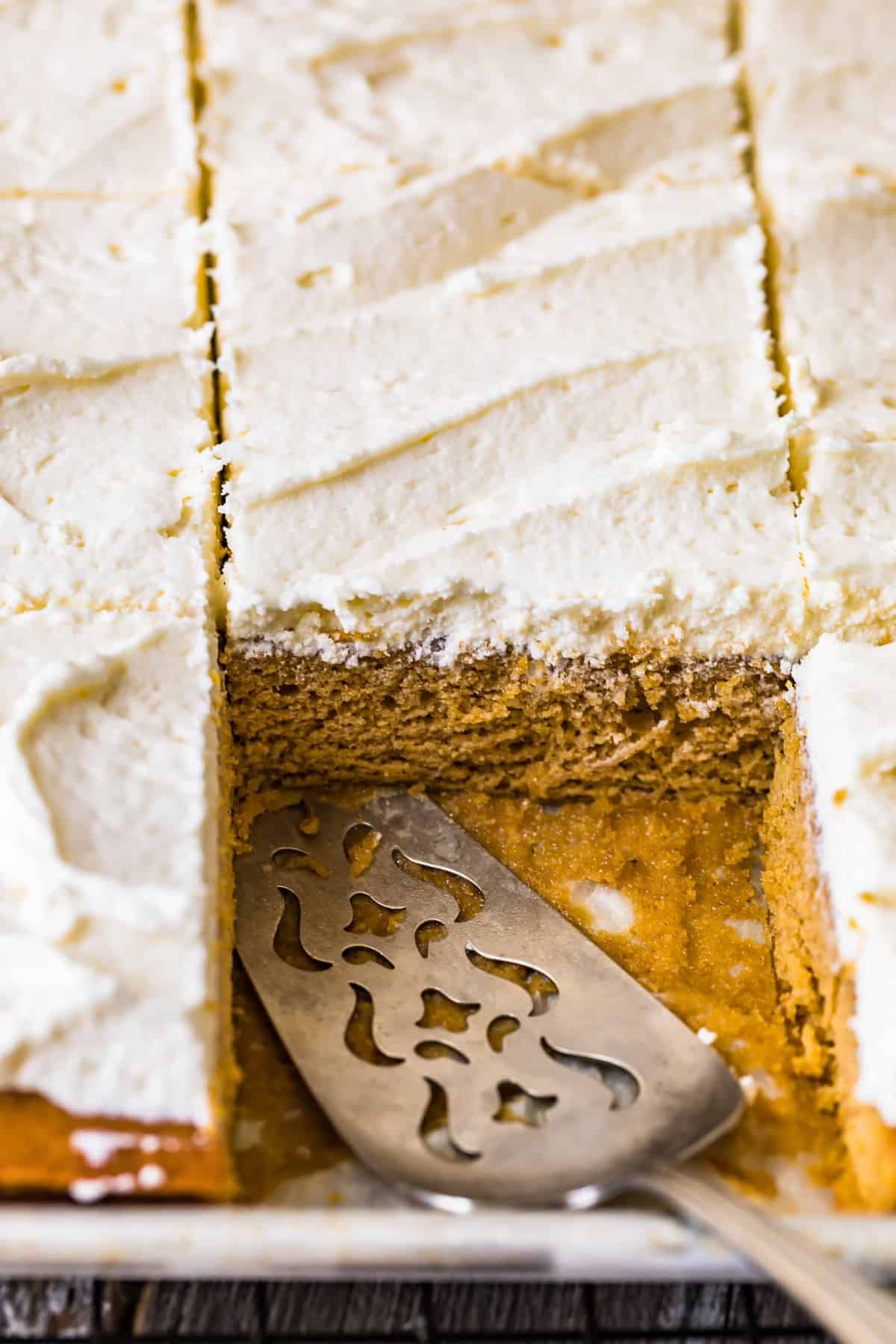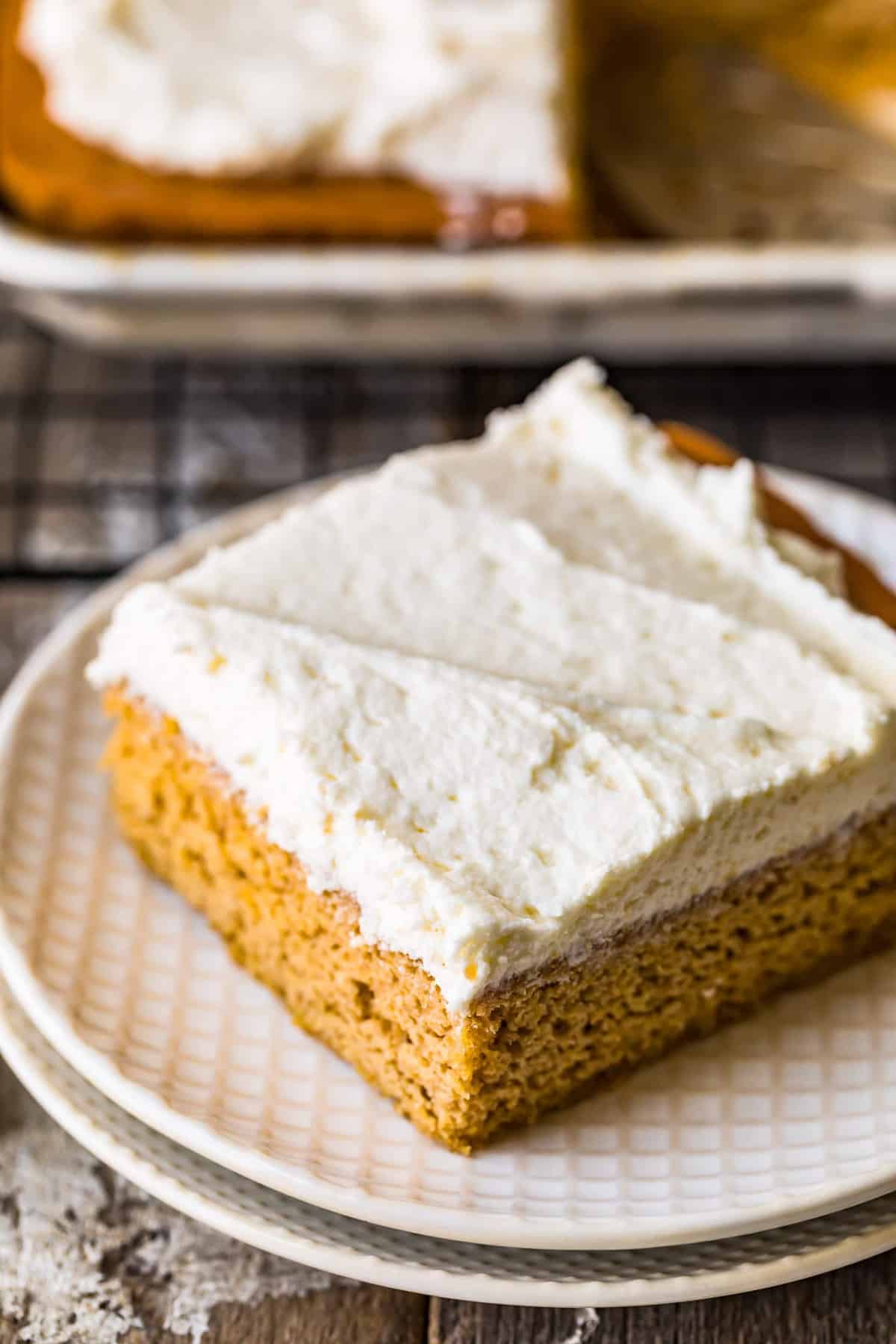 Top Tips to Make Pumpkin Bars with Cream Cheese Icing
Use a rimmed sheet pan for the cake and spray it with non-stick spray for easy removal.
Don't use pumpkin pie filling. Instead, get pure pumpkin (or make your own pureed pumpkin).
When you pour the cake mix into the pan, tap the pan firmly to get rid of any air bubbles.
Bake the cake in a pre heated oven.
Let the cake cool completely before icing it.