This Pumpkin Caramel Poke Cake recipe takes a box of butter pecan cake mix and turns into the fall dessert of your dreams! Pumpkin puree, pumpkin pie spice, caramel, and a few other ingredients dress up this poke cake, with cream cheese frosting and chopped nuts for a beautiful finish.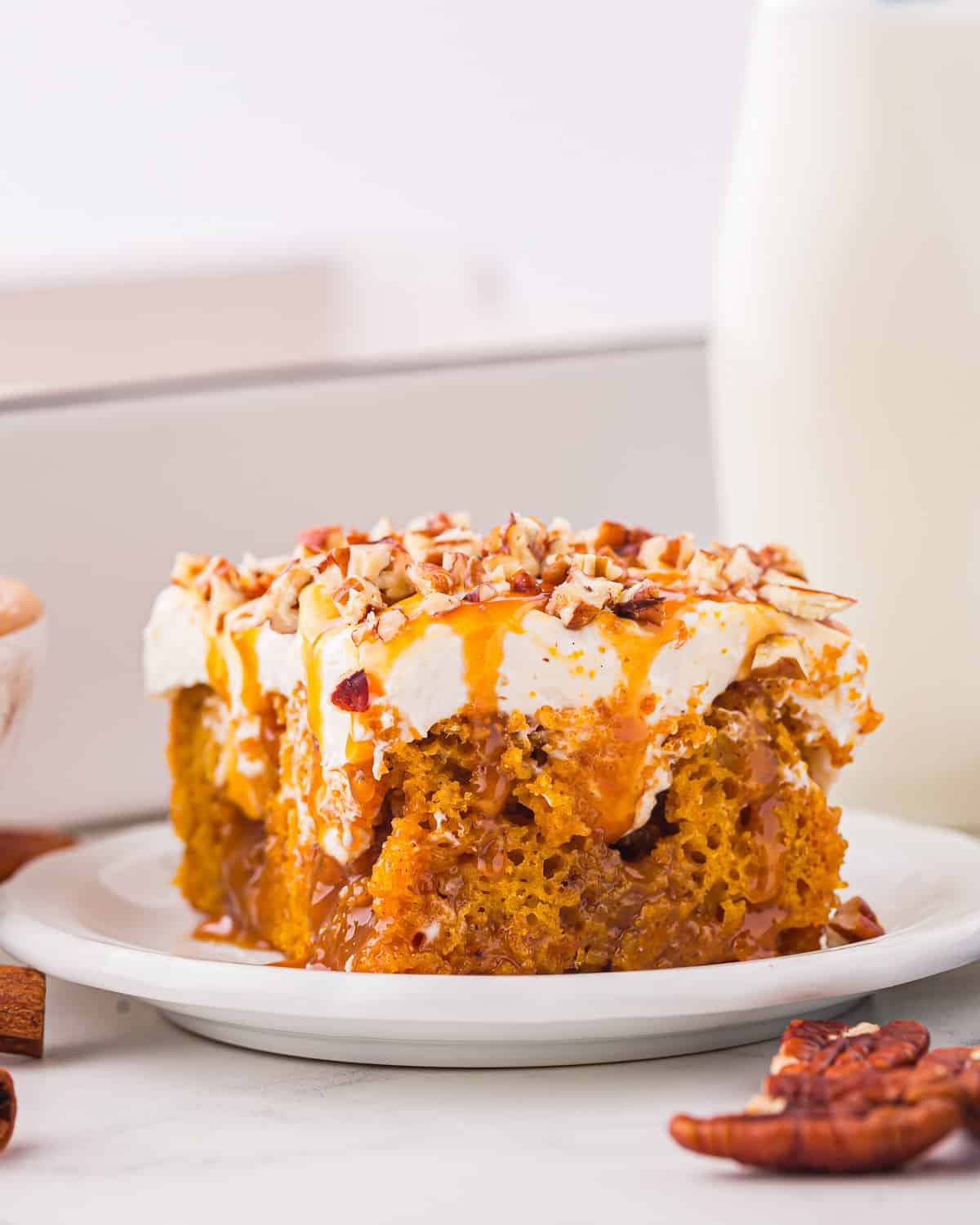 What's in Caramel Pumpkin Poke Cake?
This richly spiced pumpkin cake is poked all over and soaked with gooey caramel for a flavor and texture you won't forget! Top it off with tangy cream cheese frosting, and it's sure to be the star of the show!
Butter Pecan Cake Mix: Grab your favorite brand for this easy cake mix recipe! Betty Crocker is usually my go-to, but any other box will also work.
Pumpkin Pie Spice: Adds a classic pumpkin pie flavor to the cake mix.
Eggs: Give the cake structure and richness.
Pumpkin Puree: Adds moisture and rich pumpkin flavor to the cake.
Milk: Adds moisture to the cake.
Caramel Sauce: Perfectly complements the earthy pumpkin cake.
Cream Cheese Frosting: An easy hack to make a tangy topping for this pumpkin poke cake.
Cream Cheese Spread: Helps make the frosting tangier and less sweet.
Whipped Topping: Makes the frosting light and fluffy.
Pro Tip: Make sure to use 100% pure pumpkin puree, not pumpkin pie filling. Pumpkin pie filling already contains sugar and spices, so it will make the cake too sweet.
Variations on Pumpkin Poke Cake with Caramel
You can make this delicious pumpkin caramel poke cake with a different flavor of cake mix, such as vanilla, white, or spice cake mix. And for a slightly richer caramel taste, try using dulce de leche instead of caramel sauce. Feel free to fold in some chopped pecans for a bit of crunch.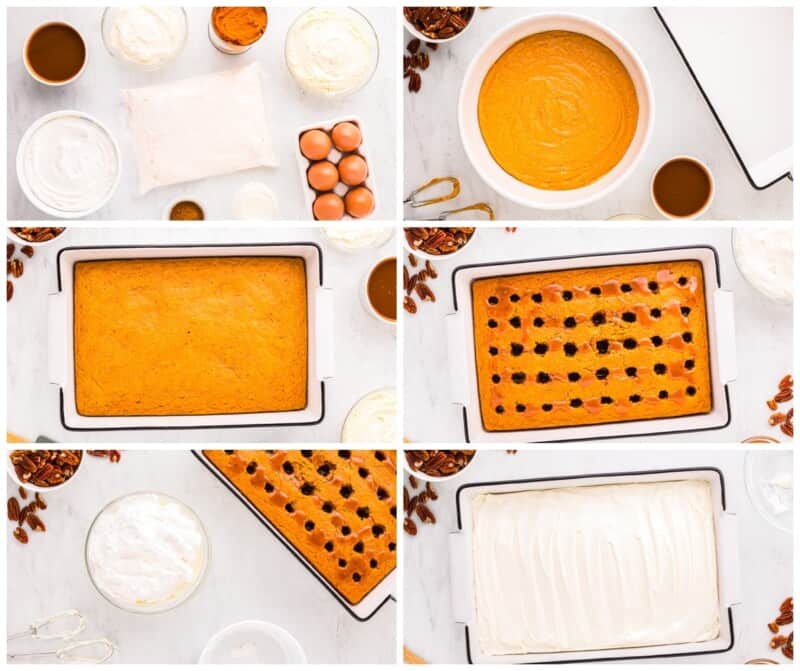 Why is it called poke cake?
It's called a poke cake because we poke holes into the cake after baking to create wells for the liquid to pool and soak into the cake!
How do I make the holes in poke cake?
Be sure not to poke all the way through the cake when you make the holes. They should be about 3/4 of the way through the cake. The holes should be around 1 inch apart. Too close together and the cake will be too moist; too far apart and there may not be enough filling.
Why is my poke cake soggy?
If your cake is soggy, either there are too many holes or the filling is too liquid-y. Make sure to use a thicker caramel sauce or caramel ice cream topping to ensure it doesn't sink to the bottom. Also, be sure to space the holes out from each other.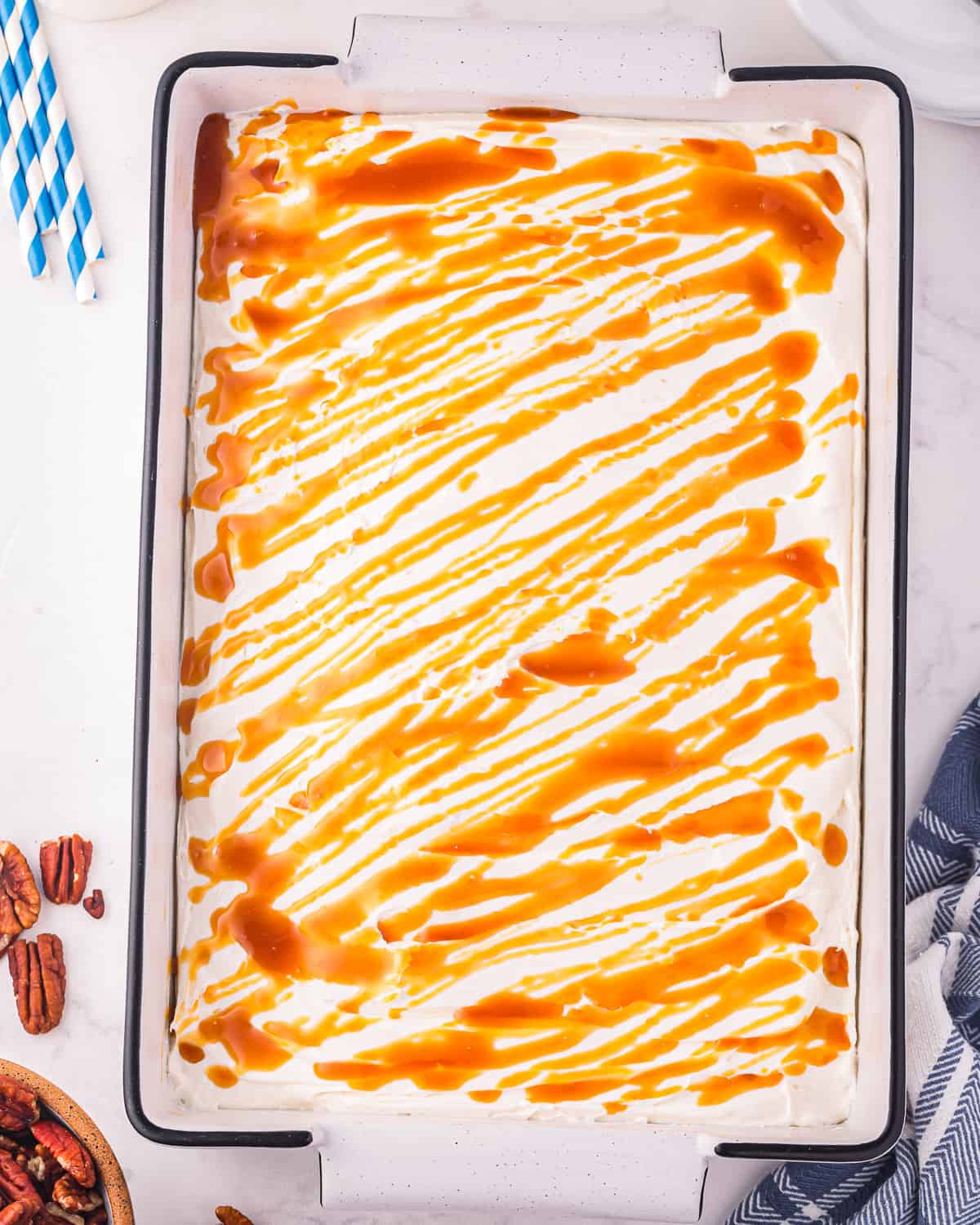 How to Store
This pumpkin caramel poke cake will keep well in the fridge for 2 days. It will still be good to eat after that, but it will start to get a little dry. Keep it covered to extend it's life as long as possible.
How to Freeze
To freeze pumpkin poke cake, wrap tightly with 2 layers of plastic wrap and 1 layer of aluminum foil for up to 1 month. Let thaw overnight in the refrigerator before enjoying.
Serving Suggestions
Serve this tasty poke cake with a scoop of pumpkin ice cream and an iced caramel macchiato or a pumpkin spice latte. It's such a fun pumpkin dessert to add to your holiday table!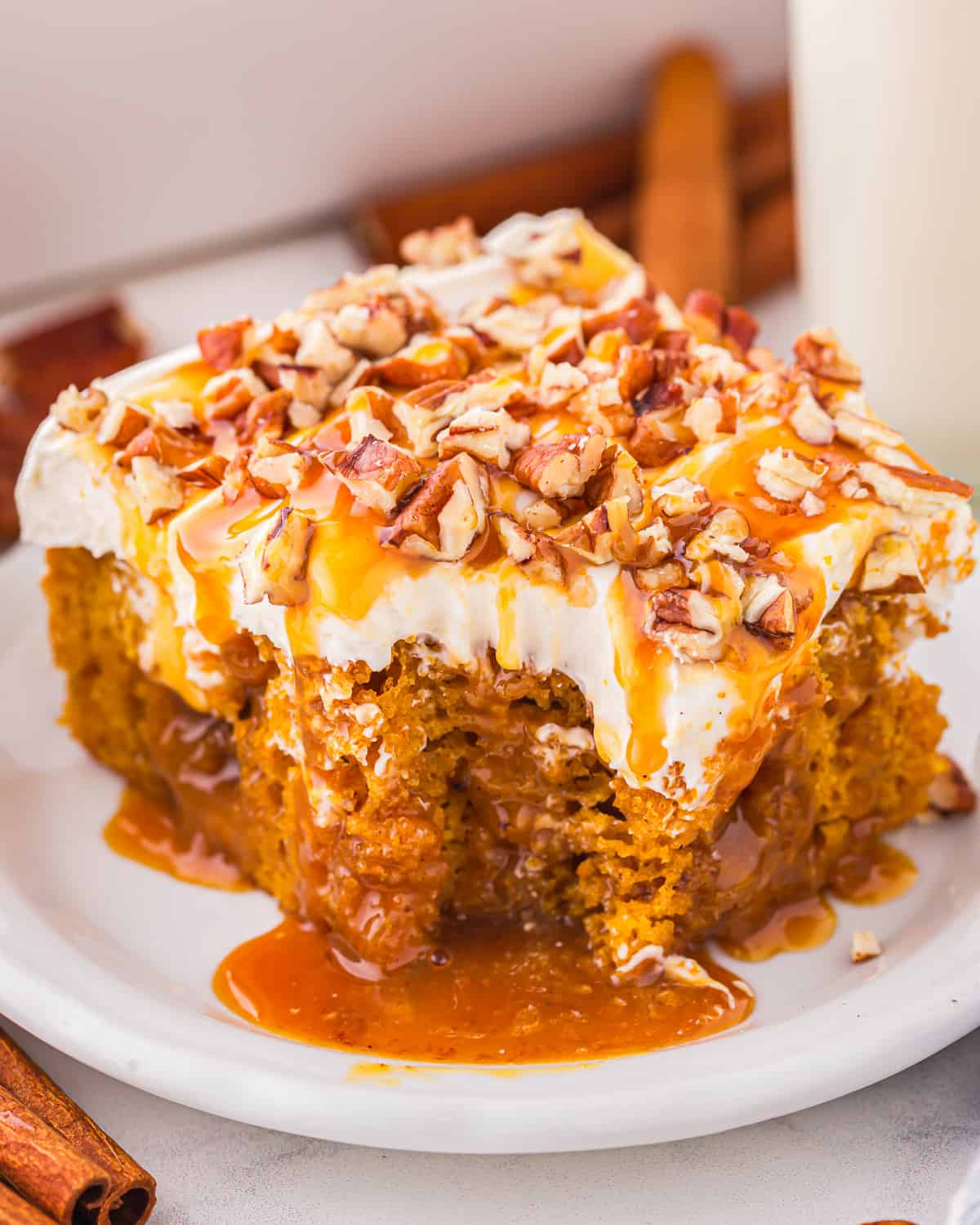 More Poke Cake Recipes We Love