This delicious Pumpkin Roll recipe is the best dessert for fall occasions! The fluffy, spiced cake is made with pumpkin puree, cinnamon, and brown sugar, then rolled up around a tasty cream cheese filling. Dust the pumpkin cake log with powdered sugar and serve for a delightful treat!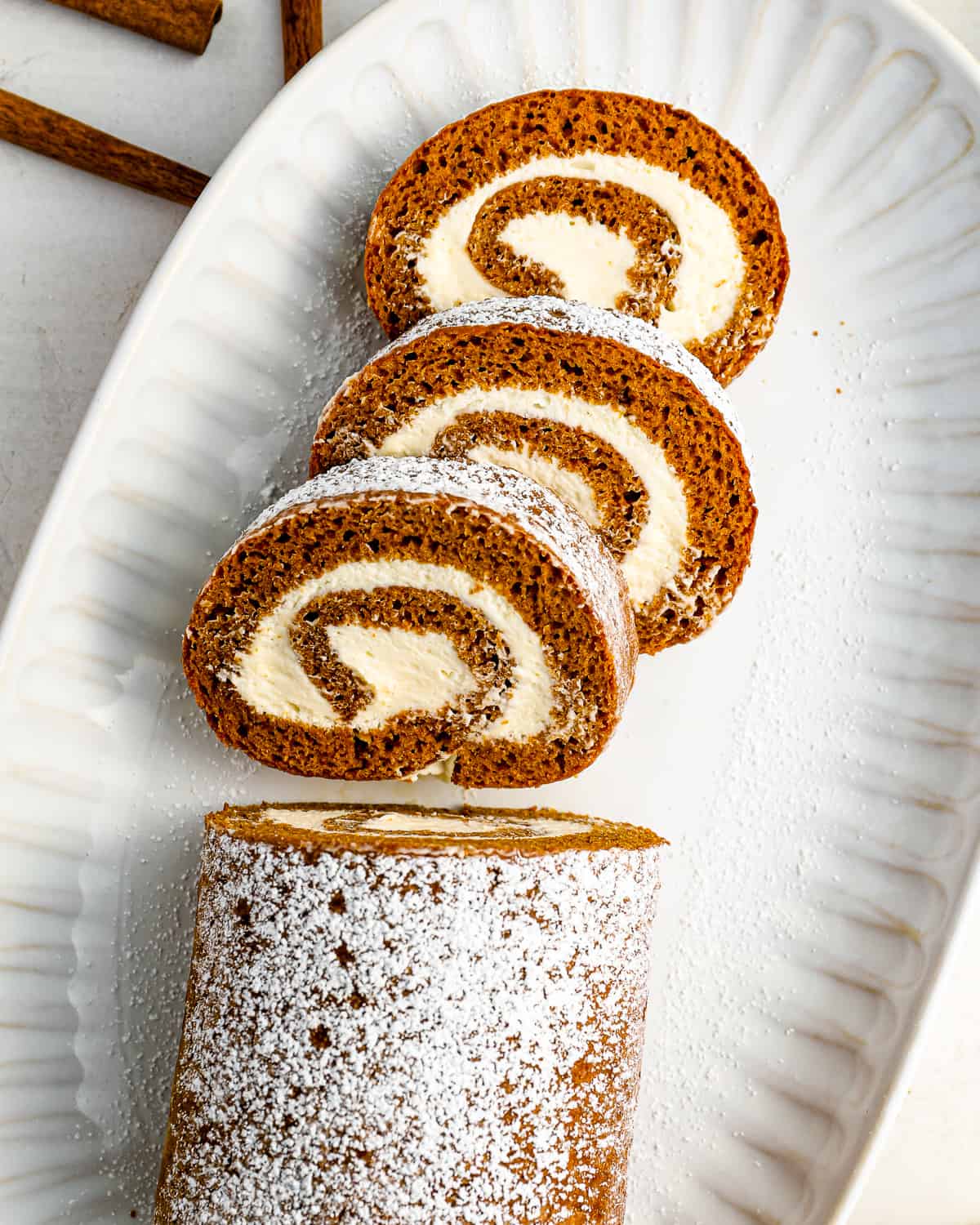 What's in this Pumpkin Roll Recipe?
Wrap yourself in coziness with this warmly-spiced, sweet pumpkin cake filled with a rich and tangy cream cheese frosting!
Eggs: Add richness and structure to the cake.
Pumpkin Puree: Makes this cake roll moist and tender. You can use canned or homemade, but make sure not to use pumpkin pie filling (which already has spices added to it)!
Sugar: A combination of granulated and brown sugar sweetens the cake, while powdered sugar sweetens the filling without making it gritty.
Vanilla Extract: Enhances the sweetness of both the cake and the filling!
All-Purpose Flour: Gives the cake structure.
Baking Soda: Helps the cake rise in the oven.
Cinnamon: Adds a touch of warming spice.
Kosher Salt: Enhances the pumpkin flavor of the cake.
Cream Cheese: Makes the filling creamy and tangy.
Unsalted Butter: Gives the filling structure and richness.
Pro Tip: Try swapping out the cinnamon for pumpkin pie spice for even more flavor!
Variations on Pumpkin Cream Cheese Cake Roll
There are lots of ways to change up the flavor of this pumpkin Swiss roll cake. Try adding some pumpkin pie spice to the filling for even more flavor, or fold in some candied ginger and orange zest, crushed ginger cookies, or chopped nuts.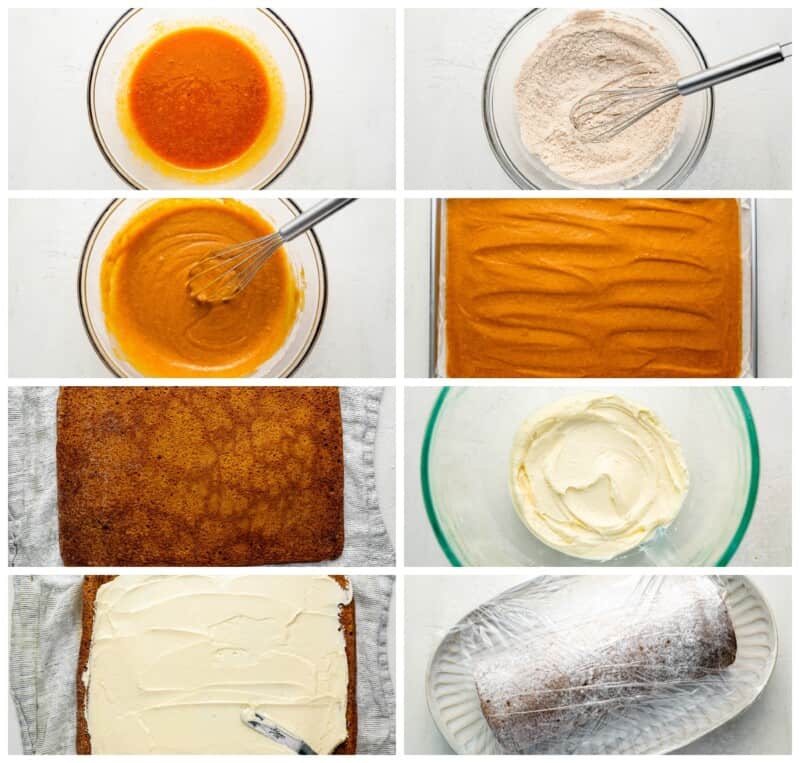 What is a pumpkin roll made of?
This classic recipe is made of a richly spiced pumpkin cake rolled up around a tangy cream cheese filling.
Why is my pumpkin roll gummy?
If your pumpkin cake is gummy, it likely has too much moisture. Make sure to measure your ingredients using the spoon-and-level method to avoid adding too much of any one ingredient!
Why is my pumpkin roll wet or sticky?
If your cake is sticky on the outside, this is likely from condensation that formed on the roll as it cooled. Simply dust it with powdered sugar to remedy this!
How do you keep a pumpkin roll from sticking to parchment paper?
Spray the parchment paper with nonstick spray to keep the cake from sticking!
What is the secret to rolling a pumpkin roll?
The secret to a perfect roll cake is to shape the cake while it's still warm. Roll the cake in a towel or a piece of parchment paper to keep it from sticking to itself and let it cool completely in the rolled shape.
Why does my pumpkin roll break when I roll it?
If your roll cake is cracking when rolled, try working more slowly. It's important not to rush the process!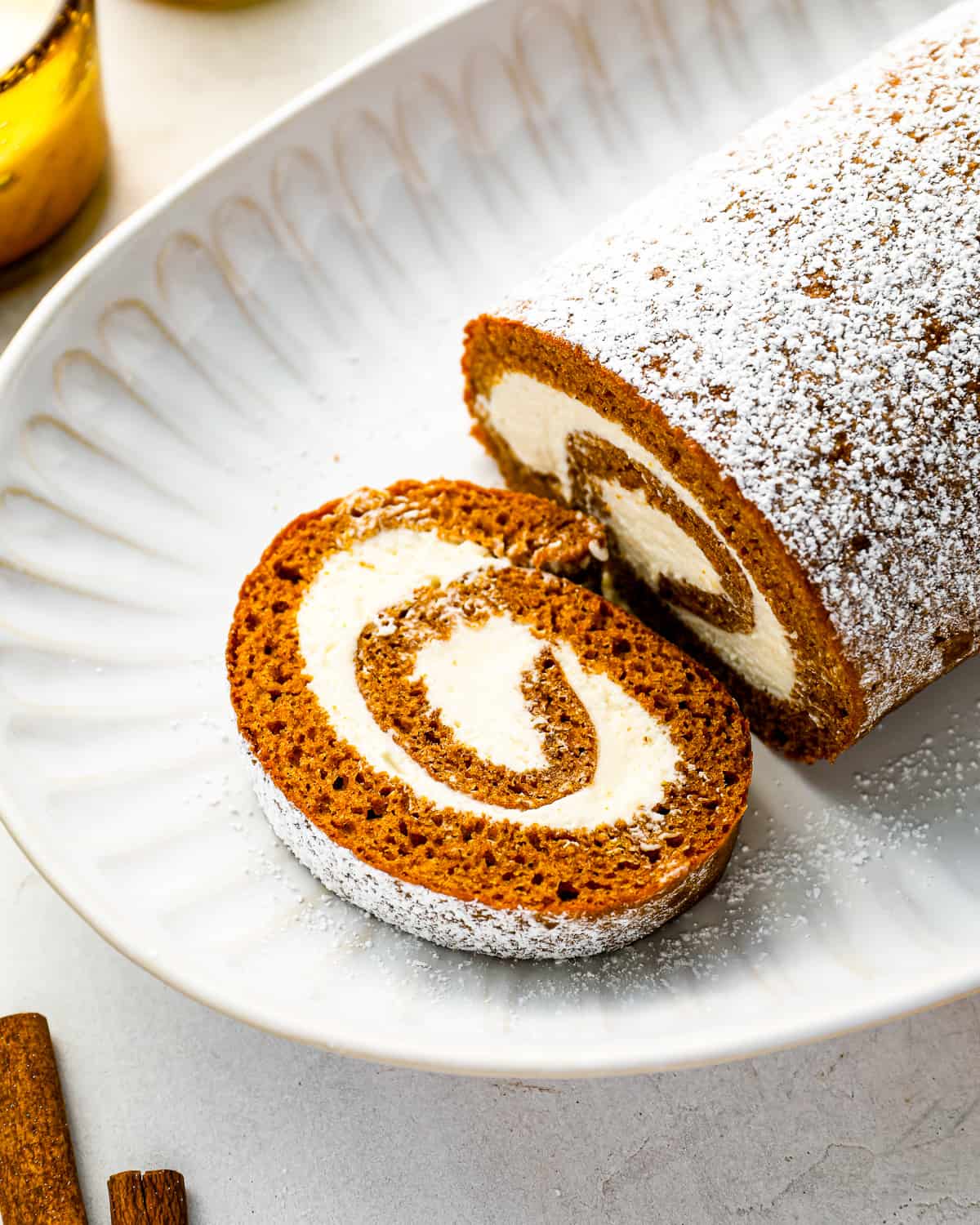 How to Store
Store leftover pumpkin roll cake in an airtight container in the refrigerator for up to 3 days. Let come to room temperature for about 30 minutes before enjoying.
How to Freeze
Freeze this pumpkin cream cheese roll whole or cut into individual slices tightly wrapped in 2 layers of plastic wrap and 1 layer of aluminum foil for up to 1 month. Let thaw overnight in the refrigerator before enjoying.
Serving Suggestions
Serve this pumpkin log with a dollop of pumpkin spice whipped cream, a scoop of pumpkin ice cream, and a pumpkin spice latte, pumpkin cream cold brew, or some slow cooker pumpkin hot chocolate!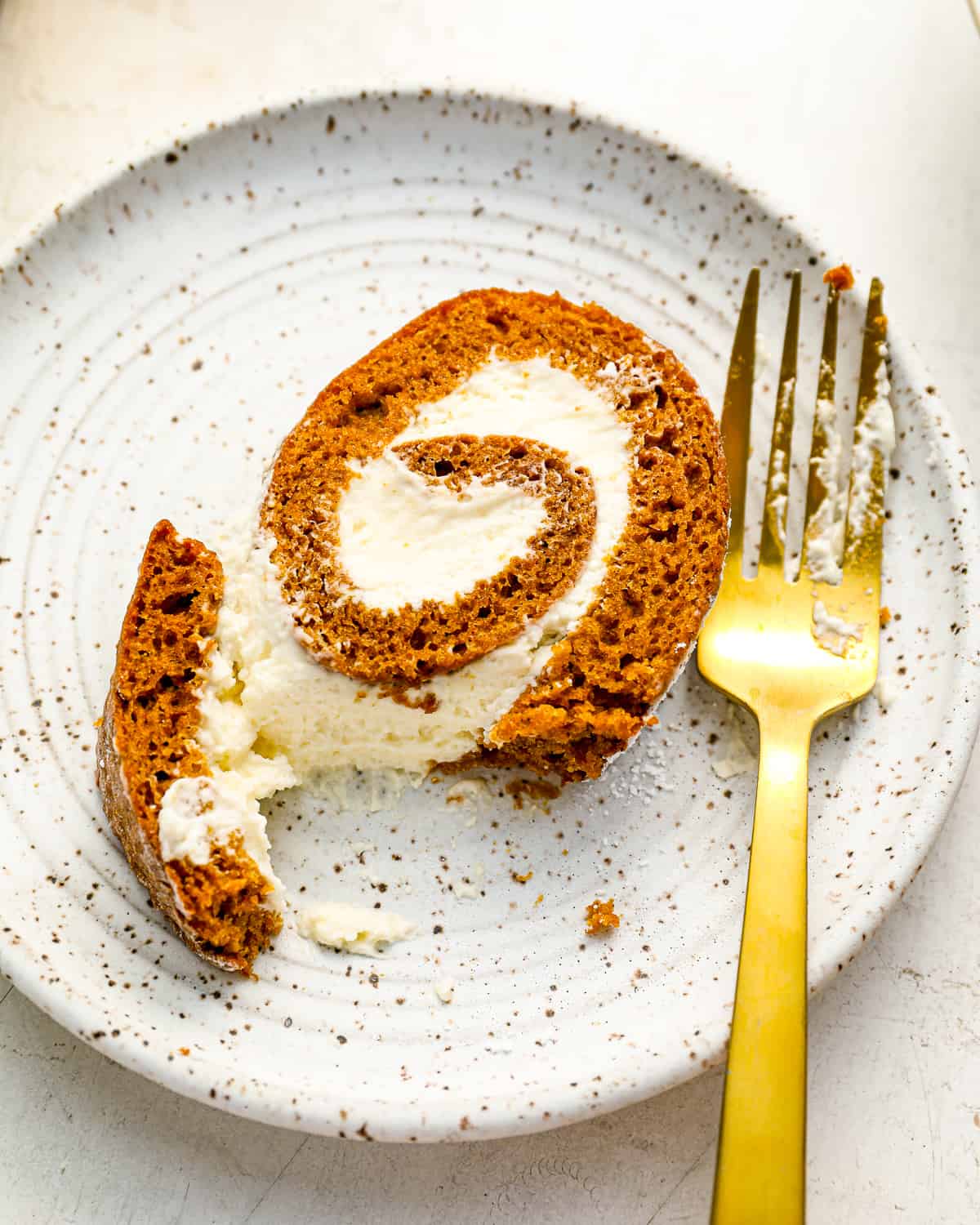 More Pumpkin Dessert Recipes We Love