These iced Pumpkin Cookies are delightfully soft and chewy, perfectly spiced, and finished with a cream cheese frosting. They're so quick and easy to make too, so you can have a fresh batch of pumpkin spice cookies ready for Halloween, Thanksgiving, or any fall occasion!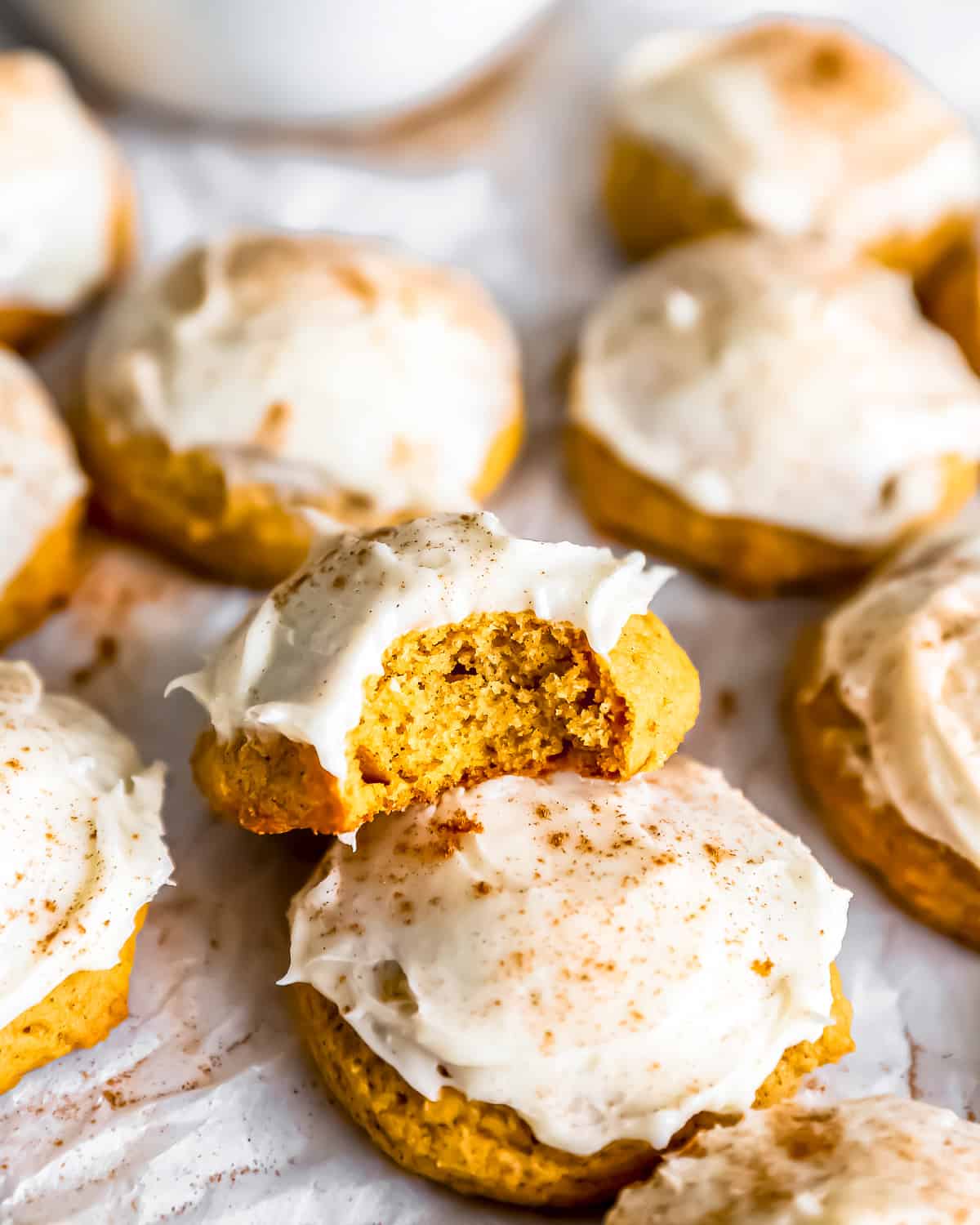 What's in this Pumpkin Spice Cookies Recipe?
Sweet, earthy, and warmly spiced cookies are topped with a creamy, rich, and tangy cream cheese frosting.
Unsalted Butter: Adds moisture to the cookies, making them tender, and forms the base of the frosting.
Sugar: A mixture of granulated sugar and brown sugar sweetens the cookies, while powdered sugar sweetens the frosting without making it gritty.
Pumpkin Puree: Gives these cookies their rich pumpkin flavor and bright orange color. Make sure to use 100% pure pumpkin, not pumpkin pie filling!
Egg: Helps bind the cookies together.
Vanilla Extract: Enhances the sweetness of the cookies and the frosting.
All-Purpose Flour: Gives the cookies structure.
Leavening: A combination of baking powder and baking soda
Pumpkin Pie Spice: Adds classic pumpkin pie flavor to the cookies.
Kosher Salt: Enhances the overall flavor of the cookies and the frosting.
Cream Cheese: Makes the frosting tangy, which perfectly balances the sweet and earthy pumpkin!
Pro Tip: Sprinkle the frosted cookies with some ground cinnamon or more pumpkin pie spice for an extra burst of flavor!
Variations on Pumpkin Cookies with Cream Cheese Frosting
These soft pumpkin cookies are so delicious as is, but you can also mix in some chocolate chips, cream cheese chips, pecans, or walnuts for a bit of crunch. Try subbing some of the powdered sugar for maple syrup for a different flavor!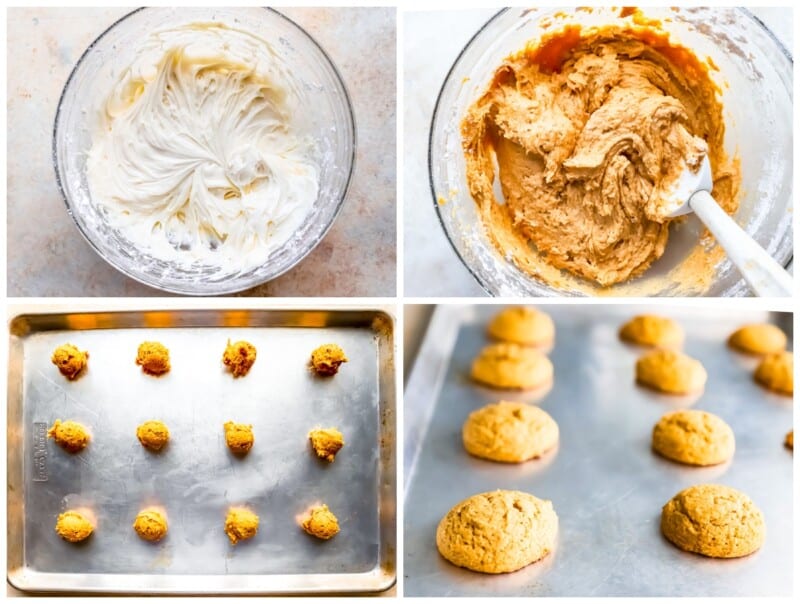 How does pumpkin affect baking?
Pumpkin puree adds a delicious earthy flavor and intense moisture, making these cookies soft and cake-like.
Why did my pumpkin cookies turn green?
Occasionally, baking soda can react with plant-based ingredients such as pumpkin producing a green color. This is nothing to worry about!
Why are my pumpkin spice cookies sticky after baking?
Because of how moist these cookies are, they can turn a bit sticky at room temperature. This is why we chose to frost ours and store them in the refrigerator!
Do frosted pumpkin cookies have to be refrigerated?
Yes! Because these cookies are frosted with cream cheese, they need to be stored in the refrigerator.
How many calories in pumpkin cookies with cream cheese frosting?
There are 170 calories in each frosted cookie.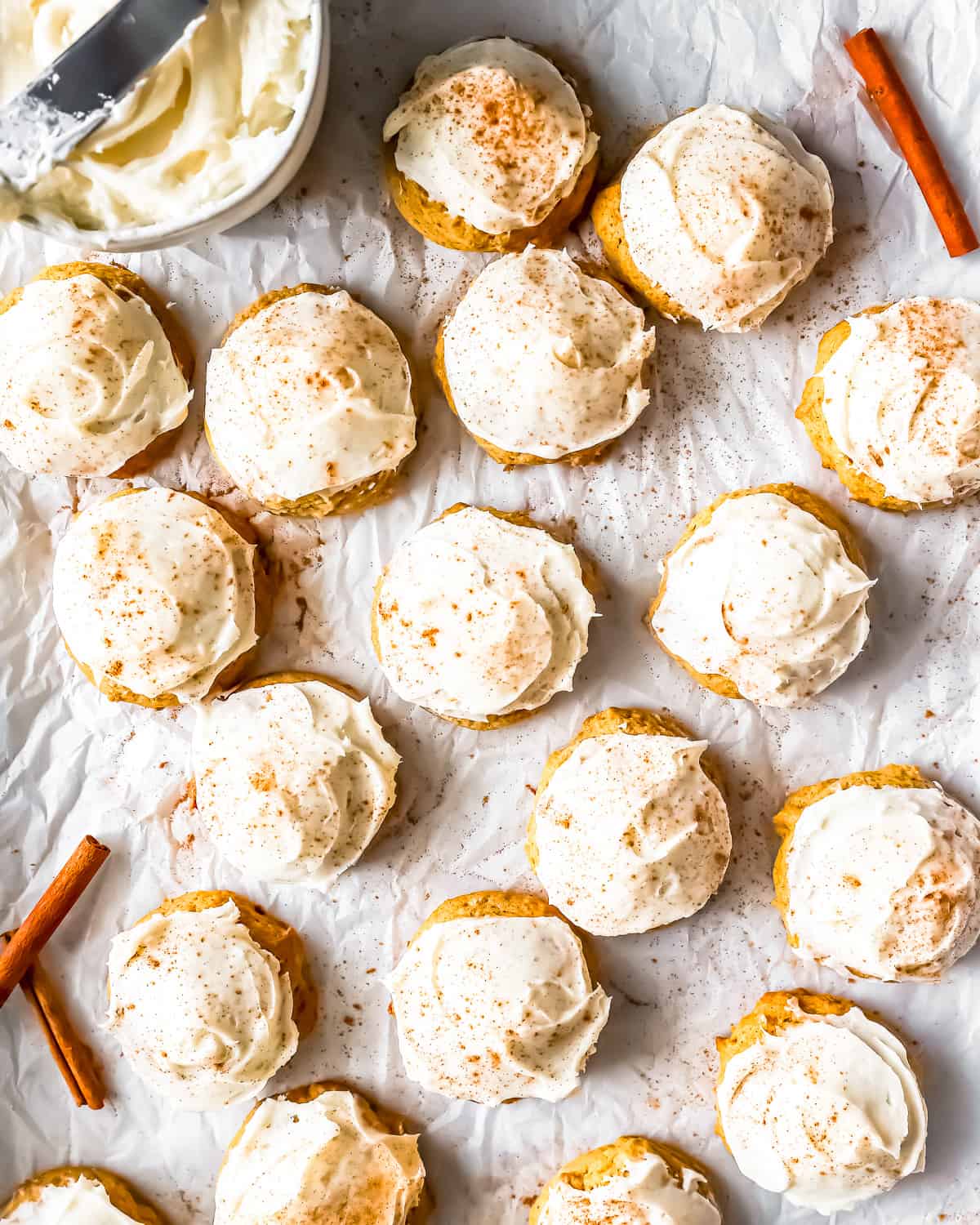 How to Store
Store leftover pumpkin spice cookies in an airtight container in the refrigerator for up to 4 days. Let them come to room temperature for about 30 minutes before enjoying.
How to Freeze
Freeze iced pumpkin cookies in a single layer on a lined baking sheet until solid, about 1-2 hours. Transfer to an airtight container or Ziplock bag with wax paper between the layers to protect the frosting for up to 1 month. Let thaw overnight in the refrigerator before enjoying.
Serving Suggestions
Serve these soft and fluffy cookies with a scoop of pumpkin ice cream and a pumpkin-flavored beverage, such as a pumpkin spice latte, pumpkin cream cold brew, or a pumpkin spice white Russian.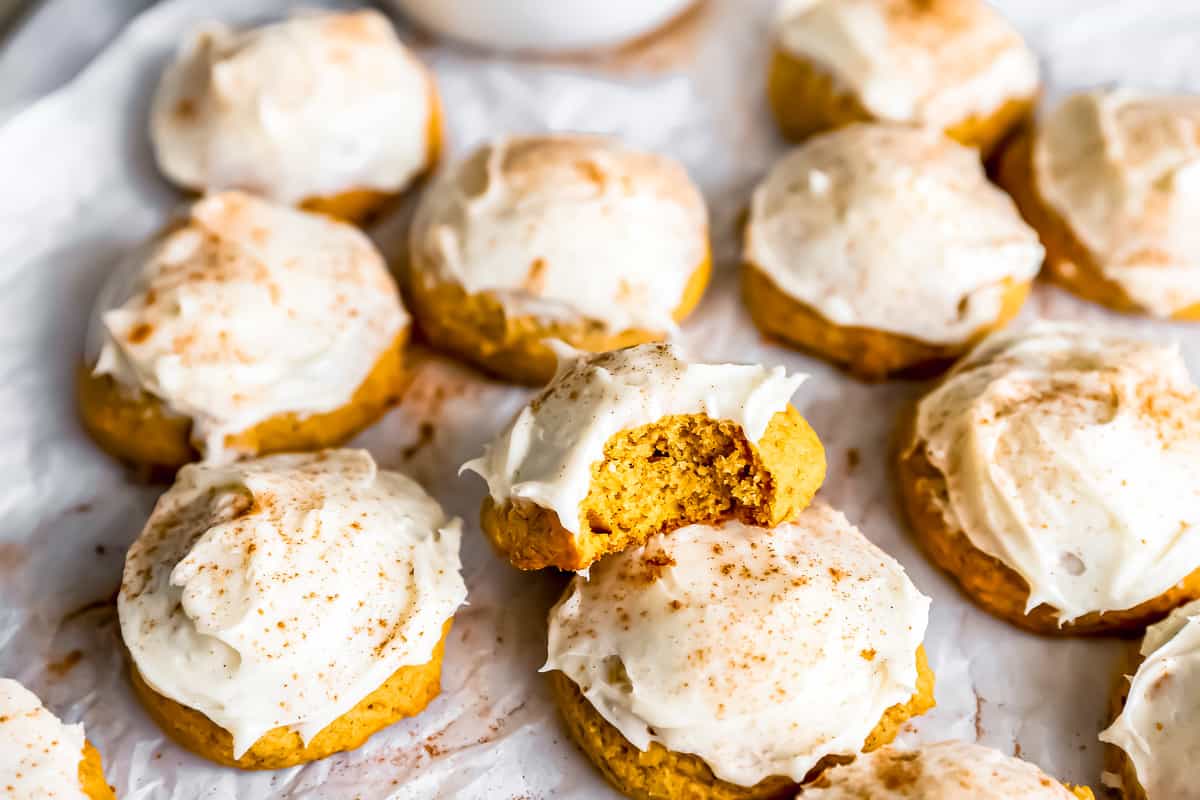 More Pumpkin Dessert Recipes We Love