This sweet and savory Pumpkin Hummus recipe is creamy, easy, and filled with tons of delicious ingredients! Pumpkin puree, chickpeas, tahini, garlic, maple syrup, and a range of spices create an incredible flavor you won't be able to resist. Just 20 minutes stands between you and this amazing fall hummus!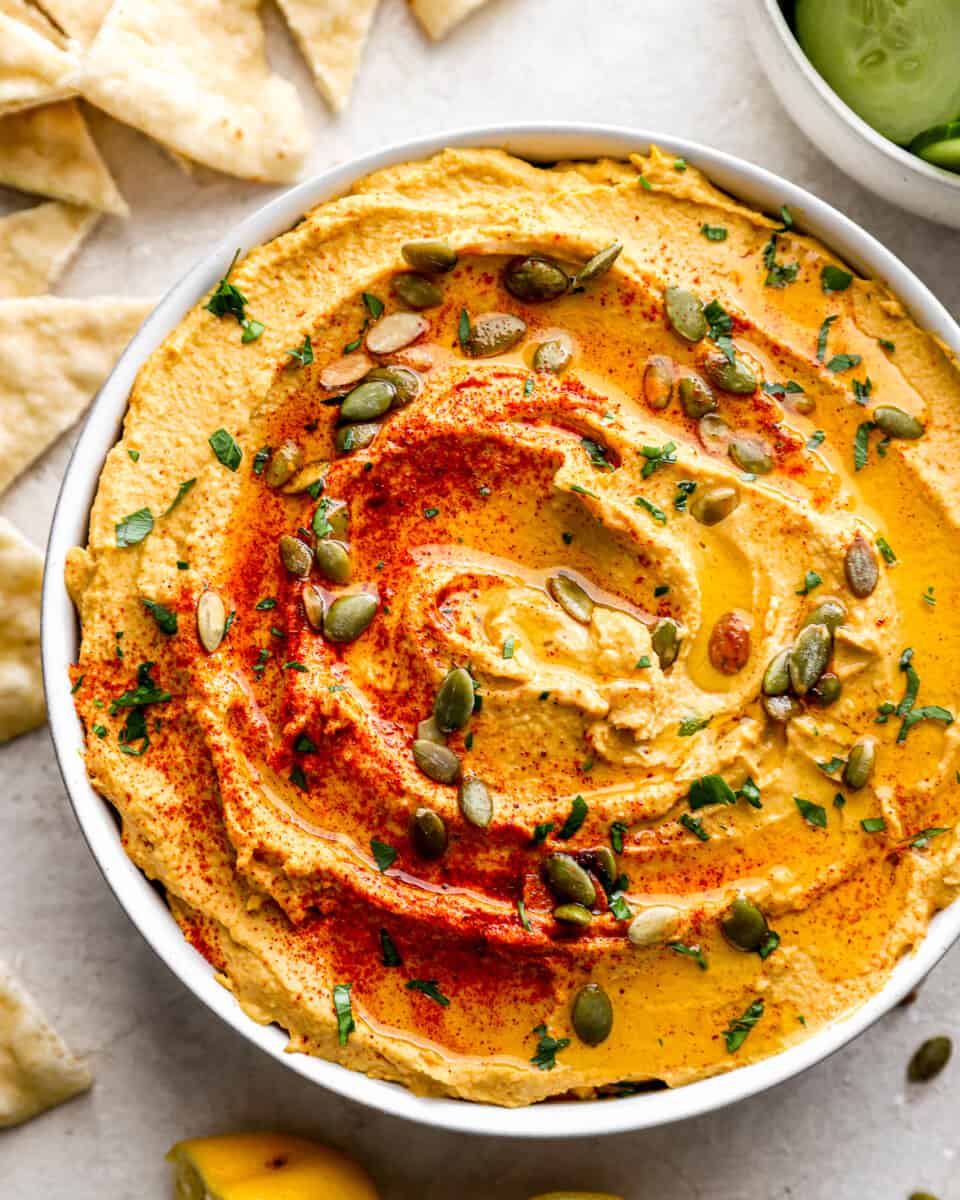 What's in this Pumpkin Hummus Recipe?
If you know me, you know I love pumpkin! Pumpkin pie, pumpkin pancakes, pumpkin soup…I just can't get enough! This sweet and savory pumpkin-flavored hummus was a natural next step in my pumpkin addiction. I hope you love it as much as I do!
Chickpeas: Form the base of our hummus, creating a creamy dip. I like to use canned to save time and energy!
Pumpkin Puree: Adds a gorgeous orange color and a mild earthiness to the hummus.
Tahini: A sesame seed paste that provides a nutty richness and increases the creaminess.
Lemon Juice: Adds an element of acid that balances the sweetness of the pumpkin and brightens the overall flavor.
Olive Oil: Adds richness to the dip and helps create a smooth consistency.
Maple Syrup: Adds sweetness to the hummus to enhance the pumpkin flavor.
Garlic: Adds an earthy and aromatic flavor.
Cumin: Adds a warm, earthy, and slightly smoky flavor.
Smoked Paprika: Adds a subtle smokiness and a hint of sweetness that enhances the overall flavor of the dip.
Kosher Salt: Balances the dish and enhances the pumpkin flavor.
Cinnamon: Adds a touch of warmth and spice to the dish that rounds out the pumpkin flavor.
Pro Tip: For an extra light and fluffy hummus, add an ice cube to the food processor before blending!
Variations on Pumpkin Hummus Dip
This pumpkin hummus is the perfect base for a sweet or savory dip. You can make it spicier by adding some cayenne pepper or a dash of hot sauce, or heartier by mixing in some roasted sweet potatoes. Try blending in curry powder or paste for a curried version.
For pumpkin pie hummus, omit the garlic, cumin, and paprika, and add extra maple syrup and cinnamon or pumpkin pie spice. Swap out the tahini for almond or cashew butter for a sweeter and nuttier flavor, or fold in some crushed walnuts, pecans, or almonds for a bit of crunch.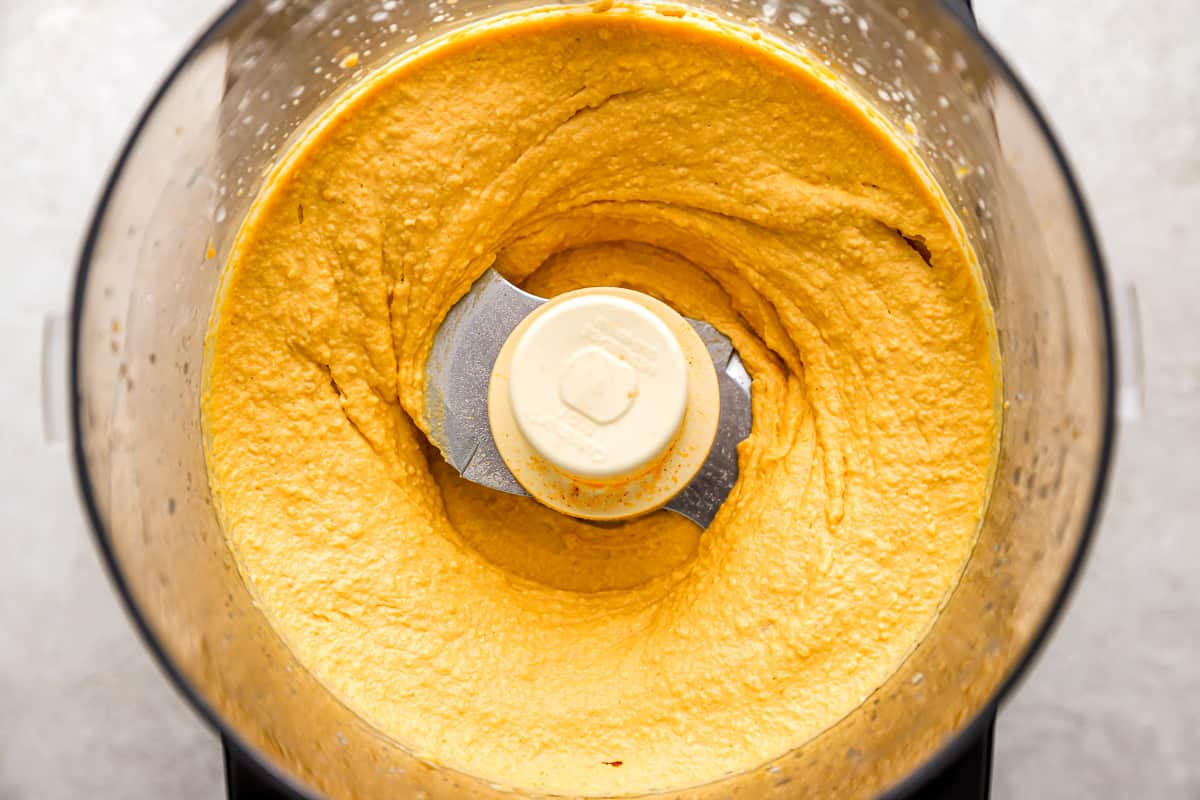 What is in pumpkin hummus?
This sweet and savory hummus is made much like traditional hummus, but with the addition of pumpkin puree, maple syrup, and cinnamon.
Is it OK to eat hummus everyday?
Sure! Hummus is a nutritious snack that is great to enjoy daily in moderation.
Where can I find tahini?
Tahini is a sesame seed-based paste that is available in the nut butter aisle or in the foreign foods aisle of most grocery stores. It usually comes in a glass jar or a metal tin. Some common brands are Joyva and Soom, but you can also find it at Whole Foods and Trader Joe's under their own brands.
Is hummus best eaten hot or cold?
You can serve this hummus warm or cold, though I prefer it cold!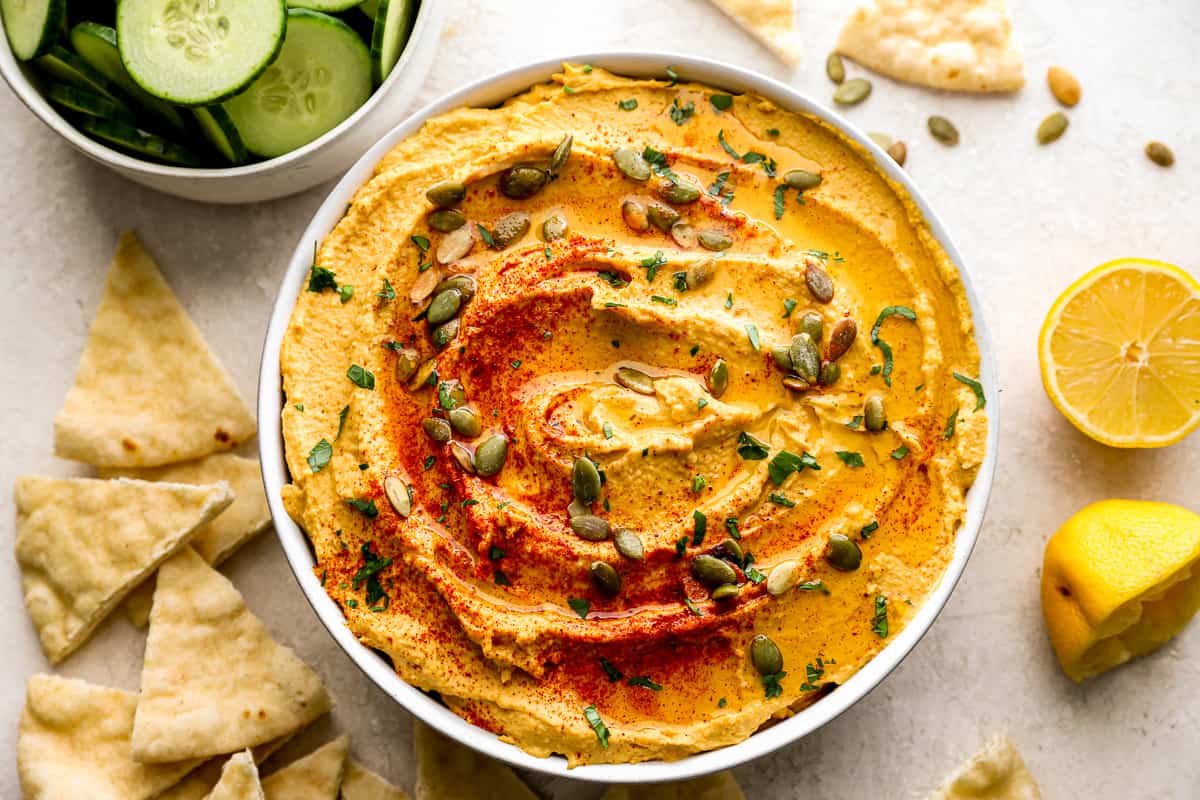 How to Store
Store leftover pumpkin hummus in an airtight container in the refrigerator for up to 4 days. Enjoy chilled, at room temperature, or gently heated in the microwave.
How to Freeze
Freeze this fall-flavored hummus tightly sealed in a Ziplock bag for up to 4 months. Let thaw overnight in the refrigerator before enjoying.
Serving Suggestions
Serve this tasty pumpkin hummus dip with raw vegetables, apple chips, pita chips, tortilla chips, wonton chips, baked sweet potato chips, crackers, or naan bread.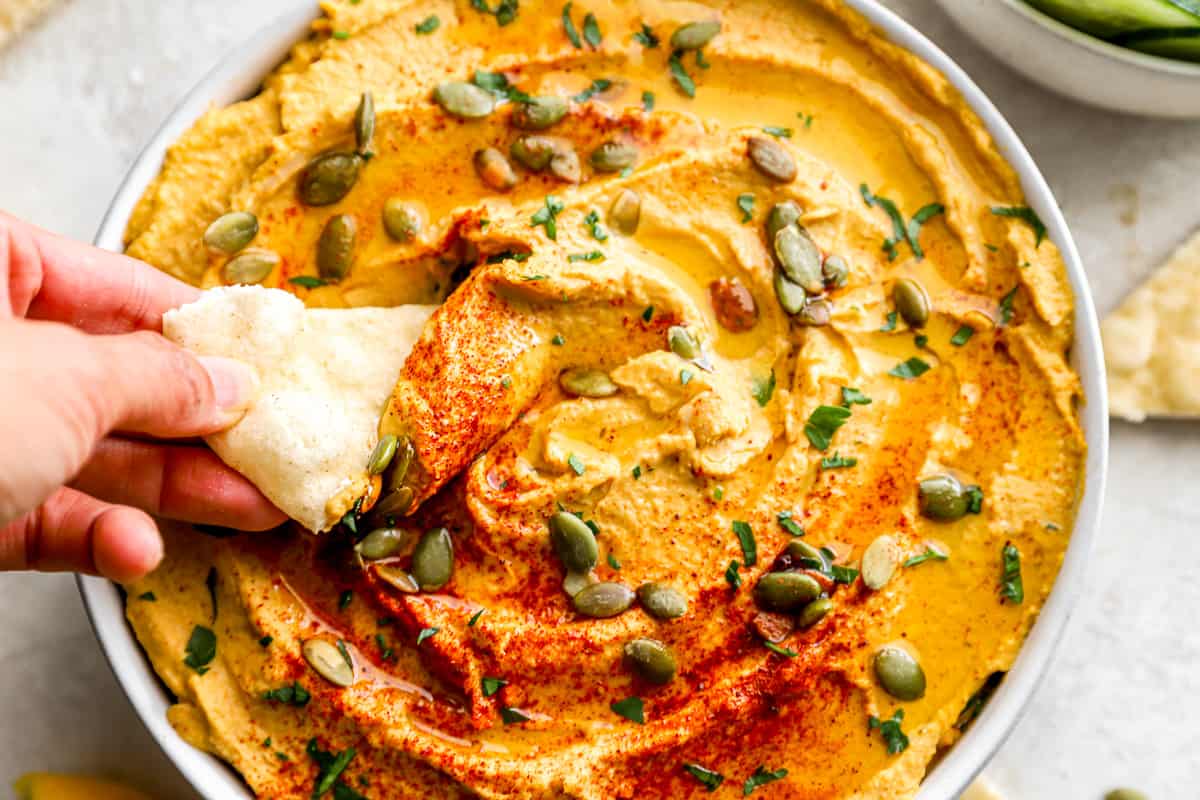 More Dip Recipes We Love