Only 4 ingredients are needed to make this ridiculously easy and incredibly delicious Crockpot Ranch Chicken. Meet your new favorite weeknight dinner!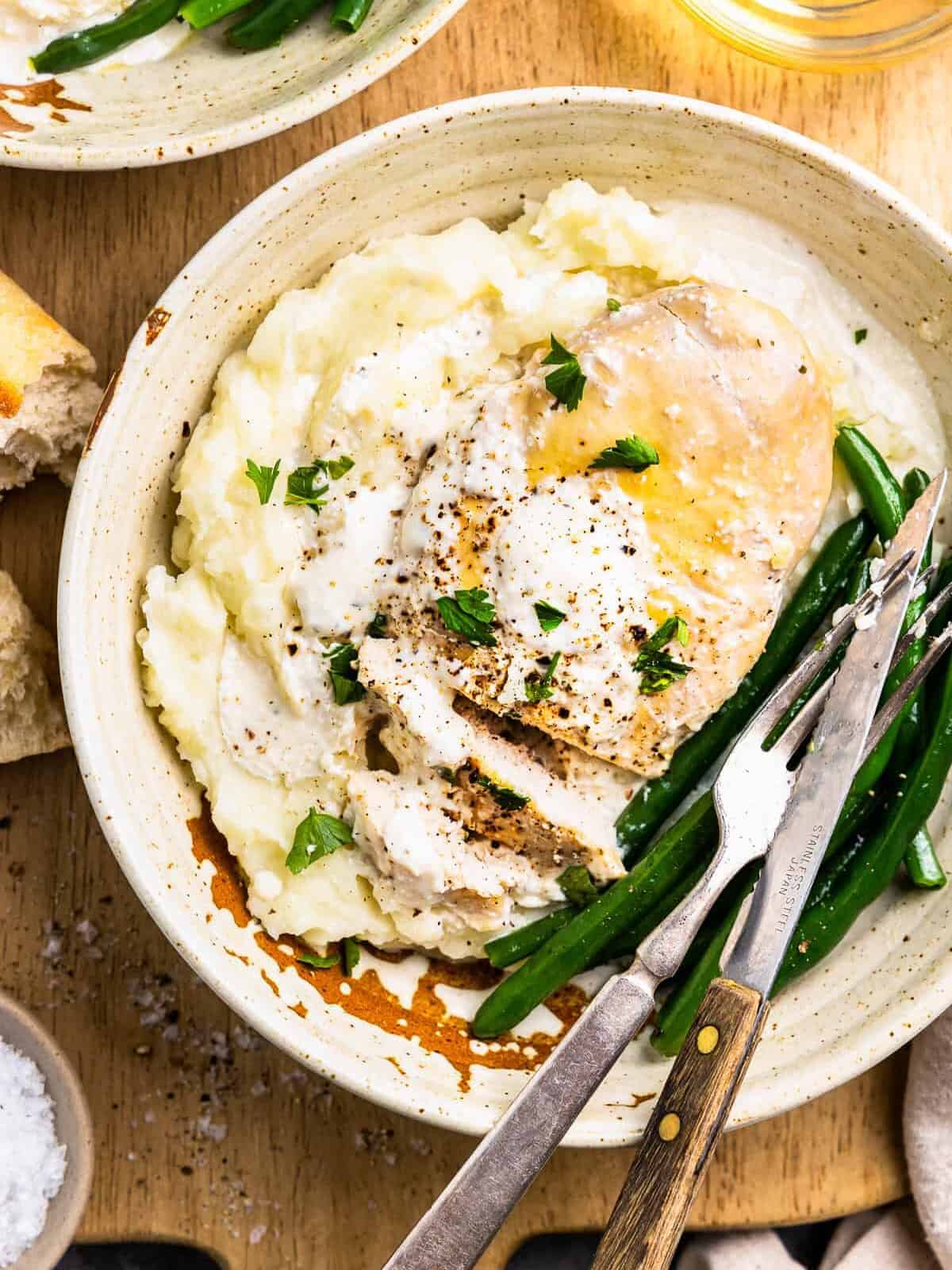 What's in Slow Cooker Ranch Chicken?
Tender chicken coated in a creamy and savory sauce, whipped up with just a handful of ingredients – this is such a winner of a chicken dinner! Gluten-free and kid-friendly, crockpot ranch chicken is perfect to please a hungry crowd!
Chicken: I always use boneless, skinless chicken breasts, but thighs will also work.
Ranch Seasoning: Adds so much delicious flavor!
Chicken Broth: Helps keep the chicken moist.
Cream Cheese: Makes the chicken super creamy and lush!
Pro Tip: You can substitute 1½ tablespoons of ranch dressing in place of the dry ranch seasoning.
Variations on Ranch Crockpot Chicken
I love this ranch chicken as is, but you can jazz it up a bit by adding some crumbled bacon or melting some shredded cheddar cheese over top! A sprinkle of chopped fresh chives is also delicious!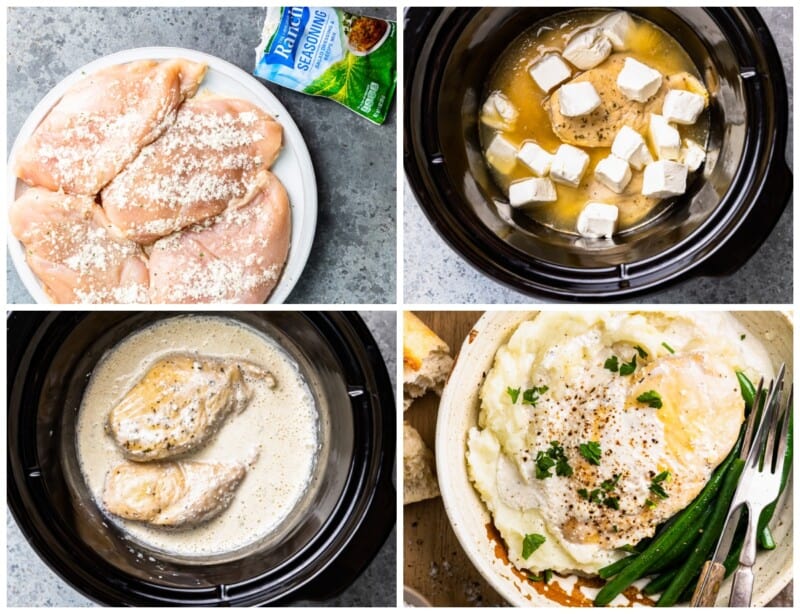 Can I cook chicken in the crockpot from frozen?
I do not recommend cooking chicken from frozen in the crockpot, as it can spend too long in the "temperature danger zone", which could lead to food poisoning.
Do you need to put liquid in the slow cooker when cooking chicken?
I like to put a bit of chicken broth to help keep the chicken moist. The broth will start to steam up the crockpot, sealing in all of that rich flavor.
Is it better to cook chicken low and slow or high and fast?
While it's fine to cook chicken on both low and high in the crockpot, I usually prefer to go low and slow, as it tends to yield more tender chicken that has less of a chance of overcooking.
Can I make crockpot ranch chicken with ranch dressing instead of ranch mix?
Yes, you can substitute 1½ tablespoons of ranch dressing in place of the dry ranch seasoning packet in this recipe.
Why is my chicken in the crockpot still tough?
If your chicken is tough, it is either undercooked or overcooked. To figure out which it is, you'll need an instant-read thermometer. If the chicken is under 165°F, it is undercooked. If it is over 165°F, it is overcooked.
How do I keep chicken from drying out in the crockpot?
As I said before, I like to keep some liquid in the crockpot to help keep it from drying out. It's also important to check on the chicken periodically for doneness, as different-sized breasts will take different amounts of time to cook.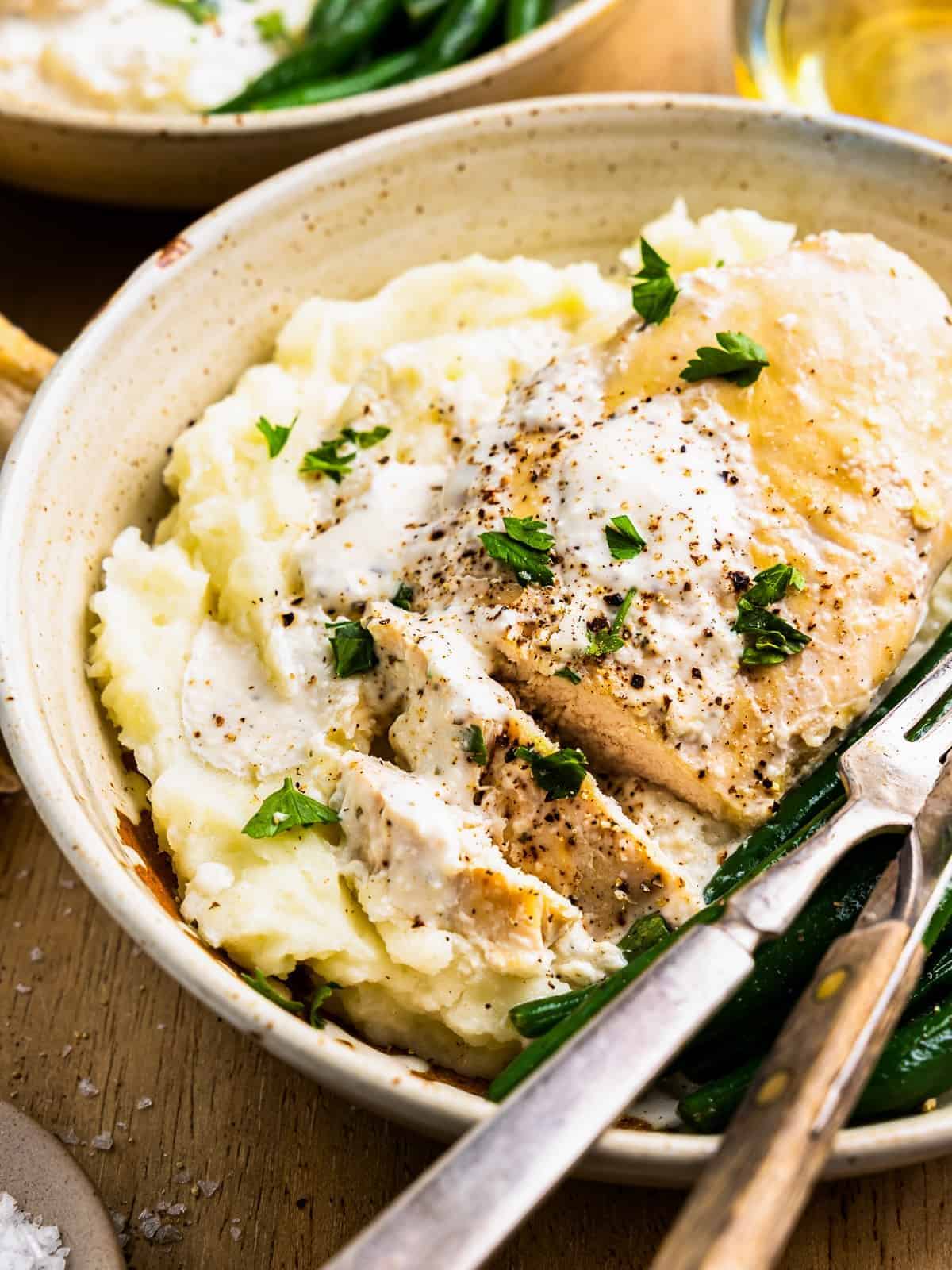 How to Store and Reheat
Store leftover crockpot ranch chicken in an airtight container in the refrigerator for up to 3 days. Reheat in the microwave in 30-second increments until warmed through.
How to Freeze
Freeze crockpot ranch chicken in an airtight container for up to 3 months. Allow chicken to thaw overnight in the refrigerator before reheating.
Serving Suggestions
Serve crockpot ranch chicken with the classics, like mashed potatoes or basmati rice. This easy chicken dish also plays well with loaded scalloped potatoes, corn pudding, three cheese asparagus gratin, and garlic mashed cauliflower.
Whatever you decide to serve this with, you are guaranteed a clean plate. Our family adores this recipe!
More Crockpot Chicken Recipes to Try
More Ranch Chicken Recipes We Love