This Basque Cheesecake recipe is light, creamy, and unbelievably delicious. The caramelized topping makes it just perfect! This dessert originates from Spain, but cheesecake lovers all over the world will enjoy it!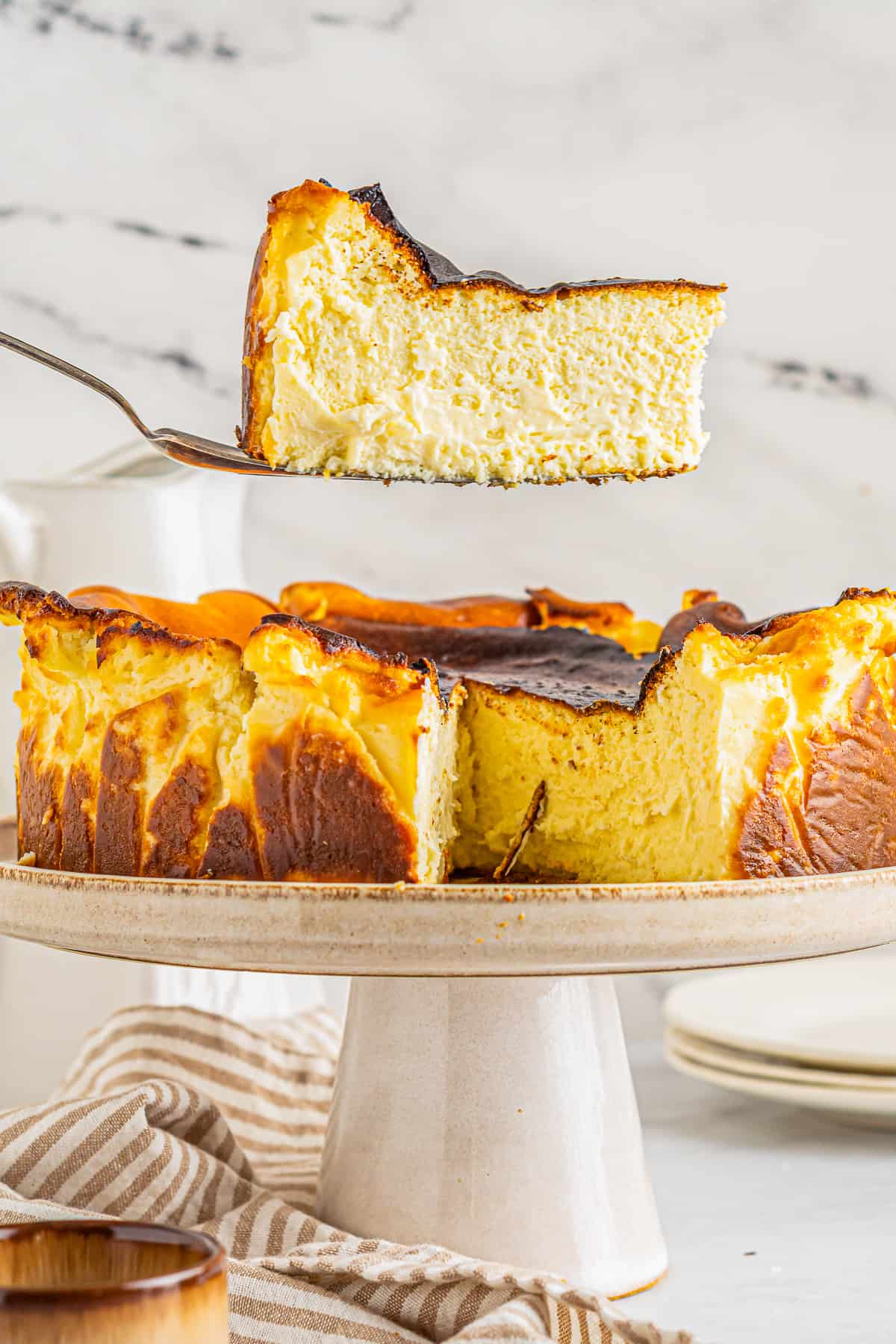 What's in this Basque Cheesecake Recipe?
This Burnt Basque cheesecake recipe is ultra-creamy, slightly sweet, and has a perfect caramelized top!
Cream Cheese: Provides a creamy and tangy flavor, as well as a smooth and velvety texture to the cheesecake.
Granulated Sugar: Sweetens the cheesecake and also helps to set it properly.
Mascarpone Cheese: Adds richness and a slightly tangy flavor to the cheesecake.
Eggs: Whole eggs plus additional egg yolks are used to give structure to the cheesecake and create a custard-like texture.
Heavy Cream: Adds richness and creaminess to the cheesecake.
Sour Cream: Provides a tangy flavor and helps to create a smooth and creamy texture.
Vanilla Extract: Enhances the flavor of the cheesecake and provides a warm, sweet aroma.
Lemon Juice: Adds a bright and tangy flavor to the cheesecake and also helps to balance out the sweetness.
Cornstarch: Helps to thicken the cheesecake filling and prevent it from cracking.
All-Purpose Flour: Helps to stabilize the cheesecake and give it structure, as well as a slightly denser texture.
Pro Tip: Use room temperature ingredients for the smoothest, creamiest results.
Variations on Burnt Basque Cheesecake
This cheesecake is so simple and delicious! But if you're feeling more adventurous, try one of these unique flavor variations:
Matcha: Add matcha powder to the cheesecake batter to give it a unique and slightly bitter flavor.
Chocolate: Mix melted chocolate into the cheesecake batter before baking to give it a rich and decadent chocolate flavor.
Nutella: Mix Nutella into the cheesecake batter before baking to give it a creamy and chocolatey flavor.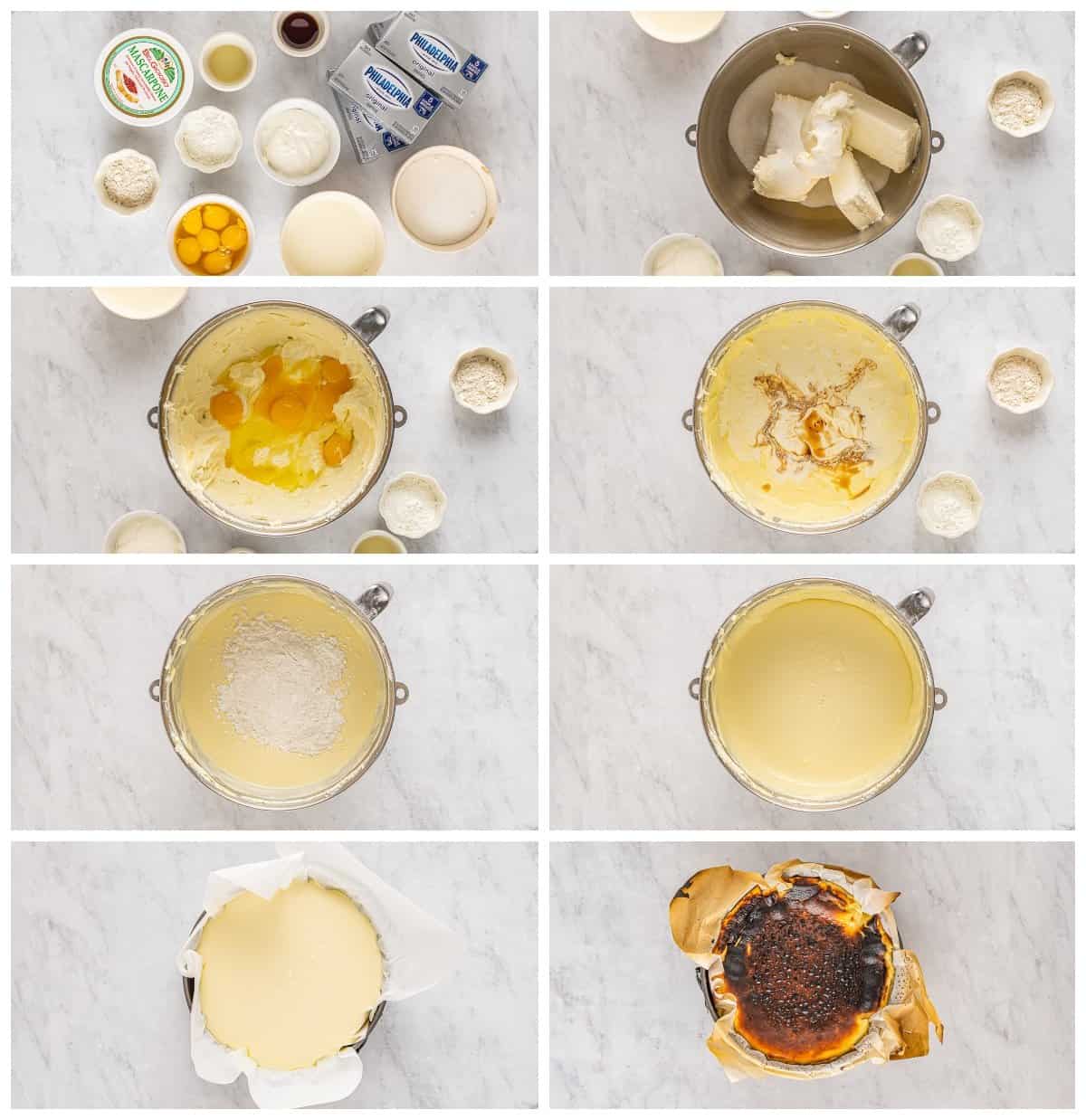 What is Basque cheesecake?
Basque cheesecake is a cheesecake originating from Spain that is baked at a high temperature, which caramelizes the outside, leaving the interior light and airy.
Is Basque cheesecake supposed to be burnt?
Yes! The method for baking a Basque cheesecake is much different from the low and slow method of baking a New York-style cheesecake. This method favors a faster, higher-heat bake for a lighter, less dense interior. Furthermore, the scorched exterior has a wonderfully deep, bitter caramel flavor.
How is Basque cheesecake different from regular cheesecake?
Unlike creamy, dense New York-style cheesecake, Basque cheesecake is crustless with a light, souffle-like interior and a scorched, caramelized top. It favors imperfection as part of the bake, and you don't have to worry about cracking. It's all part of the look!
Do I have to line the baking pan with parchment paper for Basque cheesecake?
Yes! Do not skip the parchment paper. Unlike a more traditional cheesecake, a Basque cheesecake does not have a crust. Because of this, you need to line the pan to prevent the wet batter from seeping out of the springform pan before it firms up in the oven.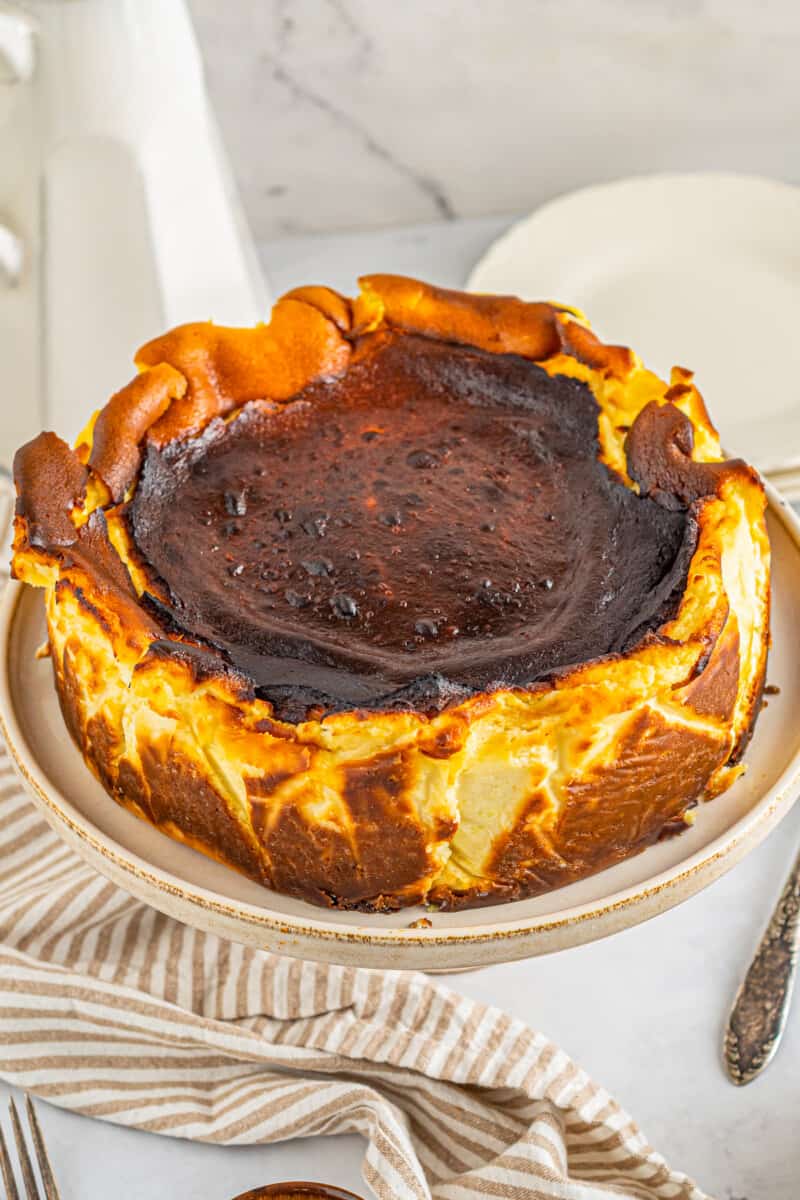 How to Store
Store leftover Basque cheesecake in an airtight container in the refrigerator for up to 3 days.
How to Freeze
Freeze Basque cheesecake whole or in slices in an airtight container for up to 1 month. Let thaw overnight in the refrigerator before enjoying.
Serving Suggestions
This lightly-sweet cheesecake is perfect topped with fresh berries, a dollop of whipped cream, a drizzle of caramel sauce (pictured), or a dusting of powdered sugar. It also pairs well with lemon curd, apple butter, chocolate syrup, or magic shell.
This Burnt Basque Cheesecake is like a blank slate. Once you complete the recipe for the actual cheesecake, you can add your own toppings, fruit, or sauce. Or eat just as is–it's already amazing.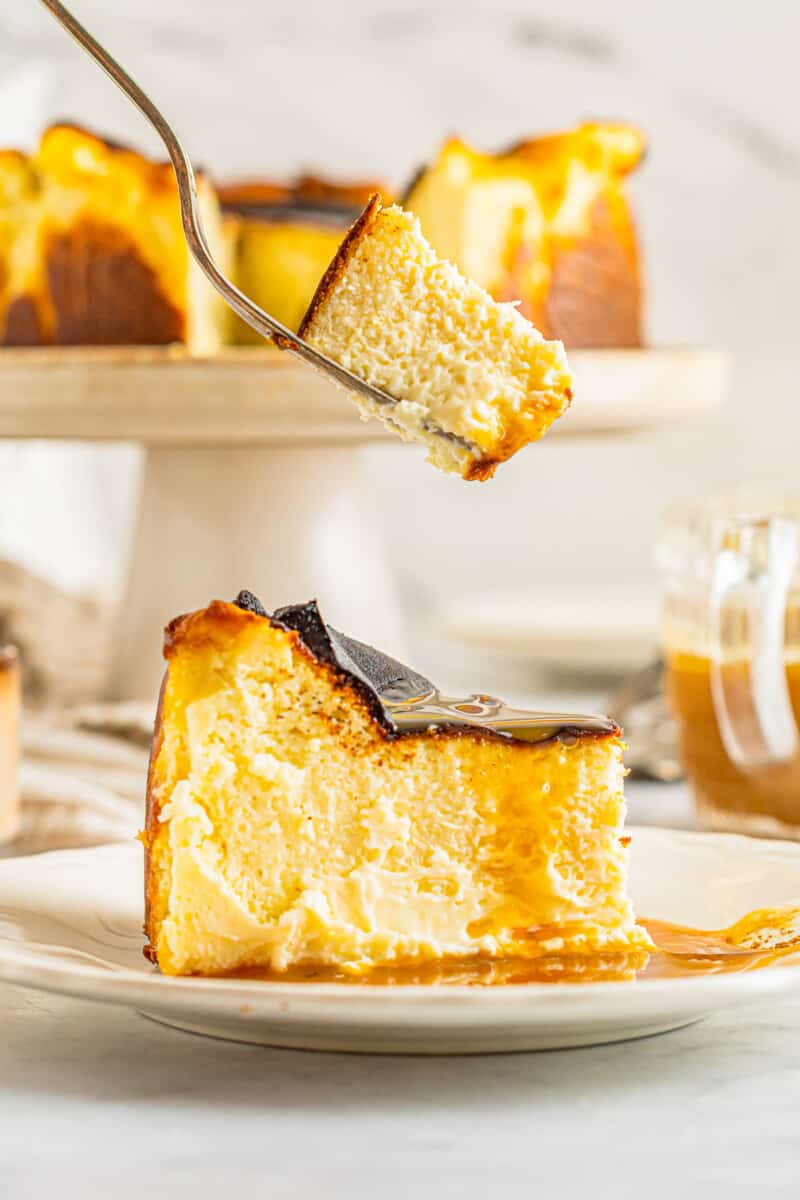 More Cheesecake Recipes We Love