This Burnt Basque Cheesecake recipe is light, creamy, and unbelievably delicious. The caramelized topping makes it just perfect! This dessert originates from Spain, but cheesecake lovers all over the world will enjoy it!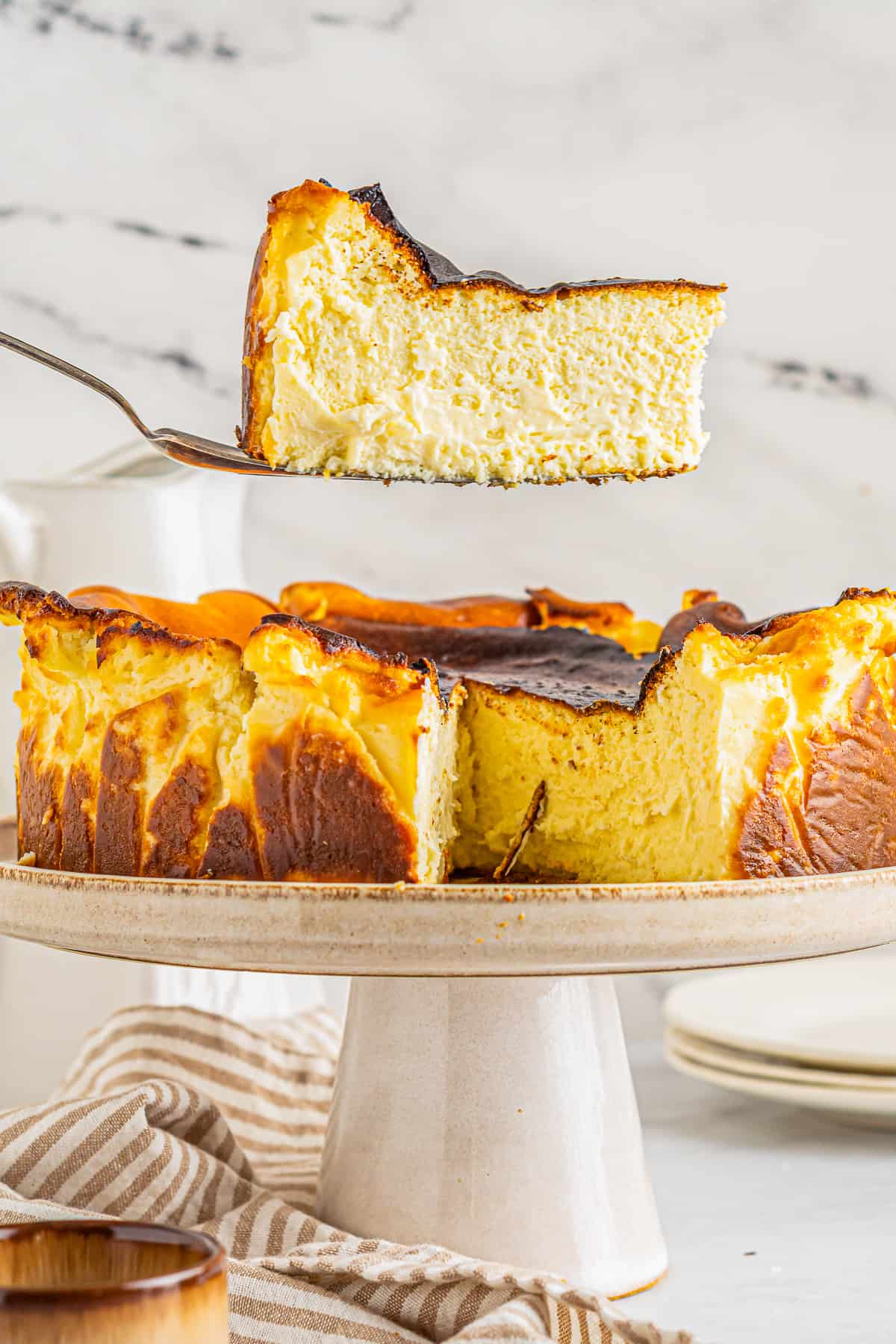 Burnt Basque Cheesecake
This Burnt Basque cheesecake recipe is ultra-creamy, slightly sweet, and has a perfect caramelized top!
Basque cheesecake originates from the Basque region of Spain, and it's a little bit different than what we're used to in the United States. American cheesecakes are typically dense and very sweet, while Basque cheesecakes are lighter, creamier, and only slightly sweet.
Why You'll Love this Burnt Cheesecake Recipe:
Light: This cheesecake has a light texture, and it isn't overly sweet or rich (but still delicious!).
Caramelized: Don't let the word "burnt" worry you! The broiling creates a caramelized crust that adds an extra depth of flavor that is just perfect.
Unique: This isn't your typical cheesecake! Its combination of flavors is unique and delicious.
Basque cheesecake is light and creamy, with a depth of flavor that is enhanced by the burnt top.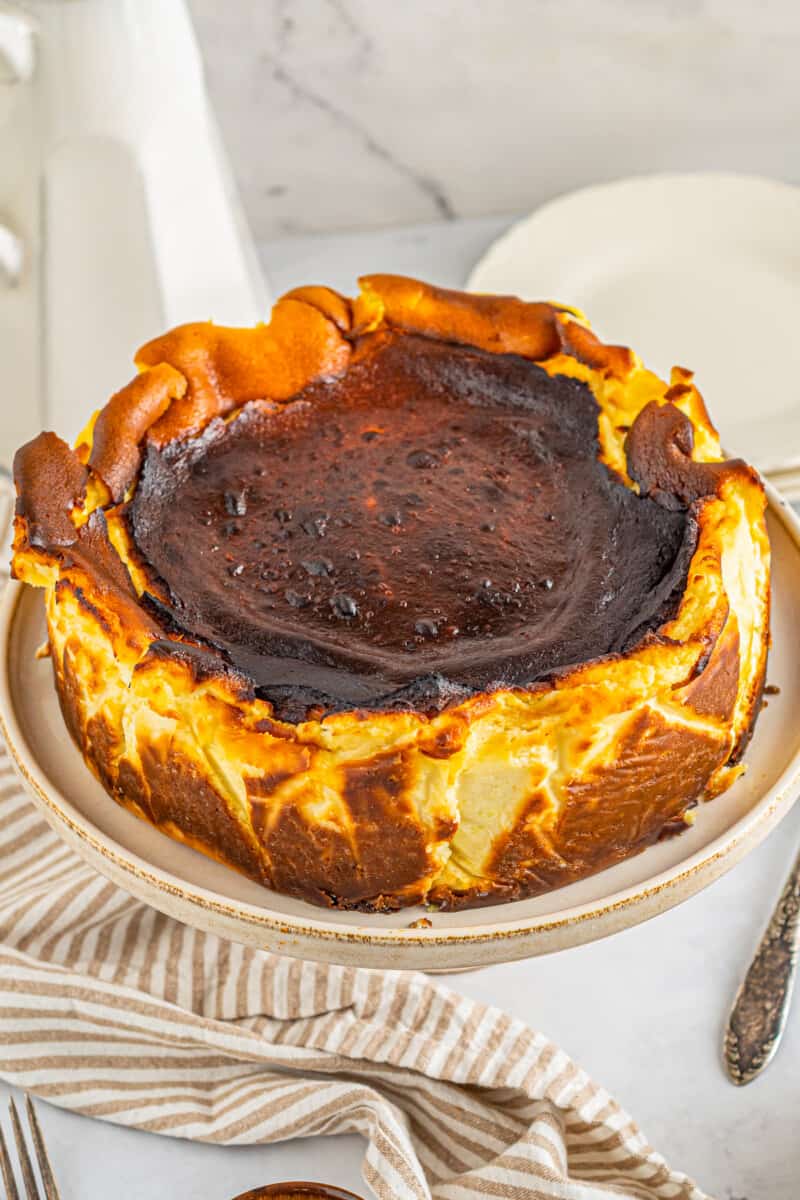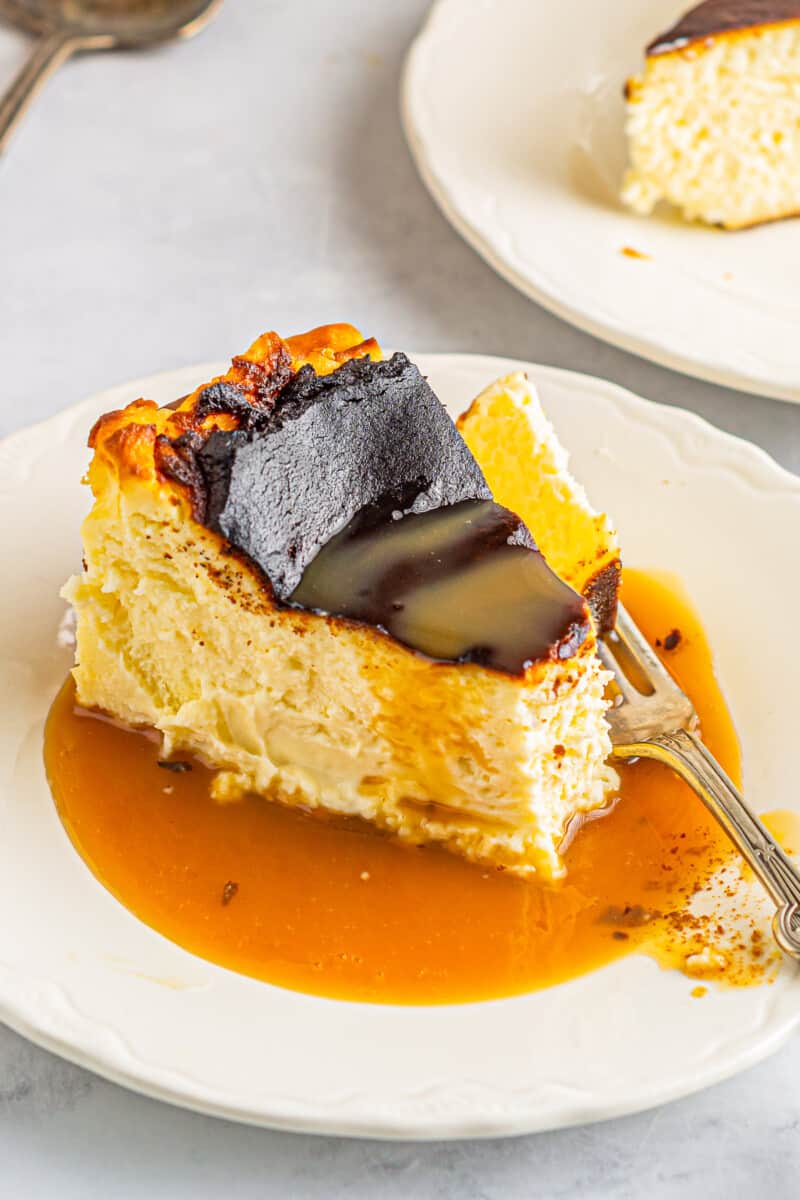 How to Make Basque Cheesecake
You can jump to the recipe card for full ingredients & instructions!
Preheat the oven to 425°F.
Make the cheesecake batter.
Place the cheesecake into the oven and bake.
Broil at the end to get that perfectly burnt texture.
Once cooled, cover and place in the fridge to chill for at least 8 hours.
Once chilled, release the springform and unmold it to serve.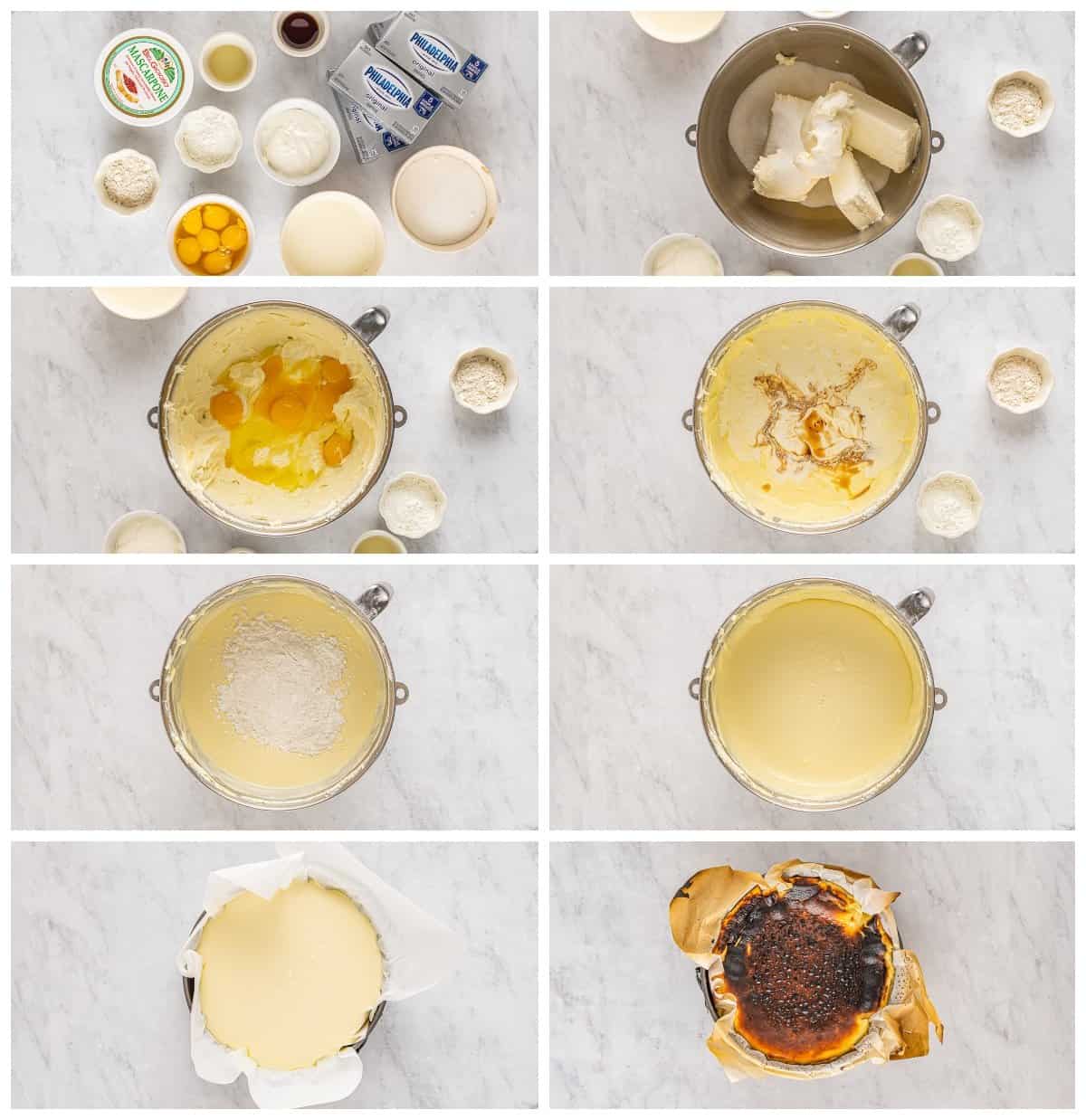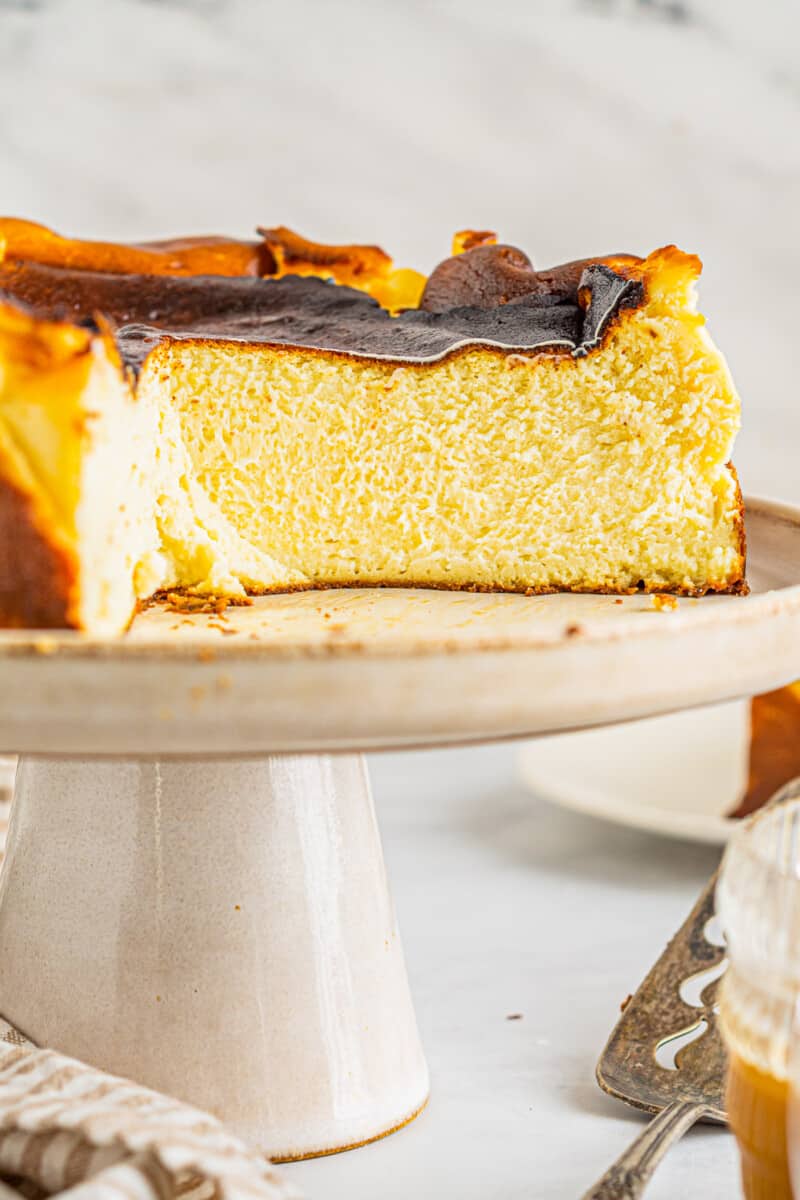 What is Basque cheesecake?
Basque cheesecake is a cheesecake originating from Spain that is baked at a high temperature, which caramelizes the outside, leaving the interior light and airy.
Is Basque cheesecake supposed to be burnt?
Yes! The method for baking a Basque cheesecake is much different from the low and slow method of baking a New York-style cheesecake. This method favors a faster, higher-heat bake for a lighter, less dense interior. Furthermore, the scorched exterior has a wonderfully deep, bitter caramel flavor.
How is Basque cheesecake different from regular cheesecake?
Unlike creamy, dense New York-style cheesecake, Basque cheesecake is crustless with a light, souffle-like interior and a scorched, caramelized top. It favors imperfection as part of the bake, and you don't have to worry about cracking. It's all part of the look!
Do I have to line the baking pan with parchment paper for Basque cheesecake?
Yes! Do not skip the parchment paper. Unlike a more traditional cheesecake, a Basque cheesecake does not have a crust. Because of this, you need to line the pan to prevent the wet batter from seeping out of the springform pan before it firms up in the oven.
Serving Suggestions
Serve with fresh berries, a dollop of whipped cream, or dust with powdered sugar. Or finish it off with one of these sauces!
This Burnt Basque Cheesecake is like a blank slate. Once you complete the recipe for the actual cheesecake, you can add your own toppings, fruit, or sauce. Or eat just as is–it's already amazing!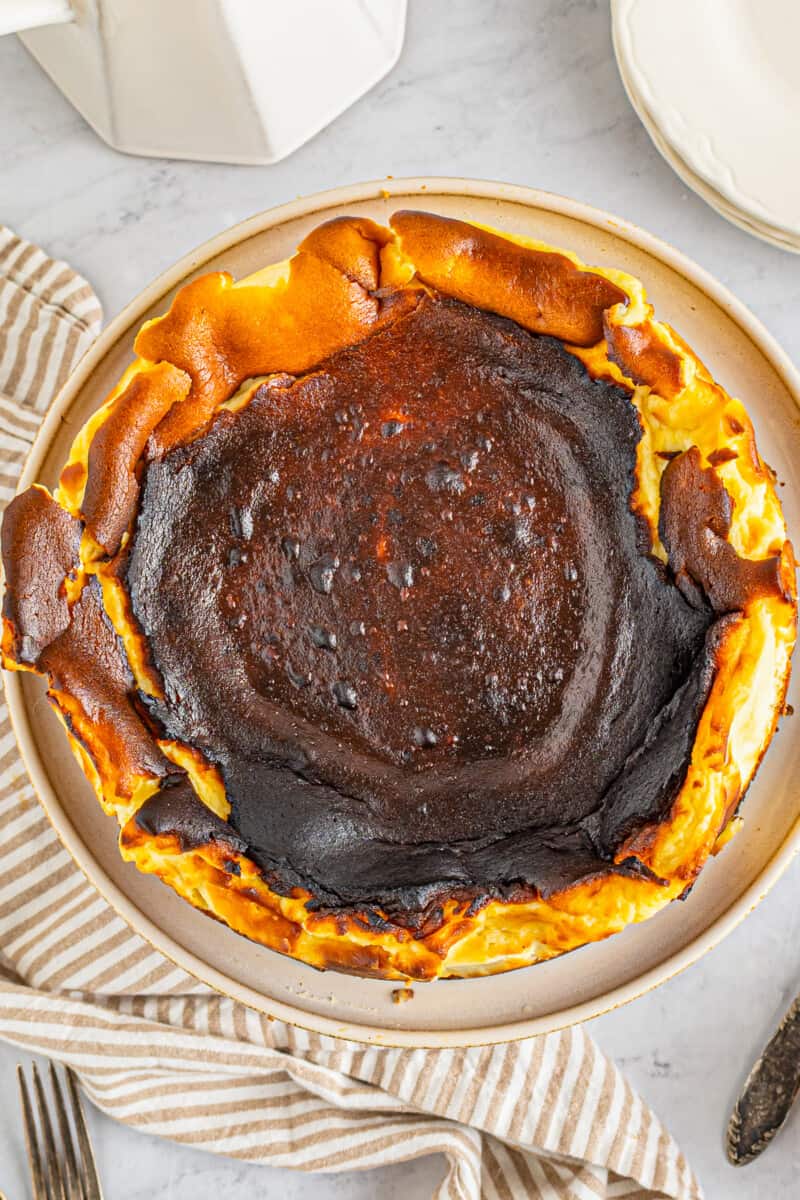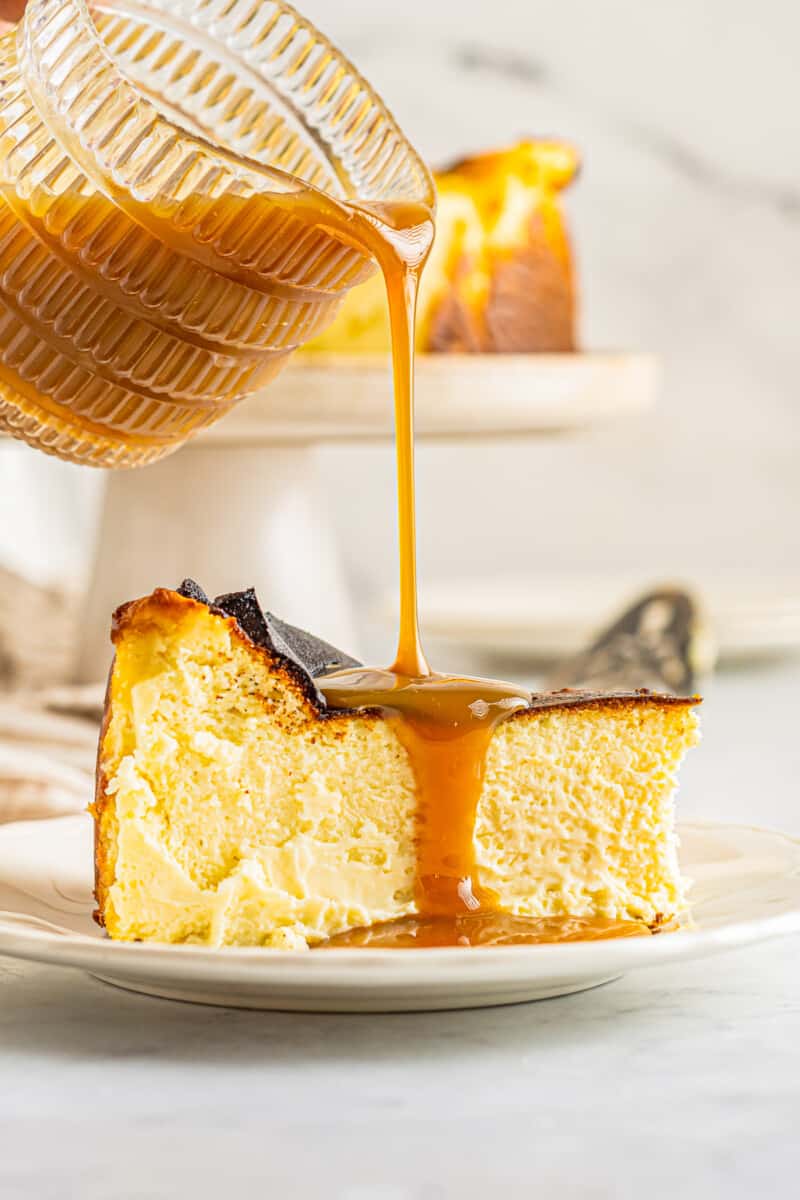 Storage Instructions
Store leftover Basque cheesecake in an airtight container in the refrigerator for up to 3 days.
Freezing Instructions
Freeze Basque cheesecake whole or in slices in an airtight container for up to 1 month. Let thaw overnight in the refrigerator before enjoying.
Substitutions
Mascarpone: 8 ounces of cream cheese may be used instead; however, it will slightly alter the texture.
Sour Cream: Plain or Greek yogurt may be used instead with a slight flavor difference as the consequence.
Lemon Juice: Lime juice may be used instead.
Cheesecake Tips
Use room temperature ingredients for best results.
Be sure to scrape the bowl down several times while making the cheesecake batter, especially at the beginning before too many ingredients are added to the batter. Doing so ensures that no clumps of cream cheese remain at the end. If clumps do remain, simply press them against the side of the bowl with a rubber or wooden spatula to ensure they are dispersed.
Do not skip lining the pan with parchment, as the overhang keeps the cheesecake from overflowing when baking.
Be sure to chill the cheesecake for several hours before unmolding. This helps the middle to set properly and the flavors to develop. It will still be soft and jiggly prior to chilling.
Serve with homemade caramel sauce (click for recipe).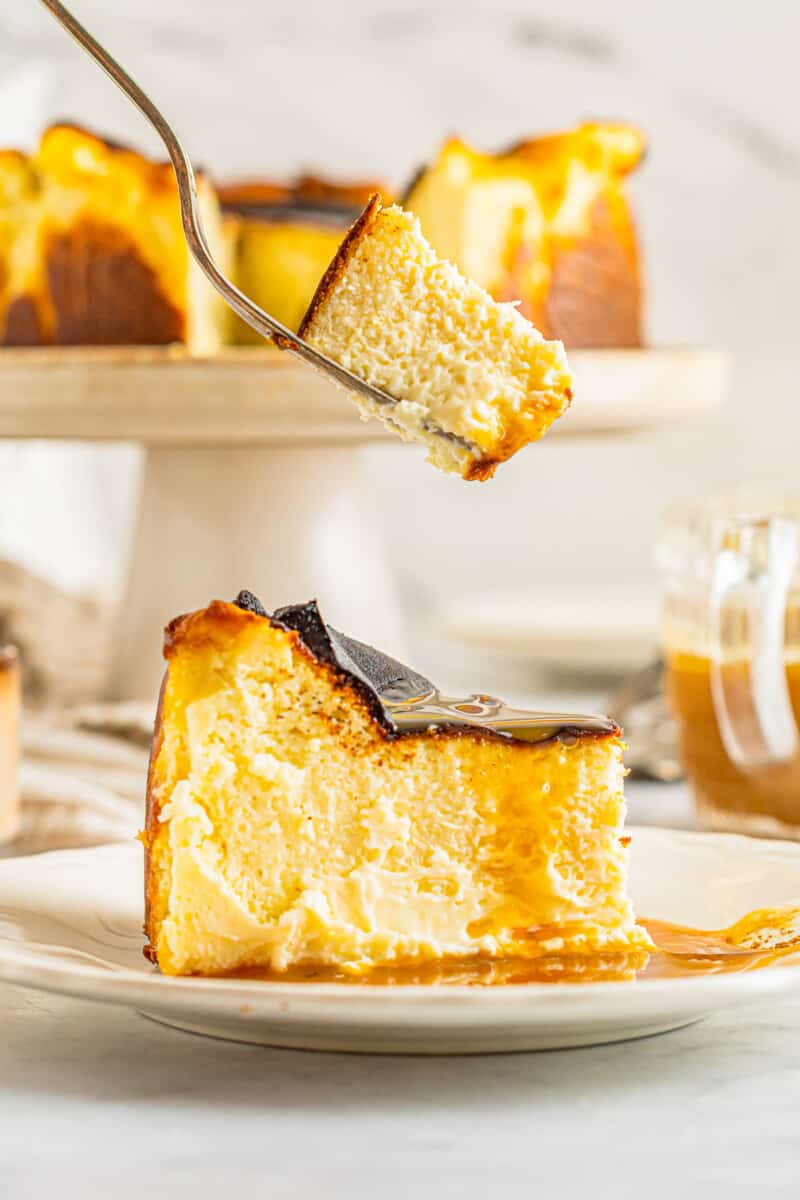 Next time you need a dessert, make this Basque Cheesecake. You'll love the flavor of this cheesecake and the way it looks. The next gathering you attend, make sure you bring this dessert.
If you make this recipe be sure to upload a photo in the comment section below or leave a rating. Enjoy! You can also jump to recipe.