If you're a fan of Biscoff cookies, you'll love the taste of this fresh and flavorful Biscoff Cheesecake. It's the perfect dessert to serve for all kinds of occasions, including the holiday season.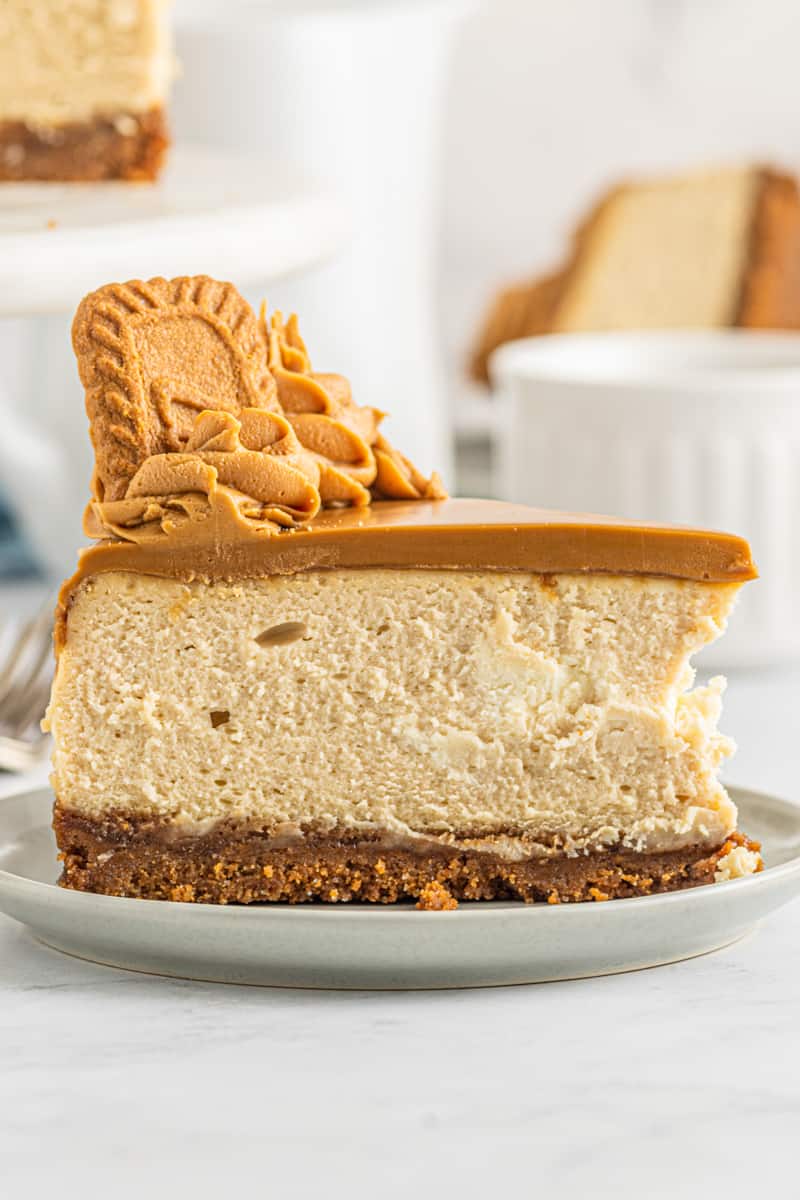 Homemade Biscoff Cheesecake
Have you always loved the taste of delicious Biscoff cookies? You may enjoy eating them with a cup of hot coffee or tea in the morning. If they're one of your favorite cookies to eat, you'll love the incredible taste of this delicious Biscoff Cheesecake recipe. It's creamy, decadent, and full of cookie butter flavor!
Why You'll Love this Cookie Butter Cheesecake Recipe:
DELICIOUS CRUST: The cheesecake has the perfect homemade crust made with sugar, butter, and Biscoff cookies.
EASY TO MAKE: It's easy to assemble this flavorful cheesecake and prepare it for different occasions.
SPECIAL OCCASION READY: The Biscoff Cheesecake is the perfect dessert to bring with you to any holiday parties you plan on attending because everyone will love it!
The Biscoff Cheesecake is such a simple yet delicious recipe to prepare for different occasions. If you love cookie butter, you are going to love this easy cheesecake!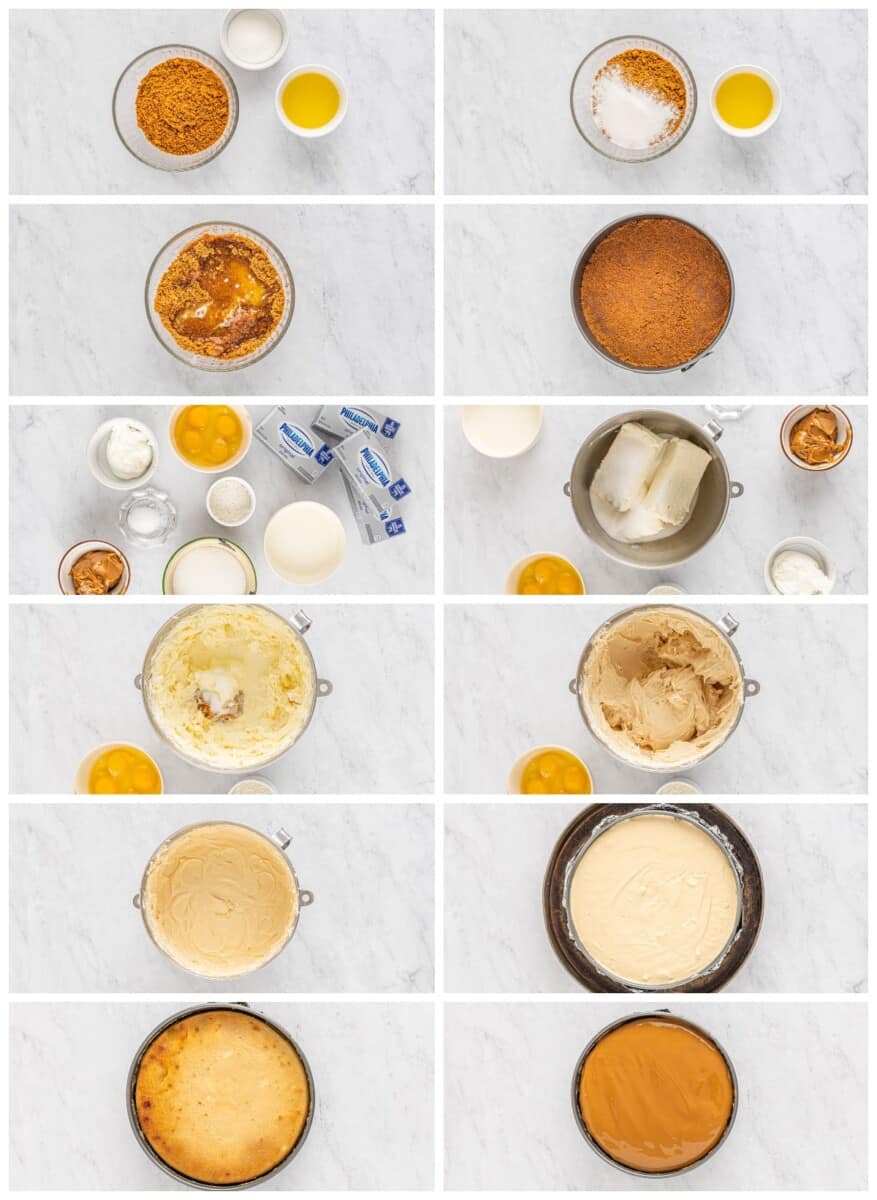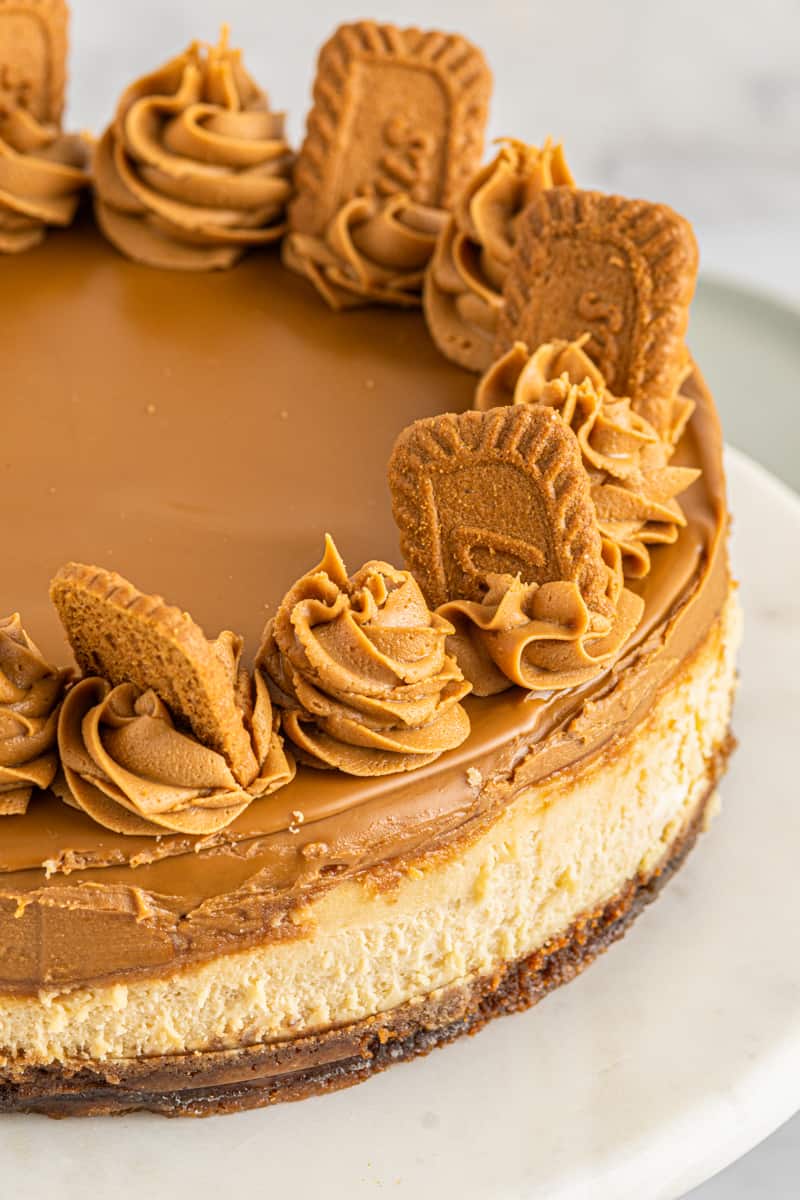 How to make Biscoff Cheesecake
You can jump to the recipe card for full ingredients & instructions!
Prepare the crust by combining the Biscoff cookie crumbs with sugar and then adding the melted butter, mixing until you have a wet sand consistency.
Press the crust into the bottom of the pan, bake for 15 minutes, and then let it cool on a rack while you prepare your cheesecake filling.
Make the cheesecake by combining cream cheese with sugar in a bowl of the stand mixer, beating for about two minutes before tossing in the Biscoff butter, sour cream, heavy cream, and salt.
Beat these ingredients for a minute, add your eggs, beat again, and then add flour, mixing all your ingredients together before pouring the batter into your pan and smoothing it over the crust.
Place foil around the sides and bottoms of the pan and set it in a larger baking dish filled with an inch of water, and then place in the oven to bake for 90 minutes.
Tent a piece of foil over the cheesecake to keep it from browning. After you've baked it, let it sit in the oven with the oven turned off and the door closed for an hour to set.
Next, prepare your Biscoff layer by heating the cookie batter for 30 seconds, pouring it over the cheesecake, and spreading it to the edges.
Place your cheesecake in the fridge to chill for eight hours.
Recipe Notes
Sour Cream: In the cheesecake batter, plain yogurt (Greek or regular) can be used in place of sour cream.
Flour: In the cheesecake batter, 1¾ tablespoons of cornstarch may be used in place of 2½ tablespoons of flour.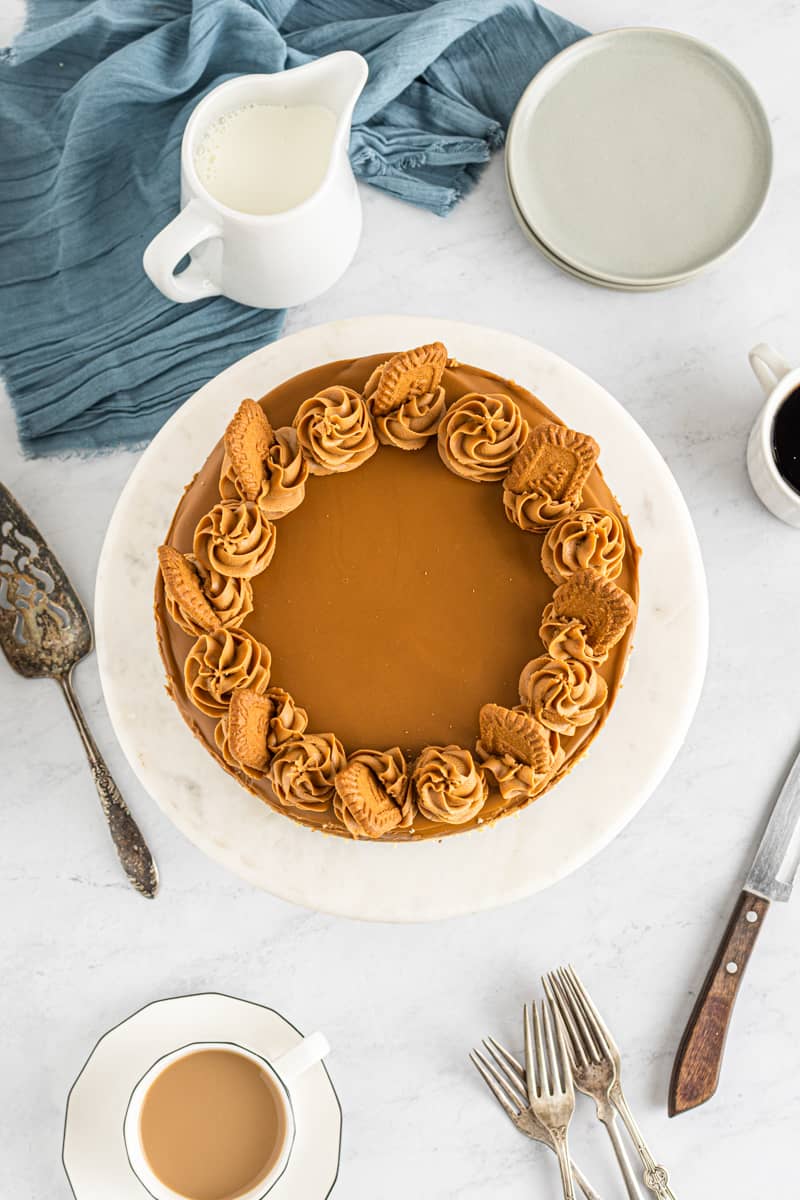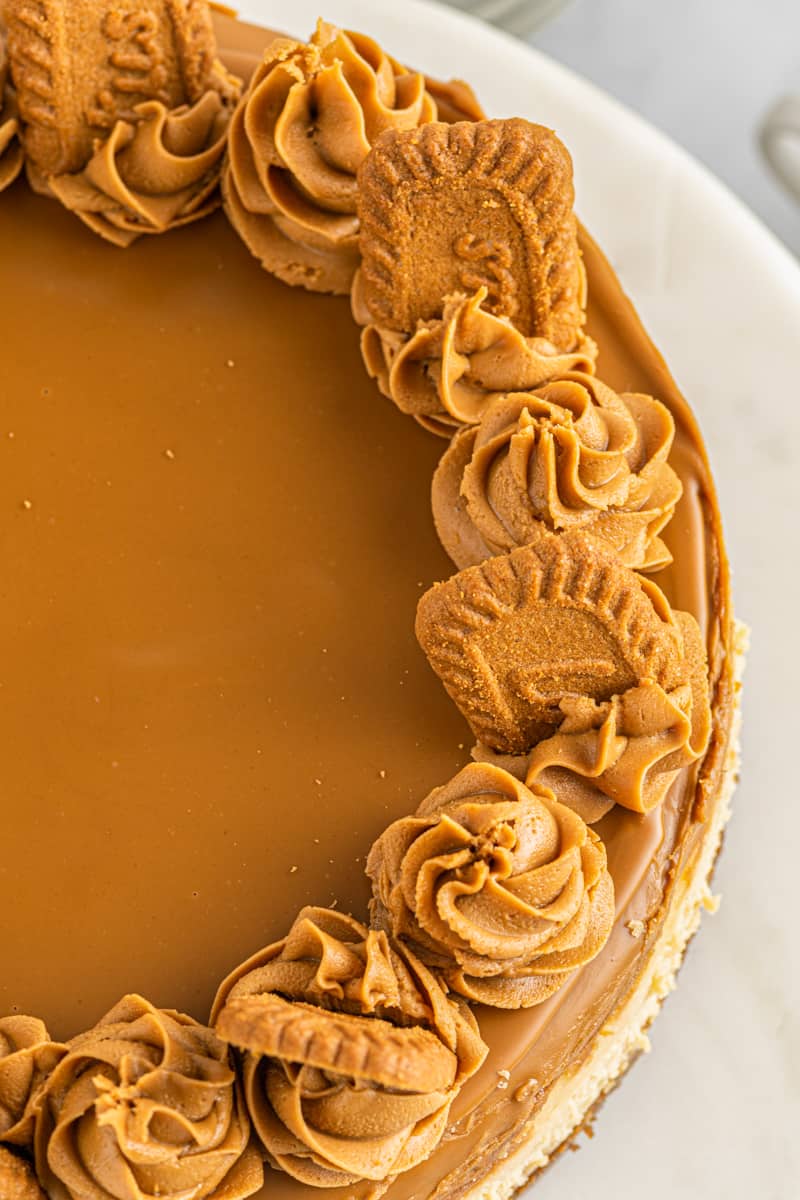 What are Biscoff cookies?
Biscoff cookies are a type of shortbread cookie with a hint of caramel added to them. Biscoff cookies are sometimes referred to as cookie butter cookies because they have a similar taste to the Trader Joe's famous Speculoos cookie butter!
Where can I buy Biscoff cookies and cookie butter?
You can buy Biscoff cookies and cookie butter at most local grocery stores. If not, you can order them on Amazon.
What is the best pan to use for cheesecake?
The best pan to use is a 9-inch springform pan.
What is the best way to freeze cheesecake?
Wrap the cheesecake in plastic wrap and then aluminum foil before putting it in the freezer to store it.
Cookie butter is similar to Nutella in texture, but tastes like a crushed up cookie. It is sweet and creamy and it's easy to see why it's such a popular treat!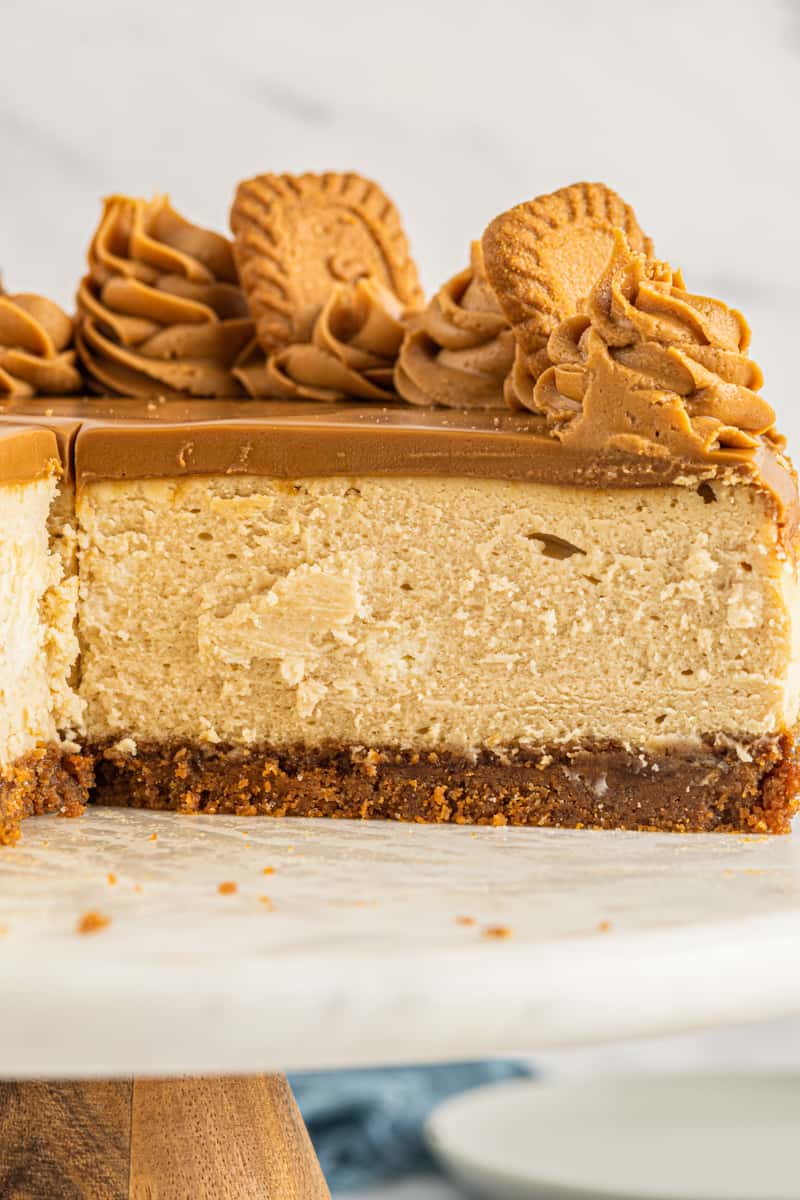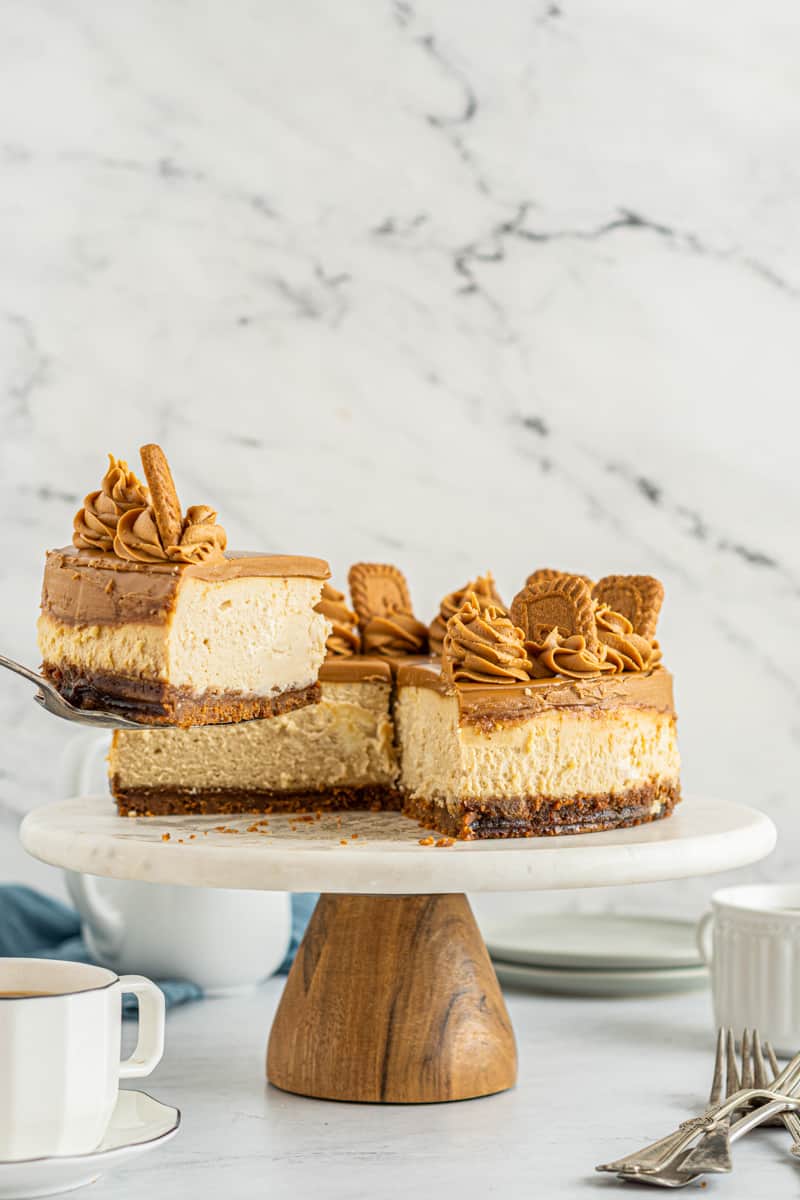 Tips!
When making the cheesecake, be sure to beat the cream cheese well at the beginning to ensure that it is smooth. If, when the cheesecake batter is complete, you still have lumps, simply press them against the side of the bowl using a wooden spoon or rubber spatula.
Do not overmix the cheesecake batter as it will add air and result in uneven baking and can cause it to crack at the end.
Be sure to leave the cheesecake in the oven for the hour after baking to rest. This allows the cheesecake to set, thus preventing or at least lowering the chances that the cheesecake top cracks.
This cheesecake incorporates the delicious flavor of cookie butter in the batter as well as the crust. If you know someone who is a fan of cookie butter or Biscoff cookies, they will love this cheesecake!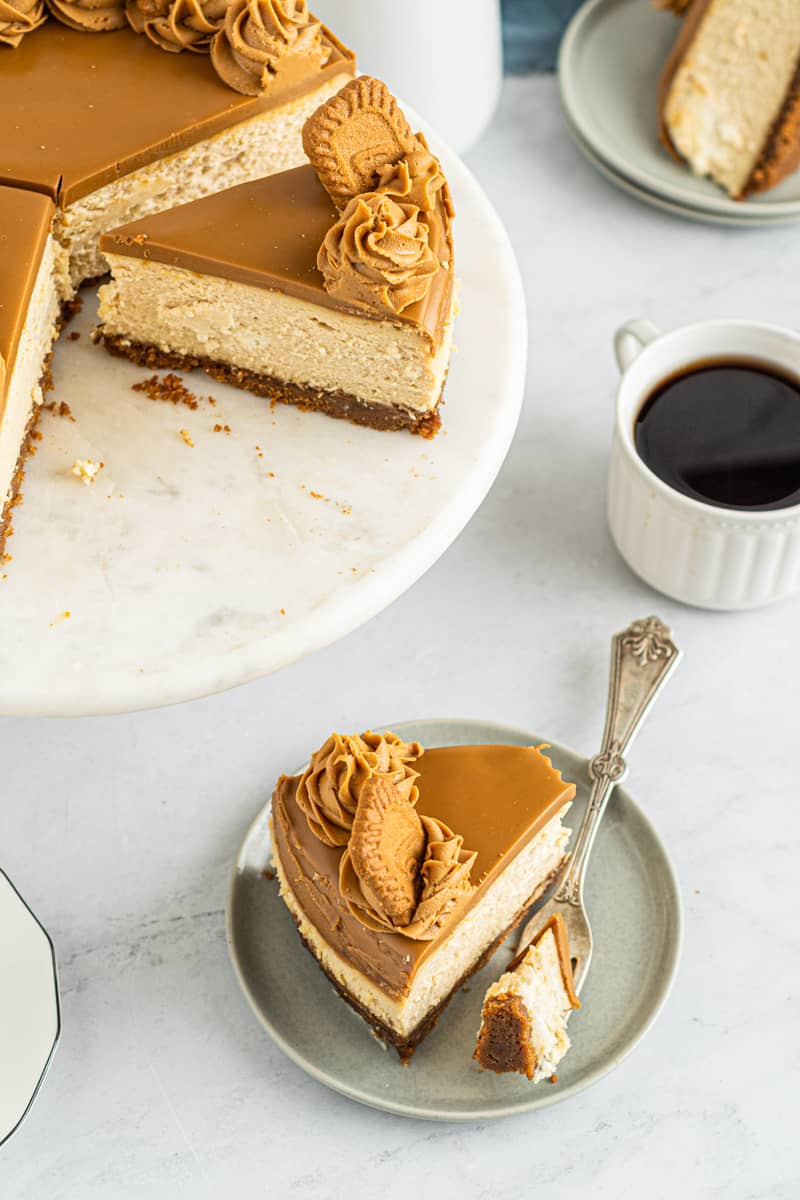 Can I make this cheesecake with a graham cracker crust?
Yes, you can do that if you'd prefer, but then it won't have the same taste that the Biscoff cookies add to it.
What is the best way to crush up Biscoff cookies for the crust?
Place the cookies in a sandwich bag and roll over them with a rolling pin. You can also pulse them in a food processor.
What toppings go well with Biscoff cheesecake?
Crushed nuts, sliced strawberries, fresh raspberries, and even a caramel drizzle would all pair well with the Biscoff Cheesecake.
More Cheesecake Recipes we Love
Enjoy the incredible taste of the Biscoff Cheesecake. You can make it from scratch using cream cheese, sugar, Biscoff cookies, and other fresh and tasty ingredients. Everyone will love this decadent cookie butter inspired dessert!
More Holiday Desserts to Try:
If you make this recipe be sure to upload a photo in the comment section below or leave a rating. Enjoy! You can also jump to recipe.