Take the stress out of cooking your Christmas meal this year, with this amazing Sheet Pan Christmas Dinner. Seasoned spiral ham is cooked with homemade Parker house rolls and prosciutto-wrapped asparagus for a fuss-free Christmas ham dinner the whole family will love.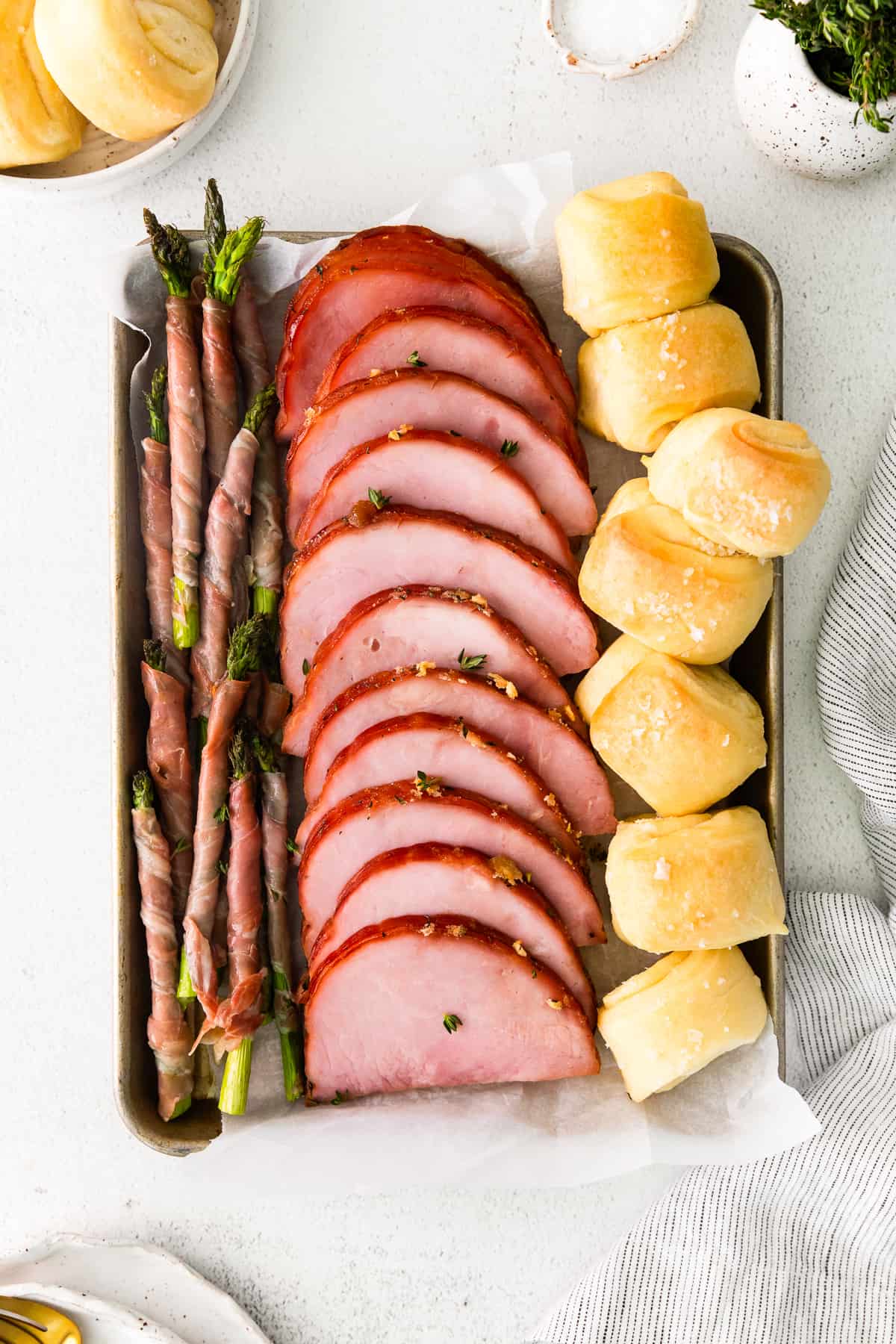 What's in this Christmas Ham Dinner?
Brown sugar glazed ham is cooked on a sheet pan with prosciutto-wrapped asparagus and homemade Parker house rolls for a delicious feast that will easily serve four people.
Milk: Adds moisture to the Parker house rolls so they aren't too dry. Make sure the milk is the correct temperature so the yeast activates properly.
Yeast: Helps the rolls rise so they become light and fluffy.
Butter: Adds richness and flavor to the rolls.
Eggs: Bind the rolls together and also add extra richness.
Flour: Gives the rolls structure- make sure to measure using the spoon and level method so you don't end up with dry rolls.
Salt: Enhances the flavor of the rolls. Make sure to use kosher, not table salt!
Ham: I opted for a pre-cooked, unseasoned spiral ham. If your ham is not pre-cooked, make sure the internal temperature reaches 145 degrees F.
Brown Sugar: Adds sweetness to the ham and creates a delicious glaze on the outside.
Seasoning: Thyme and garlic add a bit of freshness and earthiness to the ham. You could also use rosemary, sage, or parsley if you prefer.
Asparagus: When making prosciutto-wrapped asparagus, make sure to choose thick stalks as the thin ones tend to become too soggy.
Prosciutto: If you have large slices of prosciutto, you can always slice them in half.
Olive Oil: Helps the asparagus crisp in the oven.
Pro Tip: I use a brown sugar glaze on this ham, but you can use your favorite glaze.
Variations on Ham Dinner for Christmas
I love how easily this dish comes together! Each element complements the rest perfectly! If you're looking for a different flavor ham glaze, try apple ginger glazed ham, orange honey glazed ham, or honey mustard maple glazed ham. Yum!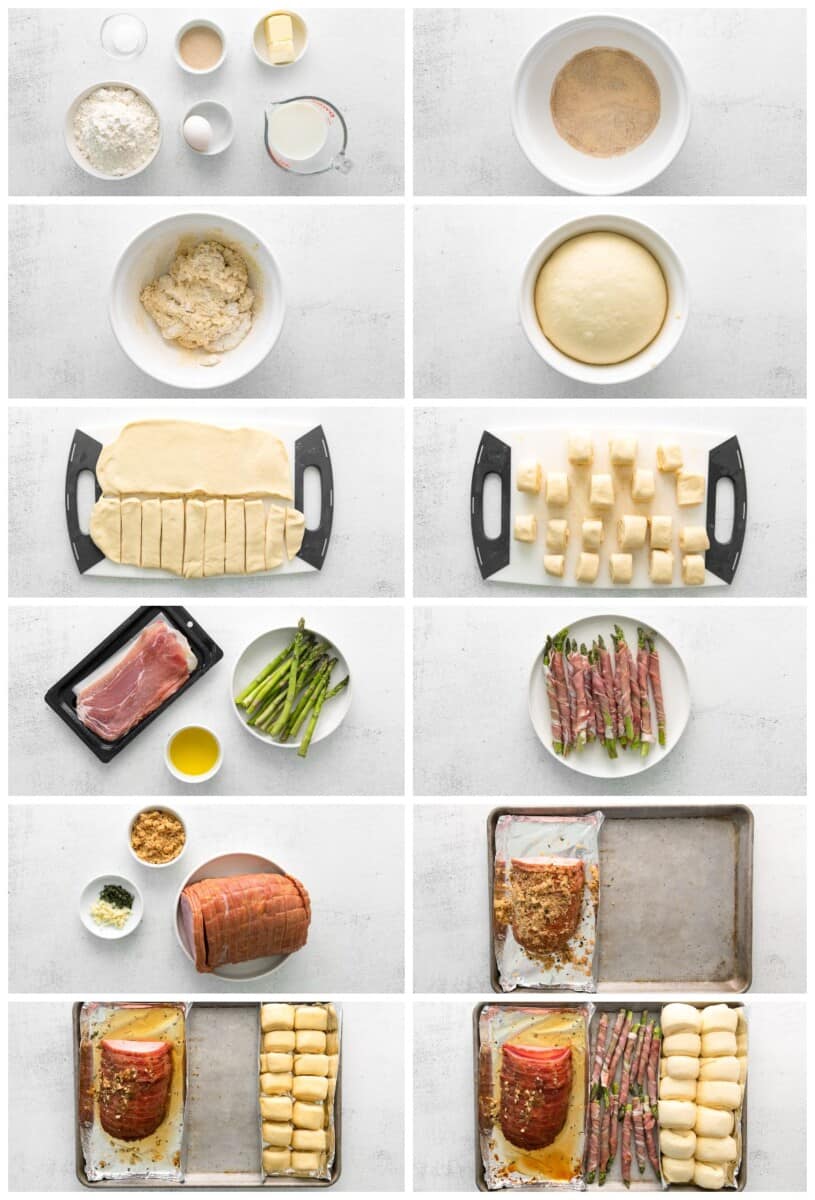 What kind of ham is best for this sheet pan dinner?
I opted for a pre-cooked, unseasoned spiral ham. If your ham is not pre-cooked, make sure the internal temperature reaches 145°F.
What kind of prosciutto should I use?
My favorite kind of prosciutto is prosciutto di Parma, but Cittero prosciutto also works.
Can I use pre-made rolls?
If you prefer to use pre-made rolls rather than homemade you absolutely can. Just add them to the sheet pan during the last 5 minutes of cooking to warm them through to serve.
What is the best way to reheat ham?
To reheat any leftover ham, tightly lightly with foil and place in a preheated oven at 360°F. Cook for 10 minutes per pound til the internal temperature reaches 135-140°F.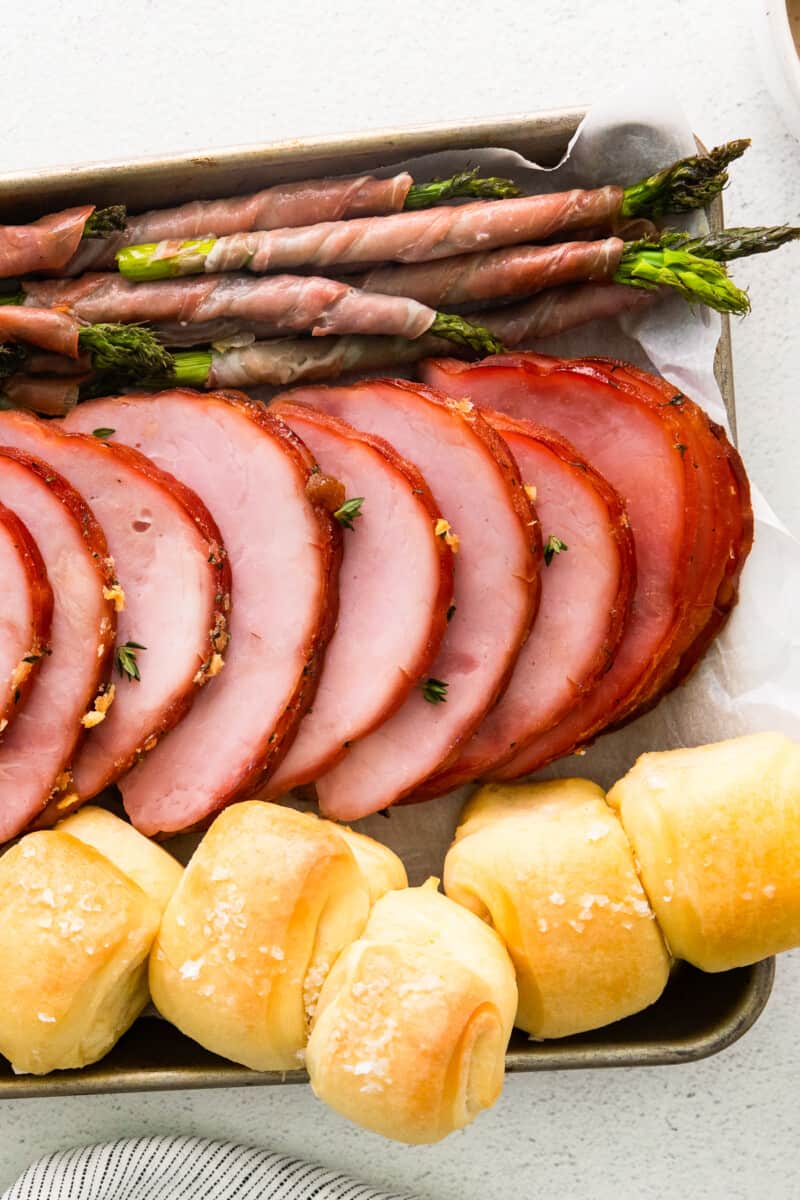 How to Store and Reheat
Store leftover sheet pan Christmas dinner covered with foil in the refrigerator for up to 4 days. Reheat in a 360°F oven for about 10 minutes, or until warmed through.
How to Freeze
Freeze the components of this sheet pan Christmas dinner individually wrapped in airtight containers for up to 3 months. Let thaw overnight in the refrigerator before reheating.
Serving Suggestions
This Christmas ham dinner is a great meal all by itself, but you can easily serve it alongside other holiday favorites like Cranberry Sauce, Roasted Maple Bacon Brussels Sprouts, Green Bean Casserole, Creamy Mashed Potatoes, or Butternut Squash Stuffing.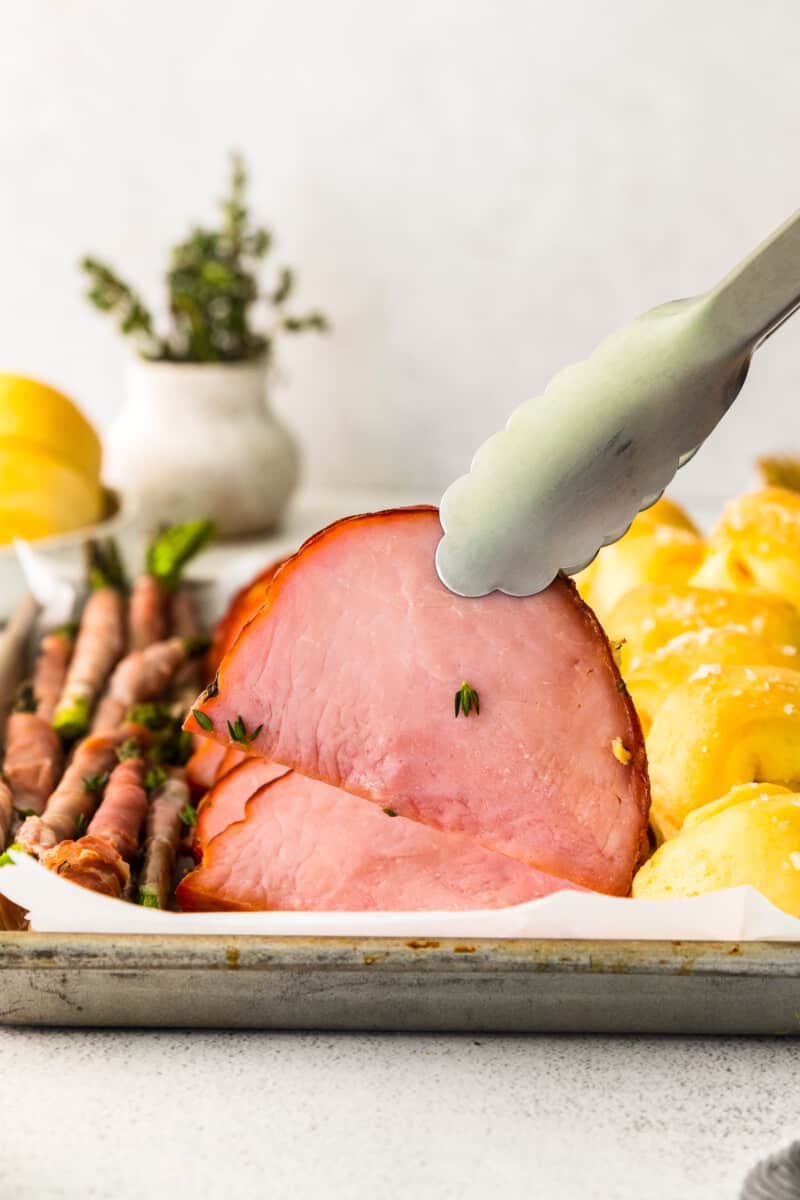 More Holiday Sheet Pan Meals We Love