Chicken Fajitas have quickly become a favorite around here, especially this Queso Smothered Chicken Fajita Recipe! An easy Chicken Fajitas recipe with all the veggies and spice, grilled to perfection, and smothered in cheese dip. This unique twist on a classic Mexican recipe is sure to please one and all and be requested again and again. Better than any Mexican Restaurant meal!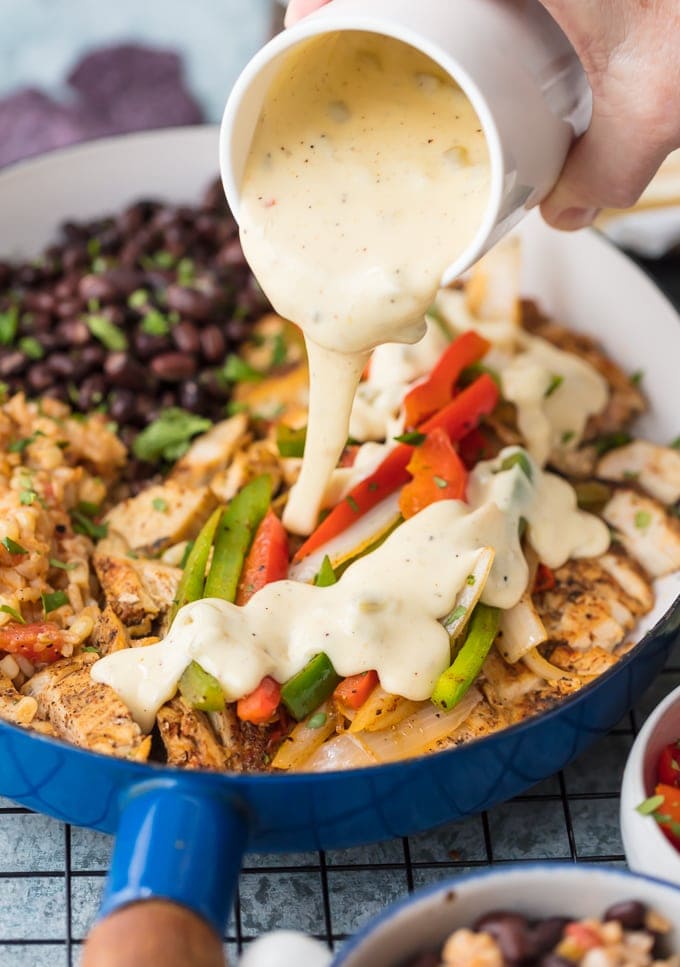 Easy Chicken Fajitas Recipe
White Queso Smothered Chicken Fajitas just might be my favorite chicken fajita recipe to make at home. So good and so easy!
Chicken Fajitas are one of my favorite meals, and this Queso Smothered Chicken Fajita Recipe is EVERYTHING! Sadly for my waist line, I can never get enough cheese.
It's cursed me since my brother and I were kids and my Mom would tell us that we would turn into cheese if we weren't careful. As an adult with a full-time food blog business…cheese has become my middle name.
This easy chicken fajitas recipe is one of the best, perfect for Cinco de Mayo, Taco Tuesday, or dinner at home. It's such a fun dish.
Learning how to make chicken fajitas kind of changed the game for me, because now I don't have to go out to a restaurant to get something so sinfully delicious!
These Queso Smothered Fajitas will be your new favorite fajita recipe!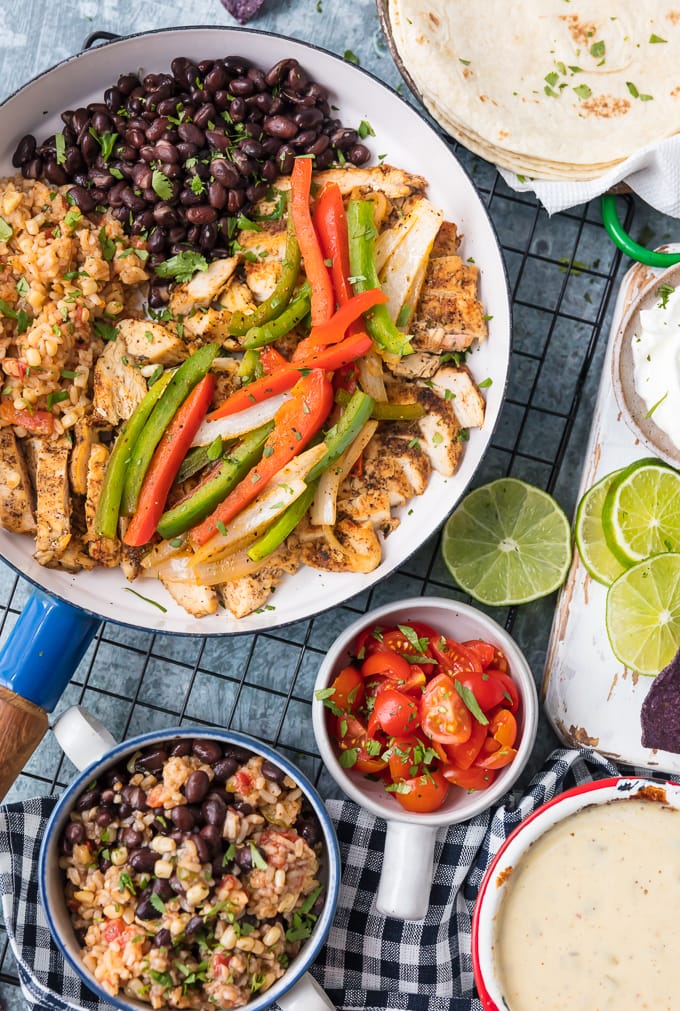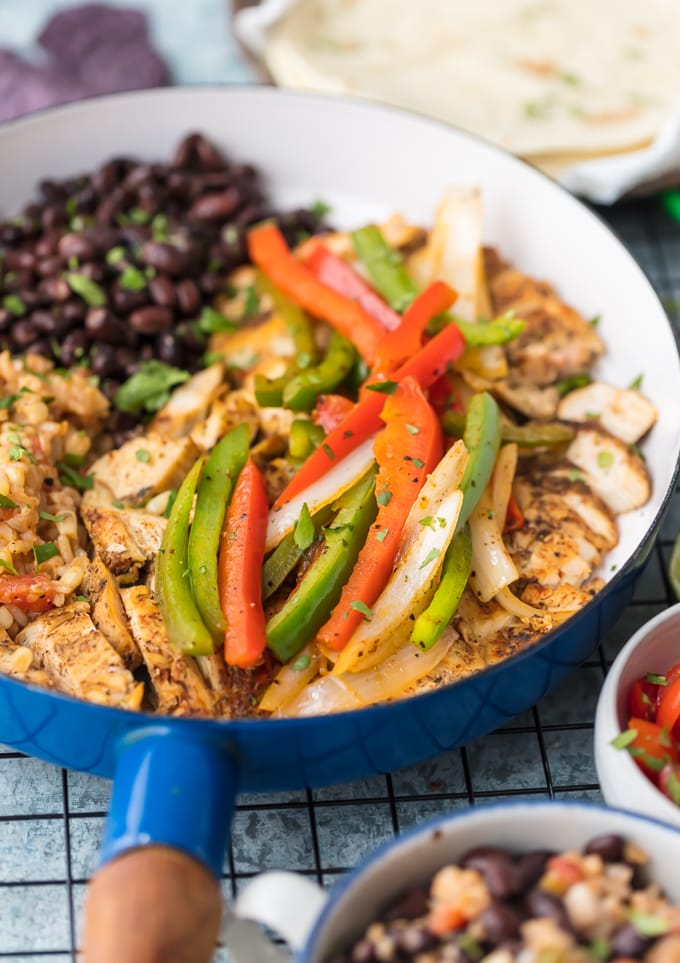 Queso Smothered Chicken Fajita Recipe
This Queso Smothered Chicken Fajita Recipe is the ultimate Tex Mex Comfort food. One bite of this cheese and you'll be famous forever.
As I've gotten older, I've just decided to truly own my love of cheese and queso dip. My Dad says (with pride??) that he has never been to a Mexican Restaurant with me without me ordering a large queso dip. And I don't need anyone else to dig in to make it worth it.
Mom and Dad recently tried a new restaurant in town and had a variation of this dish. Since Mom and I talk food endlessly, I knew right away that 1) She had the best Chicken Fajita recipe ever and 2) We had to recreate them immediately.
I'm so glad we did. This easy chicken fajitas recipe has stolen my cheese loving heart!
I've made every type of queso dip imaginable. Chicken Con Queso, Vegan Queso, 4 Ingredient Beer Cheese Dip, Crock Pot Queso Fundido, and the Easy White Queso used to smother these fajitas (linked in the recipe card below) have quickly become some of my favorite and most popular recipes on The Cookie Rookie. More cheese, please!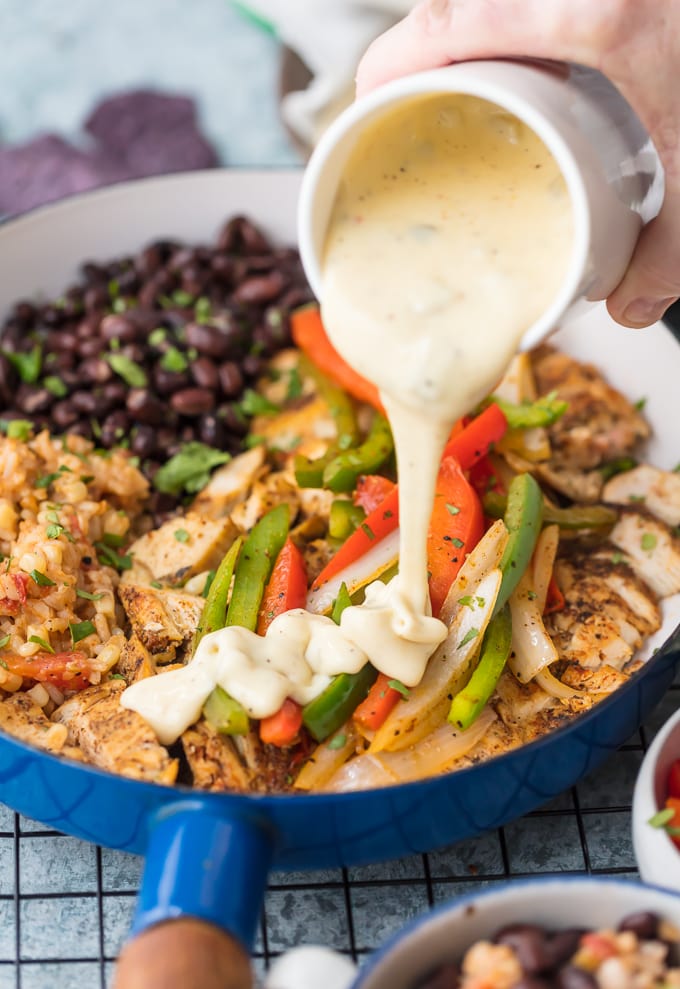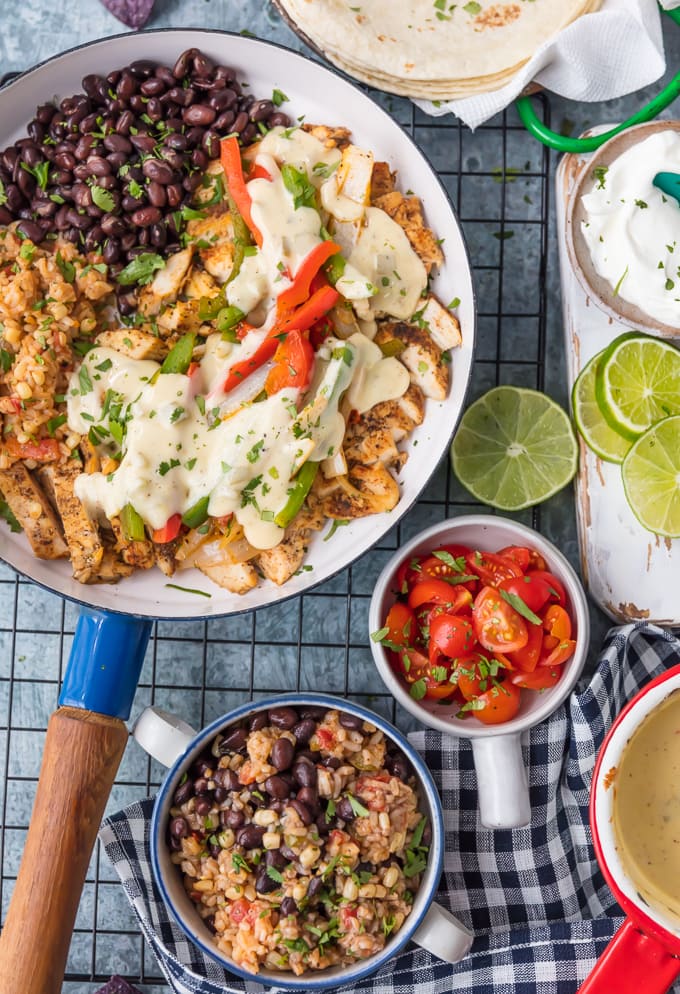 What goes well with Chicken Fajitas?
Oh goodness…where do I begin. Of course you need salsa with this easy chicken fajitas recipe, but I also feel you need rice and beans.
I recently made Cheesy Easy Mexican Rice and I plan to make that and simple black beans next time we eat them (aka…next week). You can also serve them with Mexican Street Corn, Guacamole and Chips, or Cornbread.
Here are a few more things you could serve on the side or as extra toppings:
Jalapenos
Sour cream
Cilantro
Lime
Avocado Slices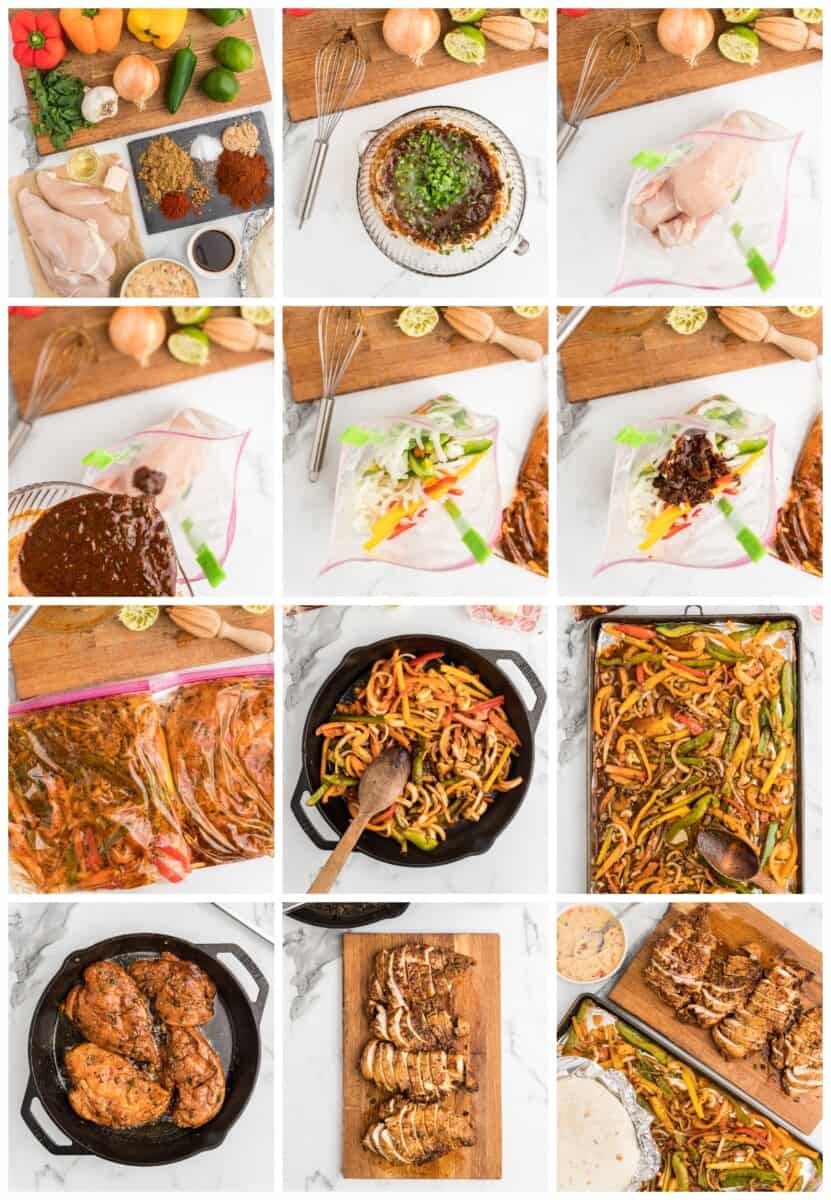 What vegetables can you put in this fajita recipe?
I'm a big fan of simple when it comes to classic recipes like Chicken Fajitas. We always keep things classic and simple by grilling up onions and tri-colored bell peppers. Perfection!
How many calories are in Chicken Fajitas?
Well…that's probably a question better left unanswered. Everything in moderation…right? At a typical restaurant, a serving of Chicken Fajitas will have approximately 400 calories, and the tortillas can easily double that.
Our Queso Smothered Fajitas are clocking in just over 800 calories…Yeah, that's not a small amount, but it's worth eating healthy ALL DAY so you can indulge in these at night. Don't give it another thought.
What drinks pair well with fajitas?
MARGARITAS! We love our margaritas around here, and I've got plenty of great margarita recipes for you!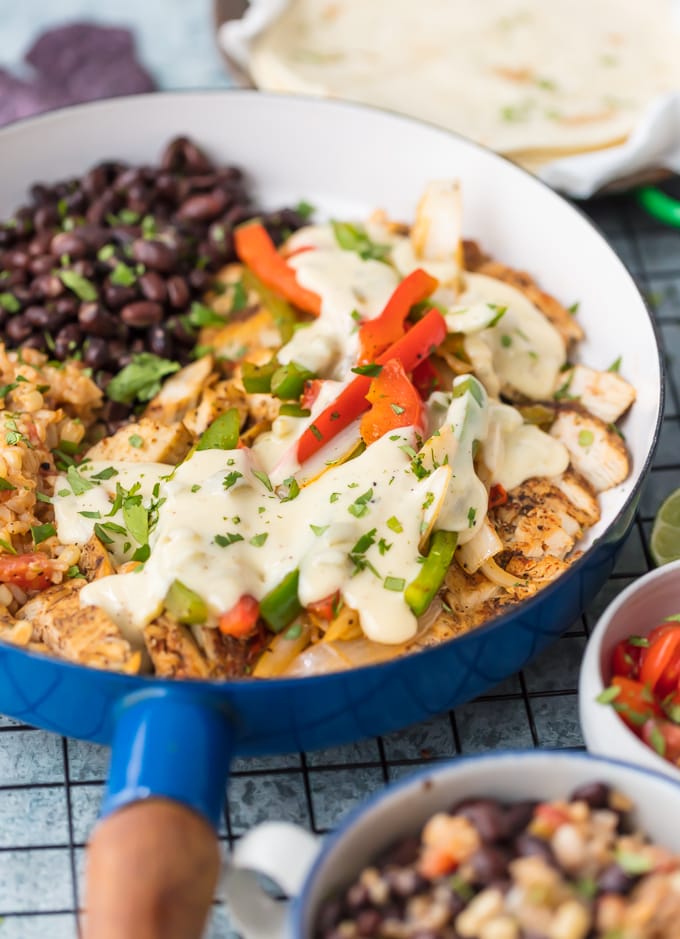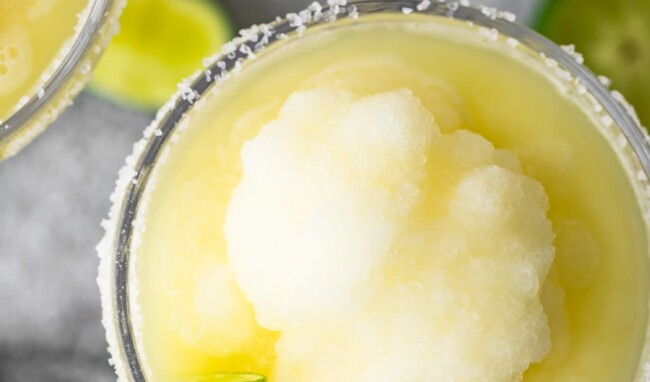 Cheers my Dears
20 Best Margarita Recipes
See our guide for How to Make Margaritas including all our fave go-to recipes.
See Guide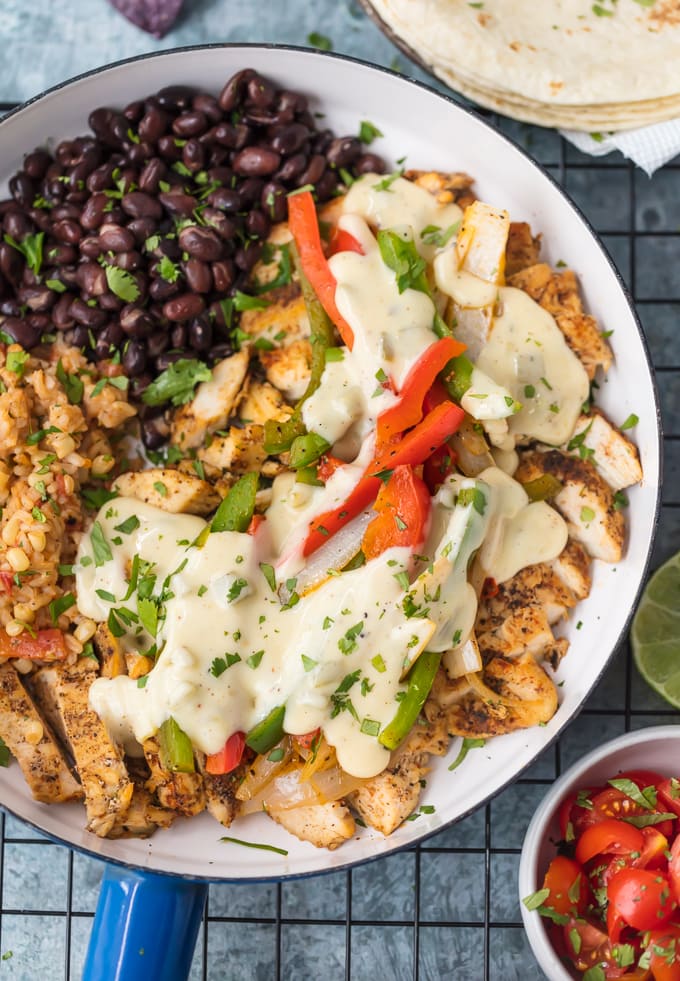 If you're a fan of Mexican food, I just know you're going to love this Queso Smothered Chicken Fajita Recipe. I'm so excited for you to try it! Load them up with all of your favorite toppings, from fresh cilantro to avocado slices. The sky is the limit!
Looking for more Mexican Recipes? That's our favorite type of recipe to create! Check out the Taco Tuesday Guide & some of our favorite recipes here:
If you make this recipe be sure to upload a photo in the comment section below or leave a rating. Enjoy! You can also jump to recipe.