White Chicken Lasagna is an easy favorite meal. It's packed with flavor and is surprisingly easy to make! This cheesy Caprese Chicken Lasagna is the ultimate comfort food, loaded with classic Caprese flavors like tomatoes and mozzarella. YUM!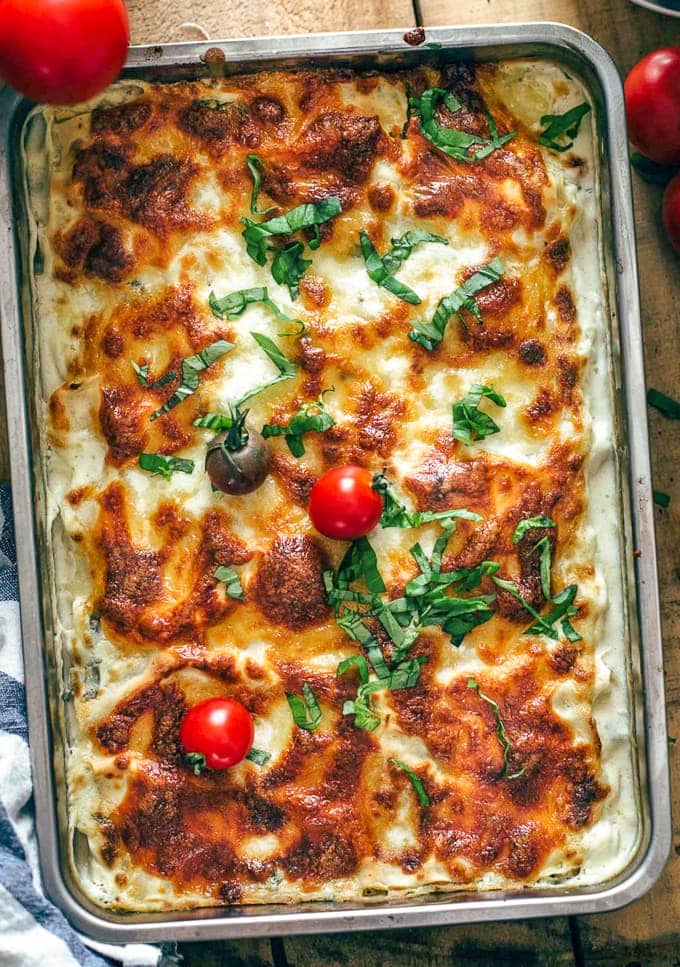 White Chicken Lasagna
White Chicken Lasagna is one of my favorite versions of this Italian dish. Caprese Chicken Lasagna loaded with tomatoes, mozzarella, and basil!
This creamy white lasagna is an absolute dream! Classic lasagna is delicious, but I really love this Caprese lasagna version with chicken and cream cheese even more.
Substitute chicken for beef and add in plenty of mozzarella, tomatoes, and basil. Try this recipe and you might never go back to the classic recipe!
It's no secret that I have a love affair with all things cheesy. Including my husband. He's not quite cheesy enough for me…but sometimes he does giggle at the stupidest commercials, over and over again, and I love that.
But apart from him, I just love love love CHEESE. It's not good for any type of diet, but it sure is delicious, and that's enough for me! I believe most recipes should be a little cheesy, and this cheesy white chicken lasagna is just that!
Make this easy recipe for an amazing weeknight dinner and you will be in love. It's also great to save for leftovers, and reheating is super simple.
This Caprese Chicken Lasagna is filled with chicken, mozzarella, tomatoes, and a creamy cream cheese mix. Yum!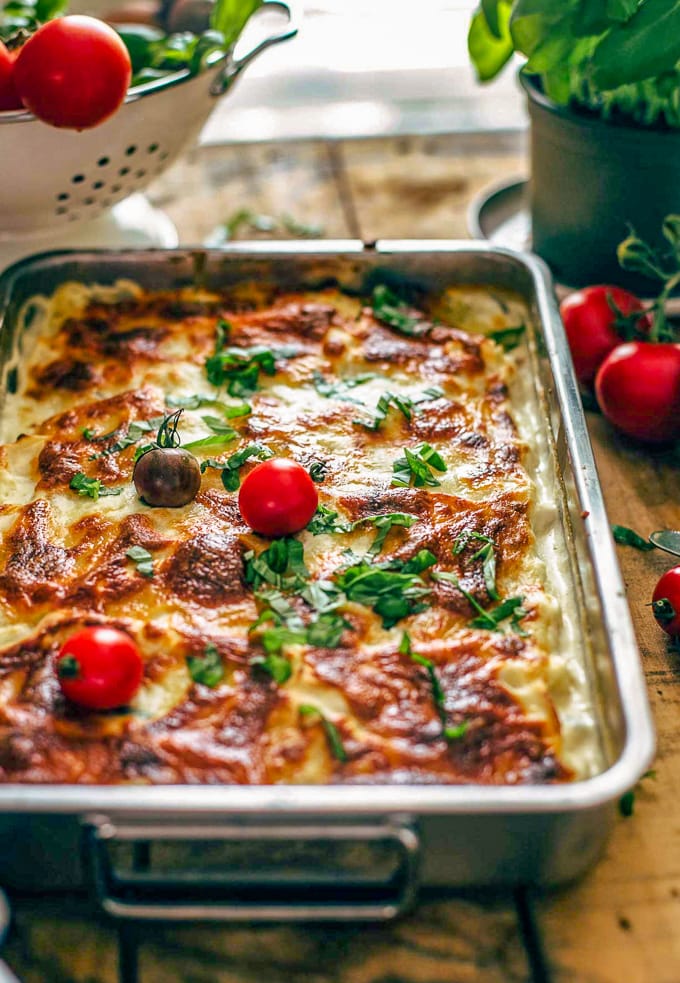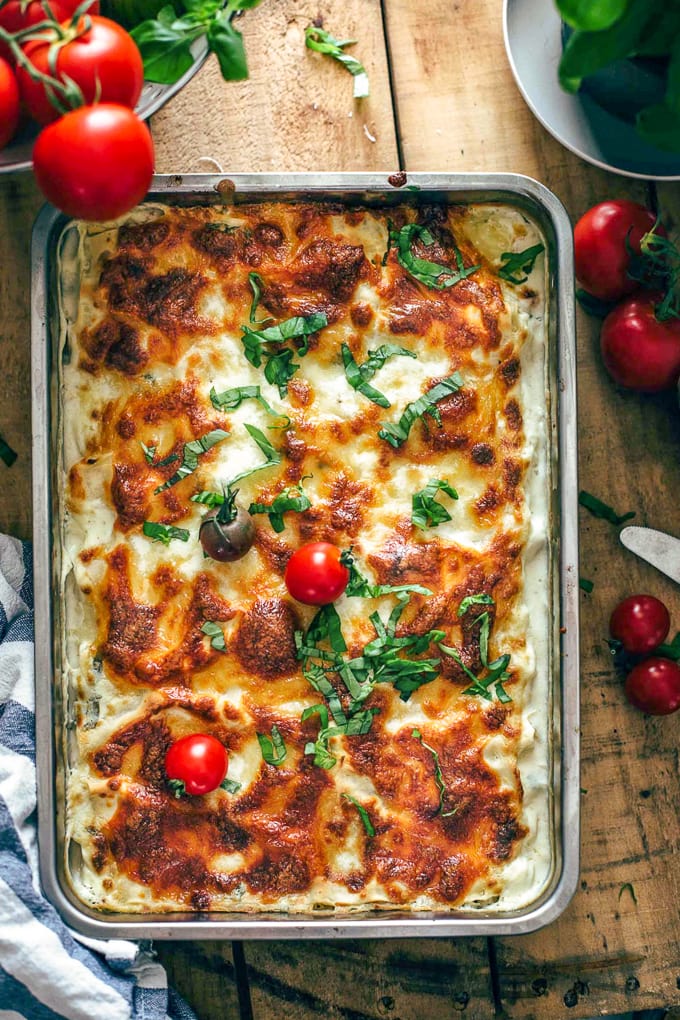 Caprese Chicken Lasagna
If you guys didn't know by now, I'll fill you in: I'm obsessed with Caprese anything.
A classic Caprese salad is made up of mozzarella, tomatoes, and basil, and it's one of the best things in the world. Now I use that flavor combination in so many different recipes, and it never disappoints!
Where there's cheese, there should be basil, and, preferably, some tomatoes. It doesn't matter what type of tomatoes, but they always go well with cheese and fresh basil.
Sun-dried tomatoes, roma tomatoes, cherry tomatoes…Any tomato will work. This Caprese Chicken Lasagna has it all and it's so delicious!
Here are some more of my favorite Caprese recipes: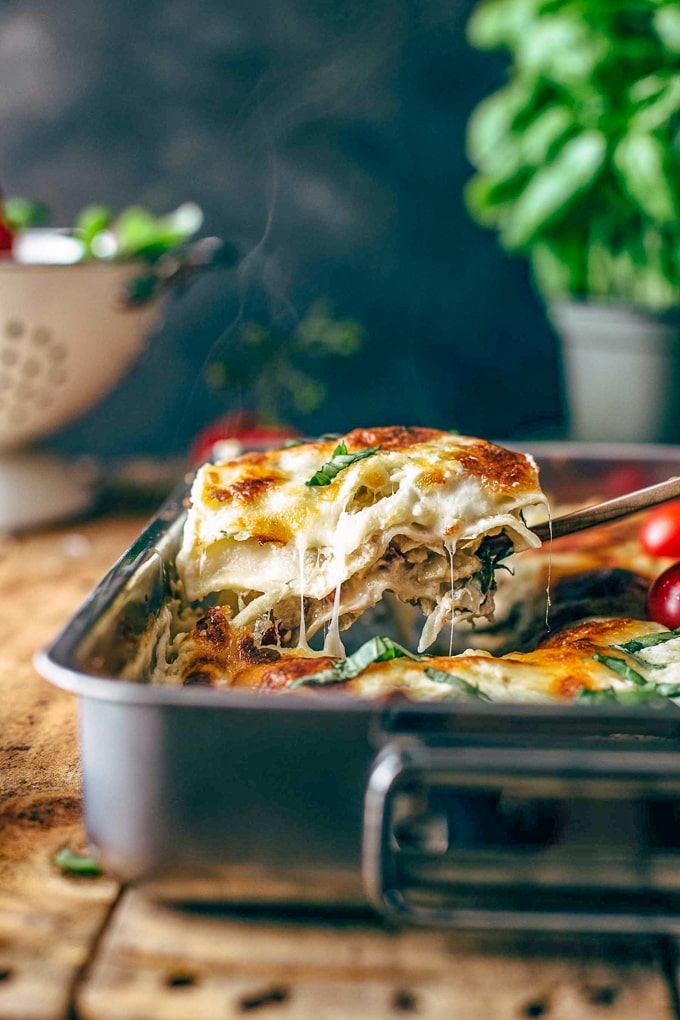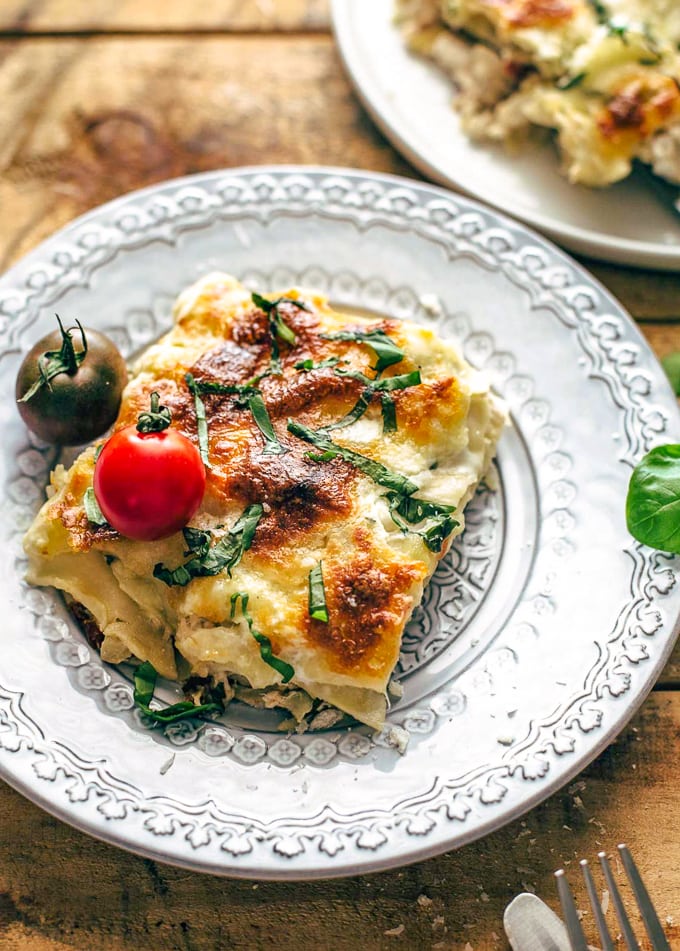 How to Make White Chicken Lasagna
You know I wouldn't be making this white chicken lasagna if it weren't easy. The more I cook, the more I realize how simple a lot of recipes are once you organize everything into steps and just take it one step at a time.
This white lasagna recipe with cream cheese is easy to follow, so make it for yourself and see how amazing it is!
Step by Step:
Combine chicken, artichokes, basil, mozzarella, parmesan, & tomatoes in a bowl and set aside
In another bowl, use an electric mixer to beat cream cheese, half and half, garlic, and salt & pepper. Then use a spoon to stir in the basil.
Set aside half of the cream cheese mix, and mix the other half in with the chicken mixture from step 1
Take half of the cream cheese mixture that you set aside and spread it over the bottom of a 9 x 13 baking dish
Lay 3 lasagna noodles on the cream cheese mixture, then layer on 1/3 of the chicken mixture
Repeat the noodle/chicken layering 2 more times, then top with a final layer of noodles
Spread the remaining cream cheese mixture on top, then lay mozzarella slices on top
Sprinkle shredded mozzarella over the whole lasagna, and sprinkle with basil if desired
Bake 25 minutes at 350°F
This creamy lasagna will come out hot, cheesy, and delicious! Be sure to watch the video and check the recipe card below.
You can jump to the recipe card for full ingredients & instructions!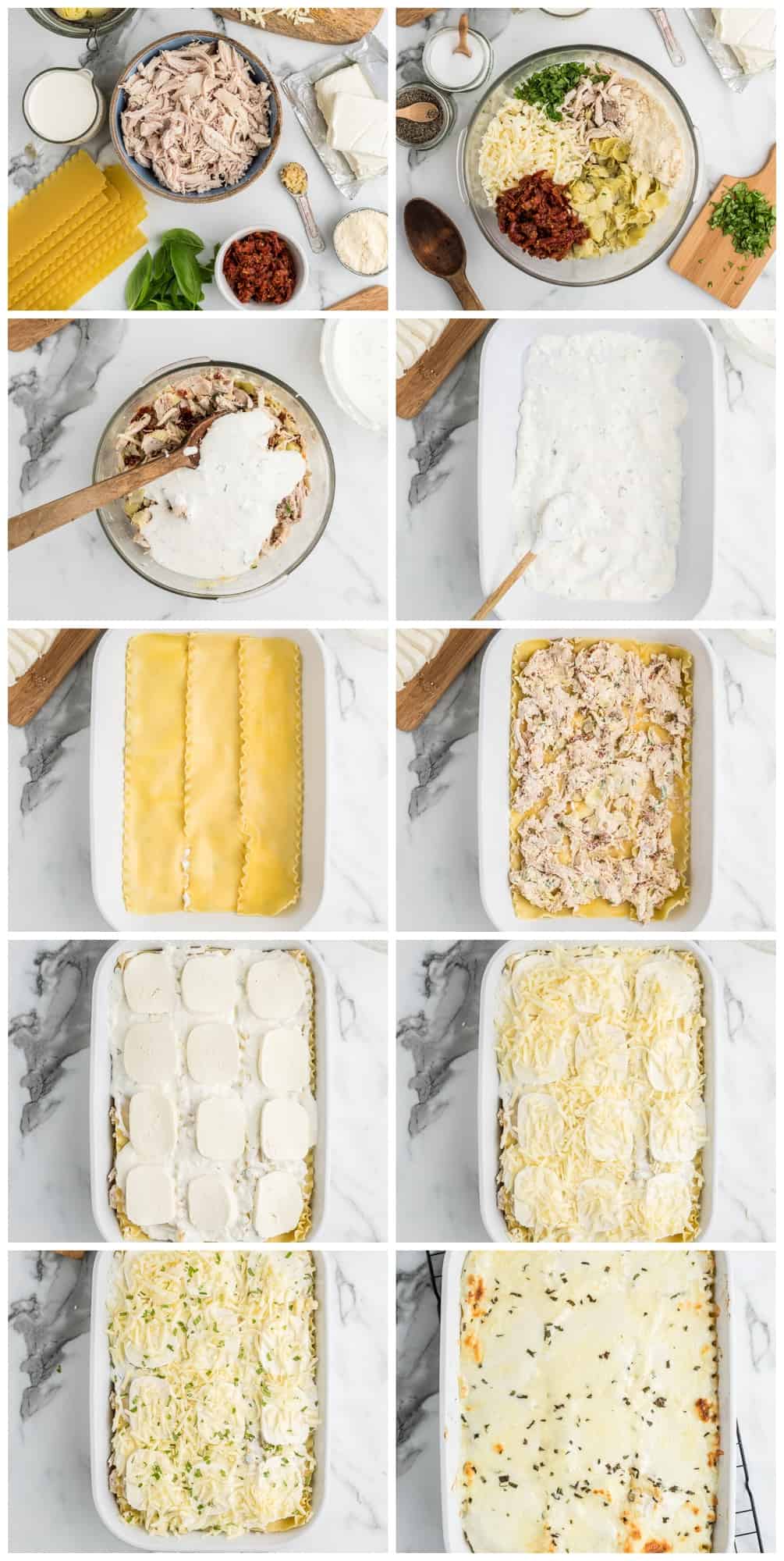 Ingredients
A recipe like this is so good because of the amazing ingredients! I love this white chicken lasagna recipe because it's filled with my favorite things.
Shredded Chicken
Artichoke Hearts
Mozzarella (shredded and whole slices)
Grated Parmesan Cheese
Sun-dried Tomatoes
Cream Cheese
Half and Half
Garlic
Basil
Lasagna Noodles
All of these ingredients combine to make the creamiest, cheesiest, most delicious lasagna recipe ever!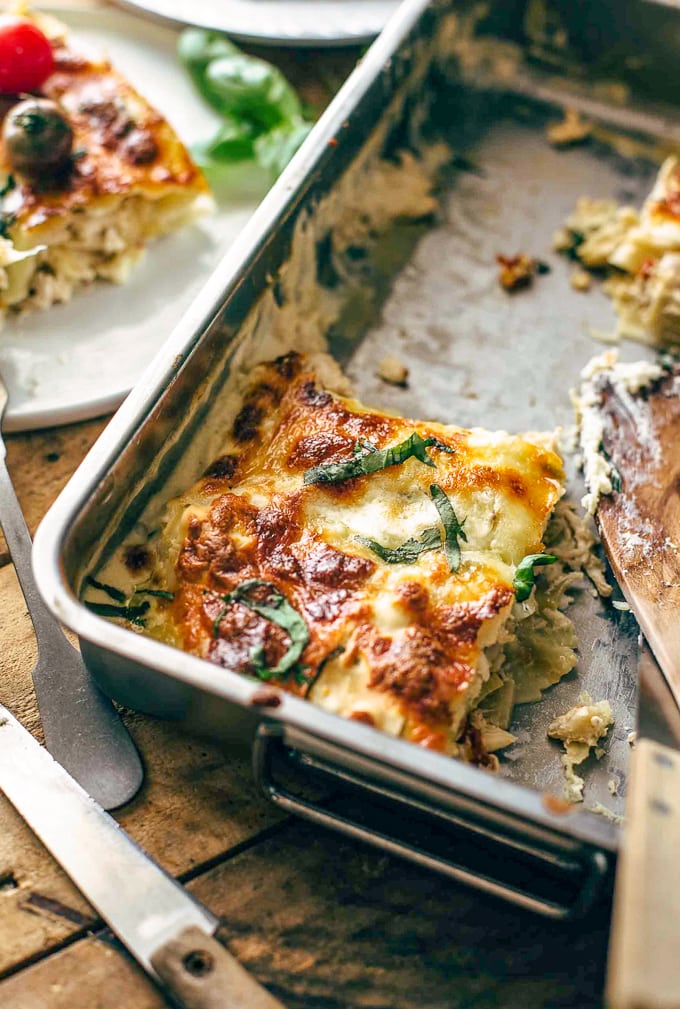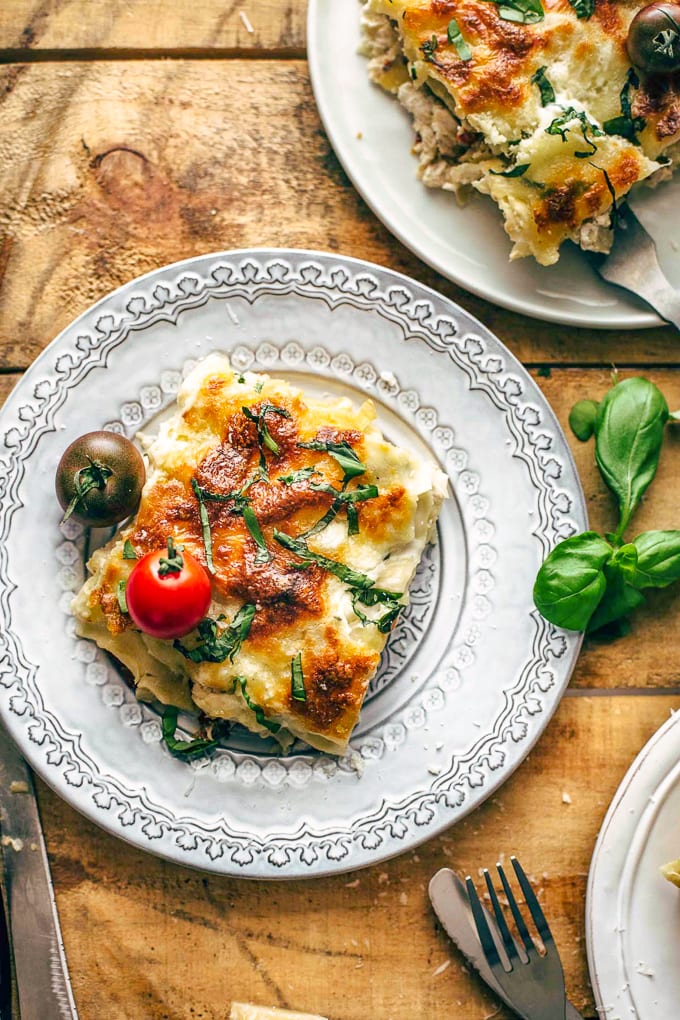 Tips!
You can store leftovers in the refrigerator for up to a few days or the freezer for up to 3 months. Simply reheat in the oven.
Using a pre-cooked rotisserie chicken in this recipe makes it that much easier. But if you want to start with raw chicken, just be sure to cook it fully and then shred it up.
Cream cheese is the base of the cheesy layer, and it adds the perfect flavor. Plus it's SO creamy, which is what makes this white lasagna so irresistible.
If you want to prepare this as a freezer meal, prepare and assemble the lasagna as instructed, but freeze it before cooking. The cheesy, creamy layers and noodles will hold up better this way.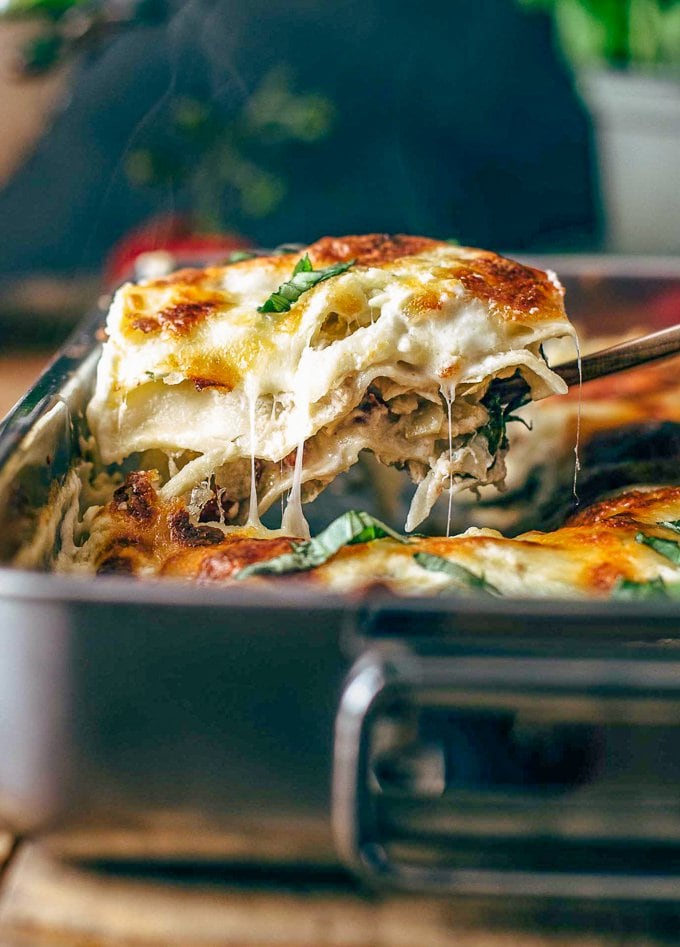 I adapted this Creamy White Chicken Caprese Lasagna recipe from one I found on Pinterest, and I'm SO glad I found it. I made a few changes, but it's been one of my favorite lasagna recipes to date!
If you like this white chicken lasagna recipe, try these other Italian dishes:
If you make this recipe be sure to upload a photo in the comment section below or leave a rating. Enjoy! You can also jump to recipe.