Chicken Enchilada Dip is one of the cheesiest and most delicious dips I've ever made. This easy Tex Mex dip recipe is filled with chicken, cream cheese, corn, beans, tomatoes, and enchilada sauce. It's sure to be an instant favorite on game day, or at any get-together!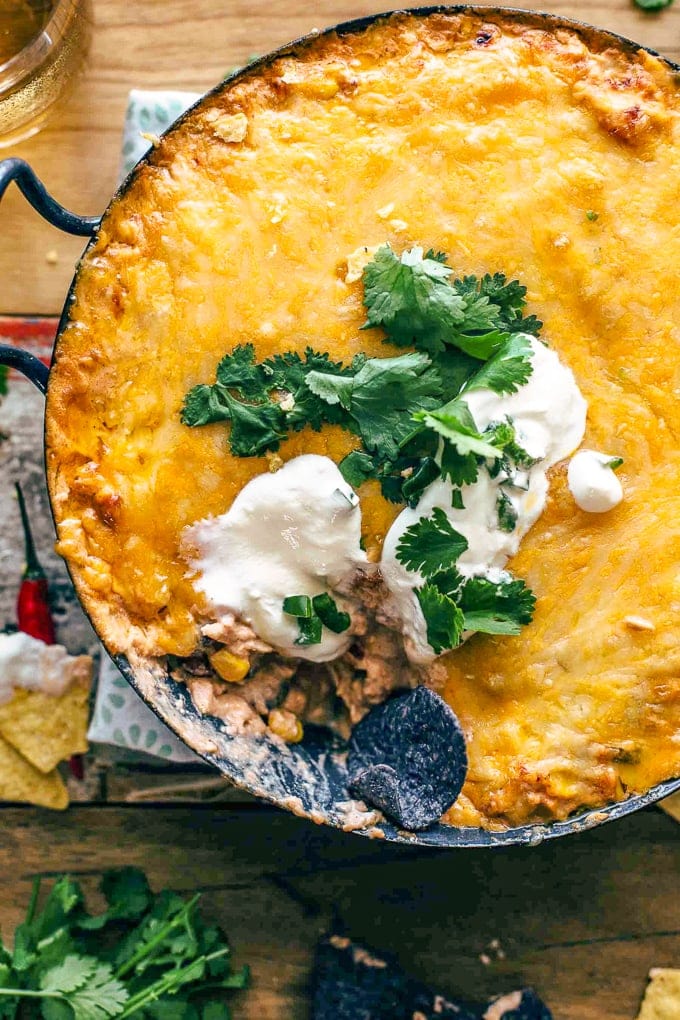 Chicken Enchilada Dip
Chicken Enchilada Dip is a mix of all my favorite flavors: cheese, chicken, beans, cream cheese, enchilada sauce, and more. This is the perfect dip for any party!
When I'm left to my own devices, I'll choose cheese for dinner EVERY night. It's part of the reason I waited so long to learn how to cook. Instead of making a whole meal for myself, I preferred to just eat whatever was easy and tasted good.
So that's my excuse for making this AMAZING Chicken Enchilada Dip. Pat was gone one night, I was on my own for dinner, and I had no self-control…Cheese dip is an acceptable meal, right?
Well, regardless of how this came about, the result is delicious. While you might not eat this cheesy Chicken Enchilada Dip recipe for dinner like I did (I've got actual chicken enchiladas and other great Tex Mex recipes for meal time), you WILL want to eat this for an appetizer, or serve it at your next party.
An easy dip recipe filled with cheese, chicken, black beans, and more…this chicken enchilada dip will really be a hit on game day. Serve it with tortillas chips and dig in before it's gone!
This Chicken Enchilada Dip recipe is so cheesy and so delicious. It should be served at every party!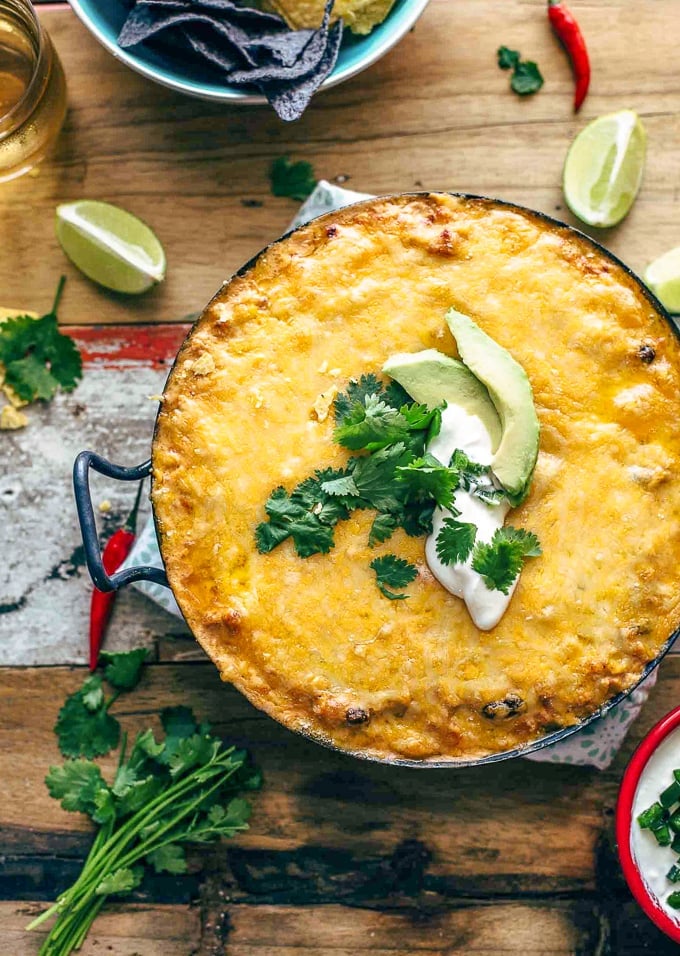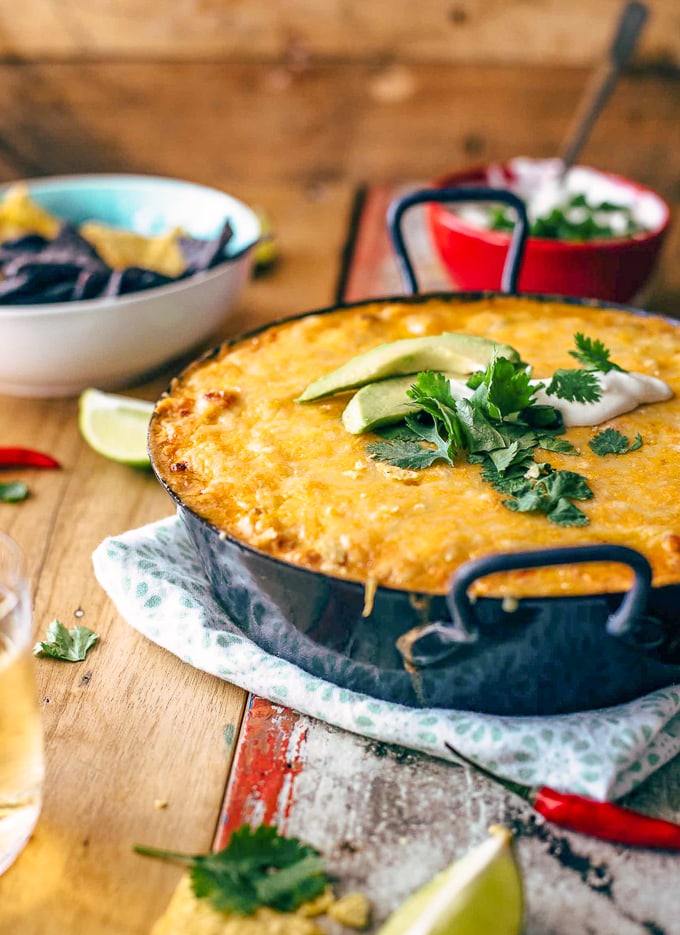 Easy Chicken Enchilada Dip Recipe
I love dips. Especially cheese dips. If you've been around for a while, then you probably already know that, because I have A LOT of dip recipes here.
Cheesy dip recipes are just the BEST thing to serve at a party if you ask me. They're delicious, everyone loves them, and you just can't go wrong. When you add a Tex Mex twist, even better!
This is the original Chicken Enchilada Dip recipe around here, but it's inspired a few spin-offs, like this Green Chile Chicken Enchilada Dip and this Spicy Chicken Enchilada Dip.
They are all FILLED with cheese and chicken and other delicious ingredients. Any of these recipes would be perfect for a party; or better yet, serve them all and watch them get devoured!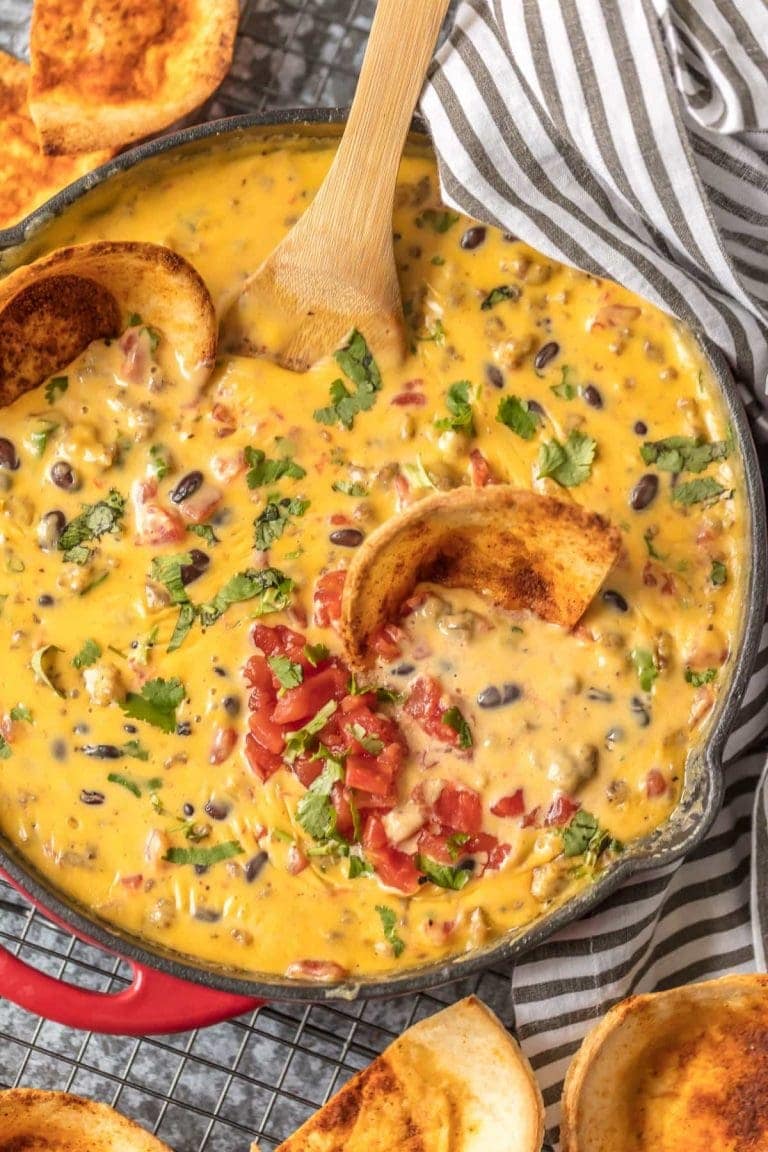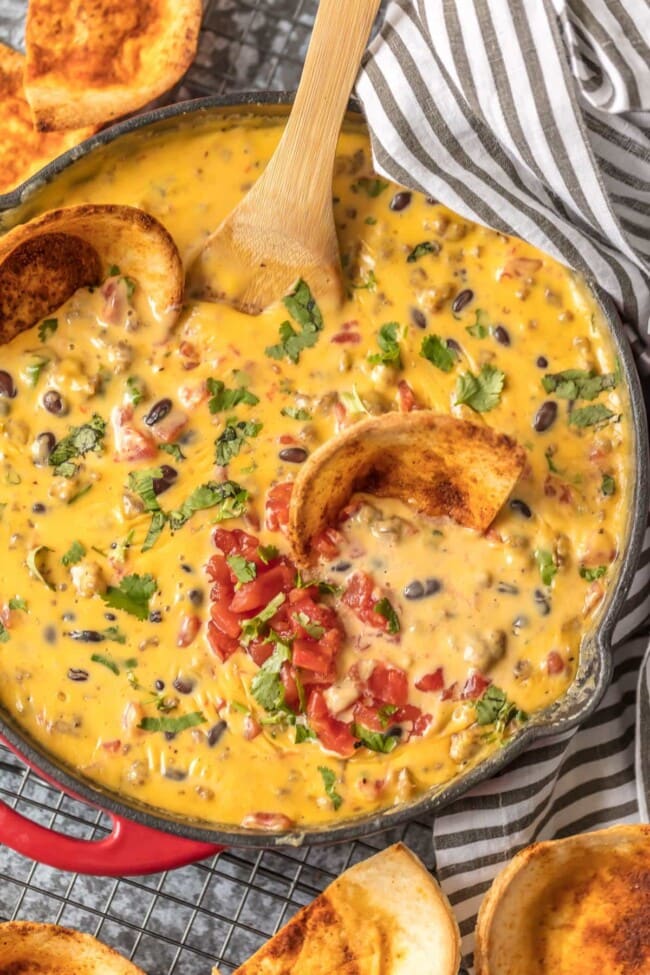 Game Day is covered!
101+ Super Bowl Appetizer Recipes
If its game day grub you crave, we have all the recipes you need to win big! Check out our easy Super Bowl recipes (or World Series, March Madness, National Championship, you get the idea!)
Game Day Guide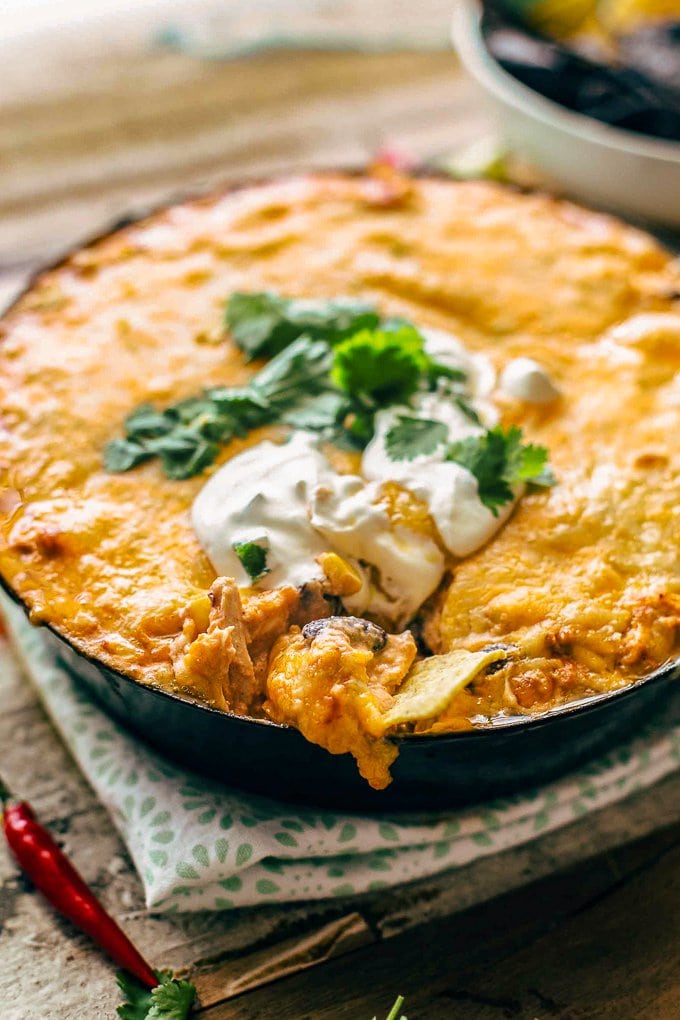 Chicken Enchilada Dip Ingredients
I love making hot dips and Mexican-inspired dishes, and this recipe is a mix of both. It's filled with all of my favorite ingredients, the ones I can never get enough of: CHEESE, chicken, more cheese, and a mix of things you'd expect to find in any Tex Mex dish.
This is basically just an enchilada in dip form, and boy is it good!
Ingredients:
Chicken
Cream Cheese
Shredded Mexican Blend Cheese
Black Beans
Corn
Rotel Tomatoes
Enchilada Sauce
Taco Seasoning
If you're looking for an enchilada recipe, try our favorites: Salsa Verde Enchiladas, Chicken & Sweet Potato Enchiladas, Buffalo Chicken Enchiladas, or Honey Lime Chicken Enchiladas.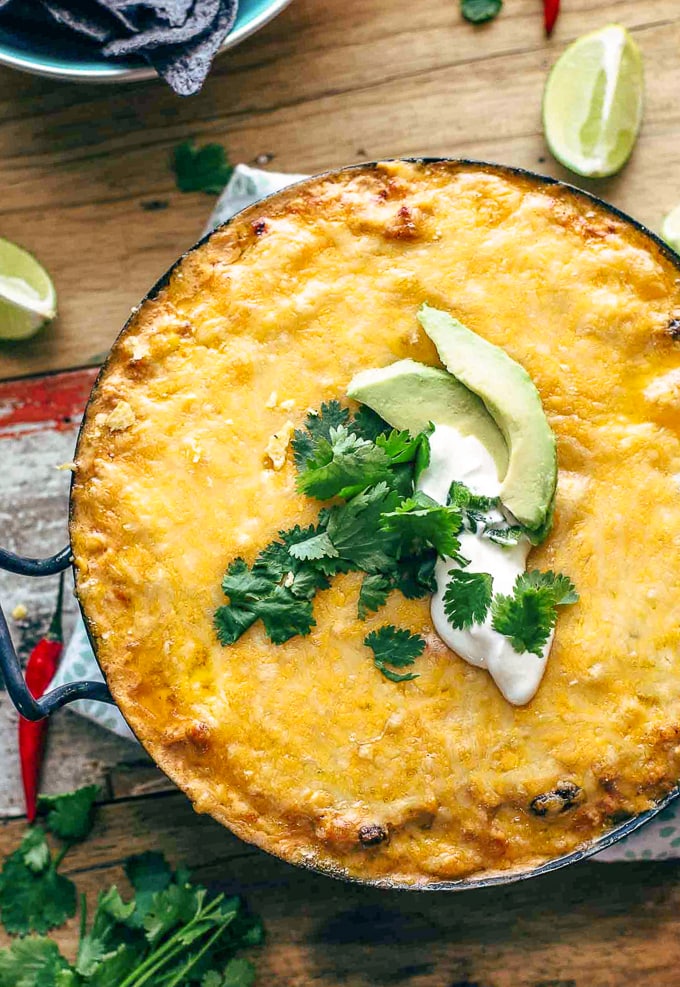 How to Make Chicken Enchilada Dip
Chicken, cheese, beans, corn, tomatoes, taco seasoning, enchilada sauce…pure bliss. This might just be the best dip ever! And it's easy to make, which is my favorite part (besides the cheese, obviously).
Mix together cream cheese, corn, beans, tomatoes, enchilada sauce, & taco seasoning in a large bowl
Stir in the chicken
Pour the mixture into a casserole dish
Top with shredded cheese and cilantro
Bake in the oven for 15-20 minutes at 400°F
Done! How easy was that? You can make this cheesy chicken enchilada dip in no time, perfect for any get together. Top with sour cream, more cilantro, and even some avocado/guacamole if desired (hey, why not?), and serve with tortilla chips.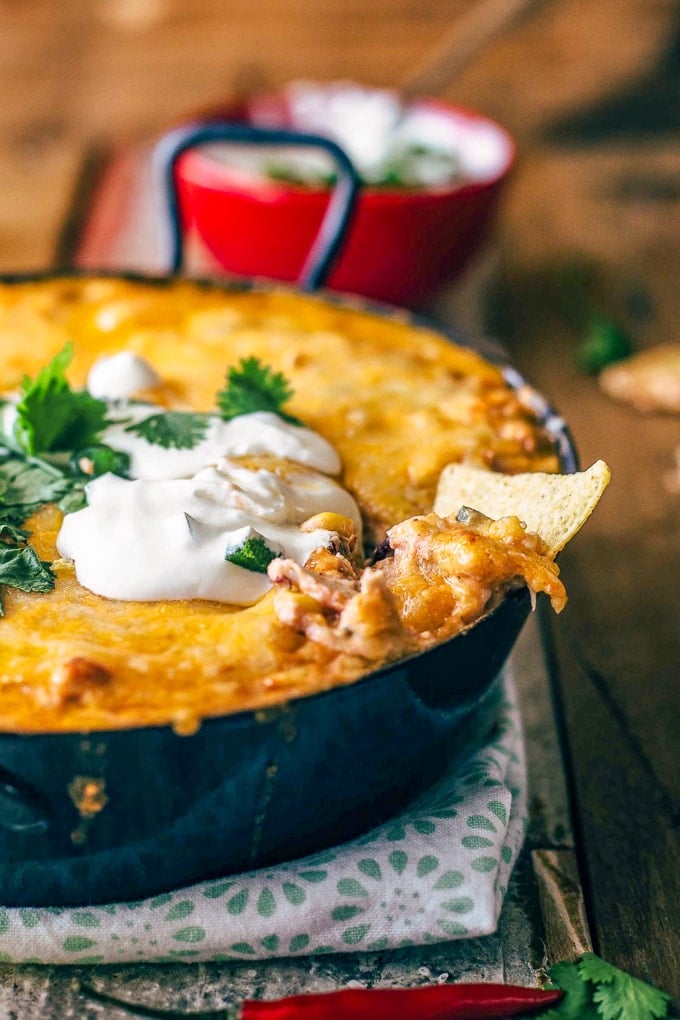 This Chicken Enchilada Dip is so cheesy, so easy, and so tasty. No one can resist this dip, so make extra for that game day party so you can keep some for yourself!
If you like this recipe, try some of our other favorite dip recipes:
If you make this recipe be sure to upload a photo in the comment section below or leave a rating. Enjoy! You can also jump to recipe.