Crockpot Buffalo Chicken is so simple, delicious, and versatile! Throw it on a bun for the perfect Pulled Buffalo Chicken Sandwich. If you love chicken and love spicy food, it doesn't get better than Slow Cooker Buffalo Chicken…making a great topping for sandwiches, tacos, nachos, and more! We went an extra step and made Ranch Fried Pickles for the ultimate buffalo chicken sandwich!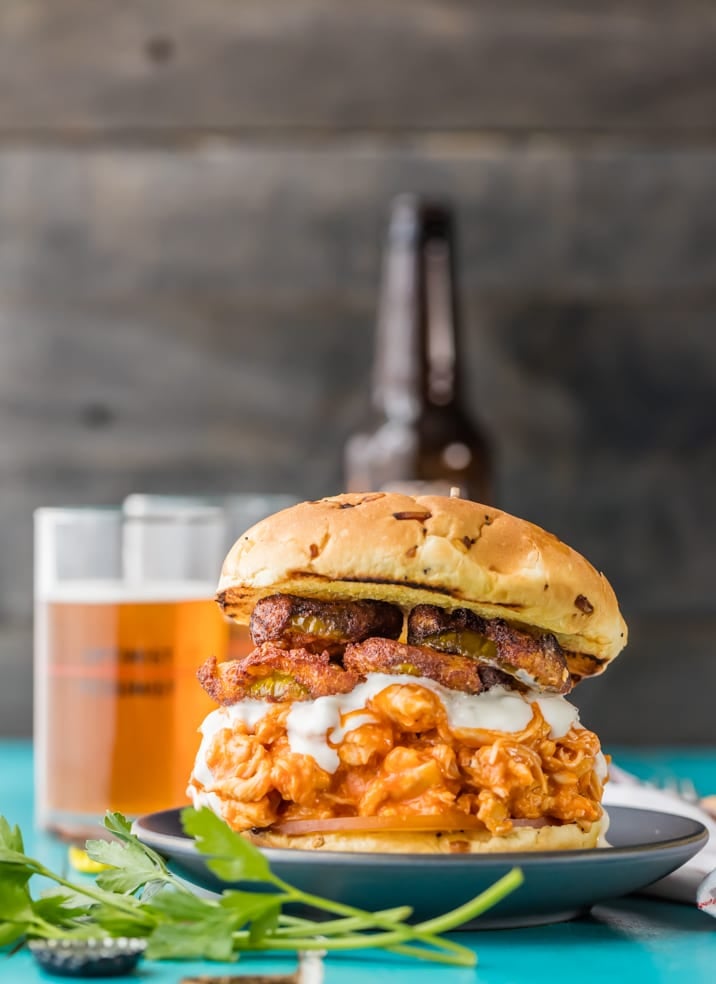 Crockpot Buffalo Chicken Sandwich
This Crockpot Buffalo Chicken Sandwich is one of my favorite EASY weeknight recipes. I'm a girl that LOVES Buffalo Chicken. I love Buffalo Chicken Dip, Buffalo Chicken Enchiladas, Buffalo Chicken Dip Bites, Buffalo Chicken Meatballs, and basically any with Buffalo Sauce (Like Buffalo Shrimp!). When I decided to make slow cooker Buffalo Chicken, I was really hooked! So easy and tasty!
Somehow Crockpot Buffalo Chicken always makes me think of tailgating. I'm a Missouri girl, raised in Kansas City and Kirksville, and currently living in St. Louis. I spent my youth going to Mizzou basketball and football games, and getting in free to Royals games after the 7th inning. I love my sports teams; the Royals, Chiefs, and MIZZOU; deeply and unconditionally. And that my friends, says A LOT. Most years are spent crying into my pillow as each team somehow disappoints.
The Royals went 29 years without making the playoffs. Mizzou breaks my heart one way or another every time they take the field. But that doesn't stop the love of the game. And most importantly…the love of TAILGATING!!
Today we are going to talk about my favorite tailgating sandwich, Slow Cooker Buffalo Chicken Sandwich with Ranch Pickles. Buckle up you guys.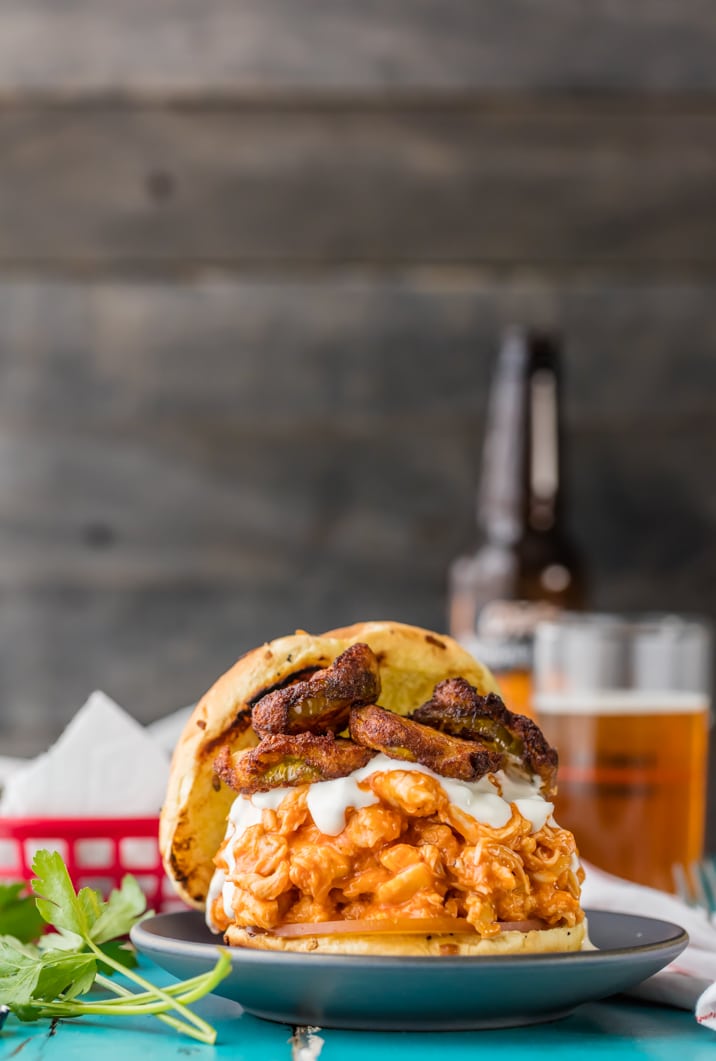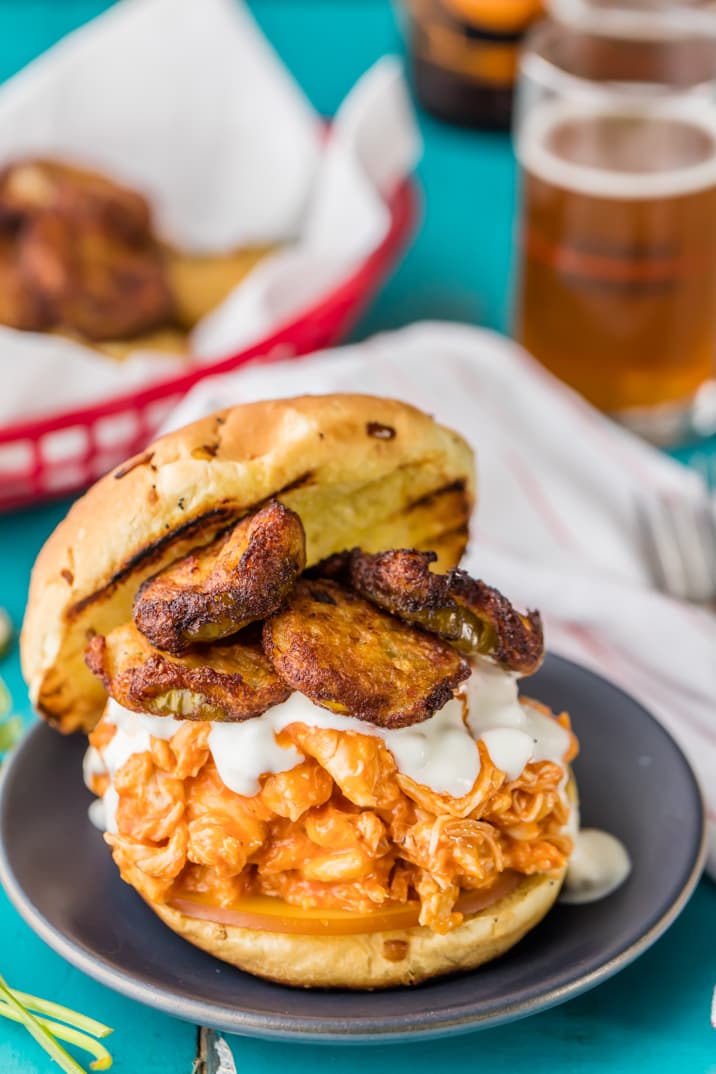 Pulled Buffalo Chicken Sandwich
Buffalo Chicken just goes hand in hand with tailgating. Buffalo Chicken Dip was one of the first things I learned to cook (I guess that counts as cooking?) and since that glorious day I've made it hundreds of times. If there is a Buffalo Chicken Sandwich listed on a menu, you better believe I'm ordering it. But I don't want to just enjoy it when we are out to eat, I want to enjoy it tailgating at home too!!
To make this slow cooker buffalo chicken sandwich, all you need is a slow cooker, some fried pickles, and good quality bread. You'll feel like you're in your favorite restaurant watching your favorite team win on game day. Or in my case, most likely you'll be watching them lose. But you get the idea.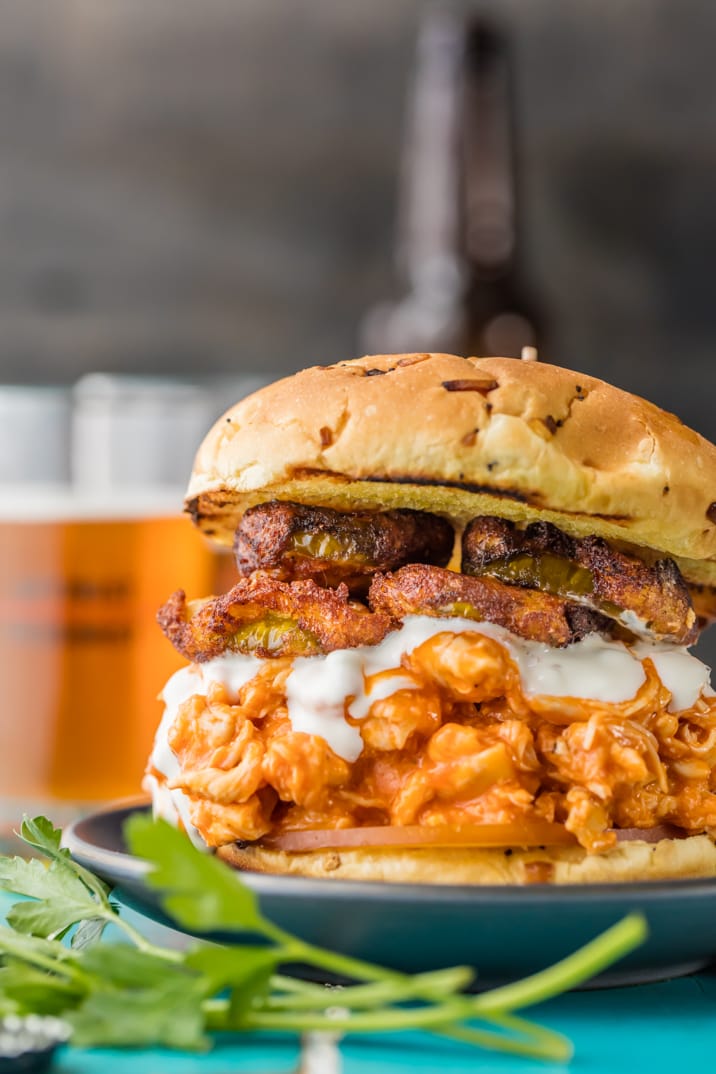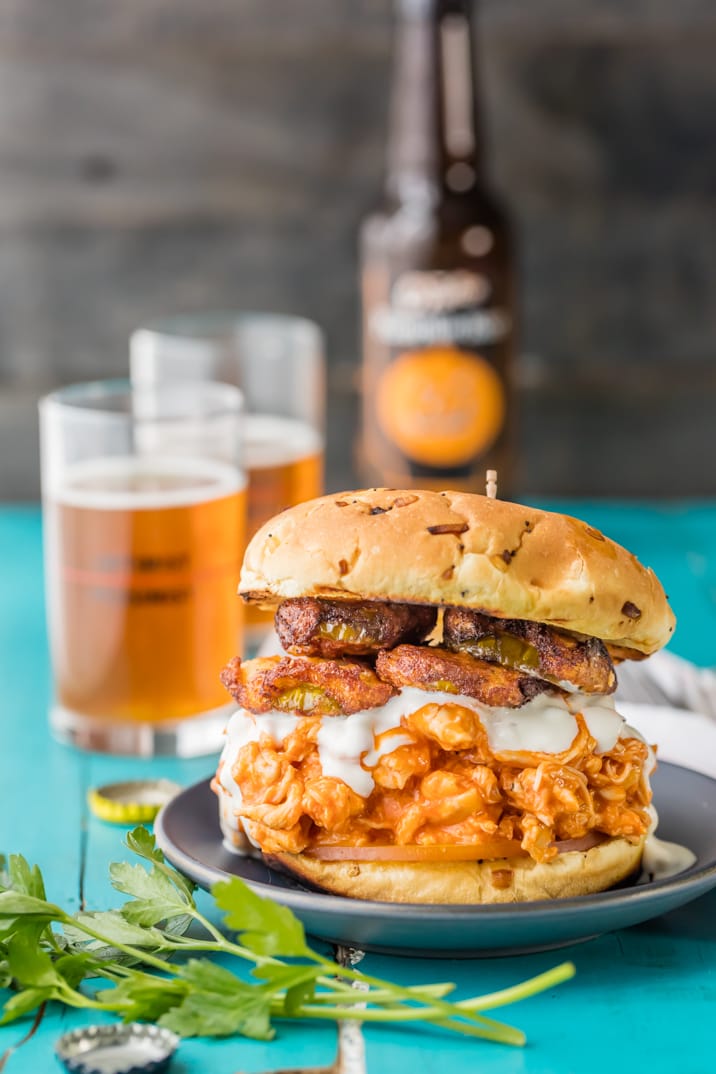 Make Buffalo Chicken in a Crockpot
Sure, a fried Buffalo Chicken Sandwich is good, but I'm willing to say a Crockpot Buffalo Chicken Sandwich is that much better.
There's just something amazing about Slow Cooker Buffalo Chicken. I love that you can set it and forget it, and it results in LOTS of sauce coating every piece of chicken. It's kind of like sloppy joe meets pulled chicken meets spicy game day. So much goodness to go around with this slow cooker meal.
How to Make Homemade Buffalo Sauce
You better believe we've got you covered! You can always buy Buffalo Sauce at the store for this pulled buffalo chicken sandwich recipe, or you can make your own! Here is our favorite Homemade Buffalo Sauce Recipe.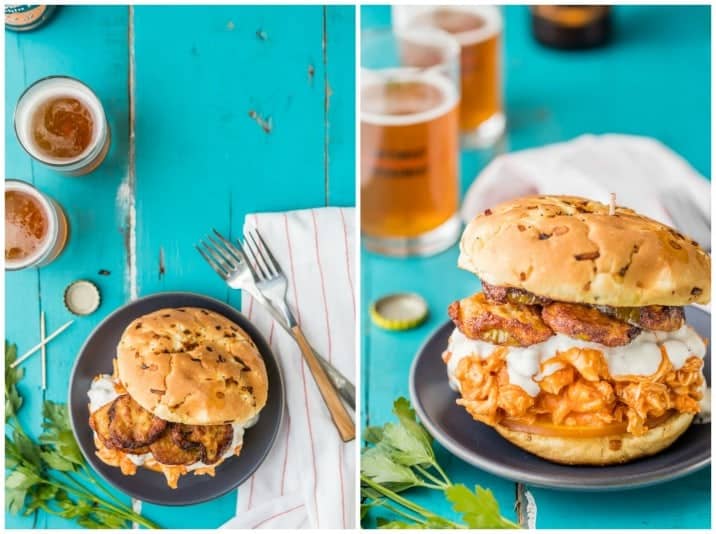 This Crockpot Buffalo Chicken will have you set for the perfect tailgate. The only other thing you'll need is a good attitude. Be sure to try this Crispy Chicken Sandwich or this Copycat McRib Sandwich too.

This Crockpot Buffalo Chicken Sandwich is one of the best Super Bowl food ideas, but I'll gladly eat this slow cooker buffalo chicken ANY TIME. I know you guys will love it too! You'll be hooked, I promise. Be sure to also check out our Ranch Fried Pickles recipe! Happy Tailgating!
See the recipe card below for details on how to make Crockpot Buffalo Chicken Sandwich. Enjoy!
Be sure to try these other slow cooker sandwich recipes: