Slow Cooker Buffalo Chicken Sandwiches with Ranch Fried Pickles. THE PERFECT TAILGATING SANDWICH!! This easy buffalo chicken is made right in your crockpot…making a great topping for sandwiches, tacos, nachos, and more!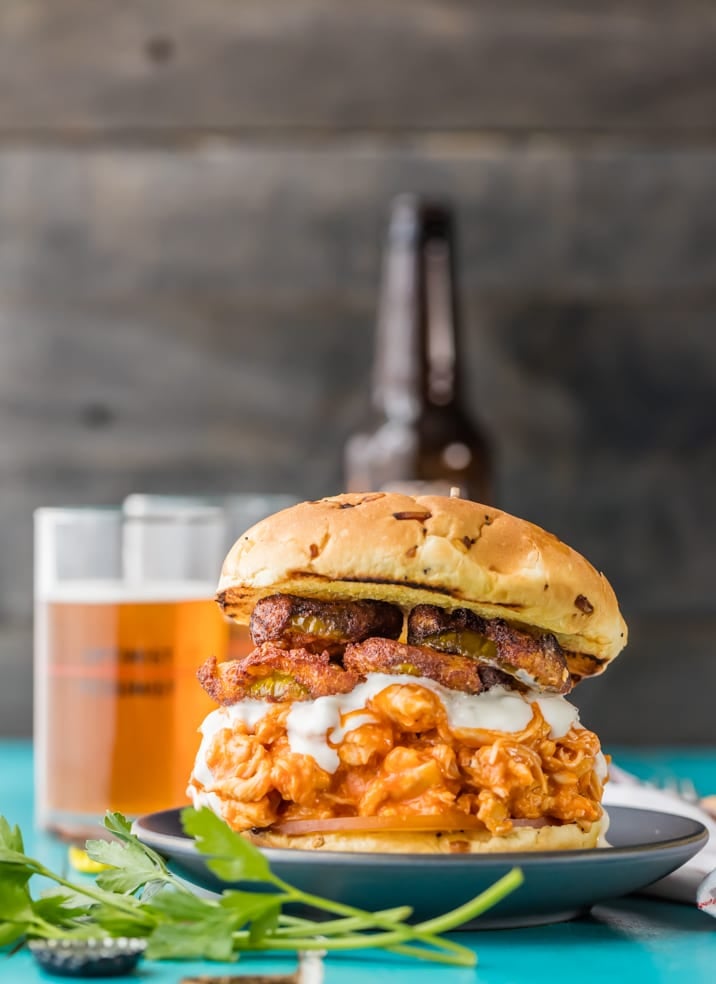 Today is a day to speak from the heart…about sports. :)
I'm a Missouri girl, raised in Kansas City and Kirksville, and currently living in St. Louis. I spent my youth going to Mizzou basketball and football games, and getting in free to Royals games after the 7th inning. I love my sports teams; the Royals, Chiefs, and MIZZOU; deeply and unconditionally. And that my friends, says A LOT. Most years are spent crying into my pillow as each team somehow disappoints. The Royals went 29 years without making the playoffs. Mizzou breaks my heart one way or another every time they take the field. But that doesn't stop the love of the game. And most importantly…the love of TAILGATING!! And today we are going to talk about my favorite tailgating sandwich, SLOW COOKER BUFFALO CHICKEN WITH RANCH FRIED PICKLES!! Buckle up you guys.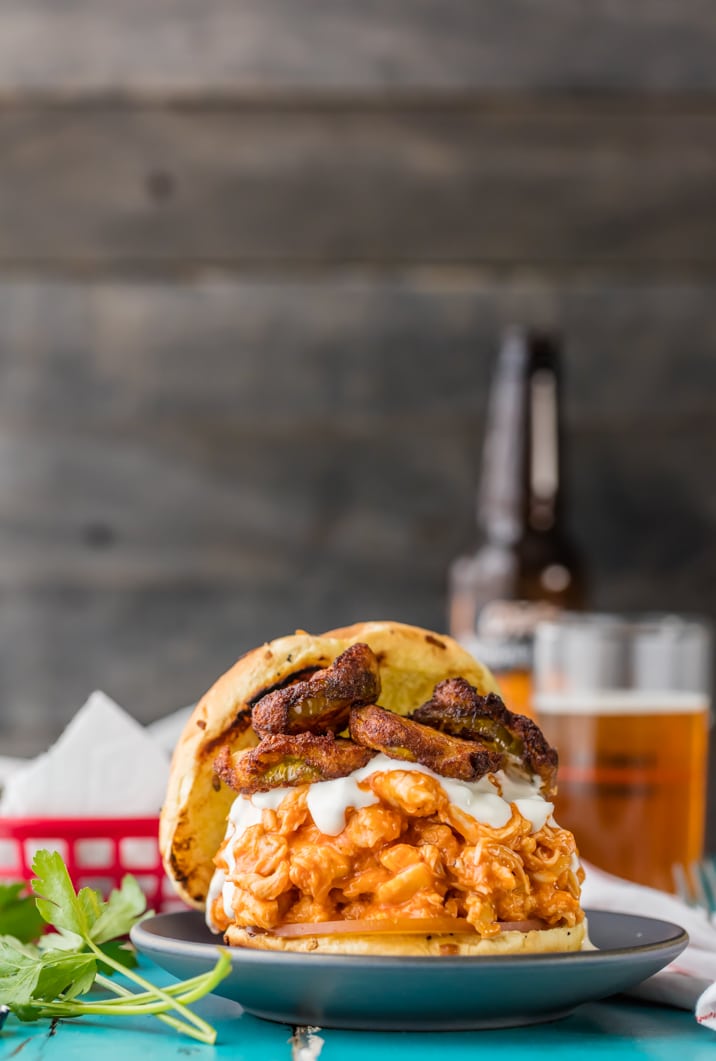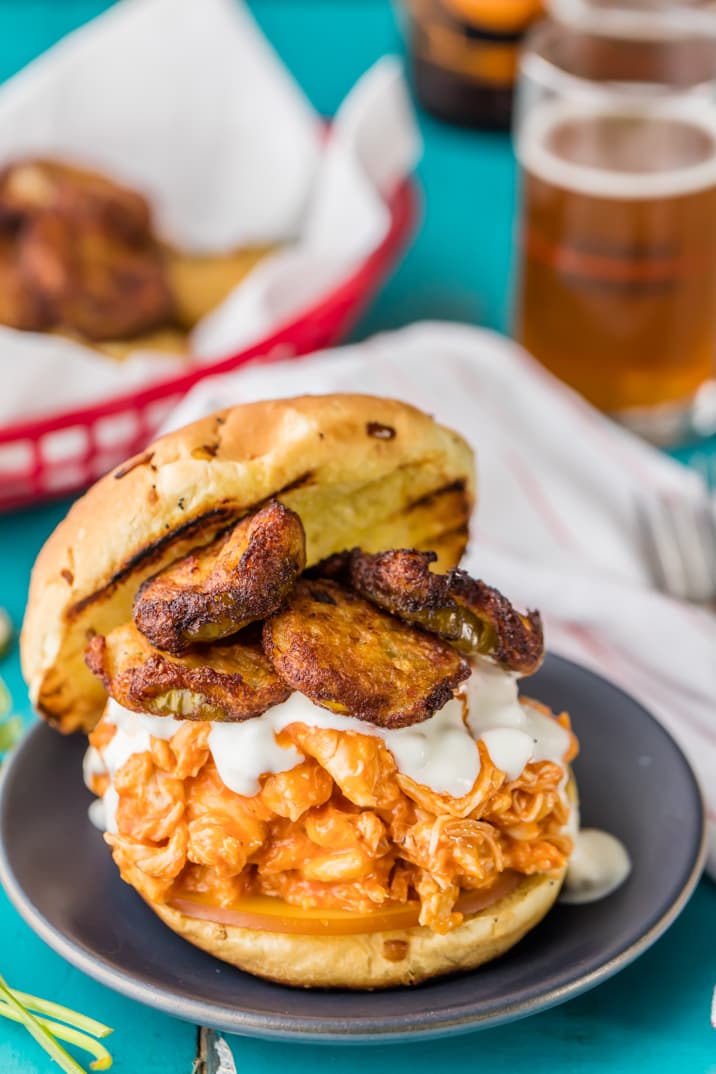 Buffalo Chicken just goes hand in hand with tailgating. Buffalo Chicken Dip was one of the first things I learned to cook (I guess that counts as cooking?) and since that glorious day I've made it hundreds of times. If there is a Buffalo Chicken Sandwich listed on a menu, you better believe I'm ordering it. But I don't want to just enjoy it when we are out to eat, I want to enjoy it tailgating at home too!! All you need is a slow cooker, some fried pickles, and good quality bread and you'll feel like you're in your favorite restaurant watching your favorite team win. Or in my case, most likely you'll be watching them lose. But you get the idea.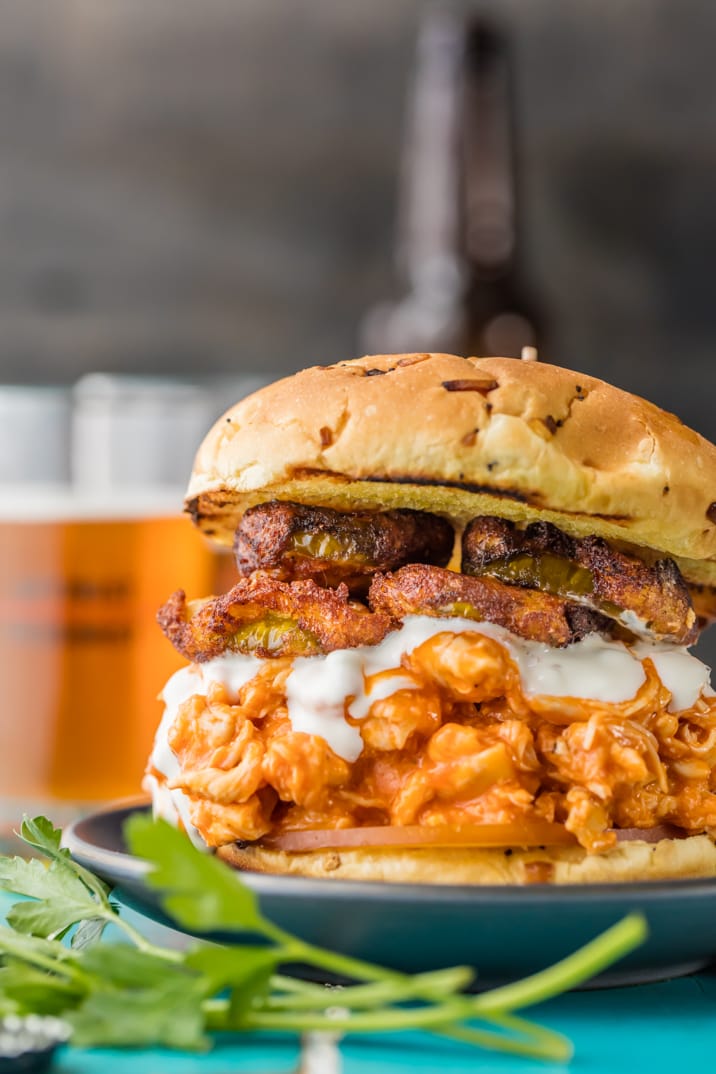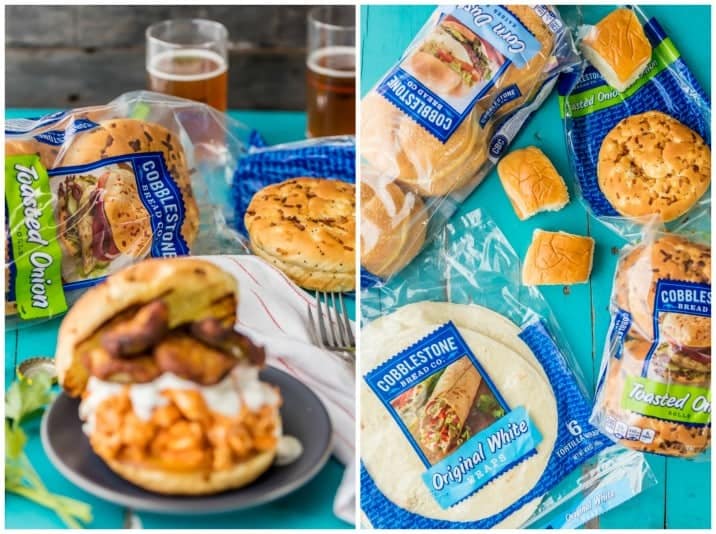 I've had the pleasure of working with Cobblestone Bread Company a few times this year (remember this Breakfast BLT??), and I'm sincerely SO impressed with their products. Their delicious bread elevates any tailgate. If you want to feel like you're in a restaurant while really in your living room, CBC is a must!! I used their Toasted Onion Rolls for this Sandwich and it made all the difference. As you can see above, they have all the fixins' for a perfect tailgate, even slider buns!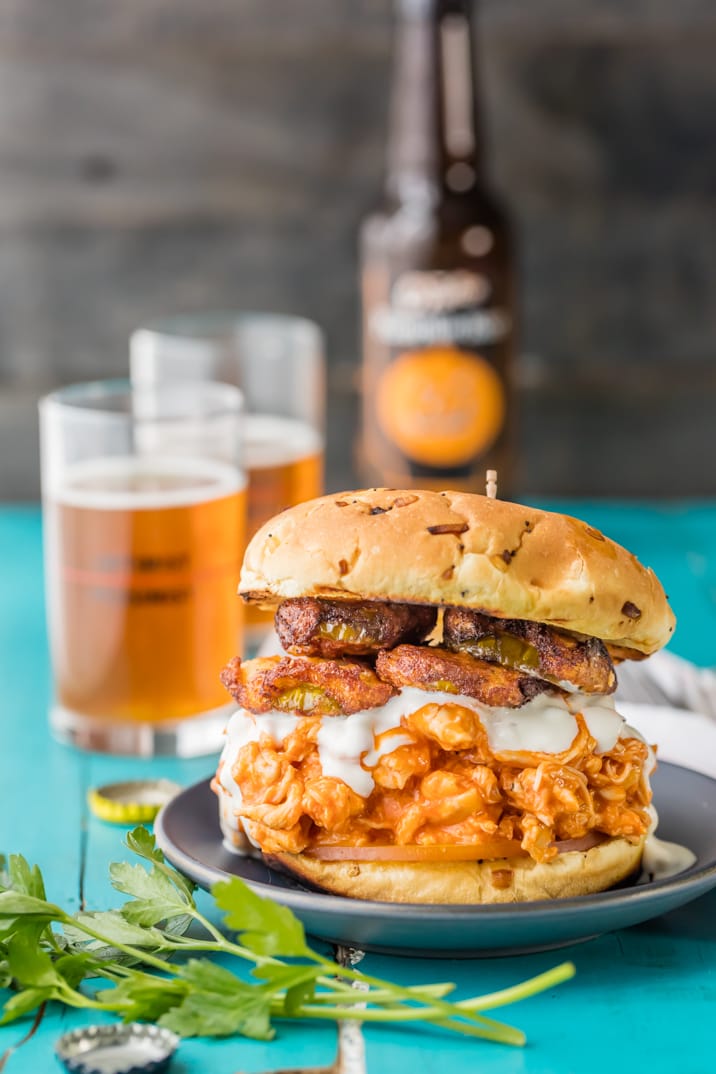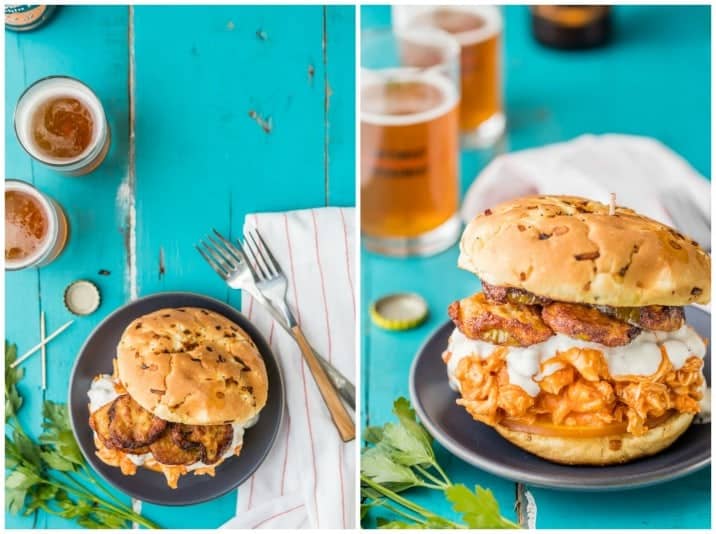 So now you're set for the perfect tailgate. The only other thing you'll need is a good attitude. Win or lose, they're still your team. One of these days…it will all pay off. Royals…did you hear that??? (PLEASE WIN!!!)
Enjoy the Slow Cooker Buffalo Chicken Sandwiches with Fried Ranch Pickles!!
You'll be hooked, I promise. I've linked to the pickle recipe in the card below, but you can also find it HERE. Happy Tailgating! :)
To see more recipe using CBC breads that are PERFECT for tailgating (like today at noon to watch the ROYALS!), click HERE! :)
Ingredients
5 boneless skinless chicken breasts, frozen
1 (12 ounce) bottle of your favorite hot sauce (I love Franks), divided
1 (1 ounce) packet dry ranch seasoning
1 1/2 tablespoons butter
6 Cobblestone Bread Toasted Onion Rolls
4 slices cheese (I used Gouda and also love Cheddar on it!) optional
Blue Cheese Dressing, optional for garnish
Ranch Fried Pickles HERE ), optional for garnish
Instructions
Place chicken breasts along with 3/4 of the bottle hot sauce and ranch seasoning into a non-stick sprayed slow cooker.
Allow to cook on low for 6-7 hours or on high for 3 1/2-4 hours.
Add the butter and the remaining hot sauce, and shred chicken with forks. Stir to combine.
To assemble sandwiches, place cheese and chicken on toasted bun. top with blue cheese dressing and Ranch Fried Pickles (recipe HERE ) if desired.
Enjoy!
7.6.4
2091
https://www.thecookierookie.com/slow-cooker-buffalo-chicken/
Compensation for this post was provided by Cobblestone Bread Co via AOL Media. The opinions expressed herein are those of the author and are not indicative of the opinions or positions of CBC or AOL.

JOIN OUR MAILING LIST
TO GET COOKING!
Subscibe to recieve all the latest, greatest, and EASIEST recipes sent straight to your email inbox. If we post something yummy, you'll be the first to know.