The Sour Cream Noodle Bake is the ultimate comfort food and an easy weeknight dinner that my family loves. This easy and delicious one-pan recipe, reminiscent of the best Italian lasagna, will be ready and on the table in about 40 minutes.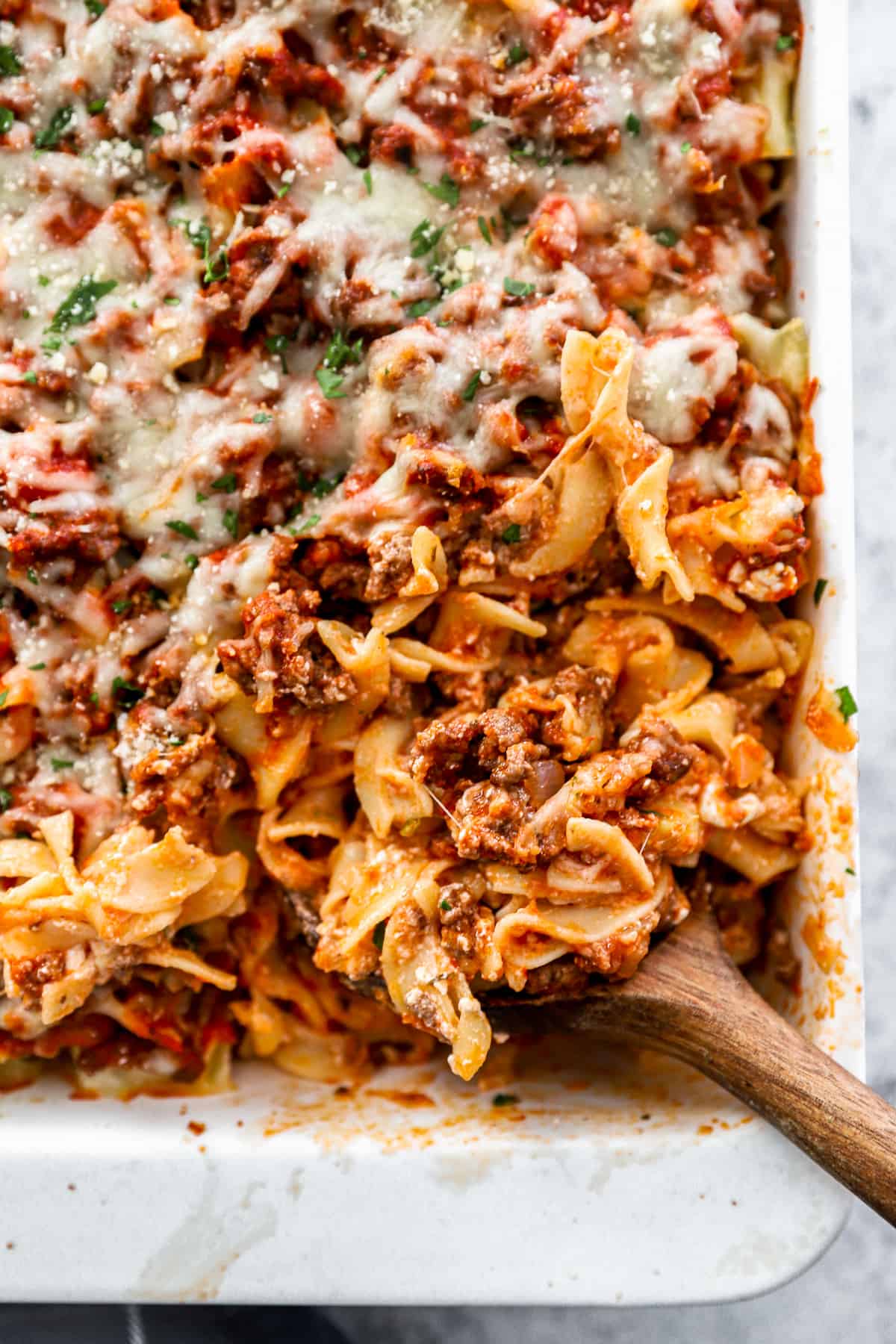 What's in Beef Noodle Casserole?
The combination of flavorful ground beef, onions, garlic, and creamy sour cream is where this comfort food starts and just gets better with a tasty marinara sauce smothered in shredded cheese that melts to perfection in the 350-degree oven.
Egg Noodles: Egg noodles are thin, flat strips of pasta made from a mixture of wheat flour, water, and egg yolks. They have a soft and tender texture and a mild flavor that pairs well with the ingredients in this recipe.
Sour Cream: Tangy and creamy sour cream adds the perfect flavor and texture to this casserole.
Cottage Cheese: Cottage cheese, made from curdled milk, is a low-fat alternative to ricotta cheese.
Chives: Chives are a type of herb related to onions and garlic. They have a mild onion flavor that is indispensable in this recipe.
Black Pepper: Black pepper always adds a pungent and slightly spicy flavor to any recipe.
Olive Oil: Olive oil is used in this recipe to sauté the onions and garlic before browning the ground beef.
Onion: White or yellow onions are good choices for adding incredible flavor to this recipe.
Garlic: Garlic and onions are a flavor marriage made in heaven and always bring out the best flavor in any Mediterranean-inspired dish.
Ground Beef: Not all ground beef is created equal. While more expensive, sustainably sourced, grass-fed tastes better and is better for you and the planet.
Marinara Sauce: While jars of store-bought marinara sauce are always good to have on hand in your pantry, for phenomenal, next-level flavor, you may want to make homemade for this recipe.
Cheese: While I prefer shredded mozzarella to take this recipe over the top, you can also use provolone or a combination of the two.
Variations on Ground Beef Casserole with Noodles
There are so many fun ways to change up this casserole to meet your family's needs! You can swap the egg noodles for any short pasta shape, swap out the ground beef for ground turkey or sausage, swap the cottage cheese for ricotta, or swap the provolone for cheddar cheese.
Feel free to add chopped veggies, like green peppers or mushrooms, to this casserole by sautéing them with the onion in step 6.
To make this casserole vegetarian, swap the ground meat for meatless ground beef, tofu crumbles, or black beans. For a spicy casserole, add a pinch of crushed red pepper flakes to the ground beef as you cook it.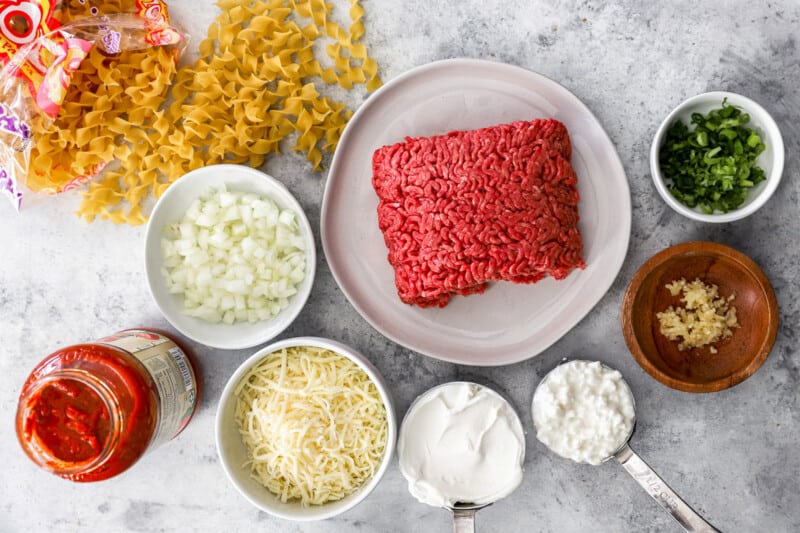 What's in a sour cream noodle bake?
This creamy noodle bake features cooked egg noodles mixed with sour cream and cottage cheese and layered with cooked ground beef, onion, marinara sauce, and cheese. It's similar in taste to lasagna but without all the hassle!
Can I use a different meat in this recipe?
Absolutely! Feel free to swap the ground beef for ground turkey, chicken, or pork; Italian sausage; meatless crumbles; crumbled tofu; or even black beans.
How can I add vegetables to this dish?
There are so many ways to sneak some veggies into this dish. Easily add diced peppers or mushrooms in with the onions, or purée some carrots or zucchini into the marinara sauce!
Can I make this casserole ahead of time?
Yes! You can fully assemble this casserole and store it in the refrigerator for up to 2 days before baking it.
Can I freeze this casserole for later?
You sure can! Wrap the casserole tightly in 2 layers of plastic wrap and 1 layer of aluminum foil and freeze for up to 3 months. Let thaw overnight in the refrigerator before baking.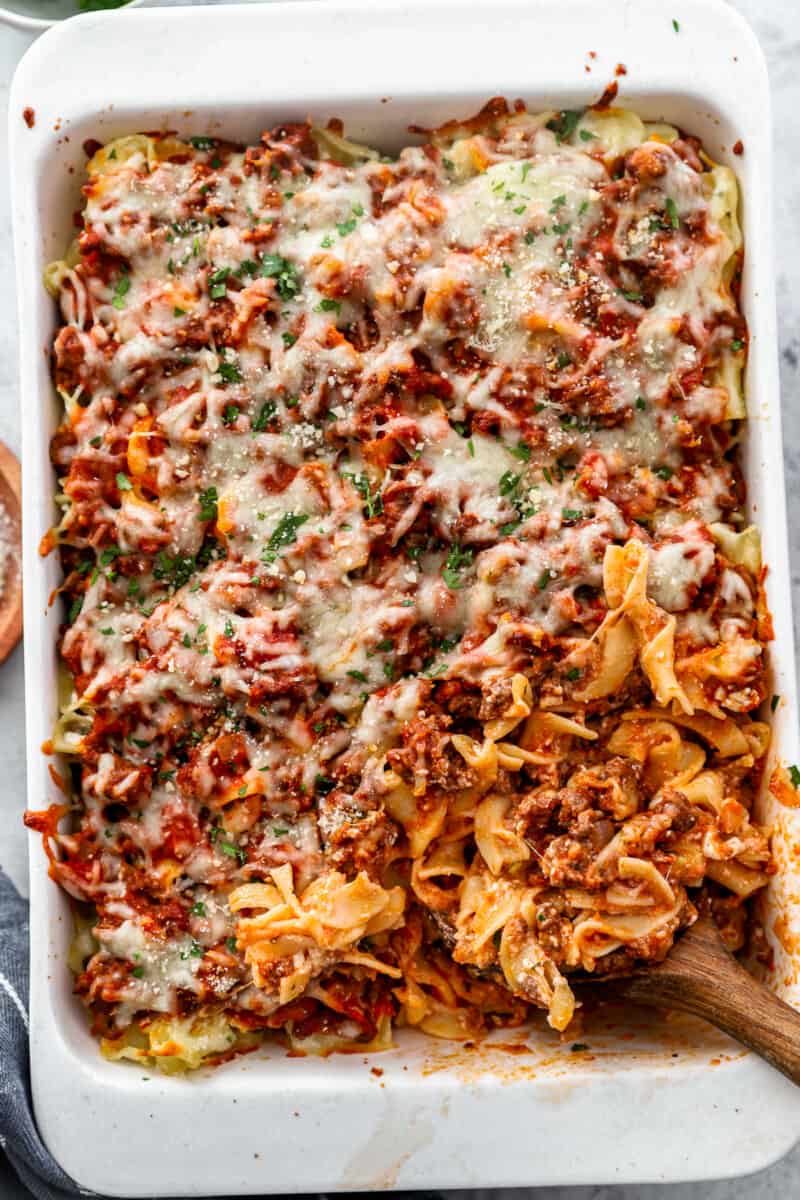 How to Store and Reheat a Noodle Bake with Sour Cream
Store leftover sour cream noodle bake in an airtight container in the refrigerator for up to 4 days. Reheat in a 350°F oven for 25-30 minutes, or until warmed through.
How to Freeze Beef and Noodle Casserole
Freeze sour cream noodle bake tightly wrapped in 2 layers of plastic wrap and 1 layer of aluminum foil for up to 3 months. Let thaw overnight in the refrigerator before baking.
What to Serve with Noodle Casserole with Ground Beef
A plate or bowl of beef noodle casserole is a complete meal unto itself, but to take the dinner recipe up another notch, serve it up with some yummy homemade Dinner Rolls.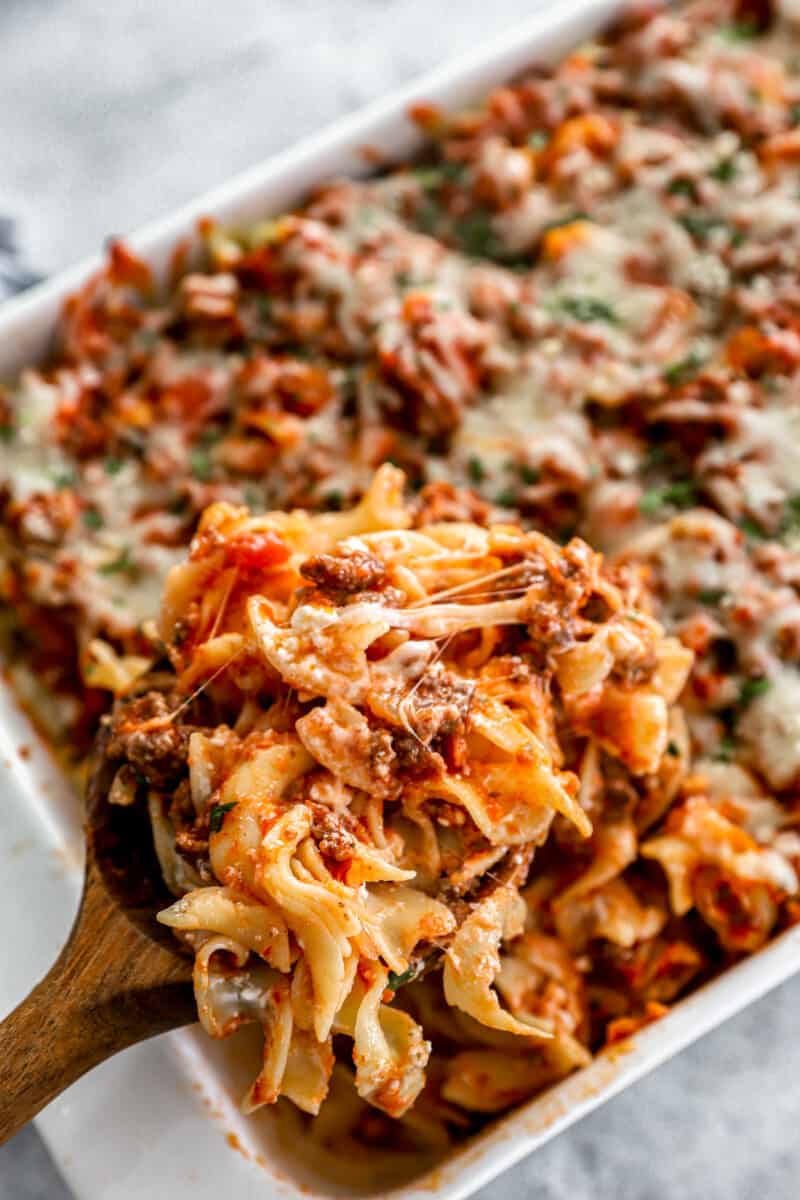 More Beef Noodle Casserole Recipes We Love