Ravioli Lasagna is a delicious mix of two favorite pasta dishes. This cheesy ravioli casserole is made with layers of ravioli, marinara sauce mixed with Italian sausage, and plenty of cheese. It's an easy lasagna recipe with an extra kick! Everyone will love this ravioli lasagna bake. It's the perfect weeknight meal!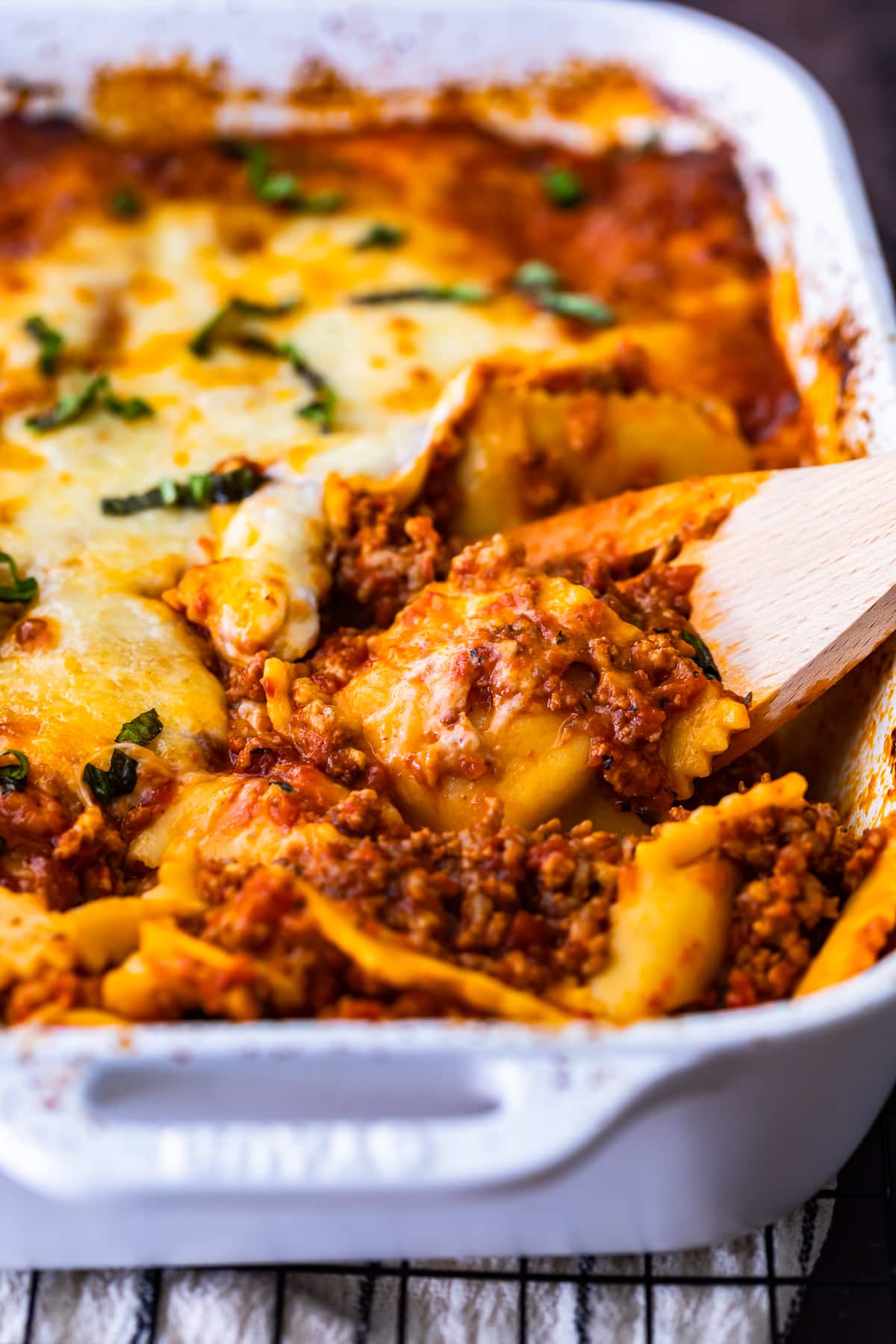 Ravioli Lasagna Bake
This Ravioli Lasagna Bake is cheesy, delicious, and easy to make. That's the kind of dinner I love!
This ravioli casserole is the combination of two favorite Italian dishes: ravioli and lasagna! I love casseroles of any kind, because they're so easy to make and they always turn out amazing. It's a stress-free way to get dinner on the table every night!
And this Ravioli Lasagna Bake is extra amazing because it's soooo cheesy. Every good casserole is filled with cheese, and this one has plenty of it.
We start with cheese-stuffed ravioli, layer in some Mozzarella and Parmesan, and then finish it off with more cheese. Plus there's a blend of Italian Sausage and ground chuck mixed into the Marinara sauce for even more flavor.
This easy lasagna recipe is a great way to make a favorite dish, but with a twist! Instead of layering up loads of lasagna noodles, just use the ravioli. It's so simple and kind of genius if you ask me. Enjoy!
This Cheesy Ravioli Lasagna Bake is the perfect pasta casserole to serve any night of the week!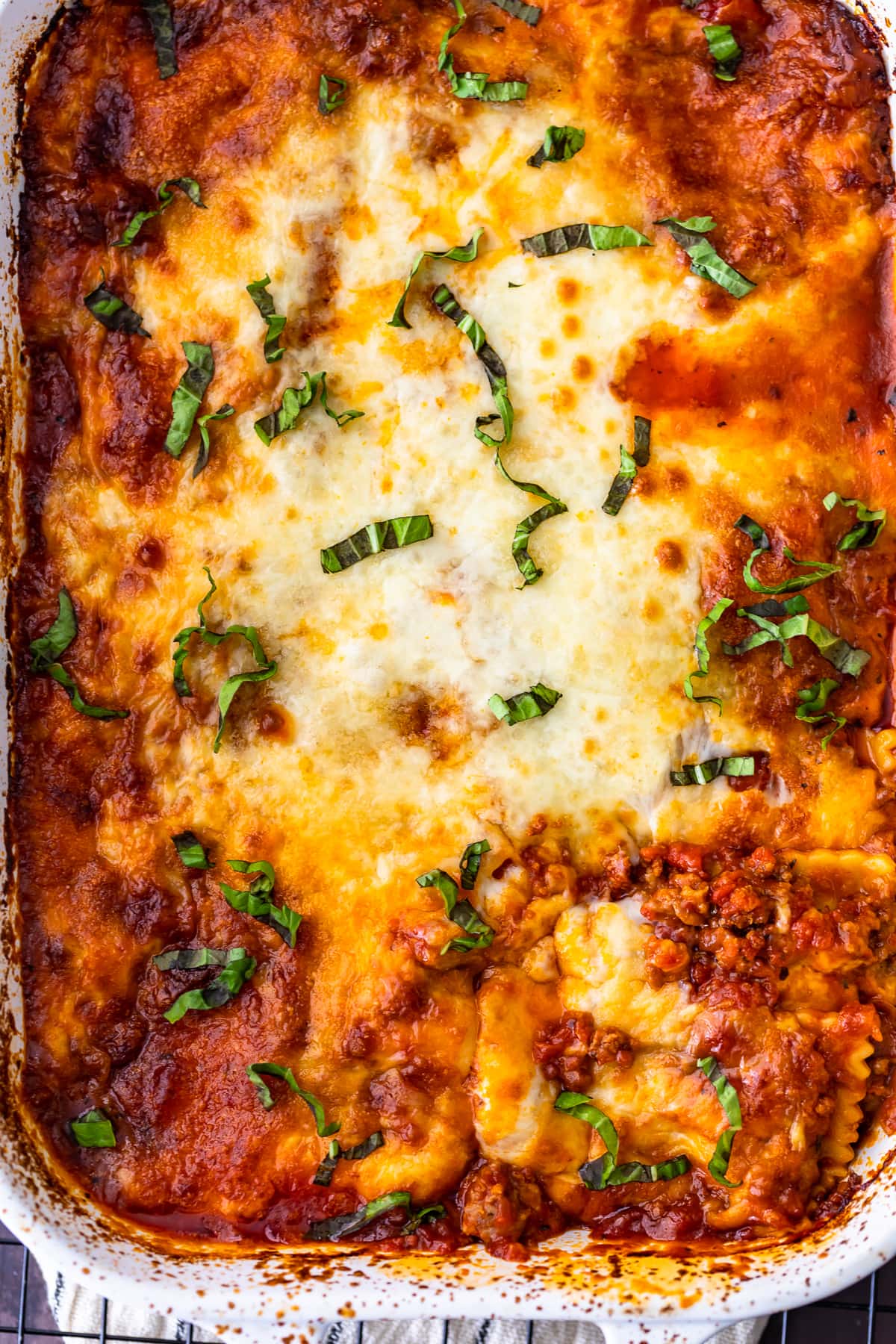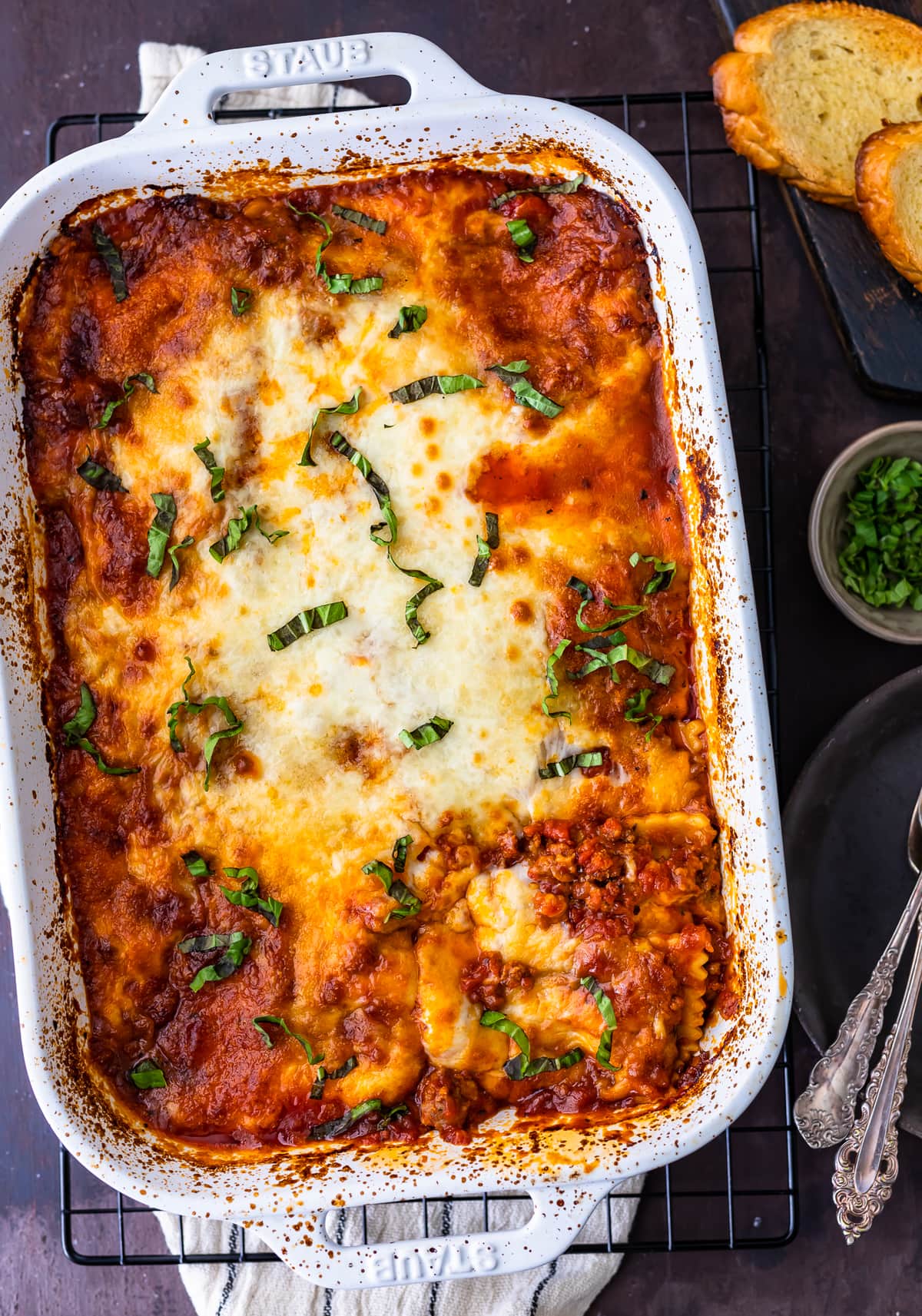 Ravioli Casserole
Casseroles are a lifesaver during the week. It's so easy to throw ingredients together in a casserole dish and just let it bake to perfection without having to stress over it.
This Ravioli Casserole is perfect, because the raviolis are already made. Grab some from the store (fresh or frozen), layer them into the baking dish with sauce and cheese, and you've got a tasty meal ready to eat! It couldn't be easier.
This cheesy ravioli lasagna bake will impress the whole family, and it's easy to save leftovers for round two later in the week.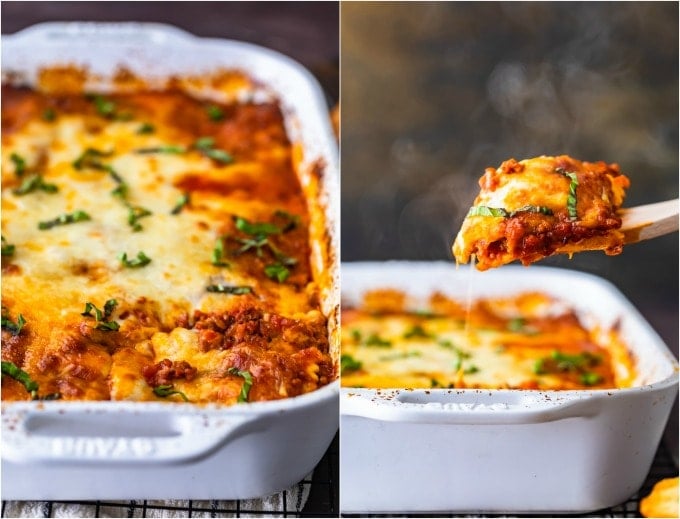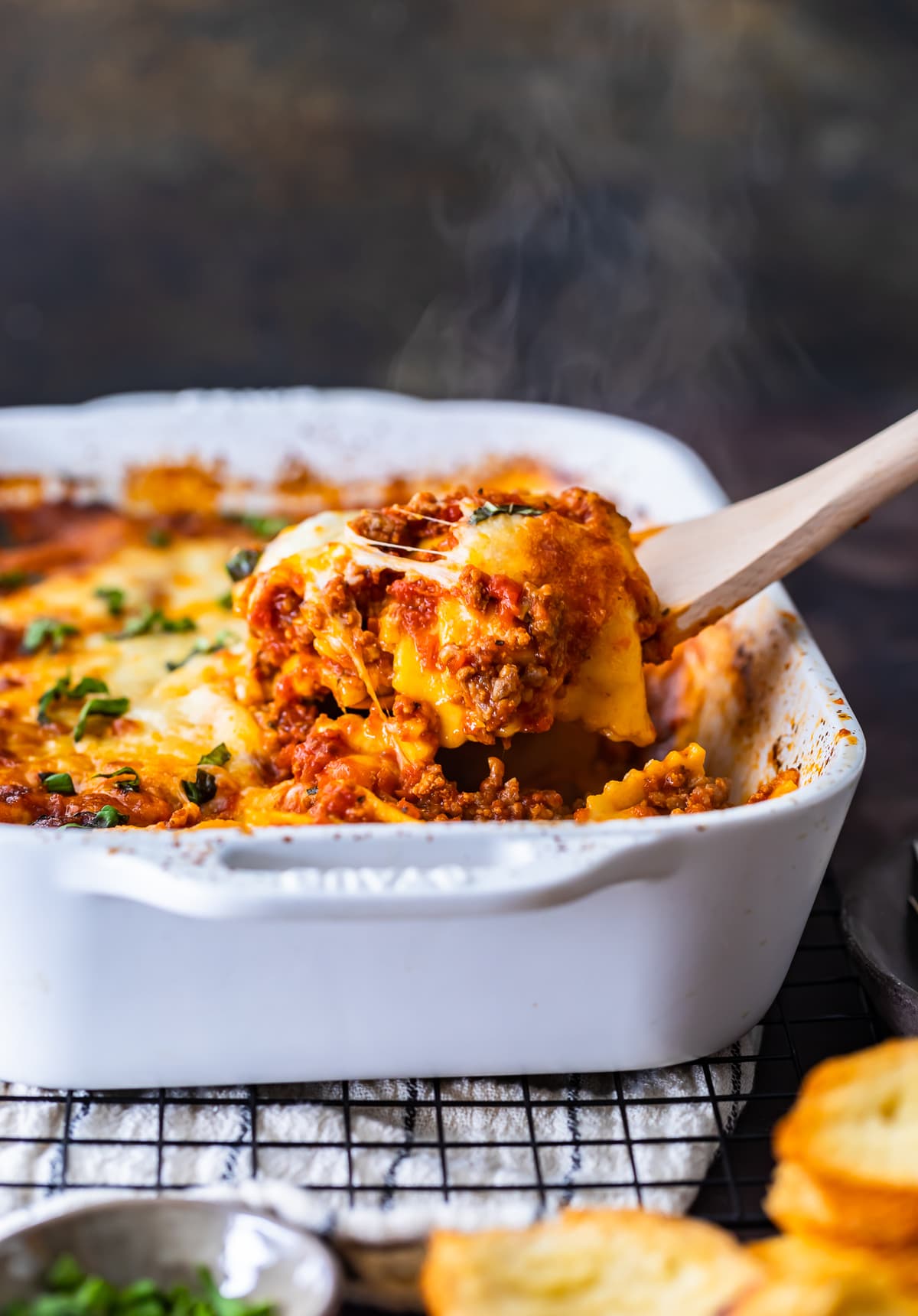 How to Make Ravioli Lasagna
This ravioli lasagna recipe is so simple. There's nothing I love more than an easy dinner recipe…except cheese, but this has plenty of that too!
How to make ravioli lasagna:
Start by browning the ground chuck and Italian sausage in a skillet. Then transfer the meat to a plate and discard the fat.
Place the meat back into the skillet and mix it with the marinara sauce.
Now layer up the ravioli lasagna in the casserole dish (in this order: sauce, ravioli, sauce, Mozzarella, Parmesan, ravioli, sauce, Mozzarella, Parmesan).
Spread 1/3 of the meat sauce into the casserole dish, then place 15 raviolis in a single layer across the dish, another 1/3 of the sauce, 1/2 the Mozzarella, and 1/2 the Parmesan. Now repeat that process a second time (ravioli, sauce, cheese).
Cover the casserole dish and bake for 30 minutes at 375°F. Then remove the cover and bake another 15-20 minutes.
This ravioli casserole can easily be made ahead of time, frozen, and reheated. And it tastes just as good the second time around, so make sure you save all those leftovers! Check the recipe card below for full instructions.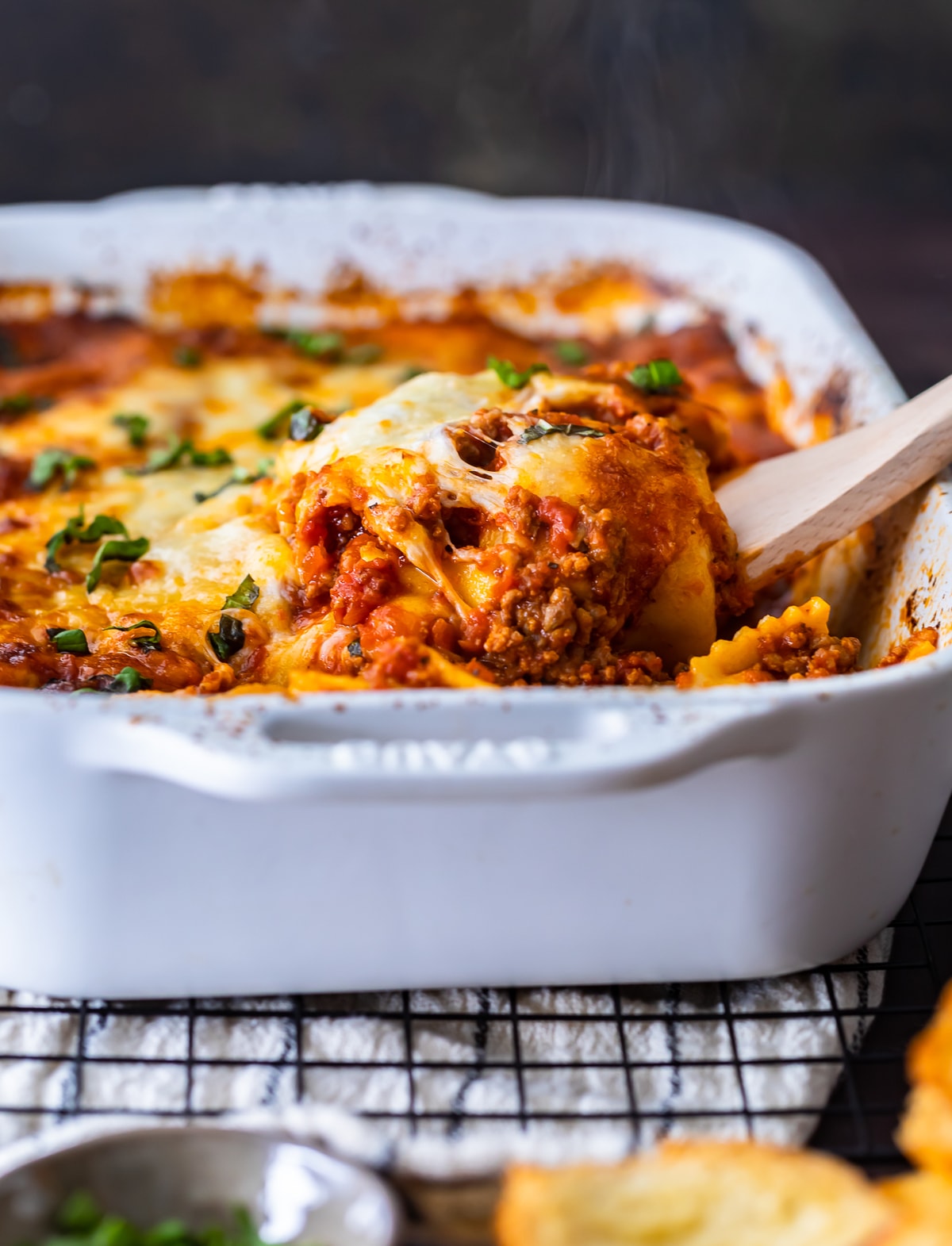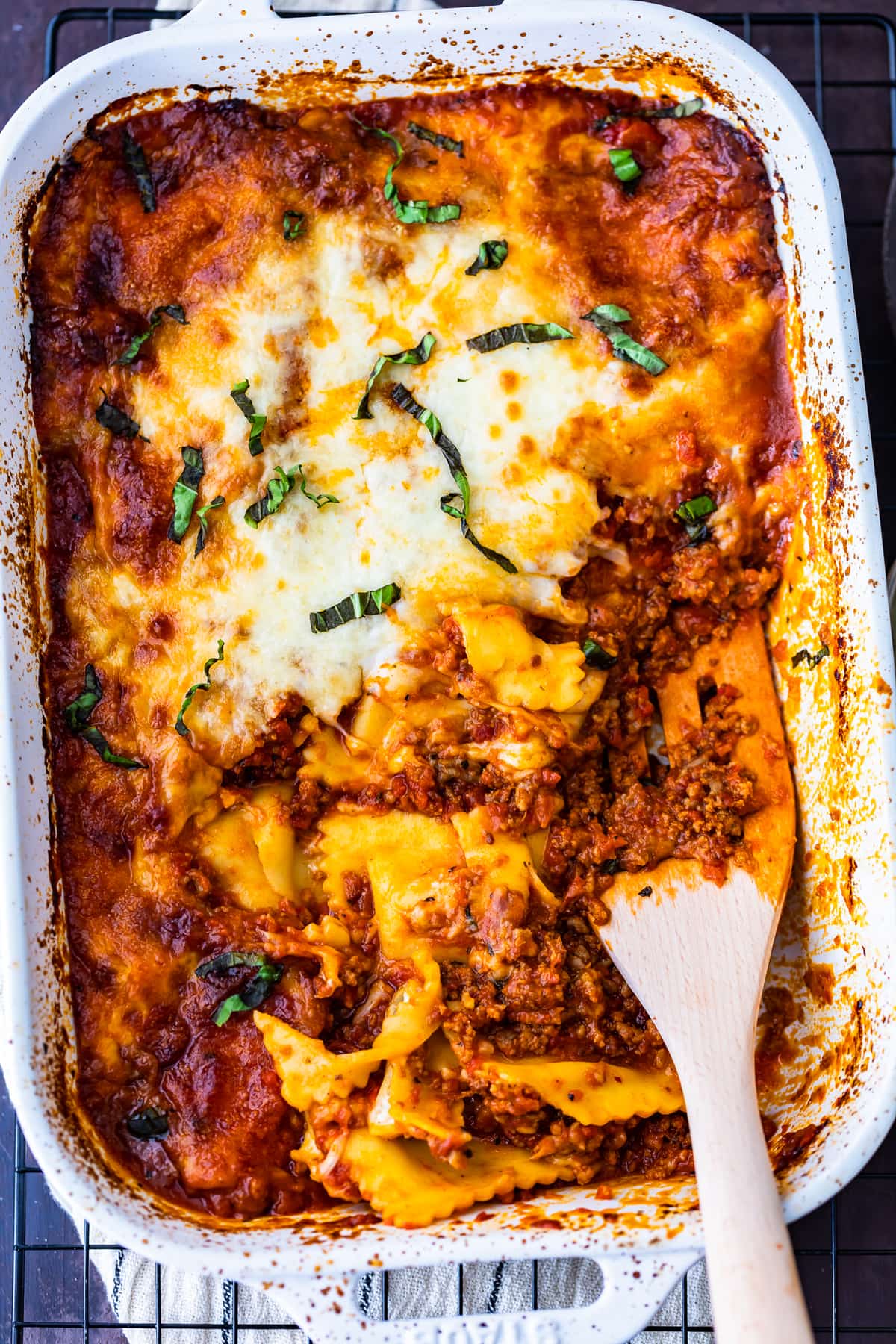 Easy Lasagna Recipe
I LOVE lasagna. I've got quite a few delicious and easy lasagna recipes here on the site. and this ravioli lasagna bake is a great addition.
Using cheese ravioli in place of lasagna noodles is such a fun hack, and it makes such a tasty dish. This Ravioli Casserole is definitely a new favorite!
Try these other easy lasagna recipes: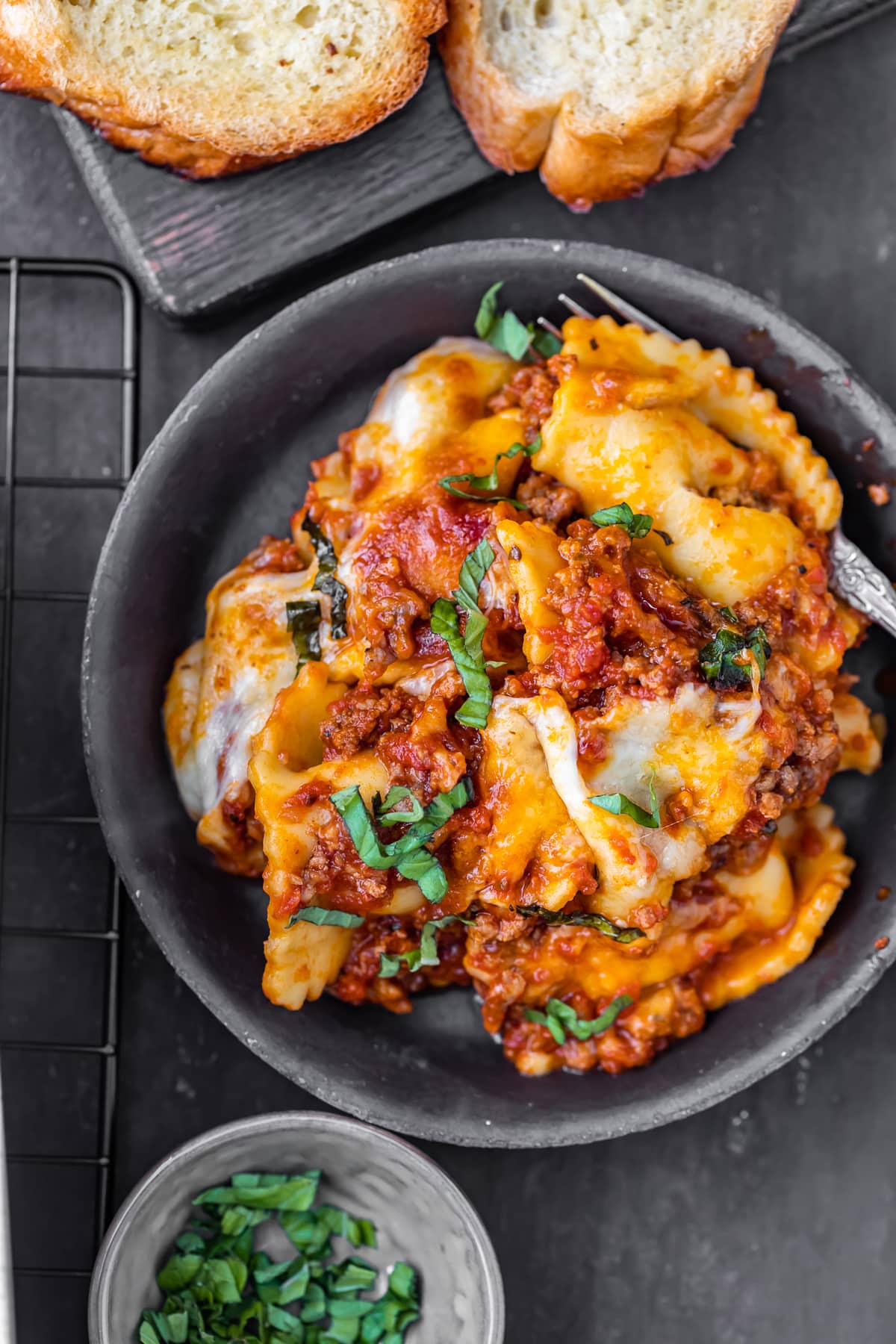 This Ravioli Lasagna Bake is super simple and super tasty. Everyone will love this cheesy ravioli casserole, and they'll definitely be asking for more!
If you like this ravioli casserole, try these other easy Italian recipes:
If you make this recipe be sure to upload a photo in the comment section below or leave a rating. Enjoy! You can also jump to recipe.