This is the best Steak Marinade recipe for grilled ribeye steaks or any cut of steak you like best. The savory and tangy sauce only requires a few ingredients, like soy sauce, Worcestershire, and balsamic, and it's so easy to make. Marinate steaks and be prepared for the most flavorful and juicy dinner!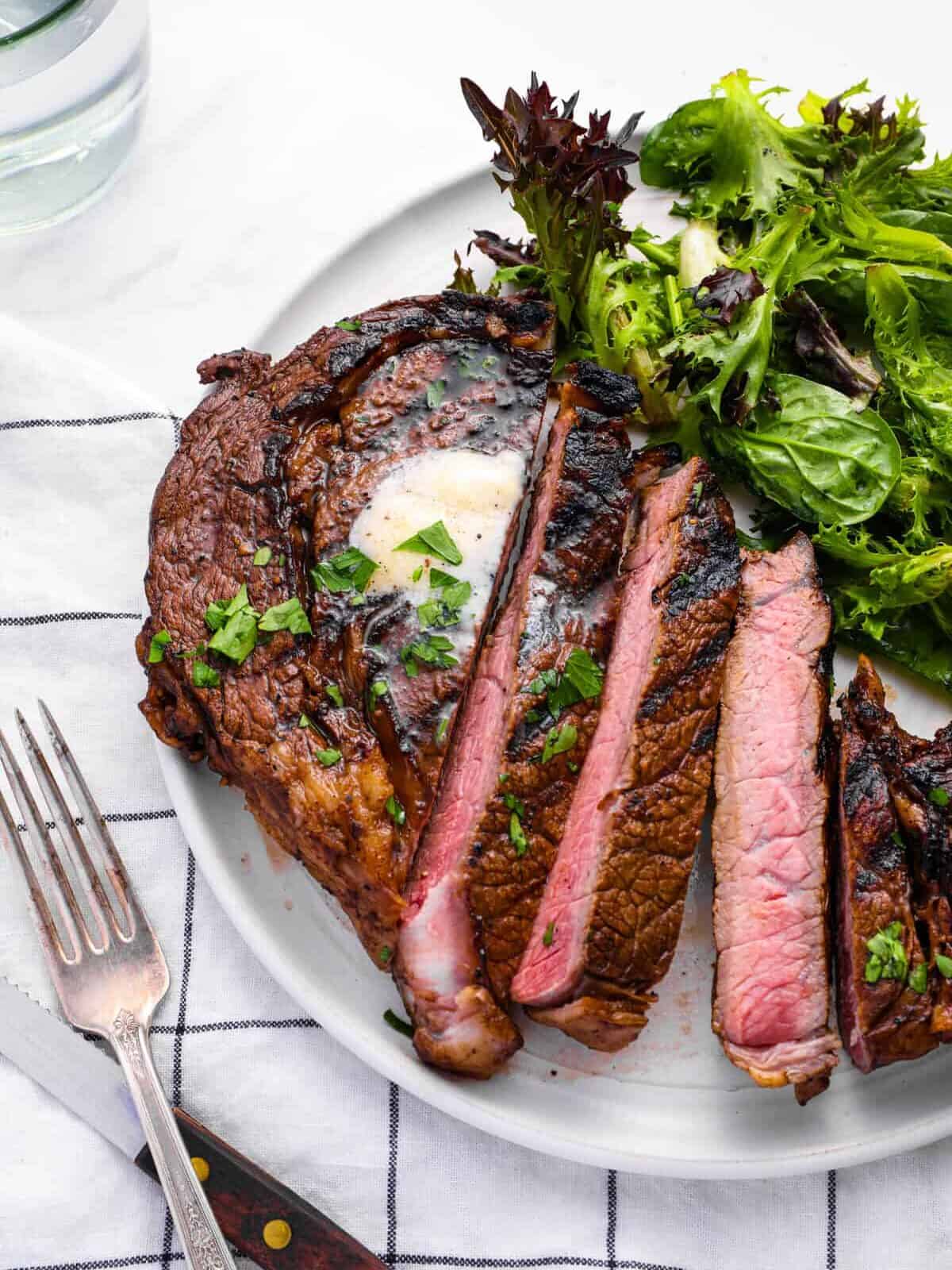 What's in Steak Marinade?
A rich, salty, umami marinade is the perfect pairing for juicy ribeye steaks!
Ribeye: Perfectly juicy and flavorful, the ribeye is cut from the cow's upper rib area. Ribeyes tend to be fatty, which helps them to retain their juiciness even when cooked over high heat.
Salt + Pepper: Season the steak for extra flavor.
Soy Sauce: A salty, savory, umami base for this marinade.
Balsamic Vinegar: Adds a rich, acidic, and slightly sweet flavor.
Olive Oil: Emulsifies with the soy sauce and vinegar to create a flavorful marinade that won't burn or stick.
Worcestershire Sauce: Adds even more umami flavor and just a hint of funk.
Garlic: Adds earthy flavor.
Pro Tip: Take your steaks out of the refrigerator at least 30 minutes before cooking to help them cook more evenly.
Variations on Marinade for Steak (Ribeyes and Beyond)
There are so many ways to change up the flavor profile of this steak marinade. Try swapping the soy sauce for fish sauce or miso for an Asian-inspired marinade.
Swap the balsamic vinegar for red wine or rice wine vinegar for a lighter flavor. And swap the Worcestershire sauce for anchovy paste, oyster sauce, hot sauce, or steak sauce!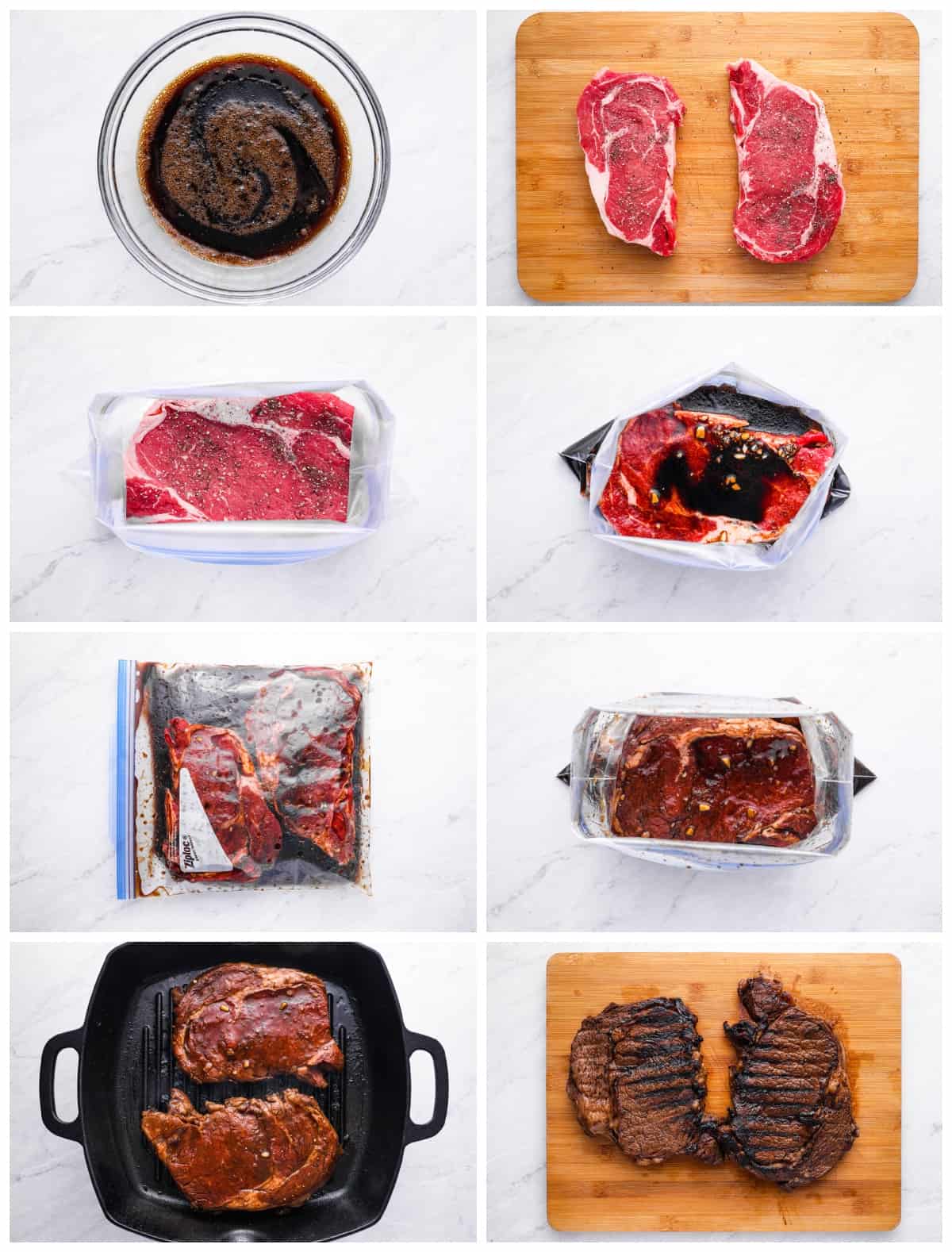 Should you marinate steak before cooking?
While most steaks are naturally juicy and tender, they can still benefit from a flavorful marinade! This recipe infuses the steak with so much flavor!
Can this marinade be used on any type of steak?
Absolutely! This marinade is great for just about any cut of steak! Sirloin, filet mignon, New York strip, strip steak, T-bone, and even flank steak can be used.
How do you make a ribeye tender?
You can make a ribeye tender either by using an acid in the marinade or by pounding the steak with a meat mallet before cooking. Ribeye is a naturally tender cut, so it doesn't need too much help. I include acidic balsamic vinegar in the marinade to get things started.
Should steak be marinated overnight?
Most steak is naturally tender, so you do not need to marinate it for a long time before cooking. But for this recipe, it does infuse a lot of flavor. 30-60 minutes is sufficient, but you can absolutely marinate it overnight.
What temperature should the grill be to cook steak?
I recommend grilling steaks on medium-high heat, about 400-450°F.
Should you close the grill when cooking a ribeye and other types of steak?
Unless you are cooking a thick cut of steak, it is best to leave the grill open.
Why is my ribeye tough and chewy?
Meat is made tender through the cooking process. In this case, we cook the meat very quickly over high heat. If your steaks are chewy, they have likely been cooked for too long!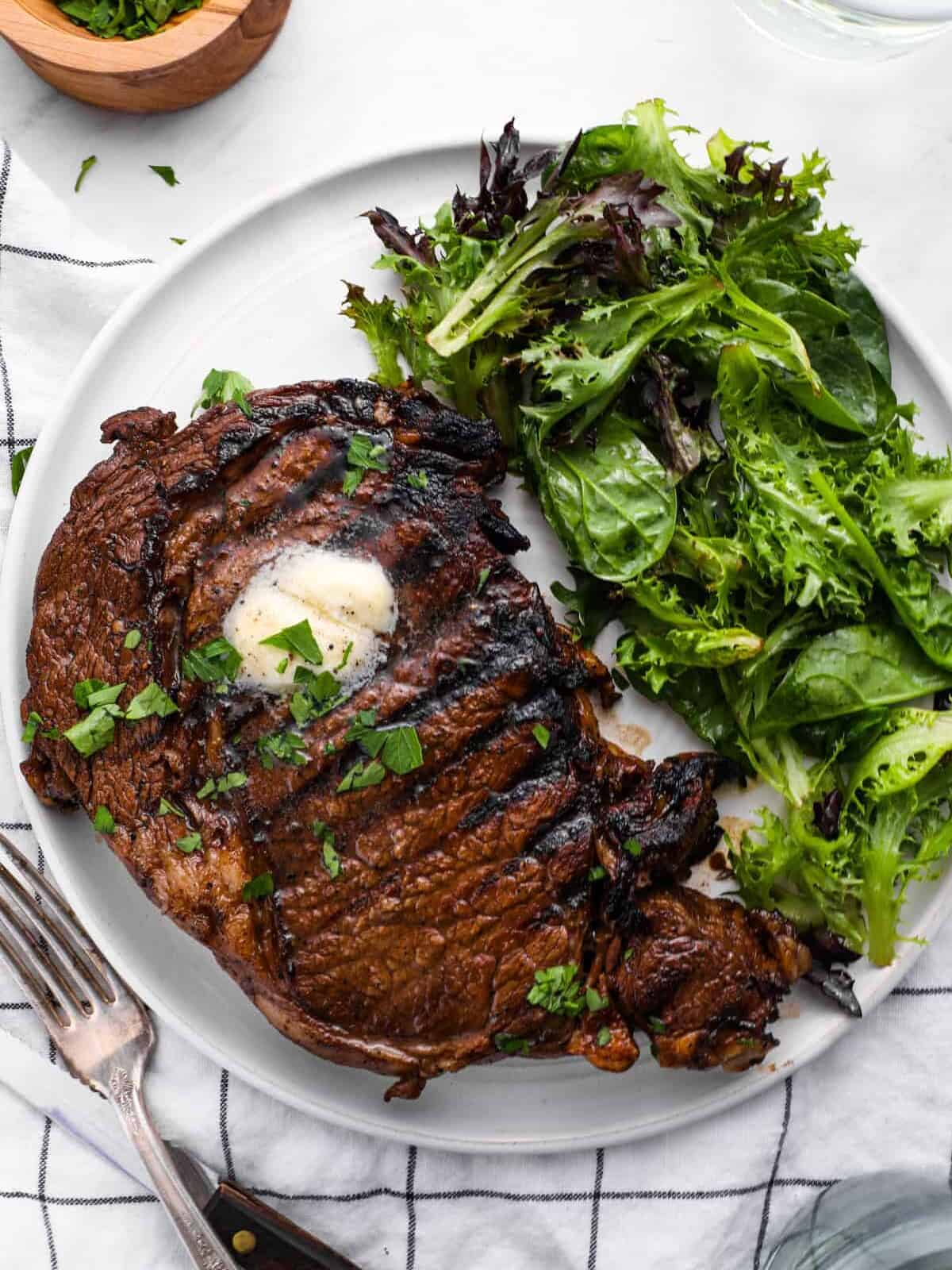 How to Make Ahead and Store
You can make steak marinade up to 5 days in advance of when you plan to use it. Simply mix together the ingredients and store them in an airtight container in the refrigerator until ready to use.
Store leftover grilled steaks in an airtight container in the refrigerator for up to 4 days.
How to Freeze and Reheat
Freeze this easy marinade in a Ziplock bag, laid flat, for up to 3 months. Let thaw overnight in the refrigerator before using.
Freeze marinated steaks in an airtight container for up to 3 months. Let thaw overnight in the refrigerator before reheating on the grill until warmed through, about 5 minutes, or baking in a 300°F oven until warmed through, about 8-10 minutes.
Serving Suggestions
Marinated ribeyes are so delicious served with a simple Caesar salad or spinach salad. For a heartier meal, add a side of air fryer potatoes, herb roasted potatoes, smashed potatoes, or instant pot mashed potatoes. Yum! And if you need some veggies, add roasted mushrooms or sautéed vegetables.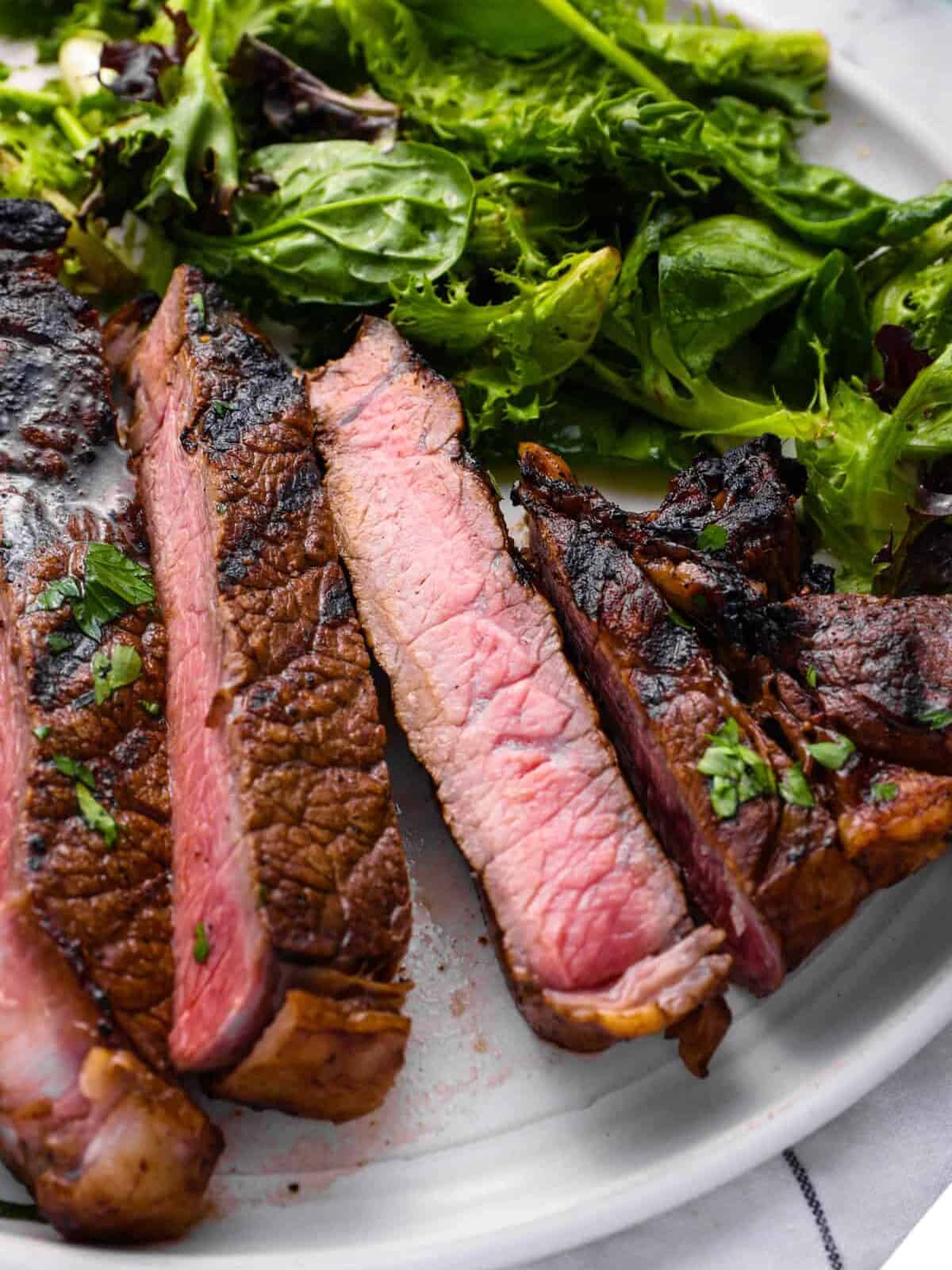 More Steak Recipes We Love