This Strawberry Bacon Salad with Honey Lime Balsamic Vinaigrette is utterly delicious and oh so flavorful. You won't believe how the mint pops! Salty and sweet at its best! A salad made of fresh strawberries, bits of bacon, feta cheese crumbles, and more, and finished with a drizzle of homemade honey lime vinaigrette salad dressing.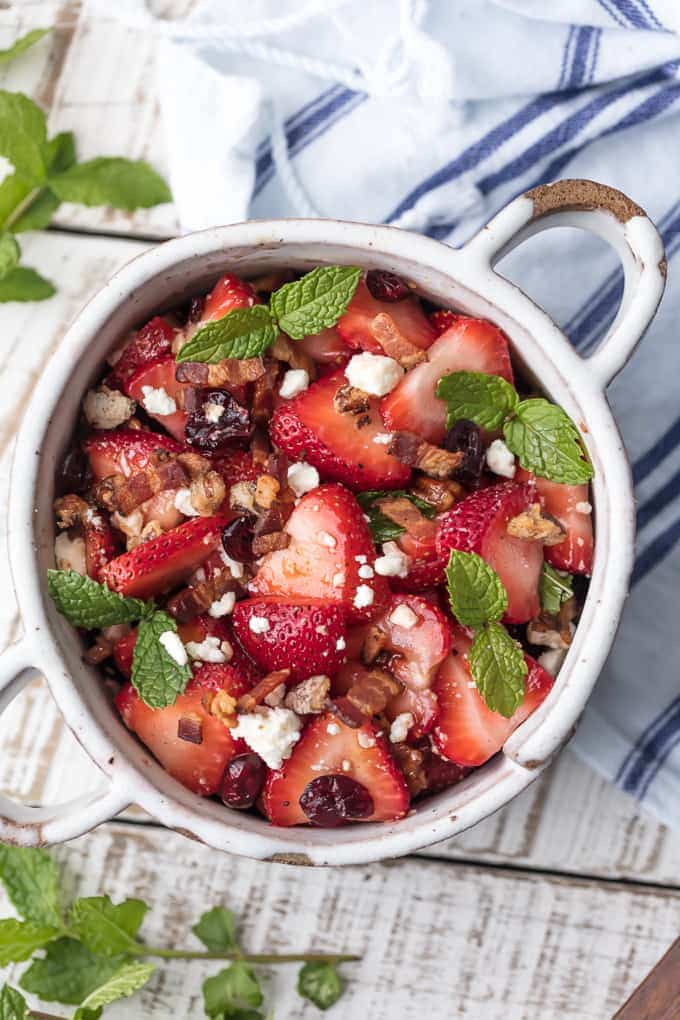 Strawberry Bacon Salad
This strawberry bacon salad recipe is fresh, sweet, and savory. The mix of ingredients creates the perfect flavor for a simple summer salad, and the balsamic vinaigrette really completes it.
It's hard to decide which salad I've posted this week that I love best; this Strawberry Bacon Salad or the Peach Tomato Corn Salad from the other day. Both scream Summer, have bright and fresh Summer flavors, and are topped with easy and flavorful vinaigrette salad dressings you can make at home.
I wish you could taste them side by side like I did, fork in hand and stomach getting fuller by the minute. I ate SO MUCH salad that day, and it was so worth it. This Strawberry Bacon Salad has it all…fruity, salty, sweet, fresh, the list goes on and on. Topped with dried cranberries, honey pecans, feta, and mint…the combo is out of this world! And of course the honey lime balsamic vinaigrette salad dressing takes it to the next level.
Who knew crispy bacon would taste SO amazing paired with strawberries? And by so amazing, I mean OUT OF THIS WORLD. The great thing is even though this salad definitely feels and tastes like Summer, you can make it year round. Sure the farmers market strawberries are where it's at, but trust and believe I'll be making this during winter as well.
Enjoy this Strawberry Bacon Salad with Honey Lime Balsamic Vinaigrette for the perfect summer salad!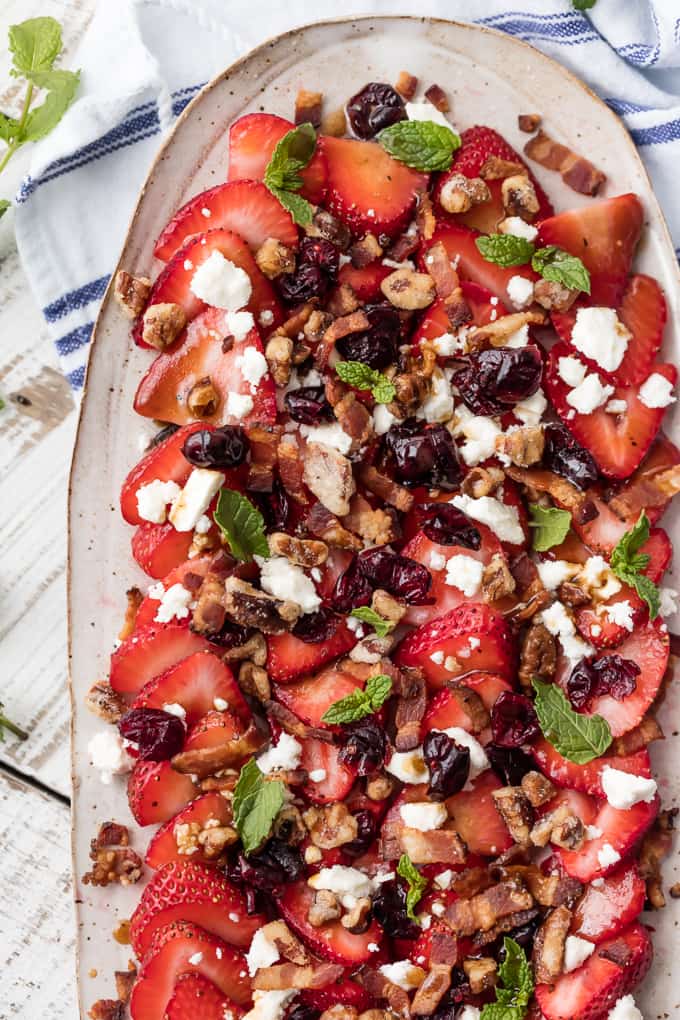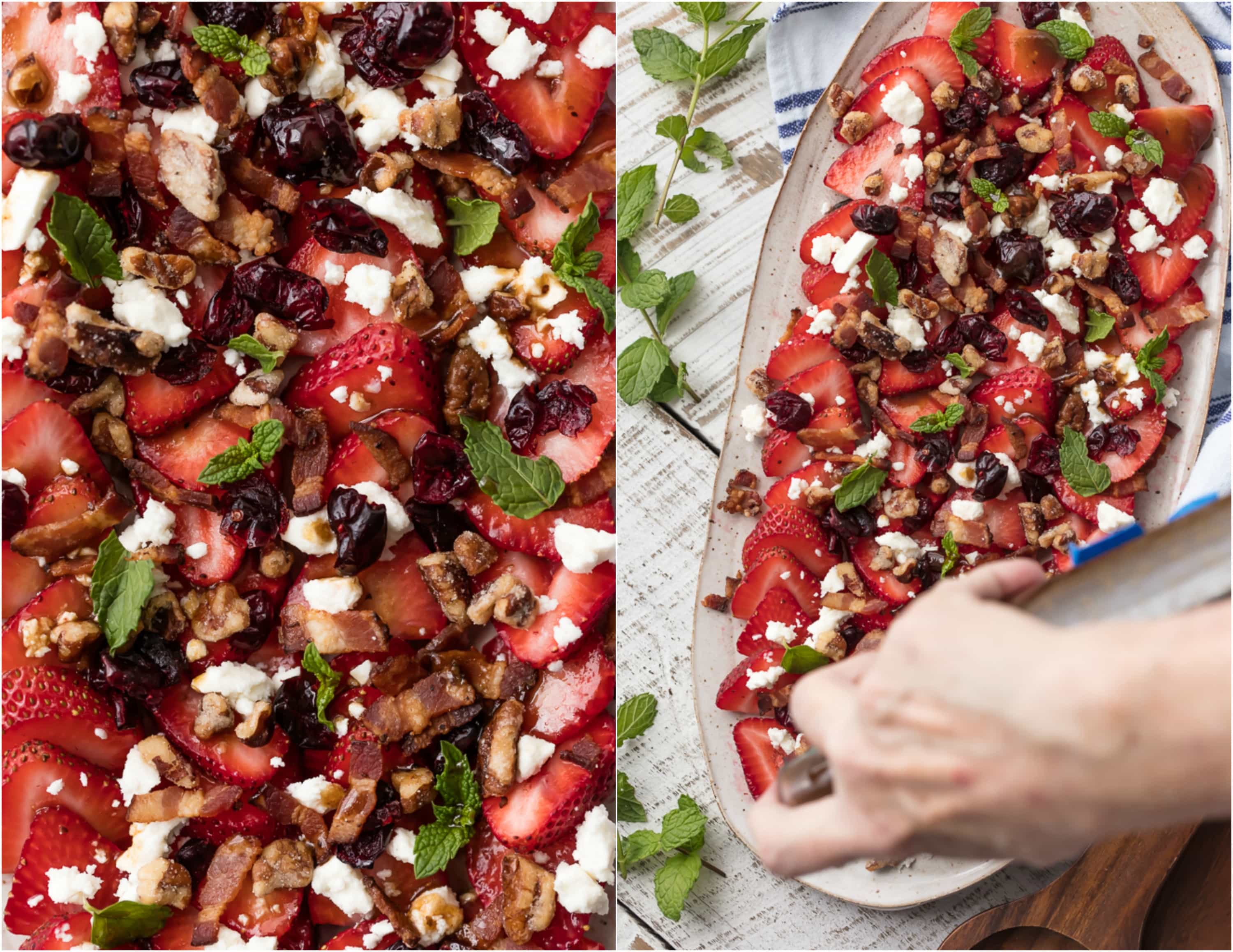 Honey Lime Balsamic Vinaigrette
This entire strawberry bacon salad is amazing, but truth be told, the star is this homemade balsamic vinaigrette salad dressing! The honey lime vinaigrette adds a kick of extra flavor to the fruity salad. Drizzle it on top of the fresh strawberries, bits of bacon, feta cheese crumbles, pecans, and dried cranberries, and you've got the perfect salad. And don't forget the fresh sprigs of mint!
How to Make Balsamic Vinaigrette
I love vinaigrette salad dressings. They're bold and flavorful without being overwhelming or taking over the entire salad like creamier options do. The dark, intense flavor of balsamic vinegar is what makes balsamic vinaigrette salad dressings SO rich and flavorful. You really need just a drizzle to liven up the salad, and this one pairs perfectly with the light flavor of the strawberries. The honey lime vinaigrette is just so tasty mixed with the rest of the ingredients!
How to Make Honey Lime Balsamic Vinaigrette:
Whisk together the lime juice, lime zest, honey, balsamic vinegar, salt & pepper, smoked paprika, & red pepper flakes in a bowl
Drizzle in the olive oil while whisking the mixture vigorously
Continue mixing until oil and vinegar have emulsified
Refrigerate dressing until ready to use
You can store this balsamic dressing in an airtight container for a couple of weeks, so make extra and try it on some other salads too. Just be sure to shake before using.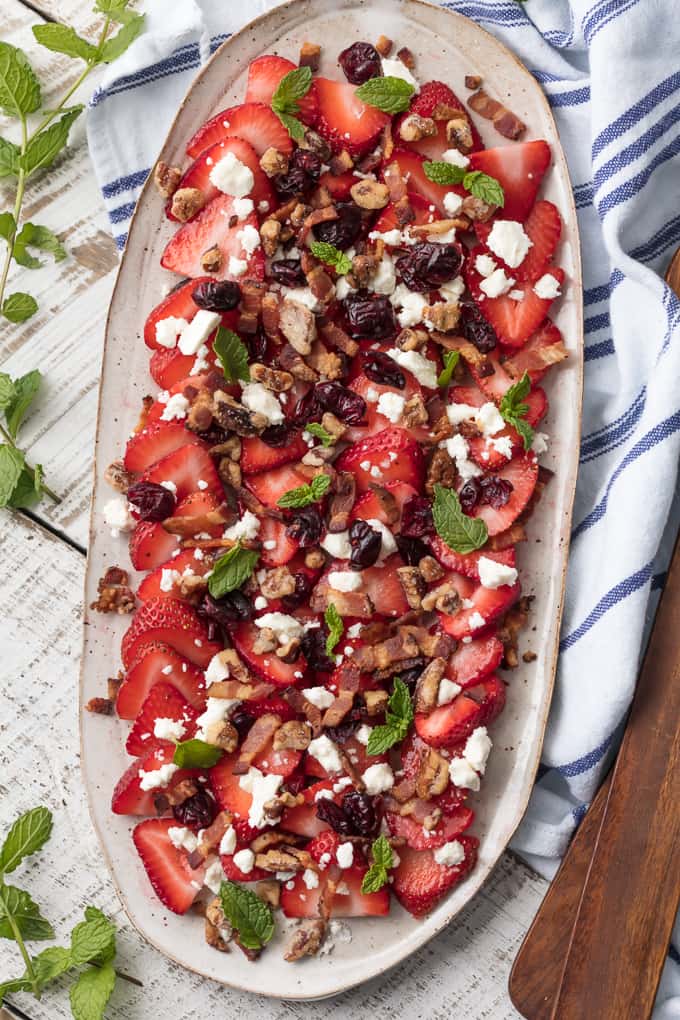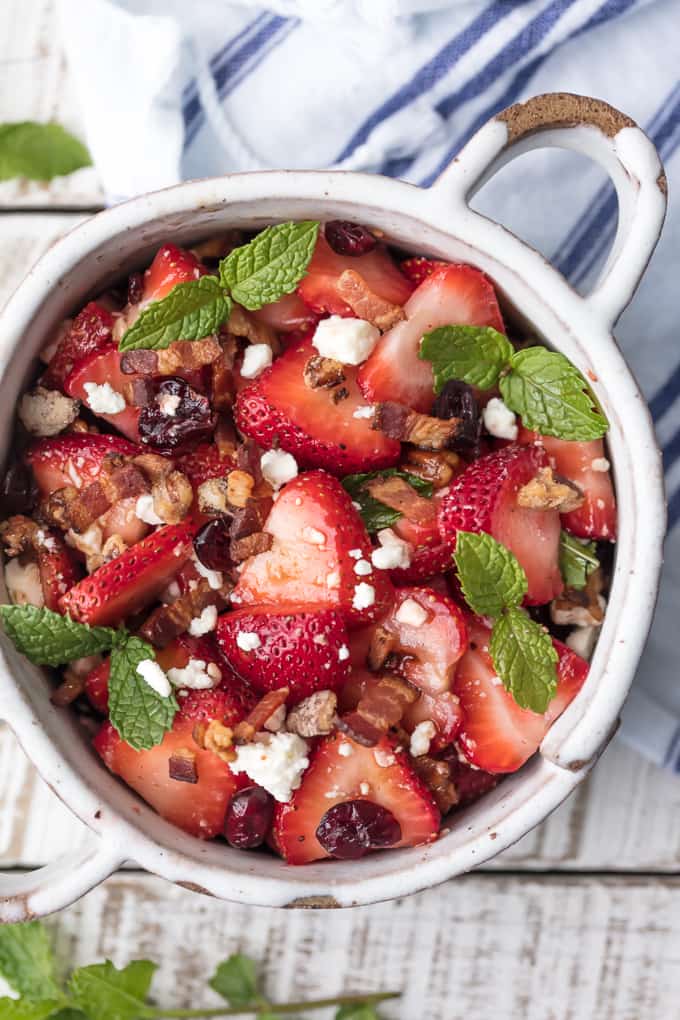 Just Add Mint
Mom and I waffled over which herb to add to this Strawberry Bacon Salad at the end. At first, we thought about adding basil…and although that would be super tasty as well, MINT was a game time decision. YOU GUYS. It was such a good decision. The mint adds such a pop of flavor and just the perfect amount of zip. Fresh mint is a MUST in this recipe. You can't beat it!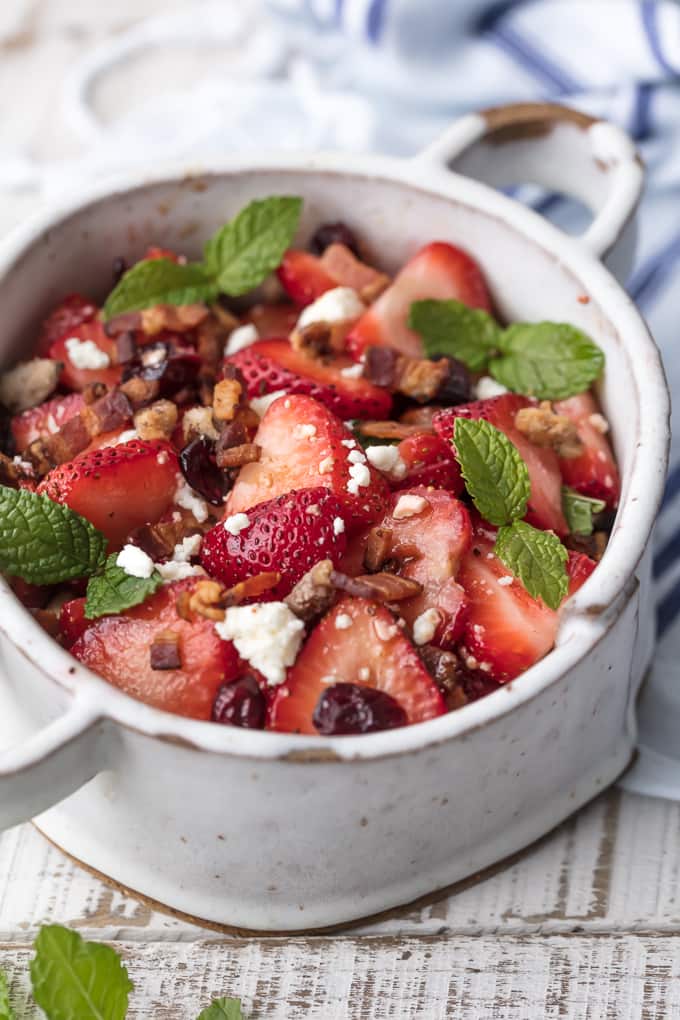 I hope this strawberry, feta, pecan, cranberry, bacon salad makes you feel like Summer is rockin year round. I cannot wait for you to try it! Of course the homemade honey lime balsamic vinaigrette will complete is perfectly. Let me know what you think! And give that Peach Tomato Corn Salad a try while you're at it.
See the recipe card below for details on how to make Strawberry Bacon Salad. Enjoy!
If you like this recipe, try these other salad recipes too: