This Peach Corn Tomato Salad is so fresh, delicious, and easy to make! The homemade spicy honey vinaigrette is the perfect dressing for this salad to spicy it up just a bit. Make this corn, tomato, feta, onion, and peach salad as an appetizer, a side dish, or the main course. This spicy corn and tomato salad s amazing anytime of day. SO MUCH FLAVOR in this little salad.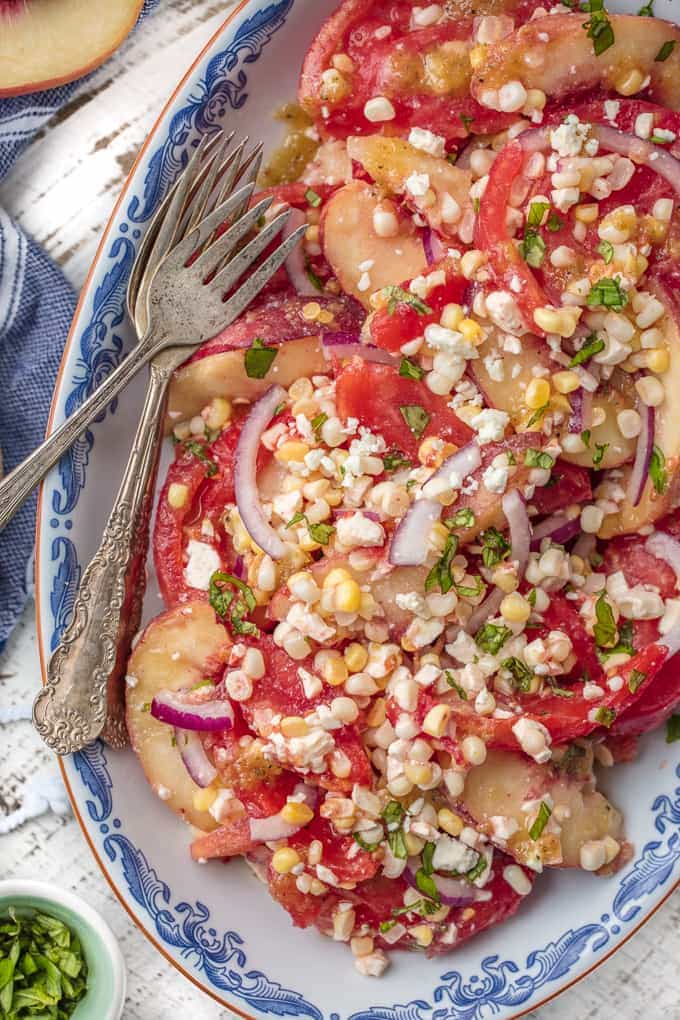 Corn Tomato Salad Recipe
This peach corn tomato salad is filled with amazing ingredients to create a simply delicious dish. A corn and tomato salad with peaches, feta, onion, and a spicy honey vinaigrette!
I refuse to believe that Summer is coming to an end. I refuse to believe that before we know it the air outside will be cold and Mizzou will be losing every football game again. For now I plan on basking in the glow of the hot sun and enjoying as many Summer delicacies as possible…PEACHES, TOMATOES, and CORN being three of my favorites.
This Peach Corn and Tomato Salad with Spicy Honey Vinaigrette is one of our favorite summer salads. It tastes like outdoor fun on a plate! This fresh peach salad is mixed with heirloom tomatoes, sliced red onion, kernels of corn, and feta cheese crumbles. It's SO perfect for summer, and I want to keep eating it forever.
I'm really loving this type of salad lately; a mix of sweet and savory ingredients, no greens, and a homemade vinaigrette on top. I made a strawberry bacon salad too, and it's just as good. I mean this is really just a plate of fruit and veggies but it looks and tastes so sophisticated.
This Peach Corn Tomato Salad is perfect for summer with a homemade spicy honey vinaigrette dressing!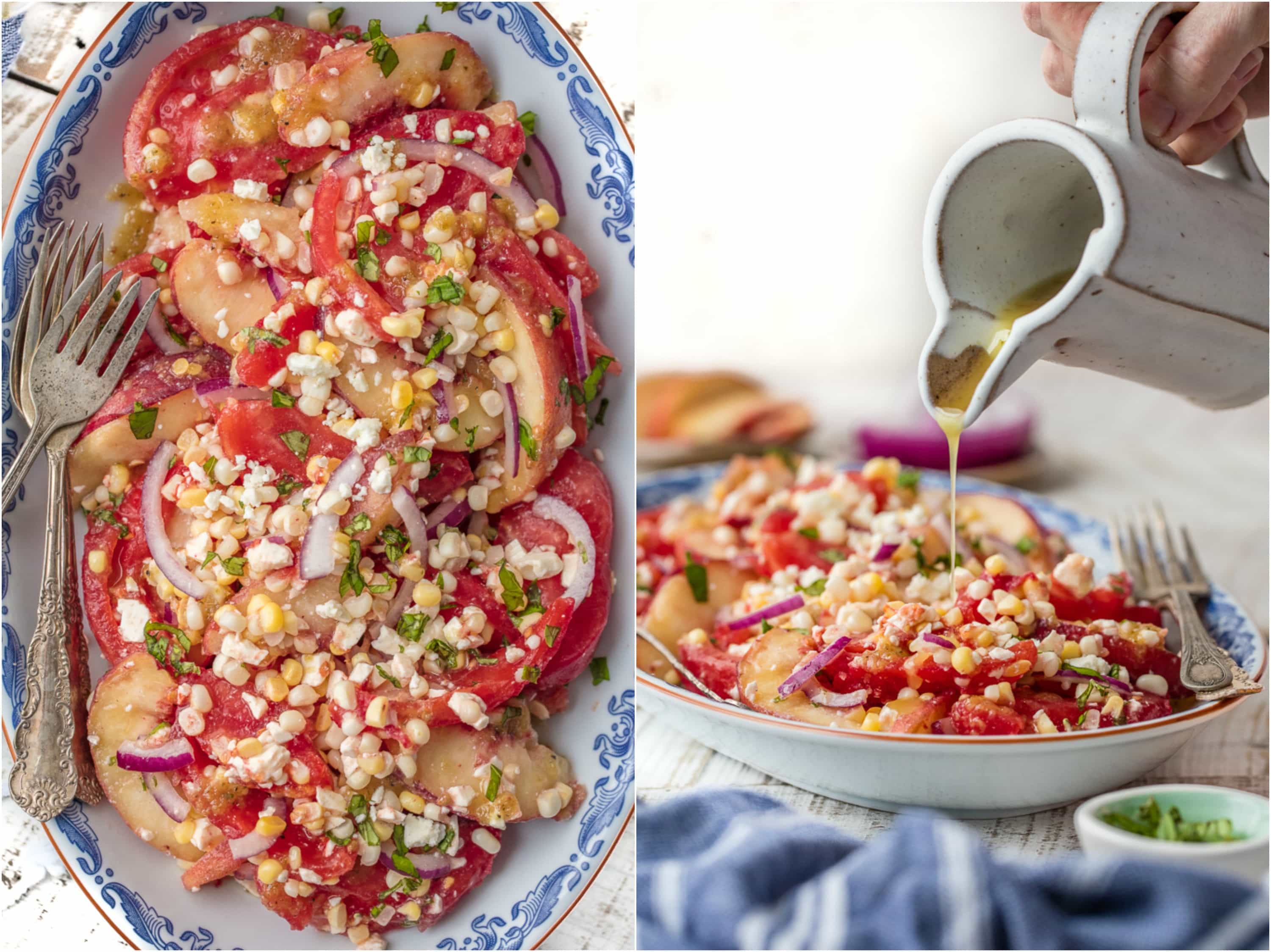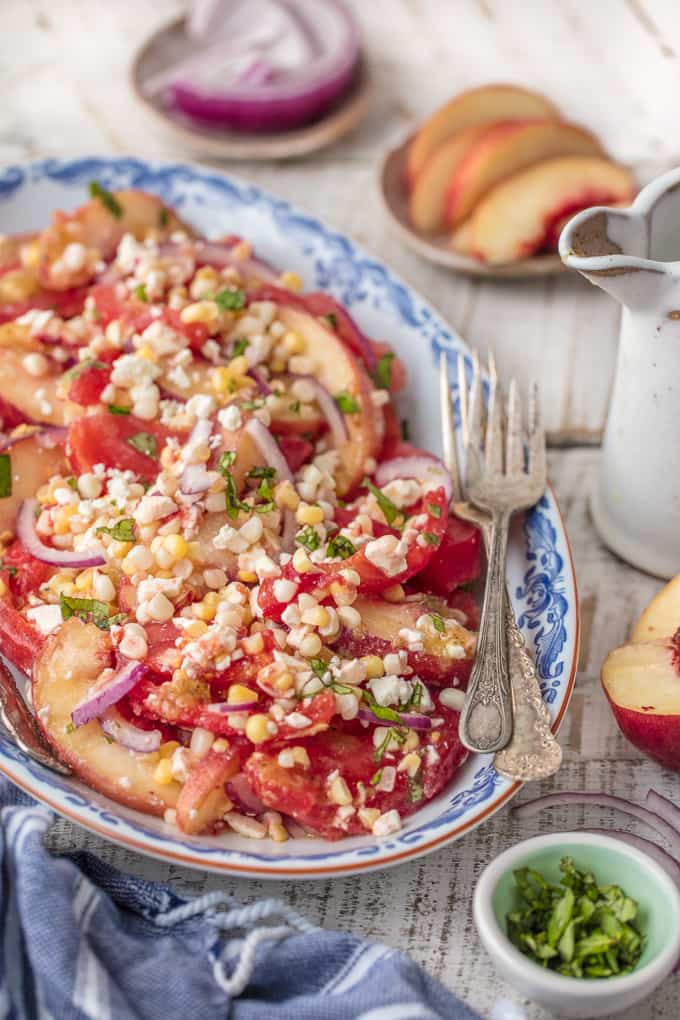 How to Make Corn, Tomato, and Peach Salad
This Corn Tomato Peach Salad is perfect as a starter, a side dish, or even as a whole meal. Mom and I made this at 10 o'clock in the morning, and I ate as much as I possibly could as a little brunch snack. Can you blame me? The flavors of this corn and tomato salad are just so bright and fresh. Once you taste it, it's sure to become your go to hot weather favorite.
Peach Corn Tomato Salad Ingredients:
Heirloom Tomatoes
Fresh Sliced Peaches
Uncooked Corn Kernels
Sliced Red Onion
Feta Cheese Crumbles
Spicy Honey Vinaigrette Salad Dressing
Just combine the ingredients in a bowl and toss in the vinaigrette very lightly. Serve on a platter to share and drizzle a bit more dressing on top, plus add some basil and mint for garnish. How pretty is this tomato peach salad?!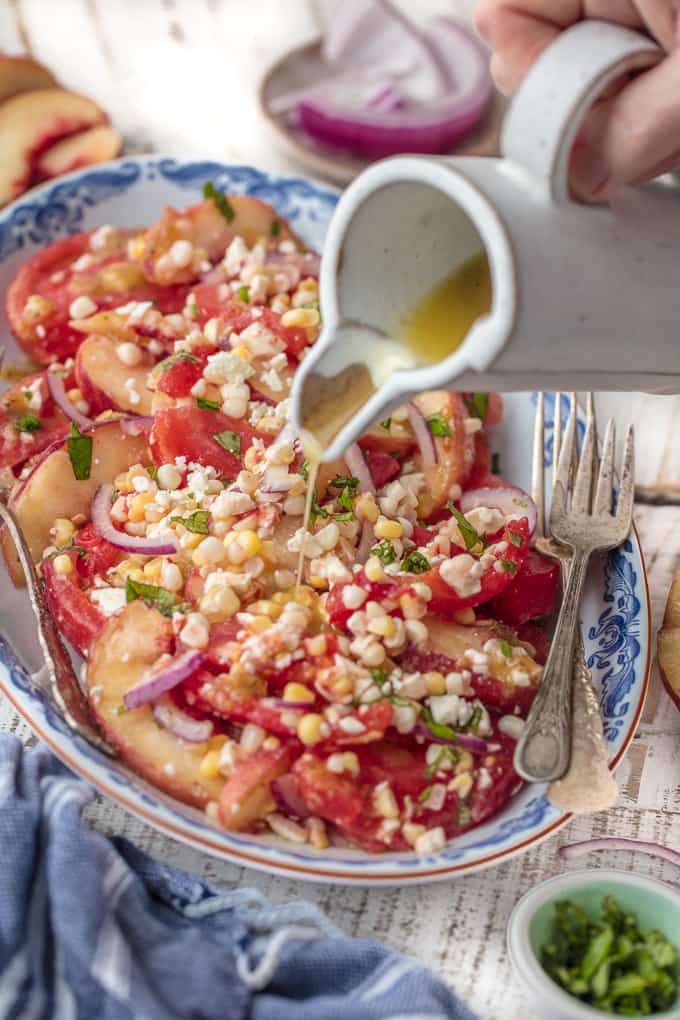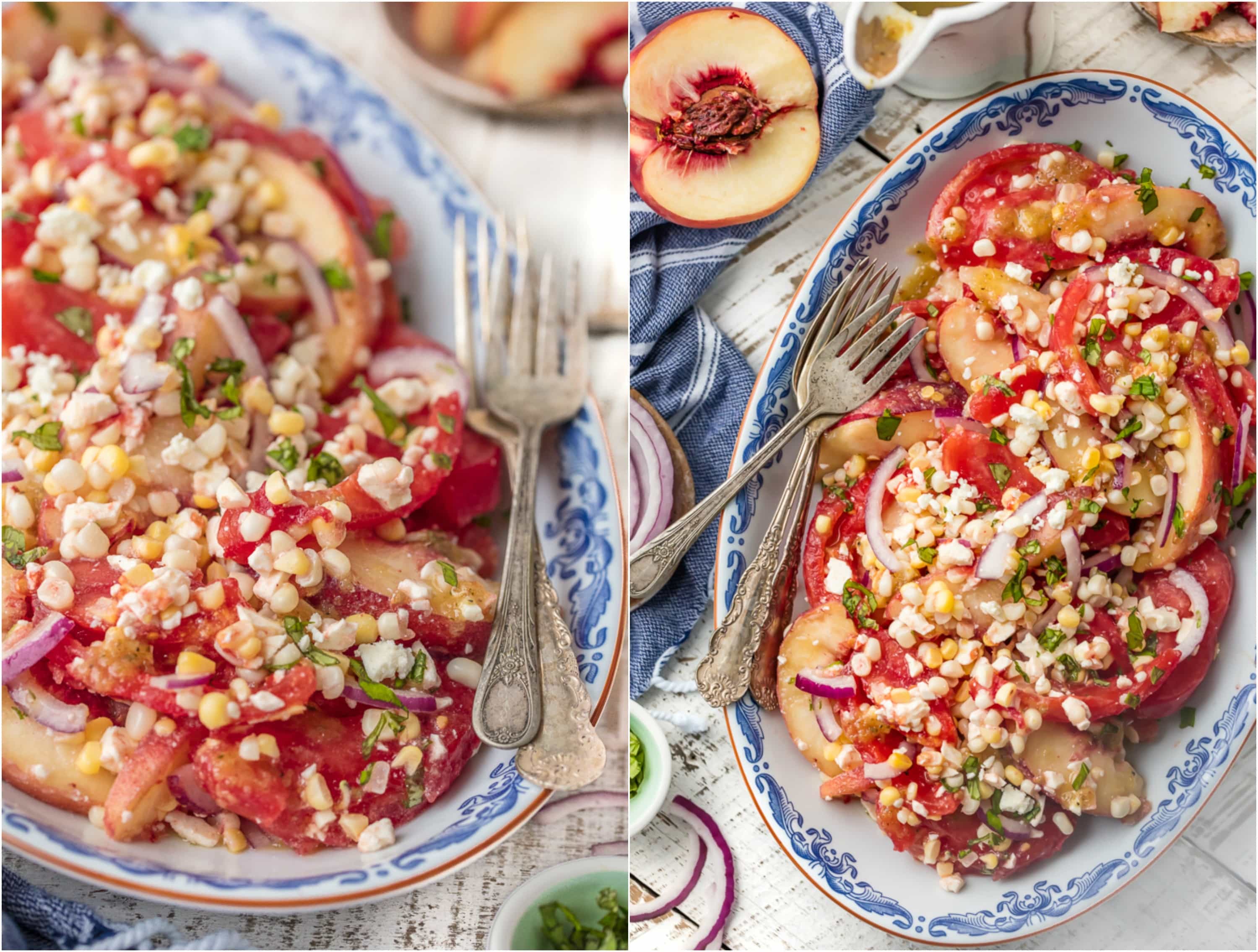 Spicy Honey Vinaigrette Salad Dressing
The mix of corn, tomato, peaches, onion and cheese are amazing, but the homemade honey vinaigrette dressing is what completes the salad and brings it all together. The jalapenos in the dressing are enough to give it just a bit of spice, which really complements the corn and tomato salad. The mix of ingredients in the honey vinaigrette is just as extensive as the salad itself, so you know it's full of flavor!
Spicy Honey Vinaigrette Ingredients:
Red Onion
Jalapenos
Cider Vinegar
Honey
Dijon Mustard
Canola Oil
Salt & Pepper
Mint or Basil leaves
Saute the onions and jalapeno, blend the ingredients together, then slowly add in the oil to emulsify. This salad dressing has the perfect flavor! Store it in an airtight container in the refrigerator for up to 1 week and try it with some other salad combinations too!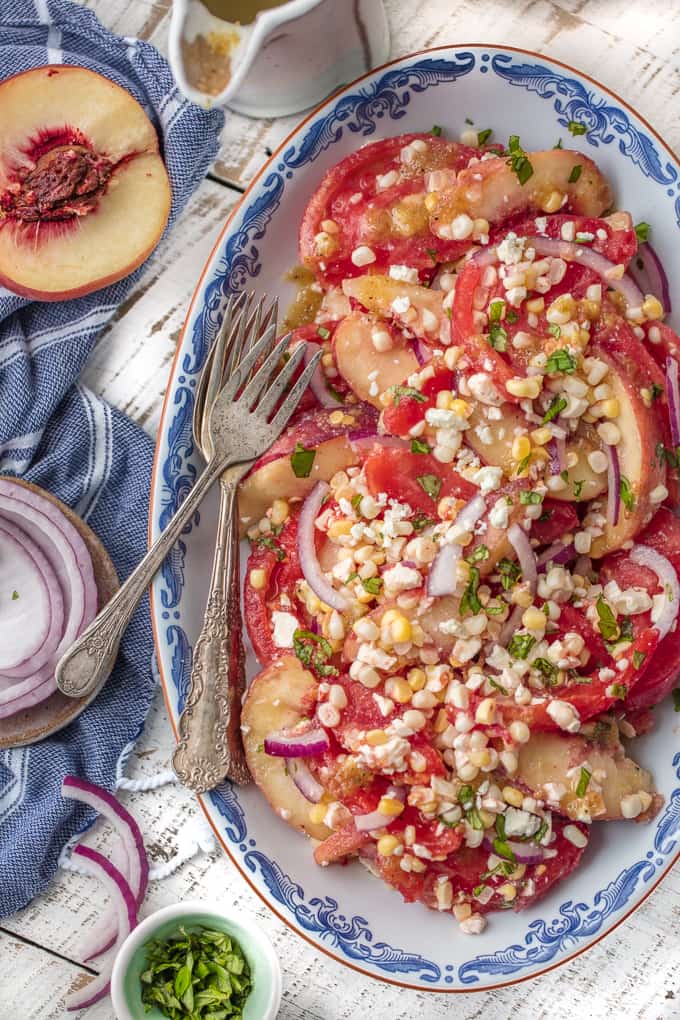 I love the way the flavors in this amazing peach, corn and tomato salad come together. The basil and red onion add extra crunch and texture. It's the perfect salad to compliment dishes such as Easy Caesar Chicken or Fajita Black Bean Burgers! It's the ultimate pot-luck favorite or perfect for a healthy quiet dinner at home. IT'S SO DARN GOOD! I can't wait for you to try it.
See the recipe below for details on how to make Peach Corn Tomato Salad. Enjoy!
If you like this corn, tomato and peach salad, try these other salad recipes too: