Made with tender, juicy meatballs, hearty egg noodles, and a deliciously creamy sauce, this Swedish Meatball Soup is the ultimate comfort food. It's hearty, satisfying, and melts in your mouth delicious!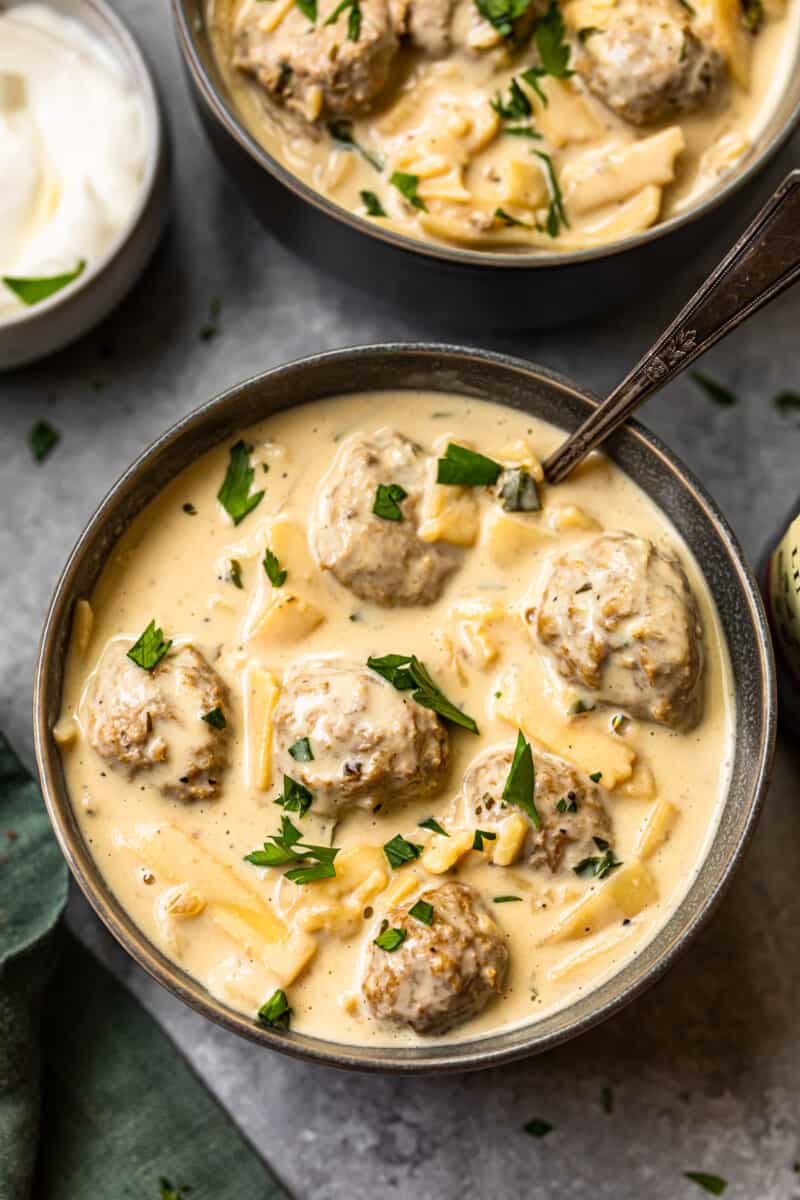 Homemade Swedish Meatball Soup
There's nothing more comforting than perfectly seasoned Swedish meatballs. Put those meatballs in a deliciously creamy sauce with Kluski egg noodles, and you have a perfect weekday meal! If you're looking for a hearty soup to warm you up on a cold winter's day, you just can't beat this Swedish meatball soup.
Swedish meatball soup is similar to the classic Swedish meatballs, except they are swimming around in a delicious soup. The soup tastes like the sauce in traditional Swedish meatballs but slightly thinner and with noodles added in.
Why You'll Love this Meatball Soup Recipe:
HOMEMADE MEATBALLS: Sure, frozen meatballs are good, but there is nothing quite as delectable as homemade meatballs!
CREAMY BEEF SAUCE: Made with beef bouillon, butter, Worcestershire sauce, sour cream, heavy whipping cream, and plenty of seasonings, this sauce is to die for.
EASY TO MAKE: Although it may seem complicated, this Swedish meatball soup is quite easy to make.
Whether you are looking for something different or you want a hearty soup to warm you up on a cold winter's day, this Swedish meatball soup is warm, comforting and delicious!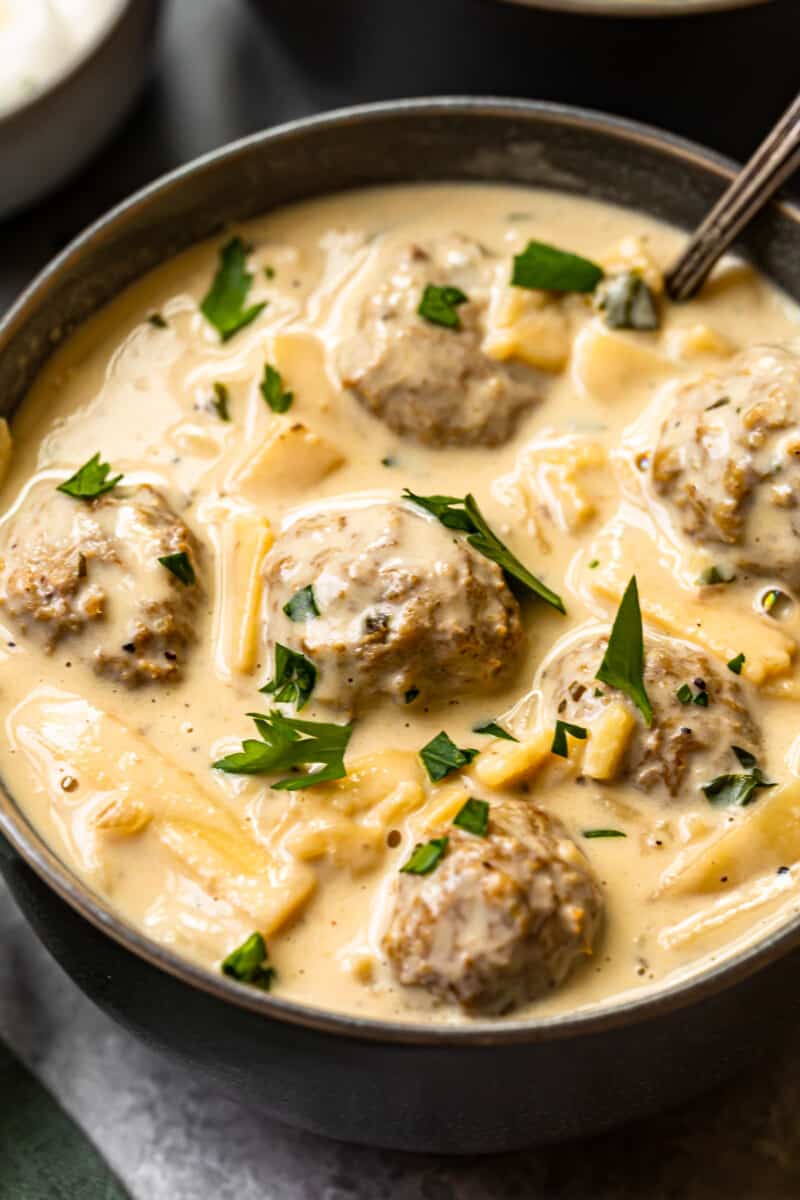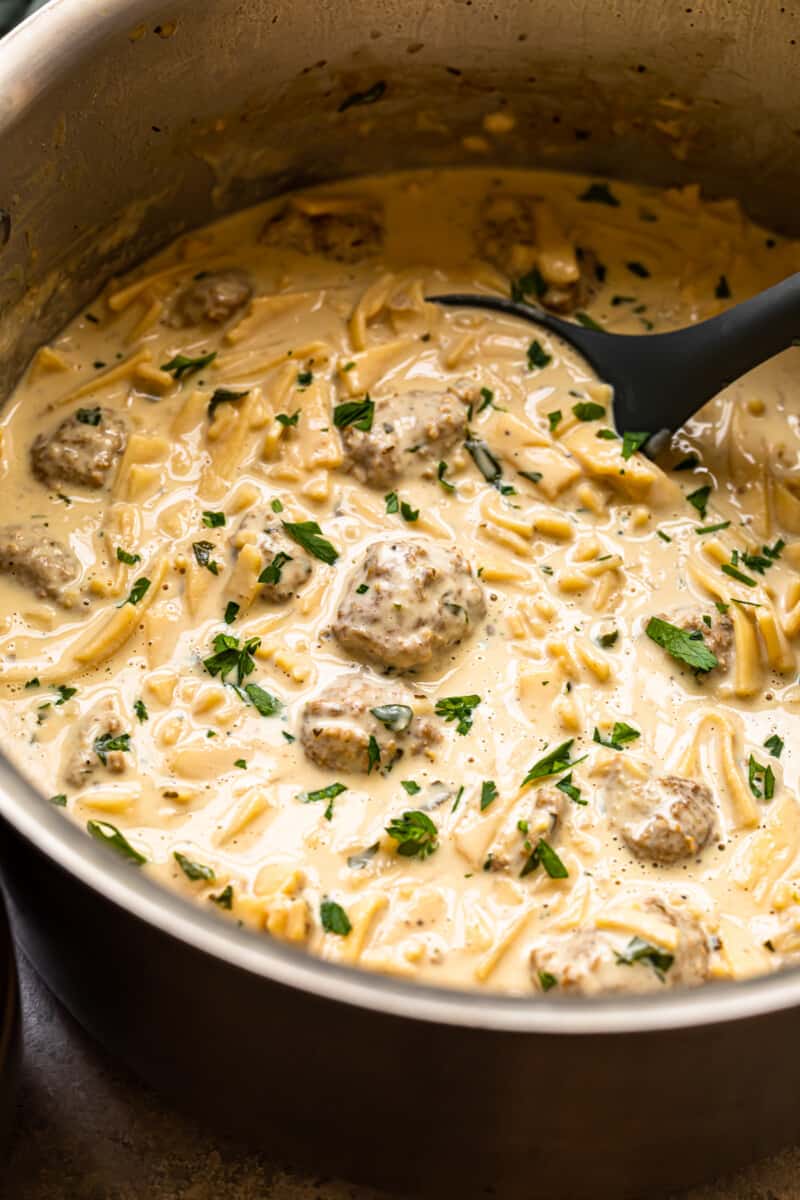 How to Make Swedish Meatball Soup
You can jump to the recipe card for full ingredients & instructions!
Combine your breadcrumbs, milk, cream, egg, salt, pepper, allspice, nutmeg, and parsley into a large bowl.
Melt your butter on a skillet and saute the minced onion until translucent.
Then, add the minced garlic and saute another 30-seconds.
Transfer the onions and garlic to the breadcrumb mixture.
Add the ground beef and ground sausage to the bread mixture. Mix everything together well.
Roll the mixture into 1-inch balls and place them on the prepared cookie sheet.
Bake your meatballs for 12-15 minutes.
Melt the butter in a large skillet, add the flour and whisk well.
Add beef broth, chicken broth, cream, sour cream, bouillon granules, soy sauce, Worcestershire sauce, Dijon mustard, cider vinegar, sugar, and black pepper to the roux. Whisk well.
Bring the roux to a boil over medium heat, and then add the noodles.
Bring it back to a boil and reduce the heat. Simmer until the noodles are al dente.
Next, add your meatballs and simmer until the noodles are cooked.
Add the chopped parsley and gently stir your soup.
Serve and garnish with dollops of Lingonberry jam, sour cream, and a sprinkle of additional chopped fresh parsley.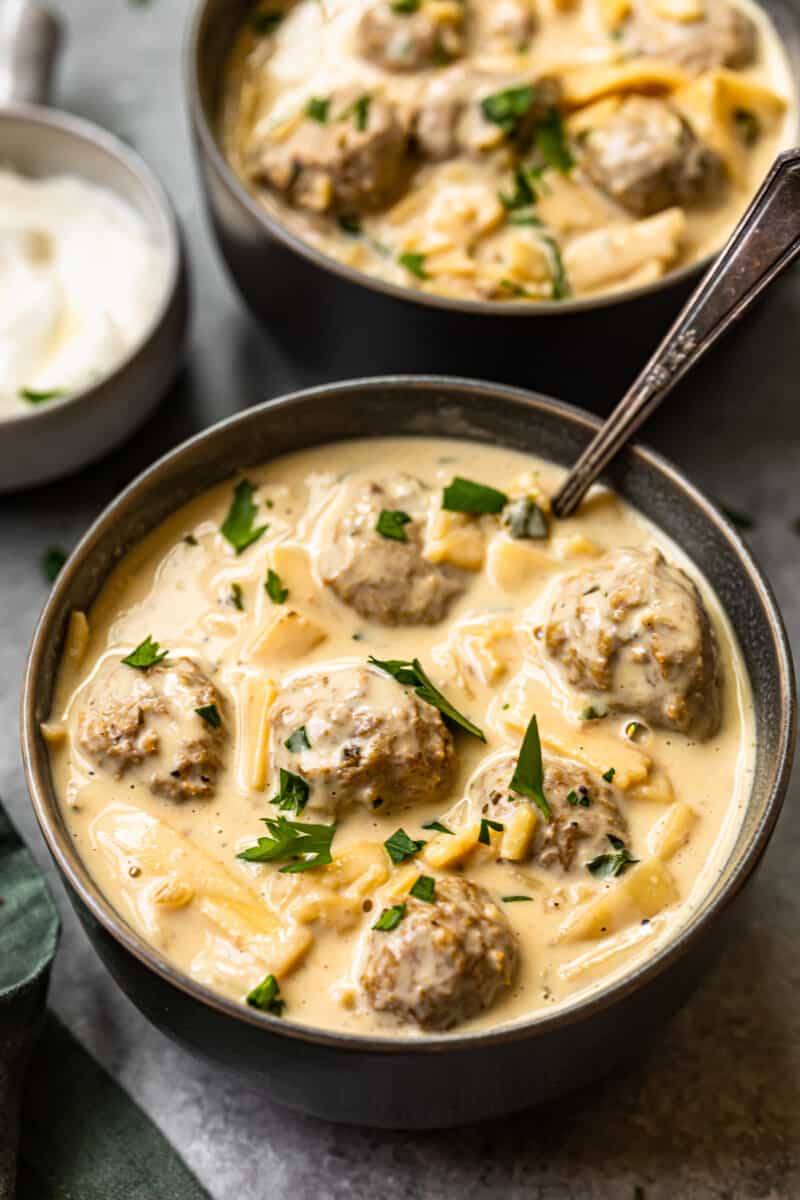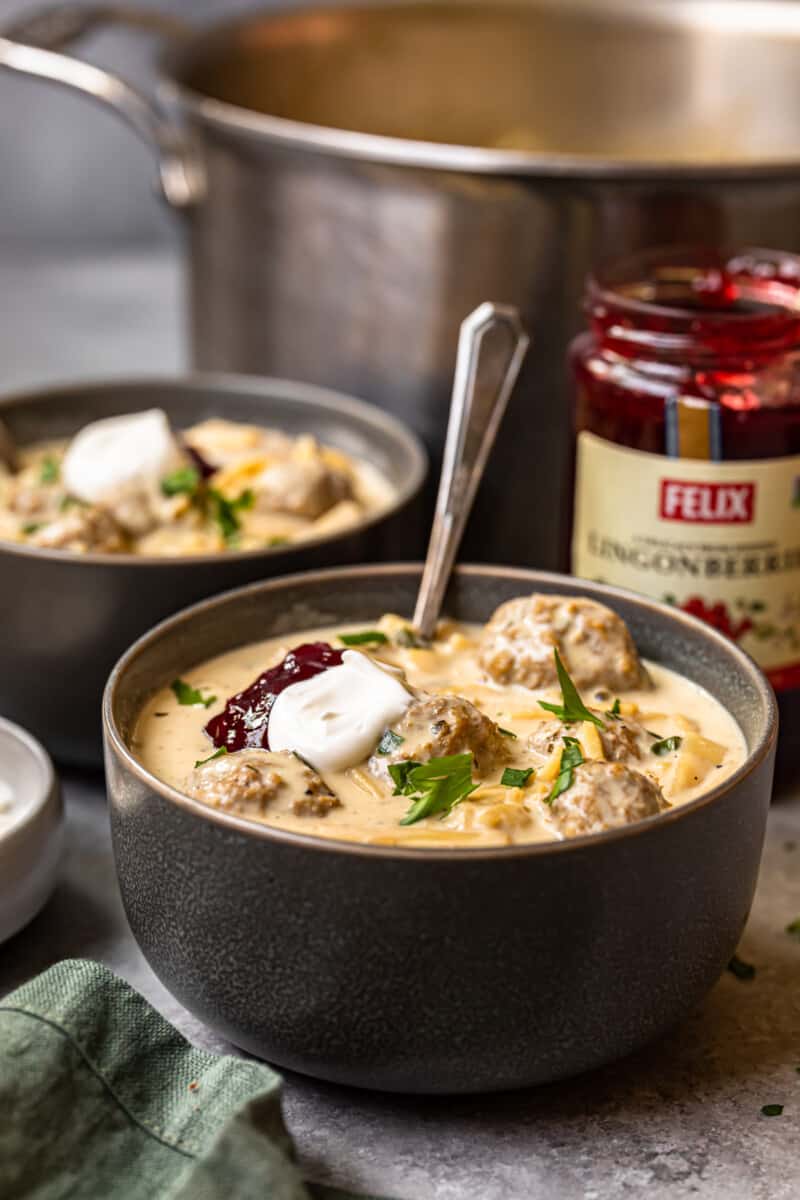 What are Swedish meatballs?
Swedish meatballs are a little different from regular meatballs. The main difference is that they are made with a 50-50 ratio of ground pork AND ground beef. Regular meatballs just use ground beef. Additionally, Swedish meatballs tend to be smaller in size making them perfect to throw into a soup or casserole. They are made with Swedish spices like nutmeg and allspice for a truly divine flavor that can't be beat.
Can I use frozen meatballs?
Yes, you can use frozen Swedish meatballs for this recipe instead, but from my experience, it isn't nearly as good as homemade meatballs. Just follow the directions for heating your frozen meatballs and use the rest of the recipe to make your sauce and noodles.
Can I make the meatballs ahead of time?
Absolutely! You can make the Swedish meatballs ahead of time and store them in a freezer bag in the freezer for up to 3-months. Or, you can store them in an airtight container in the refrigerator for about 3-days.
Can I freeze this soup?
You can freeze the meatballs and sauce without the noodles with no problem. I would freeze the meatballs and sauce separately. However, if you freeze this soup with the noodles, your noodles may become mushy and unappetizing when you are ready to reheat it.
Serving Suggestions
Swedish meatball soup is packed with protein and noodles for the perfect entree. It's perfect on its own, or with a few delicious sides. Here are a few side ideas to try:
Although a little time consuming, this recipe is super easy to make. It makes great leftovers and freezes well.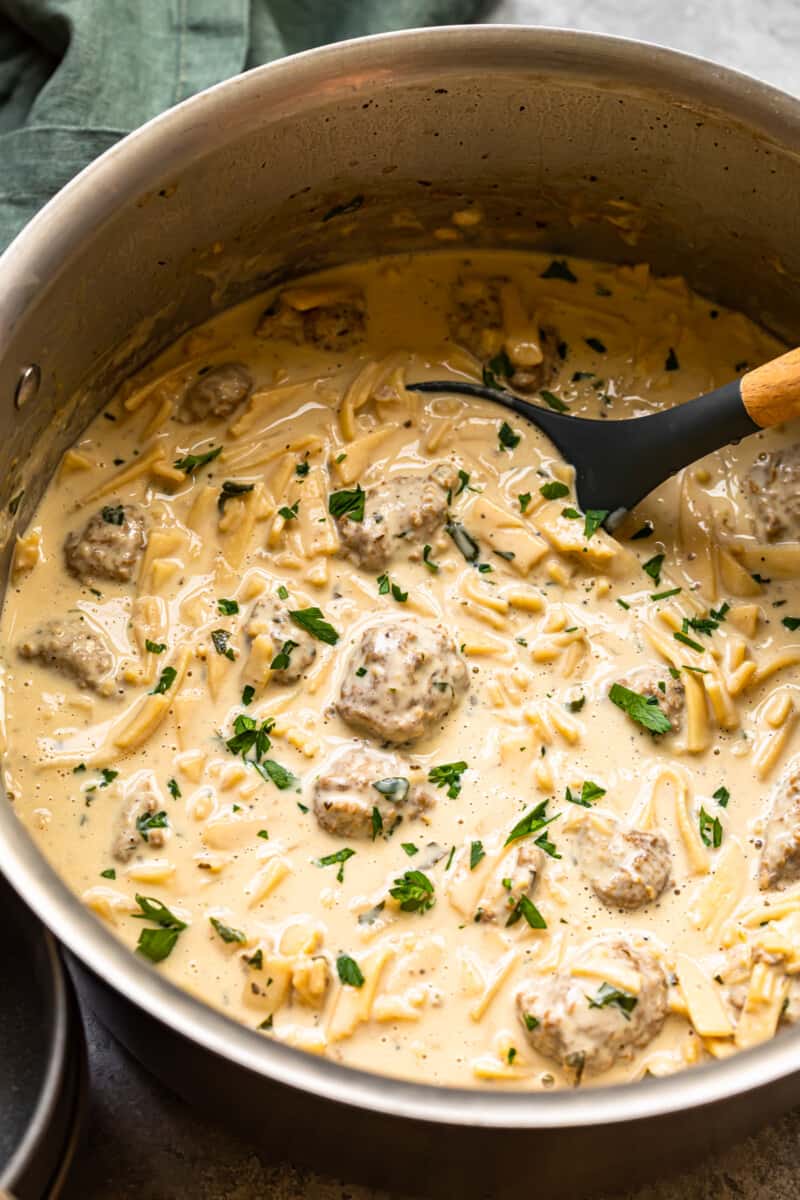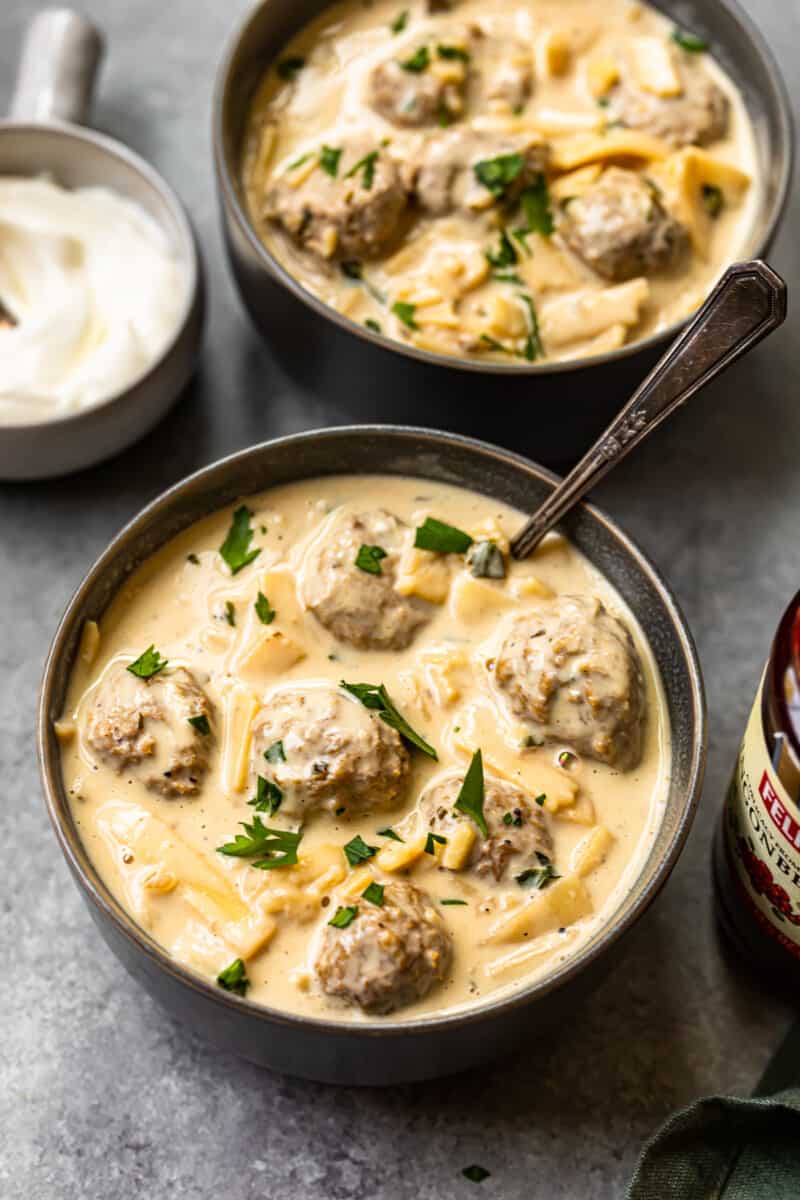 Tips!
Don't overmix the meat. If you overmix the meatballs, they will come out tough. You just want to mix enough that everything is fully incorporated.
Use a cookie scoop. To get perfectly round meatballs, use a 1-inch cookie scoop.
Al dente noodles are noodles that are almost done just not quite mushy.
You can even double this recipe so that you can freeze it for later. Or make a double batch and give the second portion to family or friends. They will love this comforting soup!
How is this recipe different from classic Swedish meatballs?
Classic Swedish meatballs are still made from scratch and cooked in a delicious creamy broth sauce. However, this recipe is a little different because you are adding egg noodles to the recipe and making it into more of a soup. Thus, you won't have to worry about thickening the sauce.
Can I make this soup in a slow cooker?
Absolutely! However, that's a whole different recipe because you'll be adding the ingredients at different times. You'll still cook the meatballs first, but then you'll add the sauce and noodles to the slow cooker. Follow this Slow-Cooker Swedish Meatball soup recipe to make it in your crock pot.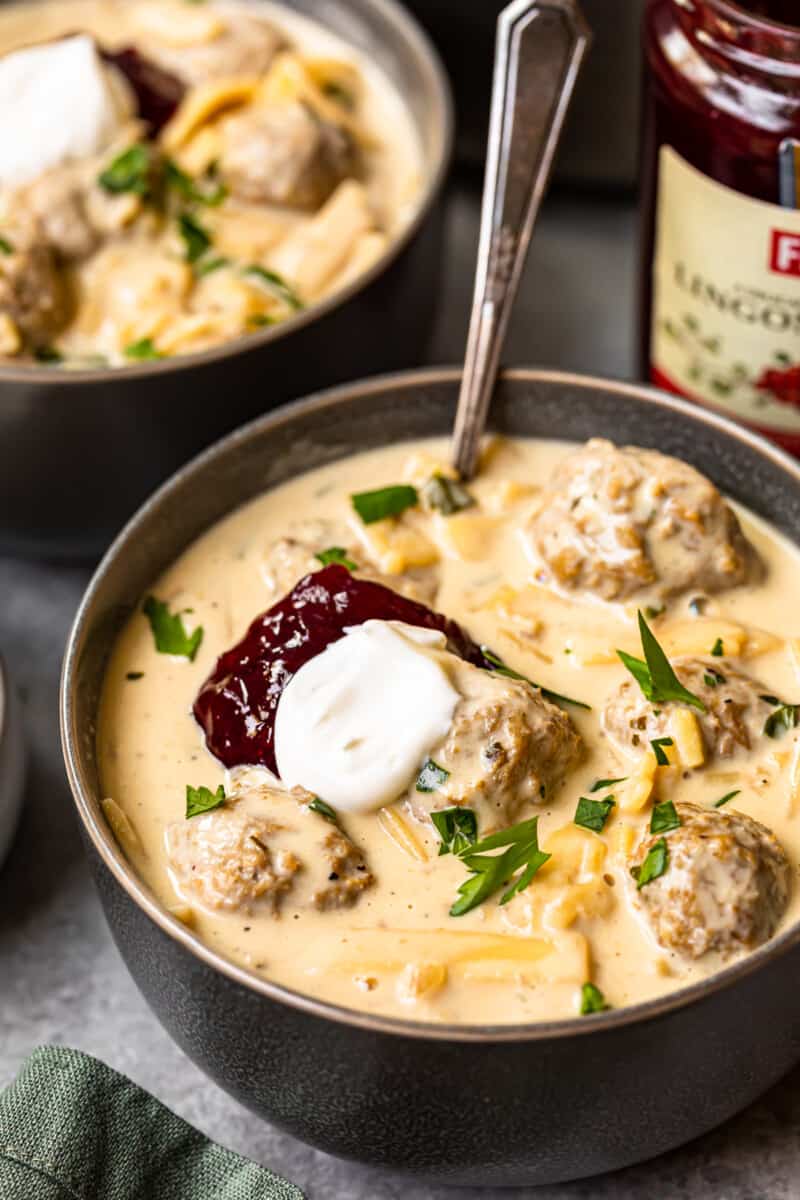 This Swedish meatball soup is the ultimate comfort meal. If you're looking to impress the family with a delicious meal, this is the recipe for you.
If you make this recipe be sure to upload a photo in the comment section below or leave a rating. Enjoy! You can also jump to recipe.