CHICKEN AND SWEET POTATO ENCHILADAS are a healthy and delicious way to enjoy Mexican night! We love these tasty enchiladas and make them on the regular!
I have always loved sweet potatoes, and recently have really enjoyed cooking with them.  In the past couple months, I've made Twice Baked Sweet Potatoes, Baked Sweet Potato Chips, Sweet Potato Casserole, and even Loaded Sweet Potato Chips! They are such a versatile ingredient, tasting delicious both savory or sweet.
I'm so excited to announce a new series here on the blog! I've partnered with one of my very favorite bloggers, Meg from The Housewife in Training Files to create The Rookie Housewife Cooking Series (see what we did there? haha) Meg picked sweet potatoes as our ingredient…and then we both created a recipe based off of that.  Since this was our first time trying this, we only chose 1 required ingredient.  We might make it harder in the future…you'll have to stay tuned! I chose to make Chicken & Sweet Potato Enchiladas.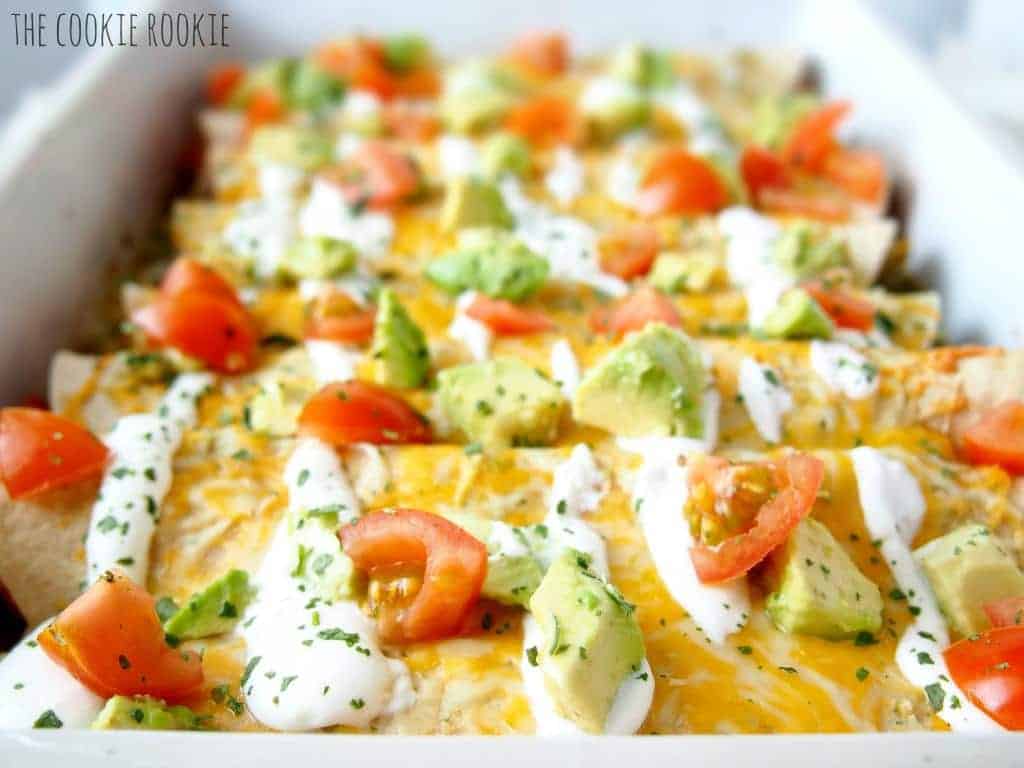 I am LOVING these Chicken and Sweet Pototo Enchiladas.  Both Pat and I were shocked at just how good they are!  They have such a fresh taste.  You guys know that I love easy and delicious meals.  These enchiladas fit the bill!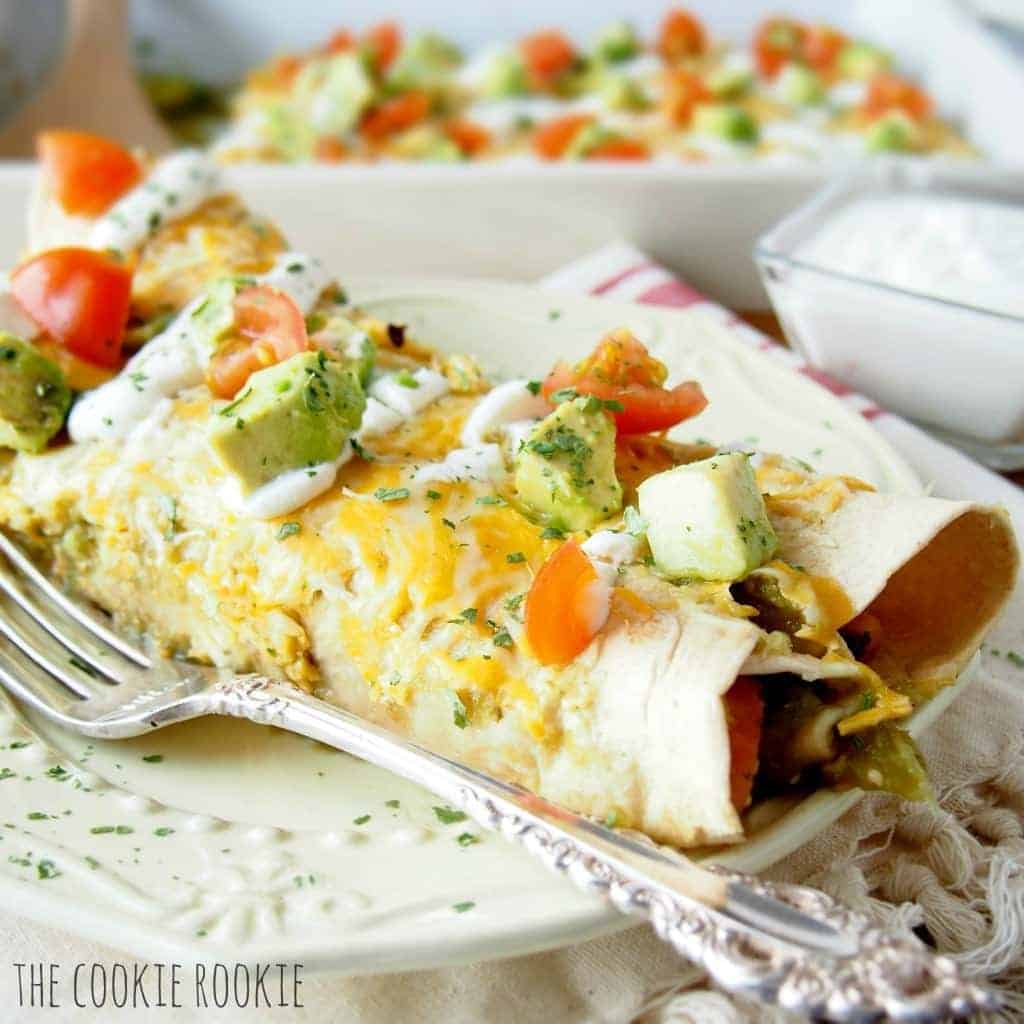 I adapted this recipe from the brilliant blog, Damn Delicious.  I made a couple changes, like adding the chicken and corn and skipping the chiles, but otherwise, I followed her instructions.  Delicious indeed!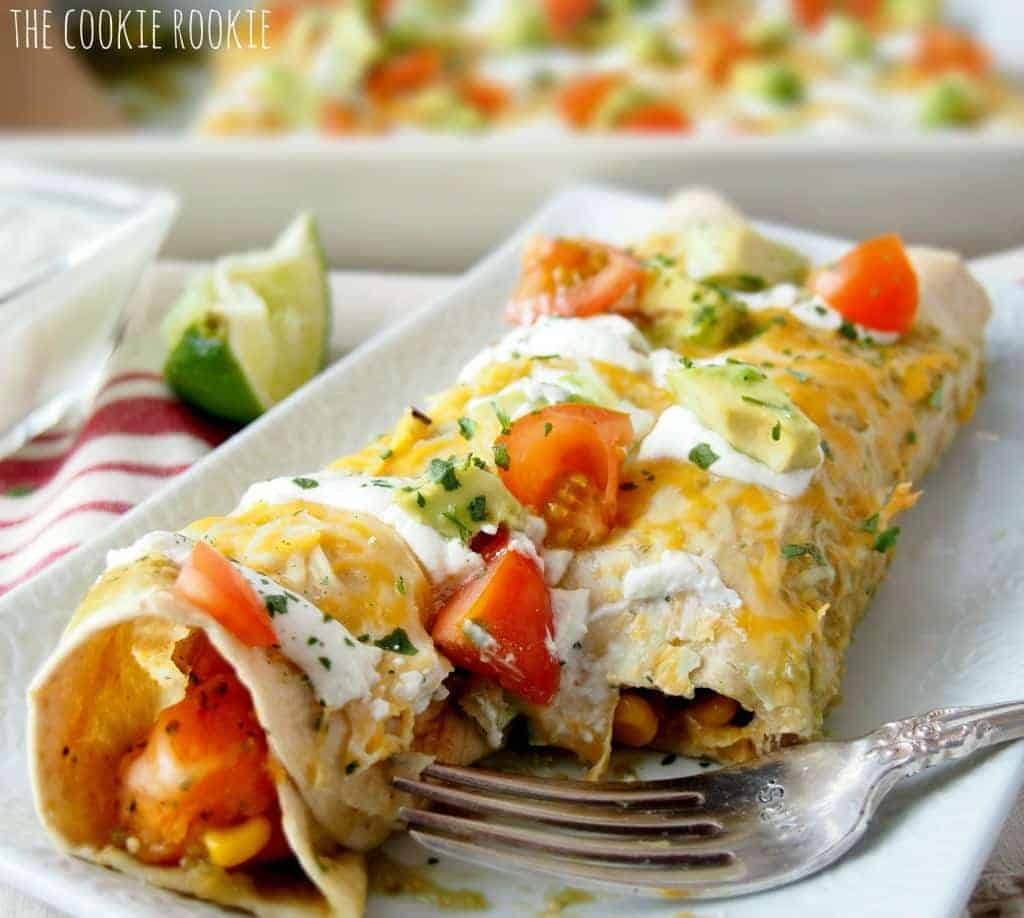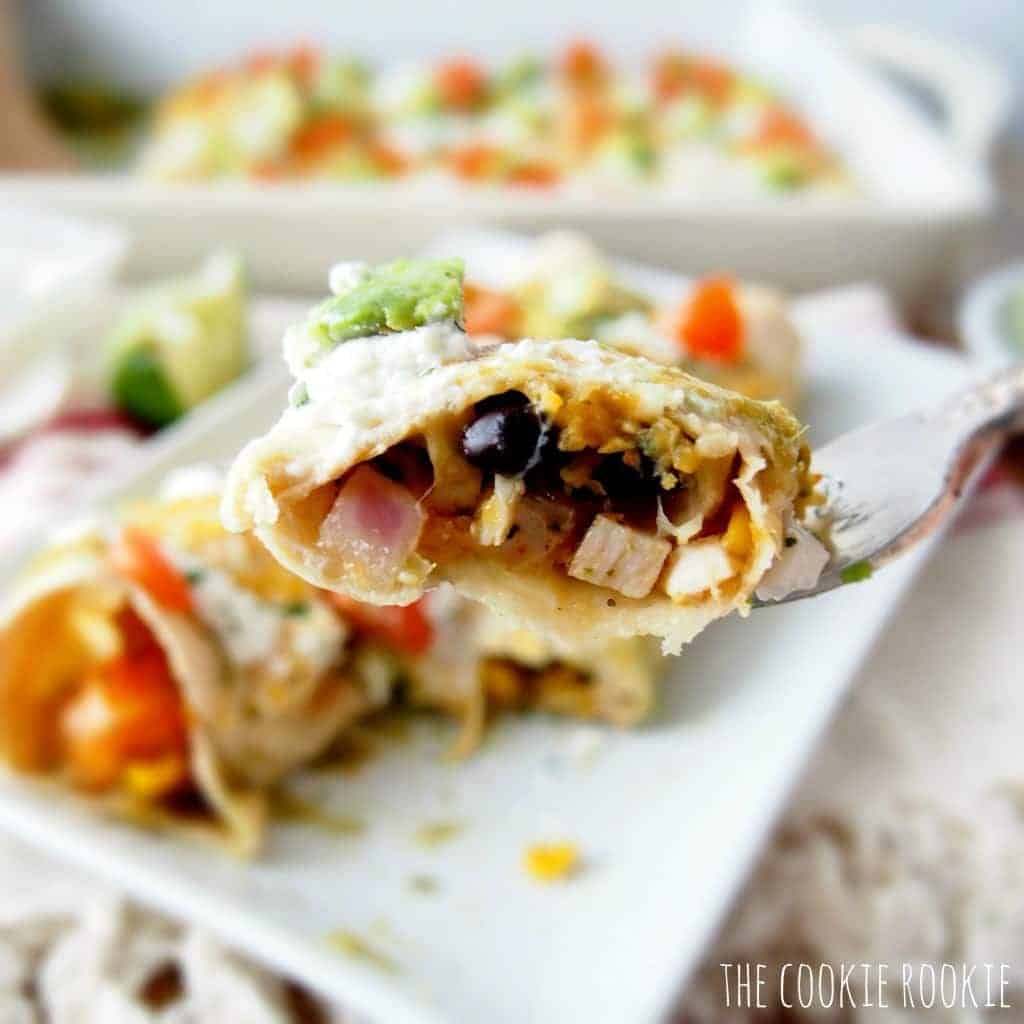 I love how the flavors of the sweet potatos with the black beans, chicken, and salsa verde.  YUM.  I've made many sweet potato recipes…but this just might be my favorite…that is until I try Meg's recipe! She made Grilled Chicken and Bacon "Mac & Cheese" with sweet potato noodles!! I cannot wait to try.  Isn't it beautiful??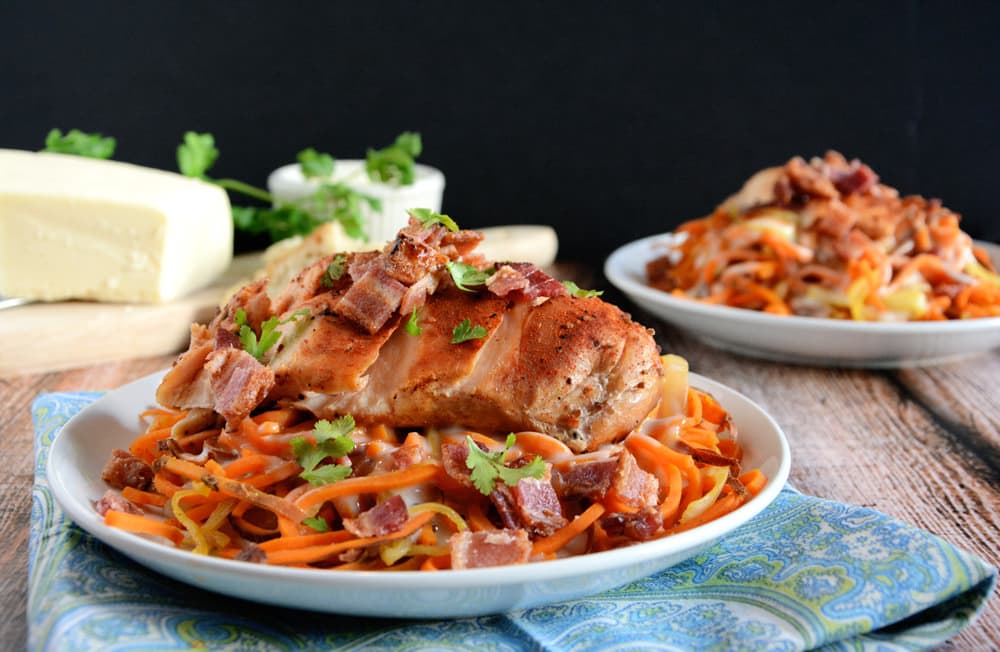 Her meal just looks SO inviting.  Such a unique and new way to use sweet potatoes! Please click HERE to check out her recipe, see more gorgeous pictures, and see her awesome blog.  It has been one of my favorite new blogs for a couple weeks now.  She specializes in healthy dishes that are still packed with flavor.  You won't be disappointed!
Thanks for checking out our first installment of The Rookie Housewife Cooking Series!  Be sure to check out both recipes and let us know what you think! Enjoy :)
the cookie rookie
chicken & sweet potato enchiladas
sweet potatoes and chicken mixed for a fresh, savory take on this favorite mexican dish
Ingredients
2 cups salsa verde
2 cups shredded or cubed chicken, cooked
2 cooked sweet potatoes, peeled and diced
1 can yellow corn kernels, drained and rinsed. (I used Green Giant Steam Crisp corn...it doesn't come in liquid so I could use 'as is'. it was really good!)
1 cup canned black beans, drained and rinsed
1/2 cup diced red onion
3 tablespoons chopped fresh cilantro leaves, divided
1 teaspoon chili powder
1/2 teaspoon garlic powder
salt and pepper to taste
2 cups mexican blend cheese, divided
12 6-inch flour or whole wheat tortillas, warmed
1 avocado, halved, seeded, peeled and diced
1/2 cup diced tomatoes
2 tablespoons sour cream (optional)
Instructions
Preheat oven to 350 degreesF
Pour 1 cup salsa verde in the bottom of a 9x13 baking dish; set aside.
In a large bowl, combine cooked sweet potatoes, cooked chicken, black beans, corn, red onion, cilantro, spices, and salt and pepper, to taste.
To assemble enchiladas, lay tortilla on a flat surface and spoon 1/4 cup sweet potato mixture in the center; sprinkle with cheese. Roll the tortilla and place seam side down onto prepared baking dish.
Repeat with remaining tortillas
Pour the remaining salsa over the enchiladas and top with desired amount of cheese.
Place into oven and bake until bubbly, about 20 minutes.
Garnish with avocado, more tomato, cilantro, and sour cream if desired.
Enjoy!
7.6.4
2075
https://www.thecookierookie.com/sweet-potato-enchiladas/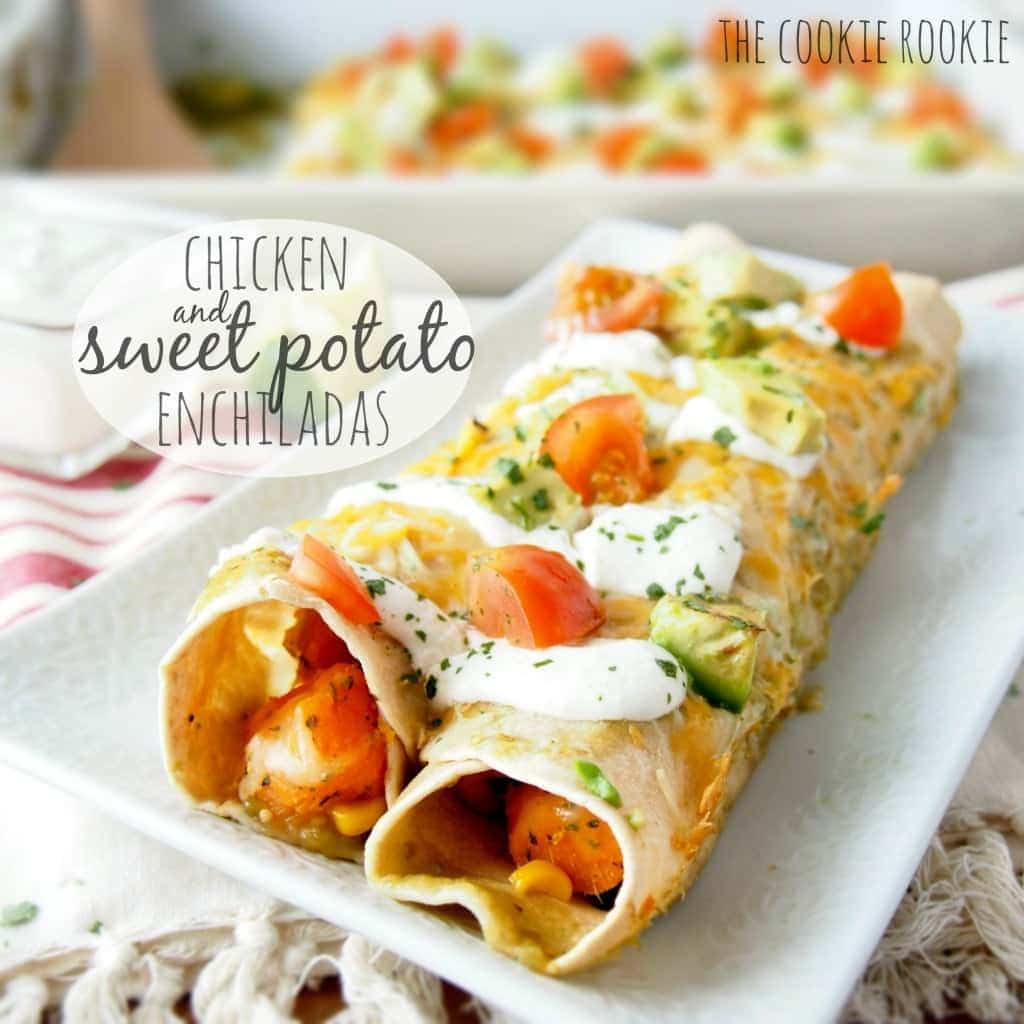 JOIN OUR MAILING LIST
TO GET COOKING!
Subscibe to recieve all the latest, greatest, and EASIEST recipes sent straight to your email inbox. If we post something yummy, you'll be the first to know.