This flavor-packed Grilled Shrimp recipe is so quick and easy, you'll be adding these to every dish. Start with a simple marinade, grill shrimp for just a few minutes, then slather on a bright lemon garlic butter. Pair this seafood favorite with pasta, veggies, and salads!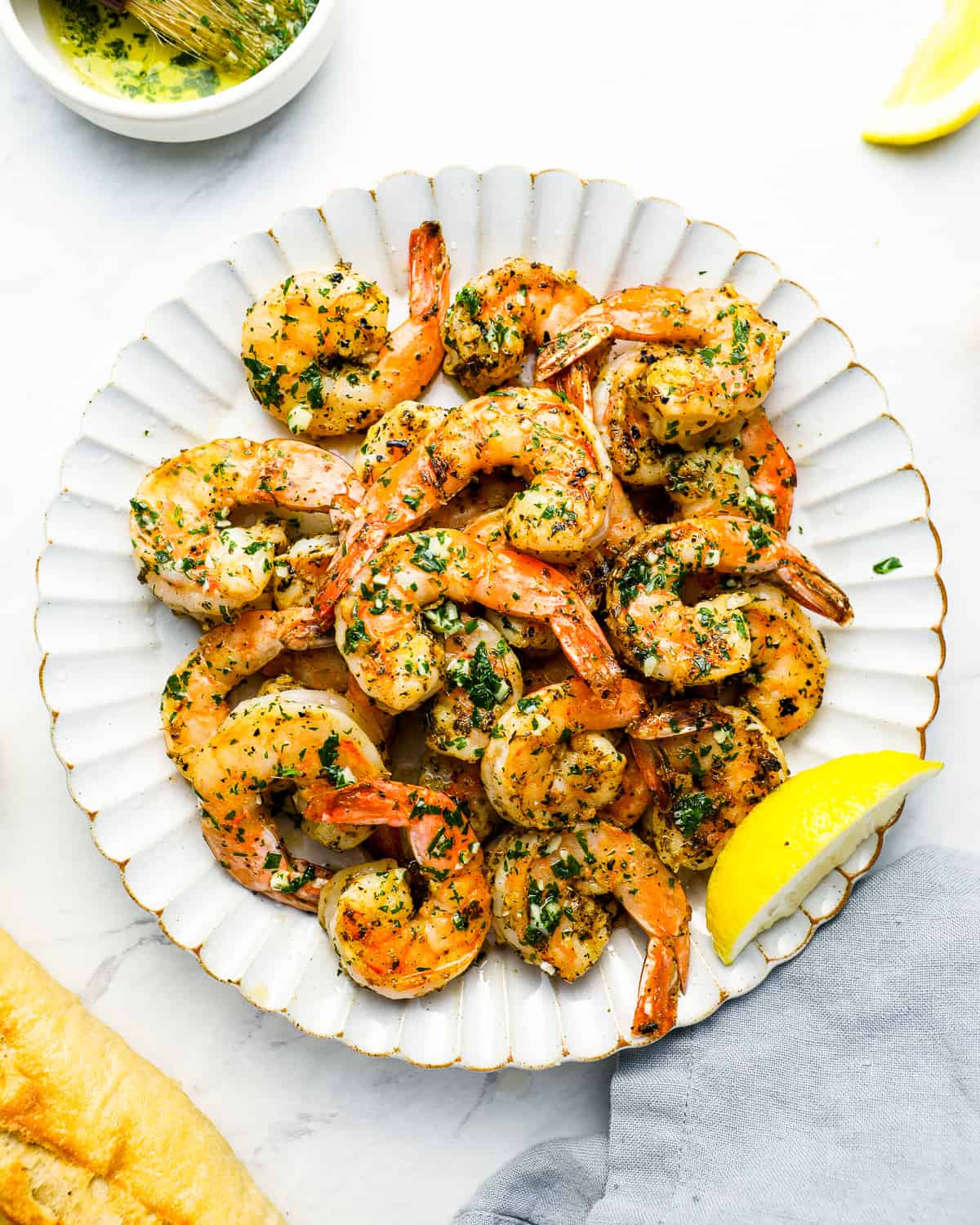 What's in this Grilled Shrimp Recipe?
These tender, well-seasoned shrimp are thrown on the grill then perfectly paired with a rich lemon garlic butter sauce.
Shrimp: You'll need large deveined shrimp with the tails left on.
Olive Oil: Helps the seasoning stick to the shrimp and prevents the shrimp from sticking to the grill.
Italian Seasoning: Adds a delicious herbal flavor.
Dijon Mustard: Adds an earthy spice.
Salt + Pepper: Enhances the natural flavor of the shrimp.
Unsalted Butter: Forms the base of the sauce, adding rich flavor.
Garlic: Adds an earthy flavor and a pungent aroma.
Lemon: Adds brightness and acidity to the marinade.
Parsley: Adds a pop of freshness and color.
Pro Tip: For maximum flavor, marinate the shrimp for up to 12 hours.
Variations on Shrimp on the Grill
For spicy grilled shrimp, add ½ teaspoon of red pepper flakes or a pinch of cayenne pepper to the shrimp marinade. Try swapping out the Italian seasoning for fresh herbs for a fresher, brighter flavor. Or use a different seasoning blend, like Creole seasoning, blackened seasoning, or herbs de Provence.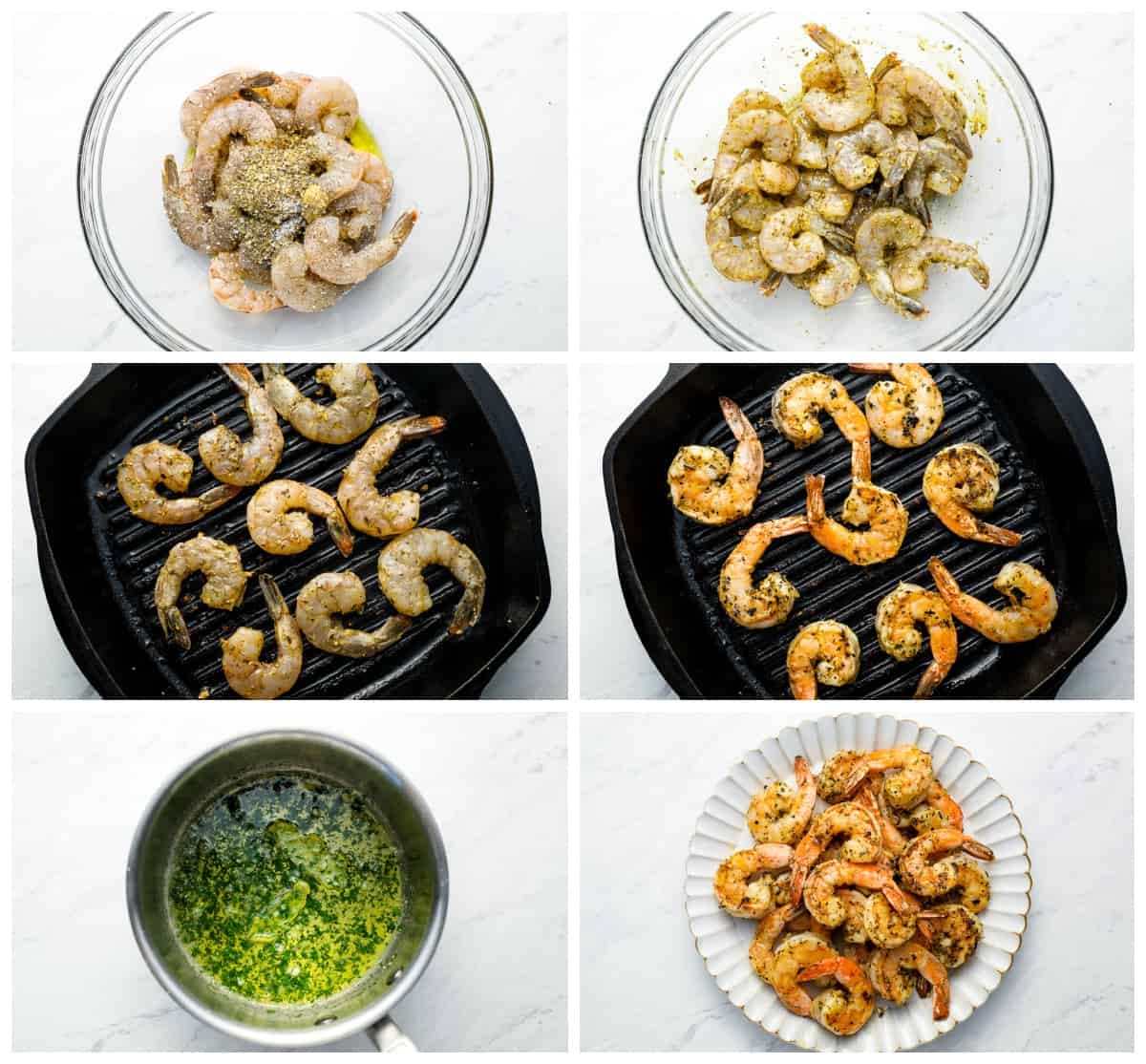 How long do you grill shrimp?
Shrimp cook super quickly. You'll only need to grill them for about 1-2 minutes per side.
Do you rinse shrimp before grilling?
While it's not a necessary step, you can rinse off raw shrimp before cooking them to remove any loose bits or shell fragments.
Should you peel shrimp before grilling?
Shrimp can be grilled with or without their shells. I like to remove the shells (leaving the tails on) to allow the marinade to penetrate into the meat.
What is the best method for grilling shrimp?
The best way to grill shrimp is over direct medium heat (about 350-450°F) for just a few minutes.
Do you grill shrimp covered or uncovered?
Because shrimp cook so quickly, there's no need to cover them on the grill. You'll want to watch them carefully as they cook because as soon as they are opaque, they are finished cooking.
How do you keep shrimp moist on the grill?
The best way to keep shrimp moist on the grill is to marinate it beforehand. A salty, well-seasoned marinade will infuse the shrimp with moisture and flavor.
Do you flip shrimp on the grill?
Yes, you should flip shrimp once on the grill to ensure even cooking.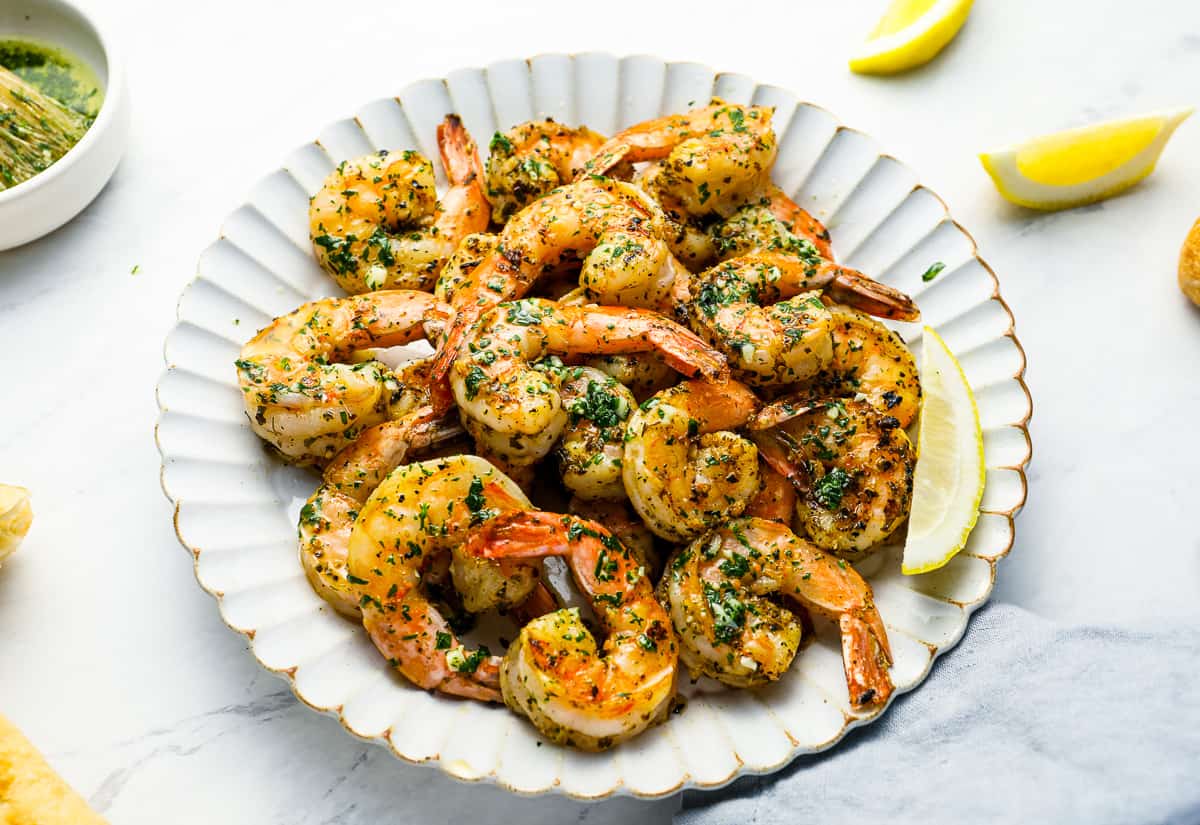 How to Store and Reheat
Store leftover grilled shrimp in an airtight container in the refrigerator for up to 3 days. Reheat on the grill or in a lightly-oiled frying pan just until warmed through.
How to Freeze
Freeze cooked shrimp in a single layer on a lined baking sheet until solid, about 1-2 hours. Transfer to an airtight container or Ziplock bag to store for up to 3 months. Let thaw overnight in the refrigerator before reheating.
Serving Suggestions
These simple grilled shrimp pair well with white rice, roasted potatoes, oven baked risotto, fresh pasta, and grilled vegetables. A crunchy cucumber salad, fresh corn on the cob, lemon butter asparagus, or a grilled peach salad would also be delicious!
You can also use these shrimp to make shrimp tacos, shrimp fajitas, grilled shrimp salad, or shrimp summer rolls.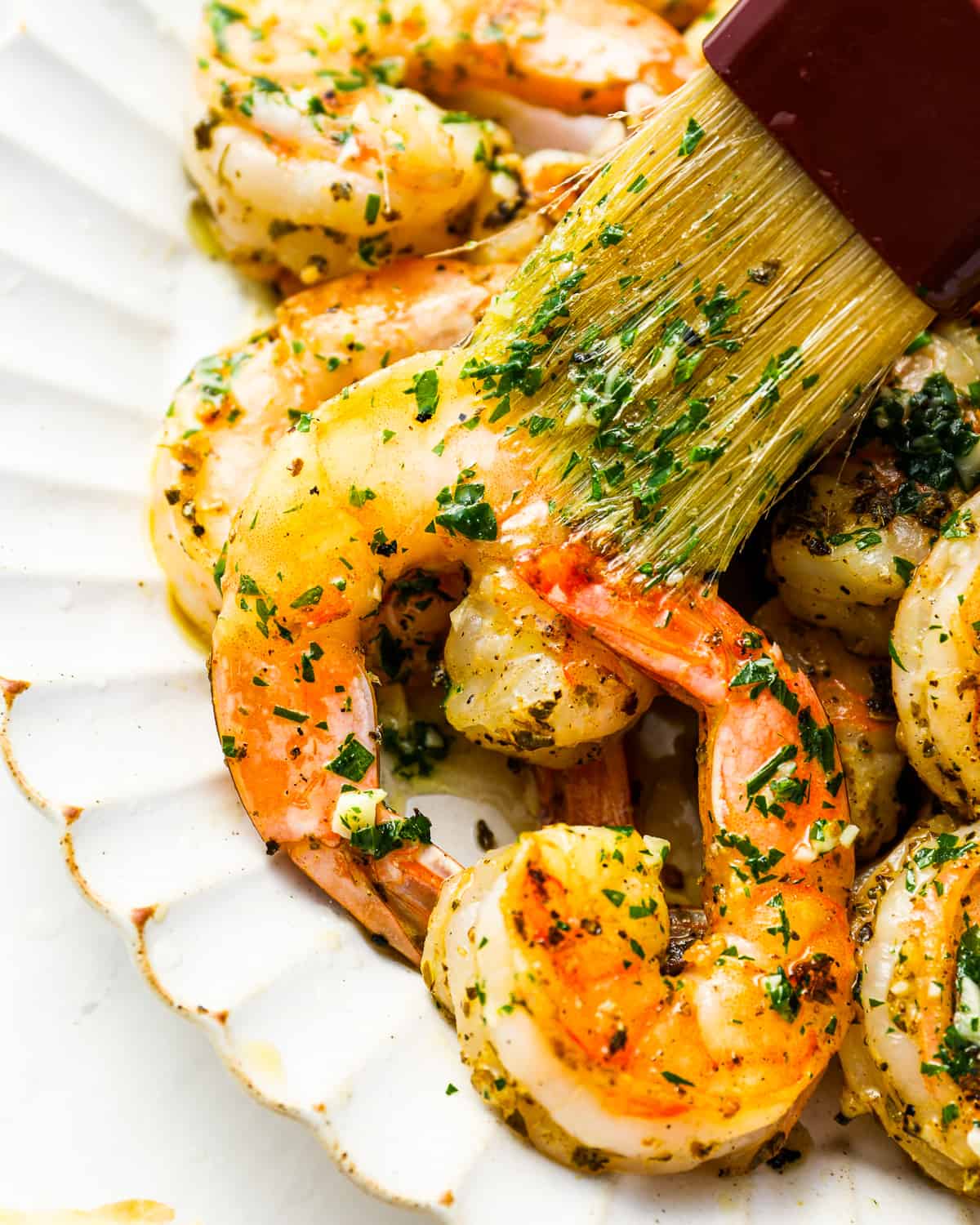 More Shrimp Recipes We Love