These Parmesan Roasted Potatoes come out of the oven perfectly crispy and delicious thanks to just a handful of ingredients. Italian-seasoned breadcrumbs and Parmesan cheese create a delicious crust on baby potatoes. It's simple the best side dish for any dinner!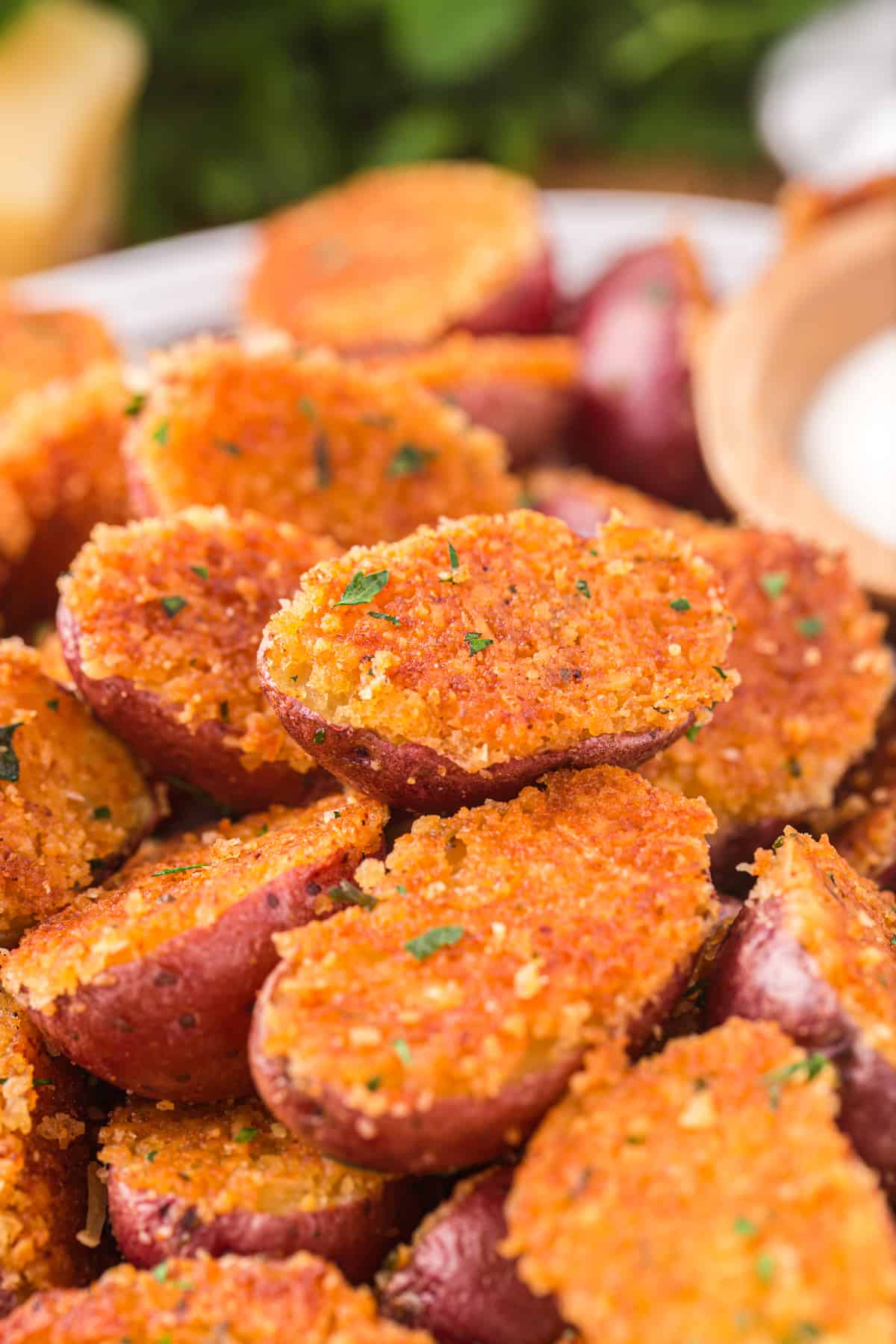 What's in Parmesan Crusted Potatoes?
Turn classic roasted potatoes into Parmesan roasted potatoes with just a couple of key ingredients. That golden, crispy Parmesan crust is the cherry on top of tender, pillow-y potatoes!
Potatoes: Baby red potatoes work best for this recipe because they roast up beautifully in the oven.
Butter: Salted, melted butter is key here.
Breadcrumbs: We're using Italian panko breadcrumbs for that crisp texture, but another type of breadcrumb works too.
Parmesan: Use both pre-grated Parmesan cheese (found in a shaker) and freshly shredded Parmesan for a mix of textures.
Pro Tip: Slice potatoes into even-sized pieces so they cook through evenly.
Spice Up Your Potatoes
For a bit of extra flavor, you can add a few cloves of freshly minced garlic to the Parmesan cheese mixture on the pan. This will create tasty garlic Parmesan roasted potatoes!
You can also add dried or fresh herbs like rosemary, sage, Italian seasoning, onion powder, garlic powder, or herbs de Provence to really set these potatoes off!
If you're looking for an even more dynamic cheesy flavor, mix pecorino romano cheese into your Parmesan mixture for an extra depth of flavor. And don't forget a sprinkle of fresh parsley for a pop of color.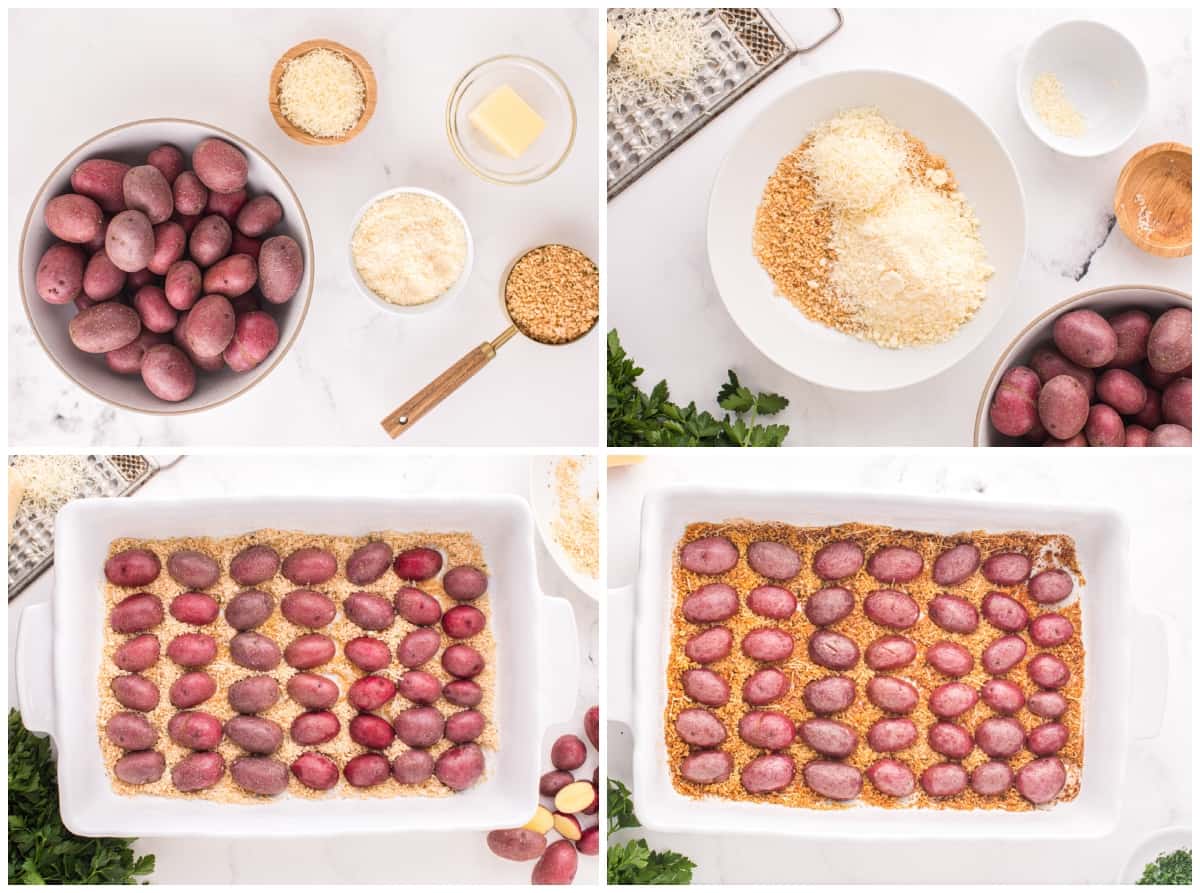 What are the best potatoes for roasting?
You can use any potato you like for roasted potatoes. I like baby red potatoes, but you could use a mix of red and Yukon golds, russet potatoes, or even sweet potatoes. Just make sure to cut the potatoes into equal-sized pieces so that they roast evenly.

Is it necessary to boil potatoes before roasting?
It's not necessary to parboil potatoes before roasting if they are cut into pieces. If you plan to roast whole or exceptionally large pieces of potato, you may want to parboil them to ensure that they will cook all the way through.
Can I make Parmesan roasted potatoes with a different cheese?
You sure can! I recommend using hard, aged cheeses like Grana Padano, Pecorino Romano, Cheddar, Gruyere, or Emmental. Softer cheeses may not crisp up as well.
How do you get crispy roast potatoes?
It's important to use high enough heat and to spread the potatoes out evenly over the sheet pan If the potatoes seem too crowded on one baking sheet, you may want to spread them out over two sheet pans instead. Check your oven temperature carefully, as ovens can be up to 25°F cooler or warmer than the registered temperature.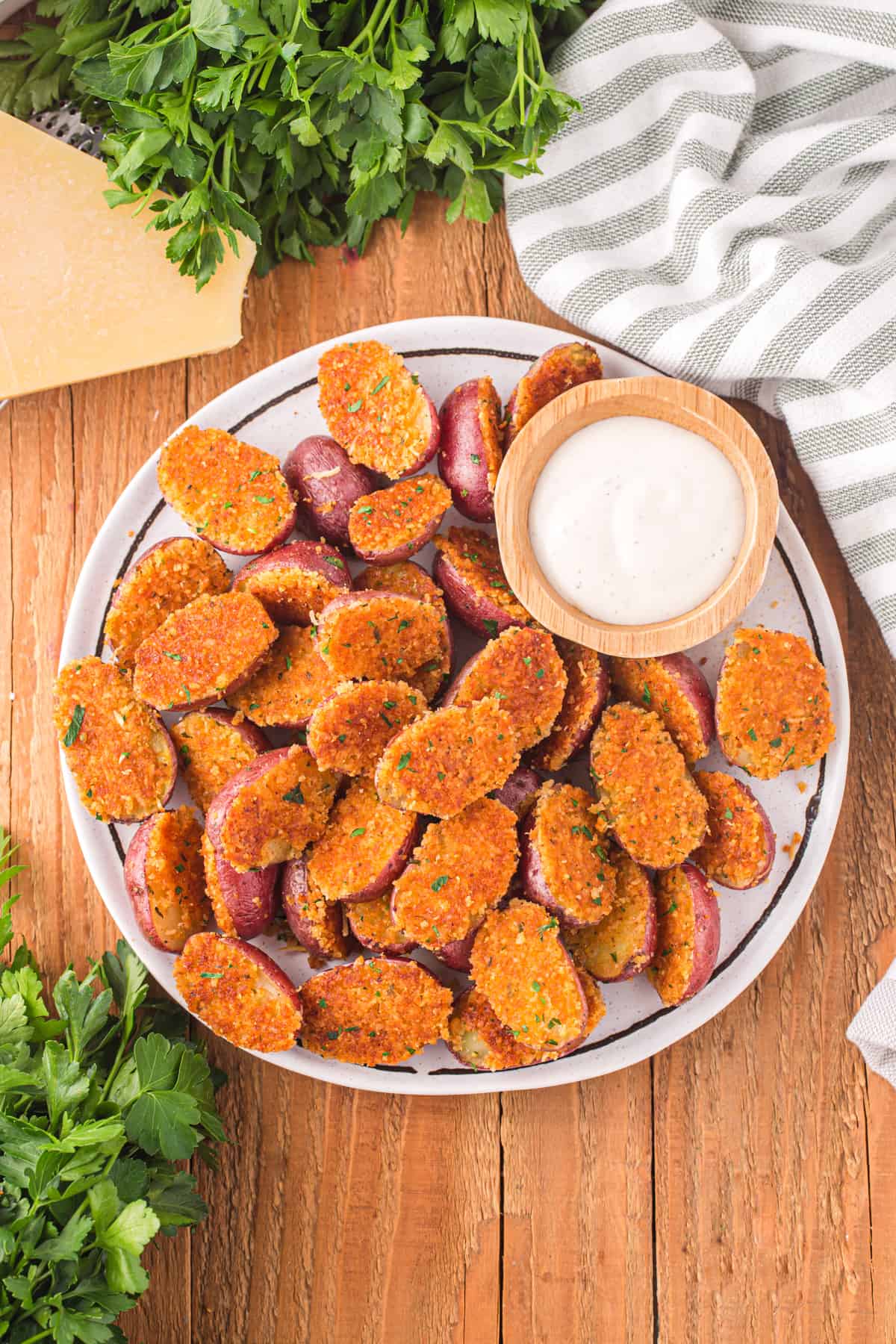 How to Store and Reheat
Store leftover Parmesan roasted potatoes in an airtight container in the refrigerator for up to 5 days. Reheat in a 350°F oven for 5-10 minutes, until warmed through.
How to Freeze
Freeze Parmesan crusted potatoes in a single layer on a lined baking sheet until solid, about 1-2 hours. Transfer to an airtight container or Ziplock bag to store for up to 3 months. Let thaw overnight in the refrigerator before reheating.
What to Serve with Oven Roasted Parmesan Potatoes
Serve these crispy, cheesy, Parmesan roasted potatoes as an appetizer with a flavorful dipping sauce, like ranch dressing, honey mustard, sour cream and onion dip, basil pesto, or garlic aioli.
Or serve them alongside a delicious main dish, like Air Fryer Salmon, Parmesan Crusted Chicken, Turkey Meatloaf, or Baked Pork Tenderloin.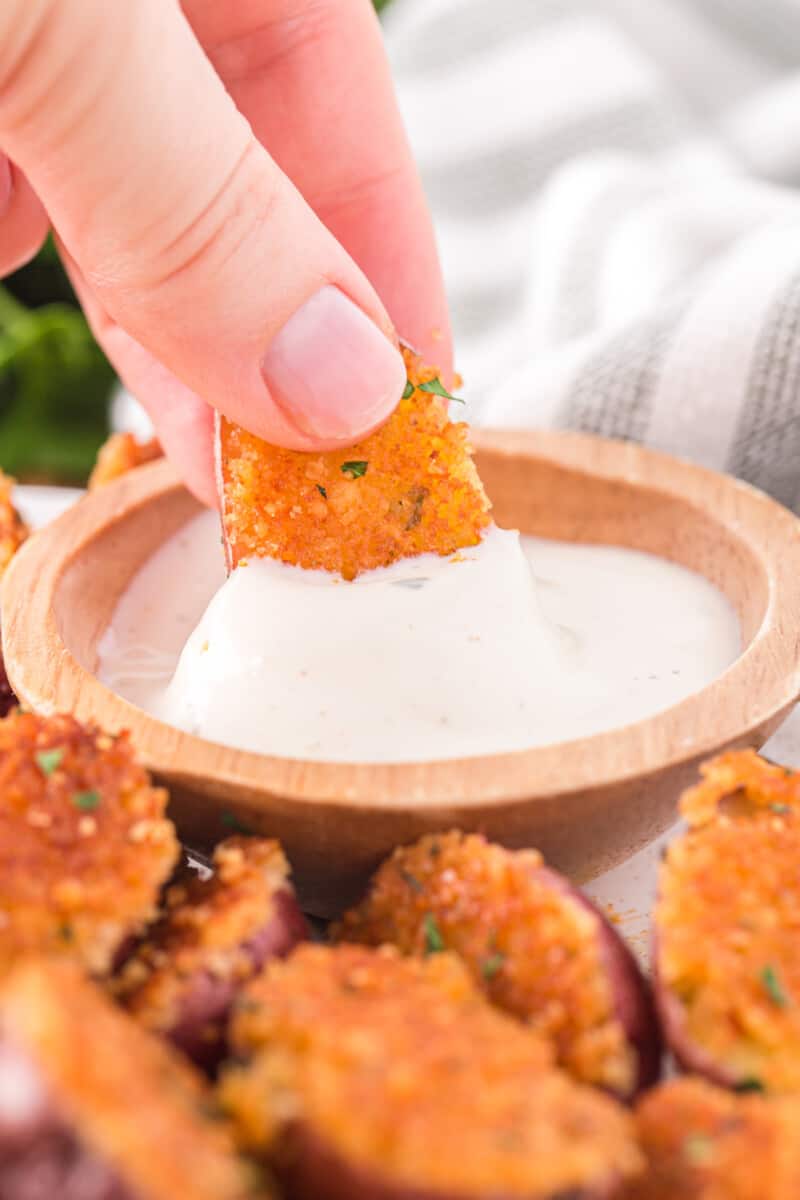 More Roasted Potato Recipes We Love