This is my favorite Turkey Brine recipe to get a juicy, flavorful roast turkey every time! A simple mix of water, salt, sugar, garlic, and fresh herbs is all you need. Once you make the wet brine, I'll show you how to brine the turkey too–it's really easy!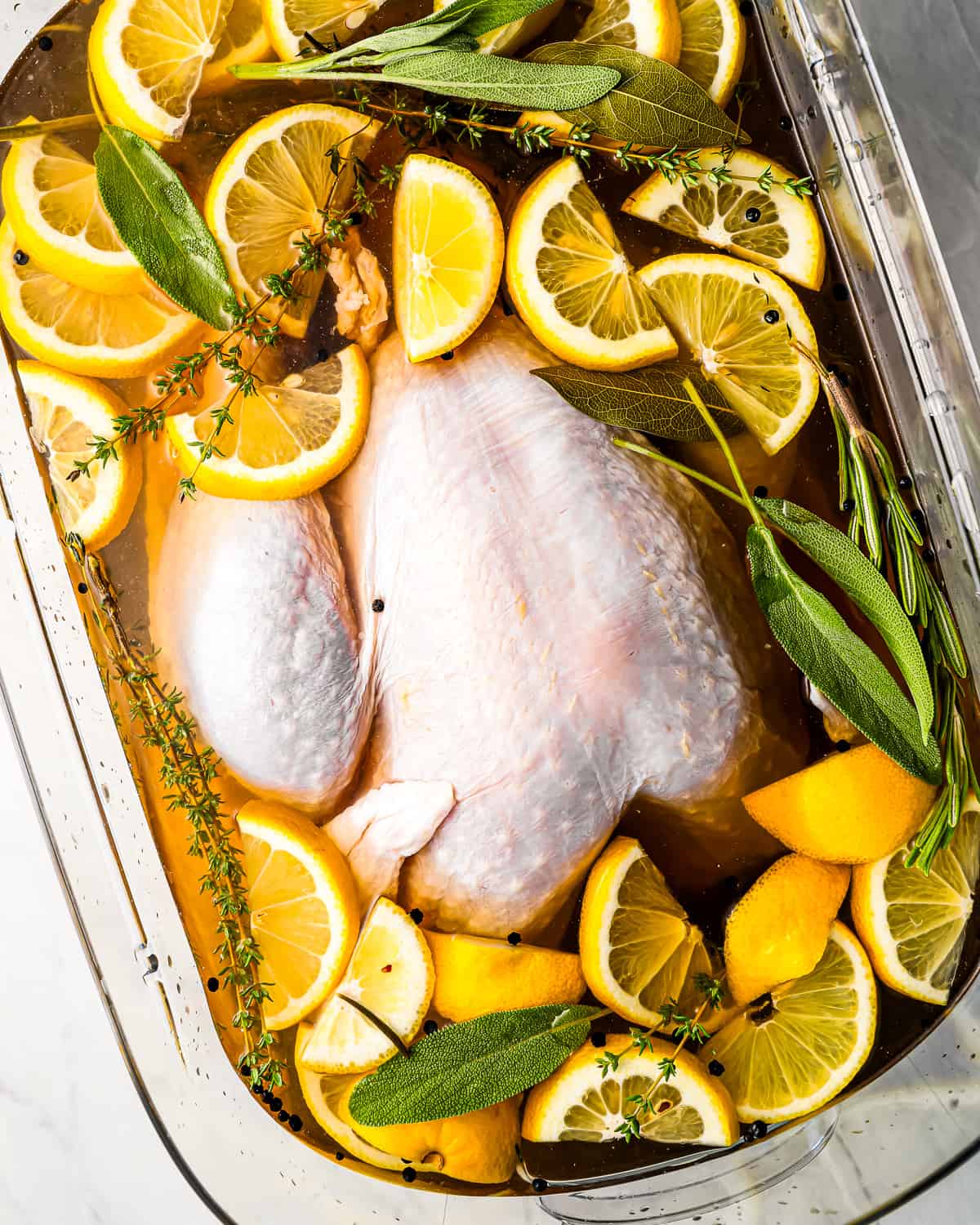 What's in this Turkey Brine?
This sweet and savory turkey brine recipe helps to create the most tender, juicy, and flavorful Thanksgiving turkey you've ever tasted.
Water: Creates a solution to dissolve the salt, creating a wet brine.
Kosher Salt: Seasons the brine to infuse the meat with flavor.
Brown Sugar: Adds a touch of sweetness.
Black Peppercorns: Adds a hint of spice.
Fresh Herbs: Thyme, sage, and rosemary add a rich and herbaceous flavor.
Bay Leaves: Add a subtle herbal flavor.
Garlic: Adds an earthy flavor and a pungent aroma.
Ice: Cools the brine quickly so that it doesn't start to cook the turkey.
Turkey: You can use any size turkey with this wet brine recipe, but I recommend one that's 8-16 pounds. Don't use a pre-seasoned, kosher, salt-injected, or self-basting turkey because it will turn out too salty!
Pro Tip: The magic ratio is 1½ cups of salt for every 1 gallon of water, so if you need more brine, follow that guide!
Variations on Wet Brine for Turkey
While I love the combination of herbs and spices in this turkey brine recipe, you can definitely add other aromatics into the mix. Lemon slices or orange peels are a great addition for a touch of citrus flavor; shallots or onions enhance the earthy flavor; and red pepper flakes or paprika add a touch of spice.
You can also swap out some of the water for apple juice, apple cider, or chicken broth for even more flavor.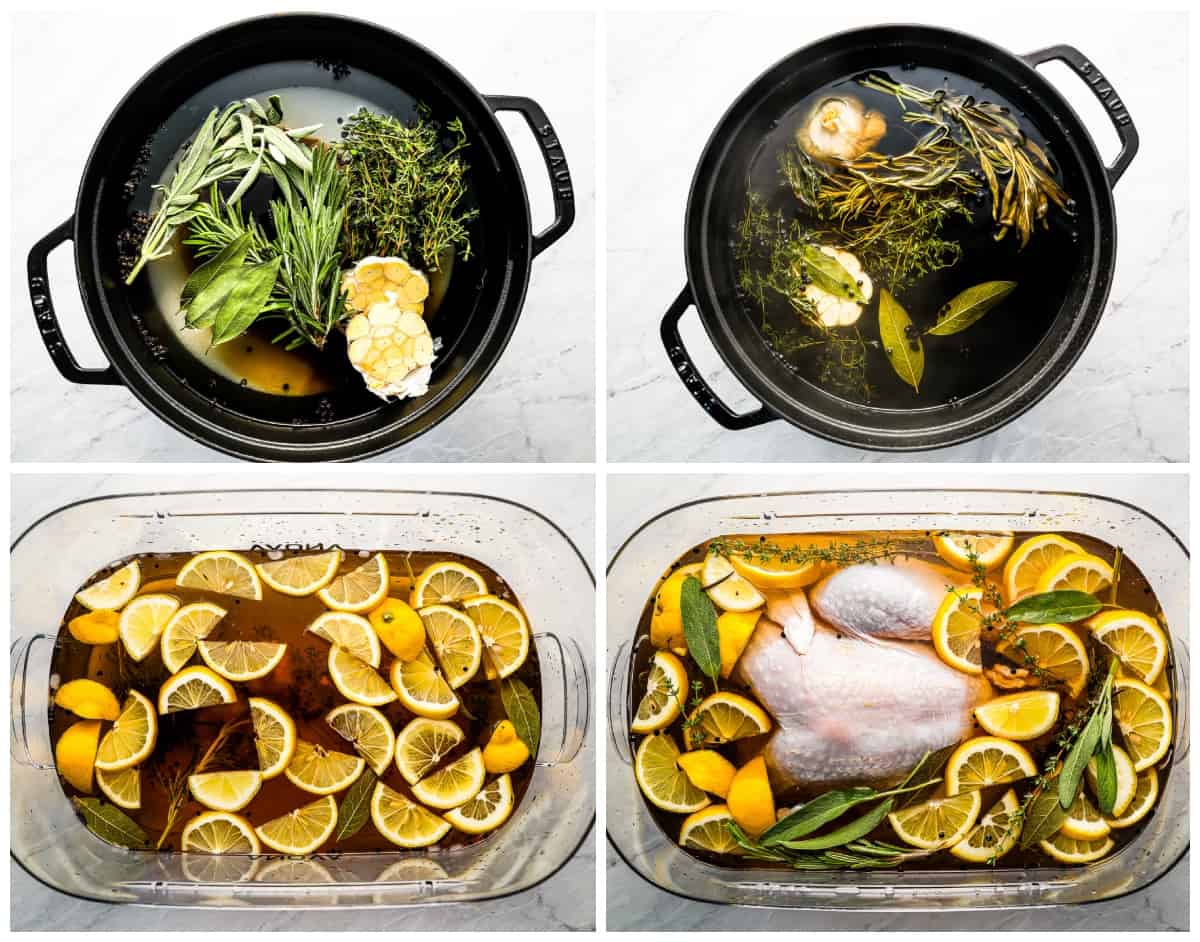 Why brine a turkey?
Brining helps produce a more tender and flavorful turkey. It helps break down the proteins in the muscle fibers, allowing the meat to retain more moisture during cooking.
Is it better to brine a turkey wet or dry?
Both wet and dry brines work well for turkey, and it's really up to you which method you like best. A wet brine infuses flavor and moisture more quickly than a dry brine; however, wet brines do require a lot more refrigerator space.
What is the formula for wet brine?
The magic ratio is 1½ cups of salt (24 tablespoons) for every 1 gallon (16 cups) of water.
Does brine need sugar?
I think so! It really helps enhance the flavor of the turkey, balancing the saltiness well.
How long should you brine a turkey?
I recommend 24 hours for the best results, but as little as 18 and as much as 48 will do just fine.
Do you have to refrigerate while brining a turkey?
Yes, you need to refrigerate turkey while brining it to keep it from going bad.
Can you brine a frozen turkey?
Absolutely! Simply place your frozen turkey in the brine and let it do its thing. Follow my guidelines for how to thaw a frozen turkey in the refrigerator to determine how long to leave it in the brine. The general guide is 24 hours for every 5 pounds. Keep in mind that many frozen turkeys will already be brined or salt-injected–if that's the case, do not brine it.
Can you over brine a turkey?
You sure can! If you over brine a turkey, it will become too salty and the texture may turn spongey. I don't recommend brining for any longer than 48 hours once fully thawed.
Do you rinse turkey after brining?
I recommend rinsing your turkey after brining it, then allowing it to air dry uncovered in the refrigerator (or pat dry with paper towels). This will allow the skin to crisp up better in the oven.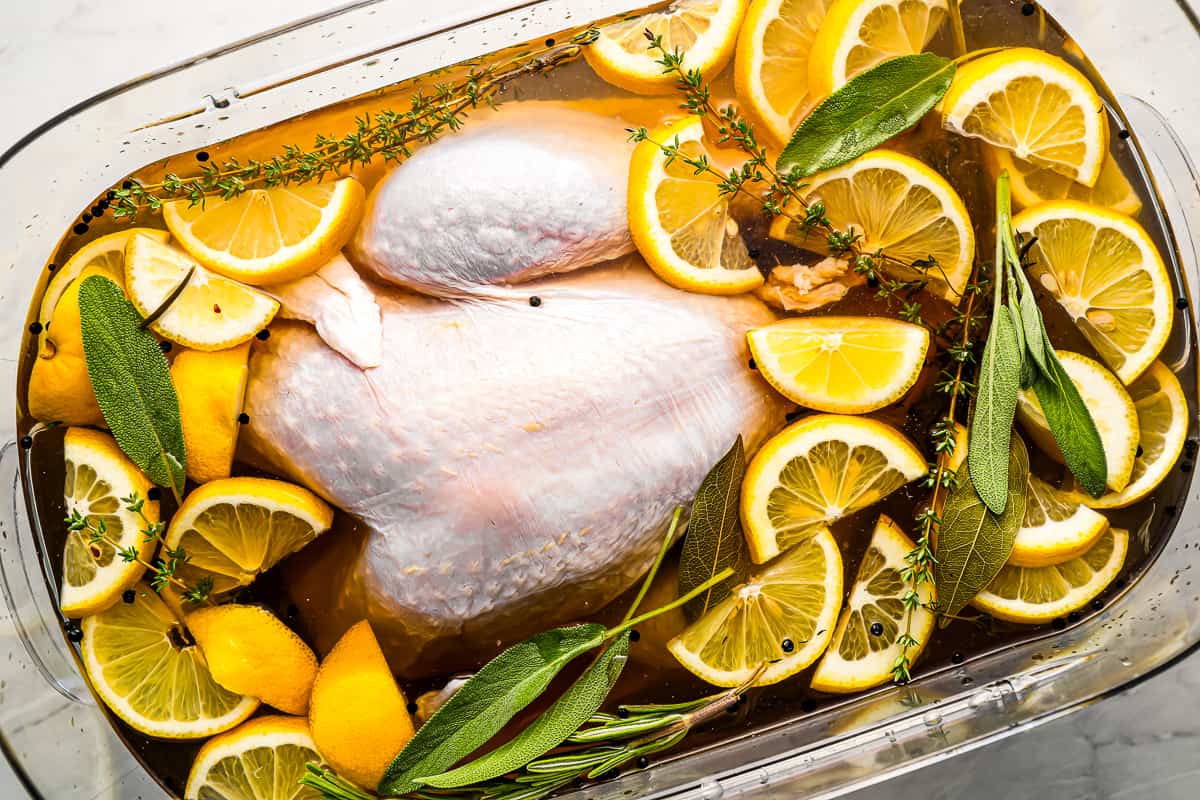 How to Brine a Turkey
Now that you've got the simple wet brine ready, it's time to actually brine the turkey. This part is just as easy as making the salt and herb solution.
Once the brine has cooled, pour it into a container or baking dish that's large enough to hold the turkey and the liquid. Fully submerge the turkey into the solution, and move the dish/container to the refrigerator.
Let it sit for 24-48 hours, until ready to cook. Drain and pat the turkey dry before roasting.
Serving Suggestions
Once you've finished wet brining your turkey, cook it up and serve it with Thanksgiving classics, like turkey gravy, mashed potatoes, green bean casserole, creamed corn, and stuffing.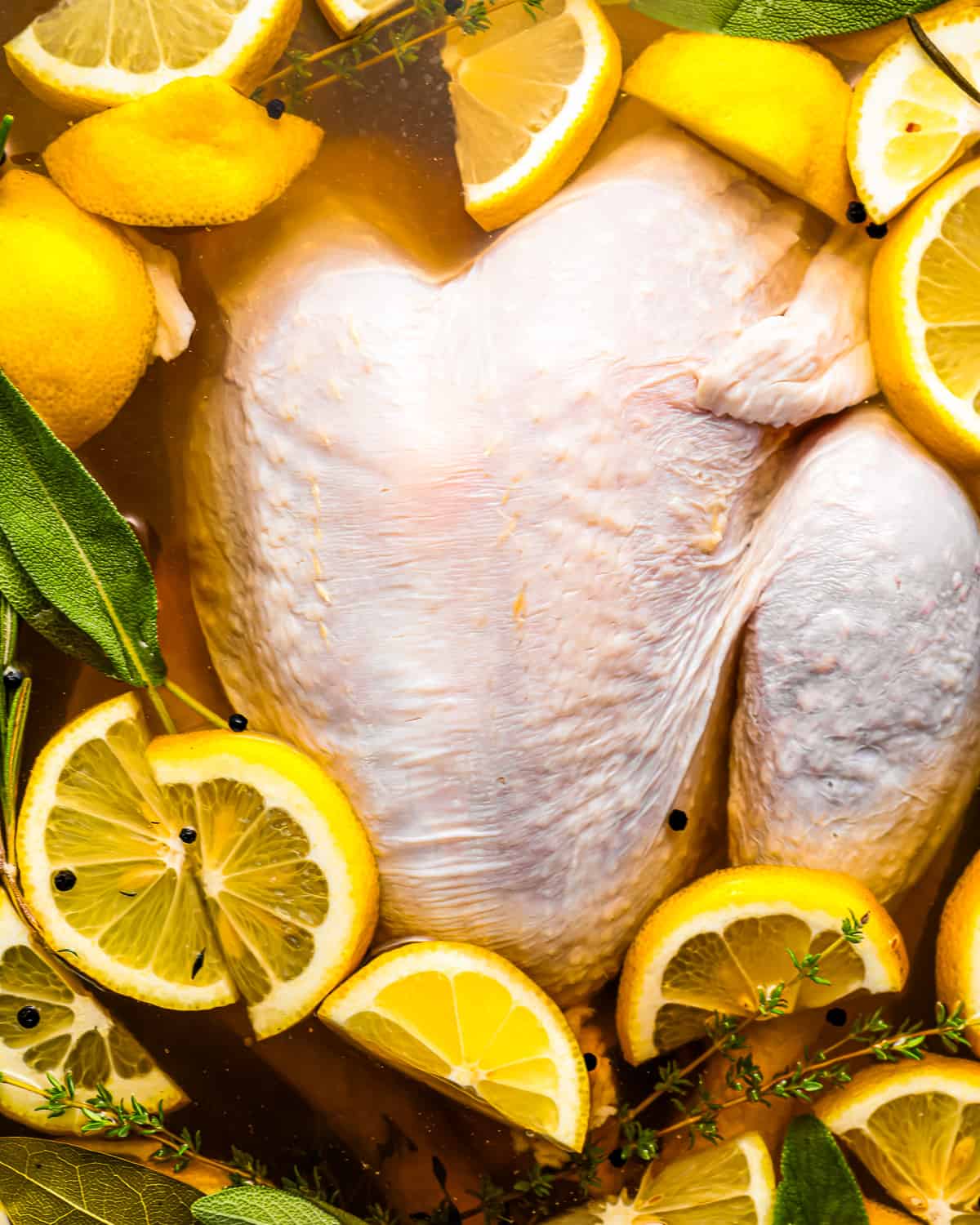 More Ways to Season Your Turkey