Fried cabbage and bacon is a quick and simple side dish that consists of just a few ingredients. Crunchy cabbage is fried up with bacon for a keto-friendly dish that pairs well with all kinds of meals. It's a classic for St. Patrick's Day, but just as good any time!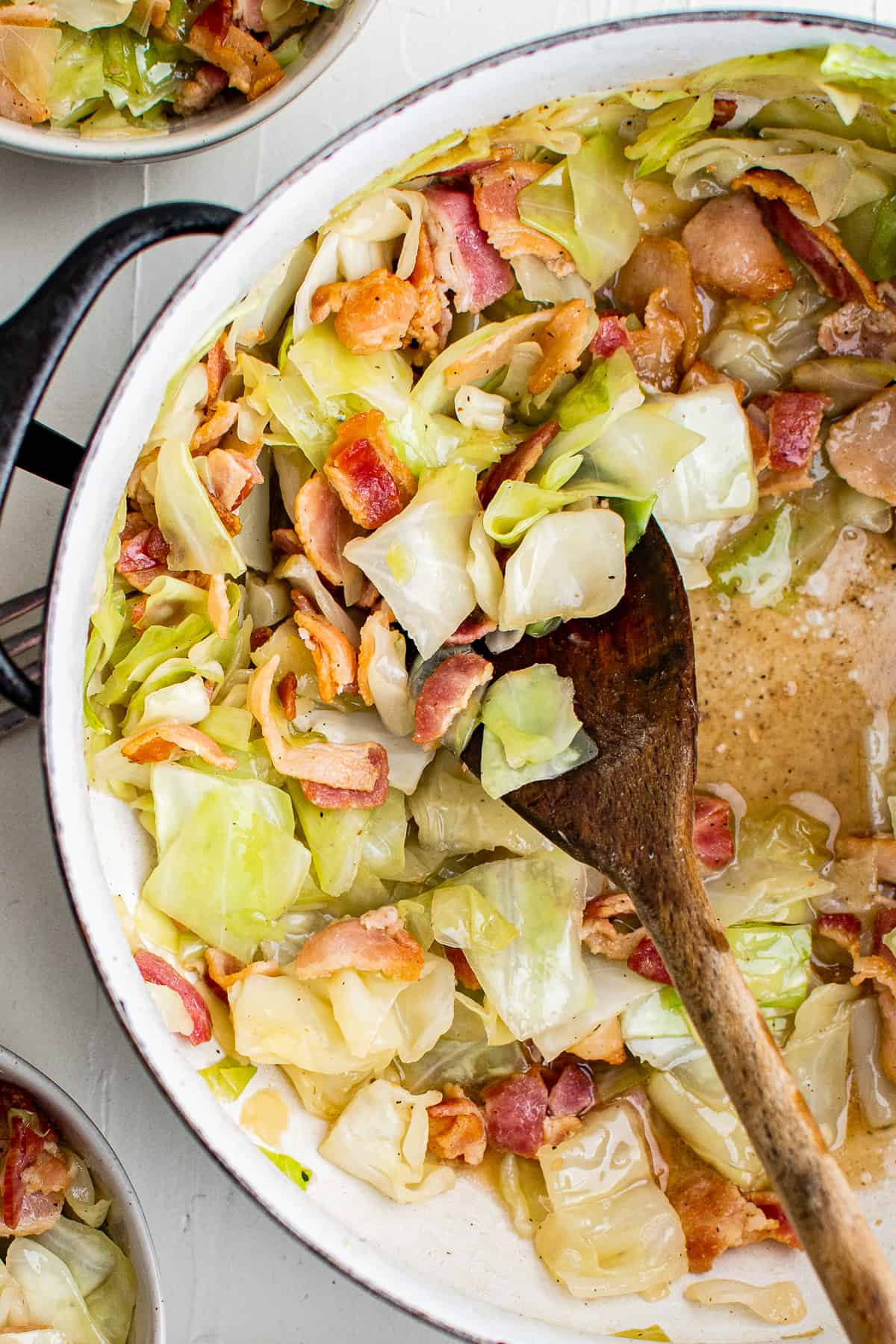 What's in this Fried Cabbage recipe?
This side dish requires less than 5 ingredients and only a couple of steps to make. This cabbage with bacon is great for St. Patrick's Day, or a simple low-carb and keto-friendly recipe for regular meals.
Cabbage: Remove the white center from a head of cabbage and chop it into 1-inch pieces
Bacon: Cut into ½ inch pieces.
Broth: You can use chicken broth or vegetable broth. I prefer low-sodium broth, but that's up to you.
Salt and Pepper: You don't need much to season this dish.
Green cabbage is the more traditional option for this recipe, but you can use red cabbage if you prefer. It has an earthier, more peppery flavor, but it will still taste great.
Can I add onion to fried cabbage and bacon?
If you want to add diced onions: remove the bacon from the pot after cooking, then cook the onions in the bacon grease until softened. Then continue on with the recipe at Step 2, adding the bacon back into the pot along with the rest of the ingredients.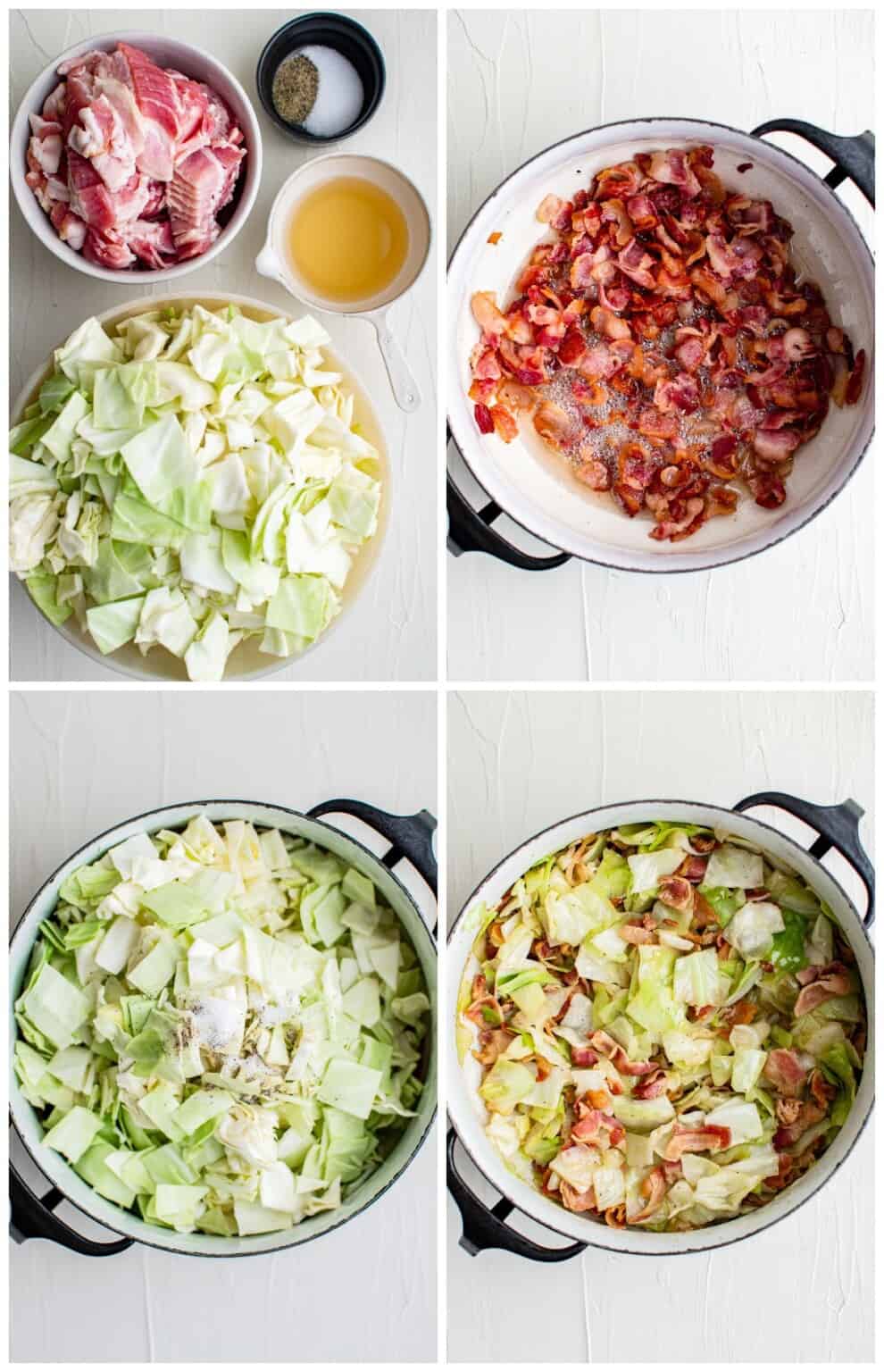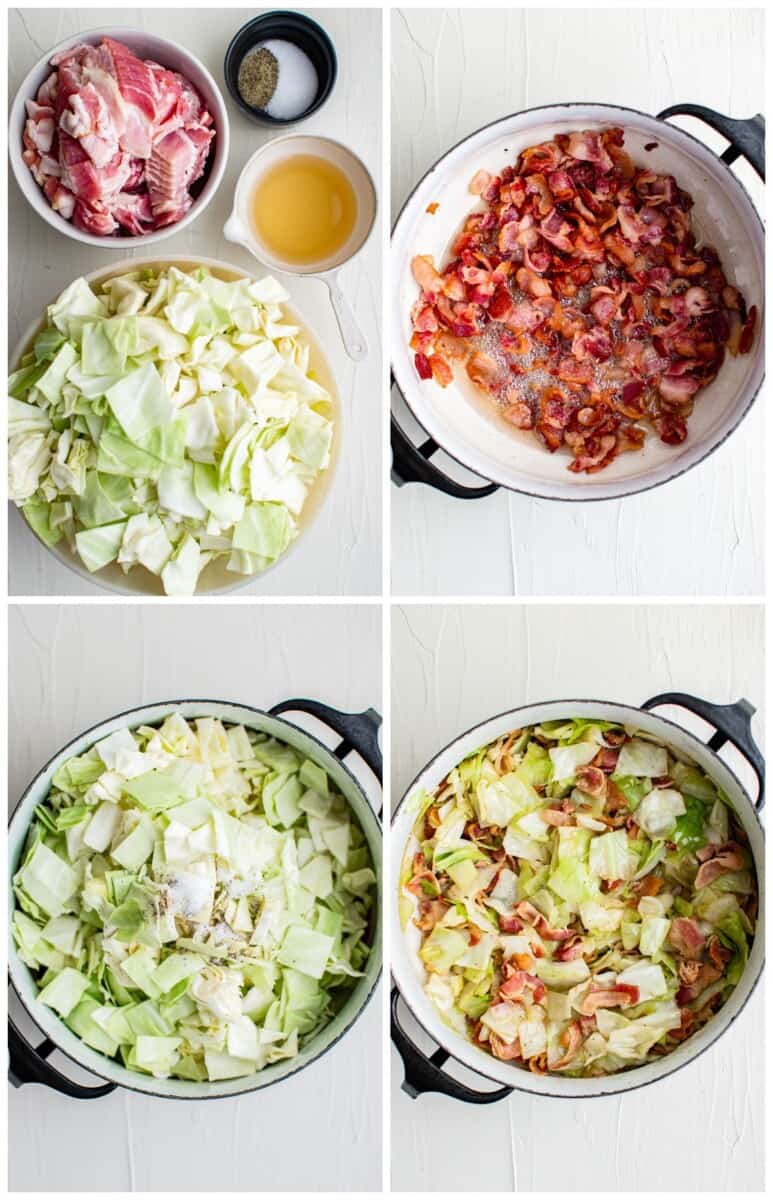 Do you wash cabbage before frying?
Yes, it's always recommend that you wash fresh produce before using, especially cabbage and other leafy vegetables. Rinse the head of cabbage thoroughly and shake it off to dry before chopping.
Can I use pre-cooked bacon?
If you already have some cooked bacon (like these bacon crumbles) on hand, you can simply add it in at Step 2 with the rest of the ingredients. However, if you're not cooking the bacon at the same time, you won't have the bacon grease to fry and add flavor. So you'll want to use butter or another fat to fry the cabbage.
How long does it take to fry cabbage?
Once the bacon is cooked, it only takes about 6-8 minutes to cook the cabbage.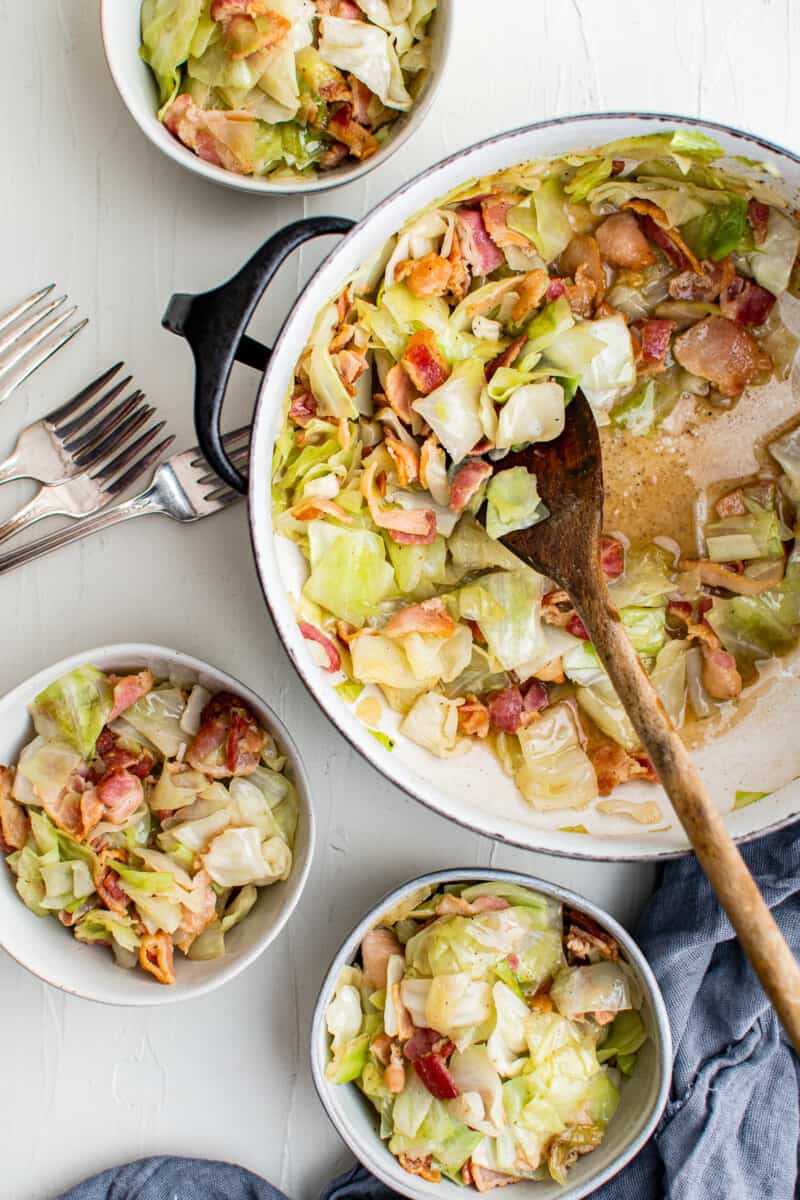 How to Store and Reheat
Store leftovers in an airtight container in the refrigerator up to 3 days. Reheat on the stove until warm.
How to Freeze Cabbage and Bacon
While raw cabbage doesn't freeze well, fried cabbage does! Let it cool, then place it in a freezer-safe container or resealable bag and store up to 3 months. Let it thaw overnight in the fridge before reheating.
What to Serve with Fried Cabbage
Cabbage and bacon makes a great little side dish for all kinds of main dishes. It pairs well with corned beef hash, turkey meatloaf, or air fried chicken. Since it's keto-friendly, it's a great option for whatever low-carb, protein-heavy meals you have planned!
If you make this recipe be sure to upload a photo in the comment section below or leave a rating. Enjoy! You can also jump to recipe.
More Recipes with Cabbage We Love