Mini Turkey Meatloaves are flavor-packed little entrees, filled with gooey cheese and topped with a tangy ketchup mixture. This kid-friendly dinner idea might just be your new favorite recipe! It's a quick and easy dinner that always hits the spot and can be served with any of your favorite side dishes.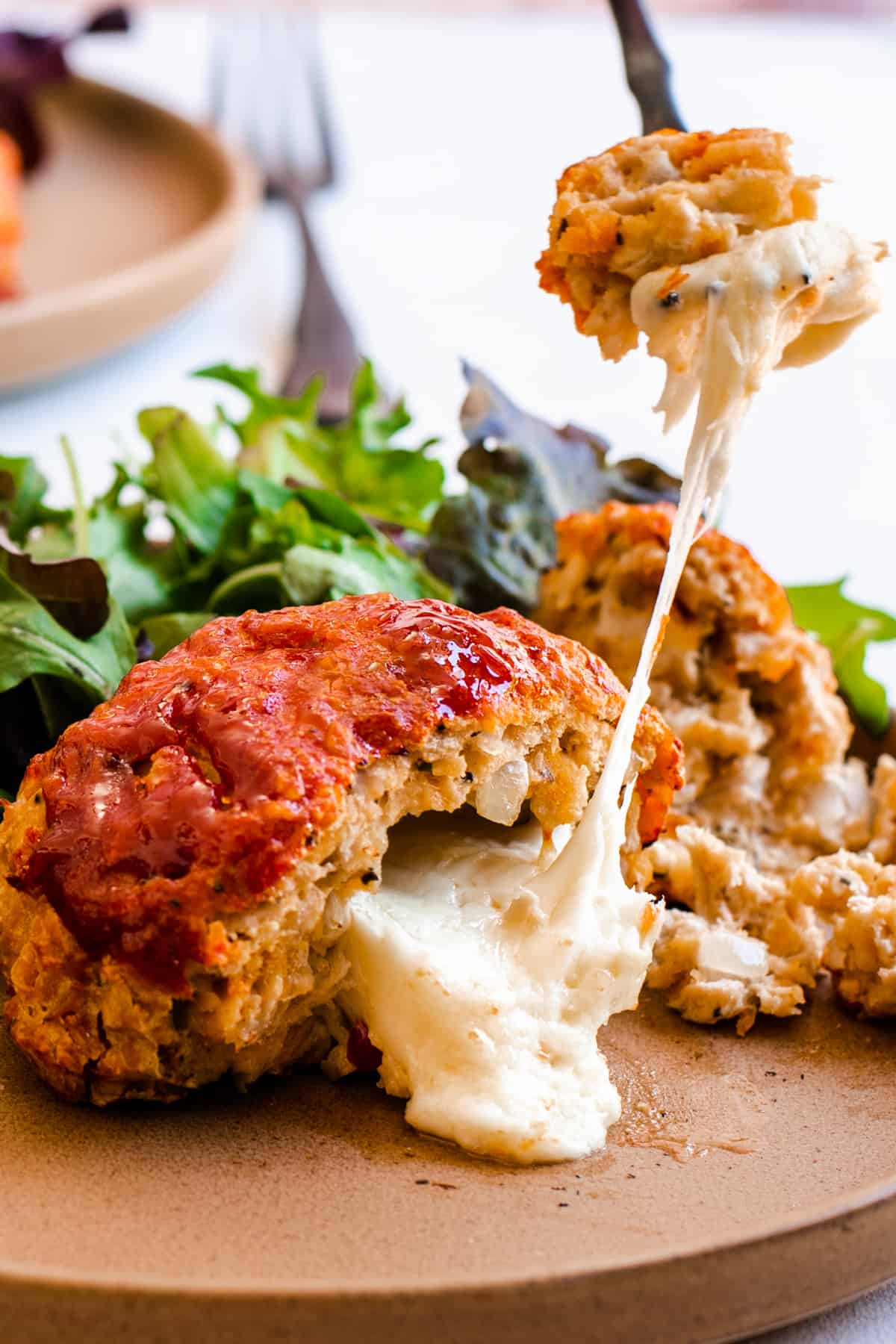 Cheesy Turkey Meatloaf
Turkey meatloaf that's perfectly portioned for each plate, stuffed with cheese, and topped with the most mouthwatering ketchup mixture? Count me in! This family favorite dinner recipe is so easy to make and is guaranteed to satisfy every hungry belly gathered around the table.
This easy dinner recipe comes together in just a few hassle-free steps with simple ingredients. Plus, you can plate it with just about any side dish you like! It's a flexible entree that's delicious and packed with protein. If you're anything like me, you're always trying to sneak some protein onto your little one's plate!
Why You'll Love this Cheese Stuffed Turkey Meatloaf:
Filling: These meatloaves may be mini, but they pack a protein-packed punch! The meat itself combined with the cheesy centers are totally satisfying.
Kid-Friendly: This picky eater-approved dinner gets the stamp of approval from just about every kid who tries it!
Quick Prep: You'll only need about 15 minutes or less to prep these mini meatloaves. After that, the oven does all of the work for you!
Don't let the "mini" title fool you. These meatloaves are perfectly portioned – you may be full after just one serving, but I don't blame you for craving a second or third!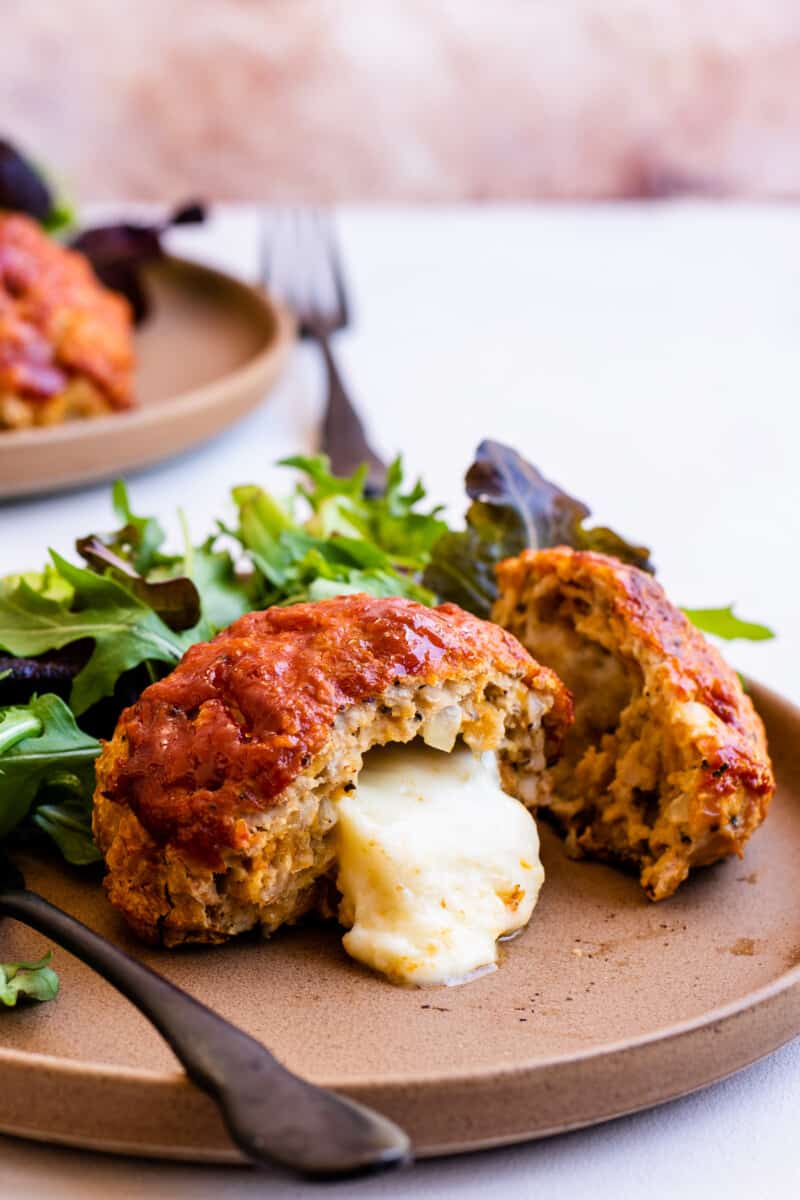 How to Make Mini Turkey Meatloaves
You can jump to the recipe card for full ingredients & instructions!
Sauté the garlic and onions.
Combine the onions and garlic with the ground turkey and next 6 ingredients.
Form the mixture into 4 equal balls.
Place 1 ounce of cheese in the middle of each flattened ball.
Pinch the edges around the cheese.
Place the loaves on a prepared baking sheet.
Create the ketchup topping and brush each loaf with it.
Bake at 350°F for one hour.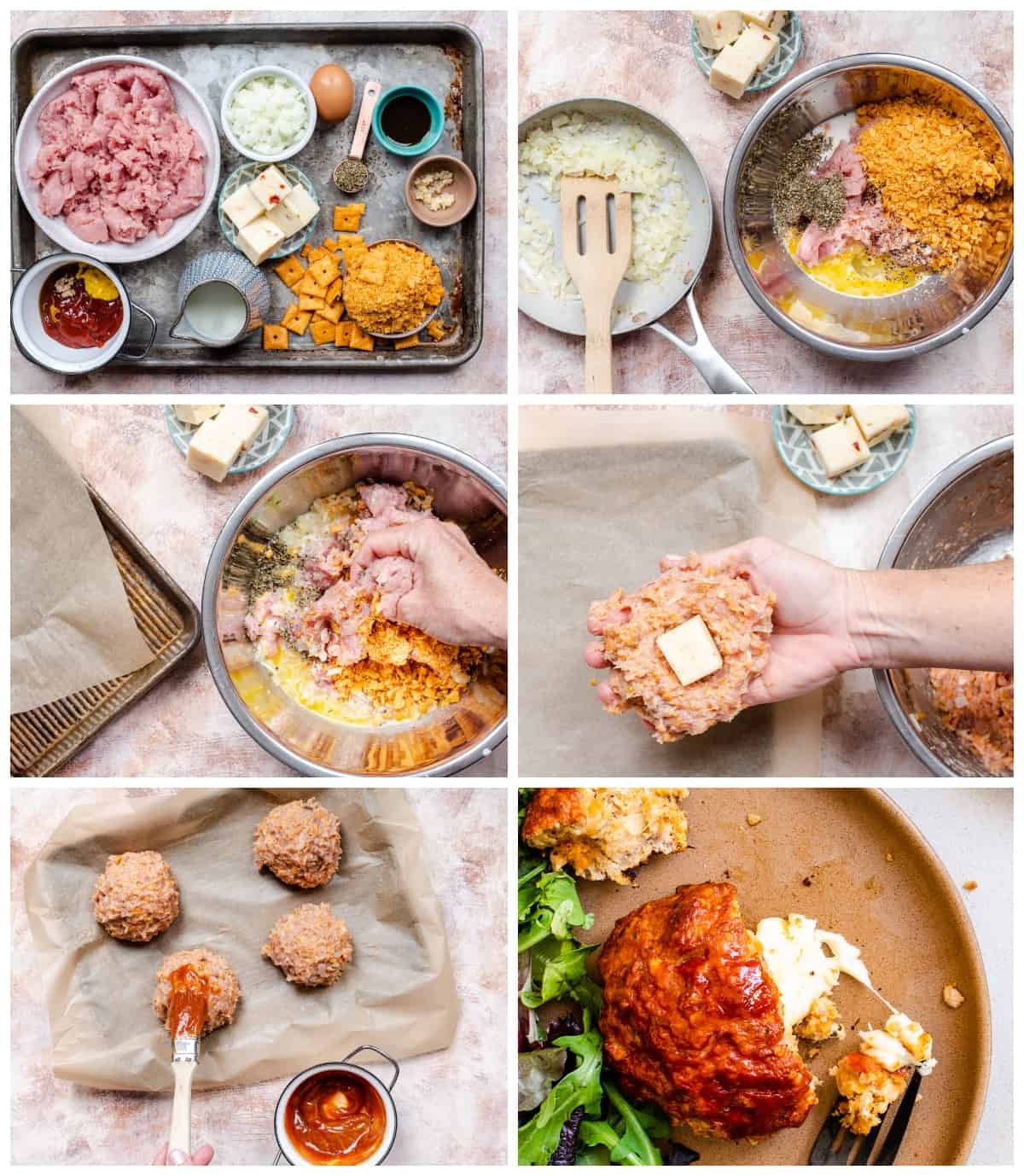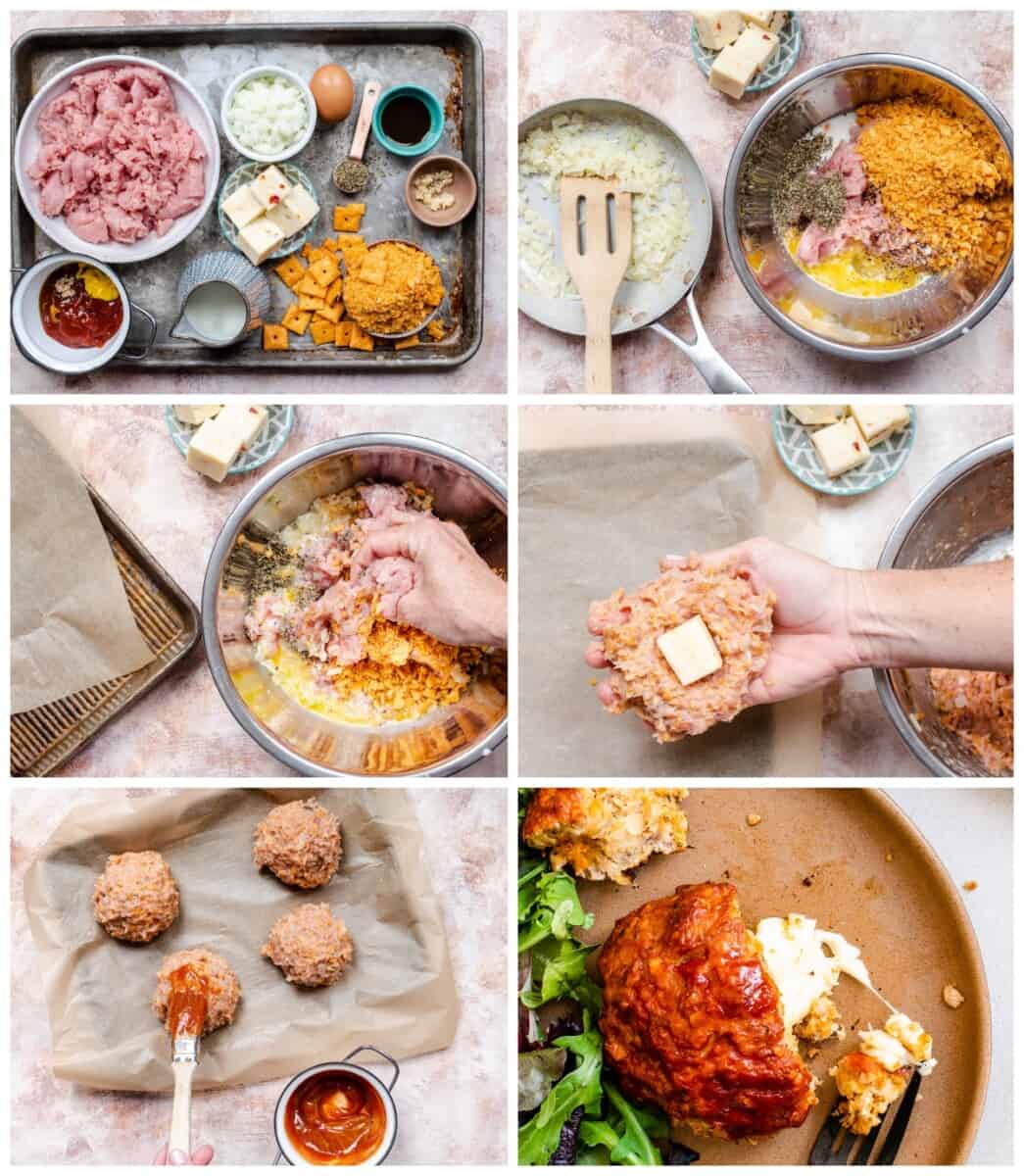 Can I make mini turkey meatloaves with a different kind of meat?
Absolutely! You can use ground beef, chicken, or a mixture!
What is the best way to shape mini turkey meatloaves?
I like to flatten each portion of meat, then add the cheese to the center and fold up the sides around it, rolling it between my hands to seal.
Should I cover mini turkey meatloaves with foil while baking?
You don't need to cover these mini meatloaves, but if they do start to brown too much (or even burn) on top, you can tent them with foil for the remainder of the bake.
Why did my mini turkey meatloaves fall apart in the oven?
If your turkey meatloaves fell apart, this is likely because you did not use enough binder in your mixture. If you are using medium or small eggs, you may want to add an additional egg to help the meat bind together better.
Serving Suggestions
Here are just a few of my favorite side dishes to plate with these mini meatloaves!
This is one of those recipes that you make once, then everyone requests it over and over again. Soon, you won't even need to look at this recipe. You'll have it memorized!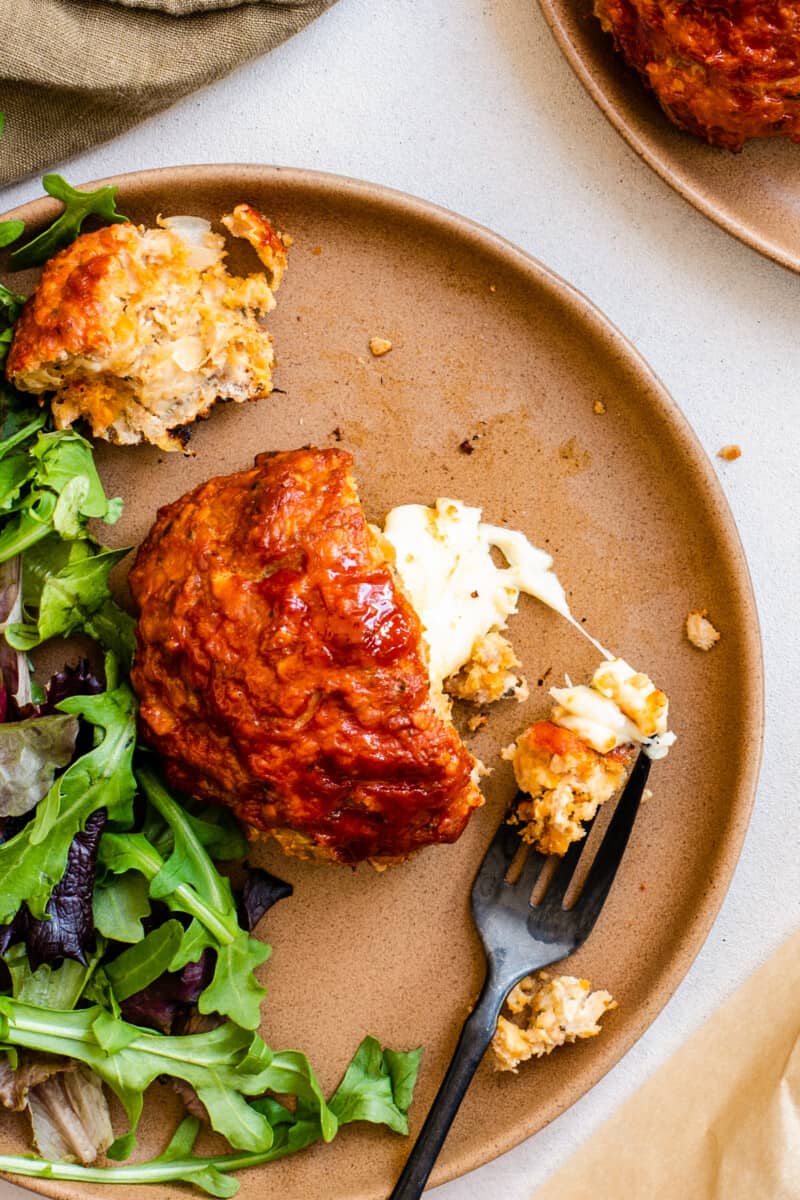 Make Ahead Instructions
You can shape these meatloaves and place them on a baking sheet (without the ketchup mixture) covered with plastic wrap for up to 1 day. Brush with ketchup and bake, adding up to 5 extra minutes to the bake time to make up for the cold start.
Storage Instructions
Store leftover mini turkey meatloaves in an airtight container in the refrigerator for up to 3 days. Reheat gently in the microwave or oven.
Freezing Instructions
Freeze mini turkey meatloaves tightly wrapped in 2 layers of plastic wrap and 1 layer of aluminum foil for up to 3 months. Let thaw overnight in the refrigerator before reheating.
Substitutions
You can sub any single meat or combination of ground meats in place of the turkey, such as beef or chicken.
Feel free to use a different seasoning blend to change up the flavor, such as creole or chili seasoning.
Use your favorite kind of cheese, such as pepper Jack, cheddar, or mozzarella.
You can use a different type of mustard, such as Dijon, for a richer flavor.
Scaling Up
Easily scale up this recipe for a crowd! Simply double the recipe to feed 8 people.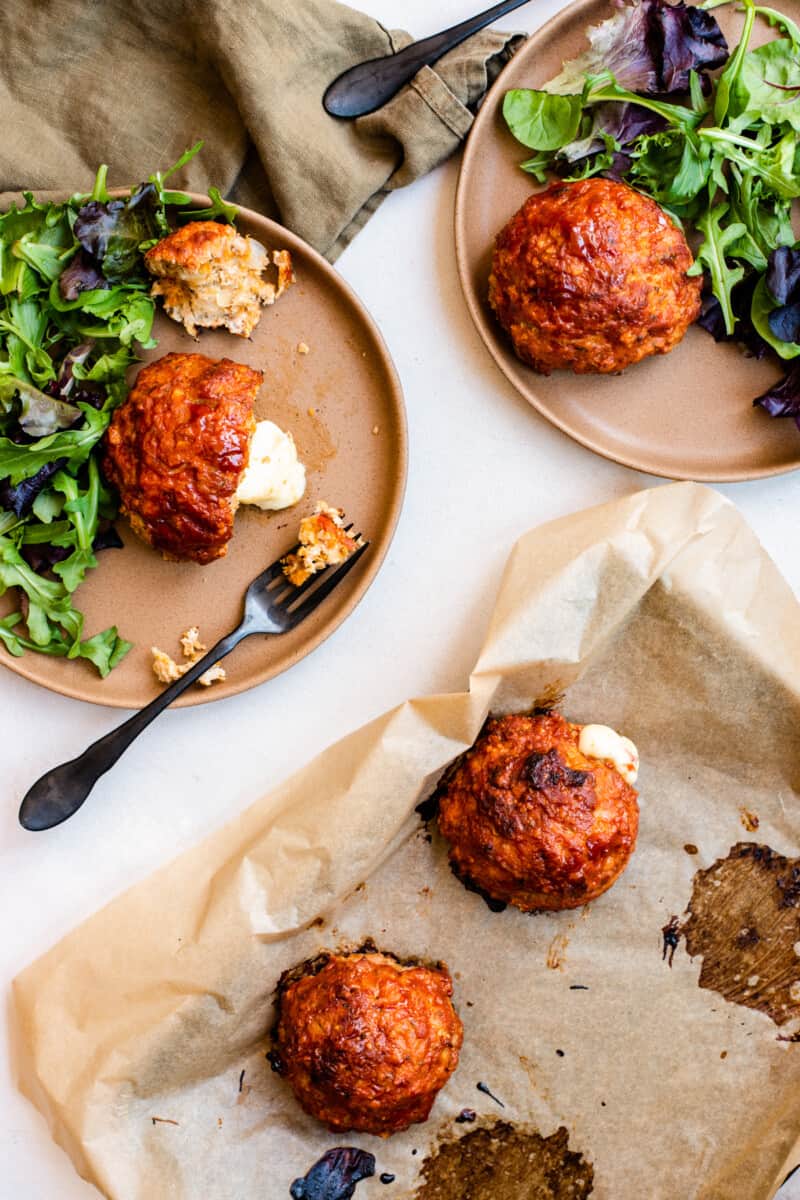 Everything's more fun with a gooey, cheesy center, right? This easy mini turkey meatloaves recipe is easy to make, kid-friendly, and always yields delicious results. What more could you want in a weeknight dinner recipe?!
If you make this recipe be sure to upload a photo in the comment section below or leave a rating. Enjoy! You can also jump to recipe.