Tuscan Salmon features flaky, tender fish in a decadent and creamy sauce! Ingredients like tomatoes, parmesan cheese, and white wine create the most mouthwatering flavor to compliment the salmon filet. This skillet recipe is sophisticated enough for a dinner party, but simple enough for a weeknight dinner with family.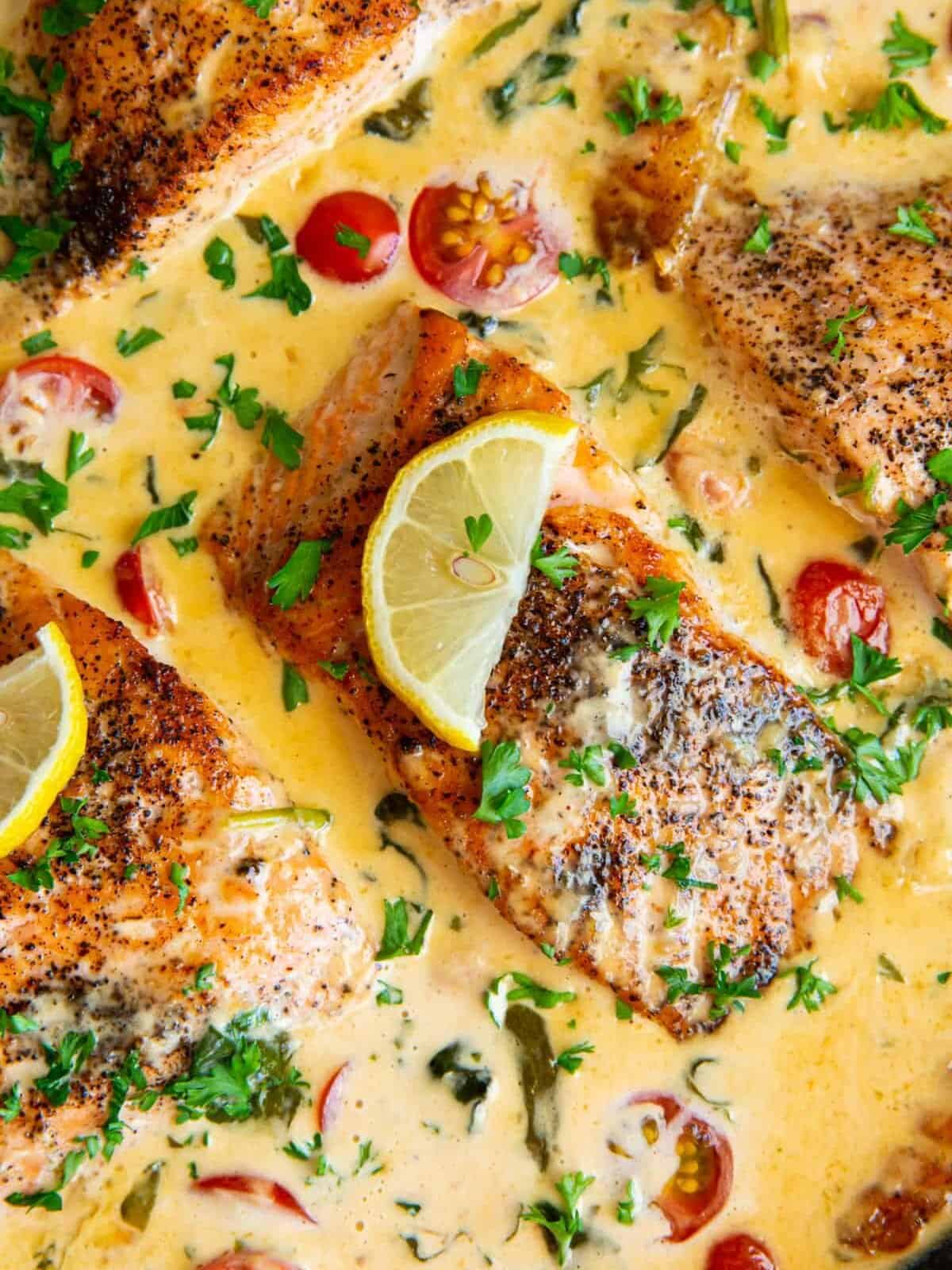 What's in this Creamy Tuscan Salmon Recipe?
If you're a fan of classic Tuscan Chicken, you're going to love this Tuscan Salmon dish! Natural, simple, and inexpensive ingredients come together to make a creamy sauce and flakey salmon.
Salmon: You'll love how tender and flaky this salmon turns out! You can use skin-on or off for this recipe.
Salt and Pepper: Be careful not to be too heavy-handed here, especially with the salt.
Olive Oil: I recommend using a good quality extra virgin olive oil for the best flavor.
Garlic: Fresh garlic yields way better flavor than pre-minced!
Onion: White or yellow onions both work well.
Grape Tomatoes: Cherry tomatoes can be used instead if preferred.
White Wine: Use a dry white wine like Sauvignon Blanc–avoid sweet white wines!
Baby Spinach: For the best consistency, use fresh spinach rather than frozen or canned.
Heavy Cream: This gives tuscan cream sauce that silky smooth texture. Reduce fat and calories by using half and half instead of heavy cream.
Parmesan Cheese: Freshly grated parmesan cheese creates the very best flavor and consistency.
Parsley and Lemon Wedges: These are optional but highly recommended garnishes.
Pro Tip: Pat the salmon dry before seasoning it. This helps to remove excess water that can make the salmon mushy.
Ingredient Variations
There are several ways you can customize this creamy Tuscan salmon recipe:
Use ½ cup of chopped sun-dried tomatoes in place of (or in addition to) the cherry tomatoes.
Kale, arugula, chopped asparagus, green beans, or broccoli florets would be delicious additions. Add them with the tomatoes in step 4.
You can even fully replace the salmon with chicken! Use 4 boneless, skinless chicken breasts instead of salmon fillets. Adjust cook time accordingly – chicken is done cooking when the internal temperature reaches 165°F.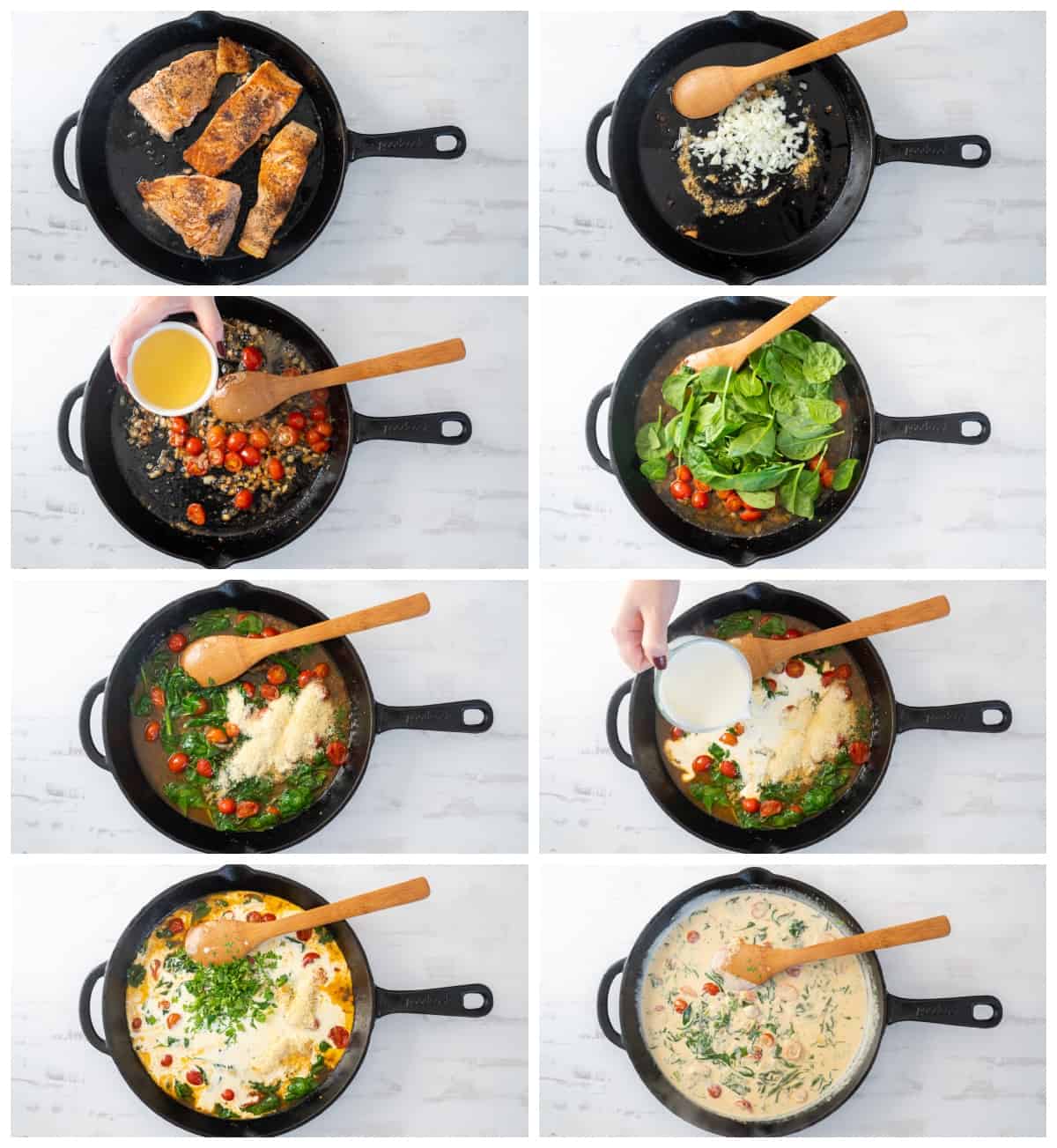 Can I use frozen salmon?
Yes, you can use frozen salmon fillets. Let them thaw in the refrigerator overnight and pat dry before using in this recipe.
What kind of salmon should I use for this recipe?
Use high-quality, 6-ounce salmon fillets for this Tuscan salmon. I love cooking with skin-on fillets, but use your favorite kind. If using skin-on fillets, feel free to remove the skin before serving.
How do I know when the salmon is done cooking?
You can use a thermometer to measure the internal temperature of the fish. The FDA recommends cooking salmon to an internal temperature of 145°F (63°C). Another way to check if your salmon is done is by using a fork to gently flake the flesh. If it easily separates into large, moist flakes, then it's likely cooked through. The flesh should be opaque and have a slightly pink color in the center.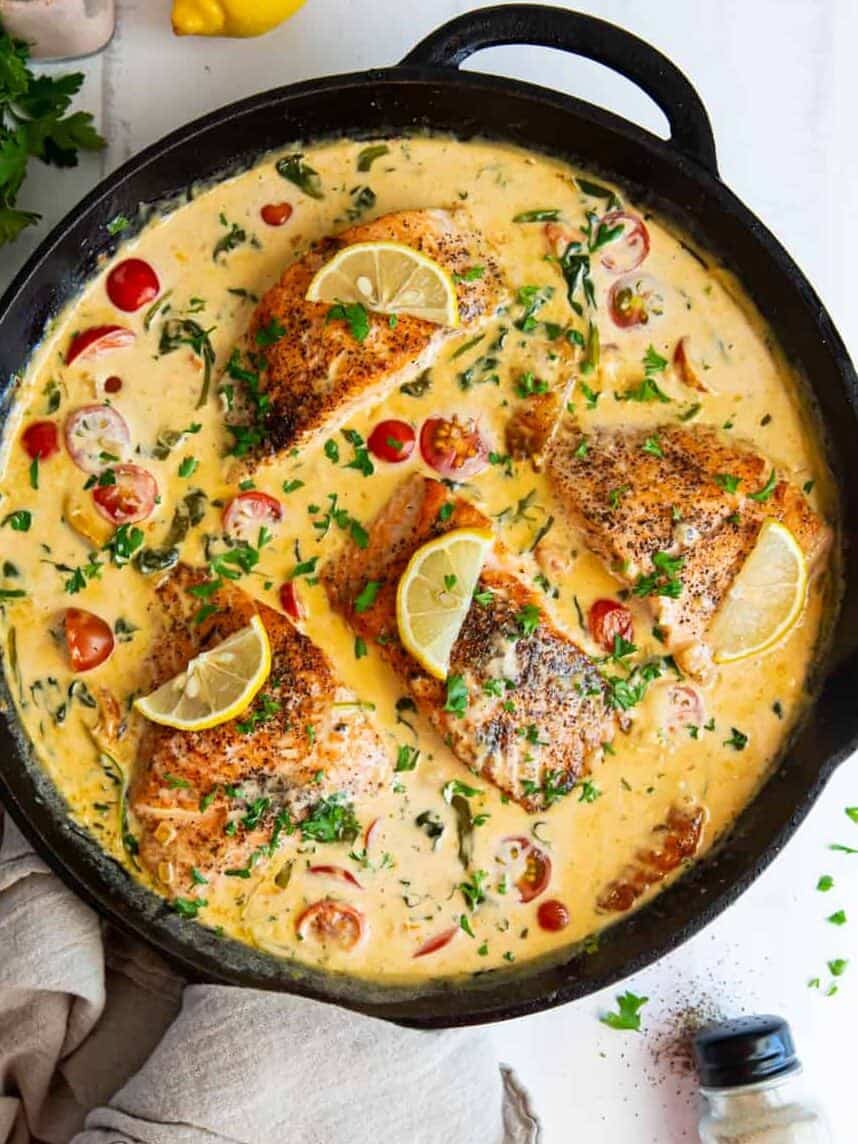 How to Store and Reheat
Store any leftover Tuscan salmon in an airtight container in the refrigerator for up to 3 days. I recommend reheating leftover salmon on your stovetop over medium-low heat until warmed through. I do not recommend freezing this because the cream sauce won't hold up well.
What to Serve with Tuscan Salmon
This creamy Tuscan salmon is great to serve with your favorite veggie and potato sides for a simple salmon dinner. Plate it with asparagus almandine and oven-roasted potatoes. Serve it over fresh pasta or basmati rice. And finish it off with a drizzle of balsamic reduction or basil pesto.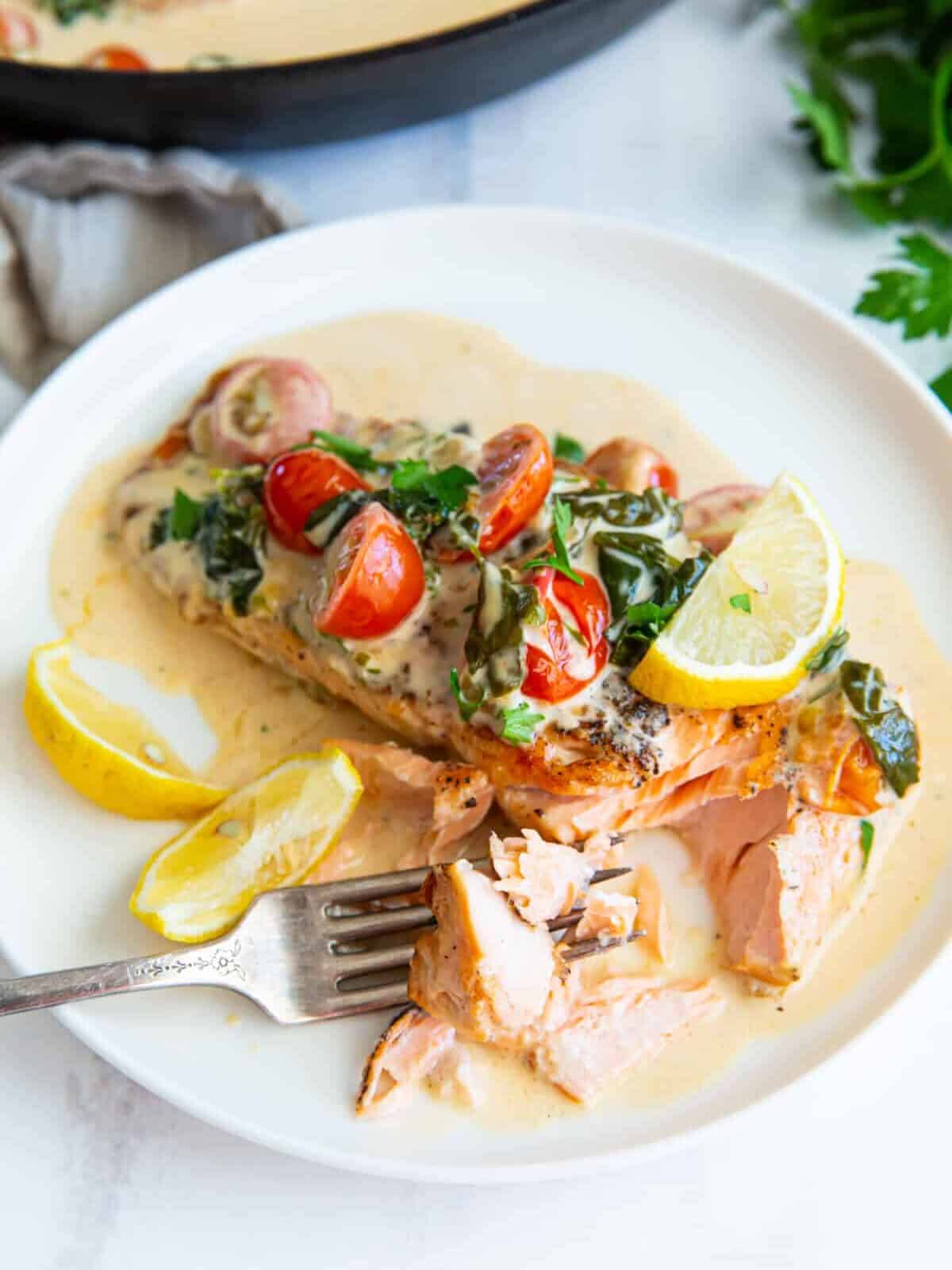 More Easy Salmon Recipes We Love