Roasted Baby Potatoes crisped in the hot oven with olive oil, garlic, and fresh herbs are one of life's simple pleasures. This easy recipe starts with the best baby red or Yukon gold potatoes and comes together quickly with five more simple ingredients in less than an hour. Always delicious and satisfying, the crispy potatoes pair perfectly with pretty much any meal, but I especially enjoy them with a hearty protein dish like pot roast or garlic chicken.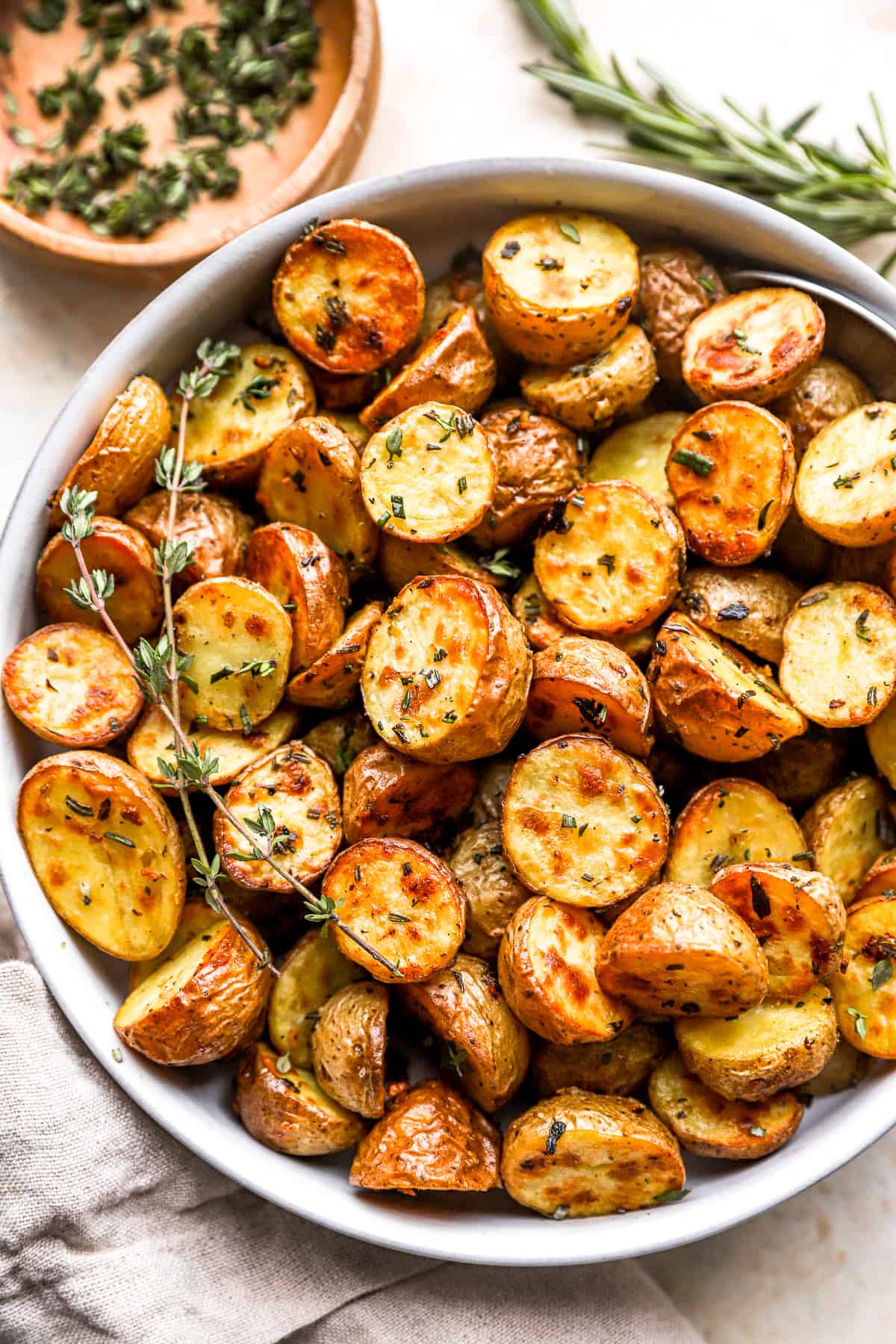 What's in Roasted Small Potatoes?
This recipe is made with such simple and familiar ingredients that need little explanation.
Potatoes: This starchy superfood comes in so many sizes and varieties but you cannot go wrong with baby reds or Yukon golds in this recipe, which yield the best, creamiest texture.
Oil: Extra virgin olive oil is a Mediterranean diet staple that belongs in everyone's kitchen for its health benefits and versatility as an ingredient.
Herbs: Not only do the Mediterranean herbs thyme and rosemary taste delicious with potatoes they are good for you too!
Garlic: Garlic adds unbelievable flavor to this recipe.
Salt + Pepper: When it comes to amping up the flavors, these two familiar staples always make all the difference.
Variations on Roasted New Potatoes
These roasted potatoes are such a great base for any meal. You could easily swap out the herbs for your favorite herbs, like dill, sage, or basil. Add some diced onions for extra flavor. Or toss the potatoes in a seasoning blend, like Creole seasoning, ranch seasoning, blackened seasoning, everything bagel seasoning, Italian seasoning, herbs de Provence, or taco seasoning.
You could also serve them drizzled with a flavorful sauce, like turkey gravy, balsamic glaze, salsa verde, chimichurri, pesto, or aji verde sauce.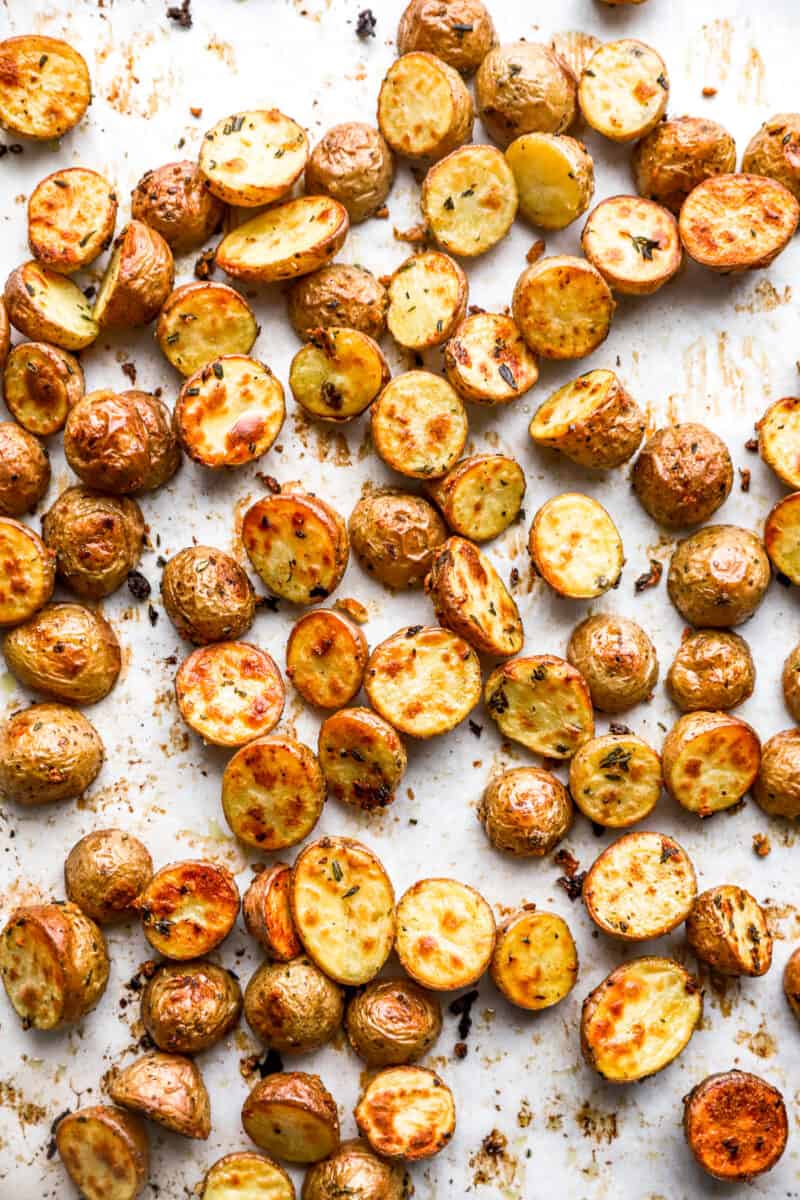 What are the best potatoes for roasting?
You can use any potato you like for roasted potatoes. I like a mix of red and Yukon gold, but you could use all one kind or even sweet potatoes. Just make sure to cut the potatoes into equal-sized pieces so that they roast evenly.
What oil is best for roasting potatoes?
I like to use olive oil for the delicious flavor it imparts, but you could use vegetable, canola, or avocado oil instead.
Is it necessary to boil potatoes before roasting?
It's not necessary to parboil potatoes before roasting if they are cut into pieces. If you plan to roast whole or exceptionally large pieces of potato, you may want to parboil them to ensure that they will cook all the way through.
How do you get crispy roast potatoes?
It's important to use high enough heat and to spread the potatoes out evenly over the baking sheet. If the potatoes seem too crowded on one baking sheet, you may want to spread them out over two baking sheets instead.
Check your oven temperature carefully, as ovens can be up to 25°F cooler or warmer than the registered temperature.
How to Store and Reheat
Store leftover roasted baby potatoes in an airtight container in the refrigerator for up to 5 days. Reheat in a 350°F oven for 5-10 minutes, until warmed through.
How to Freeze
Freeze roasted baby potatoes in a single layer on a lined baking sheet until solid, about 1-2 hours. Transfer to an airtight container or Ziplock bag to store for up to 3 months. Let thaw overnight in the refrigerator before reheating.
Serving Suggestions
Other ideas for what to serve with these tasty potatoes include Air Fryer Salmon, Parmesan Crusted Chicken, Turkey Meatloaf, and Baked Pork Tenderloin – Honey Glazed.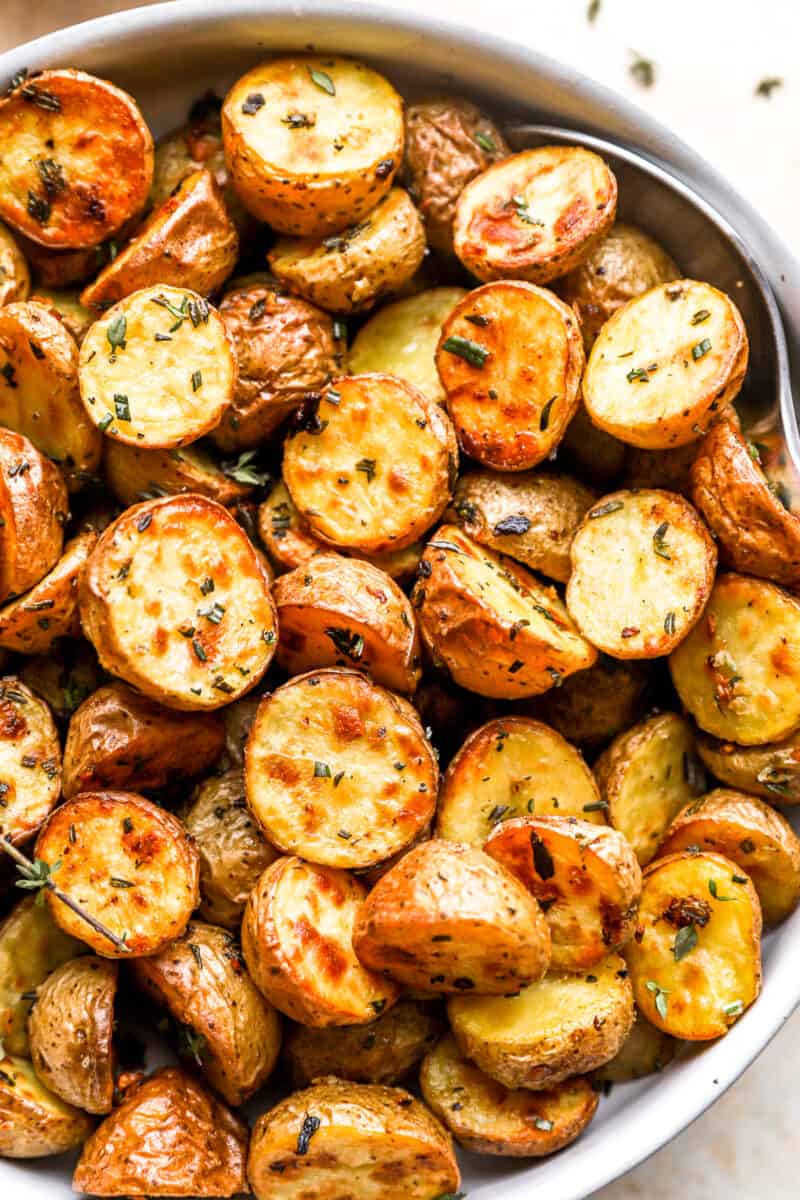 More Roasted Potato Recipes We Love