Air Fryer French Fries are homemade fries made in an air fryer. Homemade french fries are cooked in an air fryer basket instead of a deep fryer basket. This air fryer method of cooking fries uses much less oil than the deep frying method does and still results in a golden brown, crispy texture.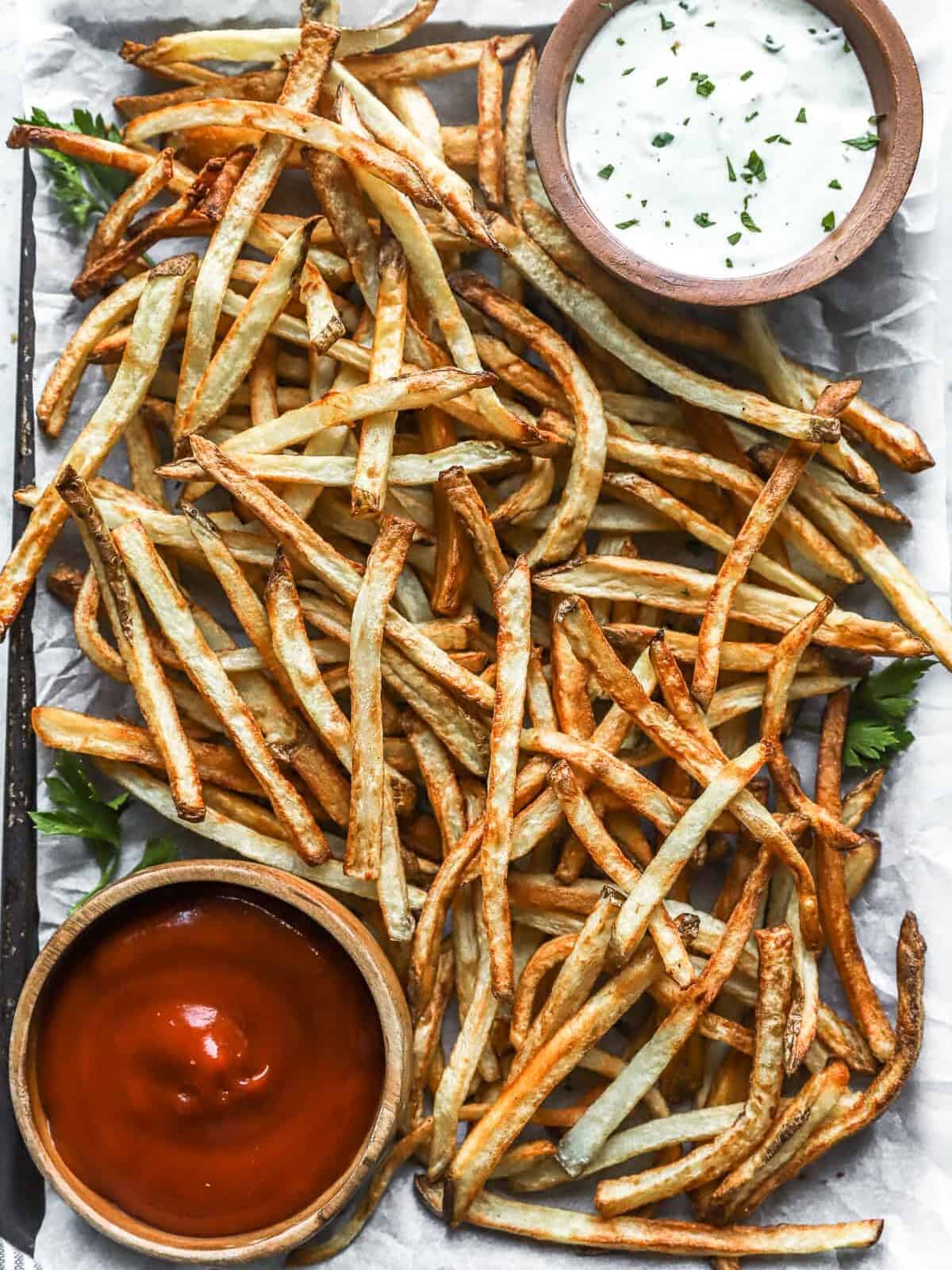 What's in Air Fryer Fries?
Making these delicious French fries in an Air Fryer is simple and requires only a few basic ingredients.
Potatoes: To make these crispy french fries, you'll want to use russet potatoes. You can also use your favorite potato varieties such as sweet potatoes or Yukon Golds.
Oil: This recipe uses very little oil to create the same crispy, fried texture as deep fried french fries. Although this recipe calls for olive oil, you could also use canola or vegetable oil.
Salt: The only seasoning needed to make these crispy fries is a little bit of salt.
Seasoned Air Fryer French Fries
This base french fry recipe is perfect for customization! Sprinkle the hot fries with ranch seasoning, Italian seasoning, everything bagel seasoning, chili seasoning, blackened seasoning, or taco seasoning for easy seasoned fries. Top them with melted butter, garlic salt, and Parmesan cheese for garlic Parmesan fries.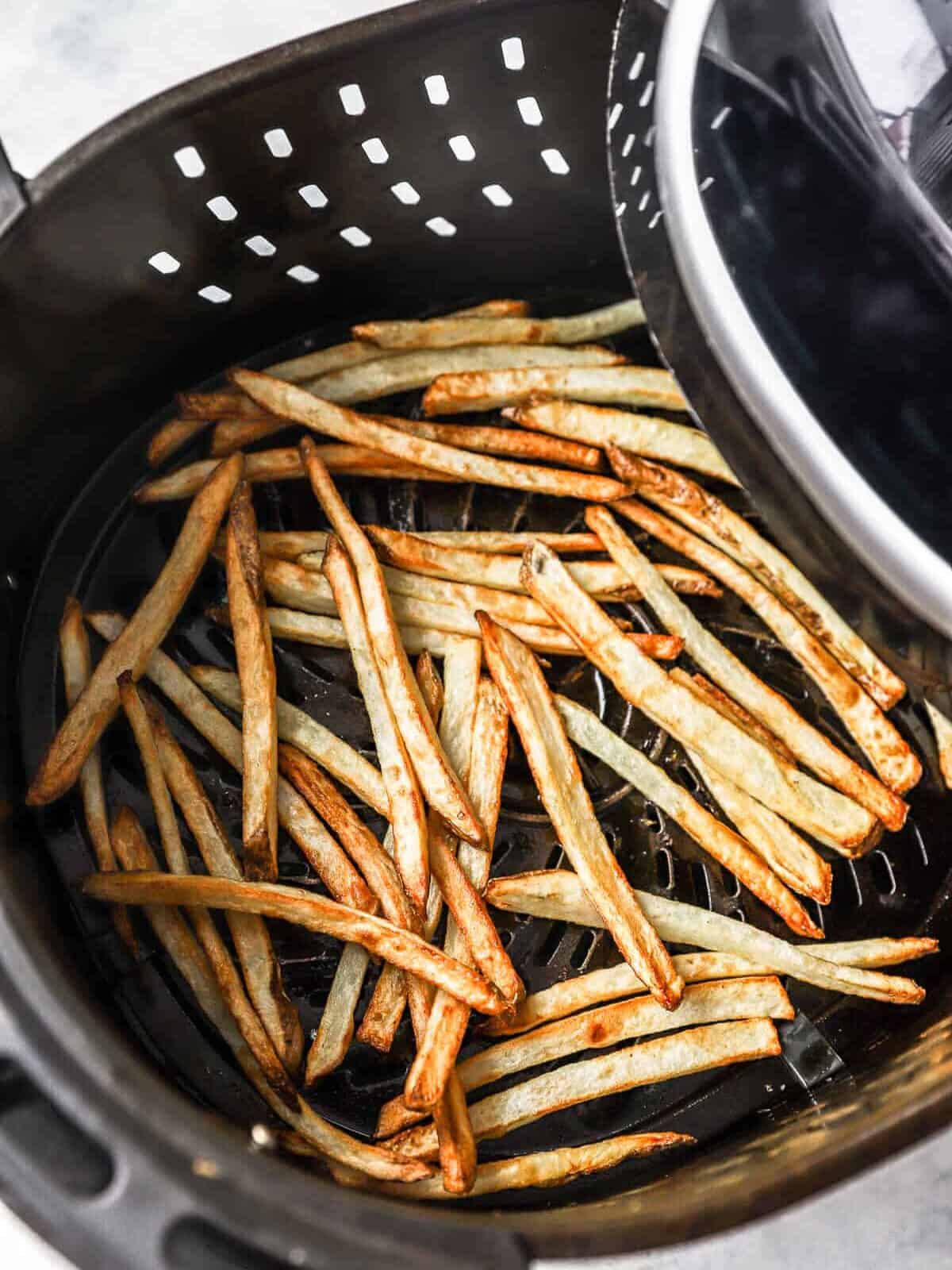 What are the best potatoes for air fryer french fries?
With all the varieties of potatoes out there, it can get confusing to know which ones make the best fries. High-starch potatoes are the ones to seek out, and those are generally Russets–also called Idaho baking potatoes.
What kind of oil should I use for air fryer french fries?
I like to use olive oil for its health benefits. For a more neutral taste, you could use avocado, vegetable, canola, or peanut oil.
Are air fryer french fries vegan?
Yes! French fries are made from potatoes, oil, and salt, so they are naturally vegan.
Do I have to soak potatoes before air frying them?
Yes! Soaking the cut potatoes helps to remove excess starch, which keeps the potatoes from sticking together. It also helps to ensure that the potatoes will be extra crispy once air fried!
Why are my air fryer french fries soggy?
It's important to soak the fries to remove excess starch. It's also important to air fry these fries in batches so that the air fryer does not get overcrowded. Overcrowded fries will steam rather than air fry, leading to soggy fries.
How many calories are in air fryer french fries?
A serving of air fryer french fries is about 371 calories. This number will vary based on the size of the potatoes used and the choice of oil.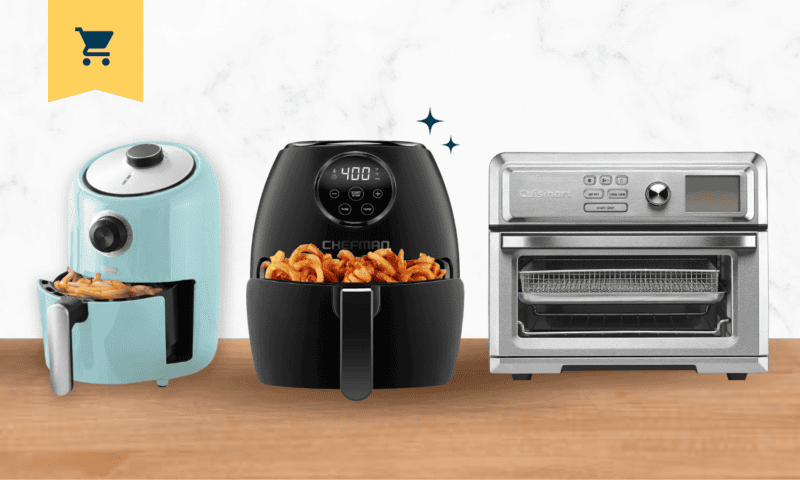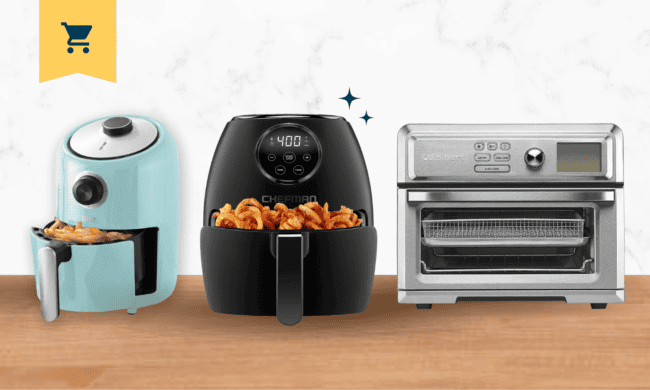 Best Small Air Fryers
We have reviewed our top 6 Small Air Fryers! Get reviews, pros, cons, and prices!
Top Small Air Fryers
How to Store and Reheat Homemade Air Fryer French Fries
Store leftover air fryer french fries in an airtight container in the refrigerator for up to 5 days. Reheat in a single layer in a 325°F air fryer for about 5 minutes.
How to Freeze Air Fryer French Fries From Scratch
Freeze air fryer french fries in a single layer on a lined baking sheet until solid, about 1-2 hours. Transfer to an airtight container or Ziplock bag to store for up to 3 months. Reheat directly from frozen in a single layer in a 325°F air fryer for about 7-8 minutes.
What to Serve with Crispy Air Fryer Fries
Crispy Air Fryer Fries are perfect to serve alongside your favorite dipping sauces such as ketchup, store-bought or homemade ranch dressing, fry sauce, Yum Yum Sauce, or Chick Fil A sauce. This recipe also makes the best Air Fryer French Fries to serve alongside sandwiches and burgers such as a Crockpot Buffalo Chicken Sandwich, Salmon Burgers, BBQ Burgers, and more!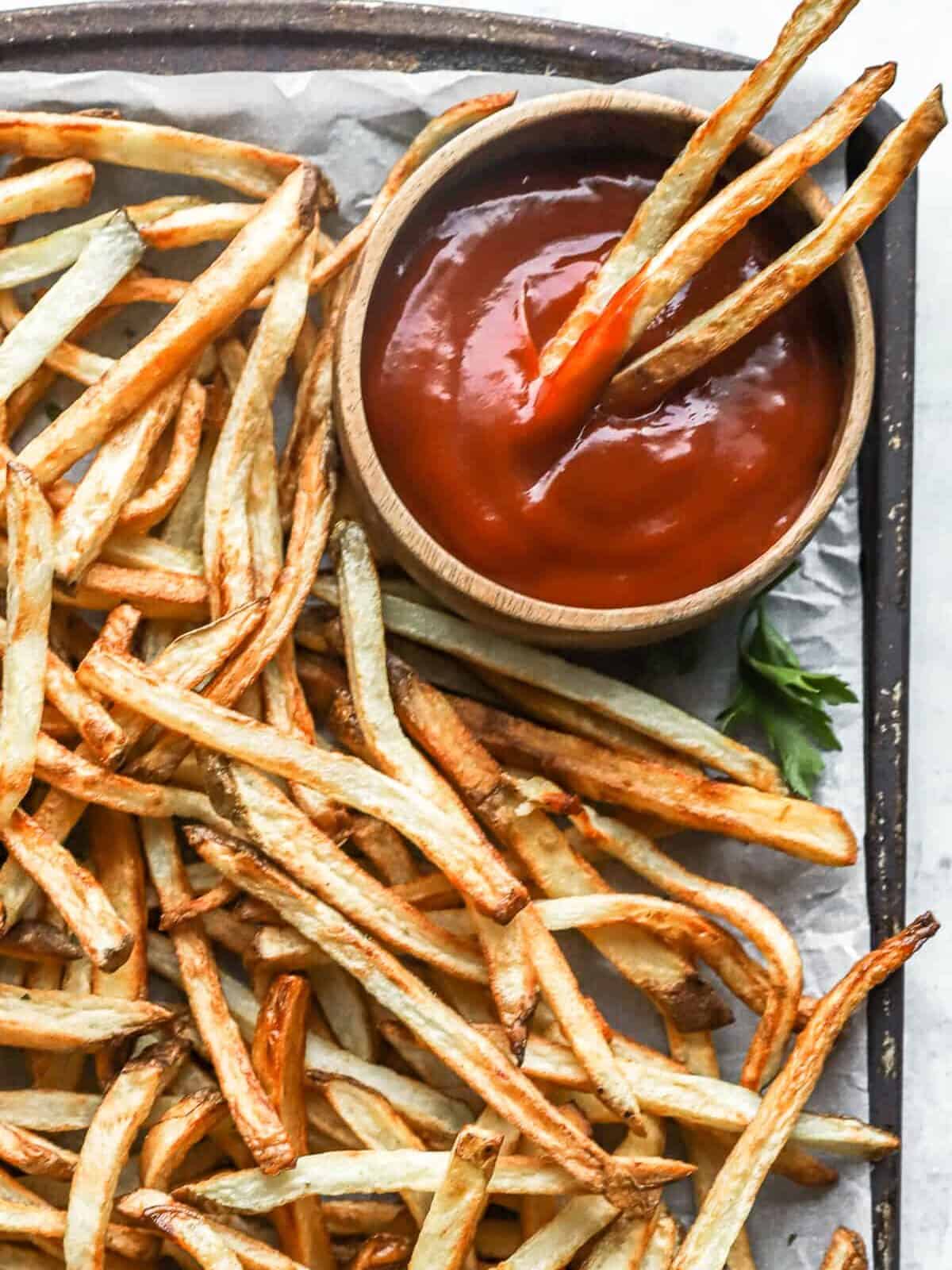 More French Fry Recipes We Love