These Arancini Balls with Cheese Bacon and Broccoli are so much easier than you might think. This Arancini Recipe is one of our favorite comfort food appetizers! These cheesy fried rice balls (Arancini Balls) are the ultimate starter to any meal at home. So addicting and delicious!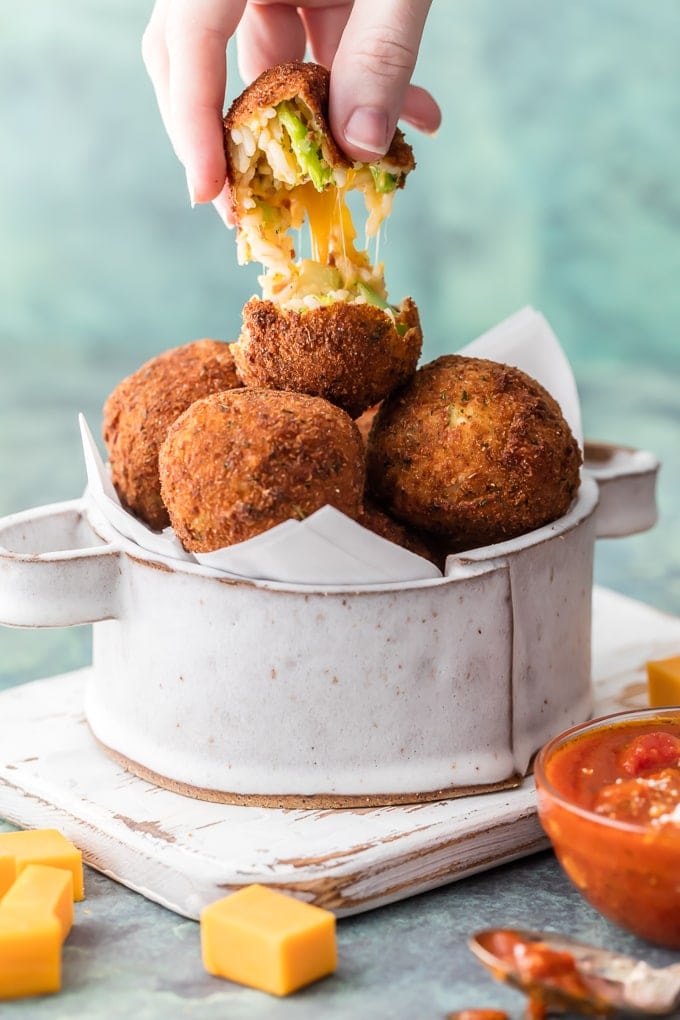 Easy Arancini Balls Recipe
Have you guys ever had arancini balls? Do you know what arancini is?! Don't feel bad…I didn't either. I recently had arincini balls at a restaurant and had to google it when I saw it on the menu!
Basically all you need to know about arancini balls is that they are deep fried, creamy, cheesy rice…that you can dip in marinara sauce and dream about forever. Okay, that may not be the technical definition of arancini, but that's all that matters! I'm OBSESSED and cannot wait for you to try this amazing arancini recipe so you know what I'm talking about.
These Arancini Balls with Cheese, Bacon, and Broccoli will be your new favorite appetizer!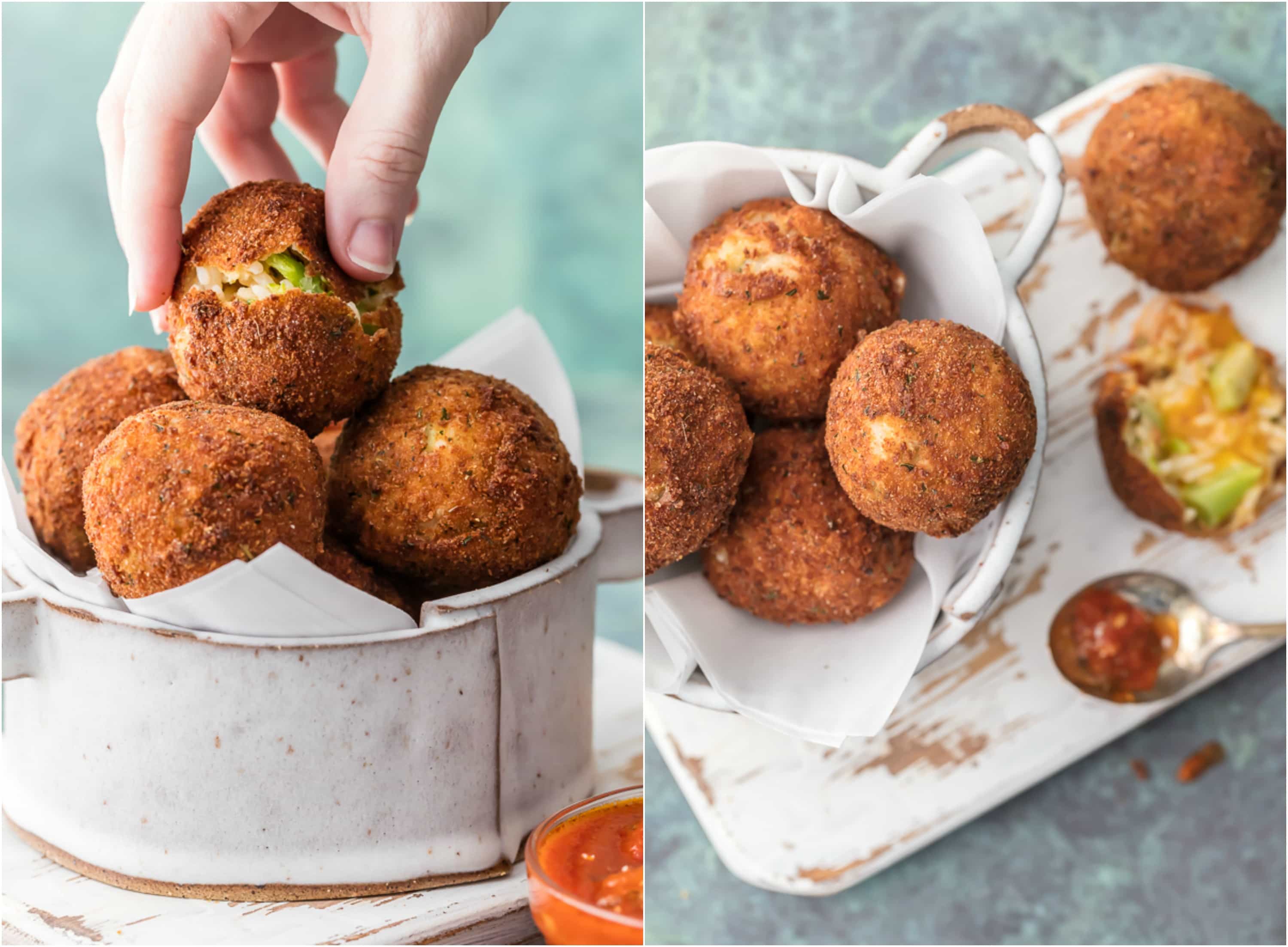 What is Arancini?
Okay, before you try this Arancini Recipe, let's get the real answer. What is Arancini?
Arancini Balls are a tradtional Italian dish that has become even more popular in modern Italian cuisine. Arancini are rice balls filled with cheese, meat, tomato sauce, or any number of ingredients. Then the rice balls are covered in bread crumbs and deep fried to create a crispy, warm, delicious little appetizer perfect for dipping.
To spice things up a bit, I put cheese, bacon, and broccoli in this arancini recipe. And of course I added an extra cube of cheddar in the middle for melty amazingness (always need more cheese!). I'm pretty proud of this one. These cheesy broccoli arancini balls are just so addicting. You can make them big and serve as a main course or keep them bite sized for a fun and unique appetizer. Sure to please kids and adults alike!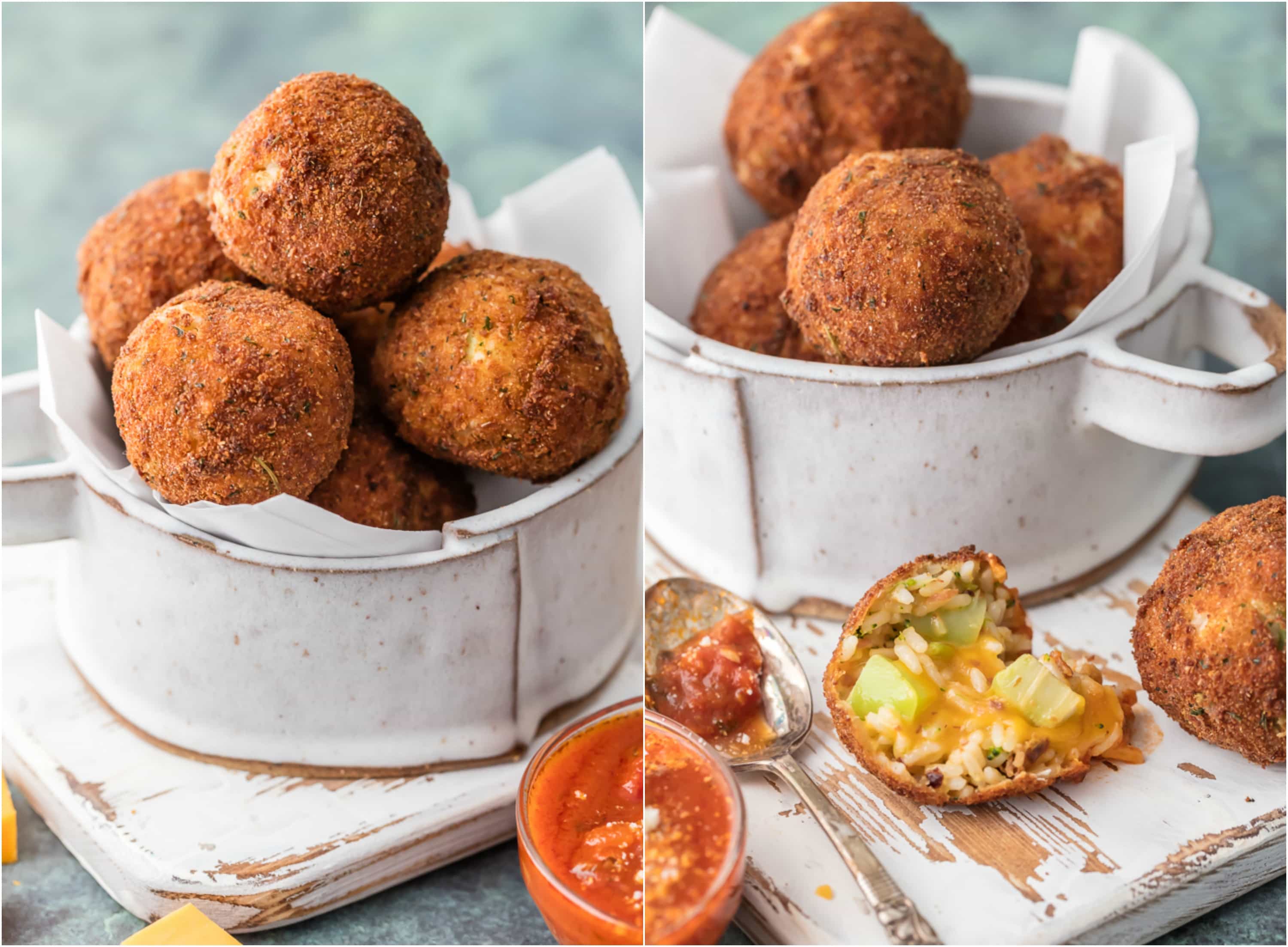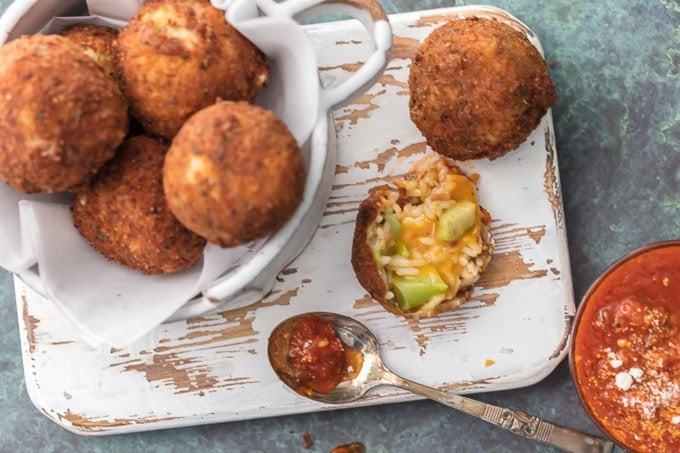 How do you make Italian Rice Balls (Arincini Balls)?
This arincini recipe is so easy to make!
Create a rice mixture with broccoli, cheese, and bacon & let chill
Form 2-inch rice balls with the mixture
Dip each ball in the flour, then egg, then coat in bread crumbs
Cook the arancini balls in a large stockpot or dutch oven at 350 degrees
It's a pretty straight-forward process and fun to make too! See the recipe card for full instructions.
To keep things EXTRA simple (just how I like), I used frozen broccoli in cheese sauce to stuff the arancini balls. Perfect! It creates that creamy texture with literally zero work for you. I know I know, standing ovation.
How have I gone through life without ever having this amazing arancini recipe before now? Thank goodness for the local restaurant that opened my eyes and impressed my appetite. Broccoli Cheese Arancini Balls for the WIN WIN WIN! I can't wait for you to try them. Be sure to dip in lots of marinara.
What do you serve with arancini balls?
WHERE DO I BEGIN? These little cheesy rice balls are so good, I'd eat them with just about anything. They make a really great appetizer to serve at a party or before your meal.
Arincini Balls also make a good side dish for other Italian dishes. Cook them up next time you make one of these: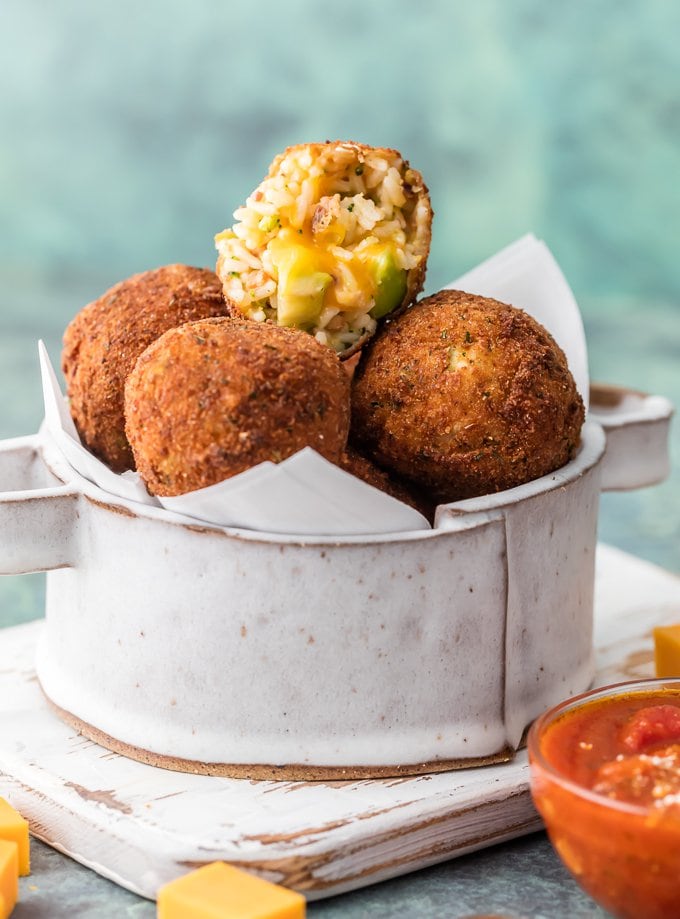 These arancini balls make a great starter for holiday meals, a great appetizer for tailgating, and a great main course when unique is what you're after. And let's just pretend they're healthy because of the broccoli. MMMM K? I know you're on my level.
See the recipe card below for full details on how to make Arancini Balls. Enjoy!
If you like these Cheesy Bacon & Broccoli Arancini Balls, try these other deliciously fried foods: