Baked Breakfast Sandwich Sliders are the perfect brunch recipe!!! Easy, delicious, and filling for those long days of tailgating. I love the poppy seed top on top!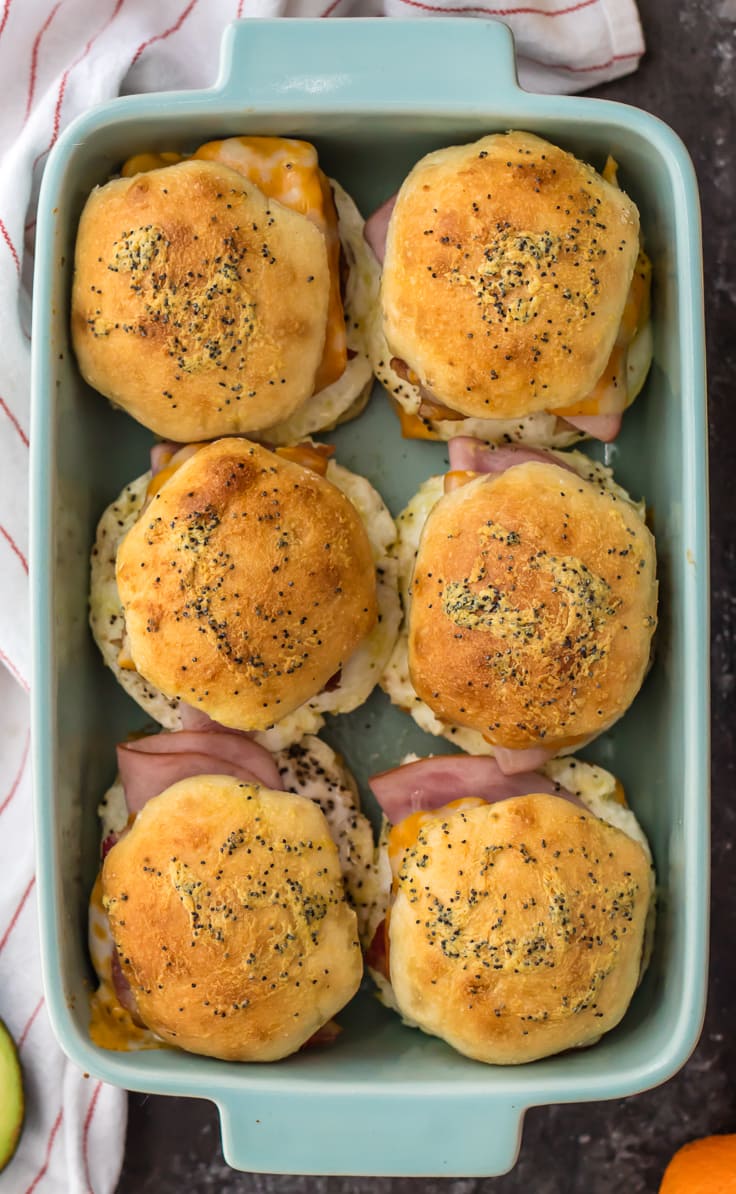 The Chiefs won this weekend!!! Am I living in some alternate universe where Kansas City sports teams actually win? Am I dreaming? Well, don't wake me up, because this is FUN! I'm still on a high from my Royals, and now the Chiefs have won 11 in a row. They won their first playoff game since 1993 on Saturday, and it felt pretty darn good! Watching games is fun, but loving a sports team isn't just about the actual game time. It's about time with family, memories, rivalries, and FOOD.
One of my favorite easy tailgating recipes is these ULTIMATE Baked Breakfast Sandwich Sliders.
They're easy, delicious, and filling enough for a day of fun. Plus you can make them ahead!! Sound good?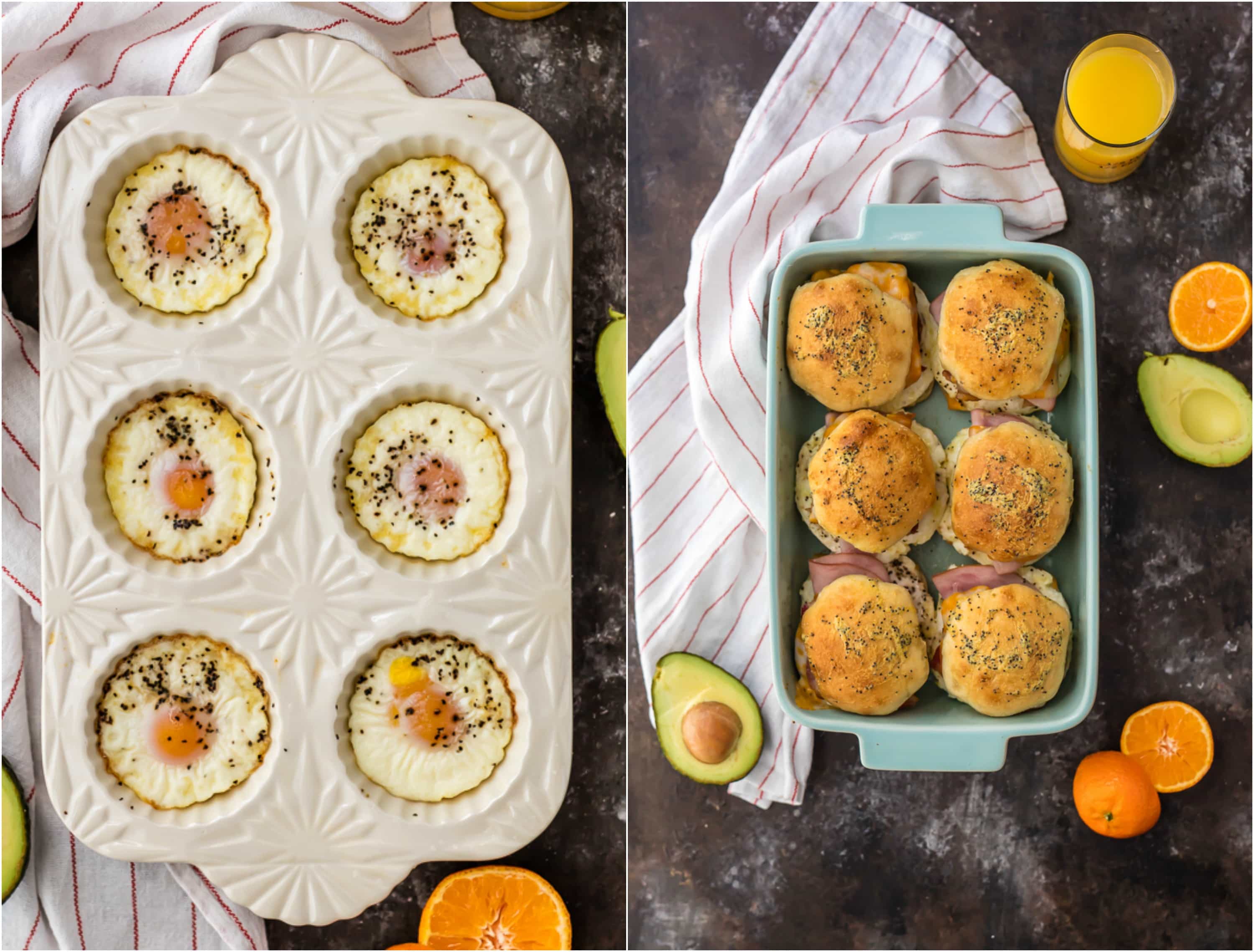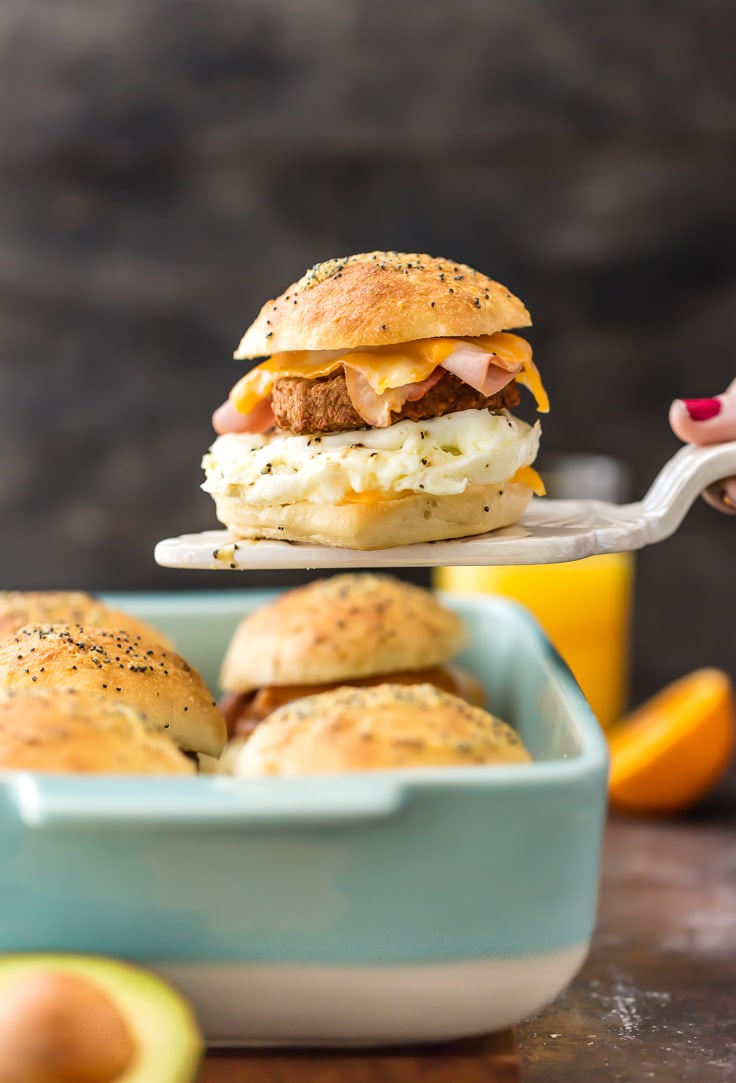 I have been loving trying my favorite recipes baked in bulk. You might remember the Baked Spicy Chicken Tacos and the Baked Fajitas, two of my fave ways to cook in bulk for a party! These Baked Breakfast Sandwich Sliders just might take the cake. You can customize each one for different people, and make them ahead. What's not to love?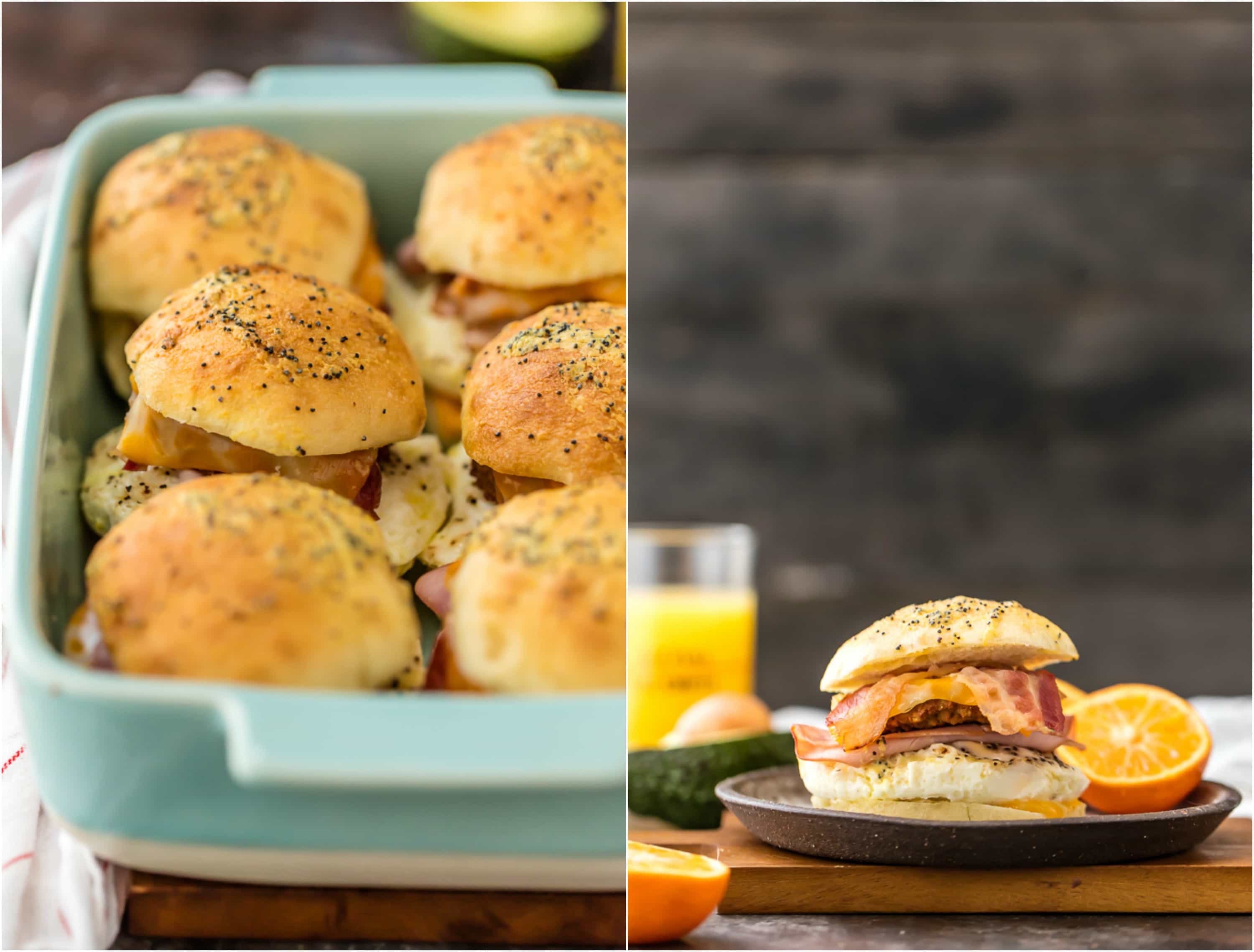 These Baked Breakfast Sandwiches wouldn't be amazing without the PERFECT slider bread. When I was in California earlier this year, I had the awesome opportunity to eat at La Brea Bakery in Downtown Disney. YOU GUYS. All the good things all in one place. When I recently discovered La Brea sells their bread nationwide, I was SO EXCITED. Their Take and Bake Telera Slider Rolls were the perfect bun for these Baked Breakfast Sandwiches. Toasty, flavorful, and just like homemade. I'm obsessed.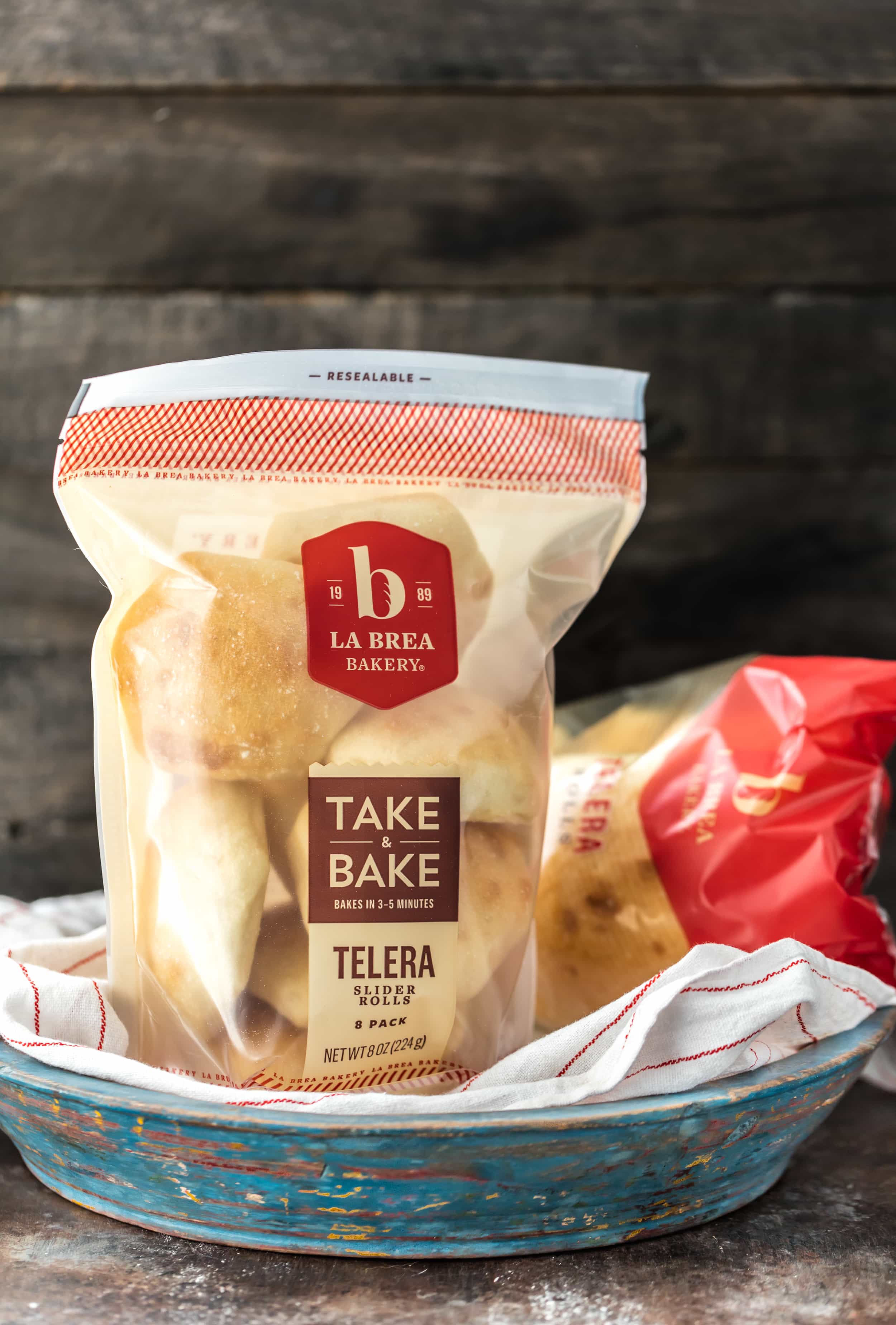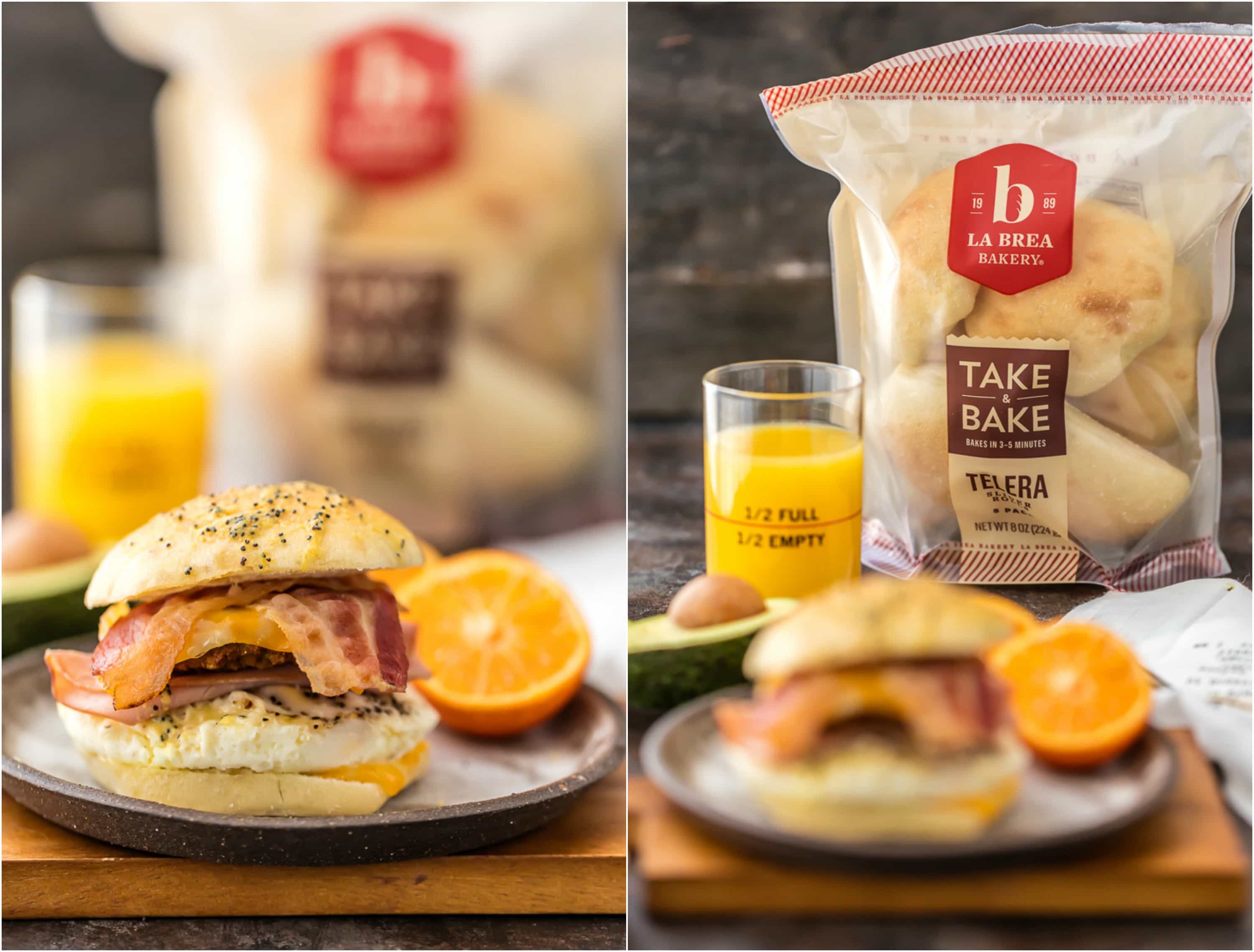 If having delicious bakery fresh bread right in your home isn't exciting enough, La Brea is RIGHT NOW hosting an amazing #SnackOn Sweepstakes! I'm so honored to spread the word, and hopefully a Cookie Rookie follower will win the big prize! 2 TICKETS TO THE BIG GAME INCLUDING AIRFARE AND LODGING. Is this real life? Click HERE for more details and to enter. Make me proud guys.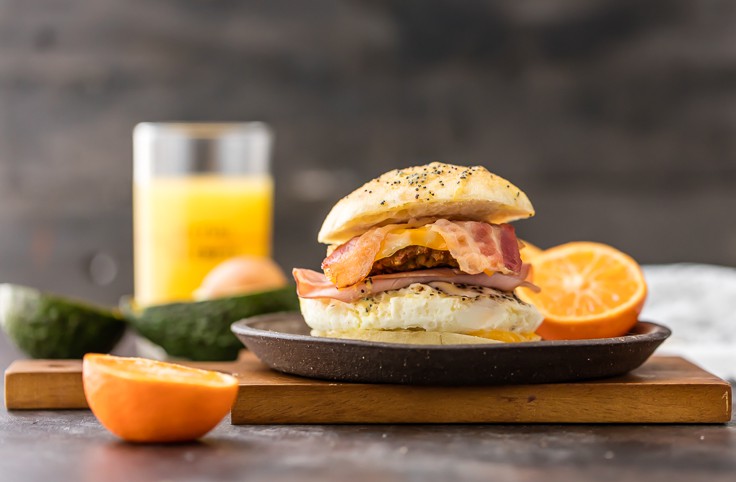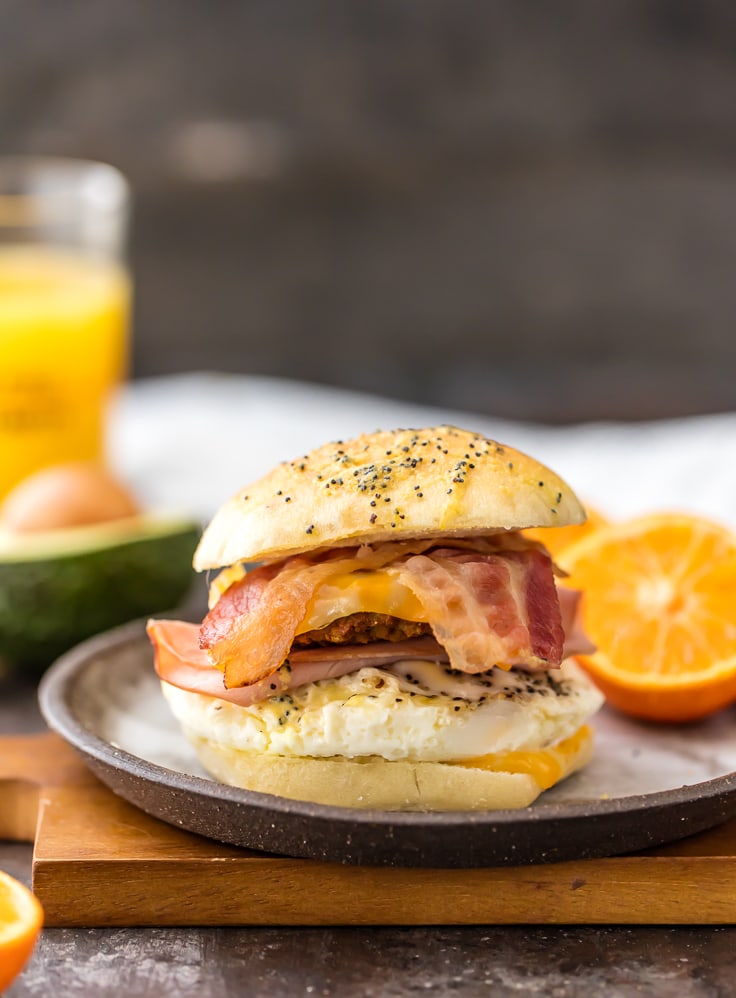 So let's recap. We are all cheering for the CHIEFS this coming weekend and we are all making these SUPER EASY Ultimate Baked Breakfast Sandwich Sliders. Oh, and last but not least one of you might win two tickets to the biggest football game of the year by clicking HERE.
Enjoy this baked breakfast sandwich sliders recipe!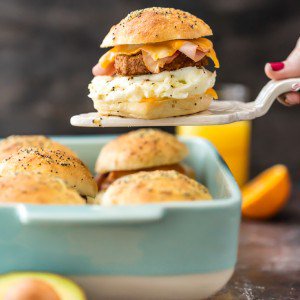 The Ultimate Baked Breakfast Sandwich Sliders (plus MAJOR giveaway!)
Print
Ingredients
8

La Brea Telera Slider Rolls

cut in half lengthwise

8

eggs

cooked to how you like them. Either baked as shown or scrambled

16

slices

colby jack cheese

8

sausage patties

cooked

8

slices

ham

8

slices

bacon

cut in half

1/4

cup

butter

melted

2

teaspoons

dijon mustard

1

teaspoon

garlic powder

2

teaspoons

poppyseeds
Instructions
Preheat oven to 350F

Spray a 9x13 baking dish with nonstick spray.

Place the bottom half of each slider roll in the bottom of the baking dish.

To assemble the sandwiches, start with a slice of cheese, then eggs (if using baked eggs, use 1 per roll. If using scrambled, just scoop a large spoonful onto each bun), then ham, sausage, bacon, and more cheese. Replace the tops to each slider roll.

In a small bowl, mix together the melted butter, mustard, poppy seeds, and garlic powder. Brush the top of each roll liberally with the butter mixture. I actually added it my the spoonfuls :)

Bake covered for 12 minutes and then remove cover. Continue cooking for another 4-6 minutes or until the bread is toasted and and the cheese fully melted.

Remove and serve!

NOTE: You can make these ahead. Just refrigerate overnight and bake when ready.

NOTE: I love the La Brea rolls for this because they're take and bake. This helps the rolls not to burn while in the oven. Perfection!

NOTE: If you don't like any of the ingredients, leave them out! These are awesome even if they're just egg and cheese. You can customize for each person! GO!
This post was written in partnership with La Brea Bakery. Thank you SO much for supporting the brands that help support The Cookie Rookie. As always, all opinions are 100% my own.