This Fried Buffalo Wings Recipe makes some of the BEST Buffalo Wings I've ever had. Even better, these are GLUTEN FREE chicken wings, perfect for those who want this classic favorite without the gluten. These spicy, deep fried chicken wings are perfect for tailgating, the Super Bowl, and every day in between!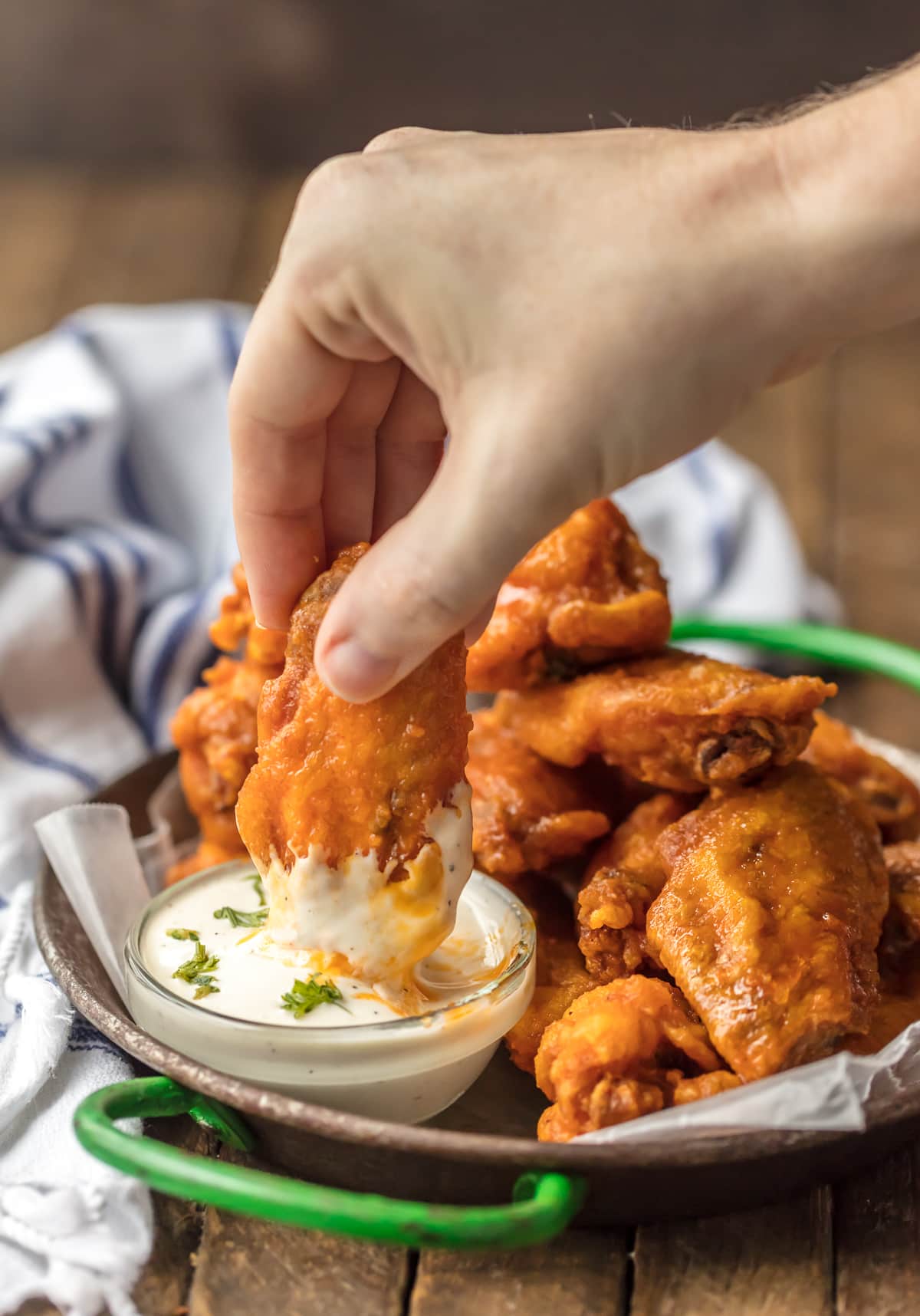 Fried Buffalo Wings Recipe
This Fried Buffalo Wings Recipe is a real winner! Not only is this possibly the BEST buffalo wings recipe, but these are GLUTEN FREE chicken wings. Yes, we can have it all!
This Fried Buffalo Wings recipe is a labor of love. A labor of love to my husband, Pat. Let's be honest, not much of what I cook is in honor of him. He hates onions and I LOVE ONIONS…so I usually use a lot of onions. He hates rosemary and I LOVE ROSEMARY…so I use a lot of rosemary. Most of the time when cooking, my attitude is, YOU'RE CRAZY FOR NOT LIKING THAT so you can pick around it. Does that make me a bad wife? Don't answer that…
But today is all about Pat. Pat LOVES Fried Chicken Wings. He is a man of simple tastes, and that's really okay, even if I do try to push his tastes sometimes. Today I'm keeping it simple with the absolute BEST Buffalo Wings recipe (classic deep fried chicken wings), something everyone is sure to love. And as a bonus, these are GLUTEN FREE chicken wings! They are the perfect appetizer for tailgating (our favorite thing to do) and they are just in time for the holidays and Super Bowl prep.
I texted Pat while he was at work to let him know these fried wings would be waiting for him. My typically even-keeled husband was very excited. He's always asking why I can't make more recipes like this, so today is his day! And lucky for us all, they're totally easy, crave worthy, and DELICIOUS. They have just the right amount of sticky and spicy (a secret ingredient helps with that), but not too hot to where I can't enjoy them too. Is this the perfect Fried Buffalo Wings recipe? It just might be!
This is the BEST Fried Buffalo Wings recipe, perfect for game day. Even better is that these are gluten free chicken wings, so everyone can enjoy them!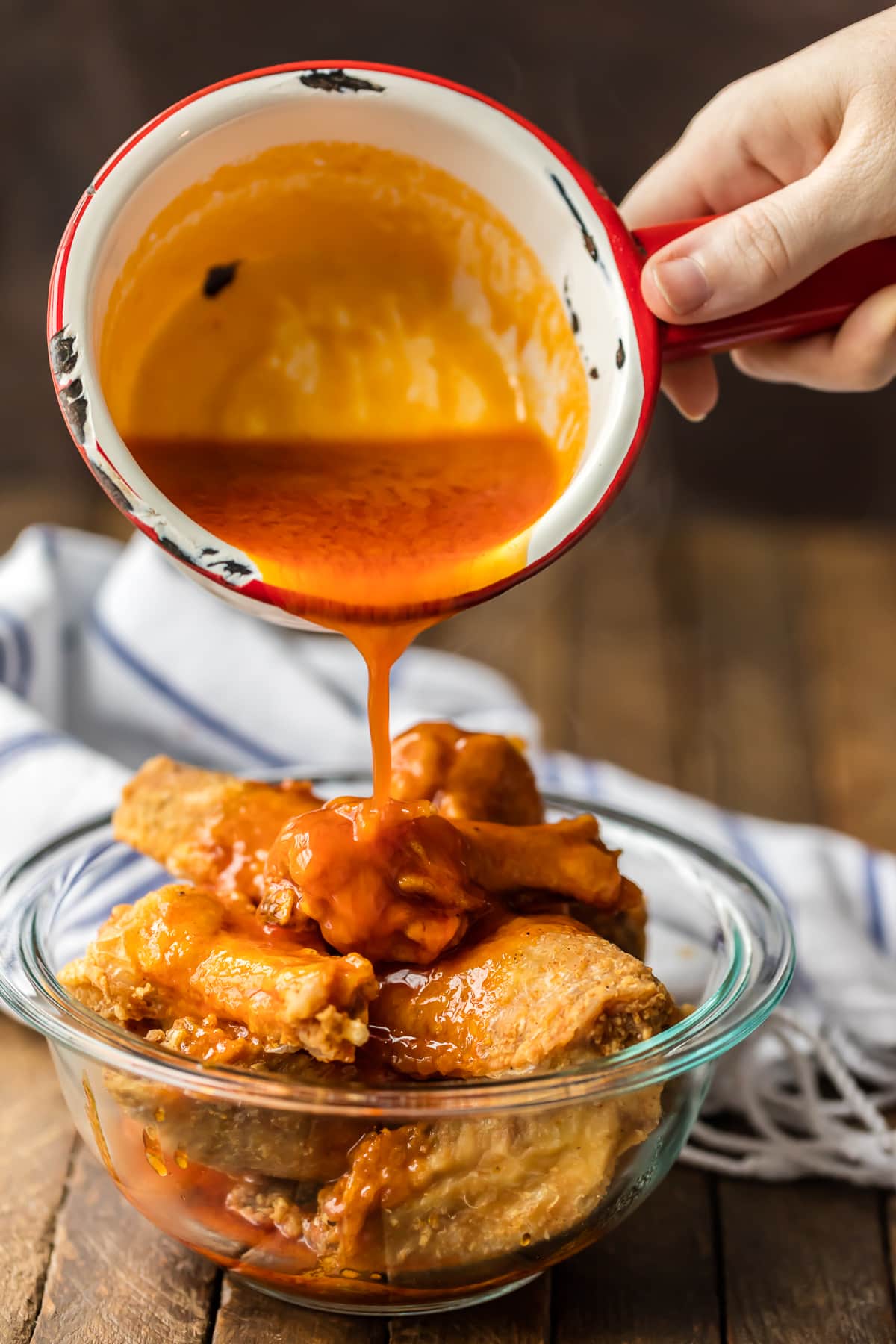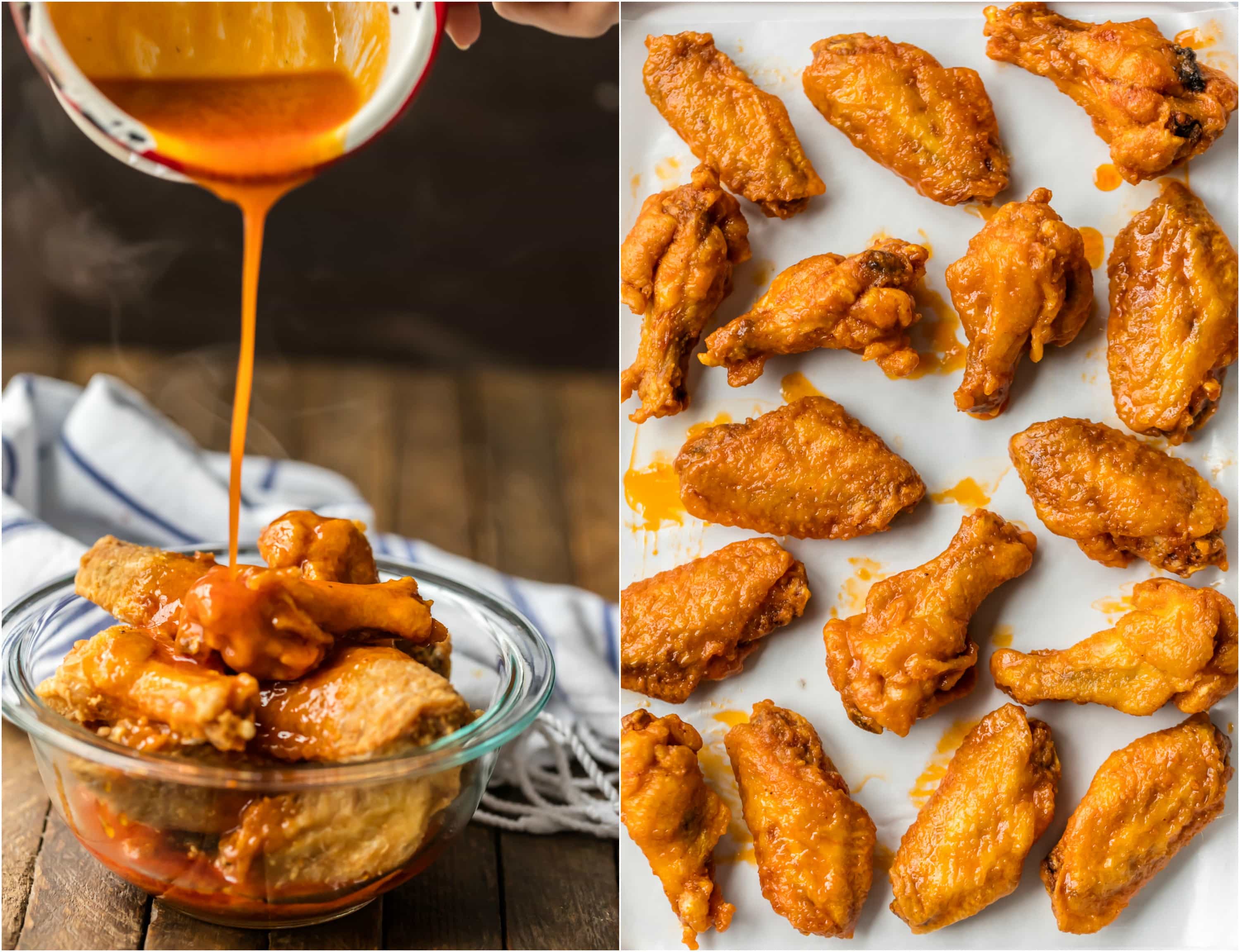 Gluten Free Chicken Wings
We all want to enjoy deliciously fried chicken wings, even if we can't consume gluten. And that's usually a hard thing to do. But I figured out how to make gluten free chicken wings with the help of one of my favorite brands. The secret to making these bad boys GLUTEN FREE is Bob's Red Mill Gluten Free 1:1 Baking Flour! I am OBSESSED with this stuff.
I love all Bob's Red Mill products, but this just might be my favorite thing yet. You can use it exactly as you would all purpose flour in baking, recipes, and everything in between. It makes keeping recipes gluten free SO much easier. My very favorite company just got even better with this product. You guys have to try it!
If you're not worried about making them gluten free, you can use regular flour and follow the rest of the recipe as is.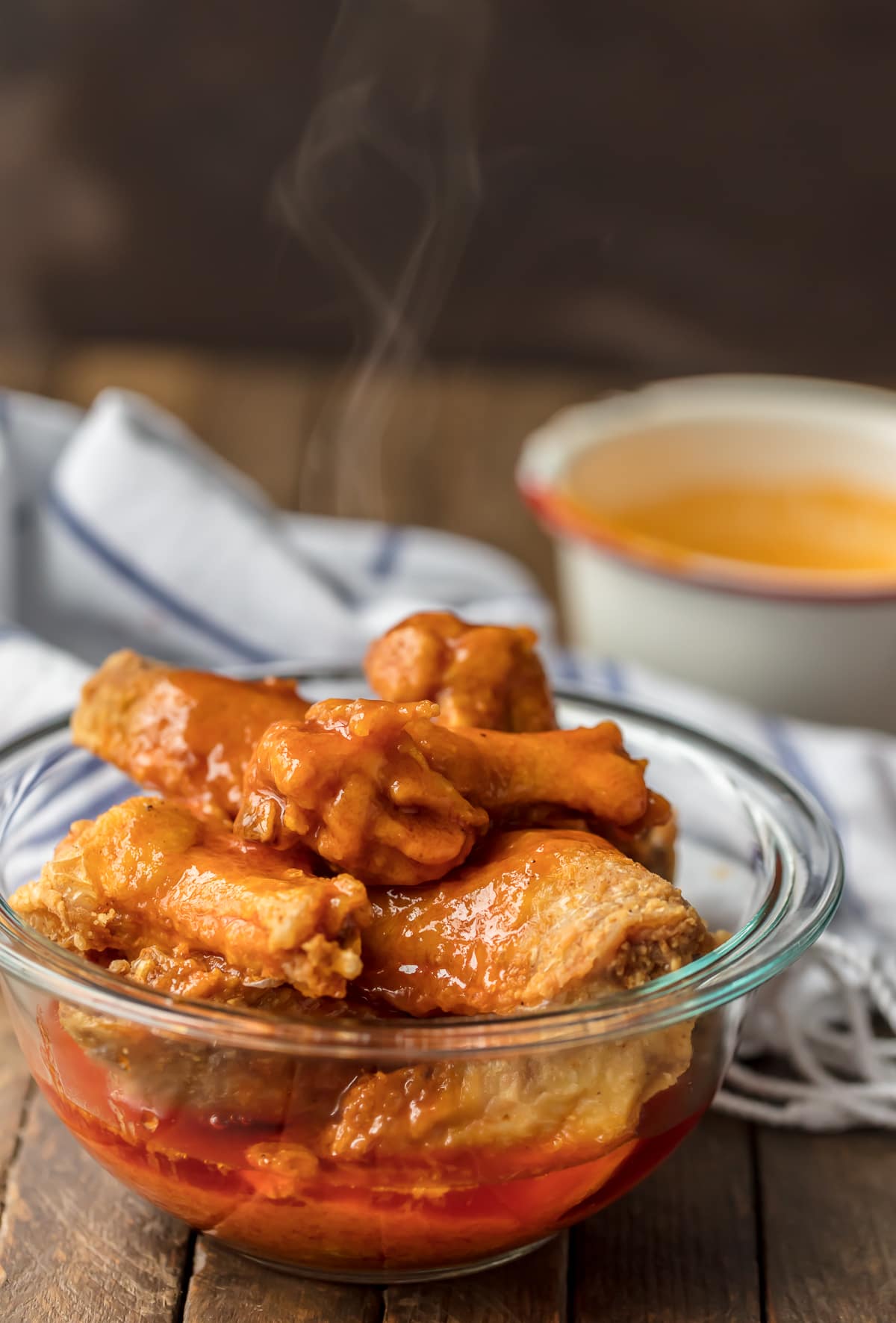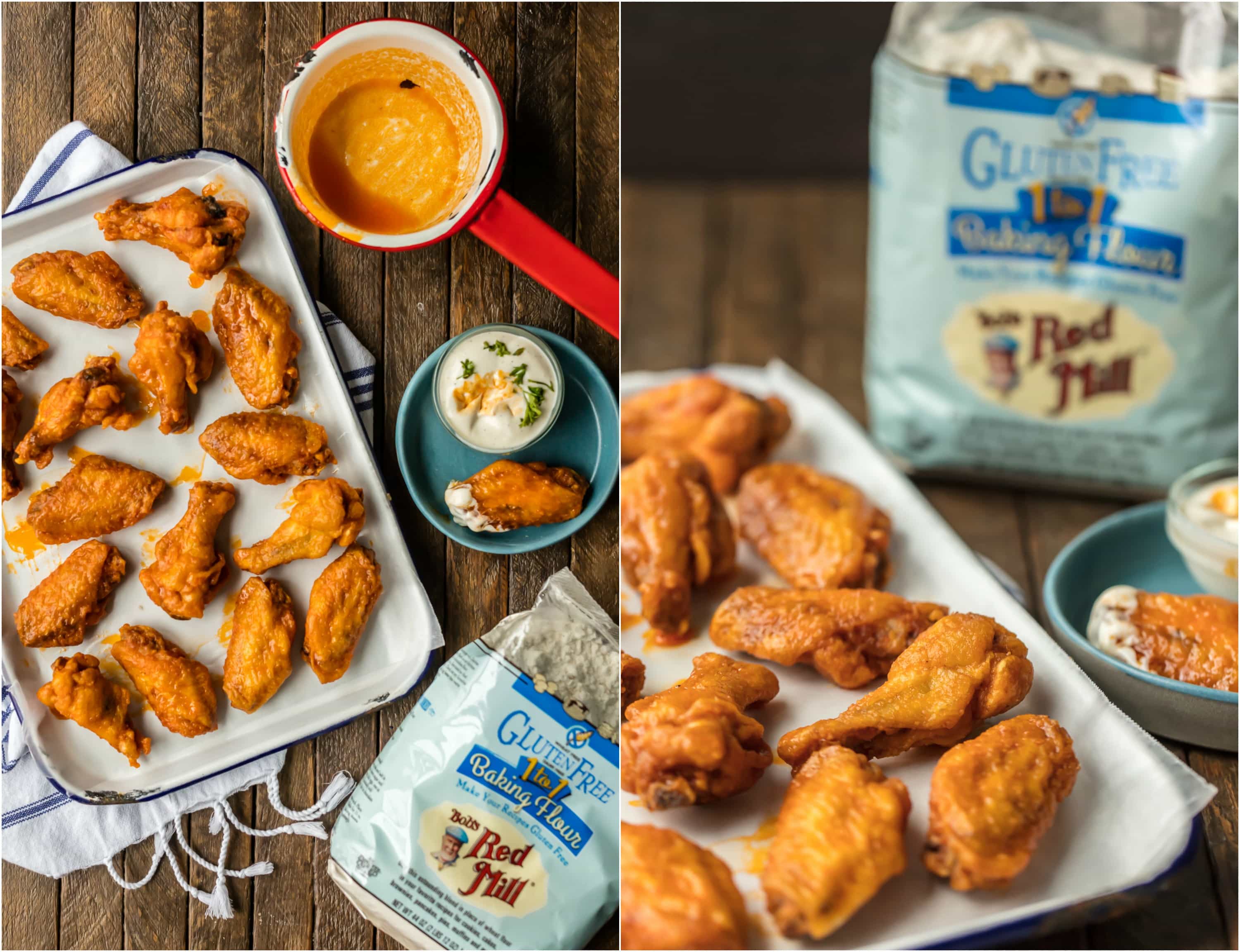 How to Make Fried Chicken Wings
Fried Buffalo Wings aren't as hard to make at home as it might seem. All you need is a large pot and some oil to fry them up, and they come out super crispy and delicious! And you might be surprised at how simple it is to make gluten free chicken wings too. Just use gluten free flour and you're good to go.
How to Make Gluten Free Buffalo Wings:
Combine flour, paprika, garlic powder, cayenne pepper, and salt & pepper in a large resealable bag.
Place about 10 chicken wings in the bag at a time, seal, and shake to fully coat them in the flour mixture.
Repeat this process until all wings are covered, then place them on a plate and let them sit in the refrigerator for 10-30 minutes (this helps the flour adhere to the chicken wings).
Heat 3 inches of oil in a large pot to 360°F (do this while the wings are in the fridge).
Place the wings in the oil (about 10 at a time) and let them fry for 10-15 minutes, or until they are brown and crispy.
Use a slotted spoon to remove wings from the oil, and set them aside on a paper towel.
To make the sauce:
Heat butter, buffalo sauce, and honey in a saucepan.
Bring to a boil, then reduce to simmer and let it cook for 10-15 minutes (stir often).
Combine fried chicken wings in a bowl with the sauce to coat.
This fried buffalo wings recipe is just so delicious, and much easier to make than you think. Now everyone can have the best buffalo wings on game day with these gluten free chicken wings! Serve with your favorite dipping sauce, like blue cheese or ranch.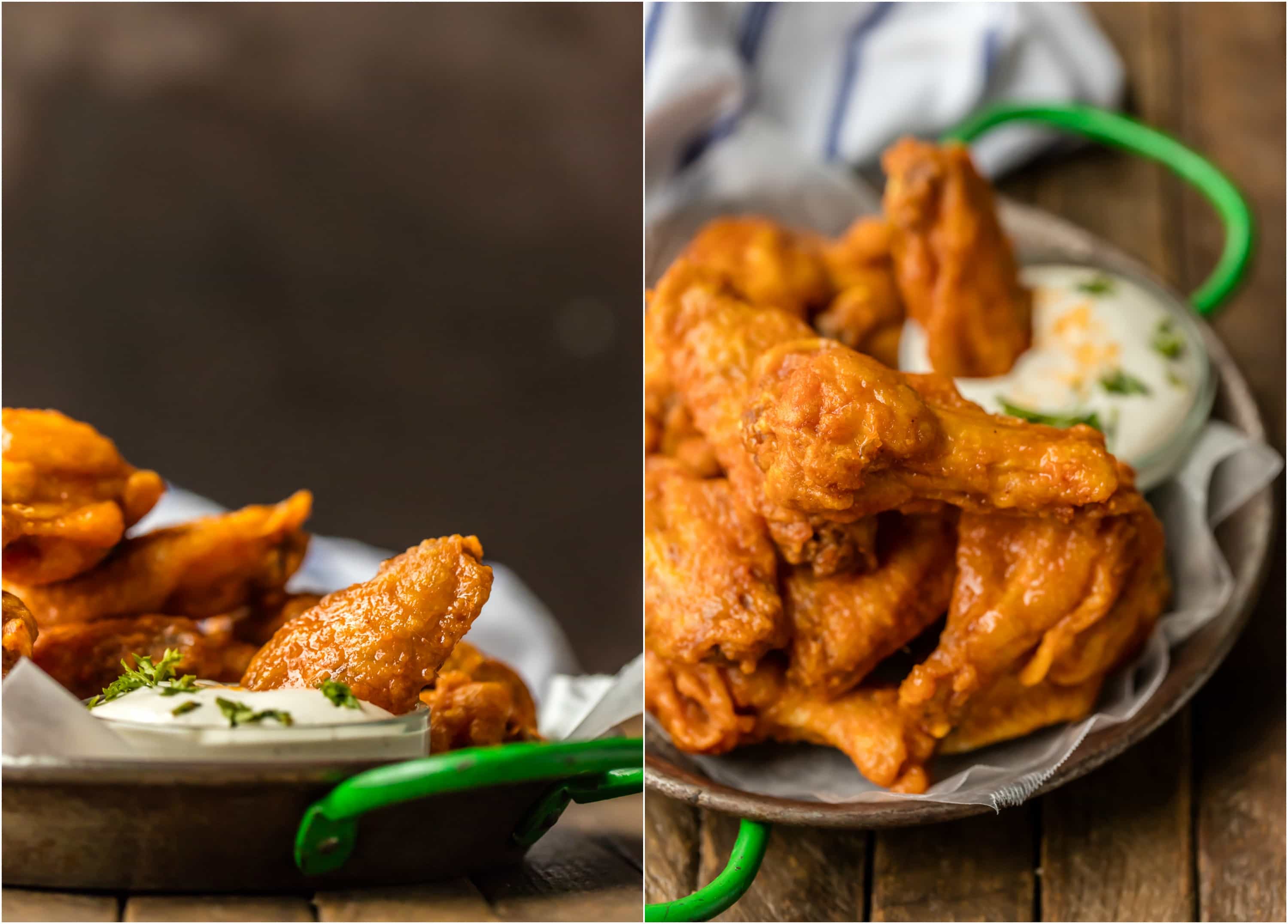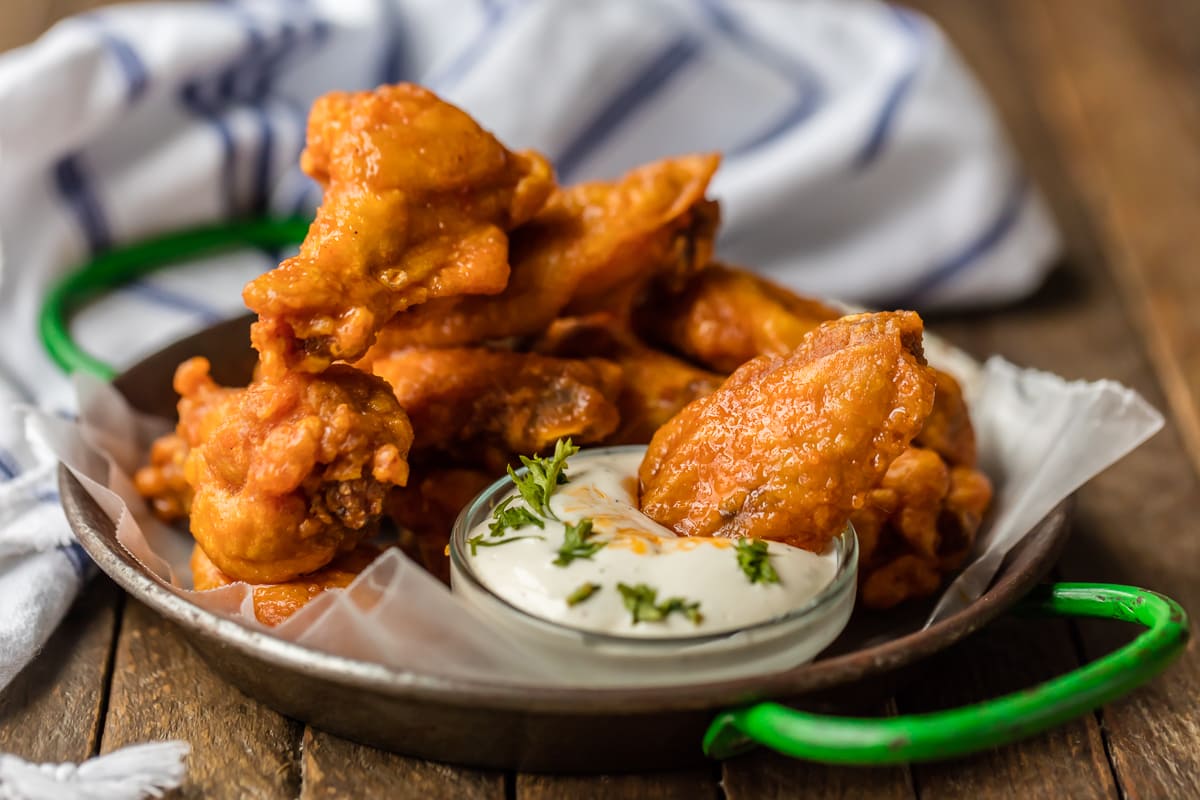 How to Make Homemade Buffalo Sauce
The best buffalo wings recipe wouldn't be complete without our delicious homemade buffalo sauce! You better believe we've got every base covered with these fried chicken wings. You can always buy Buffalo Sauce at the store for this recipe, but trust me, you'll want to make your own! Here is our favorite Homemade Buffalo Sauce Recipe. Simple, delicious, and it works great on every buffalo wings recipe.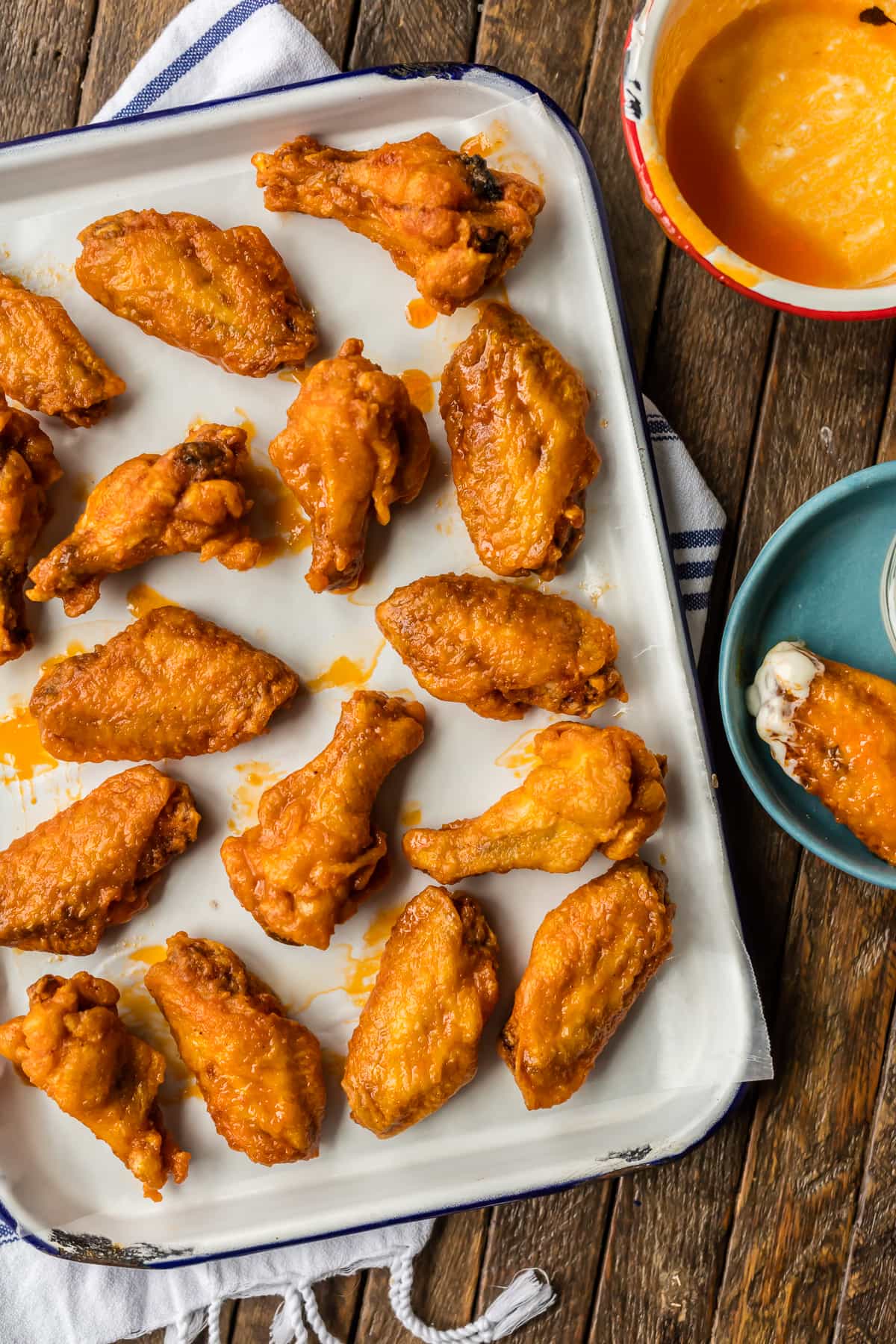 Eat these deep fried wings by themselves (the sauce is SO GOOD), dip them in ranch or blue cheese, eat a little or a lot, the choices are all yours! But these better be made in your house soon, because they're so worth it. Plus they make the Pat in your life, whoever that may be, very very happy. Sometimes the simple recipes are the best.
Watch the Video and See the recipe card below for details on how to make this Fried Buffalo Wings recipe. Enjoy!
If you like this fried wings recipe, try these other easy chicken wing recipes: