These Bang Bang Shrimp Bowls are filled with rice, avocado, cucumbers, and popcorn shrimp coated in a creamy sauce. It's a flavor-packed and good-for-you bowl that makes a delicious lunch or dinner. If you love bang bang shrimp, you're going to love this recipe that comes together in just about 30 minutes!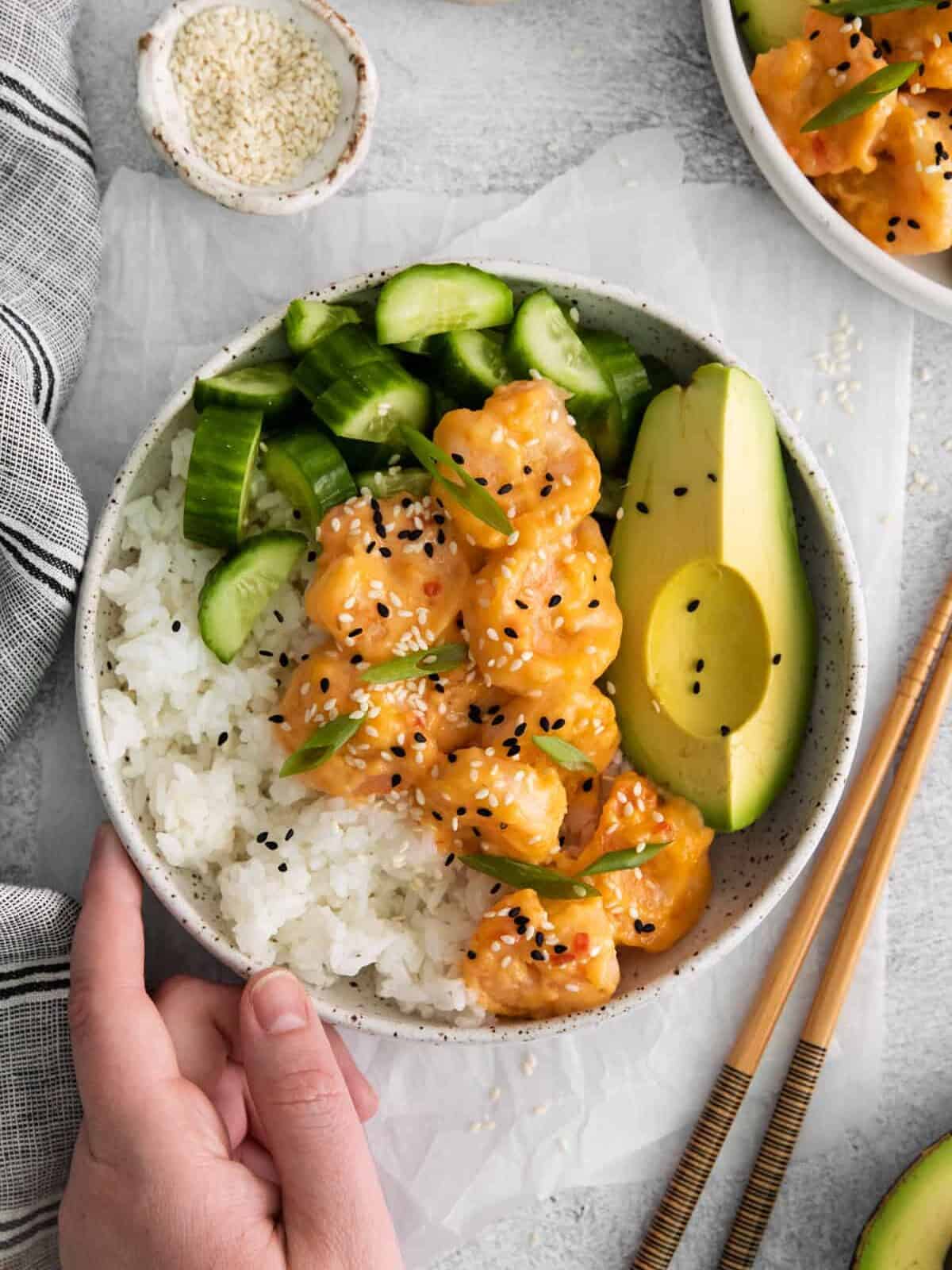 What's in a Bang Bang Shrimp Bowl?
Seasoned rice is topped with bang bang marinated shrimp, avocado, and cucumber to create a mouth-watering Asian-inspired rice bowl.
I like using short-grain sushi rice in this recipe because it has great texture and sticks together so it's easier to eat!
Water helps cook and soften the rice.
Sushi rice is traditionally seasoned with rice vinegar, salt, and sugar so we're using those same flavors in our rice.
I love the creaminess of avocado and the fresh crunch of cucumber with my bang bang shrimp– but feel free to use your favorite vegetables! Sliced carrot, edamame, etc. would all be delicious.
Sweet chili sauce adds a sweet heat to the bang bang sauce. It's available in the International aisle of most grocery stores.
Mayonnaise adds a bit of creaminess to the bang bang sauce.
Lime juice adds brightness and acidity to the shrimp.
I'm using small popcorn shrimp because they're easy to eat in a bowl, but feel free to use any size you like. Just keep in mind that they will need to cook longer if you use larger shrimp.
Flour and cornstarch coat the shrimp and dry out the surface so it has a crisp exterior. Since we're not battering and frying the shrimp, we want to make sure to get great texture while searing!
Olive oil helps sear the shrimp. Feel free to use your favorite neutral cooking oil.
Pro Tip: For a spicier sauce, add 1 tablespoon of sriracha or ⅛ teaspoon of crushed red pepper flakes.
Variations on Bang Bang Shrimp Rice Bowls
There are so many fun and easy ways to change up these shrimp and rice bowls. Swap the white rice for brown rice, cauliflower rice, or quinoa for a healthier bowl. Or try pan-seared chicken, grilled ribeye, or air fryer miso salmon instead of shrimp. Every meat is delicious with bang bang sauce! And top your bowls with even more veggies, like bell peppers, snap peas, corn, or carrots!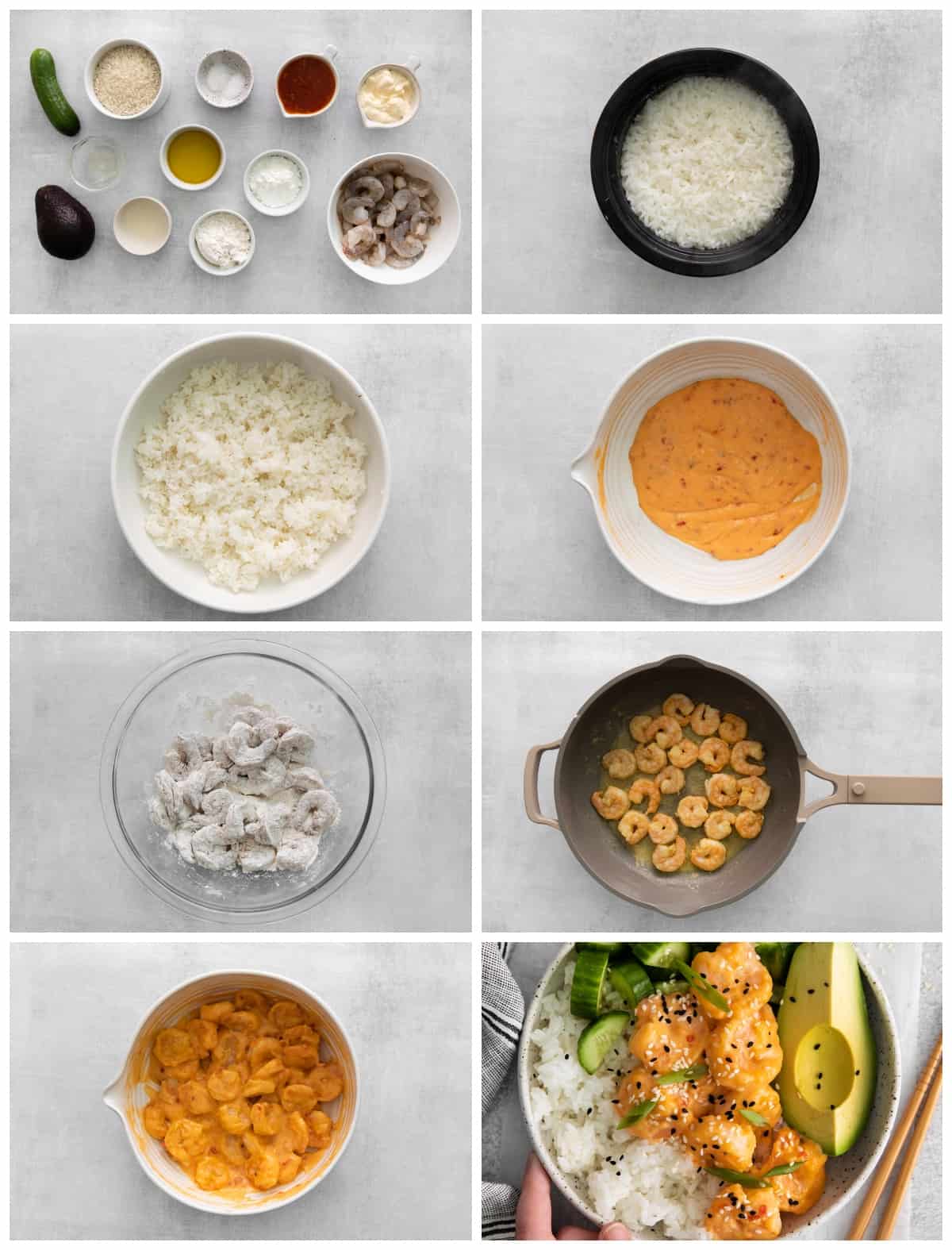 What is bang bang sauce?
Bang Bang Sauce is a sweet, creamy, spicy sauce made from sweet chili sauce and mayonnaise. It was made popular by Bonefish Grill.
Can I make bang bang shrimp bowls with frozen shrimp?
Yes, you can use frozen shrimp. Just be sure to let the shrimp thaw completely overnight in the refrigerator before using them.
How can I tell when shrimp are cooked through?
Raw shrimp are translucent gray in color. Cooked shrimp are an opaque white color with some pink and bright red accents and 120°F internally.
Can I air fry the shrimp instead?
You sure can! Spray the shrimp with olive oil cooking spray and air fry at 400°F for about 8 minutes, flipping halfway through.
Can I freeze bang bang shrimp bowls?
I do not recommend freezing these bowls, as the coating on the shrimp will turn soggy once thawed, and the cucumbers and avocados do not freeze well.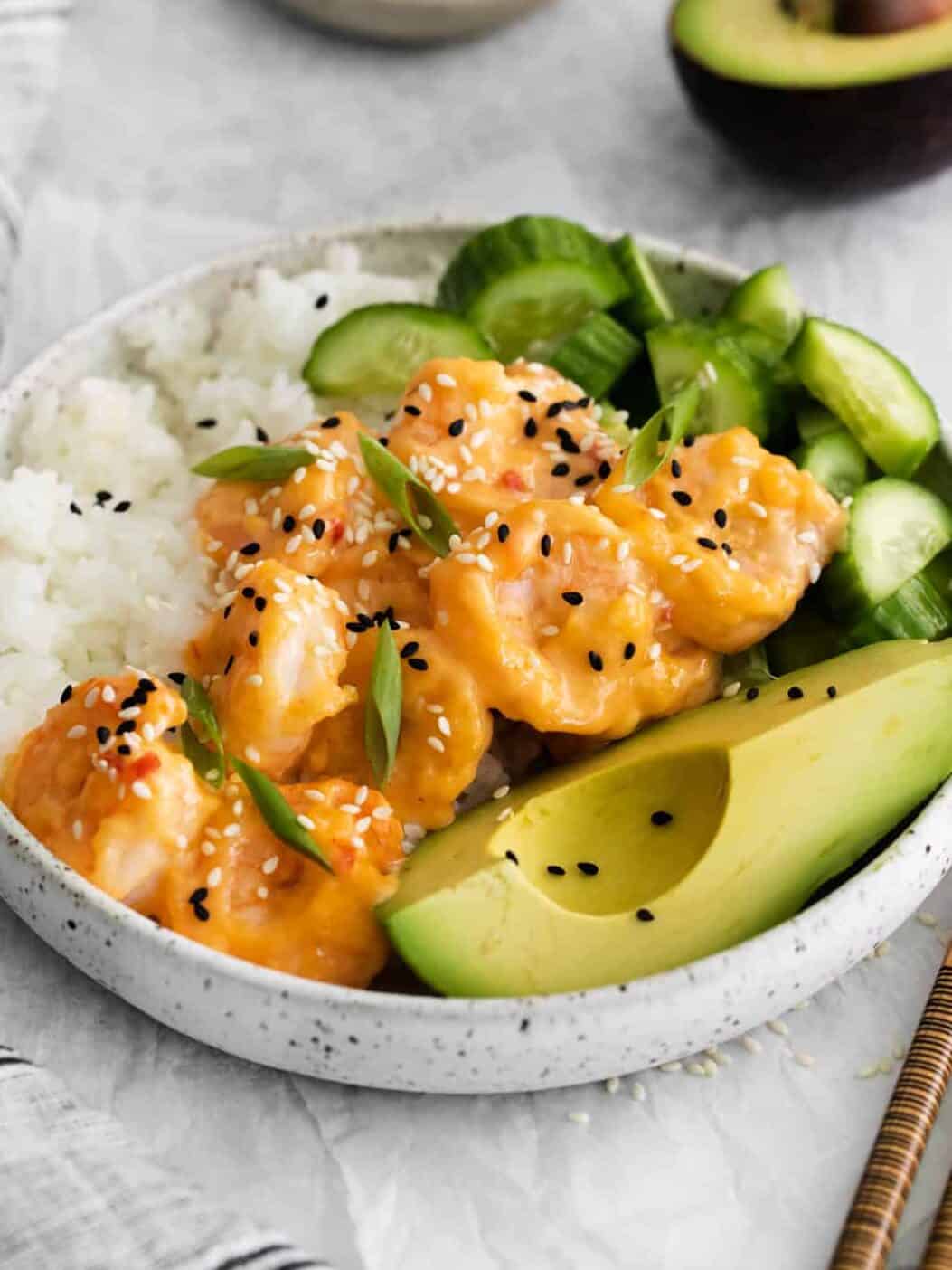 How to Store and Reheat
Store leftover bang bang shrimp bowls in airtight containers in the refrigerator for up to 3 days. I recommend storing extra cucumbers and avocado separately from the rice and shrimp.
Reheat the shrimp in a 350°F oven for about 5 minutes, and reheat the rice in the microwave in 30-second increments, stirring in between, until warmed through. Then assemble with fresh veggies and serve.
I do not recommend freezing these bowls.
Serving Suggestions
These bang bang shrimp and rice bowls are the perfect lunch all on their own. Pair them with some delicious Asian-inspired appetizers, like Asian cucumber salad, egg drop soup, or egg rolls for an at-home takeout experience!
A refreshing cosmo, summer shandy, Thai iced coffee, or citrus smash cocktail would be perfect to wash this down!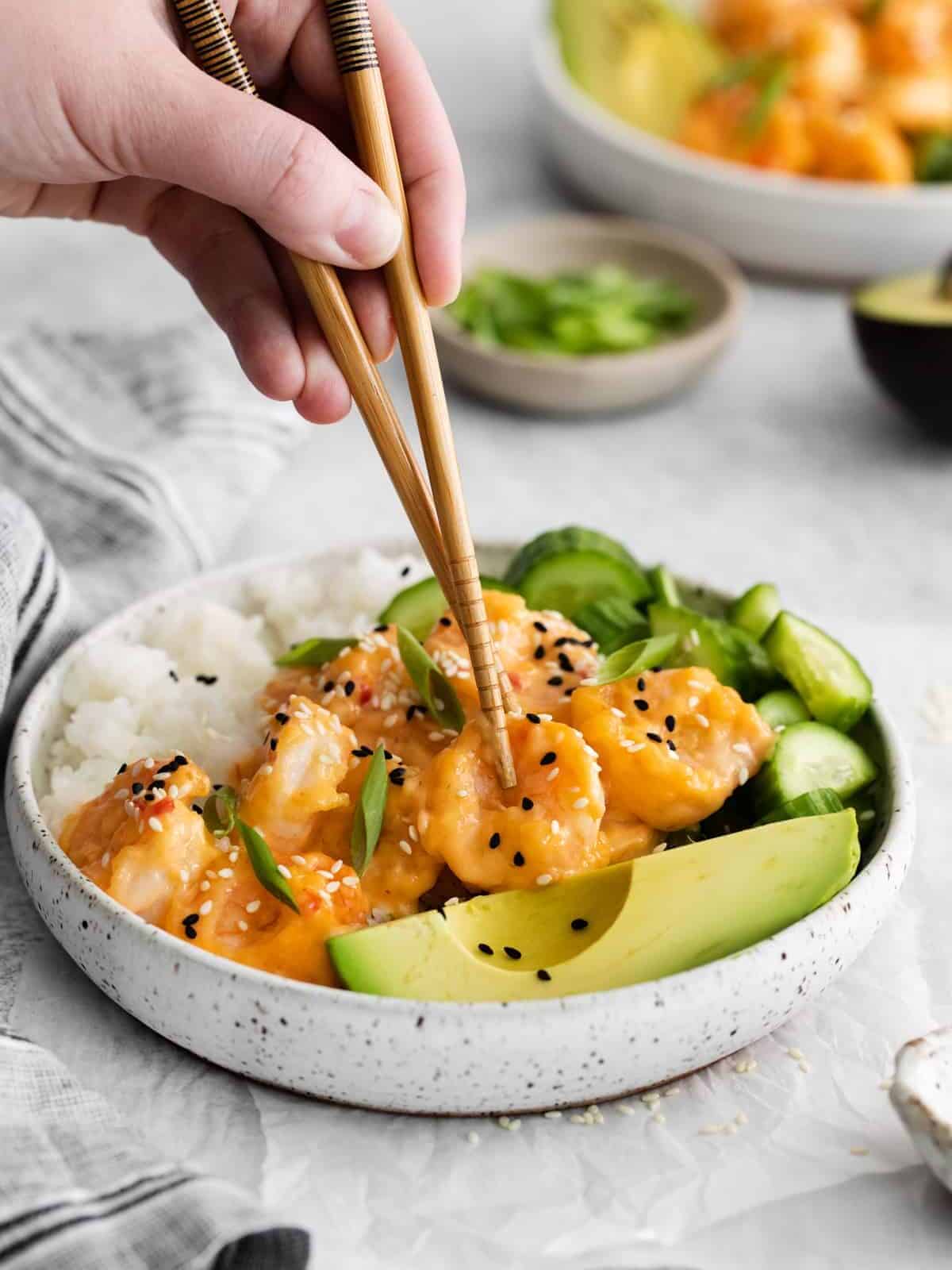 More Bowl Recipes We Love