Jalapeño Margaritas are a spicy, fun twist on the classic cocktail you know and love! An easy cocktail recipe made with tequila, fresh grapefruit juice, lime, and just the right amount of jalapeños. Perfect for parties and Cinco de Mayo!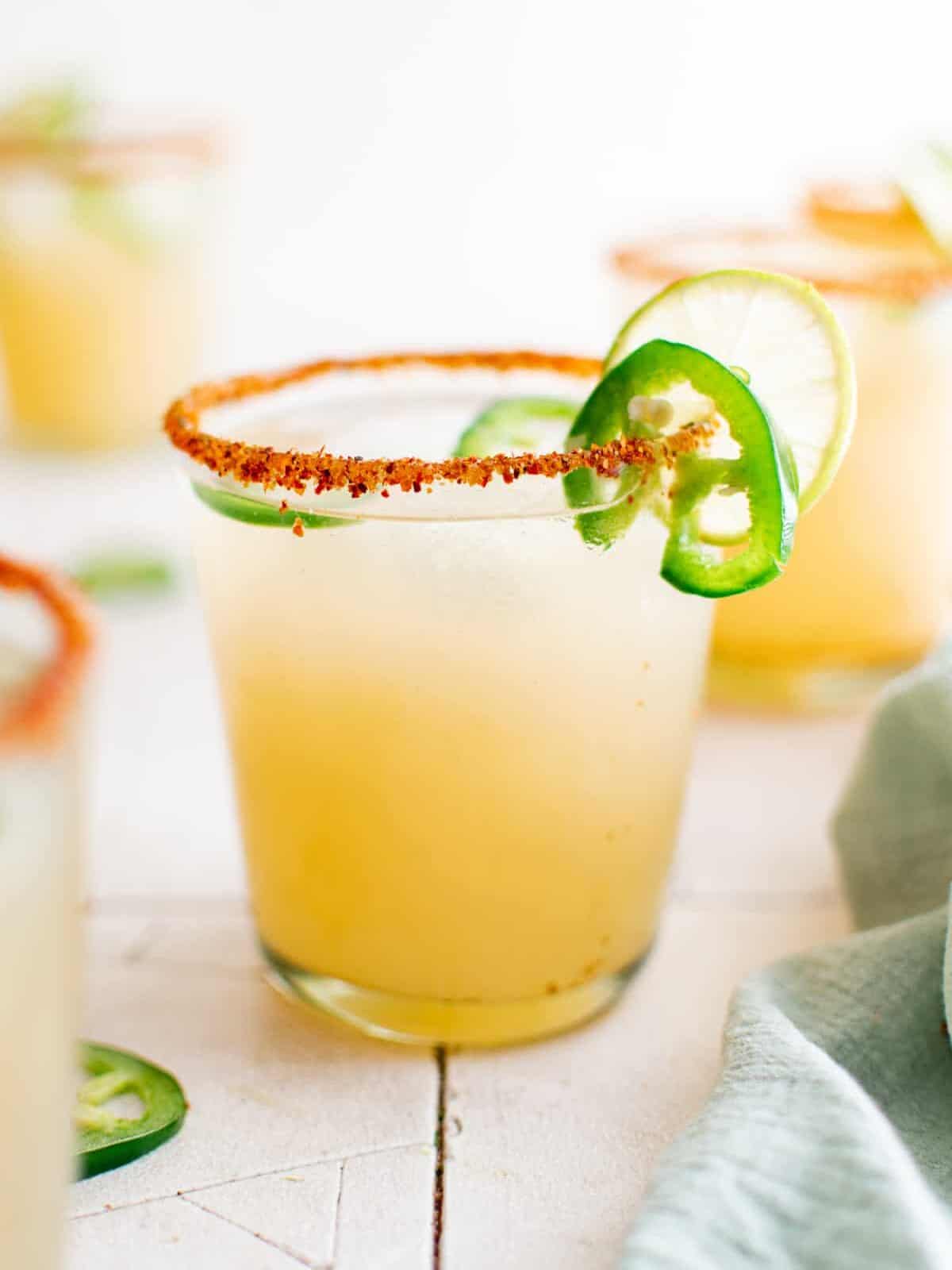 What's in this Jalapeño Margarita Recipe?
You only need a handful of simple ingredients to make these Cinco de Mayo cocktails. The best part is they're almost entirely all-natural and budget-friendly!
Jalapeño Pepper: The jalapeno adds a perfectly spicy kick, not too overpowering, and just the right amount of heat.
Lime Juice: For the best flavor, use freshly squeezed lime juice only. Nothing from concentrate!
Blanco Tequila: While you don't need a top shelf bottle of tequila for this easy margarita recipe, I recommend steering clear of the very cheap stuff. Middle of the road is the way to go!
Agave Syrup: This adds a nice sweetness to the margaritas to help balance the heat of jalapeños.
Grapefruit Juice: For the freshest flavor, use freshly squeezed grapefruit juice.
Lime Slices: This is an optional ingredient, but highly recommended for the delightful zest it adds.
Pro Tip: Send these cocktails over the top when you garnish each glass with a chili lime rim, jalapeño slices and/or lime slices!
Can I adjust the spice level?
Everyone has a different level of spice tolerance, so don't be afraid to experiment to find what you like best. Follow these tips to best customize this jalapeno margarita recipe.
1 jalapeño makes a medium spicy drink, so use 1-2 for more subtle spice, and more if you want an even spicier drink.
Remember that jalapeños can vary in spice level. Start conservatively, then taste and add more as needed.
Remove the seeds and ribs, or leave them in. Removing the seeds and ribs will make the peppers milder, while leaving them in will make them spicier.
These spicy margaritas blend well with food. Eating while enjoying them helps to take down the spiciness a bit so it isn't too overwhelming.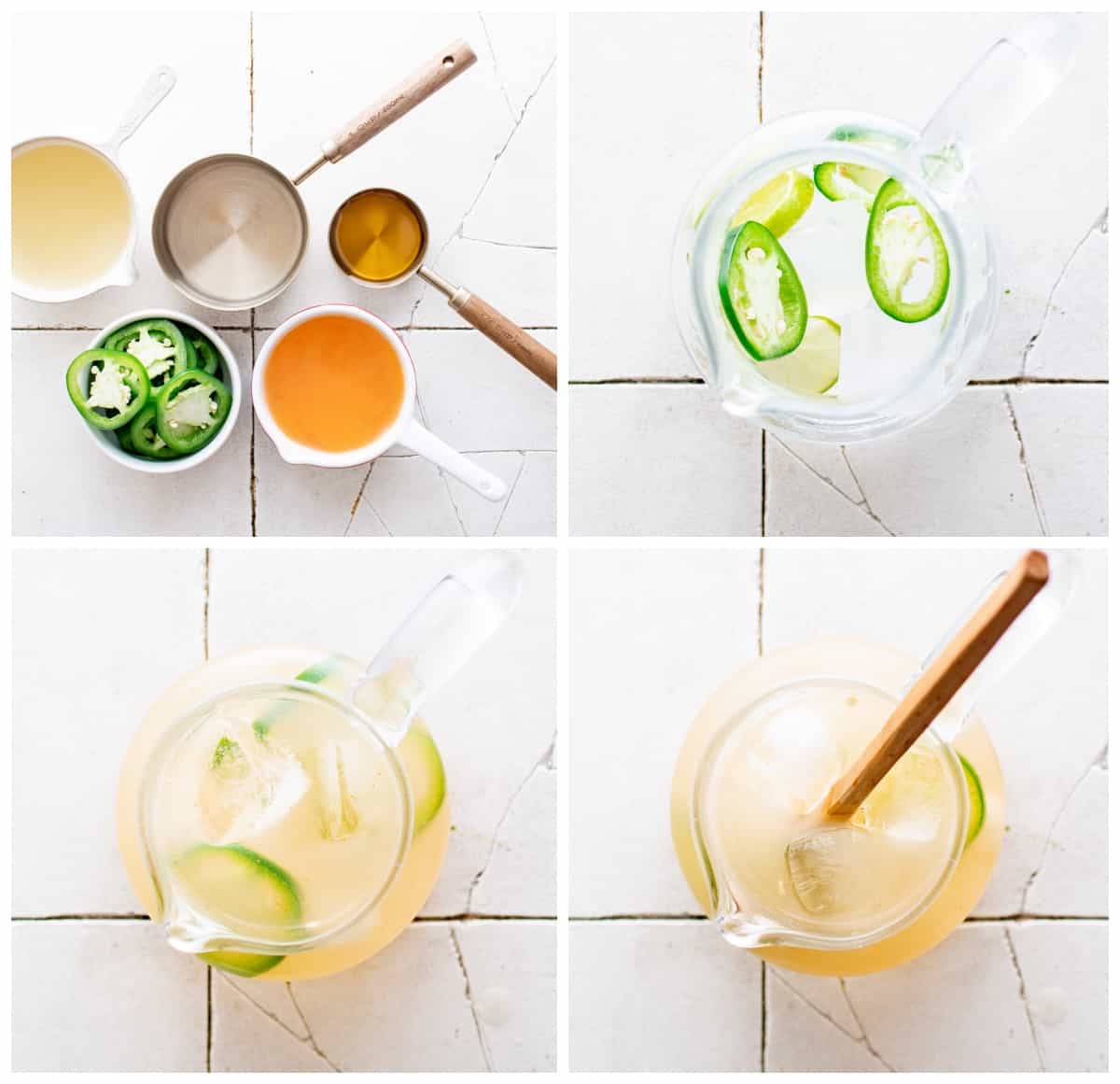 What's the best tequila for margaritas?
A silver or blanco tequila is best for margaritas. Silver/blanco tequila hasn't been aged as long and has a stronger flavor that mixes well, while gold tequila has been aged for longer and has a woodier flavor that doesn't pair as well with the fresh fruit flavors. Reposado tequila is a type of gold tequila that has not been aged for as long, so it will also work in a margarita, although it is not my first choice! Mezcal will add a smoky flavor.
Can I make this margarita frozen?
Yes, combine the ingredients in a blender with ice until desired consistency is reached.
Can I make this non-alcoholic?
Yes, simply omit the tequila and use sparkling water.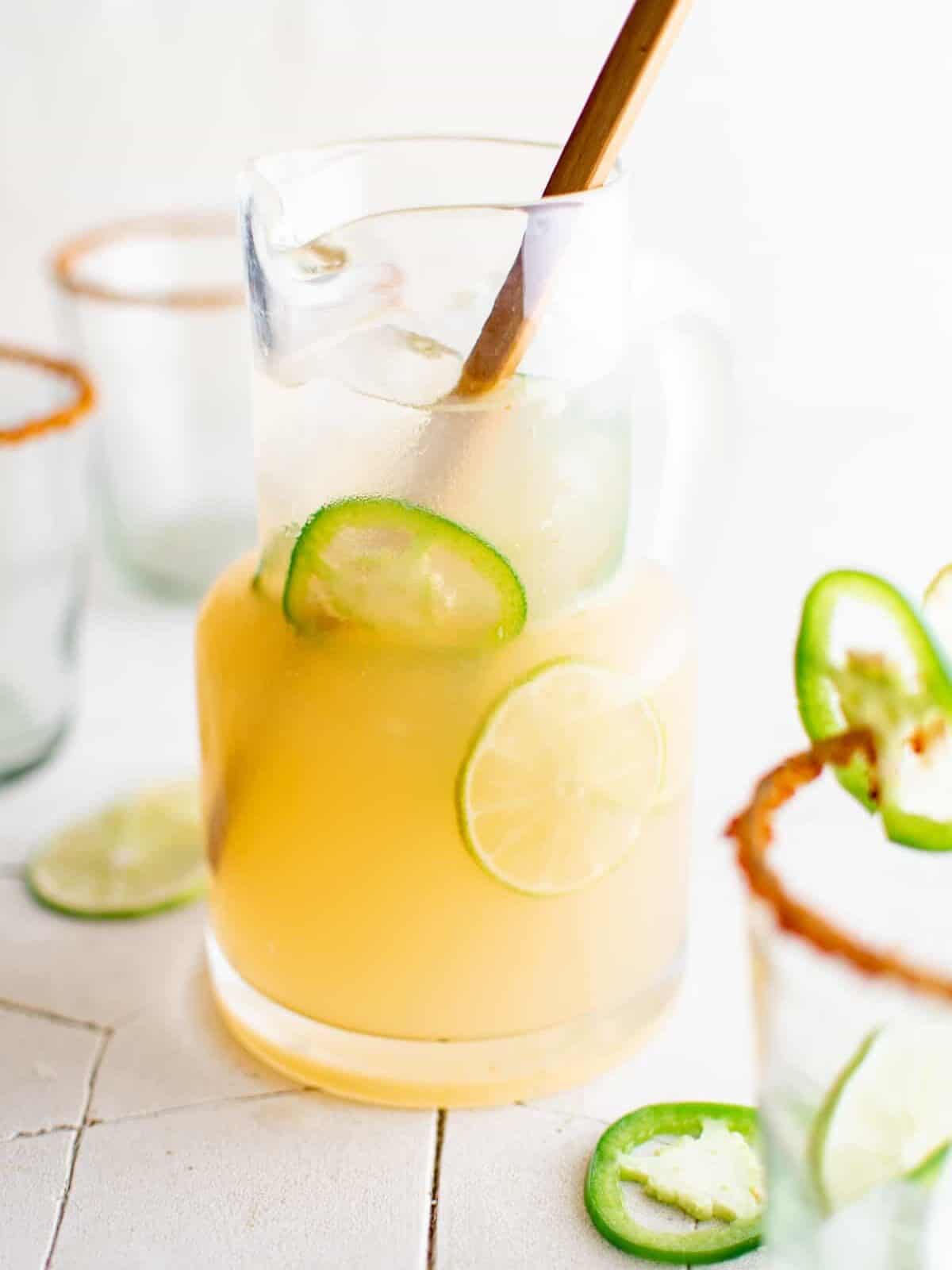 How to Store Spicy Jalapeño Margaritas
While this jalapeño margarita recipe is best enjoyed on the day it's made, the pitcher can be stored without ice in the refrigerator for up to 1 day. Pour over ice when ready to enjoy.
How to Serve Grapefruit Jalapeño Margaritas
Zesty and refreshing with a spicy little kick, these jalapeño margaritas tick all the boxes for the perfect summer cocktail. Serve this up for BBQ's, summer parties or Cinco de Mayo – they're such crowd-pleasing cocktails! Pour over ice, and try the chili lime rim detailed in the recipe card.
Of course these are perfect for pairing with tortilla chips and queso, guacamole, avocado corn salsa, tacos, and other appetizers.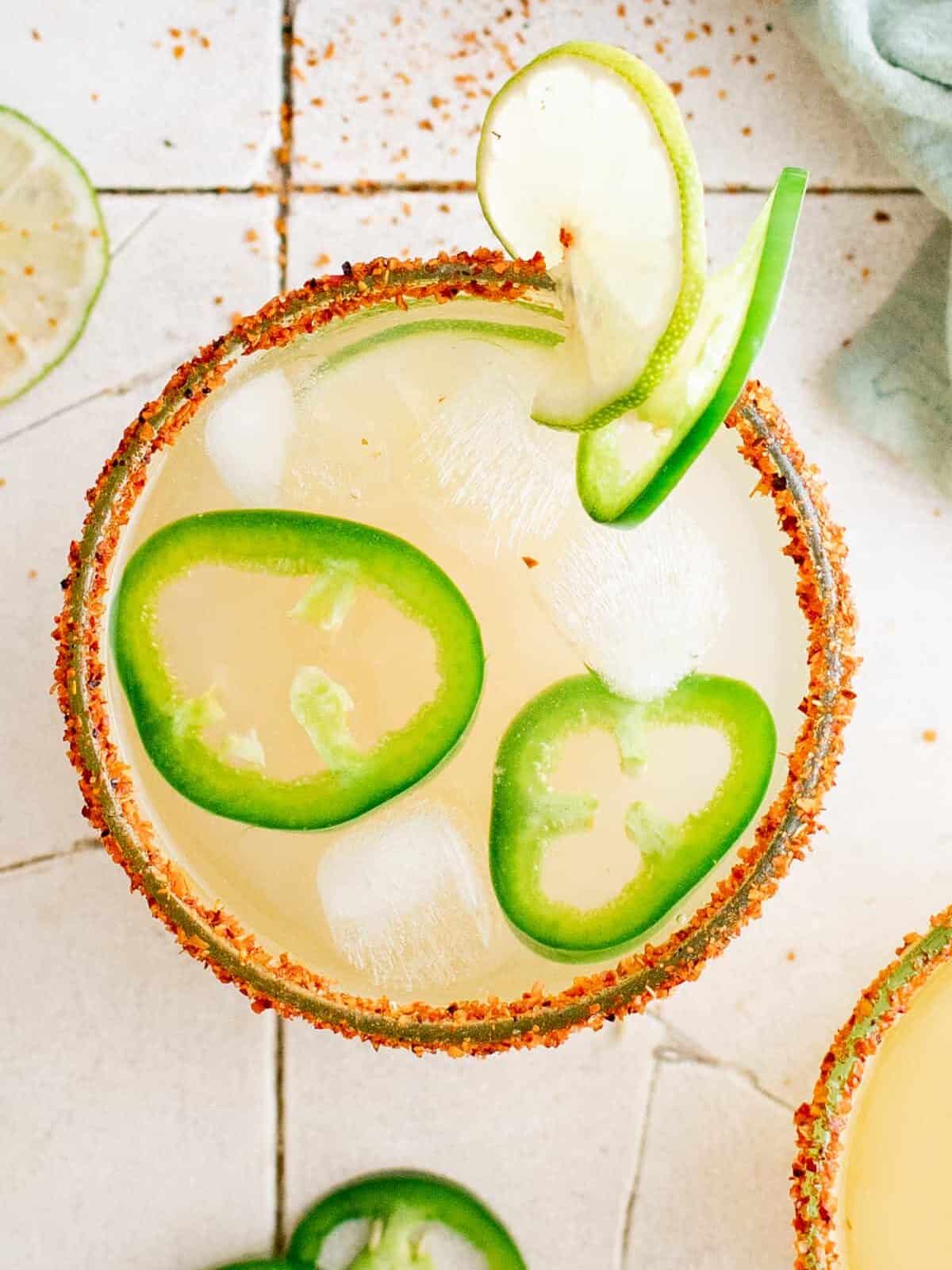 More Margarita Recipes We Love