7 Layer GREEK DIP is a fun twist on a classic appetizer. This delicious 7 layer dip recipe is the perfect shareable appetizer for Christmas, New Year's Eve, or for tailgating. Seven delicious layers of hummus, greek yogurt, feta, and all of the best Mediterranean inspired ingredients make it a seriously addicting dip!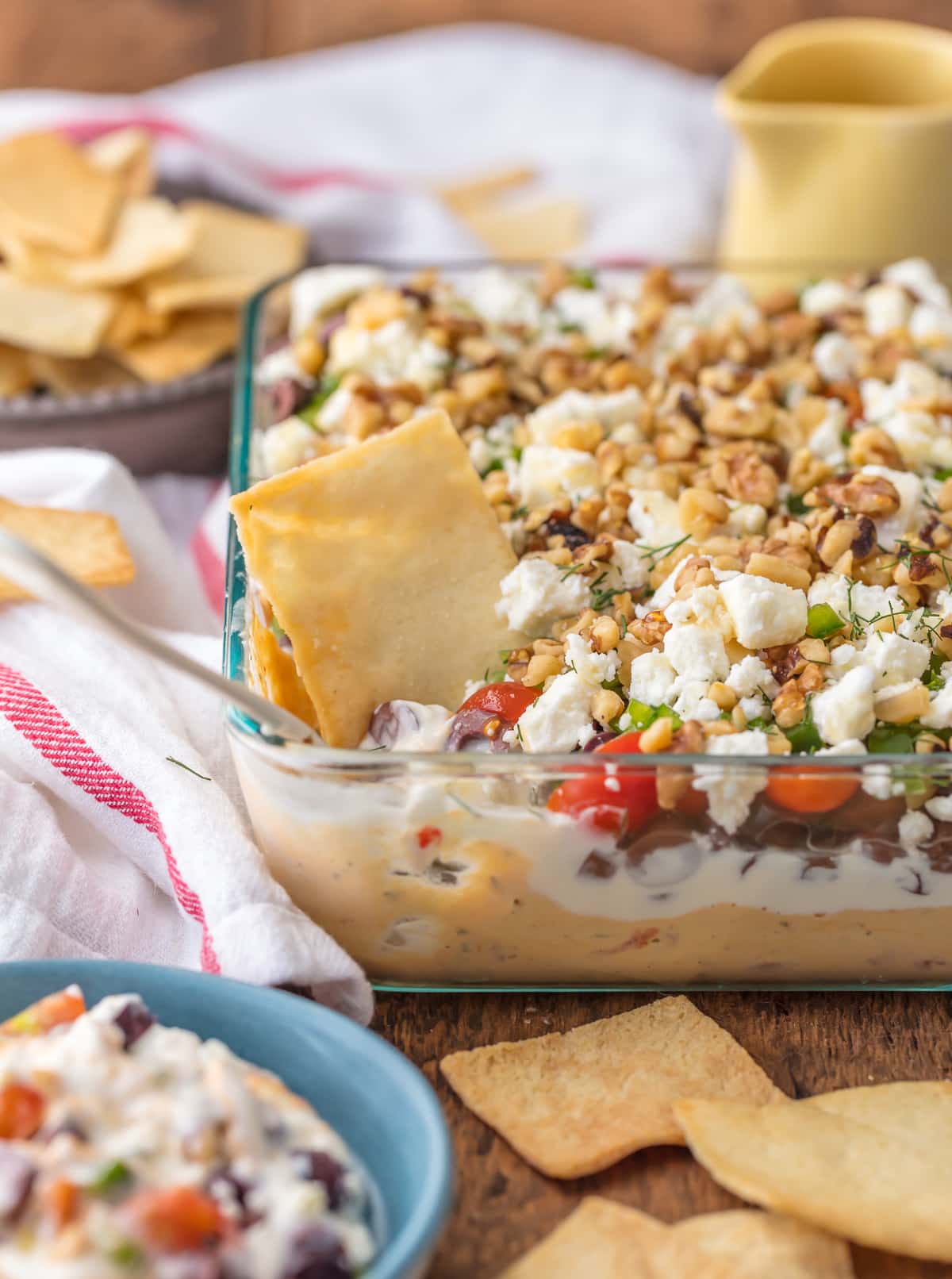 Easy Greek Dip Recipe
This Greek Dip brings a Mediterranean twist to the classic 7 layer dip recipe. Grab some pita chips and dig into this fresh and delicious dip!
With Christmas coming next week, New Year's Eve quickly approaching, and the Super Bowl coming up before we know it, I have nothing but APPETIZERS on the brain. I'm talking wings, nachos, meatballs, and DIPS galore! There are just never enough snacks around the holidays; the more the better! 7 Layer Dip has always been a staple at our house when appetizers are on hand (remember that Hot 7 Layer Dip Skillet I made last year?), so I switched things up and made a fresh version.
This 7 Layer Greek Dip is a fun and simple twist on a classic appetizer, and I couldn't love it more. I love the freshness of Mediterranean ingredients, so why not throw them all together in dip form? It's a little bit sweet, a little bit spicy, plenty of cheese, and a whole lot more. Hummus, yogurt, feta, tomatoes, olives, peppers, and walnuts…it's like a salad, but it's a dip…so that makes it healthy too, right? I guarantee if you snack on this instead of wings while watching football, you'll feel pretty healthy.
This Greek Layer Dip is an absolute must make! I just love the mix of flavors, how easy it is to put together (cold dip means no cooking!), and how it's gone in minutes. Serve with pita chips and start eating!
This fresh Greek Dip is the perfect 7 layer dip recipe for any occasion. Layers of hummus, olives, yogurt, cheese, and more make one tasty party appetizer!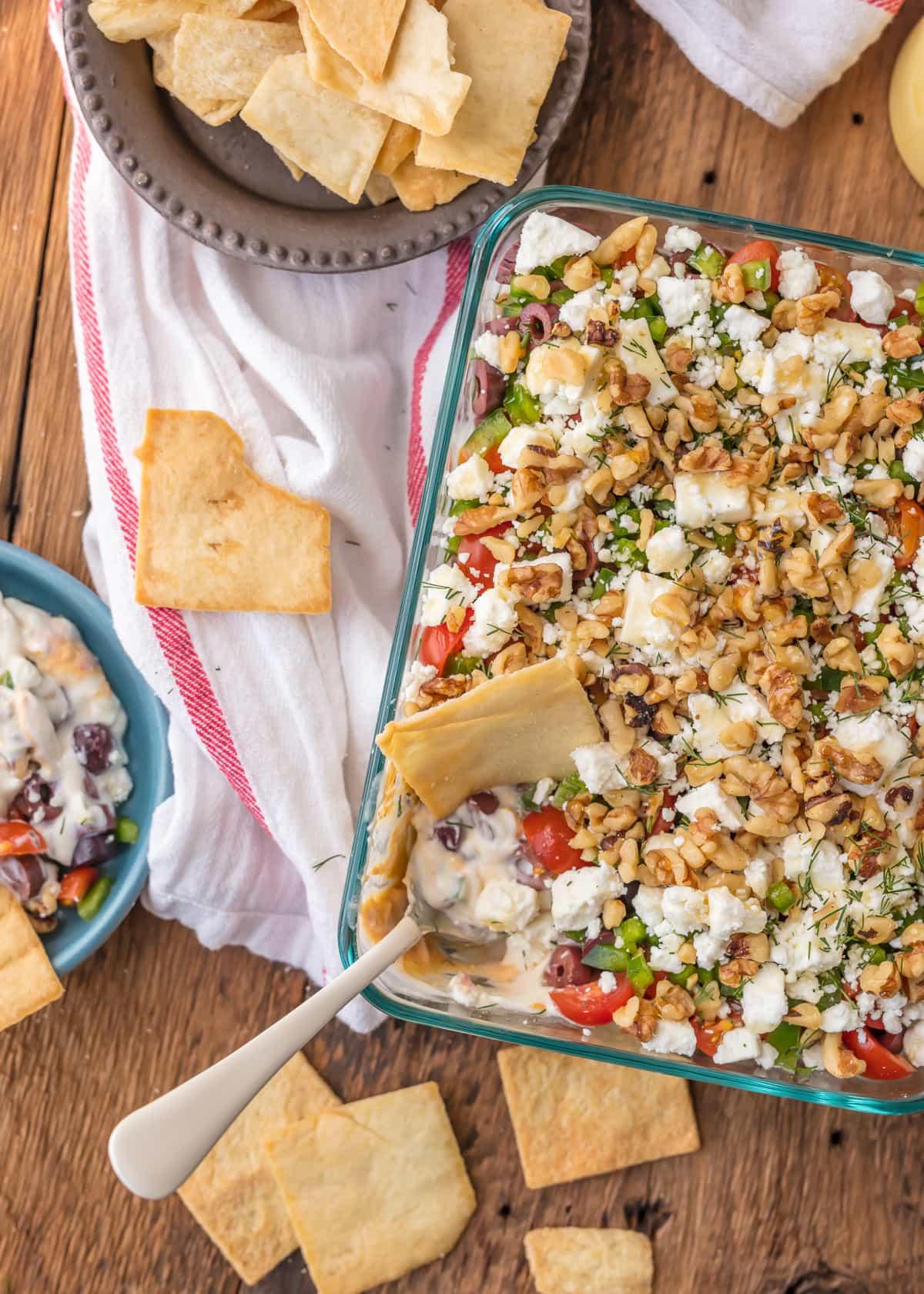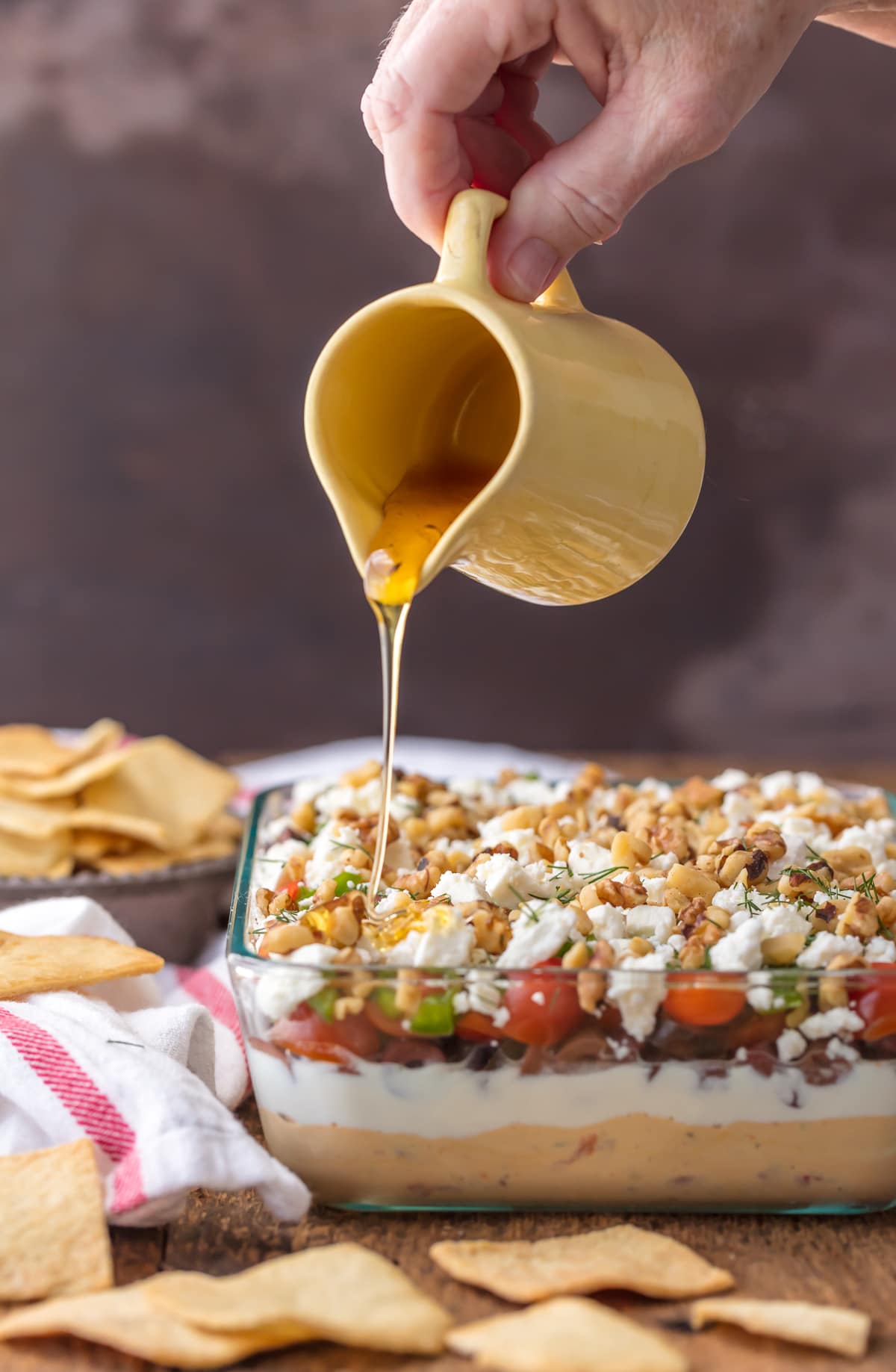 7 Layer Dip Recipe
A classic 7 layer dip is more on the Tex-Mex side, filled with refried beans, guacamole, sour cream, cheese, and more. Obviously I LOVE that recipe, but you can never have too many dip recipes. A Mediterranean inspired 7 Layer Greek Dip seemed like a fun option!
Greek 7 Layer Dip Ingredients:
Greek Yogurt
Hummus (we used red pepper hummus)
Feta Cheese
Kalamata Olives
Cherry Tomatoes
Red Peppers
Walnuts
We have come up with our favorite Mediterranean ingredients to include in this Greek Layer Dip recipe, but the possibilities are endless! You could add garbanzo beans, artichokes, avocado, any flavor of hummus you like, the list goes on and on. Make it your own and wow your friends. It will be gone in no time, trust me! It's the perfect appetizer to have while socializing at Christmas, ringing in the New Year, or cheering for your favorite football team. Tailgate food is the absolute best food if you ask me!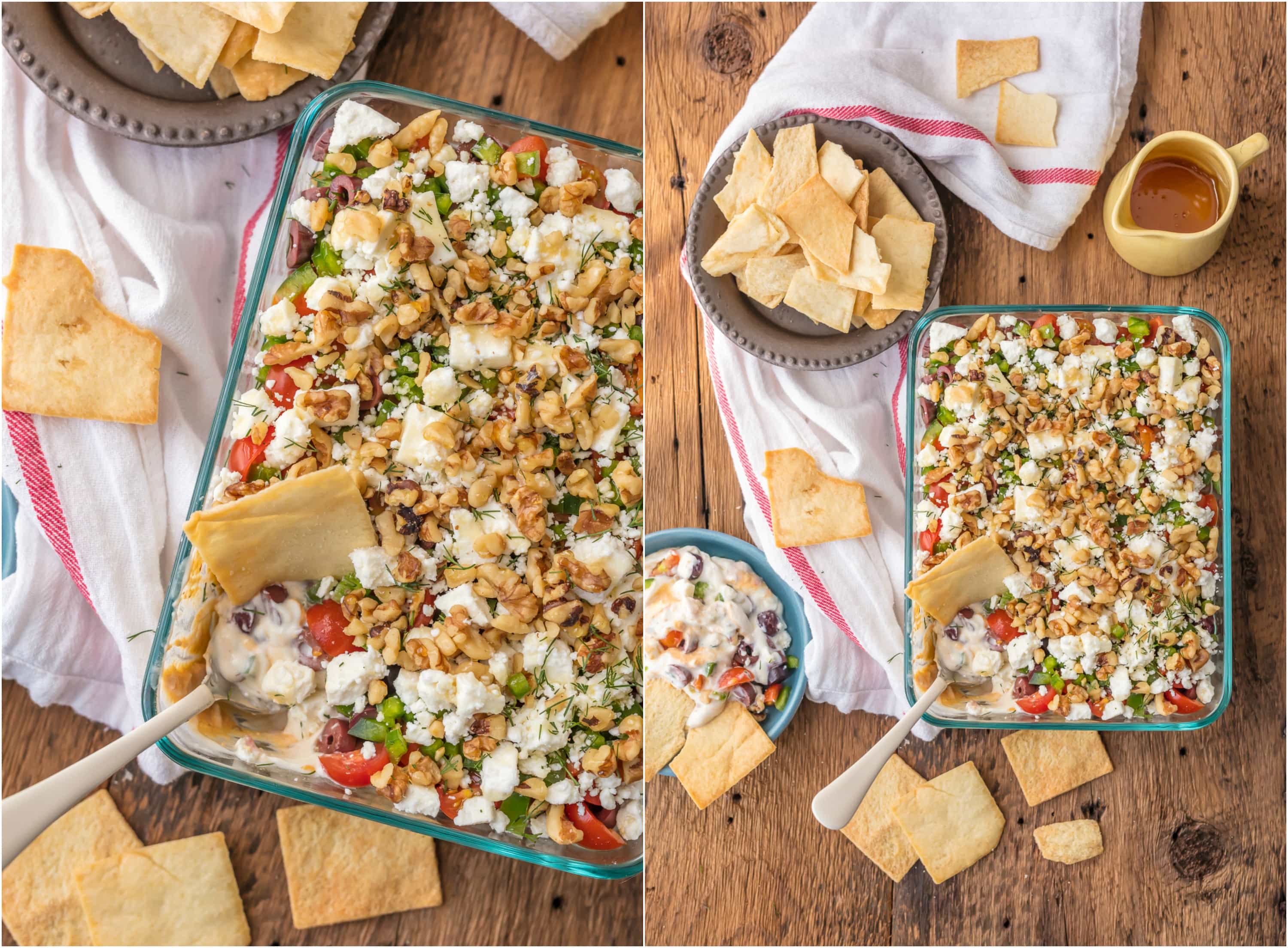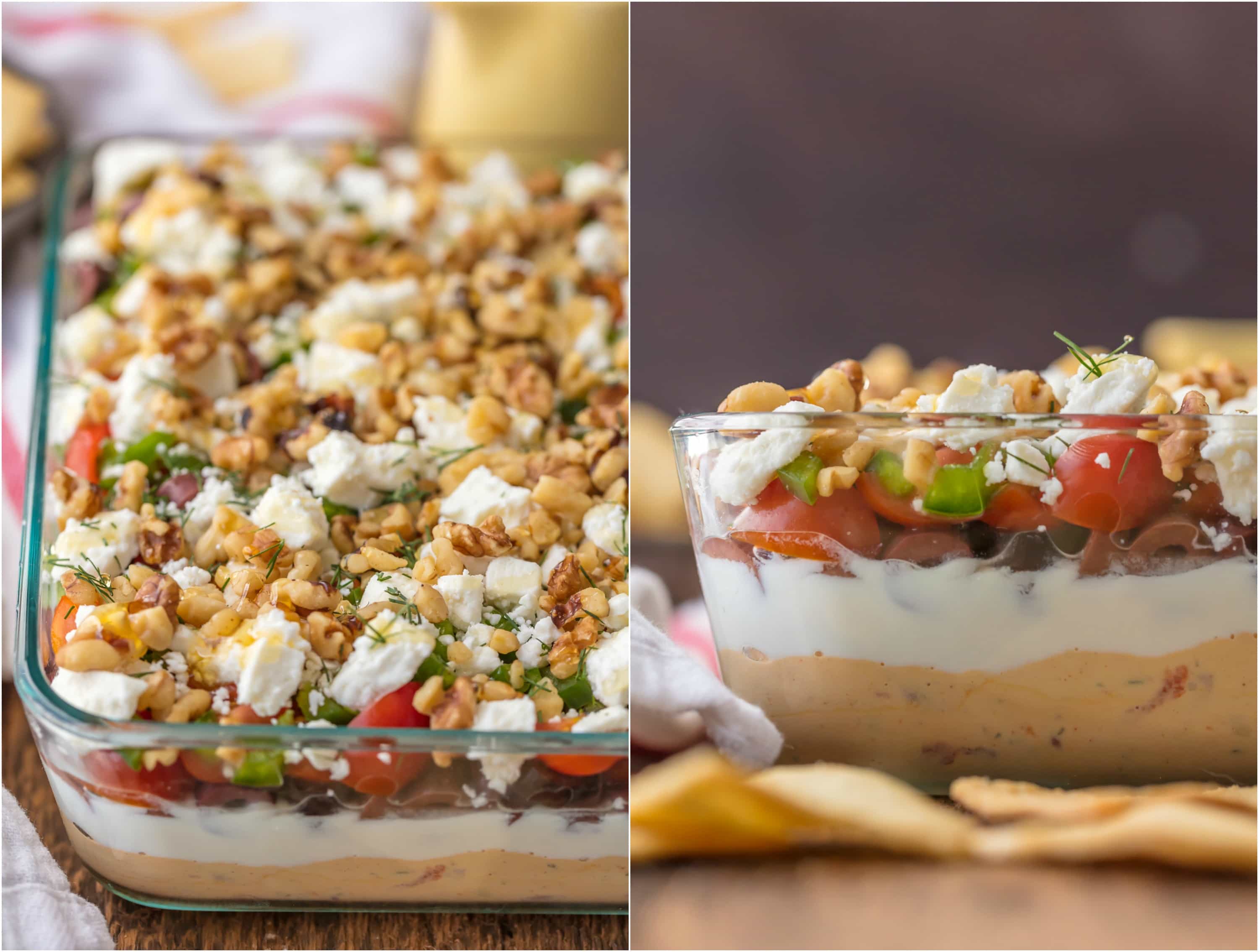 How to Make 7 Layer Greek Dip
I love hot dips, but cold dip recipes do have a couple things I like more: no cooking or heating or trying to keep the dip warm! This Greek Dip is SO easy to make because there is zero cooking, zero use of the stove or oven, and zero time commitment (well, almost no time). As long as you have the ingredients on hand, you can put this 7 layer dip together and have it ready to serve so fast!
All you have to do is layer the ingredients in a dish, and done! Here's the order I recommend for this 7 layer dip:
Hummus
Yogurt
Olives
Tomatoes
Peppers
Feta
Walnuts
You want nice thick layers of hummus and yogurt on the bottom, the chunky ingredients (tomatoes, olives, peppers) in the middle, and then sprinkle on the feta crumbles and chopped walnuts to top it off. Dig in with pita chips and make sure you get all 7 layers in every bite!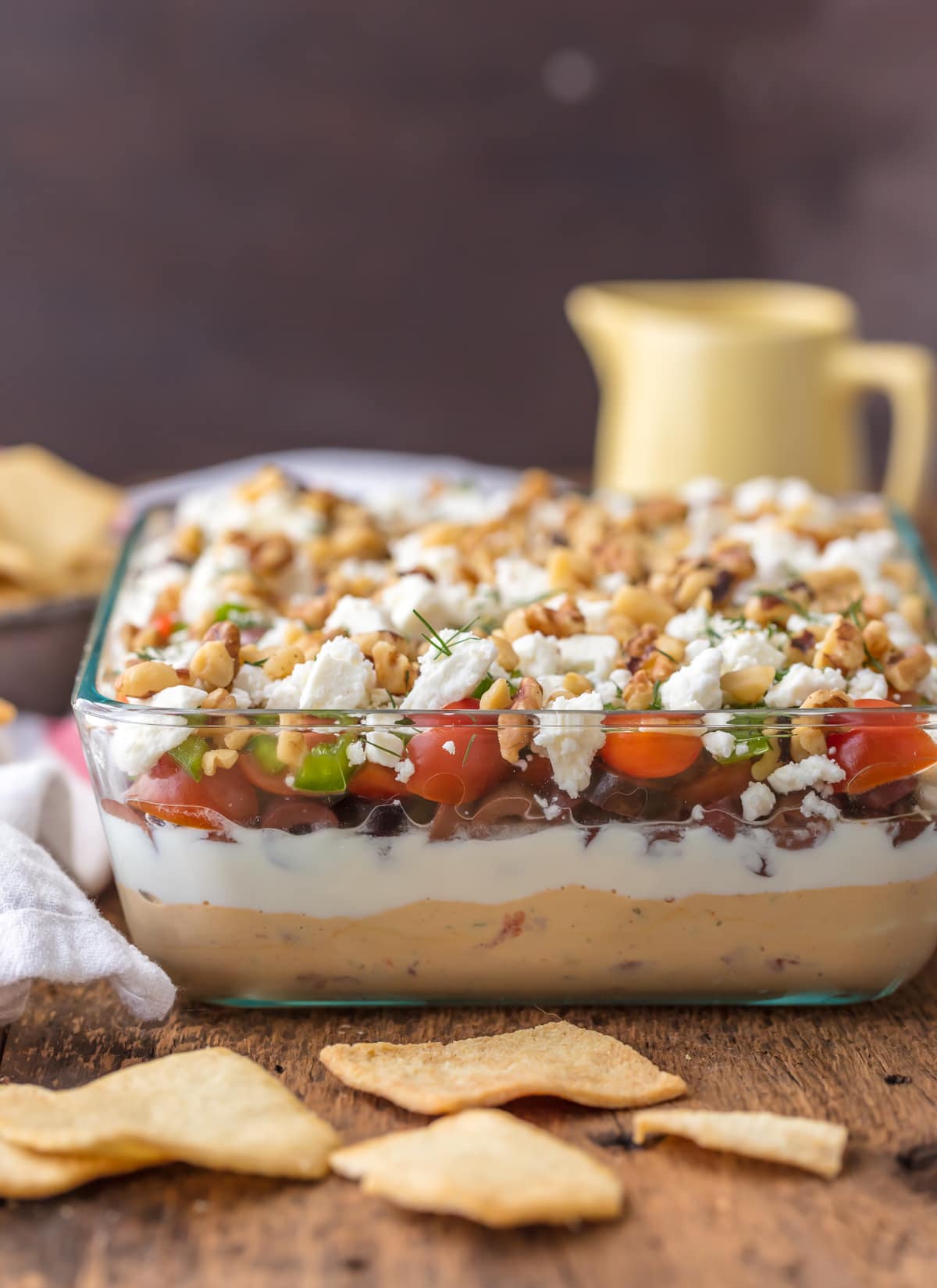 Don't forget to make this super fresh and tasty 7 Layer Greek Dip for your next party, get together, or lazy "I don't want to cook, I just want to eat something really delicious" moment. Dips are an acceptable meal replacement, right? Anyways, I know you're going to love this fun 7 layer dip recipe, and I can't wait for you to try it!
See the recipe card below for details on how to make this 7 Layer Greek Dip recipe. Enjoy!
If you like this 7 layer dip recipe, you'll love these other dip recipes too: