Taco Pie is everything you love about tacos layered into a a cheesy casserole! This easy taco pie recipe starts with crescent roll dough that turns beautifully crispy in the oven, and is filled with ground beef, lettuce, tomato sauce, cheese, crushed tortilla chips, and any toppings you choose. It's easy to make on weeknights for a tasty family dinner!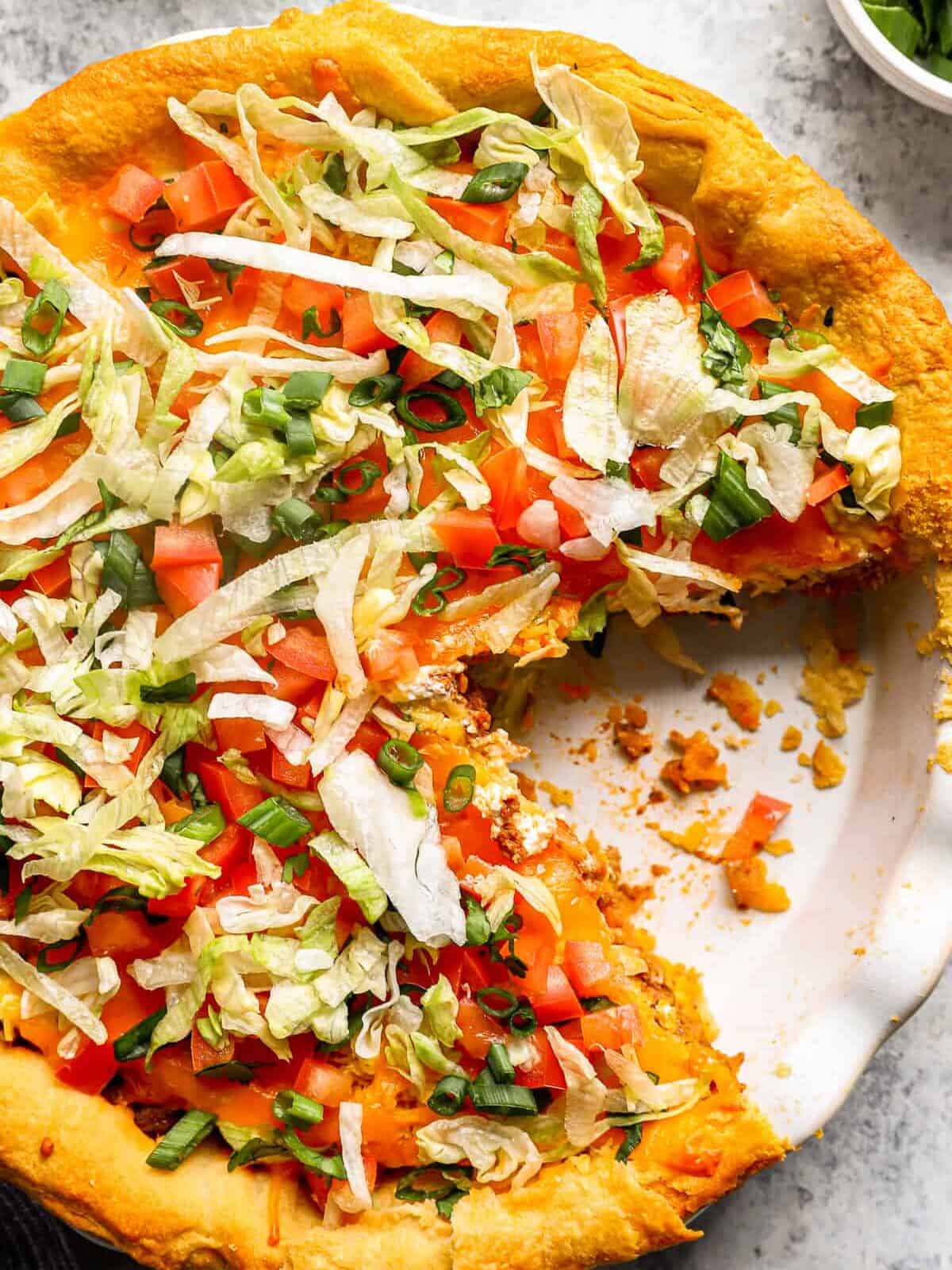 What's in this Taco Pie Recipe?
All the best parts of beef tacos are layered into an easy-to-make casserole pie that'll be on the table in under an hour!
Ground Beef: I like to use 85% lean for a good balance of flavor. Make sure to drain the excess fat to prevent your pie from turning out greasy!
Onion: You can use any kind of onion you like. I used white onion, but yellow or red are also delish!
Taco Seasoning: Adds classic taco flavor. You'll need a 1-ounce packet.
Tomato Sauce: Keeps the filling moist. You can use homemade tomato sauce if you prefer, although I recommend leaving out the basil.
Crescent Roll Dough: Forms the crust of this pie. You'll need one tube!
Tortilla Chips: Crush them up and nix them in to add a bit of crunch.
Sour Cream: Adds creaminess and a delicious tang.
Cheese: I like cheddar cheese, but Monterey jack or Mexican blend will also work.
Pro Tip: Make sure to press the seams of the crescent dough together to avoid leaking!
Variations on Crescent Roll Taco Pie
It's so easy to modify this taco pie recipe. For a healthier version, swap out the ground beef for ground chicken or turkey. You can use a traditional pie crust instead of crescent roll dough. And don't be shy when thinking about layering! You can add a layer of refried beans, guacamole, or pico de gallo to your pie to beef it up.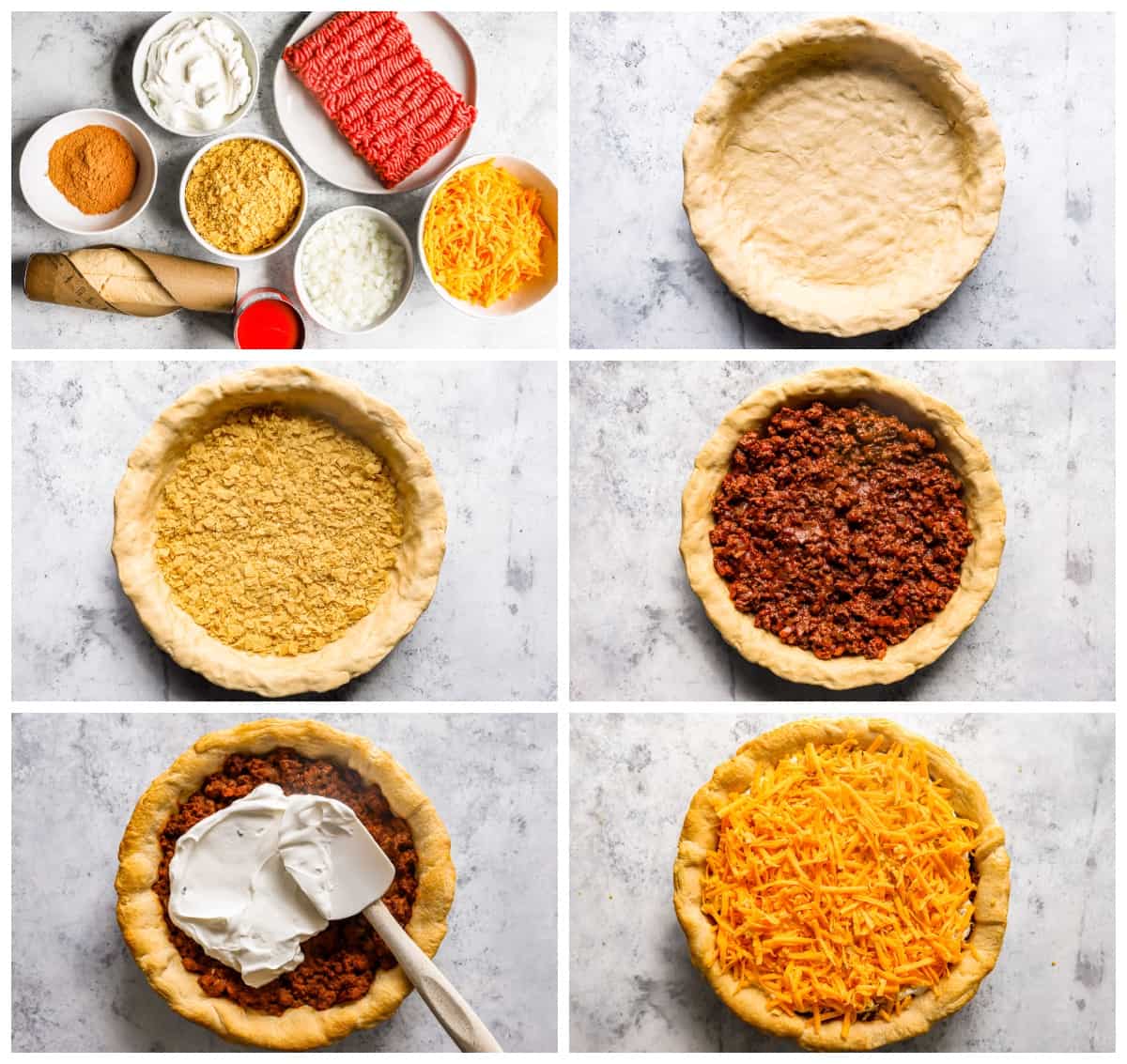 Can I make taco pie ahead of time?
Yes! You can assemble taco pie up to 1 day in advance of when you plan to bake it. Store it tightly covered in the refrigerator until ready to bake. You may need to add a few extra minutes to the final bake time to account for the cold start.
What kind of pie pan do I need for this pie?
The type of pie pan you choose will impact the final bake time for this pie. I used a stoneware pie pan, but a metal or glass one will also work. Just keep an eye on the crust to ensure it is not burning.
Can I bake this in a 13×9-inch baking pan instead?
I would imagine so! I think you'd need to double the recipe to fill the pan, but it'd be a great way to serve a large crowd. The baking time may need to be increased slightly, though.
Can I freeze taco pie?
You sure can! Let the pie cool completely, then wrap and freeze for up to 3 months.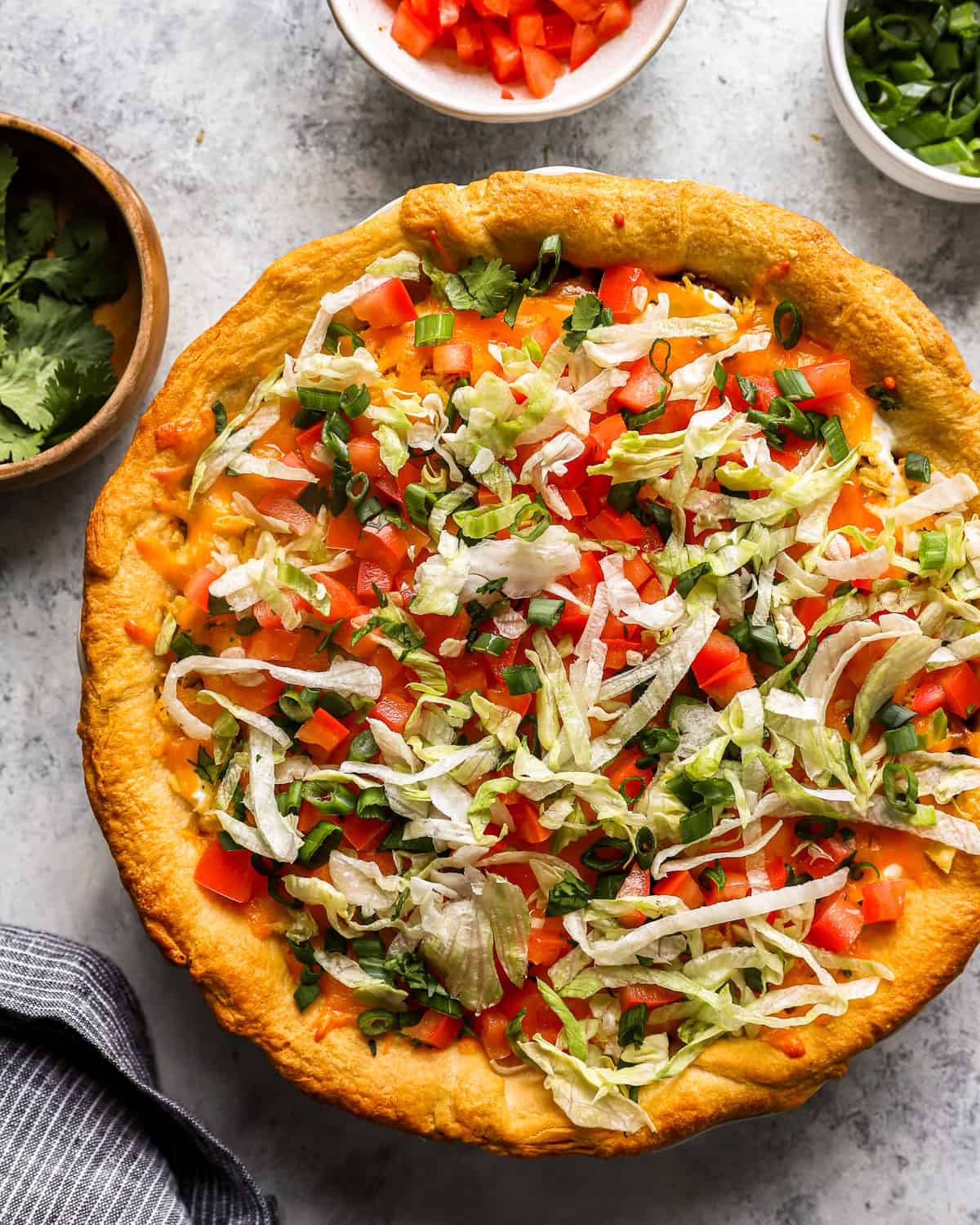 How to Store and Reheat
Store leftover taco pie in an airtight container, or cover the pie pan with plastic wrap, and keep it in the refrigerator for up to 4 days.
Reheat individual slices in the microwave in 30-second increments until warmed through, or in a 350°F oven for about 7-10 minutes.
How to Freeze
Freeze crescent roll taco pie rightly wrapped in 2 layers of plastic wrap and 1 layer of aluminum foil for up to 3 months. Let thaw overnight in the refrigerator before reheating in a 350°F oven for about 20 minutes.
Serving Suggestions
Taco pie is a filling and flavorful dish that can be served on its own as a complete meal, but if you're looking to add some variety to your menu or serve a larger crowd, there are several sides and accompaniments that pair well with it.
A chopped salad, Mexican rice and refried beans, easy guacamole, restaurant-style salsa, or street corn would all be delicious.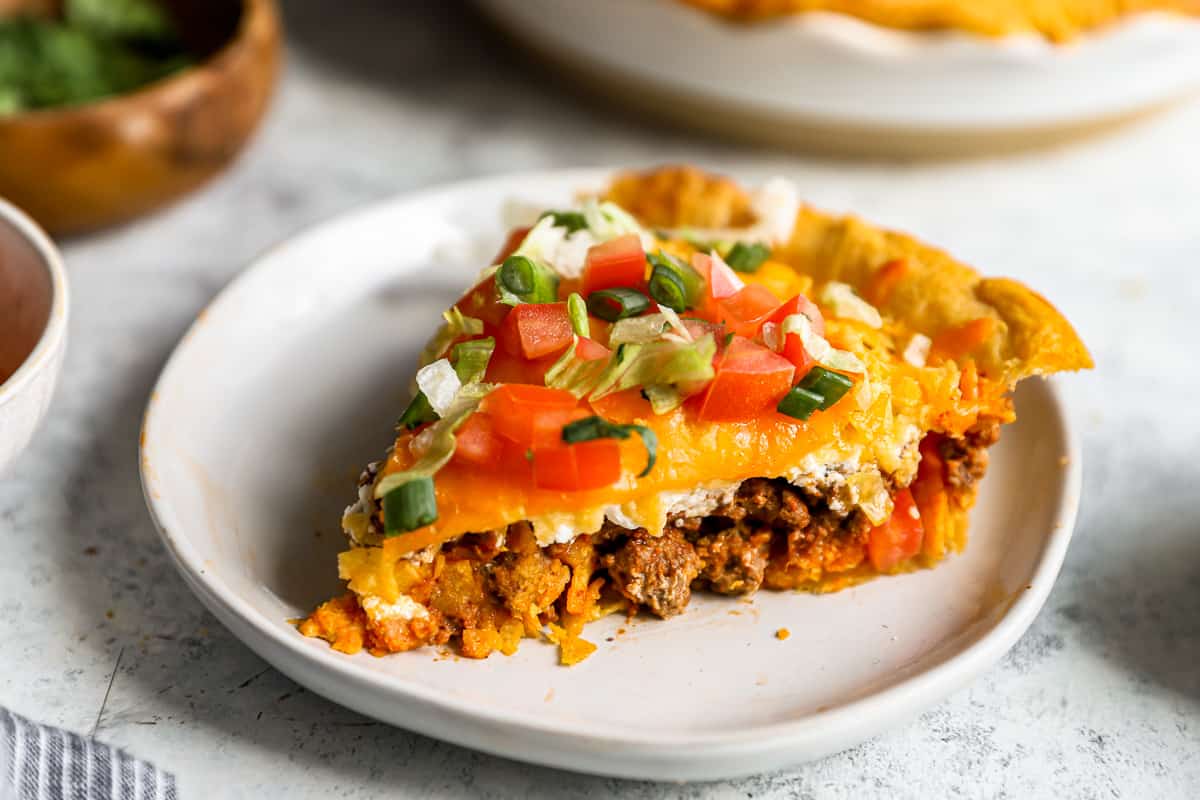 More Savory Pie Recipes We Love