FIESTA LIME CHICKEN (Applebee's Copycat Recipe) is our favorite easy grilled Summer meal! This Lime Chicken is served on a bed of Mexican rice and topped with lime ranch, pico de gallo, and tortilla strips. I order this Fiesta Lime Chicken Recipe at Applebee's every single time, and now you can make it at home! It's even better homemade, trust me.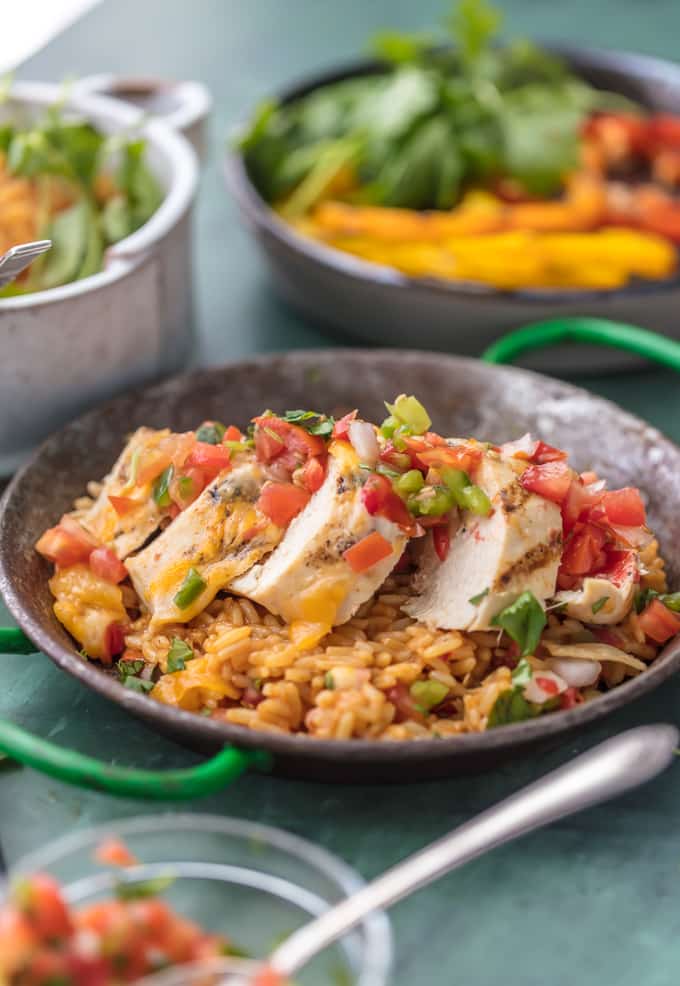 Fiesta Lime Chicken Recipe
Fiesta Lime Chicken is one of the most flavorful recipes you will grill up this Summer! Find out how to make this Applebee's copycat recipe at home.
I love Summer for so many reasons, but one of the best is all the GRILLING! It's so fun to be outside cooking instead of stuck indoors at the stove, plus I love that Pat wants to be more involved with dinner prep. It seems easy to get creative on the grill, and the flavors always seem bigger and brighter. We decided to make this Fiesta Lime Chicken Applebee's Recipe and we were SO thrilled with how it turned out.
Henry (our 4 month old) just loves being outside, so this Summer we have been around the grill more than ever. This Fiesta Lime Chicken Recipe is one of my favorite ways to dress up dinner while still staying simple.
This Fiesta Lime Chicken is bold, delicious, and oh so easy. Dinner here we come! I love the creamy ranch, right amount of spice, and Tex Mex flavor combination.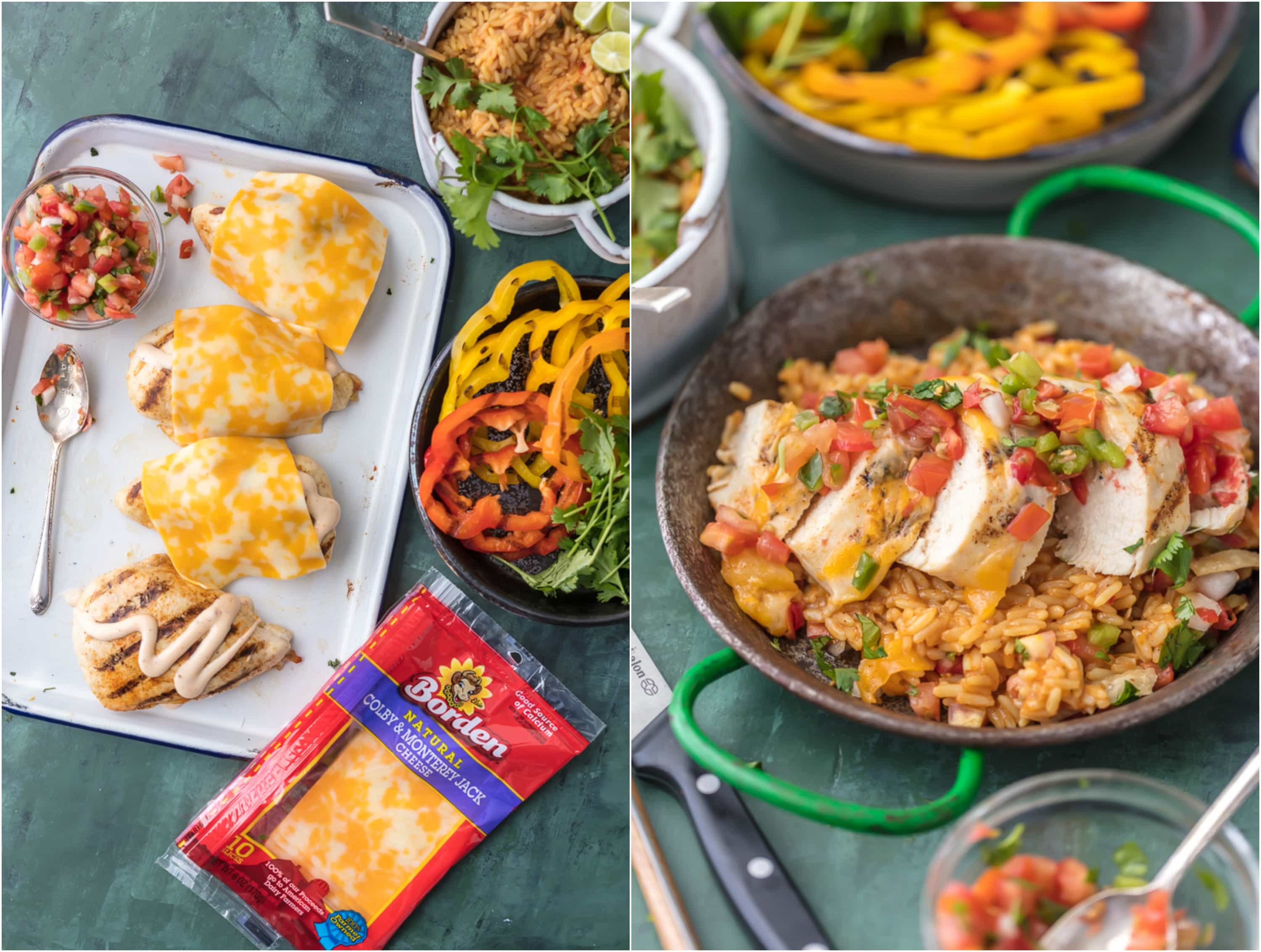 Cheesy Chicken Recipe
Lime Chicken topped with Ranch and lots of cheese just cannot be beat!
This Summer I'm having so much fun creating some cheesy recipes with my favorite creamy brand, Borden® Cheese! You might remember my Crab Artichoke Bread Bowls , Cheesy Baked Breakfast Sliders, and of course those fun Cheesy Pigs in a Blanket I posted last month. I can't get enough of their Sliced Colby & Monterey Jack Cheese and they were just perfect for this Fiesta Lime Chicken. So creamy and flavorful!
If you're looking for more Tex-Mex Recipes some of our favorites are Baked Chicken Tacos, Easy Queso Blanco, and Easy Cheesy Tex Mex Rice (<— ding ding ding! Just perfect when paired with this Fiesta Lime Chicken Applebee's Copycat!)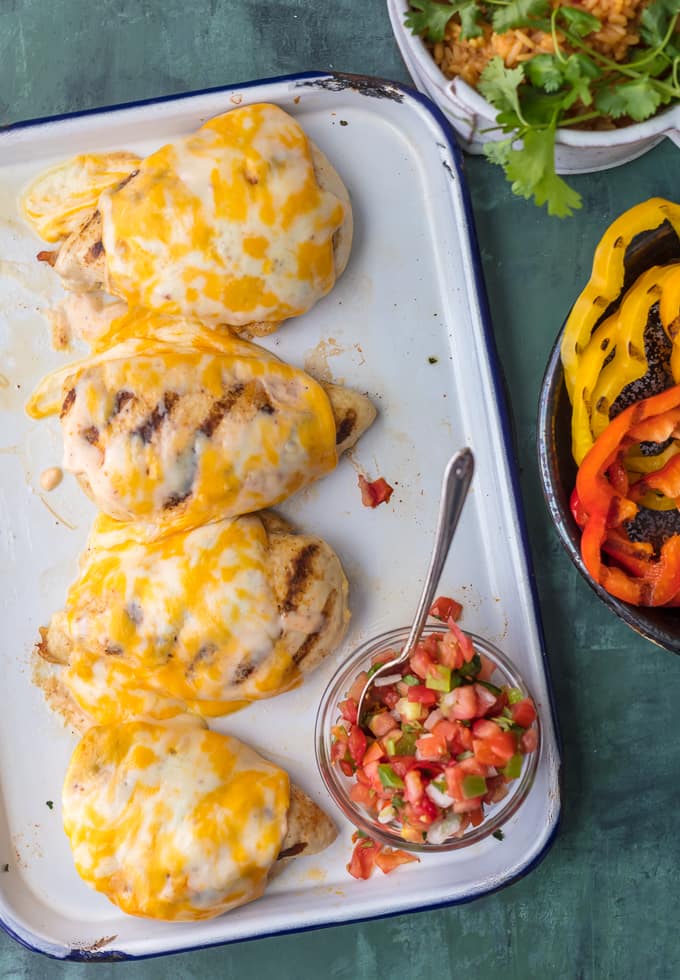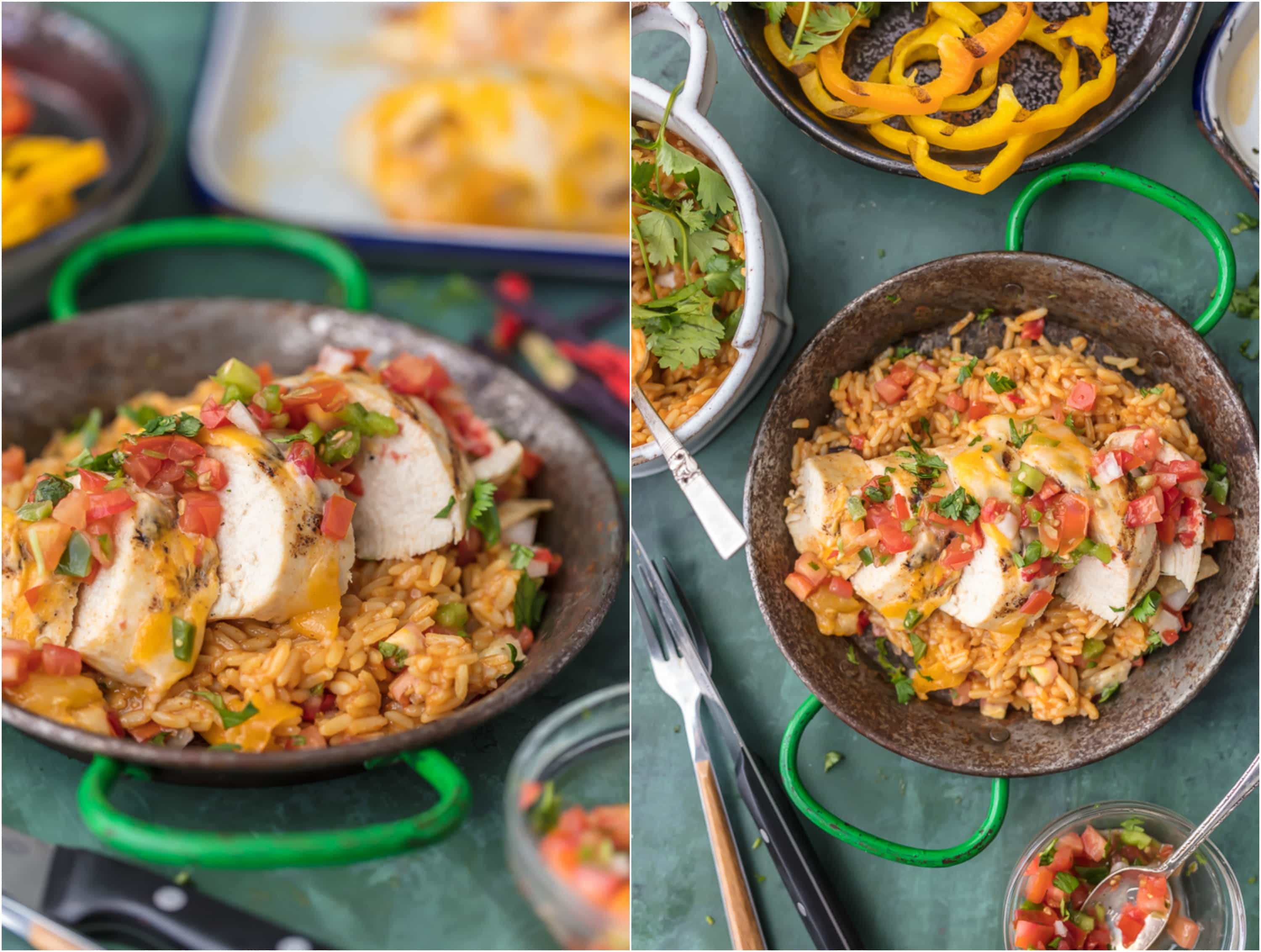 Applebee's Fiesta Lime Chicken Recipe
This Applebee's Fiesta Lime Chicken Recipe is a hit with both kids and adults. Let the kids help garnish the recipe!
I love to get kids involved in cooking. This recipe is great in that you can let them jump in and garnish their chicken with pico, cilantro, sour cream, or whatever their hearts desire. All you have to do is grill the chicken for them!
The flavors in this fave dinner are incredible. Grilled chicken topped with lime ranch and then smothered in colby jack and finally topped with pico de gallo, cilantro, and tortilla strips! Serve it with Mexican rice and you're really in business. This is a no fail recipe that is sure to please even the pickiest of eaters (aka, PAT).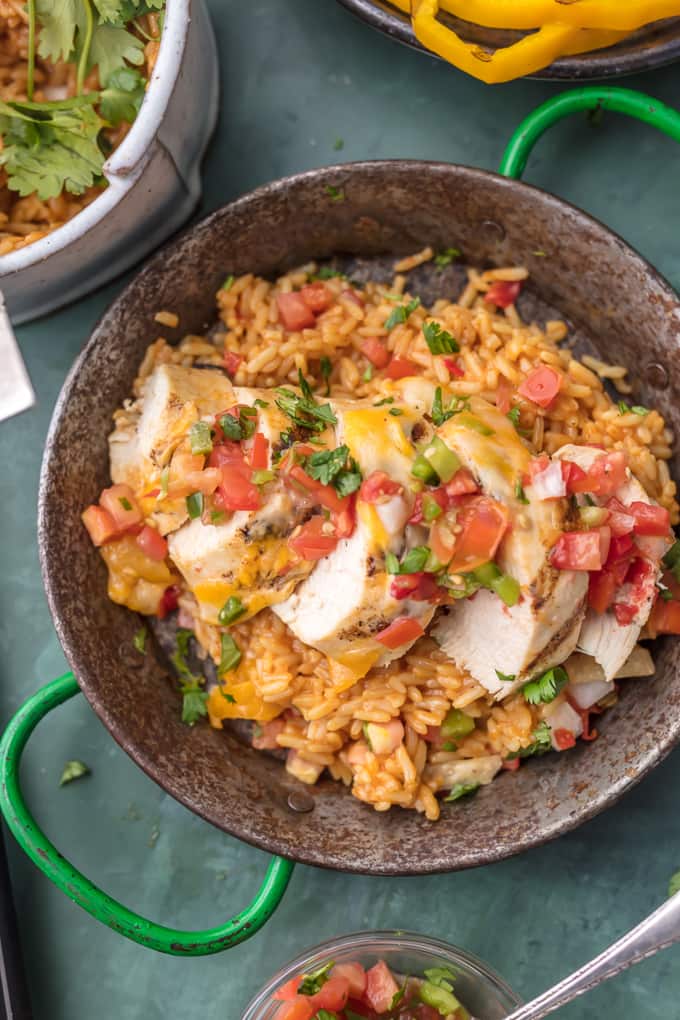 Tips for making Applebee's Fiesta Lime Chicken:
We used a great cheesy ranch straight from the store. There are so many options these days so pick one that appeals to you. Cilantro Lime or Chipotle Ranch would also be delicious!
We topped our Fiesta Lime Chicken with Colby Jack Cheese but you can change things up and use baby Swiss, Pepper Jack, or even a mix of cheeses! Make this recipe your own.
If you want things extra spicy, use Pepper jack cheese and Rotel tomatoes instead of pico de gallo. The more spice the better if you ask me!
If you're in the market for an easy dinner to grill this Summer, you've come to the right place! Fiesta Lime Chicken for the WIN! Be sure to check out all of our other favorite Chicken Recipes, including our Caesar Chicken and Baked Fried Chicken.
See the recipe card below for details on How to make Fiesta Lime Chicken. Enjoy!
If you like this Fiesta Lime Chicken recipe, try these other easy chicken dinner recipes:
AROUND THE WEB: Looking for more great recipes to grill this Summer? Check out these recipes from our friends. Grilled Pesto Chicken, Grilled Pizza, and Grilled Steak Kebabs.