Chicken Parmesan Pasta Recipe uses only 6 ingredients and made in ONE PAN! This is our go-to easy dinner recipe anytime we are craving comfort food. A delicious chicken and pasta recipe everyone in the family will love! Skillet Chicken Parmesan for the win!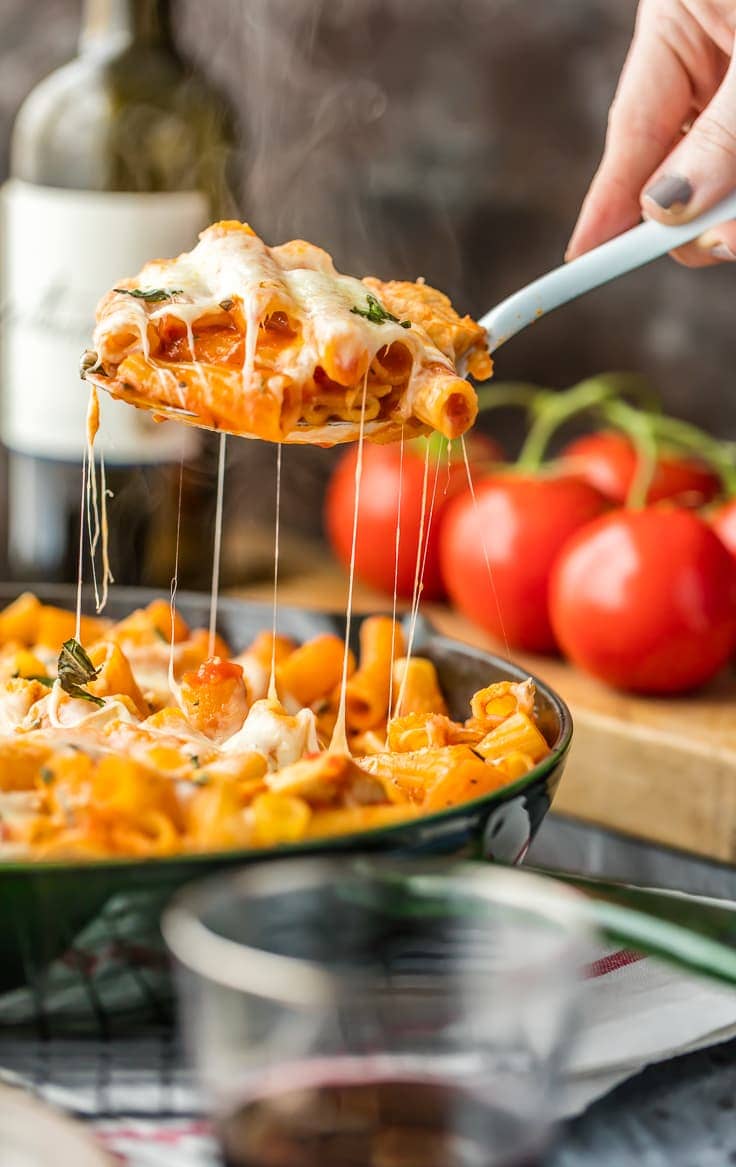 Chicken Parmesan Pasta Recipe
This Chicken Parmesan Pasta Recipe (One Pan and ONLY 6 INGREDIENTS!) is our go-to! Often called Chicken Marinara Pasta…it's delicious, easy, affordable, and crazy addicting!
DO YOU SEE THAT CHEESE? I have a love affair with stretchy cheese. Don't tell Pat. Actually, he's quite aware. If comfort food is going to be a favorite at our house…it MUST have stretchy cheese, be super easy to make, and pair well with wine. Is that too much to ask?
This One Pan Chicken Parmesan Pasta Skillet is TO DIE FOR. Chicken Parmesan Pasta is full of flavor, only 6 ingredients (THAT'S RIGHT), and obviously, the most amount of cheese legally possible. Obviously.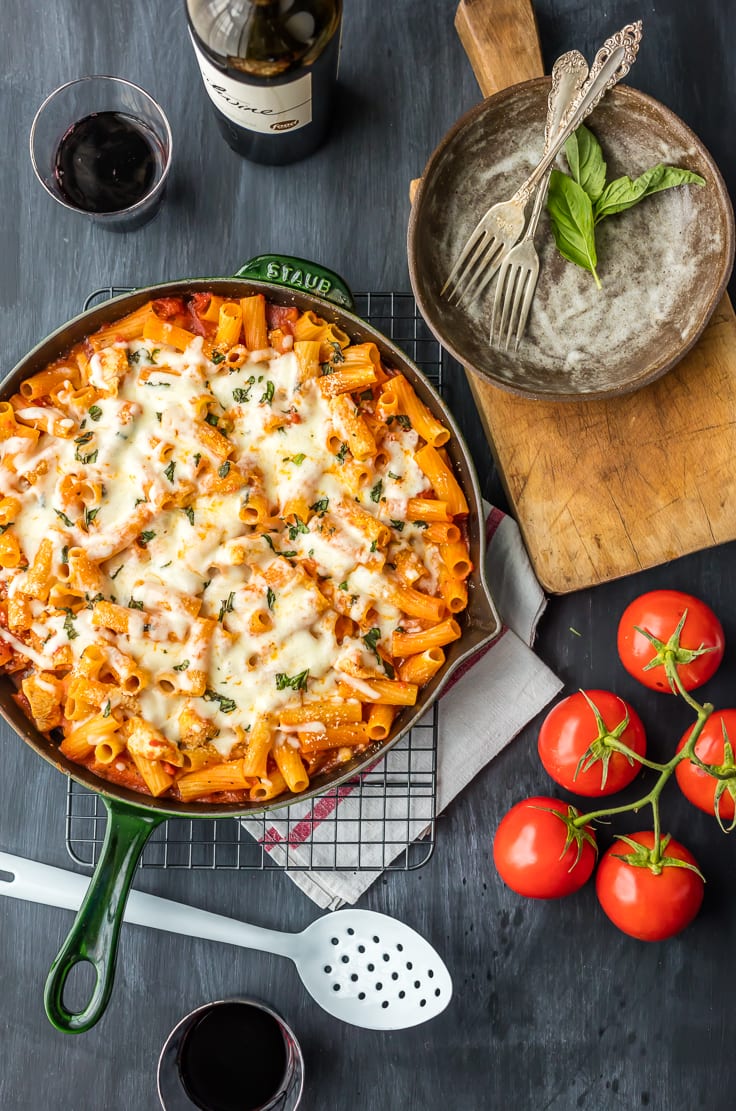 I have wanted to make something like this for a long time. I'm all about the easy skillet meals, and you wouldn't believe how easy pasta is to make in a skillet! Just cover that bad boy and it does all the work for you! Virtually zero cleanup (because you will finish all the Chicken Parmesan Pasta, trust me), and no fail. Impress friends or family with virtually no effort at all. Comfort food made easy, that's my specialty.
How to Make Chicken Parmesan Pasta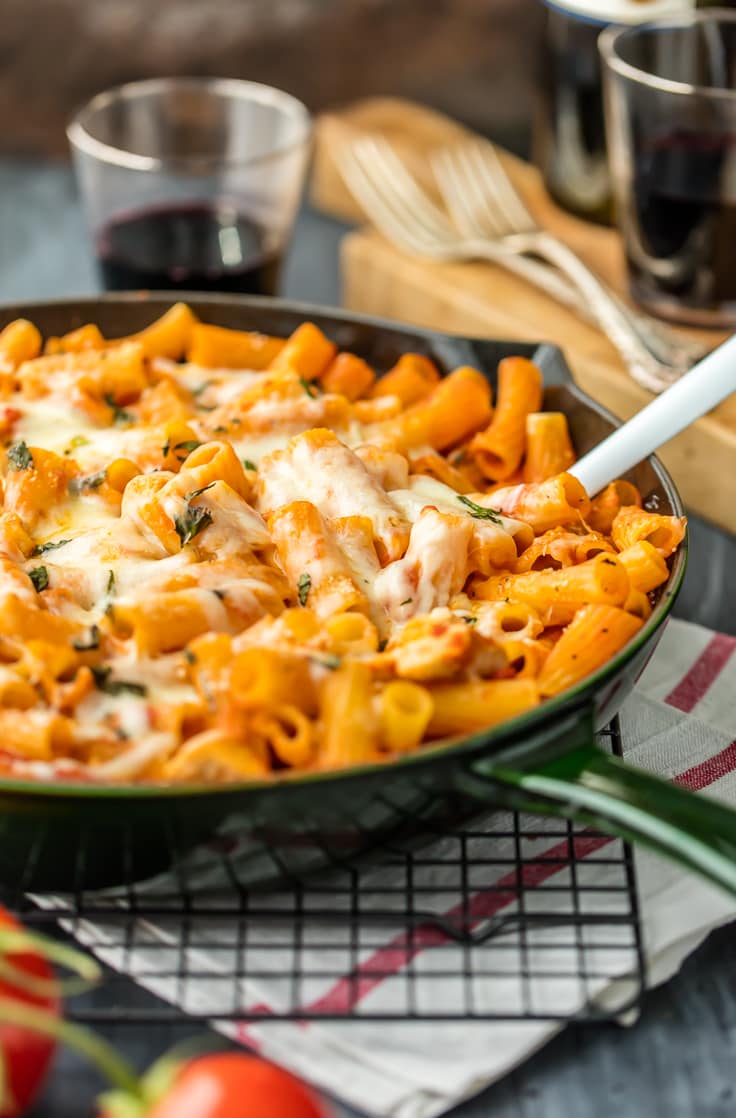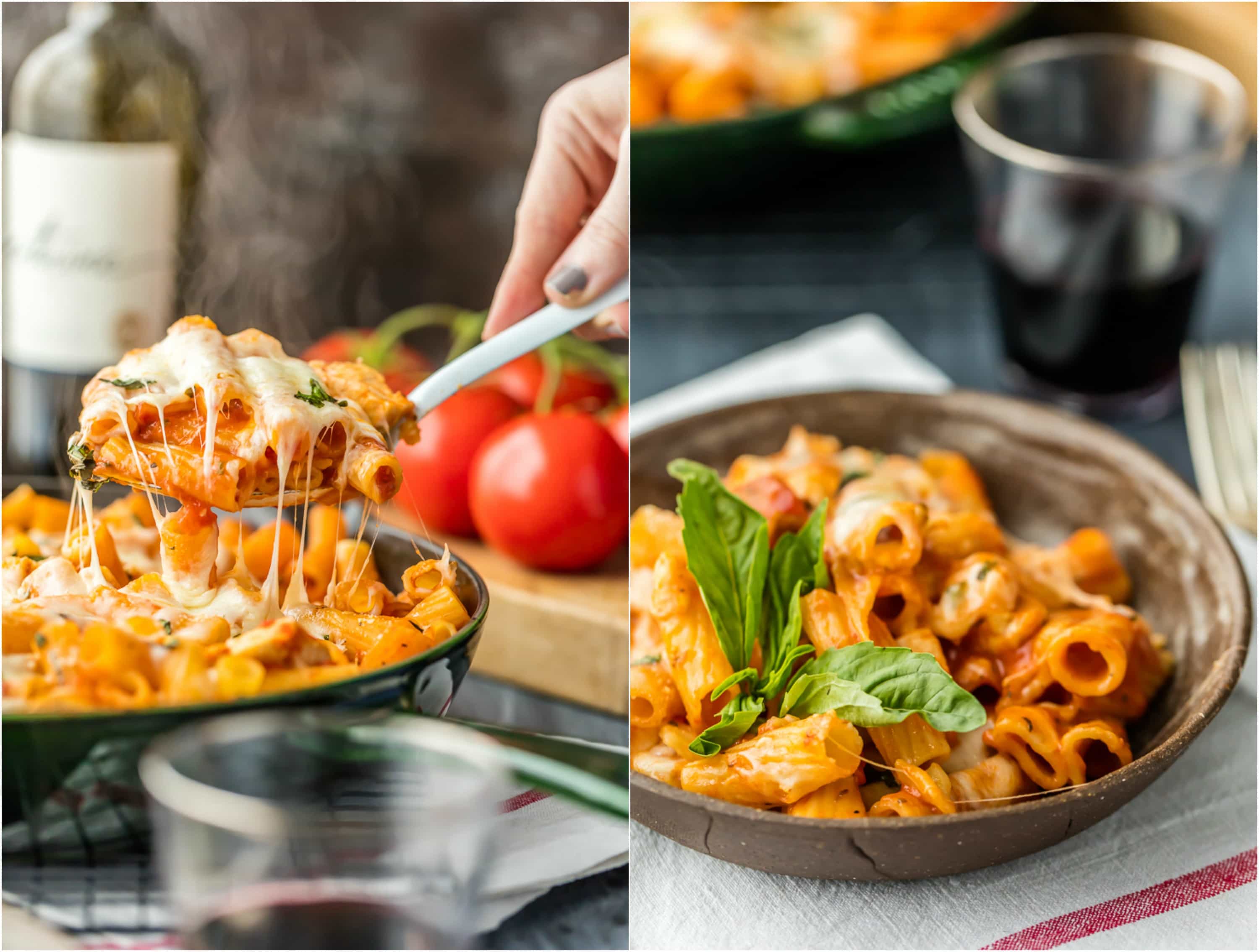 Tips for making this Chicken Parmesan Pasta:
Usually getting the perfect stretchy cheese shot can be quite a chore. Adding extra around the edges, reheating, snapping hundreds of pics just to get the right one. But not with this recipe. It stays nice and toasty and melty right there in the skillet and there's so much cheese to go around, you look like a natural right away. How great would spooning that up to your loved ones look on your dinner table? THE. BEST.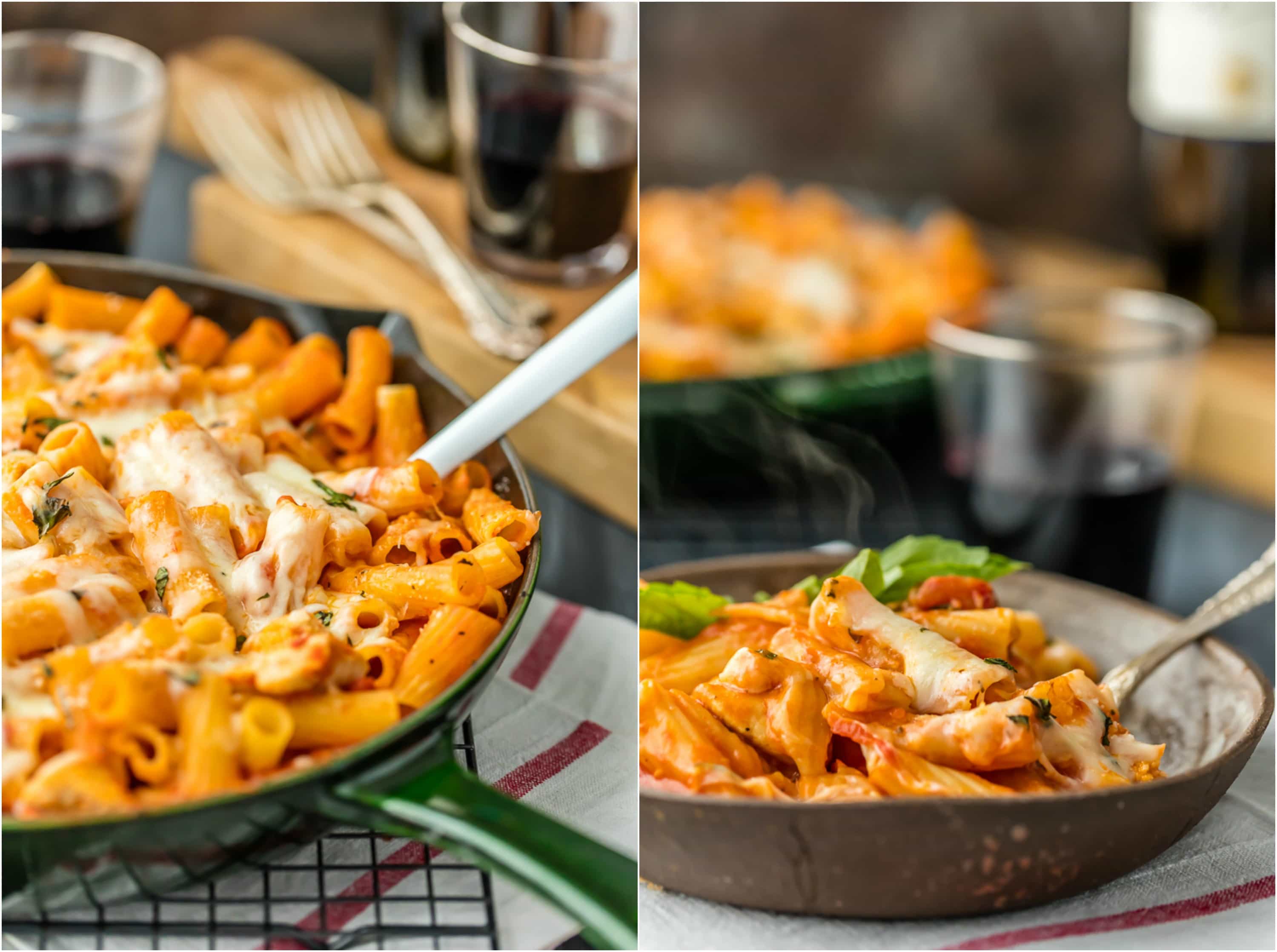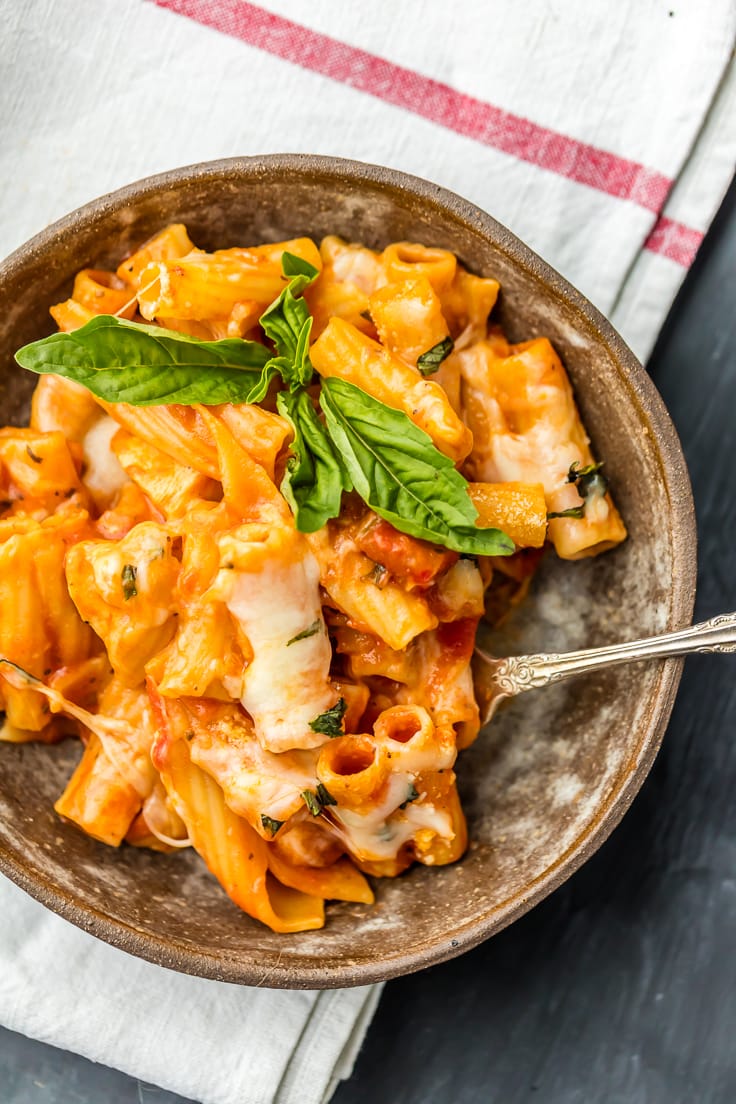 I love that you don't even need a side dish with this delicious Chicken and Pasta Recipe.
One Pot Meals are great like that. I love to serve it with some crusty bread and call it a day. Oh and some wine. Don't forget the wine! Wine and pasta…what is it about that combination that just screams COMFORT FOOD! Love it. A must.
This Chicken Parmesan Pasta Recipe has simple ingredients, flavors, and lots of cheese. The perfect combo. I think you're going to love this one!
FREE CHICKEN EBOOK
The Cookie Rookie is practically famous for amazing Chicken Recipes, mostly due to this Chicken Parmesan Pasta Skillet. We have so many other chicken favorites that I hope you check out, and even have a FREE EBOOK for subscribers (click to find out more). I'm here for all your easy chicken recipes needs!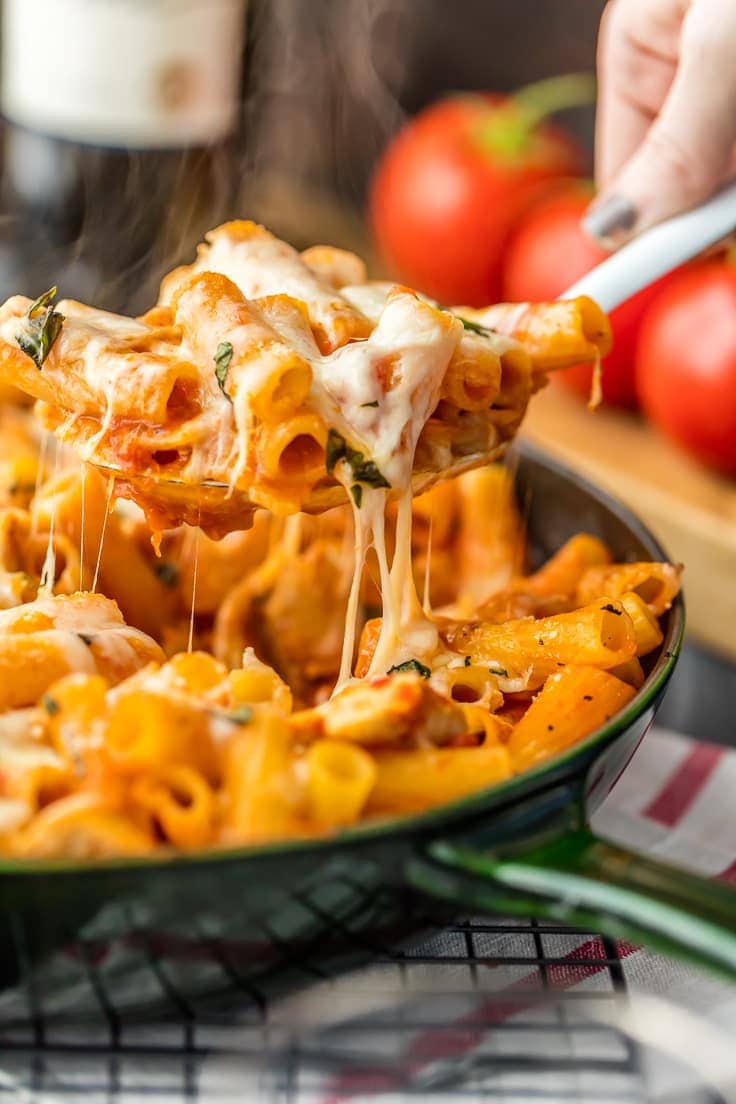 Skillet Chicken Parmesan is Heaven on Earth. It's the type of pasta recipe that will make your family ask for seconds and give you confidence when cooking for people. That's what I'm here for! I never realized how easy cooking could be…until this recipe!
This recipe for Chicken Parmesan Pasta has been a favorite among readers for YEARS and that makes me so happy. We also have a Sheet Pan Chicken Parmesan if you prefer a baked version!
You can see all of the other Reader Favorite Recipes and decide what's best for dinner tonight! We recommend our Chicken Tacos, White Queso Recipe, Stovetop Burgers, Stuffed Peppers, Grilled Salmon, or Philly Cheesesteak Sloppy Joes. ALL of those recipes are EASY, trusted, fool-proof favorites. Your family will be obsessed!
Be sure to watch the videos or check out the recipe card below for full details on How to Make Chicken Parmesan Pasta.
Other Chicken Breast Recipes we love: