This Air Fryer chicken parmesan recipe is the quickest and easiest way to make this classic Italian dish. Get crispy breaded chicken topped with marinara and cheese in just minutes!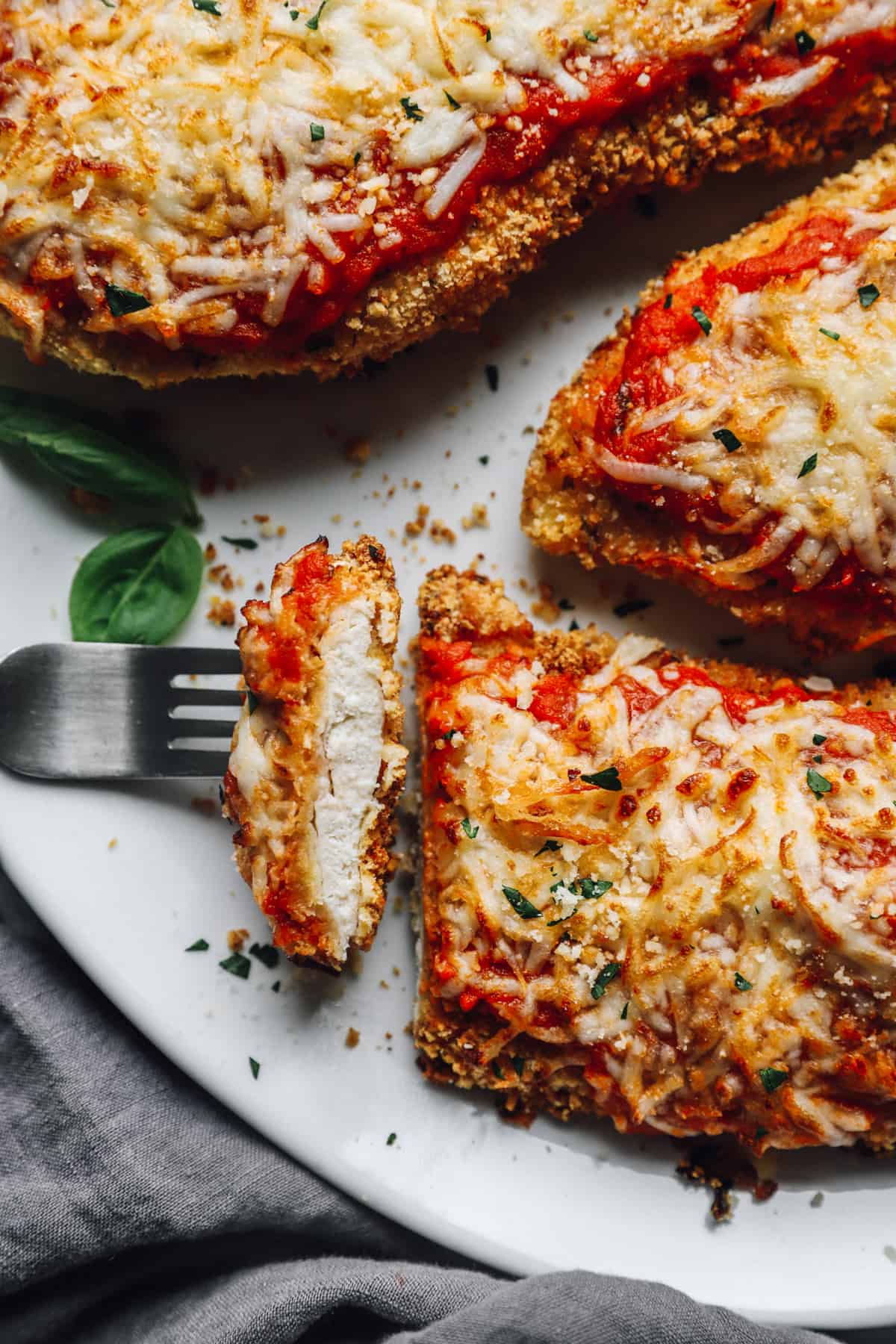 Easy Chicken Parmesan
Cooking chicken parmesan in the Air Fryer is going to make weeknight dinners so much easier!
Crispy breaded chicken covered in homemade marinara sauce and melted Parmesan and mozzarella is one of life's greatest pleasures, but the usual way of making it can be tedious. This Air Fryer chicken parmesan has all the same elements you crave, without the hassle.
This recipe is crispy, cheesy, saucy, and delicious!
Why You'll Love this Air Fryer Chicken Parmesan Recipe:
Time saver: In less than 15 minutes, you will have a fantastic lunch or dinner on the table!
Juicy: The Air Fryer delivers a crispy shell around the juiciest, most flavorful chicken.
Healthier: Air fryer chicken is always the healthier option over frying in oil.
Looking for more chicken parmesan recipes to satisfy your craving? Try these chicken parmesan meatballs, chicken parm sliders, and chicken parmesan soup!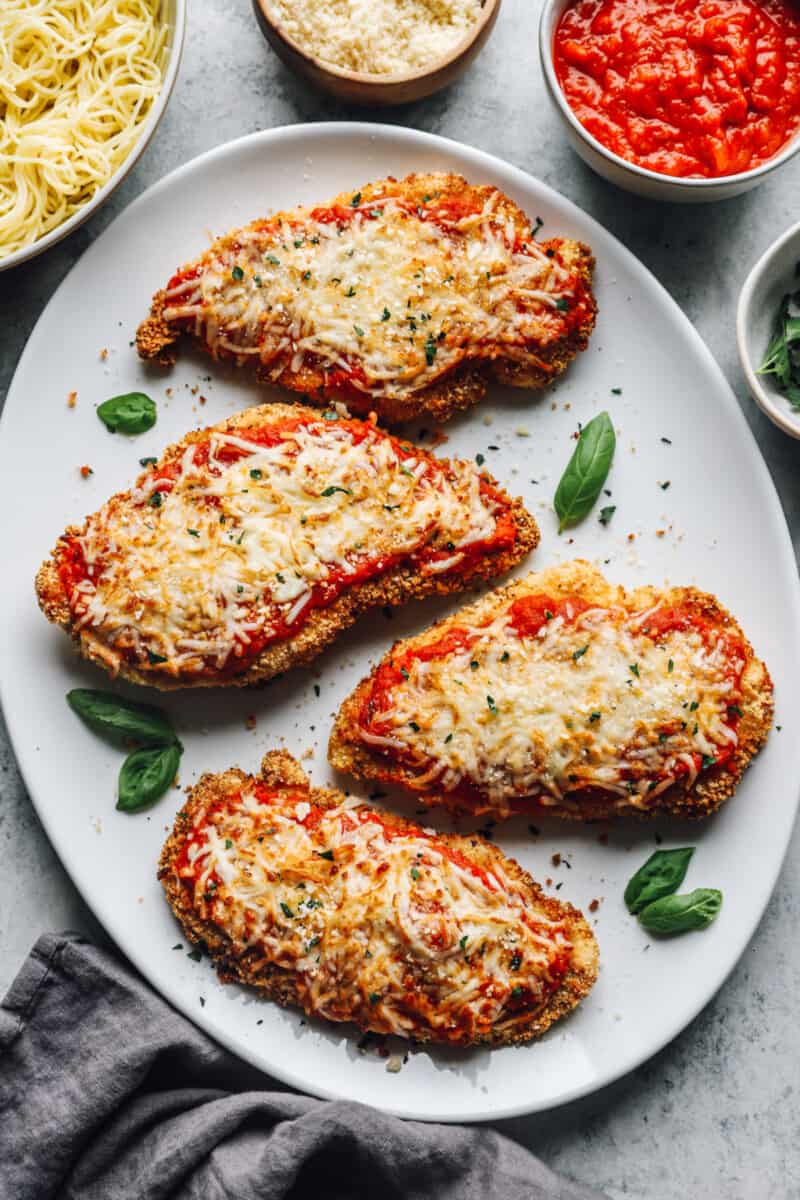 How to Make Air Fryer Chicken Parmesan
You can jump to the recipe card for full ingredients & instructions!
Dip the chicken breasts sequentially in the flour, egg, and breadcrumb mixtures.
Place prepared and seasoned chicken in the air fryer and drizzle with olive oil.
Cook the chicken, flipping once halfway through.
Top each breast with sauce and mozzarella before cooking for a few more minutes.
Serve over pasta and enjoy!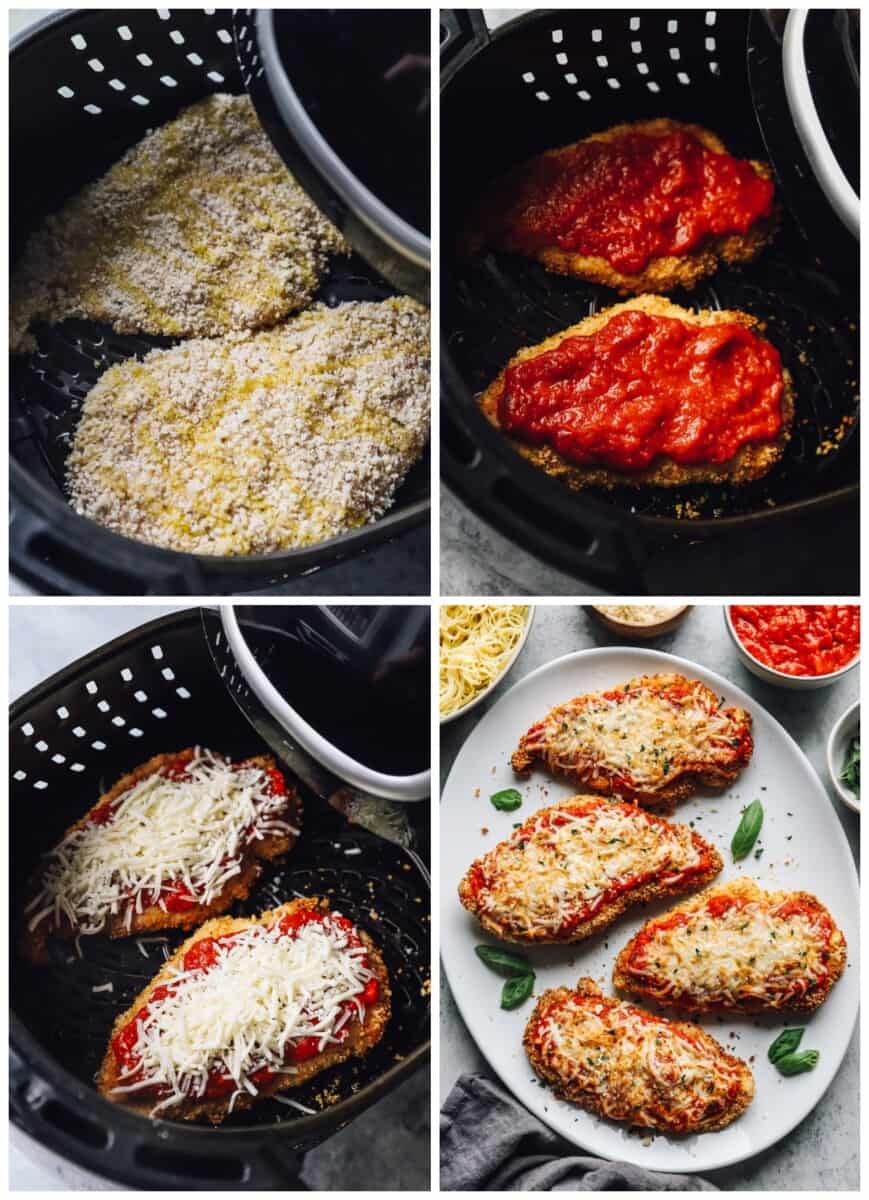 Can I make air fryer chicken parmesan with chicken thighs instead of breasts?
While I recommend using boneless, skinless chicken breasts of equal size for the most even results, you can also make this recipe with boneless, skinless chicken thighs. Thighs may take a bit longer to cook, though, so monitor with an instant-read thermometer.
Is air fryer chicken parmesan gluten-free?
Unfortunately, this recipe is not naturally gluten-free. To make air fryer chicken parmesan gluten-free, use a gluten-free 1:1 baking flour and gluten-free breadcrumbs.
How do I get the breading to stick to my chicken parmesan in the air fryer?
I always pat my chicken dry before breading. Properly dredging the chicken in flour, then eggs, then breadcrumbs will help the breading to stick to the chicken pieces no matter how you cook them. I like to drizzle or brush my chicken with olive oil to help the breading stick even better. This also helps it to brown nicely in the air fryer.
Do I need to preheat my air fryer before cooking chicken parmesan?
While it is not necessary, I always recommend preheating your air fryer for 5-10 minutes to ensure the most even cook.
How can I tell when air fryer chicken parmesan is cooked through?
The easiest way to tell when your chicken is cooked through is to use an instant-read thermometer to check the temperature in the thickest part. Properly cooked chicken should be 165°F internally.
Can I bake air fryer chicken parmesan instead?
You sure can! To make baked chicken parmesan: Preheat your oven to 400°F and line a baking sheet with foil or parchment paper. Dredge the chicken as directed, brush with olive oil, and bake for about 15 minutes, or until cooked through. Top with sauce and cheese and broil for 2-3 minutes, or until the cheese has melted.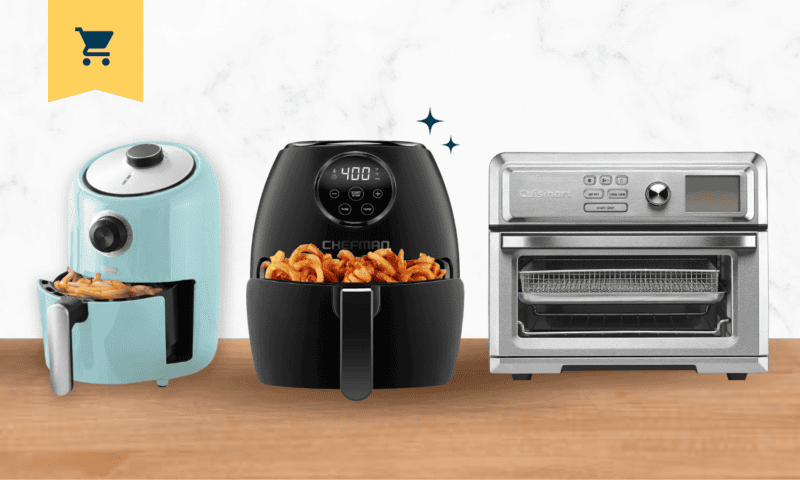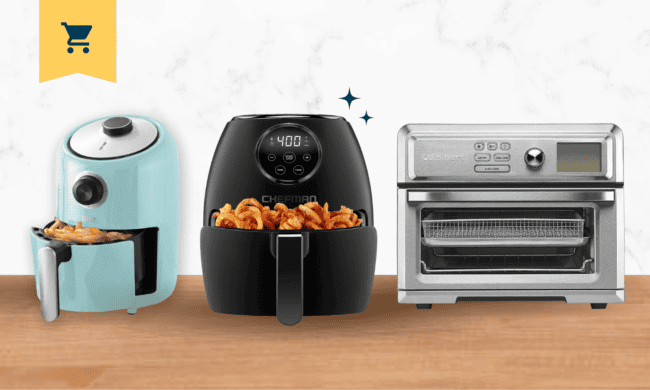 Best Small Air Fryers
We have reviewed our top 6 Small Air Fryers! Get reviews, pros, cons, and prices!
Top Small Air Fryers
Serving Suggestions
Serve your Air Fryer chicken parmesan the traditional way, on a plate of spaghetti (or another pasta). A side of garlic bread and a glass of wine will make you feel like your at your favorite Italian restaurant! Or try it with these Air Fryer roasted vegetables!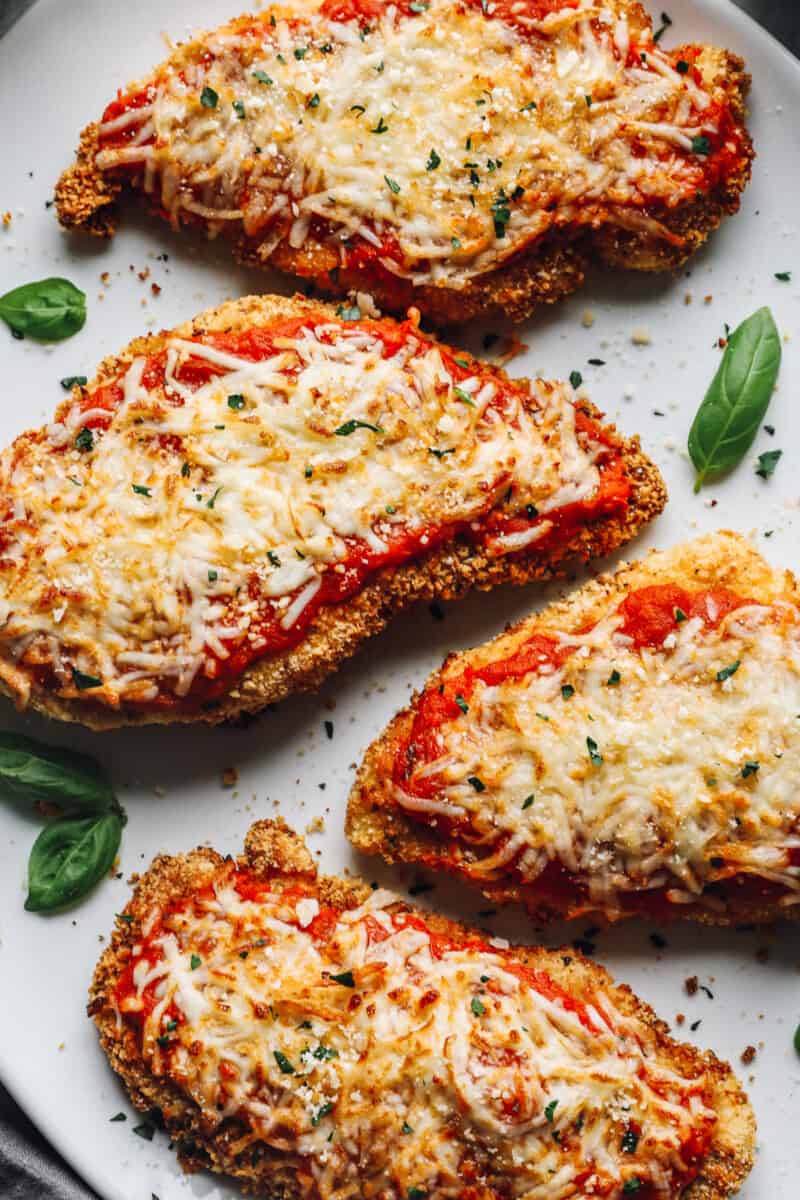 Make Ahead Instructions
You can stir together the ingredients for the seasoned breadcrumbs up to 1 day in advance and store them in the refrigerator until ready to use.
Storage Instructions
Store leftover air fryer chicken parmesan in an airtight container in the refrigerator for up to 3 days. Reheat gently in the microwave or in a 350°F oven for 8-10 minutes, until warmed through.
Freezing Instructions
Freeze chicken parmesan in a single layer on a lined baking sheet until solid, about 1-2 hours. Transfer to an airtight container or Ziplock bag to store for up to 3 months. Let thaw overnight in the refrigerator before reheating.
Substitutions
For a gluten-free option, use gluten-free 1:1 baking flour and gluten-free breadcrumbs.
You can also use regular or Italian breadcrumbs instead of Panko.
Feel free to omit the Parmesan cheese or use a different hard cheese, such as Pecorino Romano, Grana Padano, or Asiago.
If you don't have Italian seasoning on hand, you can make your own!
Feel free to use boneless, skinless chicken thighs instead of breasts.
You can use any neutral oil in place of olive oil, such as avocado oil or vegetable oil.
Use store-bought or homemade marinara sauce.
If you don't have mozzarella cheese, try provolone, Swiss, or cheddar instead!
Tips for the Best Air Fryer Chicken Parmesan
Choose equal-sized portions of chicken. If your breasts are thick, pound them to an even thinness before breading.
Pat the chicken dry before dredging. This will help the breading to adhere better.
Preheat your air fryer for 5-10 minutes for the most even cooking.
Do not crowd the air fryer. Cook in batches if necessary. Otherwise, you will end up with soggy, undercooked chicken.
Chicken is fully cooked when it registers 165°F in the thickest part on an instant-read thermometer.
If planning to have leftovers, store the chicken, sauce, and cheese separately and assemble before reheating. This will prevent soggy breading.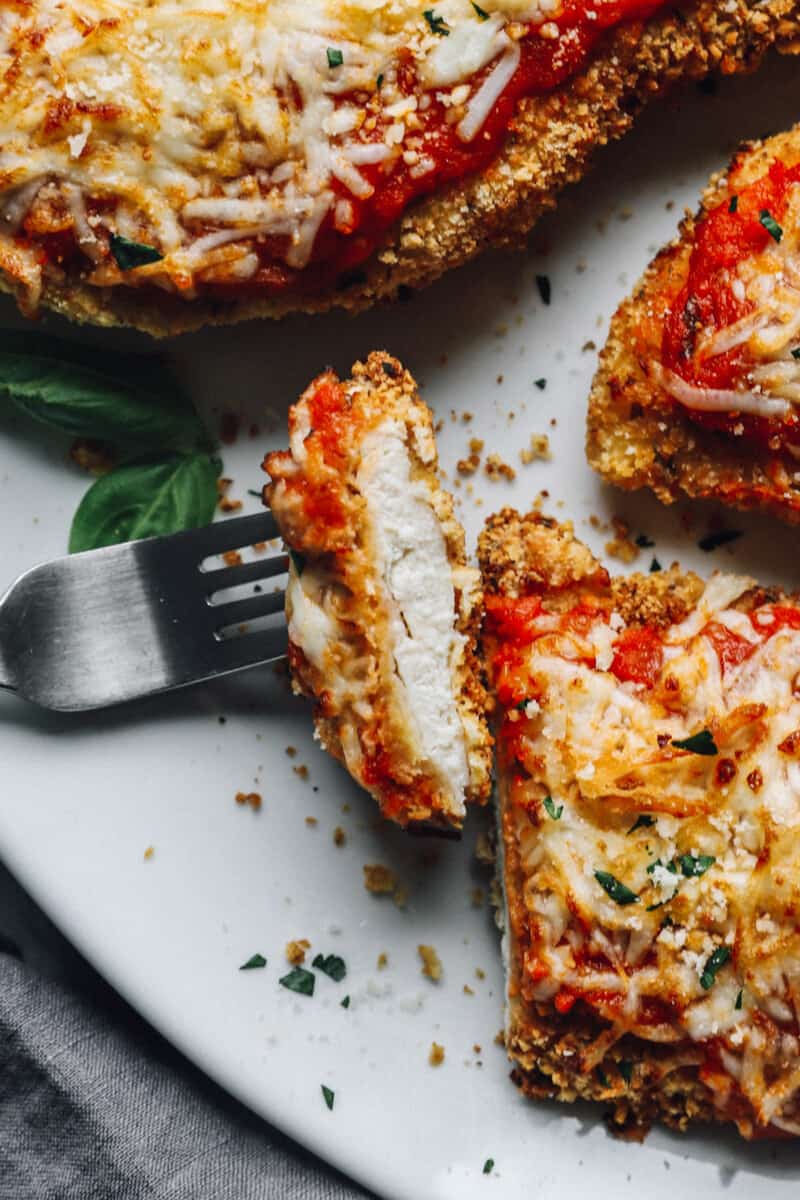 Trust me, after you make this Air Fryer chicken parmesan recipe once, you'll never return to making it any other way!
If you make this recipe be sure to upload a photo in the comment section below or leave a rating. Enjoy! You can also jump to recipe.